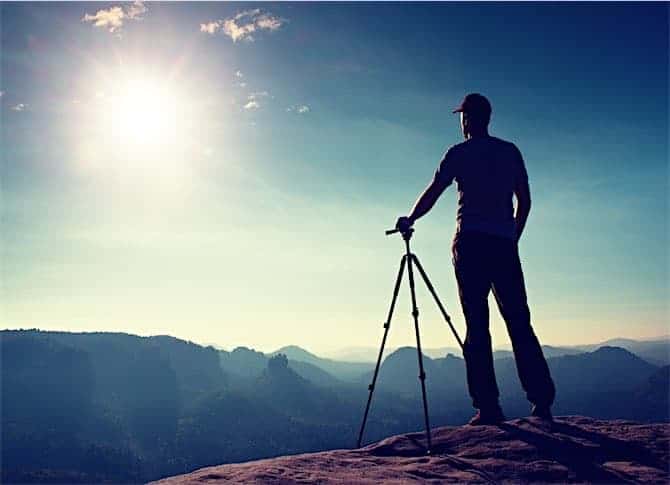 Best Tripods Under $200
A good quality tripod is an integral part of your photography gear. It is the third most important tool that you should invest in, having bought a camera and a lens. After buying your camera and lens your budget may be limited, so we deiced to pick the best tripods under $200 for you.
Most professionals end up buying two or three. One they use outdoors for landscapes and another one for studio photography.
A tripod that is well-made if it is capable of taking a bit of abuse and yet is lightweight.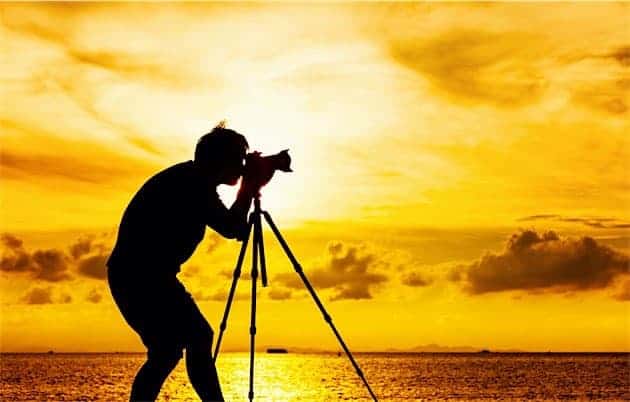 Tripods come in all sizes, build quality, weight, and price. In this article, we are going to look at some inexpensive lightweight tripods: something that is within the price tag of $200.
If you have a feeling this might not be worthwhile, you would be pleasantly surprised at the sheer number of choices that come at this price. So, without further ado, here are the 9 best tripods under 200 bucks.
1. Manfrotto BeFree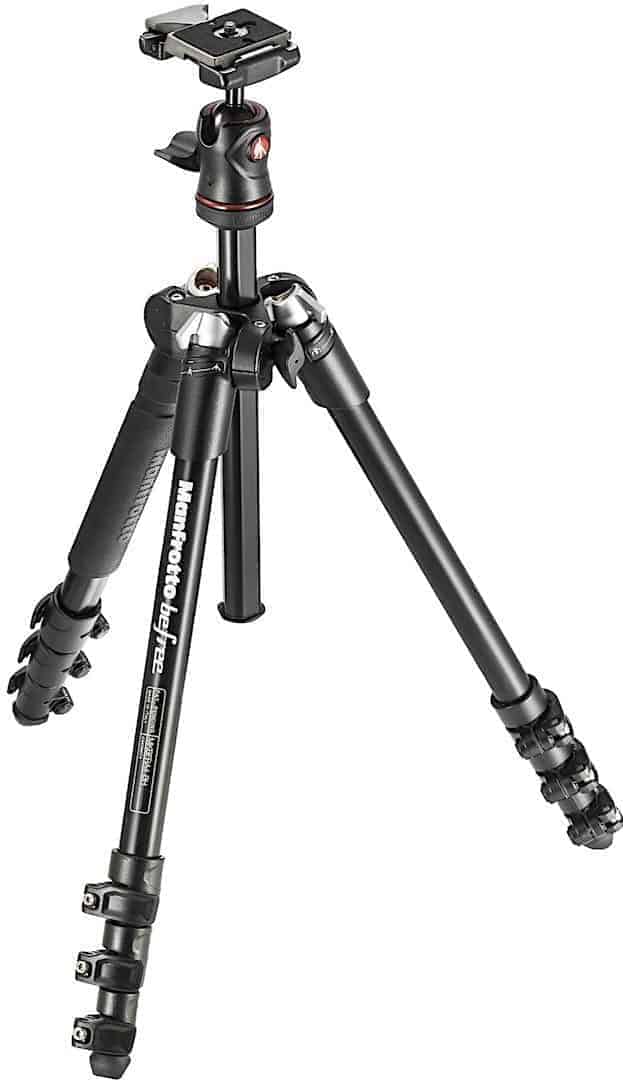 Sale
We start with the Manfrotto BeFree. This is a compact tripod, with a tripod head, made out of aluminum alloy. The Manfrotto BeFree is light enough to be easily taken on small trips and weekend getaways.
The maximum load bearing capacity of the tripod system is 8.8 lb. The system is capable of supporting an entry level DSLR along with its kit lens quite easily.
This tripod is geared towards the weight-conscious traveler. Its height extends to 56.7" when fully extended. When folded down it contracts to just 15.75".
Weighing just about 3 lb the Manfrotto BeFree is a 4 section tripod that is suitable for travel photography because of the relatively low weight and sturdiness of the system.
This system has a really handy independent leg angle selector. Ideal for those tight positions and acute angles where standard tripod legs simply don't work. The ball head comes with a Quick Release plate.
2. Slik Pro 700DX
Sale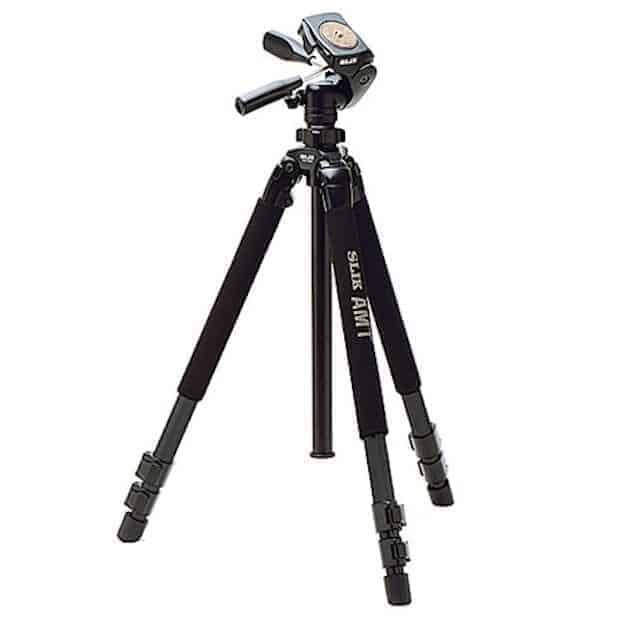 Capable of supporting a total weight of 12 lb (5.4 kilos) the Slik Pro 700DX is a reasonably strong system.
Special June Deal: CanvasPop 45% off on all prints. Use Code PHOTOWORKOUT
The A.M.T. alloy has a 40% greater strength to weight ration than standard aluminum. Rocket stuff!
The tripod head is capable of panning and tilting in three directions. The tripod head is very convenient to use. It slides into position from every possible direction.
Like the Manfrotto BeFree that we discussed above the Slik Pro 700DX too comes with individually lockable leg angles for use on rough terrains and undulating surfaces.
The legs come with rubber feet which ensure that they have a firm grip when used over slippery or smooth surfaces.
The overall height of the tripod is 74 4/5″ and it contracts down to 24 2/5″ when folded.
3. Our Pick: MeFOTO RoadTrip
MeFOTO Classic Aluminum Roadtrip Travel Tripod/Monopod Kit - Black (A1350Q1K)
Only products shipped from and sold by authorized resellers such as Amazon.com can ensure that you will be receiving...
360-degree Panning: Accurate panoramas can be easily orchestrated using the graduated panning scale for accurate image...
Recessed Center-Column Hook: A spring loaded recessed hook, located in the bottom of the center-column, allows you to...
Precision Matched Q Series Ballhead: Dual action heavy duty ballhead with Arca-Swiss style compatible quick release...
Five Leg Sections: Get the height you need and ultimate versatility. Twist Lock Legs with Anti-Rotation System: MeFOTO's...
A discussion of the best tripod under 200 dollars cannot be complete without the MeFOTO RoadTrip. The MeFOTO RoadTrip is a very popular tripod system. It can support up to a total weight of 17.6 lb (8 kilos).
The maximum height of the tripod reaches to 61.6″ and the minimum is 15.4 when folded. The legs extend in 5 sections. Plus, the system can be folded out to work as a monopod. Spiked feet ensures a firm grip even when shooting on difficult terrain.
Aluminum alloy has been used in the construction of the tripod. The individual legs can be locked in angles independent of each other.
And if you like to bring some color into your photo shooting sessions, then the MeFoto is the right choice for you as the tripods come in over 10 different colors.
4. Vanguard ALTA PRO 264AB
Sale
Vanguard Alta Pro 264AB 100 Aluminum Tripod Kit
26 mm 4 section aluminum legs adjust to 25, 50, and 80-degree angles to enable extreme low angle photography
Smooth fluid-like ball head rotates 360 degrees and includes a quick release plate and bubble levels
Hexagon-shaped central column moves from 0 to 180 degrees
The instant swivel Stop-n-Lock (ISSL) System securely repositions the central column in one simple movement
Premium magnesium die-cast canopy and anti-shock ring
Another tripod that's designed for the road is the Vanguard ALTA PRO 264AB that comes with an SBH-100 ball head.
The tripod is designed keeping in mind photographers who are looking for a solution to bringing along on their weekend trips with a car or on extended vacations.
The Vanguard ALTA PRO 264AB reaches a maximum height of 64". When folded the height of the tripod is just 24.6".
Capable of supporting up to 15.4 lb or 7 kilos the Vanguard ALTA PRO 264AB makes a good all-purpose tripod.
Weighing about 5.5 lb or 2.5 kilos it is a tag too heavy for travel uses, but when you have a car standing by you wouldn't quite mind a slightly heavier tripod for the added stability.
Certainly not suitable when you are hiking and expected to carry at least another day pack and the rest of your photography gear.
5. Velbon VS-443D Aluminum Tripod
Velbon VS-443D 63" Aluminum Tripod with Geared Tilt Column, Ballhead & Case
Velbon VS-443D 4-Section Aluminum Versatile Tripod - QHD-53D Ball Head - QB-62 Quick Release Plate - Velbon 5 Year...
The multi-function arm (which tilts the center column) has a nut-locking grip system that can be easily twisted to lock...
Three-position legs allow for low-angle spread
Non-slip rubber feet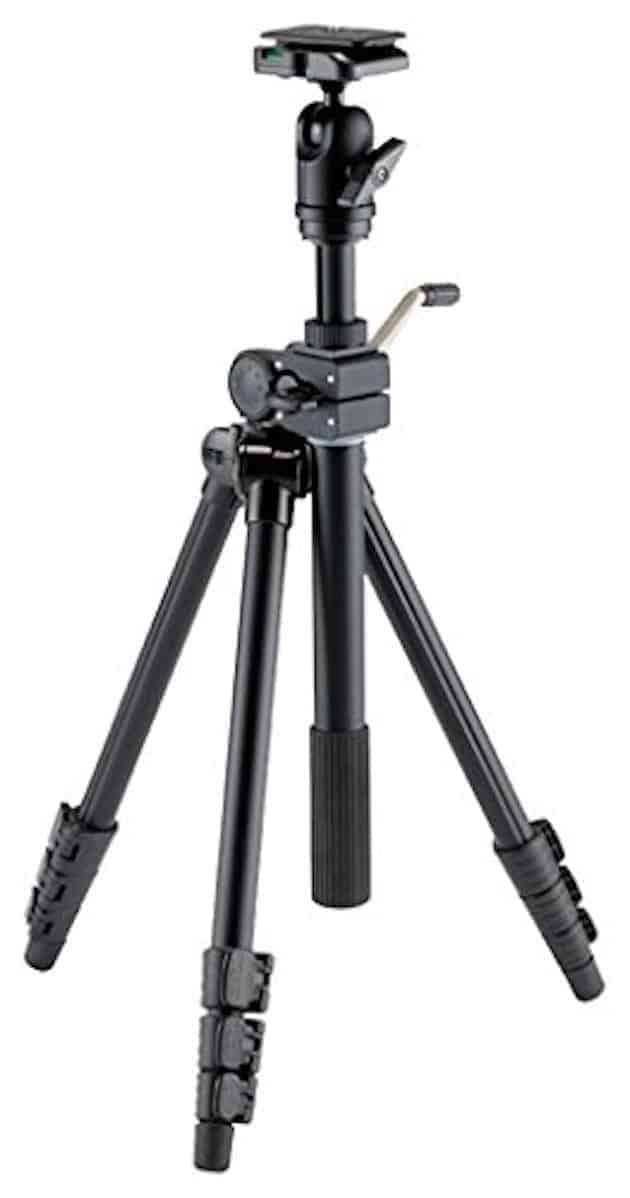 The Velbon VS-443D aluminum tripod has a total load bearing capacity of 6.6 lb (3 kilos). It comes with a QHD ball head. When raised to its maximum height the Velbon VS-443D reaches a height of 63.2". When folded to shrinks down to just 22.6".
The minimum height that the Velbon VS-443D can be set to shoot at is 9.25" giving you both a near eye level as well as a ground level perspective with a single tripod system. The QHD ball head with a quick release plate is extremely versatile.
A ball head in any camera system gives you greater flexibility because it allows you to lock your camera at an angle that is impossible with traditional pan-tilt heads. The quick release plate allows you to unmount your camera from the tripod to quickly shoot handheld.
The central column of the Velbon VS-443D can be tilted giving you a greater degree of flexibility. Nonslip rubber feet ensures a better grip on slippery surfaces.
6. Vanguard VEO 235AB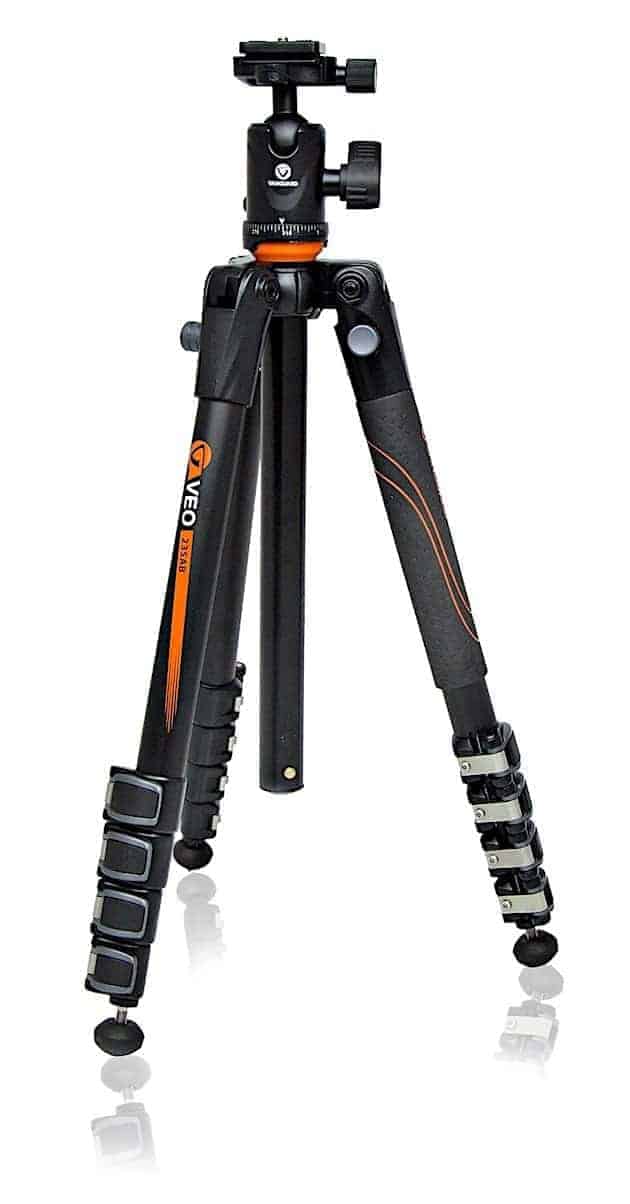 Sale
Vanguard VEO 235AB Aluminum Travel Tripod with Ball Head
Exclusive rapid column rotation for compact transportation and instant set-up
High loading performance (maximum load capacity 13.2 pounds)
Includes a multi-action TBH-50 ball head with a large ergonomic main locking knob, bubble level and arca-swiss quick...
5 section 23mm aluminum alloy legs with 3 different leg angle options and feet that convert from rubber to spiked
Extra low angle photography option (low angle adaptor included)
The Vanguard VEO 235AB Aluminium Travel Tripod with all head (also known as ALUM TRIPOD) is a lightweight tripod, weighs just about 1.7 kilos and supports up to 17.6 lb or 8 kilos.
The tripod legs extend in five sections which means the Vanguard ALUM TRIPOD is quite versatile. The maximum height reached is 57.1" and the minimum 7.25". When folded the tripod has a height of 15.4".
The tripod legs extend in five sections which means the Vanguard ALUM TRIPOD is quite versatile. The maximum height reached is 57.1" and the minimum 7.25". When folded the tripod has a height of 15.4".
To add to the stability and security of the tripod it has rubberized and retractable spiked feet. This is the most versatile of tripod leg design. When shooting on a slippery smooth surface such as polished marble you can use the rubberized feet which will provide some traction.
When shooting on a rough and uneven surface, such as forest floor or rocks, you can use the retractable spiked feet to give you the much-needed grip to stabilize the tripod and the camera.
7. Sirui ET-1004 Aluminum Tripod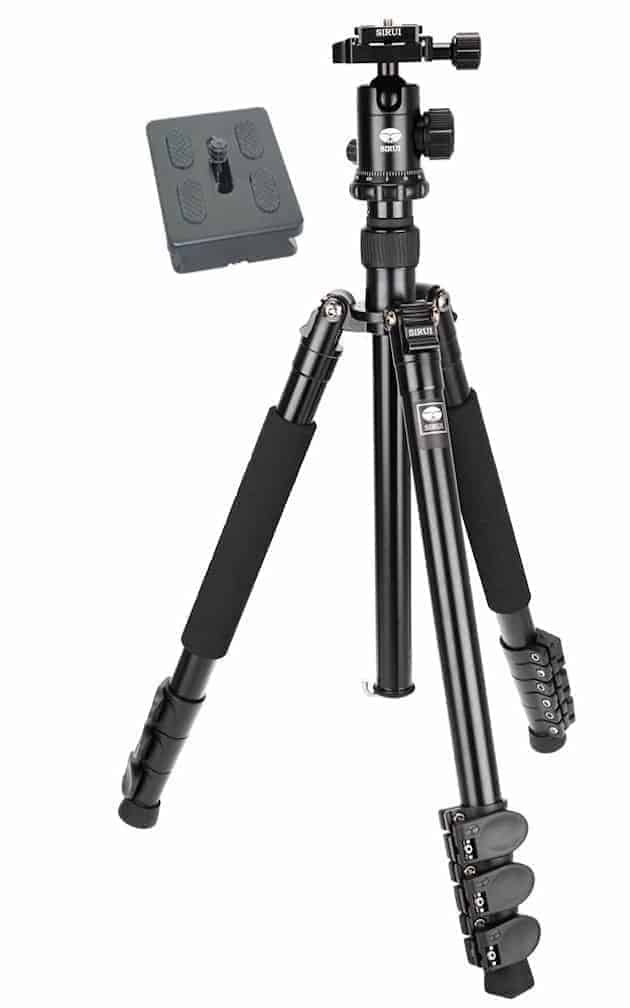 The Sirui ET-1004 aluminum tripod comes with an E-10 ball head. The total weight bearing capacity is 18 lb (8.16 kilos). That should be more than enough for a semi-professional DSLR with a wide angle zoom lens, filter kit ET all.
The four section legs extend the maximum height of the tripod to 55". Further, it can also get down to almost ground level with a height of 5". Folded height of the tripod is 16.5".
The overall weight of the system is 3 lb (or 1.36 kilos) making it one on the lightest tripods on this list.
The only thing missing are the spikes on the feet which would have given the Sirui ET-1004 some added traction when working on a rough and uneven terrain.
8. Manfrotto MK290XTA3-3WUS 290 Xtra Aluminum Tripod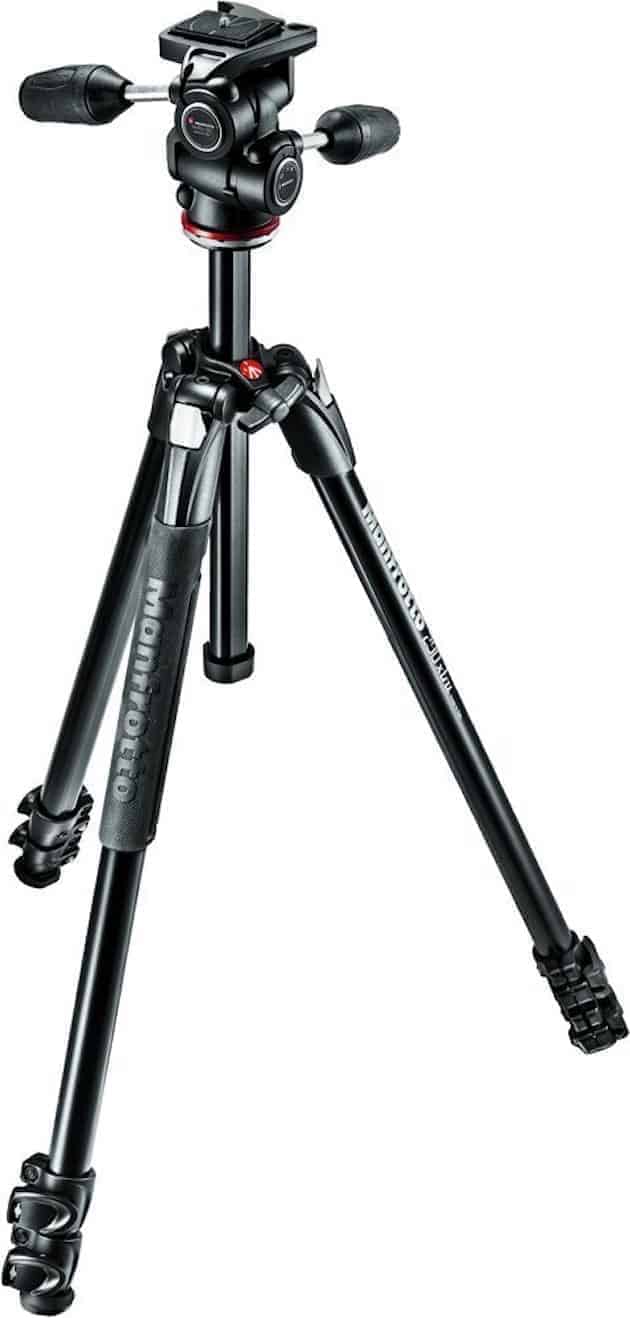 The Manfrotto MK290XTA3-3WUS 290 Xtra tripod comes with a Pan/Tilt head instead of the ball heads in most of the other tripods that we have discussed thus far.
Ball heads are much superior to PT heads because they are more versatile and convenient to use. You can smoothly turn your camera in any direction and lock it in place just by turning a knob.
Having said that the Manfrotto MK290XTA3-3WUS 290 is a capable tripod as well. The maximum height of the tripod is 63.2" and the minimum is 12". When folded the tripod goes to a length of 23.4".
The legs of the tripod extend in 3 sections. There are no spiked feet on the tripod. Something that would have been extremely useful.
Designed out of heavier and yet sturdy aluminum the Manfrotto MK290XTA3-3WUS 290 is capable of supporting a weight of 11 lb or 5 kilos. The weight of the tripod is 3.9 lb (or 1.8 kilos).
9. Oben Ac-1361 Tripod with BA-117 Ball Head
Oben AC-1361 3-Section Aluminum Tripod with BA-117 Ball Head
17.6 lb Load Capacity | Maximum Height of 67.5"
Folds Down to 27.3" | Anodized Aluminum Construction
Lightweight - 4.4 lb | Rubber Feet
Bubble Levels | Removable Head
Whats In The Box: RP-5 Quick Release Plate, Padded Carrying Case, Leg Tool Clip and 2 Hex Keys, Limited 5-Year Warranty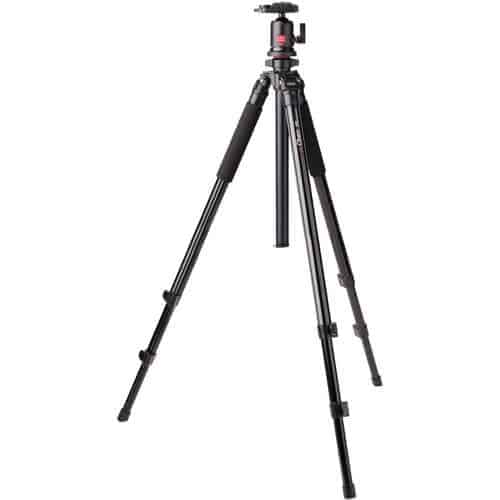 To round up this discussion of the best tripod under 200 dollars we present the Oben Ac-1361.
The Oben Ac-1361 is an aluminum crafted tripod with three-section legs and comes with the BA-117 ball head. When fully extended the tripod reaches a height of 64.75". You can adjust the three-section legs to take it down all the way to 7". When folded the tripod comes down to a height of 24".
Overall weight carrying capacity of the tripod is 17.6 lb or 8 kilos. The tripod itself weighs only 3.45 lb (or 1.6 kilos). Thus, the Oben Ac-1361 is a lightweight and sturdy tripod that can be lugged for light hikes and weekend trips.
The BA-117 ball head mounts on the tripod with the help of a 3/8"-16 thread. The tripod head itself weighs about 400 grams. The Oben Ac-1361 comes with two tripod head mount thread sizes. The other being a ¼"-20. There are no spiked feet on the Oben Ac-1361.
Spiked feet allows for a firmer grip on a rough and uneven terrain. But despite that, the Oben Ac-1361 is a nice functional design that works wonderfully well as a travel tripod.