Tripods come in all shapes, sizes, and varieties, but they often have a hefty price tag. When it comes to finding an affordable tripod, you might think you have to compromise on quality. Thankfully, that's not the case! We've found some of the best tripods under $200 that are still incredibly sturdy and reliable.
The models we've chosen are designed to suit various needs, including travel, landscape, and product photography. Read on so you can find the tripod that's right for you!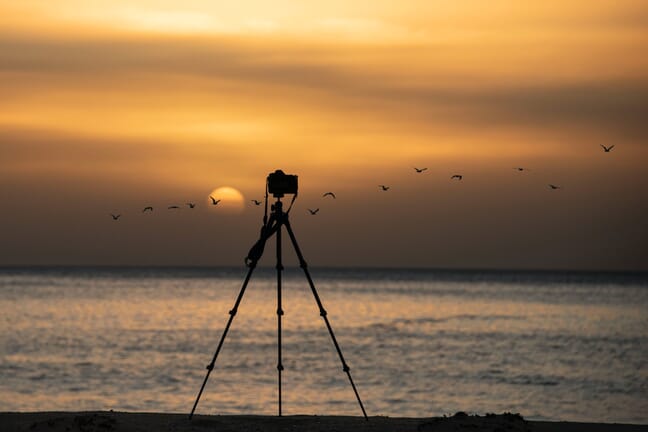 The Top 9 Tripods Under $200:
When you buy through links on our site, we may earn a commission at no cost to you. We evaluate products independently. Commissions do not affect our evaluations.
1. Manfrotto Befree Advanced Tripod
Our Pick
An amazingly reliable model
The Manfrotto Befree Advanced tripod is very robust, and you can rest easy knowing this little tripod will carry the weight of your precious equipment.
Pros
Strong, sturdy pick
Ready to use right out of the box
Lightweight
Cons
On the more expensive side
The Manfrotto Befree Advanced tripod is a consistent favorite of ours. Manfrotto has long been regarded as one of the best camera equipment companies in the business thanks to its impressively reliable products, and the Befree Advanced model fits this mold perfectly.
Manfrotto Befree Advanced Tripod (Images from Amazon)
The Befree Advanced tripod is easy to use and offers plenty of support. It also comes with a solid ball head so you can use it straight out of the box. Simply buy the tripod, put it in your car, and know that – no matter the situation – it'll be ready to go.
The tripod itself only weighs several pounds, which makes it a great pick for travel photographers (or anyone else who wants to keep their kit as light as possible). It's one of the top Manfrotto tripods on the market, which is high praise given the company's popularity!
2. Geekoto CT25Pro Tripod
Also Great
A great lightweight option
The Geekoto tripod doesn't weigh much, but it's able to handle a surprisingly large amount of weight.
Pros
Amazingly light
Able to handle even heavy DSLR setups
Impressive height
Cons
Somewhat weak quality control
Though Geekoto isn't a widely recognized brand, it really does make some impressive products for photographers, including the CT25Pro tripod.
GEEKOTO 79 inches Carbon Fiber Camera Tripod Monopod (Images from Amazon)
Due to the tripod's maximum working height of 79 in (2 m), four-point extendable legs, and a 360-degree panoramic ball head, you're practically guaranteed to get stunning, crisp images. Tall photographers, in particular, will love the height.
As for its stability: The Geekoto tripod can handle 26 lb (11.8 kg) of gear, which is enough to support any professional DSLR setup. But thanks to the carbon fiber design, the tripod itself only weighs a measly 3.4 lb (1.5 kg), so it's a perfect option for any kind of shooting scenario.
If you're looking for a great tripod under $200, it's definitely worth considering.
3. SLIK PRO 700DX Tripod
Perfect for videography
The SLIK PRO 700DX AMT tripod is a sturdy and reliable model that can handle many video rigs.
Pros
Great for videographers
Cost effective for a video-oriented tripod
Decently sturdy
If you're looking for a great tripod for video shooting, the SLIK PRO 700DX tripod is certainly worth evaluating. We don't normally recommend aluminum tripods, which tend to be very heavy, but this really is an excellent model.
The PRO 700DX can handle a solid amount of weight, so you shouldn't struggle to get sharp footage or still images with a DSLR and a telephoto lens. The maximum height is 76.8 in (2 m), which will suit virtually any videographer in any scenario.
SLIK Pro 700 DX Tripod with 700DX 3-Way, Pan-and-Tilt Head – Titanium (Images from Amazon)
Note that this tripod range has three models (with the same legs but different heads). The best head for videography brings the tripod setup to a total weight of 7.1 lb (3.2 kg), which isn't too bad but is heavier than the other tripods we've mentioned.
That said, the videography-specific design makes this tripod perfect for cinematography, so even if you feel it's on the heavy side, I'd still recommend giving it a look.
4. SIRUI AM-223 Mini Tripod
A high-end tabletop model
This tabletop tripod is sturdy, useful, and jam-packed with great features like portability and lightweight.
Pros
Diminutive height
Well built
Good maximum weight
The SIRUI AM-223 is a carbon fiber tripod that's only a few inches tall and is ideally suited for tabletop shooting.
Now you might be wondering: Why is a tabletop tripod useful? Well, you can use this tripod for all kinds of photography. For instance, you can capture beautiful close-up shots of flowers, insects, and more. You can also shoot small products, and the results will be especially good when you use a light box.
Despite its small size, the tripod is capable of supporting a maximum weight of 22 lb (9.98 kg). It is therefore perfect for a wide range of camera systems including pro DSLRs with telephoto lenses. The tripod comes with removable spiked feet, which gives you the ability to work on any kind of surface.
All in all, if you need a handy little model, this is a great buy!
5. ZOMEi Q666C Tripod
A popular pick
This highly rated tripod is sturdy, reasonably priced, and perfect for beginner photographers.
Pros
Very good ratings
Heavy-duty 360-degree ball head
Extremely light and travel friendly
Cons
Does not extend as high as the competition
The ZOMEi Q666C tripod is an extremely popular tripod. It comes complete with a heavy-duty 360-degree ball head, which ensures you can start using the rig straight out of the box.
The maximum working height of the tripod is just 61 in (1.6 m), which is far smaller than the majority of the tripods that we have discussed here. But it's still plenty tall for most photographers, plus the strong carbon fiber construction ensures the model is very durable.
The legs feature a four-section design and can be extended independently of each other. The total weight-bearing capacity of the tripod is 17.6 lb (8 kg), yet it weighs just 1.2 lb (0.54 kg); in other words, the tripod can carry plenty of pro photo equipment but is still great for traveling!
6. NATIONAL GEOGRAPHIC Travel Tripod
Ideal for the outdoor adventurer
National Geographic is famous for its commitment to travel, nature, and adventure, so you can be sure that this tripod works great!
Pros
Able to tranform into a monopod
Lots of great features
Exteremly durable
Cons
No handle to move the head
The NATIONAL GEOGRAPHIC Travel tripod is a small carbon fiber model that also works as a sturdy monopod. The legs are five-section units that add plenty of versatility to your setup, and they feature twist-lock mechanisms to ensure you can alter the length of the tripod using just one hand.
National Geographic Travel Tripod Kit (Images from Amazon)
Carbon fiber materials make the tripod lightweight and extremely sturdy, which means it's capable of handling a lot of abuse during outdoor adventures.
The maximum load-carrying capacity of the tripod is 17.6 lb (8 kg). Therefore, you should be able to support most of your travel photography gear without issue, including a heavy DSLR with a telephoto lens.
One of the legs has a padded leg warmer, and this will certainly come in handy when you are working in cold weather and have to work without gloves. Finally, at the base of the central column is a spring-loaded hook for adding extra weight, which is helpful in windy situations.
7. iFootage Gazelle Uprise TA6S Tripod
A travel-ready option for videographers
This iFootage tripod is aimed at the traveling cinematographer, so it packs down very small.
Pros
Easy to fit in a backpack
Very precise pan-and-tilt features for video
Good maximum height
Cons
Poor weight capacity
The iFootage Gazelle Uprise tripod is designed for video, which means it comes with precise pan-and-tilt features so you can adjust your shot while recording.
A majority of the tripods out there do not allow the central column to be mounted in reverse, but the iFootage Uprise tripod is one model that does. The advantage of this is that you can create gorgeous low-angle footage (and if you ever wanted to try out macro videography or photography, you'll be able to achieve an intimate perspective with limited effort).
The legs of the tripod reach a maximum height of 65 in (1.7 m), and the three sections of the tripod legs ensure you can adjust the length as needed. Unfortunately, the overall weight capacity of the tripod is 13.2 lb (6 kg), which isn't ideal if you use a heavy rig – though if you generally work with a lightweight mirrorless setup, you should be just fine.
8. K&F Concept S211 Tripod
A do-everything model
This K&F Concept is a highly adaptable tripod with lots of great features, like fully adjustable legs and monopod conversion, that's easy to carry.
Pros
Each leg is independently adjustable
One leg converts into a monopod
Good carrying weight
Cons
The ball-head swivel can come loose
We like the sleek design and the carbon fiber chassis of the K&F Concept S211 tripod; if you have a reasonable amount of money to spend and you're interested in a flexible, do-everything model, it's a great pick.
The legs of the tripod come in four sections. This allows you to precisely set the working height of the tripod according to your needs. The legs have a twist-lock mechanism so you can work quickly and efficiently. One of the legs comes off and converts into a monopod, and it also has a leg warmer.
The ball head rotates a full 360 degrees, and this is a huge advantage because you won't have to spin the tripod around to adjust the composition. Once the legs are fixed into the position, you can move the head around and recompose as needed.
The tripod weighs 4 lb (1.8 kg) and supports 22 lb (10 kg) of weight. In other words, it's a pretty robust model and should be able to support most decent-sized DSLRs with telephoto lenses and other accessories.
9. SIRUI AM-005K Travel Tripod
Best Budget
A great budget option
This tripod offers amazing quality for a fantastic price. It's a great travel tripod that's highly portable, however, it can't really handle heavy cameras.
Pros
Lightweight and portable
Tripod legs can swivel 180 degrees
Inexpensive
Cons
Can't support much weight
Travel tripods are supposed to be lightweight and portable, and in that sense, the SIRUI AM-005K is a great pick.
The maximum working height of the tripod is 53.8 in (1.37 m), but while this is on the short side, it's quite portable (and therefore great for adventures). The weight capacity only reaches 11 lb (5 kg), but you should be just fine if you use a mirrorless setup or a smaller DSLR.
One of the major features of this tripod is that the legs can swivel 180 degrees and beyond. This ensures you can set up the tripod legs independently of each other and at the precise position you need. This is really useful when working in tricky spots that require more unorthodox positioning.
The ball head revolves 360 degrees, so you can easily change your compositions on a whim without having to worry about the tripod legs. We highly recommend this tripod for frequent travelers, and given the reasonable price, it's especially great for those who are on a budget.
Pick a High-Quality Budget Tripod!
Even if you're on a budget, you can still get a great tripod!
The Manfrotto Befree Advanced is our favorite sub-$200 tripod, though the Geekoto CT25Pro is another great option thanks to its large weight capacity and array of features.
Finally, for those looking to keep costs to a minimum, the SIRUI AM-005K tripod is an excellent option.
Best Tripods Under $200 FAQ
Which tripods are best for working on uneven surfaces?
If you're working on an uneven surface, tripods with retractable or removable spiked feet are best. They provide much better traction!
Should you get a carbon fiber tripod or an aluminum tripod?
Carbon fiber tripods are typically a better choice; they're lighter and very sturdy. However, they're also more expensive, so if you're on a budget, an aluminum model might be the way to go.
Why are ball heads useful?
Ball heads are useful if you want to quickly fine-tune your compositions. They offer an effective way to adjust the camera body.
---
As an Amazon Associate, we earn from qualifying purchases. Certain content was provided "as is" from Amazon daily and is subject to change or removal at any time.