Tired of traditional photo prints? Maybe they're not really your style? Well, we might have a solution for you: wood prints! Frameless and modern, with a touch of country and tradition, wood prints are a great option for decorating a home.
But with so many labs now offering this service, which one is the best? Below, we share our selection of the absolute best wood photo prints that you can order online!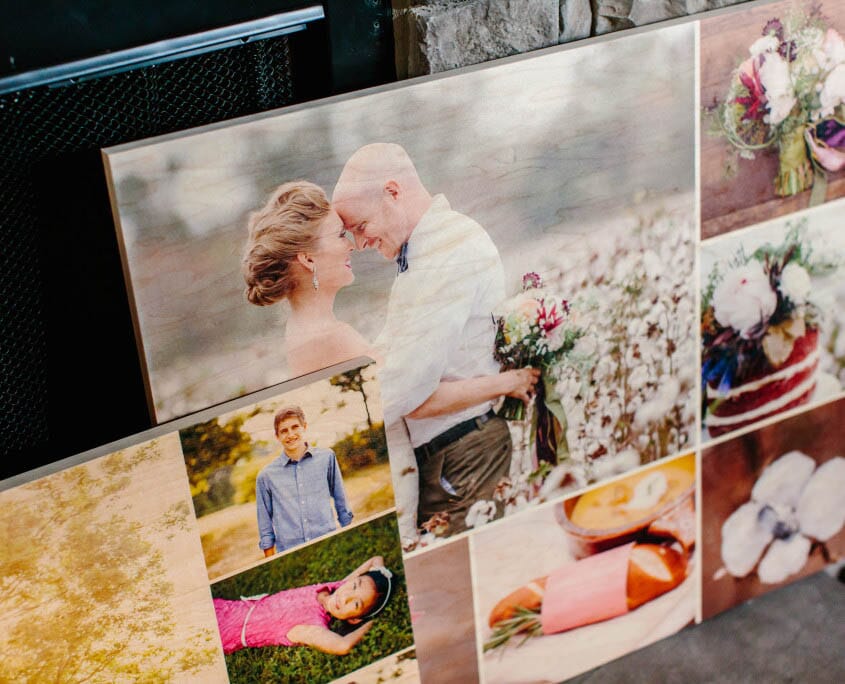 When you buy through links on our site, we may earn a commission at no cost to you. We evaluate products independently. Commissions do not affect our evaluations.
Best Wood Prints
1. Woodsnap
Our Pick
A specialty shop for wood prints
A wood print specialist, Woodsnap offers a compelling mix of quality, price, and speed.
Pros
Specializes in prints
Great pricing
Easy to use, lots of options, great choices!
Cons
Can take a wee bit longer to produce than some competitors
Get your wood prints in a snap, or so this company's name implies. Woodsnap is a specialty lab offering a variety of different types of wood prints. They use a special water-based process to transfer your favorite photographs onto eco-conscious wood blocks and panels. Woodsnap adds an extra coating to protect your wood prints from heat and moisture (otherwise, you risk the wood splintering or warping over time).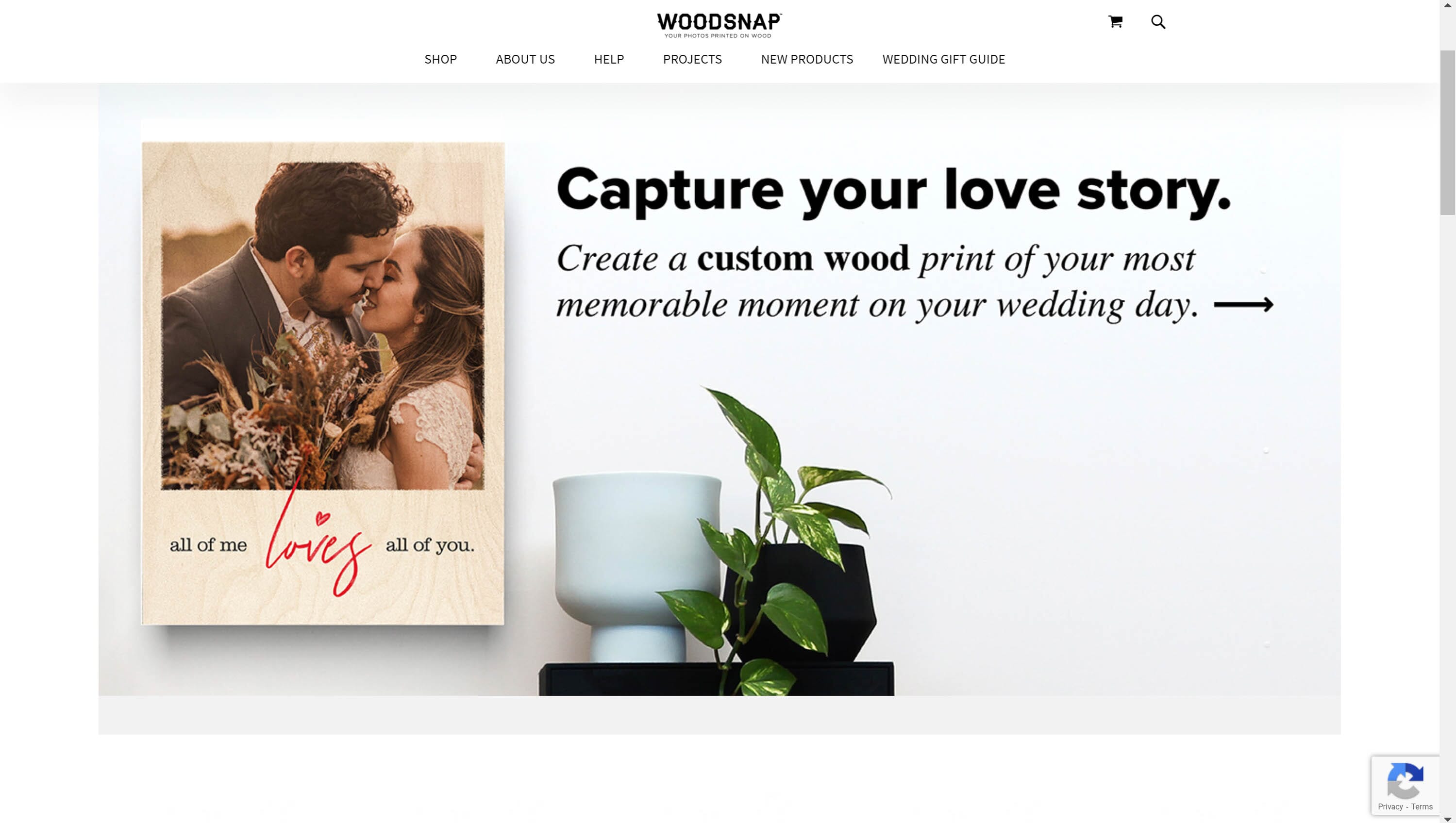 Each print comes with hanging cutouts, so all you need to do is place the hook into the wall. There are a variety of shapes and sizes to select from, ranging from hexagons and hearts to traditional squares and rectangles. You can even create customized wood boxes!
Using Woodsnap is simple: just make an account, add your product selections, upload your photograph(s), and you're done!
2. Mpix
Also Great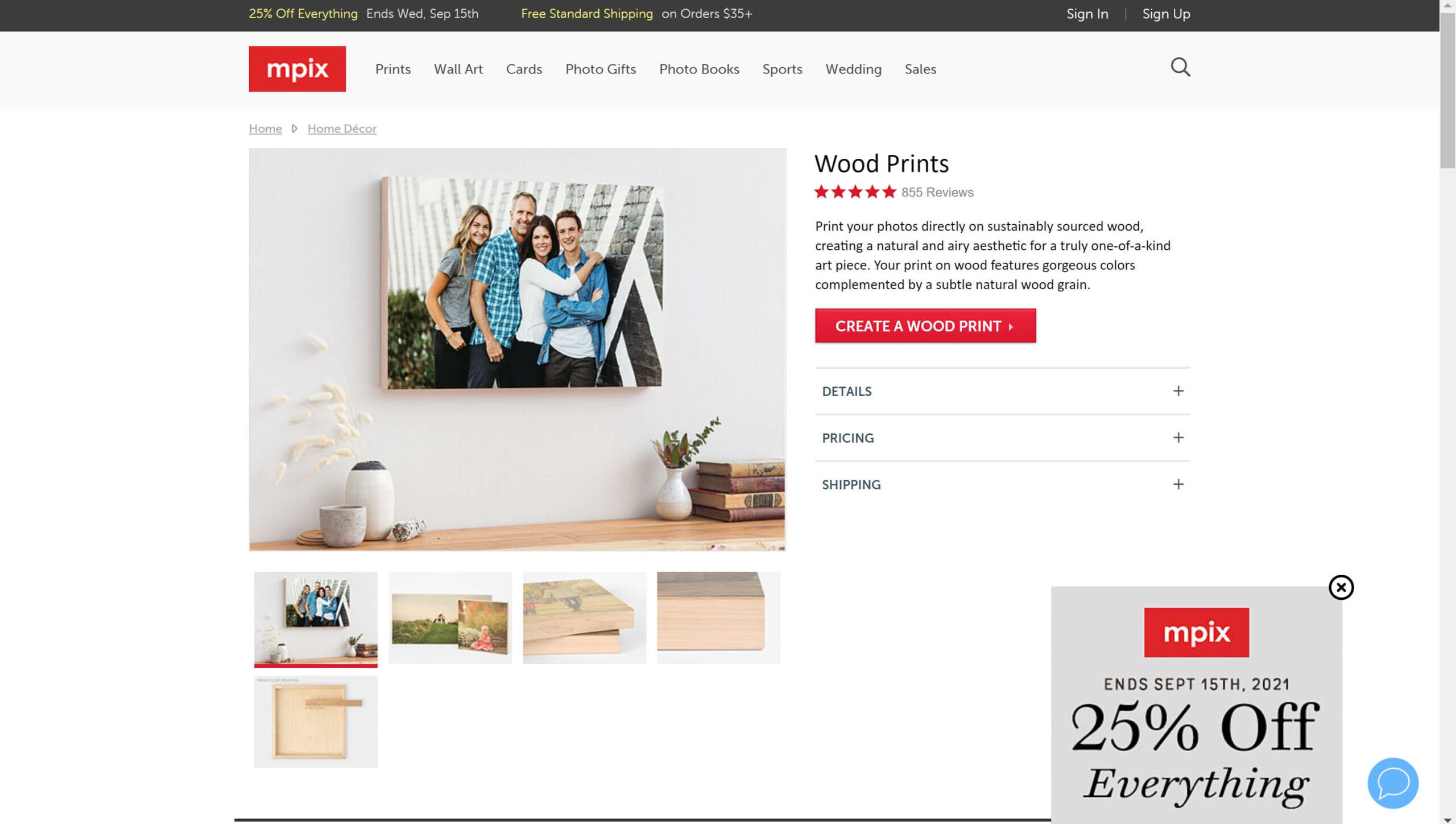 A consumer lab that does it all
Mpix is great lab that produces exceptional wood prints.
Pros
Free shipping on wood prints
Two finish options: natural and white
Fast turn-around time
Cons
Expensive compared to other labs
Not many options
A consumer subdivision of the famous Miller's professional lab, Mpix now sells wood prints (to keep themselves aligned with various printing trends, one assumes!). Offering wood prints in a natural finish – in which you see the wood grain through your photograph – or a stark white finish – in the wood texture is invisible – Mpix produces something for everyone!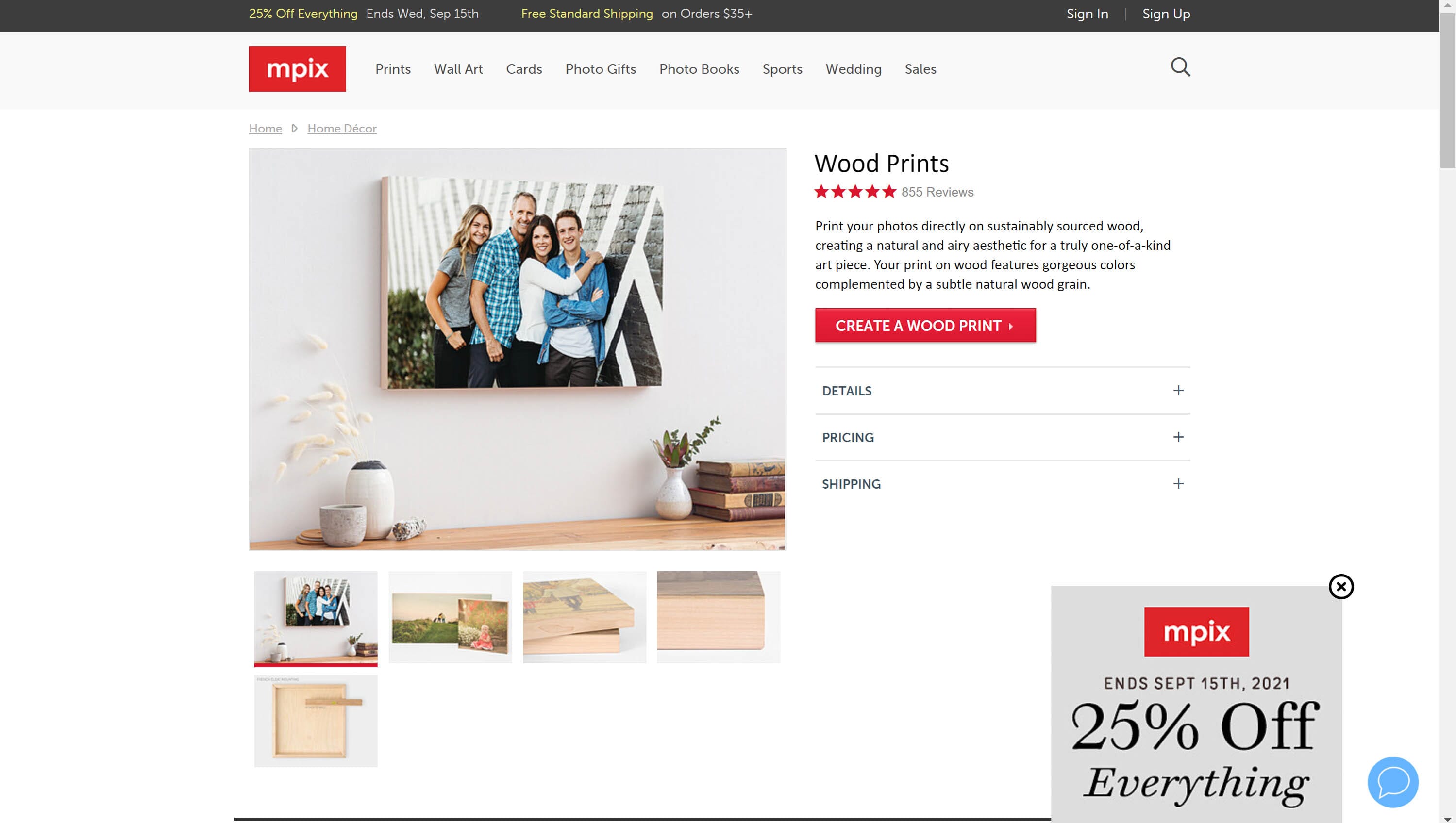 The quality is superb; the wood is quite thick and can stand on its own or can be mounted to the wall depending on your preference.
Shipping is free for wood prints, as they do cost more than the minimum free shipping order value. Therefore, I recommend you order several other Mpix products while you're at it. The turnaround time is extremely fast (they often beat their own promise!).
3. Smallwoods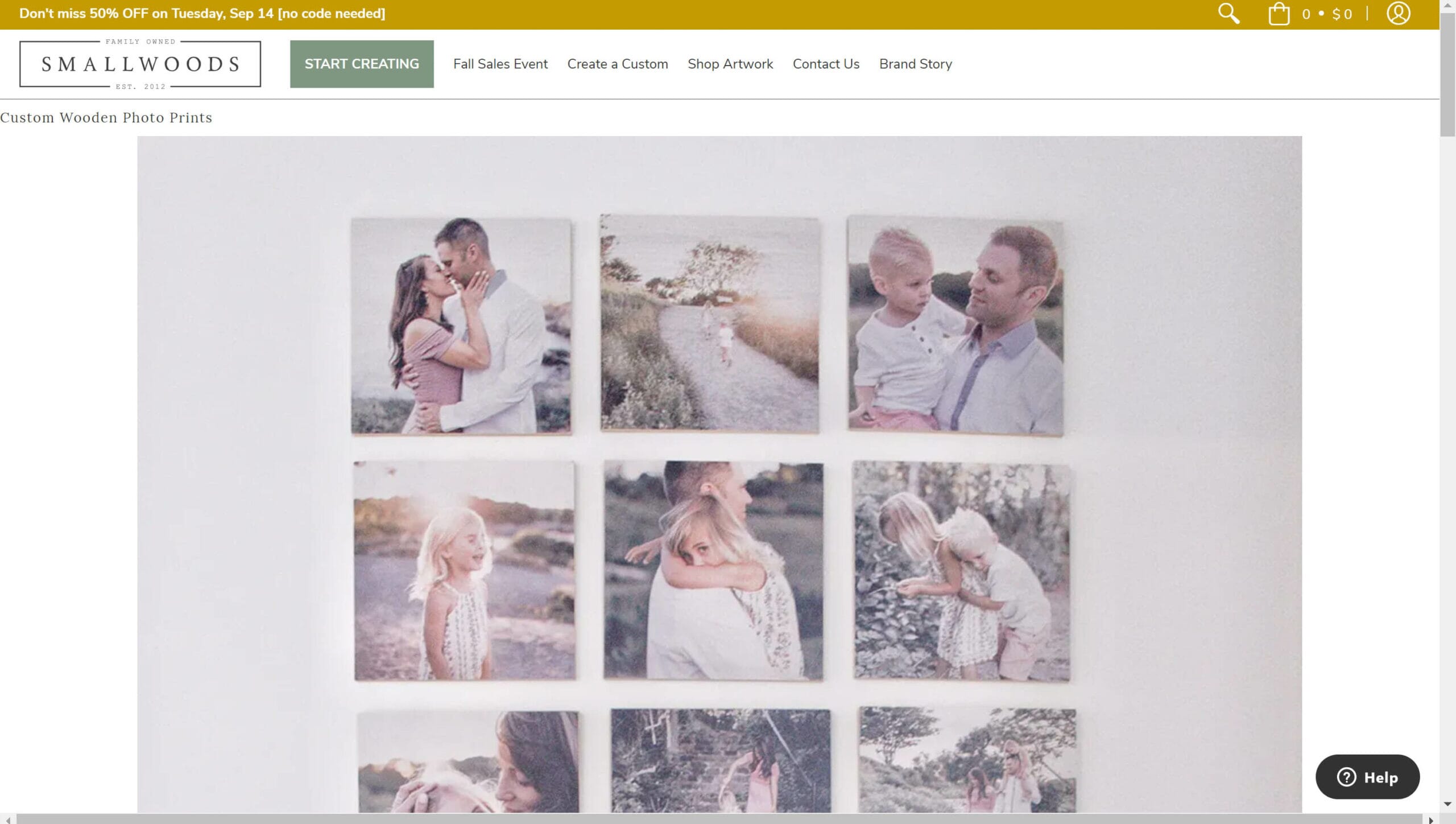 There's nothing small about this family-owned lab
The selection is limited, but this family-run lab produces immaculate wood prints.
Pros
Very easy to use
Gorgeous prints
Thousands of happy reviews
Cons
Limited options
Expensive
There is nothing small about Smallwoods, a family-owned print lab. While they only offer a select type of prints, wood prints are a specialty. Plus, all of their prints are fully customizable, with wood options in circles, squares, and various ornate cuts.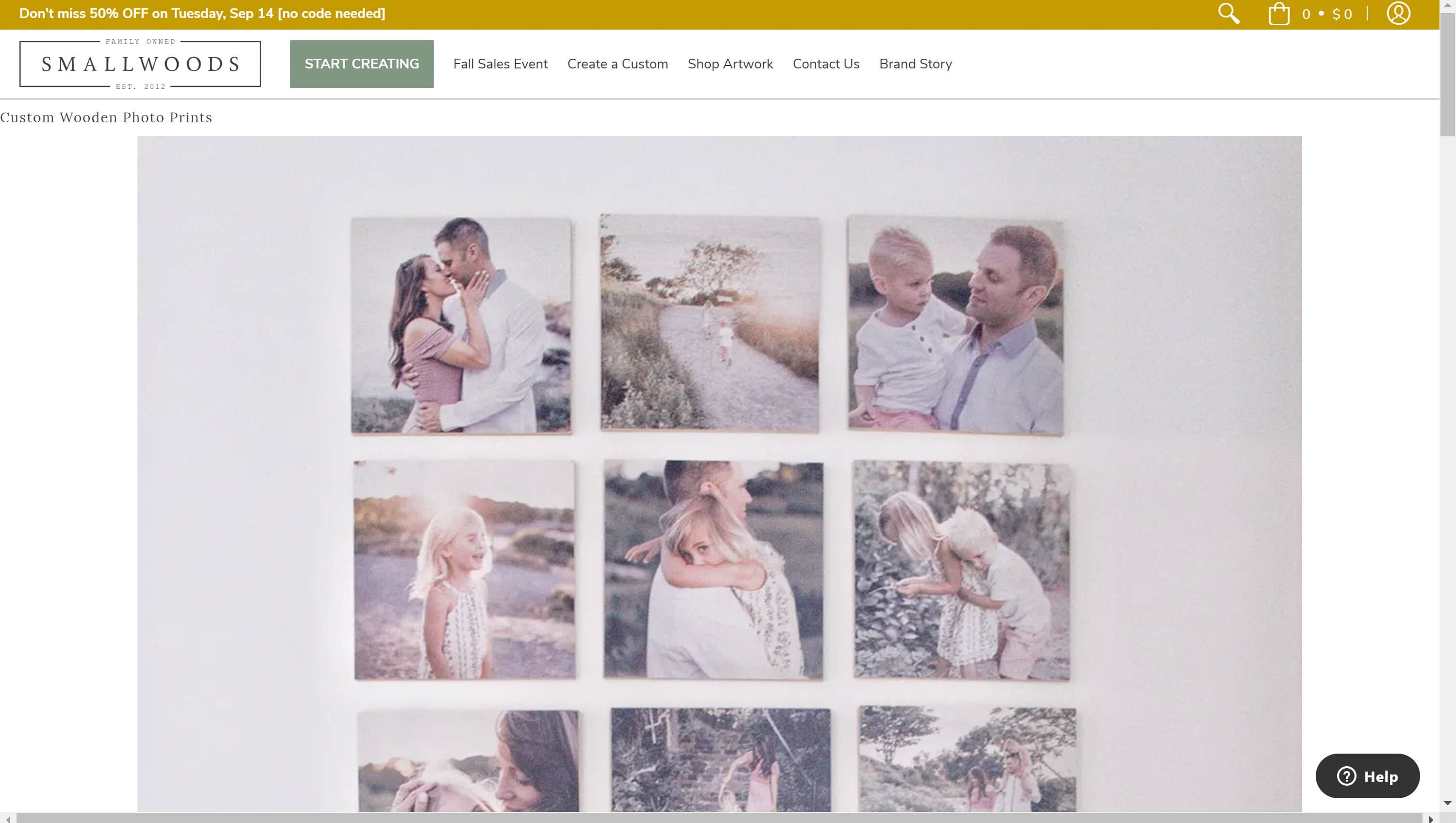 Only three different sizes are available for most of their prints, though some might appreciate the simplified process. The larger sizes come with pre-installed keyholes for hanging, while the smaller prints do not and make good standing displays near computers or on stands).
With thousands of incredibly positive reviews and a very fast (within a week) turnaround time, Smallwoods is a great option for those looking for top-quality wood prints.
4. Photobarn
Our Pick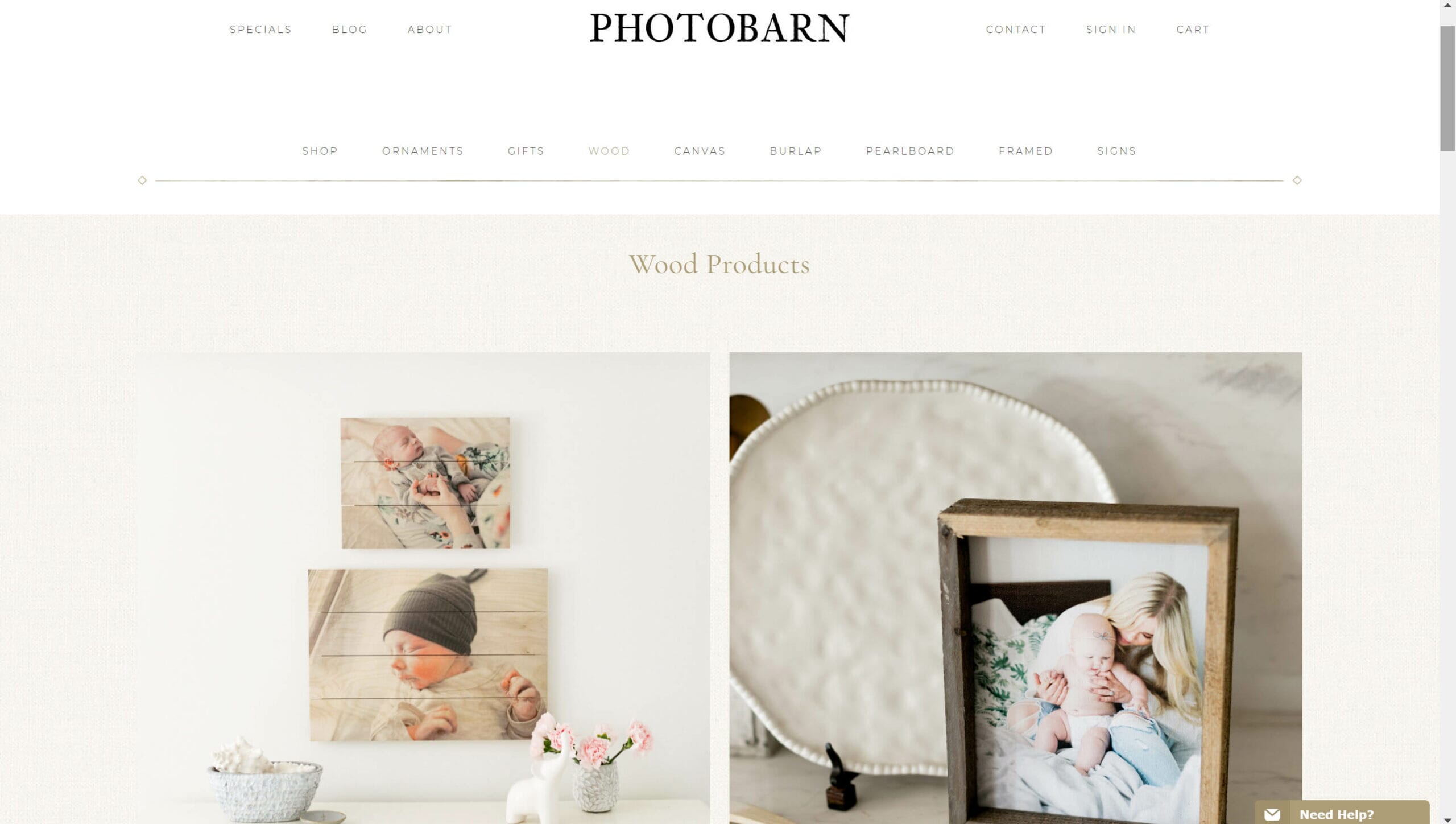 An incredible array of products
Options, options, and options! This small business offers you so many different products to choose from.
Pros
Incredible list of products to choose from
Great quality
Reasonable prices
Cons
Some internet browsers aren't always compatible with their online ordering interface
If you love options, Photobarn should be right up your alley! With a slew of stunning wood products, Photobarn really shines. Their product offerings include traditional wood prints in various shapes, wood boards, wood panels (in which you see the individual wood pieces that are fused together), photo blocks, wooden puzzles, wooden photo stands, magnets, coasters, and so much more!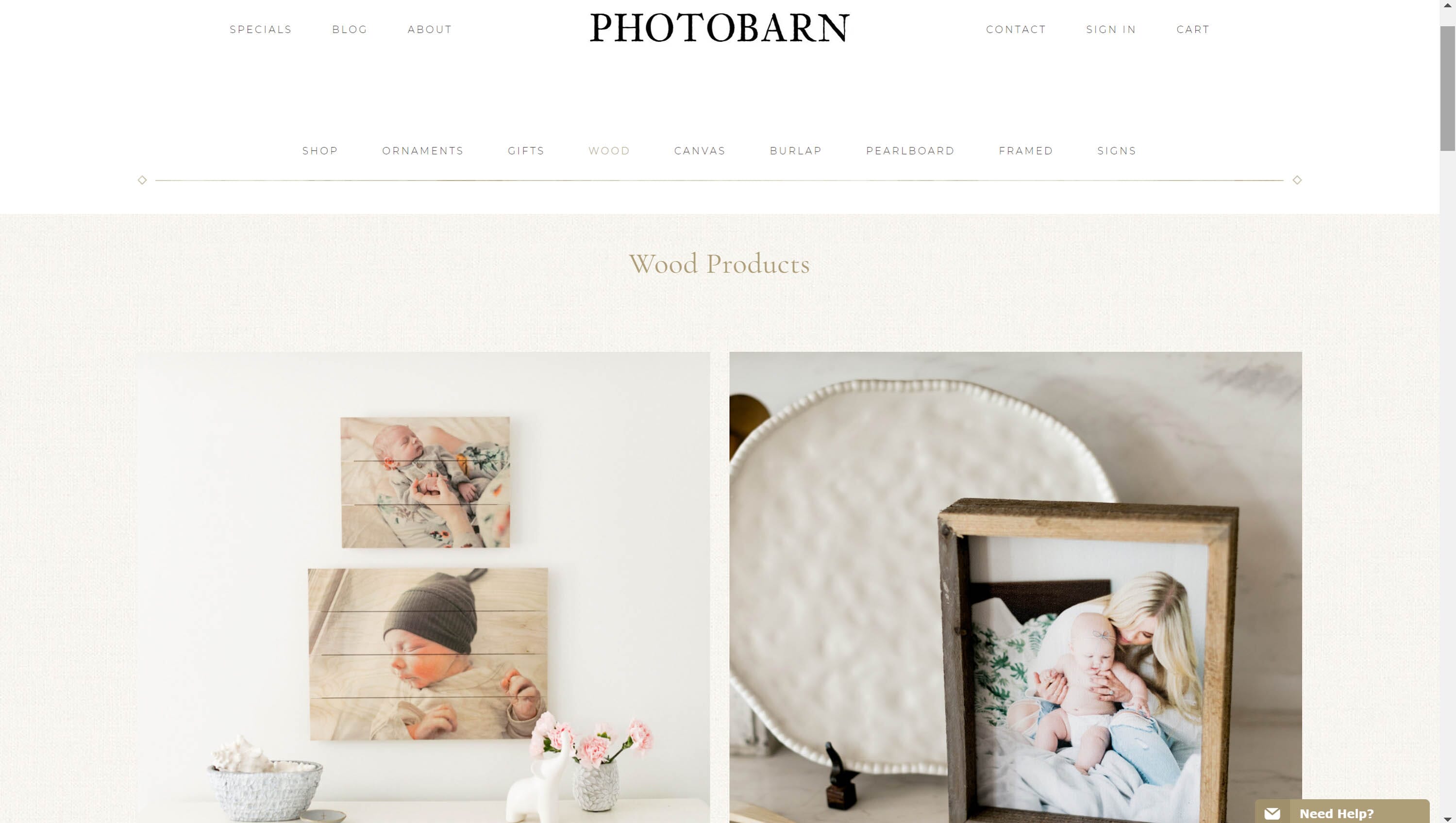 If you can't decide on a single image, a wood collage is also available (as well as gallery walls).
You can decorate your entire home with stunning wood photo prints! Each print is made from a thick and gorgeous plank of wood, with very authentic printing methods, too. 
The young family that started Photobarn poured their hearts and souls into the business and it shows.
5. Photobarn Pro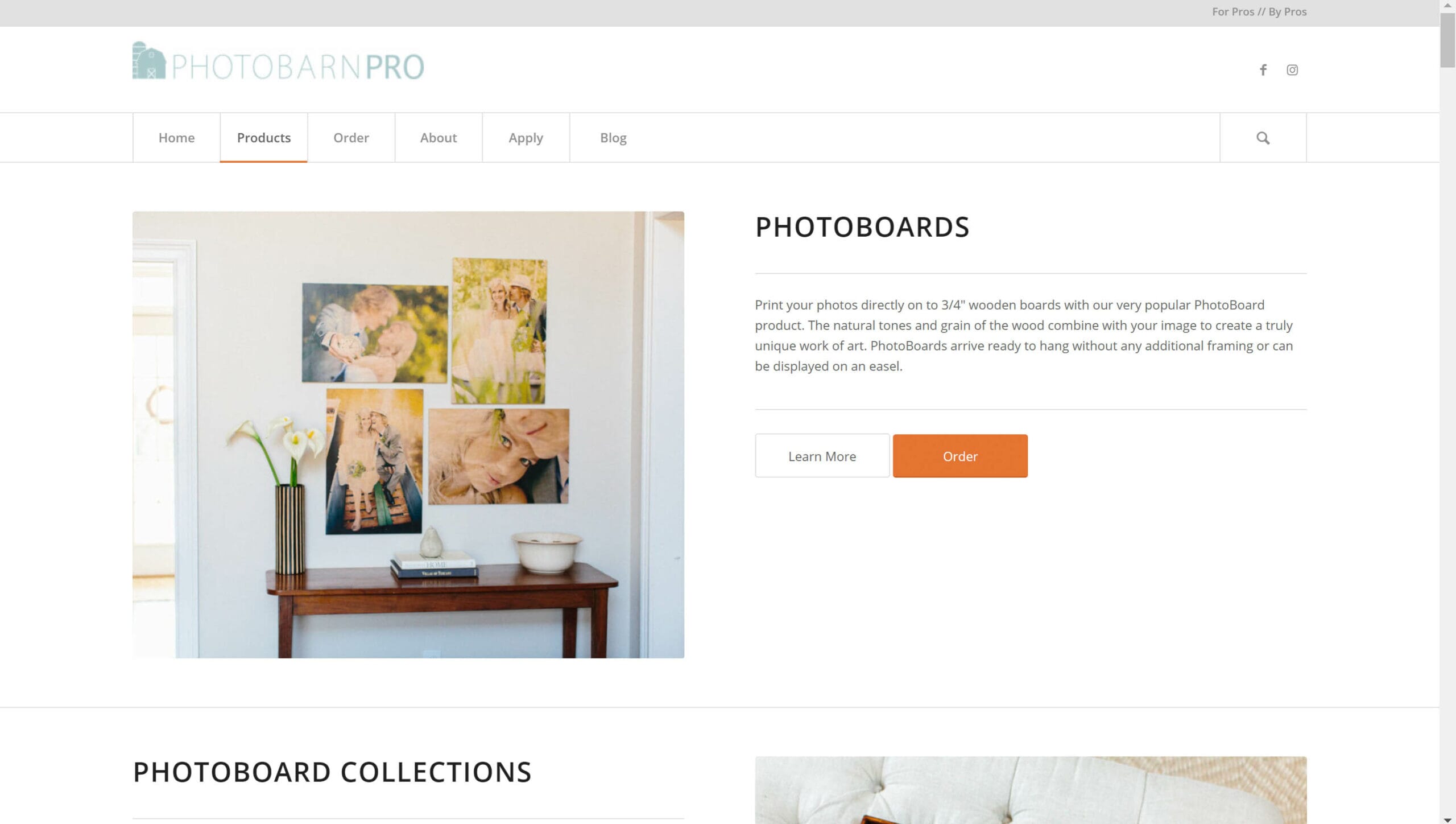 Best for professional photographers
Photobarn Pro is like Photobarn, but designed for professionals.
Pros
All of the same options and quality as Photobarn
Drop shipping, bulk pricing, special options for professional photographers
Cons
Requires an application to join
Photobarn Pro is a division of Photobarn specifically designed for professionals. Therefore, products are essentially identical to Photobarn's, but with discounts and bulk pricing, along with extremely fast turnover and drop shipping with your own personalized branding. It's a great way to offer quality wood products to your photoshoot clients!
6. WhiteWall
Pros
Stunning wood grain finishes and beautiful prints
Winners of the TIPA Awards and holders of the Best Photo Lab Worldwide
Thick, sturdy birch wood panels
Cons
Not very customizable
Expensive
WhiteWall is aptly named, as it aims to add to your white walls! As official quadruple winners of the international TIPA Awards, it would be a mistake to not include them in our list of top-notch wood photo prints.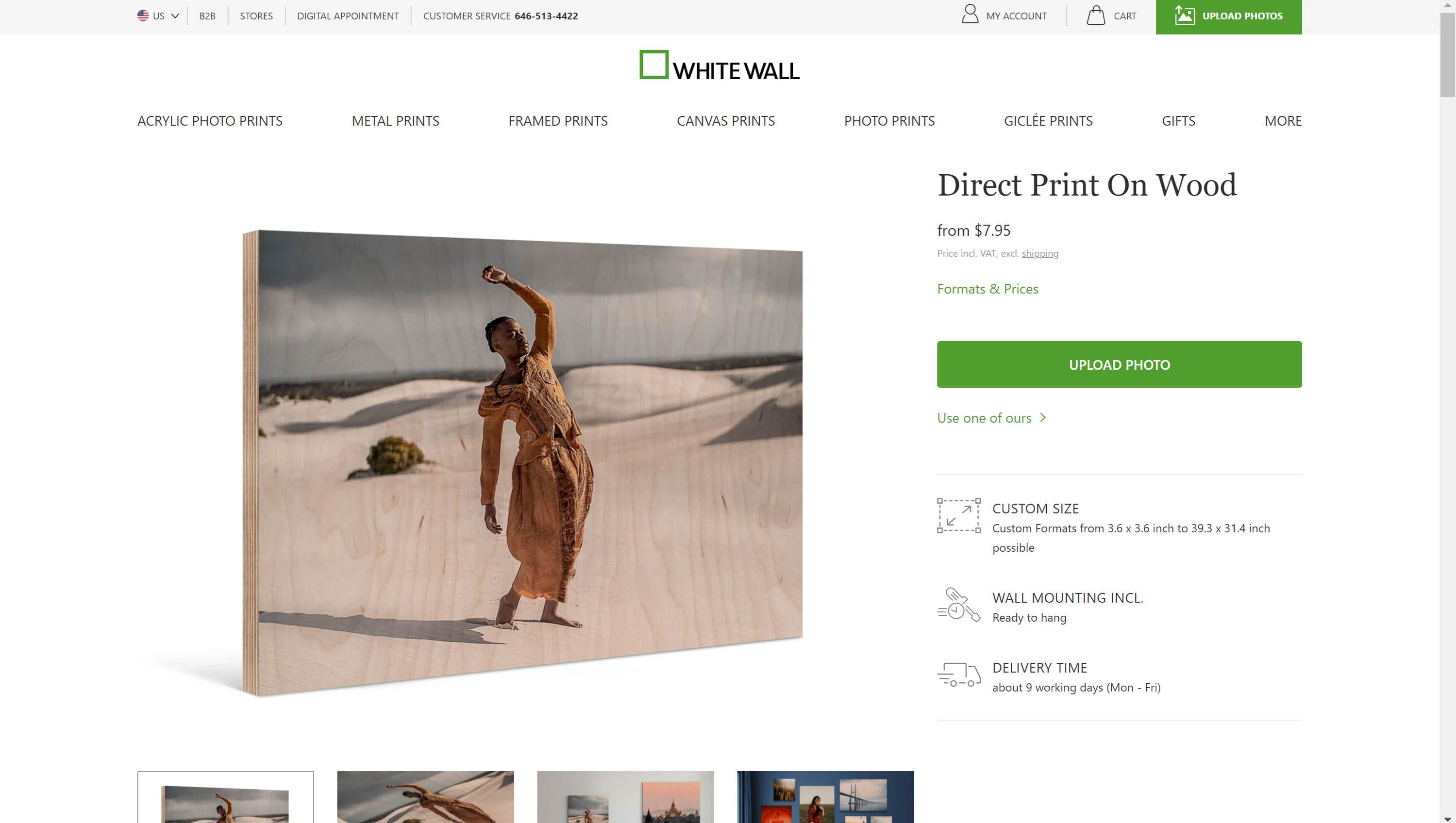 WhiteWall's wood prints are a bit different from the other labs on our list because they are direct-to-wood prints. And you can even see the grain and details of the wood through your photographs.
The panels are layered thick for stability, so there's no accidentally breaking your print, and even color UV printing is what makes the magic happen (on layered birch wood, no less). The prints come ready to hang and look stunning!
7. Bay Photo Lab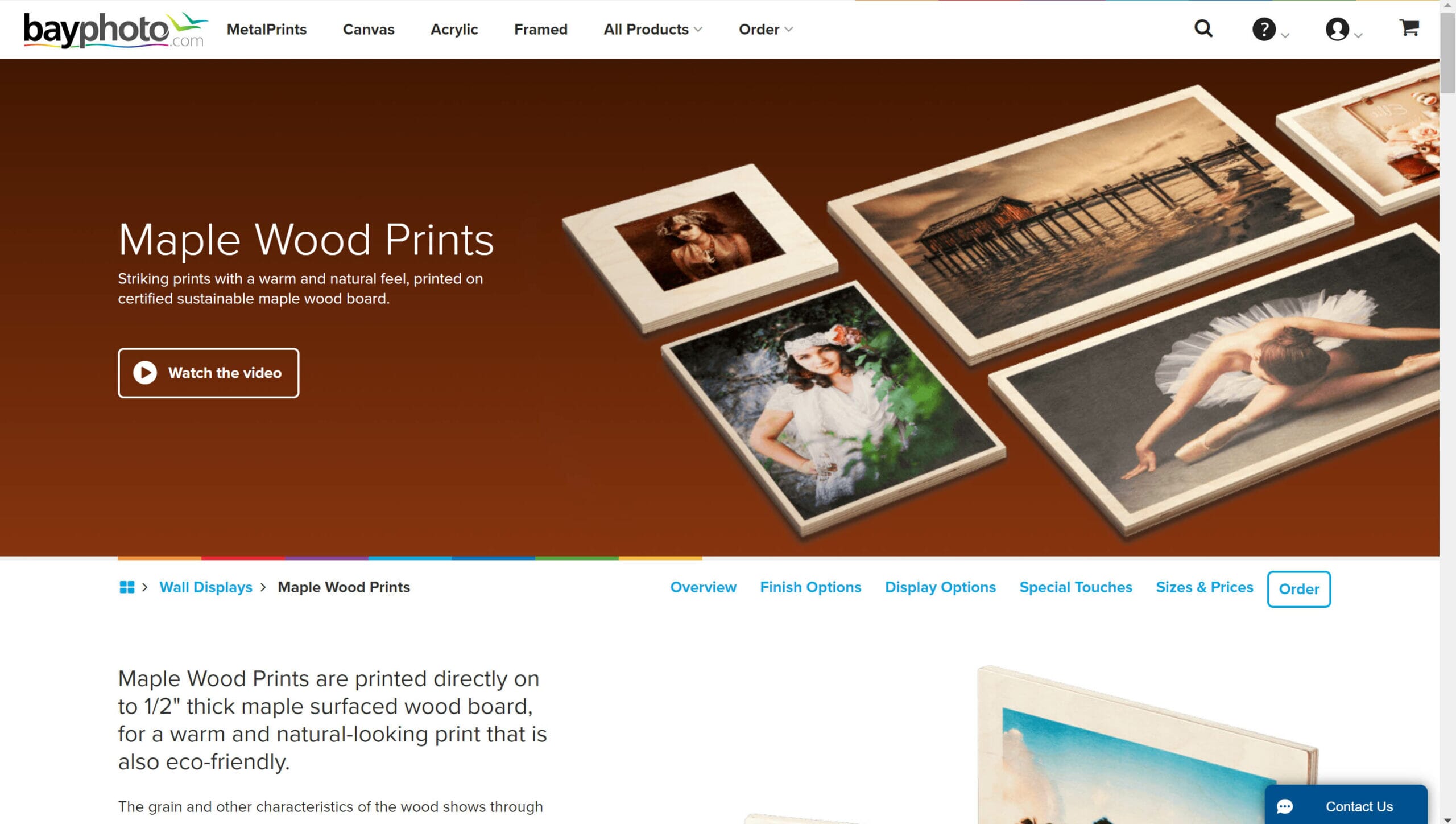 Great for professional photographers and their clients
This California print lab is well known for its great client prints.
Pros
Long-standing reputation in the professional photography world
Beautiful warm maple wood panels
Extremely fast turnaround
Cons
Pricey
Only one type of wood
Photographers are well aware of Bay Photo, an incredible lab in Northern California known to cater to professionals. With a slew of print products to choose from, pros have been using this lab for their client's needs for years! And much like Mpix, Bay Photo has expanded its catalog to include wood prints.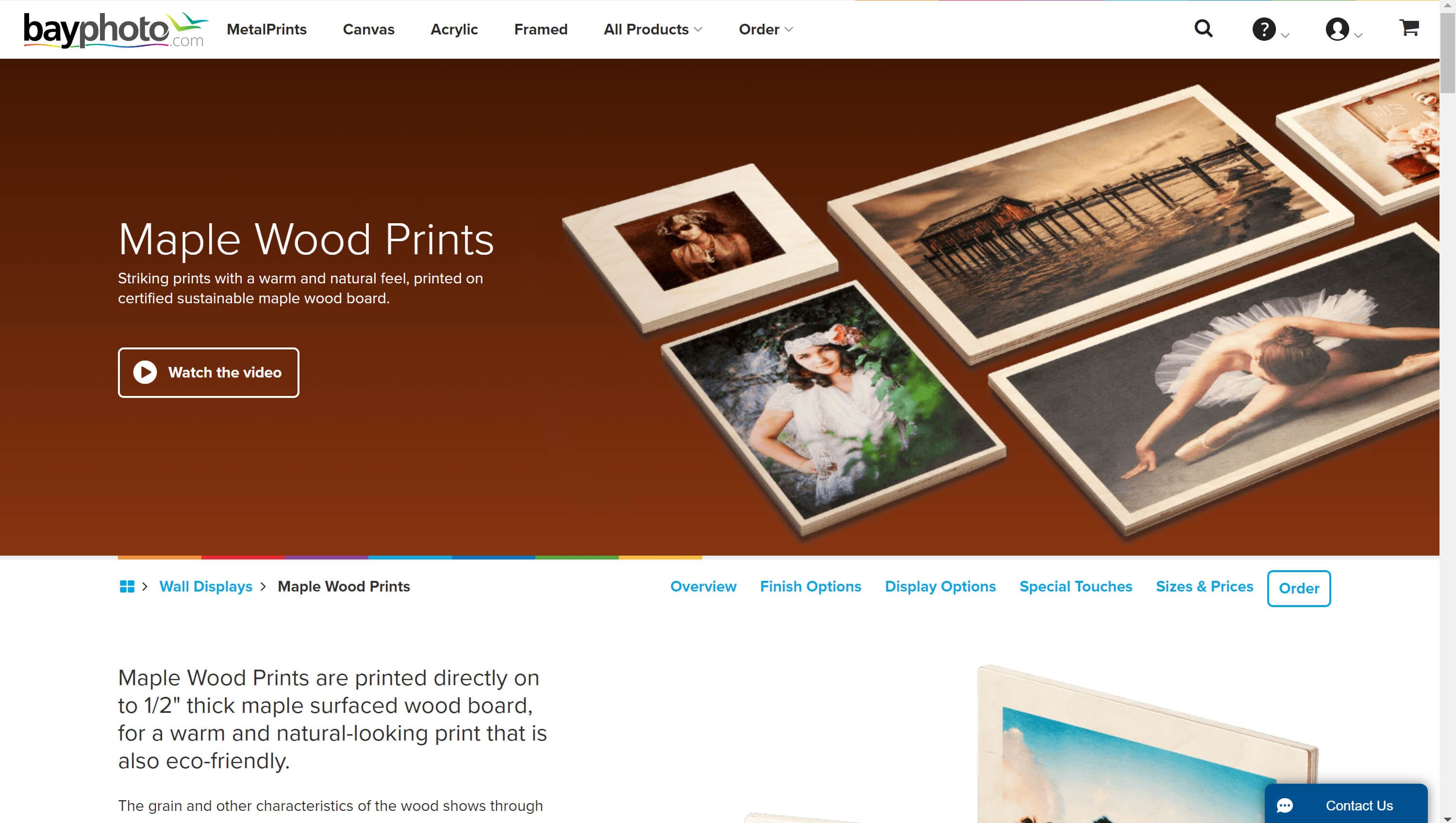 The wood that Bay Photo uses is maple, giving the images a very warm and rich feel – great for family portraits, whimsical fine art pieces, and gorgeous natural landscapes. Wood characteristics show through the lighter parts of the photographs, but if you don't prefer this, you can select to have a white ink underlay to limit the effect. Because the wood is individual, all of the prints are one-of-a-kind pieces of art!
Bonus: With a three-day production time, this must be one of the fastest labs out there.
8. Prints on Wood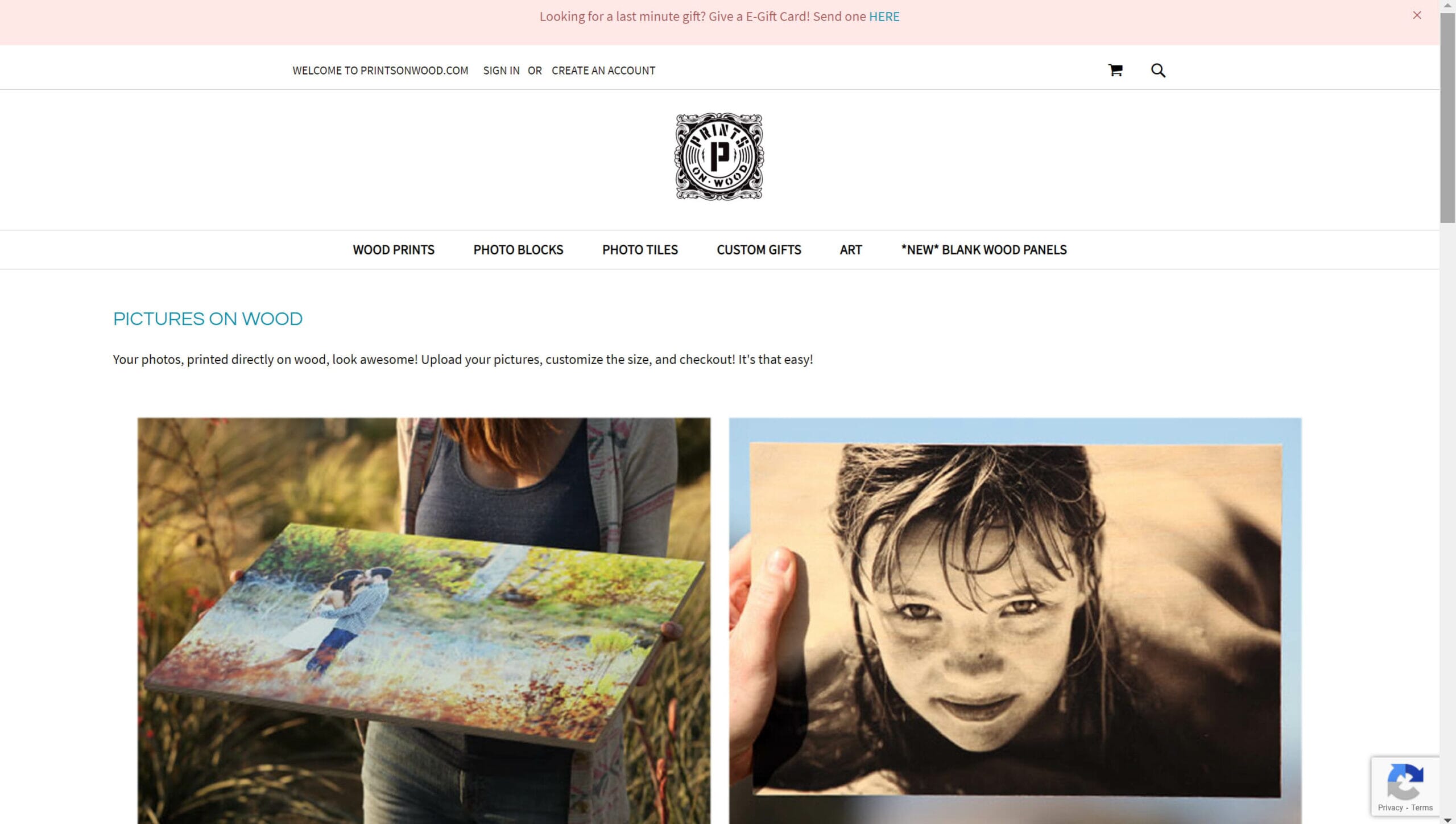 As simple as the name implies
Prints on Wood makes wood prints only, but they include plenty of great options.
Pros
Specializing in wood prints only
Great wood options and products to choose from
Can get help from a professional
Cons
Less wood print shape options than competitors
Can't get much simpler than that! I love lab names that are clear and to the point. Prints on Wood only does, well, wood prints, and you can expect good quality out of this lab. Prints of Wood has different wood types to choose from, ranging from bamboo to regular wood. Options include wood grain and no wood grain, wood print products like photo lockets, and wood blocks!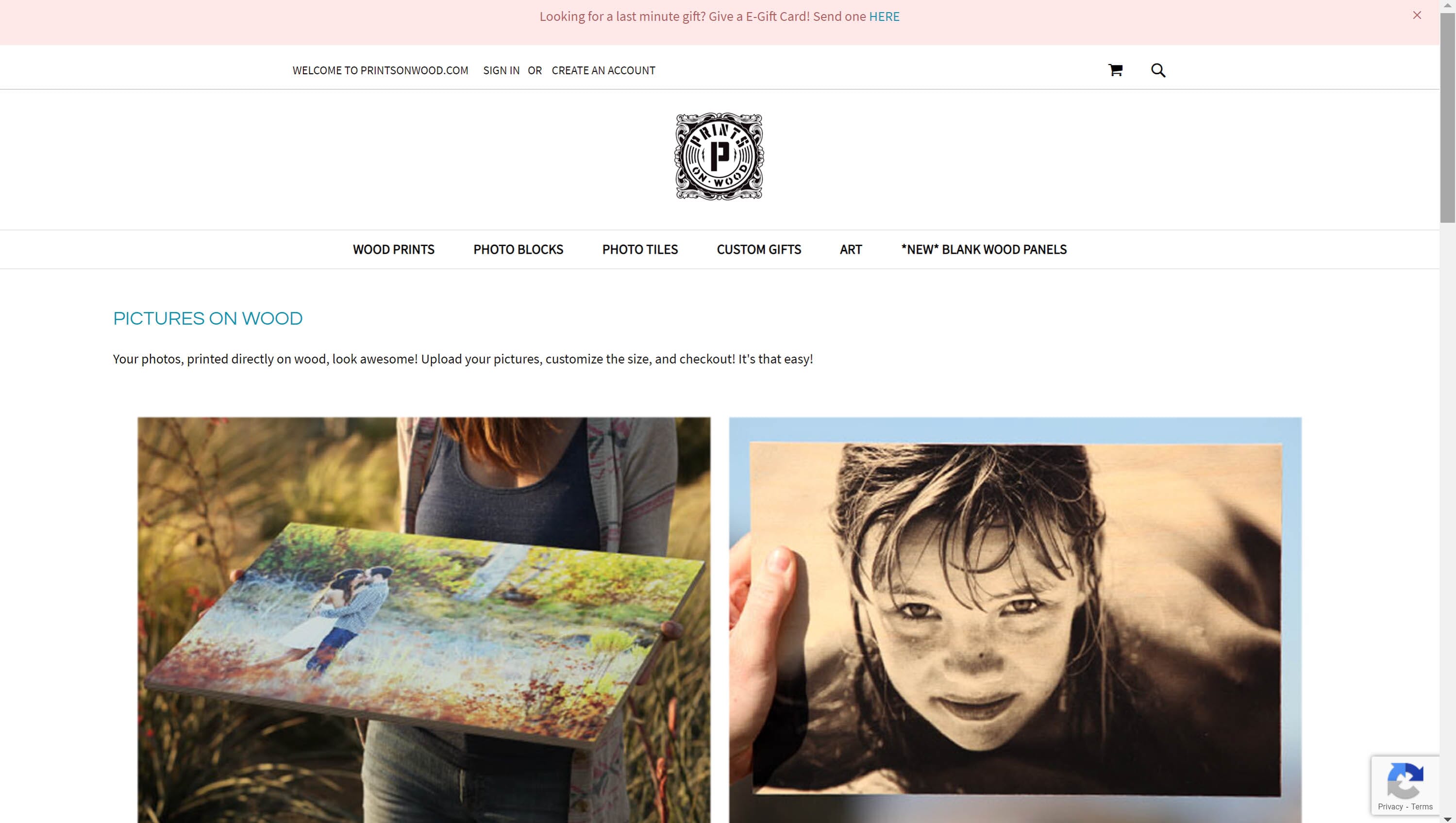 They also offer handcrafted wooden frames to go along with your prints if you don't like the frameless look. It's very easy to contact the company, and a personalized employee can help you figure out what print options work the best for you!
9. Pictorem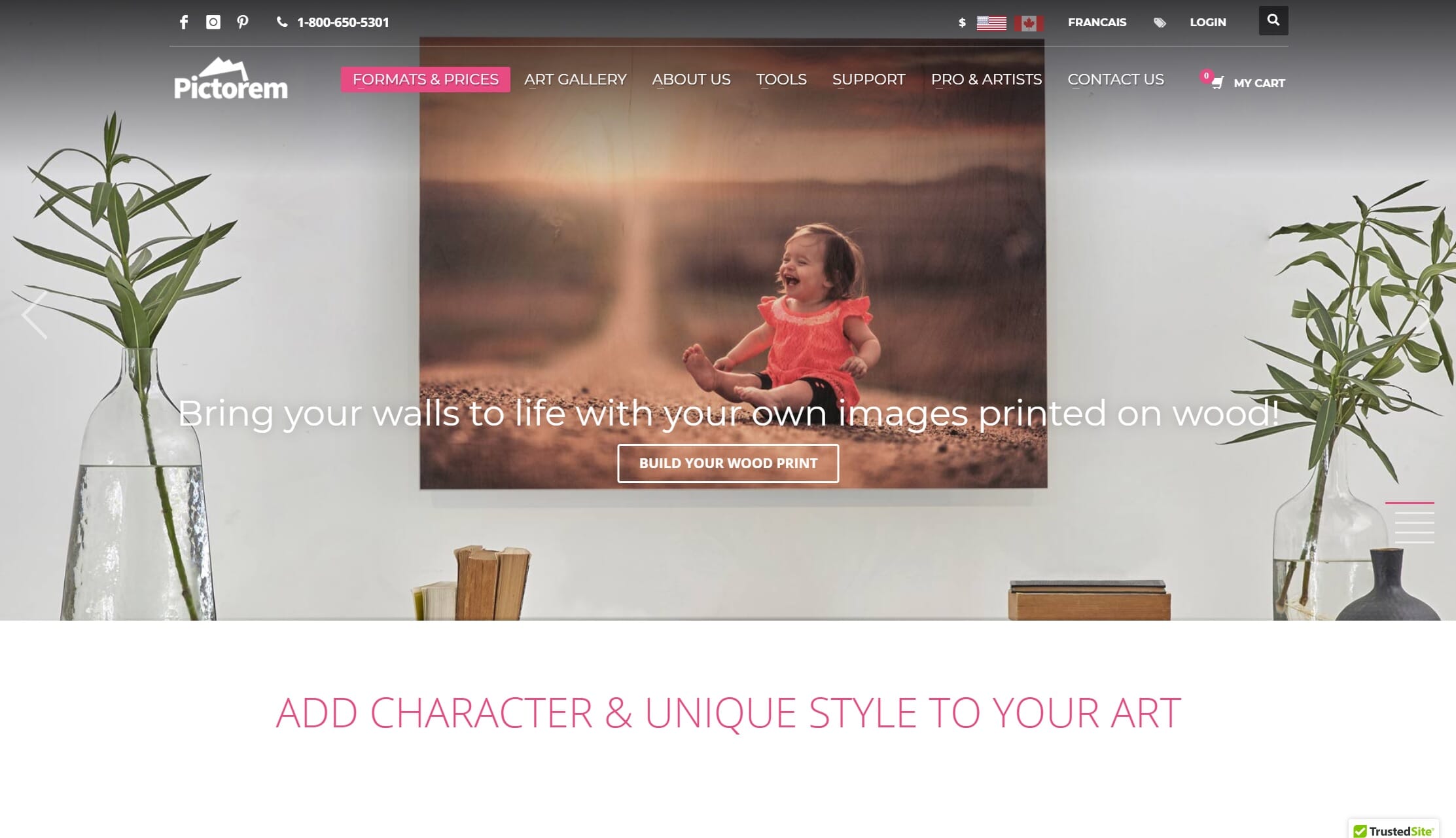 Custom sizes for custom needs
Because the wood is cut to size, you can order custom sizes! This makes the possibilities endless.
Pros
Many of the same offerings as competitive labs
Vibrant, beautiful prints
The ability to order custom wood print sizes
Cons
No option for solid white background (to hide the wood texture)
If you are considering a one-stop shop for printing needs, Pictorem is that place! Offering a large assortment of printing options, Pictorem has quality products for both professionals and just those looking to decorate their homes. One such product is their wood prints, ranging from little blocks to large panels.

Much of the same characteristics as the other labs on our list apply, such as the highlights in your photograph showcasing the beautiful wood texture and the wood being coated to protect against damage. However, what makes Pictorem unique is that you can actually order custom sizes of your prints – you are no longer stuck with their standard sizes! All of the prints also come with various mounting brackets, making hanging up your art easier than ever.
Which of the Best Wood Photo Prints Are Right for You?
With so many options, the best really depends on what your aesthetic is! If you like wood grain, there are options with spectacular wood texture shining through. If that's not really your style, there are labs that print without grain but in fun shapes and sizes!
In our opinion, the overall best pick is Woodsnap; the company specializes specifically in wood prints and offers top-notch quality. Photobarn, thanks to its multitude of options and incredible products, is another good choice. And for the professionals, Photobarn Pro is a great way to go.