BlueMelon vs PhotoShelter Comparison
The number of photo sharing, selling and hosting platforms at your disposal makes it difficult to pick the right one. Combined with the wide-ranging approaches to everything from organization to selling and subscription and transaction fees, a comparison of two of such sites first requires a proper introduction into how these sites differ from most of the others.
Why BlueMelon and PhotoShelter?
Portfolio sites like SmugMug, Zenfolio, Flickr or even microstock photography like 500px process payments internally. A customer who buys photos through these services pays the website, which then pays usually PayPal or other company for its services.
BlueMelon and PhotoShelter, on the other hand, connect buyers and sellers more directly through a setup payment processor. If a customer buys a product on either of these sites, he/she pays directly to the photographer – you.
It may seem like an insignificant difference, but it allows you to potentially set more payment methods, gain more transparency in fees and avoid the necessity to request payouts from a website holding your funds.
The second reason why we take a closer look at these sites is that they both excel at offering services across the Atlantic, Pacific or wherever your customers might be.
Related Post: SmugMug vs Zenfolio – Which one is Better?
Shortly About BlueMelon
BlueMelon was born in 2008. One of its very first features was a slideshow that could be embedded on other sites and tools for customizing header and footer without the knowledge of coding. Over the years, BlueMelon has focused its development on download products and facilitating communication between photographers and their customers.
What are the distinct features of BlueMelon?
BlueMelon is a hard site to categorize. Although some users lack phone support, BlueMelon has been known to add complex features based on photographers' requests. It offers a unique free account and a friendly interface.
In BlueMelon, you can also find the most thorough settings of digital downloads of both photos and video but no prints.
Customization
BlueMelon
BlueMelon doesn't use ordinary templates. When it comes to customizing the way your homepage looks, you have a color theme and complete freedom in choosing sections that are to be displayed. One of the most popular is a featured slideshow, which lets you showcase an album or all recent public photos with or without additional content.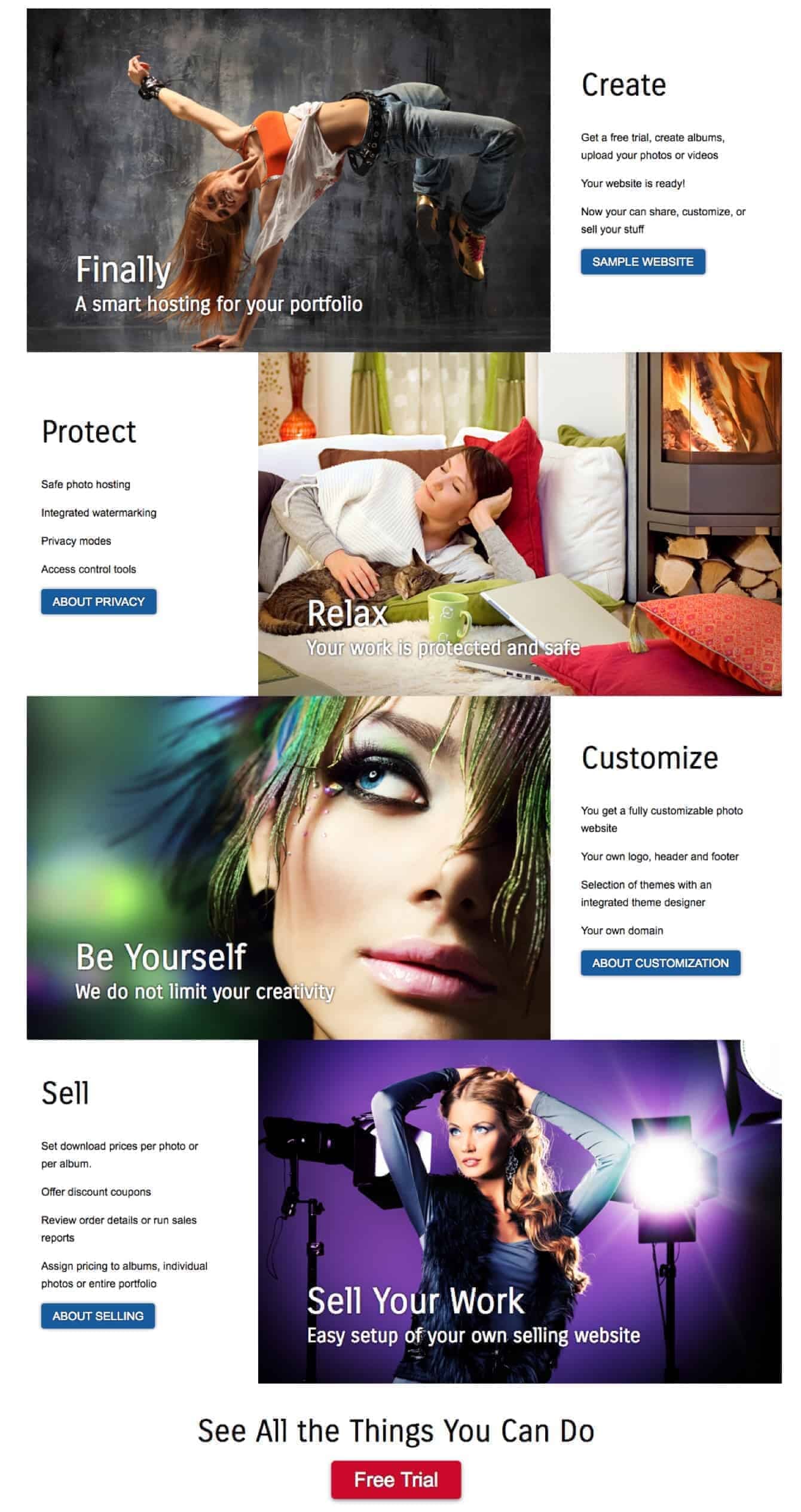 Related Post: How to Sell Stock Photos & Make Money
BlueMelon: Your Own Style
In contrast with PhotoShelter, BlueMelon makes it possible to use any of currently three styles for each album (gallery in PhotoShelter) or category (collection therein). You have to still use the same color theme, but the number of photos, their size, comments and other information can significantly differ. This is especially useful for photographers wishing to differentiate between various types of photography and or video they display.
Almost everything in BlueMelon has more tiers, for basic and advanced users.
Changing or removing both footer and header can be done without any programming skills or you can switch to HTML and CSS editor. The same goes for homepage sections which can be tweaked to personal preferences without leaving the homepage screen. This format allows you to set up your whole portfolio in a matter of minutes, excluding upload, and even after a few weeks find new ways to optimize your site.
Selling with BlueMelon
If you sell digital files, whether video or photo, you will want to try out BlueMelon.
Set your Own Pricing for Albums and Photos
You can also set up pricing for entire albums alongside individual photos compared to packages and discounts that are supported by PhotoShelter. BlueMelon gives you the option to customize licenses and download products prices can be differentiated both by resolution and percentage of the original resolution. If you sell both panoramic landscapes and portrait photography, you know how useful percentage can be in comparison to absolute pixels.
BlueMelon Pricing
Subscription plans offered by BlueMelon differ in a few respects. Plans are more modular, you need storage, and you can purchase additions like a business package, which gives you selling features, and/or a debrand package allowing you to remove BlueMelon logo from the footer. And there is only an annual payment with a 30-day guarantee.
BlueMelon offers a free option, which comes with 2 GB of space, but it is without protection features. There is a full-featured 14-day free trial available.
The pricing for accounts including shopping cart integration starts at $70/year.
Finally, transaction fees are at 8%.
How is PhotoShelter different?
PhotoShelter has a longer history than BlueMelon starting in 2005. Since the very beginning, it has been focusing on professional photographers all around the world with tools such as SEO optimization or by offering 5 photography labs to choose from.
PhotoShelter offers some unique customization and selling features which are covered more fully below. It offers both phone and email support. But more unique is the support of raw files, although these are converted for displaying and printing. One of the recommended formats is also unusually TIFF. On the other hand, you cannot host or sell video, you can only embed it from another site.
Related Post: PhotoShelter Review
PhotoShelter Customization
PhotoShelter customization is based on templates which you can quite easily choose and modify in the Site Builder.
Unfortunately, you currently need to choose between responsive templates optimized for a variety of displays or classic templates meant for standard-sized screens. The differences between the two types of templates don't end with tablet users, only classic templates allow you full HTML/CSS customization or gallery slideshows. For the time being, you will need to decide if you want more options or more modern design.
PhotoShelter employs quite a different methodology when it comes to the management of your site with responsive design compared to BlueMelon.
With PhotoShelter, homepage, collections, and individual galleries are less separated. When designing your site, you need to think more holistically – do you want horizontal navigation, vertical navigation, simple navigation, or more than one gallery on one page? You may spend a lot of time searching because there is very little combining possible.
Related Post: Best Photo Portfolio Websites Compared (11 Amazing Picks)
Selling
PhotoShelter has a lot to offer, especially if you want to sell prints. With five labs, one of them – Loxley Photographic – located in Scotland, your customers across the ocean don't have to fear shipping costs.
Another unique option among portfolio websites results from the partnership between PhotoShelter and Cradoc fotoSoftware. Put simply, PhotoShelter with the help of Cradoc fotoSoftware determines to price for your photos across state lines, industries, and assignments so you don't have to.
PhotoShelter surpasses BlueMelon in the number of products that you can sell. But their management is time-consuming and some of their properties cannot be managed at all. PhotoShelter uses a generic license which can be replaced, but you cannot specify two or more different licenses for different download products.
On the other hand, BlueMelon allows you to work with fewer pricing profiles and with as many licenses, whether pre-defined or custom, within them as you want.
PhotoShelter Pricing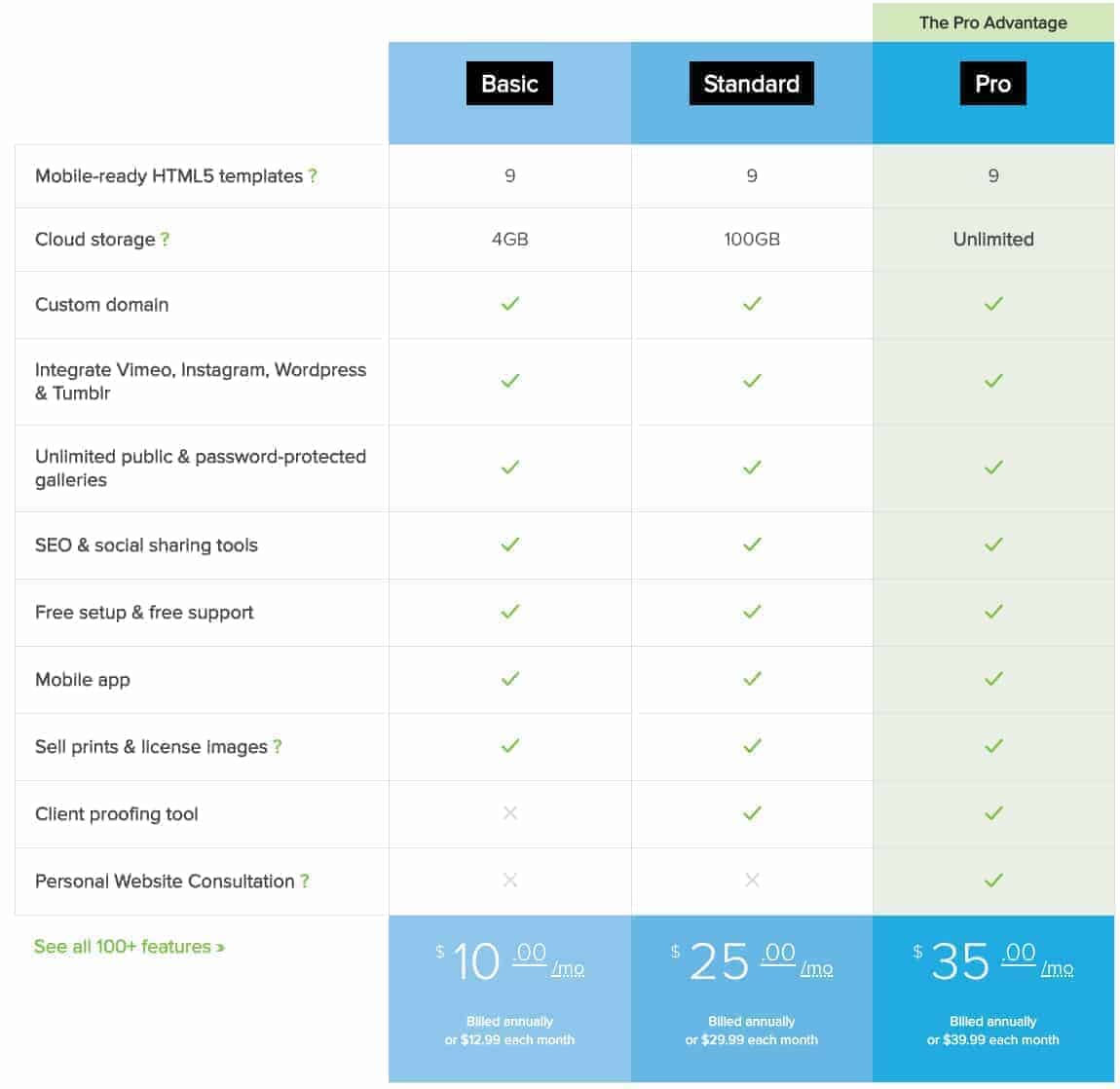 PhotoShelter pricing is straightforward. You can choose from three account types: Basic, Standard, and Pro, all of which come with e-commerce tools. You can pay in monthly installments or annually.
PhotoShelter offers a 14-day free trial, which requires credit card details in order to create pricing profiles.
The cheapest selling account can be purchased for $120/year and includes 4 GB of storage, 5GB bandwidth, and 10% transaction fees. 100 GB of storage is part of the Standard account for $300/year + 9% fees and unlimited storage limited by 50 GB of bandwidth for client downloads is available for $540/year + 8% transaction fees.
Basic and Standard users can also upgrade their storage without changing their bandwidth limits.
BlueMelon vs PhotoShelter: Conclusion
Both of these platforms integrate 3rd party services like domain registrars or payment processing with very few problems.
PhotoShelter offers more choices, but some of them are not as accessible or thought-through as is the case with BlueMelon.
Both platforms have tools like an embedded slideshow that make it simple to network sites, blogs, and social media.
Their professional privacy options are on par as well.
Where they differ is their specialization, BlueMelon successfully specializes in download products including videos, while PhotoShelter excels in prints.
Another difference is their ease-of-use and versatility. BlueMelon is just as useful for family photos and bird collections as for corporate event photography. PhotoShelter is most useful for classical photographers who like to keep control over the final product or biographers who sell materials worldwide.
Finally, in case you are starting with professional photography and have limited funds, BlueMelon is definitely the better choice.
For
10% off

on BlueMelon
use the BlueMelon Coupon Code:
PHOTOWORKOUT
— to get the Discount
Signup Here
.