Ready for another installment of our series on the best and brightest on-demand photo canvas distributors?
Today, we'll be taking a look at CanvasDiscount, an American company that claims to have the "lowest prices on the web."
But can the shop live up to their promise? Furthermore, can they retain the quality to compete while simultaneously slashing prices?
Breaking down everything from their web presence to the canvas construction, we'll just where the CanvasDiscount photo canvas stacks up.
CanvasDiscount Canvas Print Review
Quality of Print

Speed of Delivery

Packaging

Usability and Customer Service

Price
Summary
CanvasDiscount.com is one of one of the most promising low price canvas print choices. Their prints look fantastic, and their prices are affordable. However, prospective customers should beware – their site is not exactly user friendly, and their haphazard delivery may leave you with a product you'll be less than impressed with.
When you buy through links on our site, we may earn a commission at no cost to you. We evaluate products independently. Commissions do not affect our evaluations.
What We Loved:
110% Low Price Guarantee. One of CanvasDiscount's biggest selling points is its guarantee of low prices. In fact, the site promises that they'll match lower prices from competitors and offer a 10% gift voucher. Even skeptics will have a hard time passing up the offer.
Quick to ship. For US customers, CanvasDiscount promises that orders can be ready to ship within twenty-four hours of placing an order. In fact, if there's any sort of delay, the site will offer your money back. In addition, shipping is entirely free for orders over $70.
Plenty of products to choose from. Canvas isn't the only thing that you can find at CanvasDiscount. If you're looking to get something a little bit different, they'll print your photographs in acrylic, metal, and PVC forex. You can even get personal pictures printed onto blankets, pillows, mugs, and even jigsaw puzzles!
The customer's always right. CanvasDiscount takes on large commercial clients as well as personal on-demand orders from individual artists.
What Could Improve:
Information is scarce. While the site always has its latest sale prominently displayed for any customer to see, it's hard to actually find information on the company itself. It's unclear what sort of materials the canvases use or where CanvasDiscount itself is headquartered.
Lack of following. CanvasDiscount could work on their online presence and building a firmer connection with their clientele. There's a lack of buzz on what customers think or feel about CanvasDiscount products, and their activity on social media platforms such as Instagram and Facebook is surprisingly scarce.
Prices in flux. While CanvasDiscount promises low prices, those prices only stay low due to deeply discounted sales. While this doesn't sound like a bad thing on the surface level, I've noticed that other canvas providers use similar techniques to frequently change the price of their product, making it hard to come up with an accurate estimate ahead of time.
Website woes. There are a few improvements that could be made to the website. Specifically, I ran into slow image upload times that proved to be slightly frustrating.
Related Post: CanvasChamp Canvas Review
What I Received:
I'll admit it – I didn't really know what to expect from CanvasDiscount when I first submitted my order. As I mentioned above, their poor web layout didn't leave the best first impression. Furthermore, I ran into some trouble finding past customer reviews from third-party sources.
However, I have to say that the final product that arrived at my doorstep far exceeded my expectations.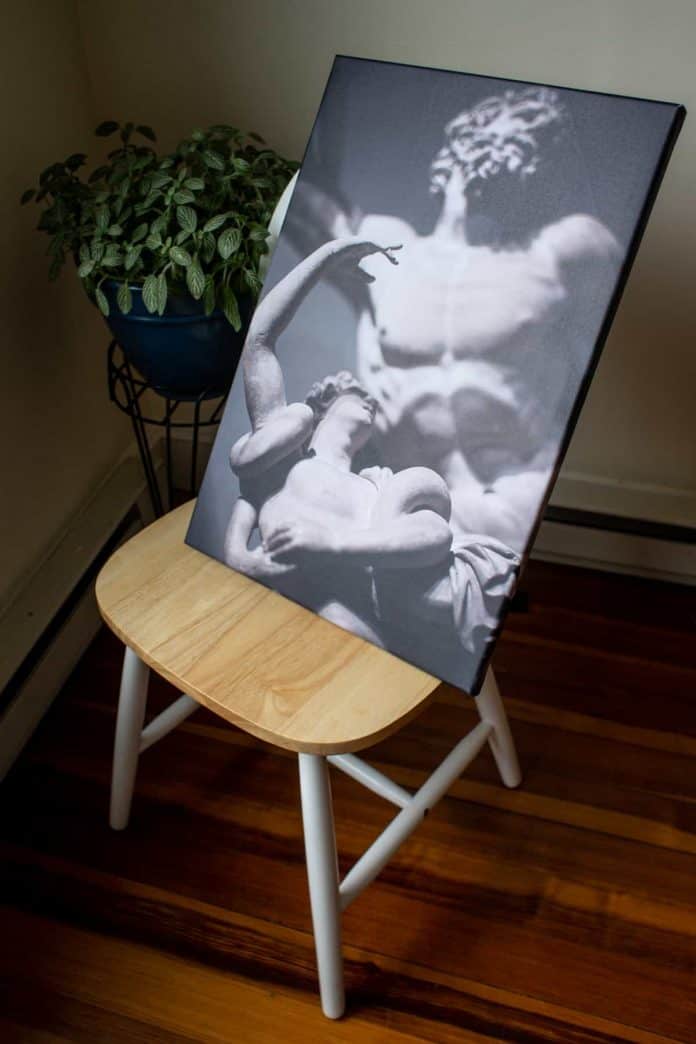 One of the things that particularly impressed me right off the bat was the site's range of sizes. Most providers offer about 6-10 different sizing options off the bat, allowing you to crop the image to fit their existing templates.
CanvasDiscount, on the other hand, will generate sizes compatible with the quality of the image you upload. Of course, high res photos yield the widest array of options. But no matter what it is you have to work with, CanvasDiscount goes the extra mile to ensure that you won't end up with the pixelated prints that result from stretching a small file out too wide.
print quality was superb
On that note, the print quality was superb. Everything is clear and defined, an aspect that many other on-demand canvas printers seem to struggle with. I'm not sure if CanvasDiscount uses unconventional materials or employs a different print technique altogether, but the texture of the canvas did not overpower the details of the image in the least.
Related Post: CanvasDiscount Metal Print Review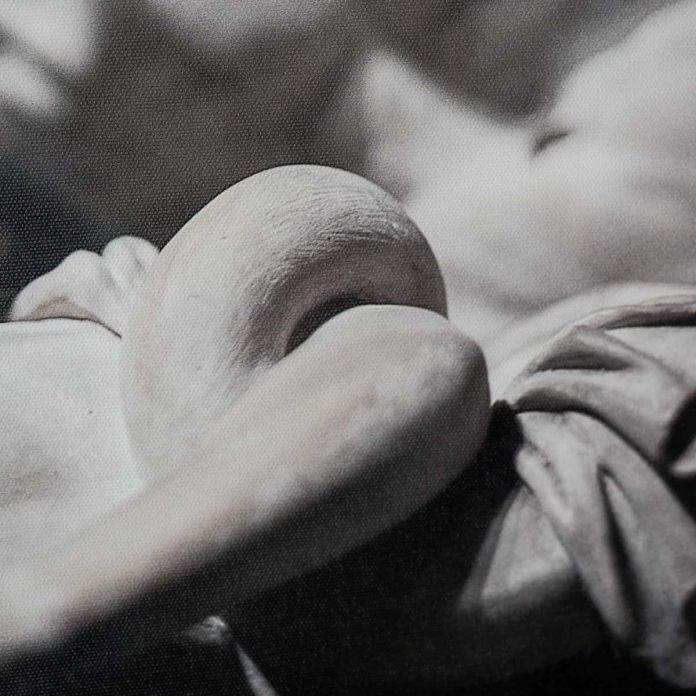 The colors in my print also came out beautifully.
My test print wasn't a true black and white, and I purposely left some blue and purple tints in the file. Some printers have a tendency to bump up saturation, and I was happy to see that the subtle shades weren't overpowering the piece or entirely washed out in the print process.
The CanvasDicount Flaws
That's not to say that my order was without any flaws. The wrapping was passable, but I would have preferred if it were stretched just a bit tighter along the frame.
I also have to take a few points off for CanvasDiscount's lack of hanging materials.
Although there are plenty of other services that don't include nails, wire, or hangers with their canvases, it's a pet peeve of mine simply because it's such an effortless, inexpensive addition that makes the hanging process infinitely easier.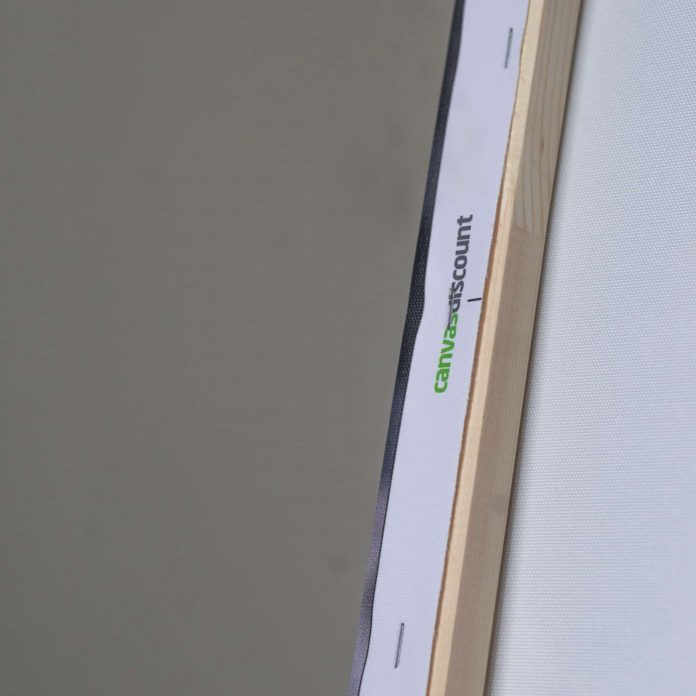 However, the biggest flaw that I found in my ordering experience didn't have to do with the canvas at all. Rather, there was very little packaging to protect my canvas. As a result, one of the corners of my order got dinged in transit.
It's just a superficial scar, and it certainly didn't stop me from hanging my piece up. However, a few packing peanuts or foam inserts could have completely prevented the issue from happening.
Related Post: iCanvas Review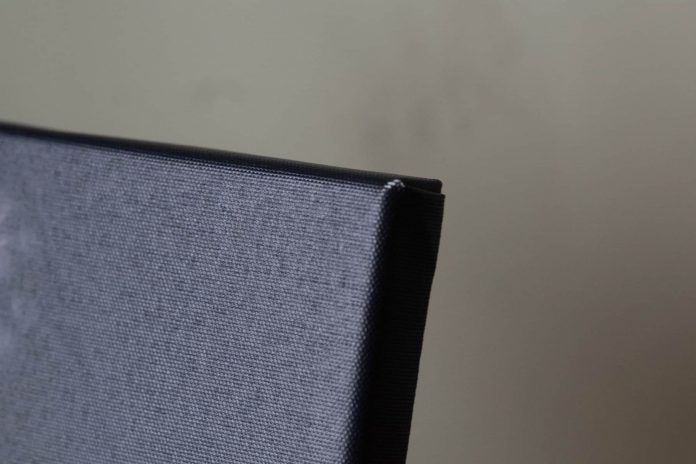 Our Verdict
one of the most promising low price canvas print choices
CanvasDiscount is likely one of the most promising choices available for its low price bracket. Despite costing less than most competitors, it yields high-quality results that just about anyone would be happy to display in their home.
The detail and handling of color in their pieces surpass the work of printers that charge significantly more.
Related Post: Canvaspop Canvas Print Review
The company doesn't have any major hurdles to overcome. Rather, there's a series of small bumps that stand in their way to the top.
Primarily, their issues lie in their lack of name recognition and customer service. While CanvasDiscount doesn't cut corners on their prints, add-ons such as extra packaging and hanging materials show consideration for their customers.
The silver lining is that these issues are easy to rectify as the business continues. CanvasDiscount is worth keeping a close eye on as they work through growing pains. Without sacrificing appearances, they manage to stretch budgets and produce products easy to take pride in.