The photography industry is constantly changing, and with these changes come workflow adjustments. Once upon a time, photographers had to print client images at home or deliver them by hand from a professional print lab. But photographers now have the option to dropship prints right to a client's doorstep!
Here is our list of the five best dropshipping photography print options, along with a discussion of whether or not dropshipping is the right move for your photography business.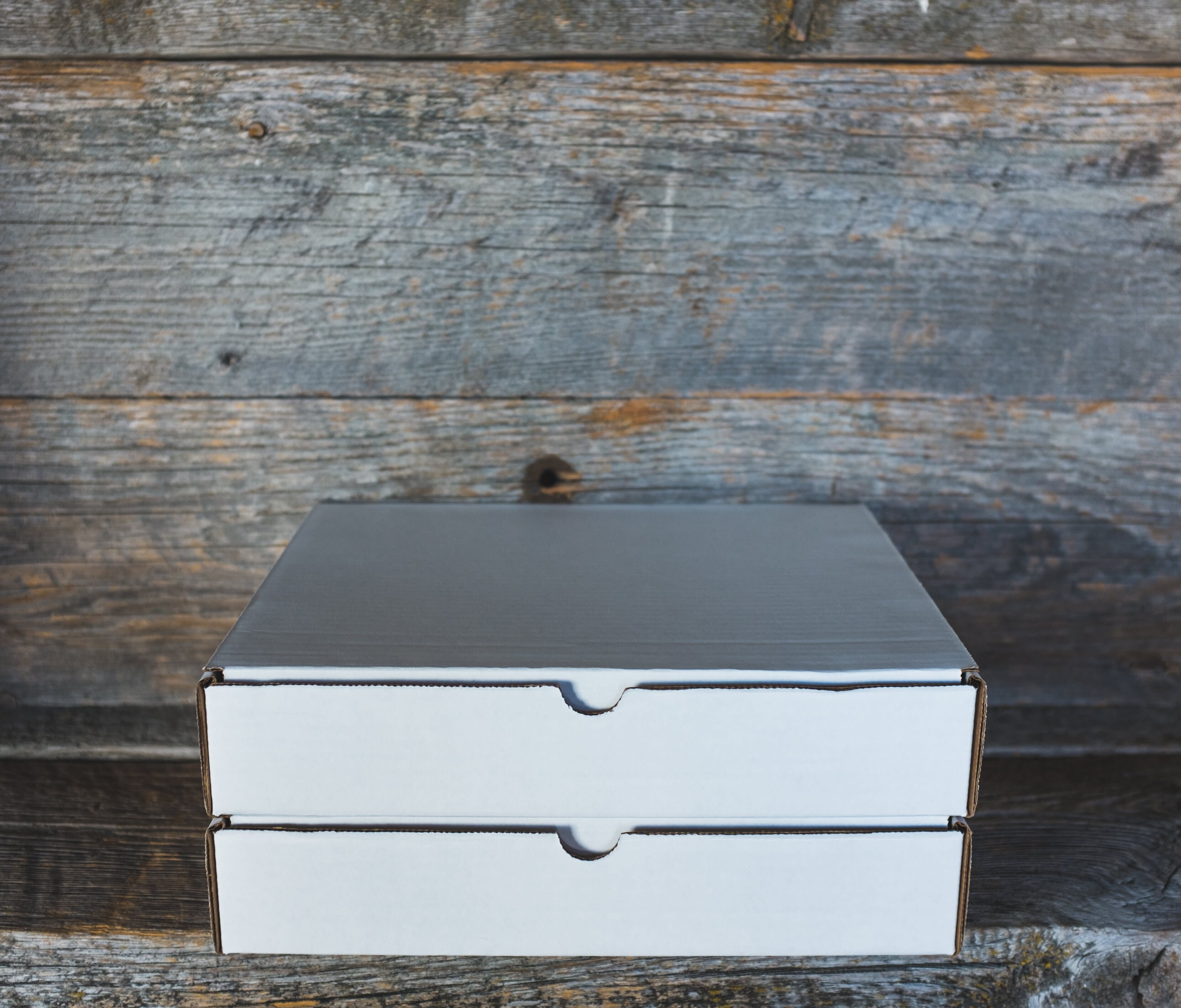 Best Dropshippers for Photo Prints:
When you buy through links on our site, we may earn a commission at no cost to you. We evaluate products independently. Commissions do not affect our evaluations.
What Is Dropshipping?
A few years ago, the photographer was responsible for delivering print products to their client. Photographers would generally either make the prints themselves or outsource the printing to a lab. The photographer would then arrange for the client to receive the product – by asking the client to appear in the studio, driving to drop the print off at the client's home, or shipping the print to the client.
Dropshipping is a service in which a print lab mails the print order directly to the client. The photographer places the order with the lab, and the lab neatly packages everything up and sends it to the client.
Dropshipping has expanded so that photographers now sell photo products online through various e-commerce, storefront, and gallery solutions. The photographer's website automatically sends an order to the print lab, and the lab fulfills it with minimal manual effort from the photographer.
1. Pictorem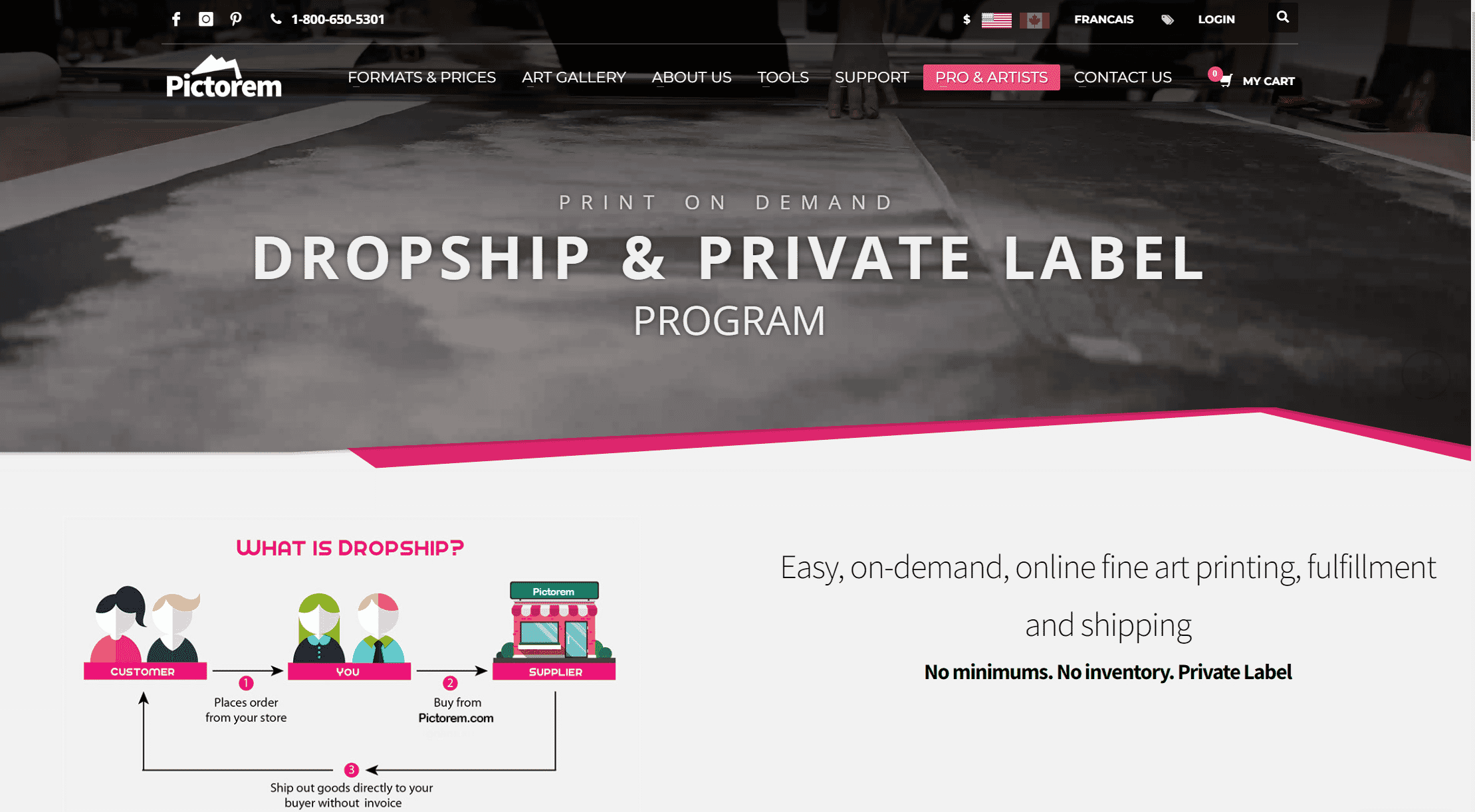 Great for versatile dropshipping
This well-rounded print lab offers a lot of product options and even better dropshipping features!
Pros
A lot of great print products to choose from
You can include your logo in the dropship packaging free of charge
Dropshipping comes at no extra fee
Rebates incentivize dropshipping and using the PRO account
Cons
All orders must be placed manually
Print prices can be a bit steep in comparison to other labs
If you are a frequent reader of Photoworkout, you've likely seen Pictorem mentioned in various articles. This jack-of-all-trades print lab is actually a master of many and produces a great array of quality products to make clients (and photographers!) very happy. That this lab has a well-developed dropshipping option is no surprise.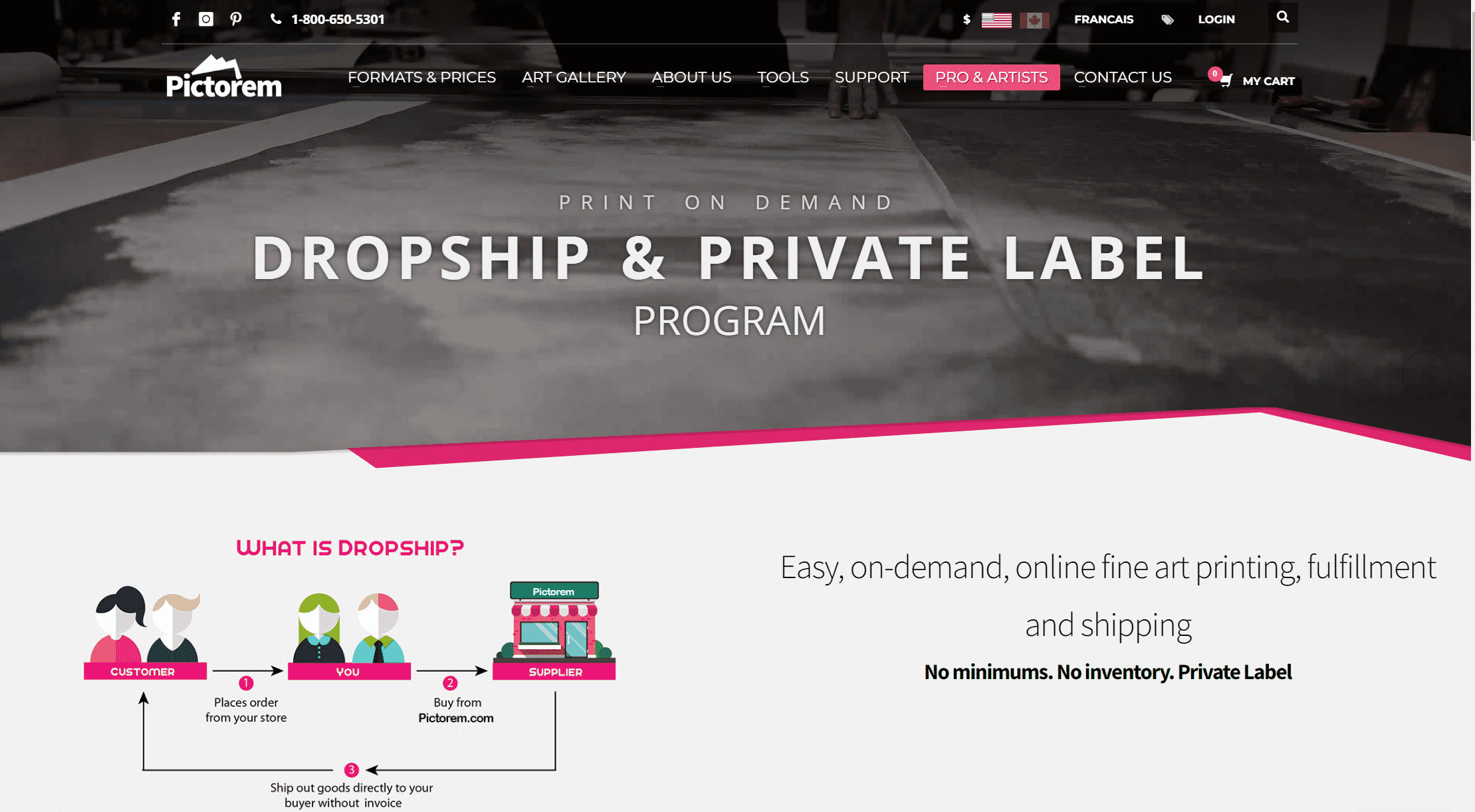 Requiring a PRO account (which is easy to set up and doesn't cost you anything up front), Pictorem's dropshipping service comes with a lot of nifty perks. For starters, there is no monthly minimum order amount to use the dropshipping service – any size photography business can participate. And PRO accounts get an automatic 15% rebate! This rebate price will increase based on the number of orders placed with Pictorem, which means that you end up with more money in your pocket.
Shipping is free throughout the continental USA and Canada and is free from customs taxes and duties. A final free perk is that your business's logo can be printed on the back of stretched canvases, on the packing slip, and on the packages themselves! So it looks like the order came directly from you.
The downside, however, is that Pictorem does not have any automatic fulfillment integrations or options. All orders must be manually completed, which can take up a bit of time depending on how many orders you place. You win some, you lose some!
2. FinerWorks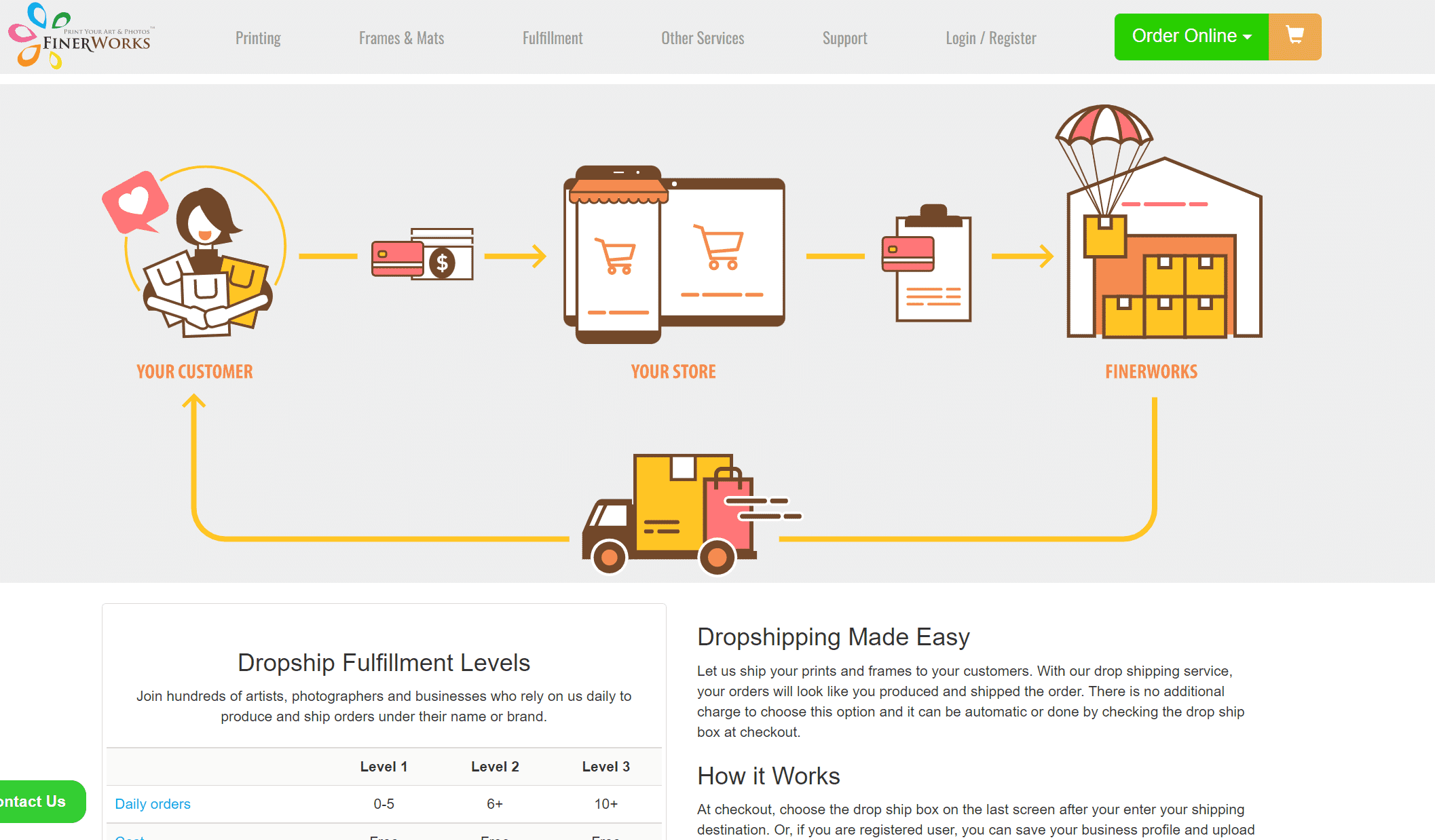 Good for high-volume dropshippers
This lab is great for photographers and artists who get a lot of daily orders that need fulfillment.
Pros
Various free perks for multiple daily orders
The business's name is included on packing slips and the shipping label
Automatic fulfillment is available for various solutions such as Etsy
Affordable print prices
Cons
Shipping is not the fastest
Adding a logo is an added fee
FinerWorks is a lab producing, well, the finer works of art, and it offers a pretty great dropshipping option. If you're a photographer who tends to get a lot of daily orders, FinerWorks can help!
Three tiers (or levels) exist at FinerWorks, each increasing the perks based on the number of daily orders that are placed. The thresholds include 0-5 daily orders, 6+ orders, and 10+ orders. 6+ and 10+ orders unlock special bulk pricing so you can keep profit margins looking great.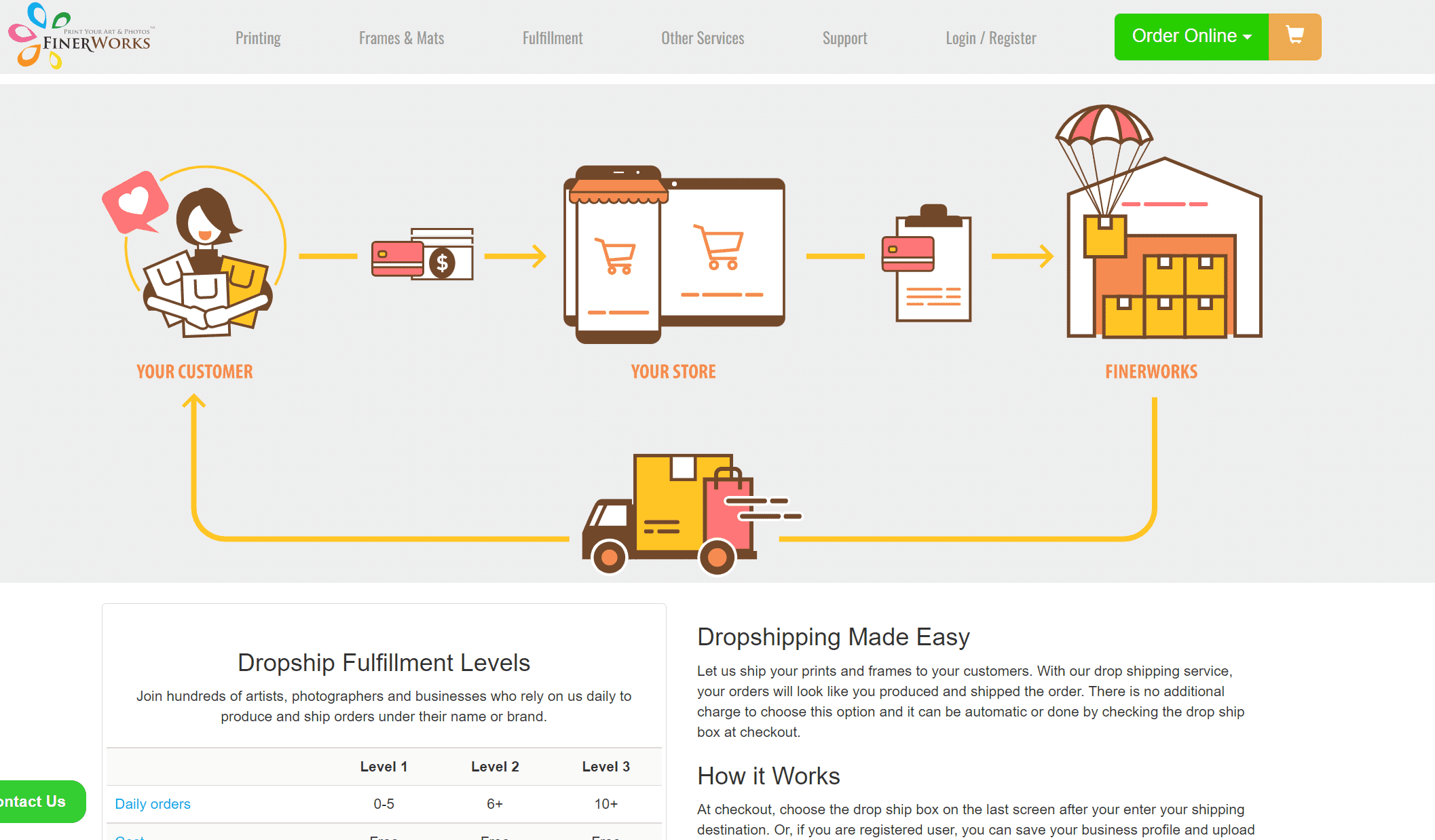 FinerWorks ensures the dropshipping orders look like they came directly from you rather than from a third-party lab. By adding packing slips and shipping labels that have the photographer's name, customers will never suspect the print's origin! And a logo can be printed on the shipping materials for an added fee.
Dropshipping can be done manually by checking the "dropship" box at checkout, though FinerWorks offers automatic fulfillment as well. This auto service works great for artists selling on platforms such as Etsy who don't want to deal with the hassle of multiple manual orders. Shipping is decent but certainly not the fastest (it's 5 to 10 business days). Finer Works is integrated with the big platforms such as Shopify, Etsy, Squarespace, and more for easy automatic fulfillment.
3. Gooten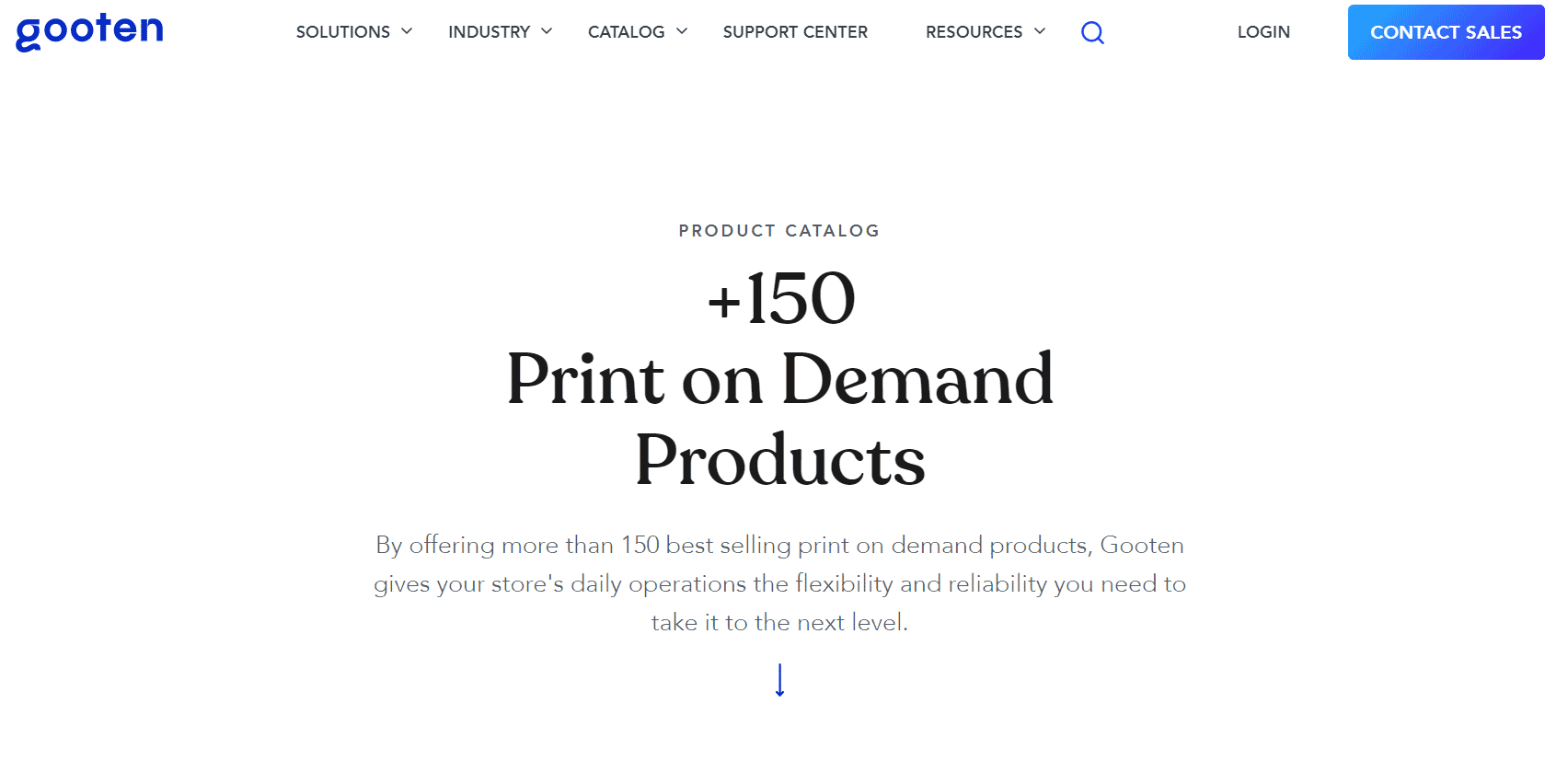 Great for dropshipping variety
Variety is the spice of life, and if that's what you're looking for, then Gooten has you covered.
Pros
A large array of products
Dropshipping is focused on seamless integration with large store solutions
Offers an API
Reasonable prices
Cons
Does not specialize in photography, so quality may not be up to par
Targeting e-commerce photographers, Gooten is a lab with lots of on-demand possibilities. With over 150 on-demand products ready to be utilized and purchased by clients, the lab offers plenty for photographers selling their work on various platforms. Many of the on-demand products include framing and open the door to a slew of possibilities.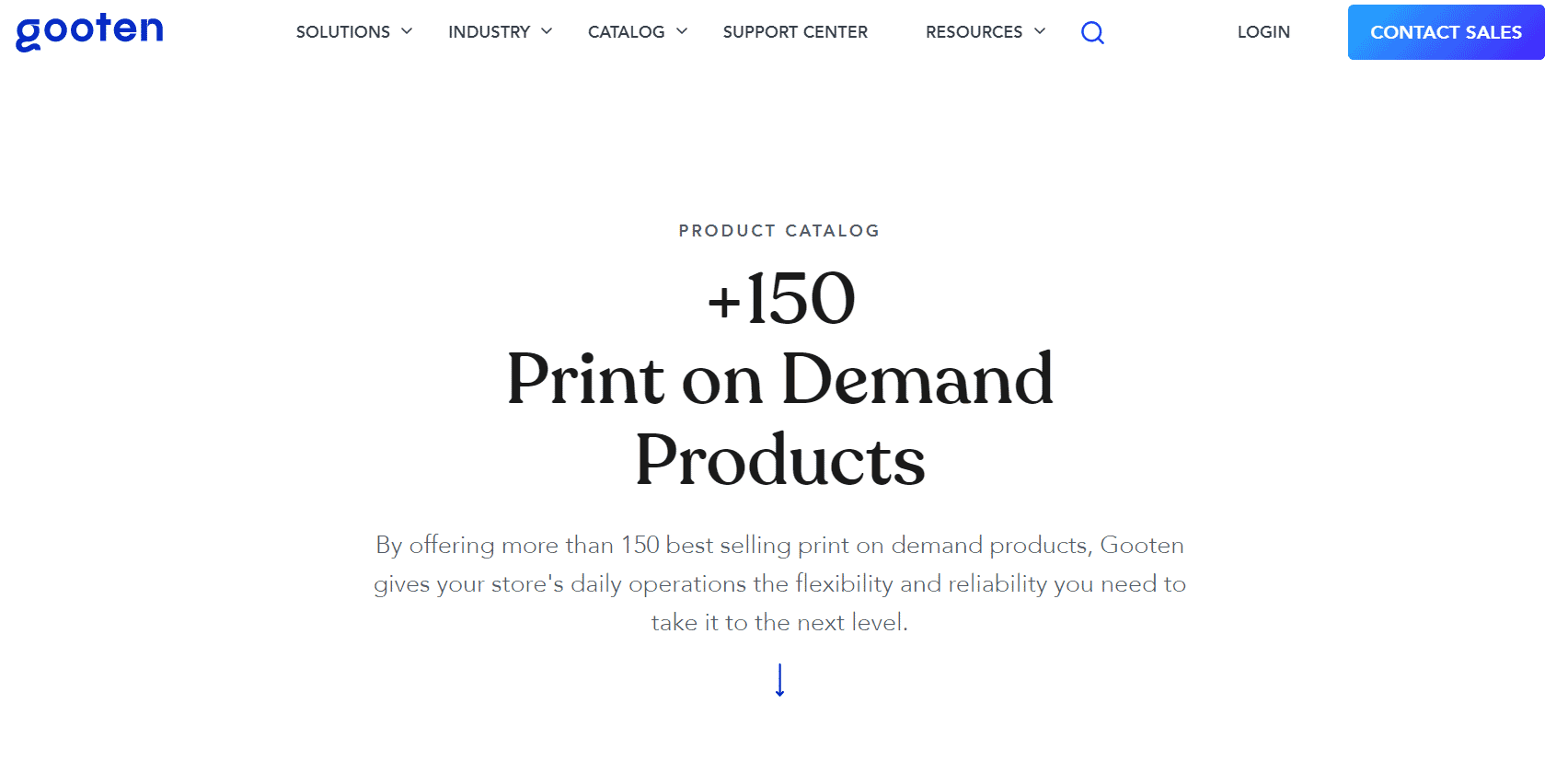 Integrating seamlessly with big online solutions such as BigCommerce, Shopify, and Etsy, Gooten can also integrate with most existing business platforms via its API option. Pretty nifty if you know how to do this (and you can always hire someone to do it for you, of course)!
Generally speaking, the prices are very reasonable. But Gooten does not specialize in photography – they're pretty varied in their product list. This means that their print quality may not match that of labs that are more photography-focused.
4. Art of Where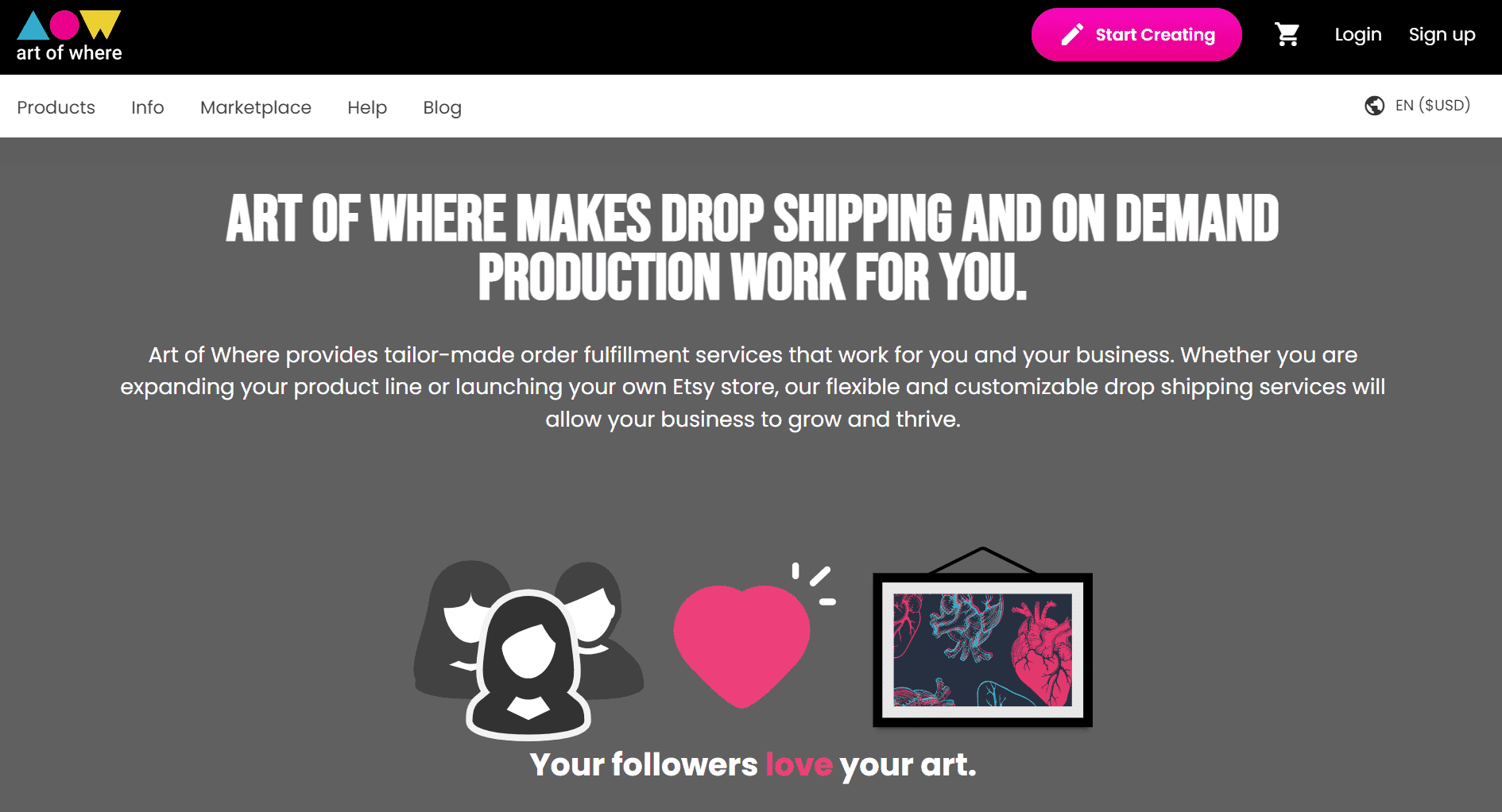 Best for customized packages
To add that extra touch to your products, the Art of Where offers customization of packaging, stickers, and more.
Pros
Can fully customize the dropshipped package with designed labels and more
Integrates seamlessly with a slew of online platforms
Can render mock-ups and product samples for your online store
Cons
Dropshipping is a subscription model
Art of Where is another platform that is pretty set on reaching e-commerce photographers and artists. You can market your online store, and when the orders come pouring in, let Art of Where handle them.
Thanks to custom business labels and packaging, each order looks like it came straight from your photography business. It's a pretty unique set of features that other labs don't have.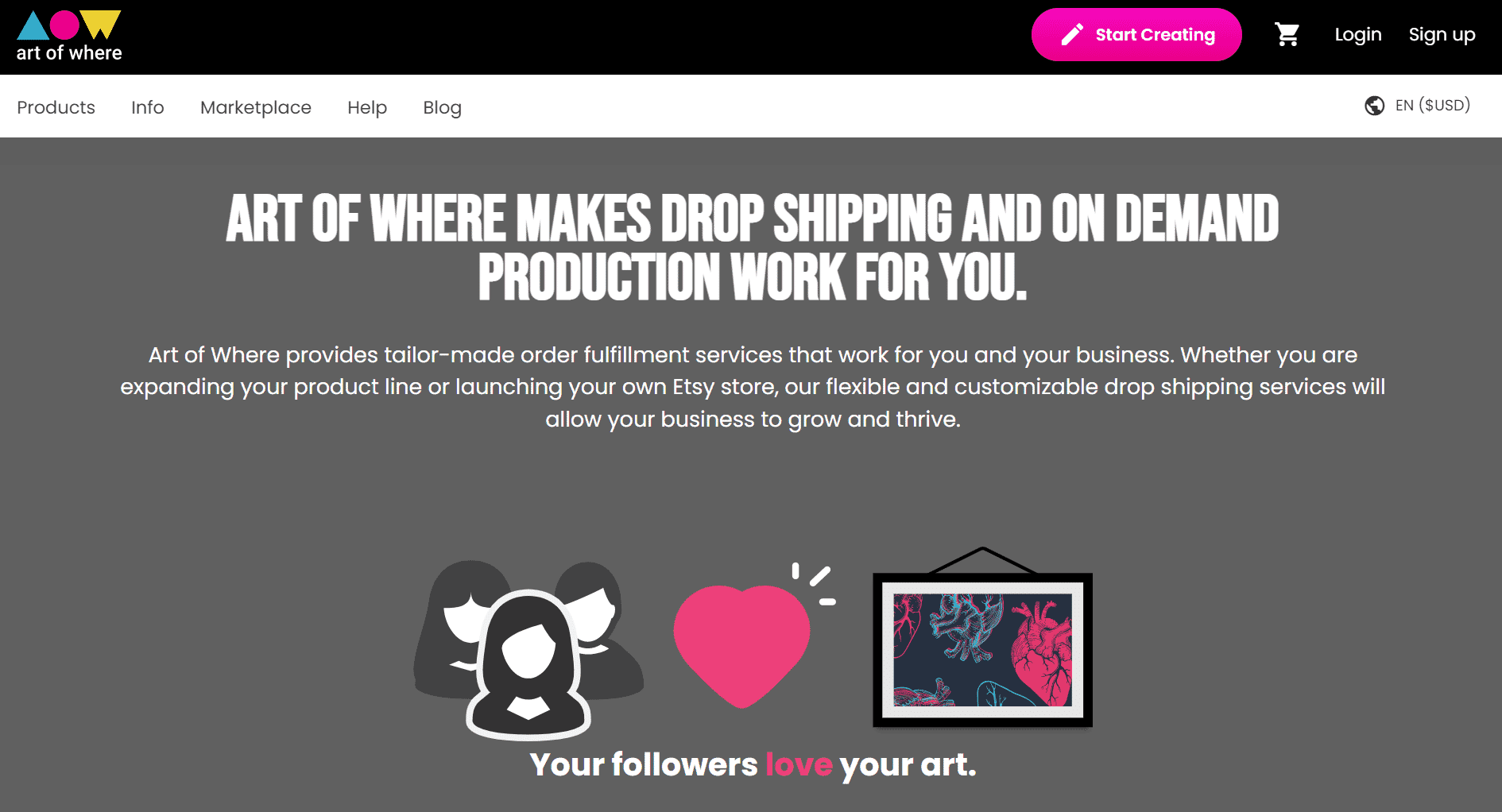 Art of Where even offers digitally rendered models and mock-ups of the products that you can use in your online store. And shipping is fairly quick. The lab's integration options include all of the major platforms, such as Shopify, Etsy, BigCartel, Squarespace, WooCommerce, and BigCommerce.
That being said, Art of Where runs on a subscription model that changes based on the e-commerce platform you use. It can get a bit expensive depending on your product turnover.
5. Artbeat Studios
Great for high-end prints
A professional lab specializing in photographic materials only, Artbeat Studios offers high-quality prints for the serious photography business.
Pros
All of the print mediums you could ask for
Dropshipping comes at no added cost
Mails with a return address that leads to a FedEx office
Cons
No customization on the packaging
You have to call to ask about e-commerce integration
Artbeat Studios is a lab offering a slew of photo print products. From HD metal to metallic paper, the options are quite vast. With regard to dropshipping, the options are simple and straightforward and have no added bells and whistles. But Artbeat Studios boasts pretty high customer-satisfaction rates, so you can rest easy knowing your clients are receiving top-quality prints.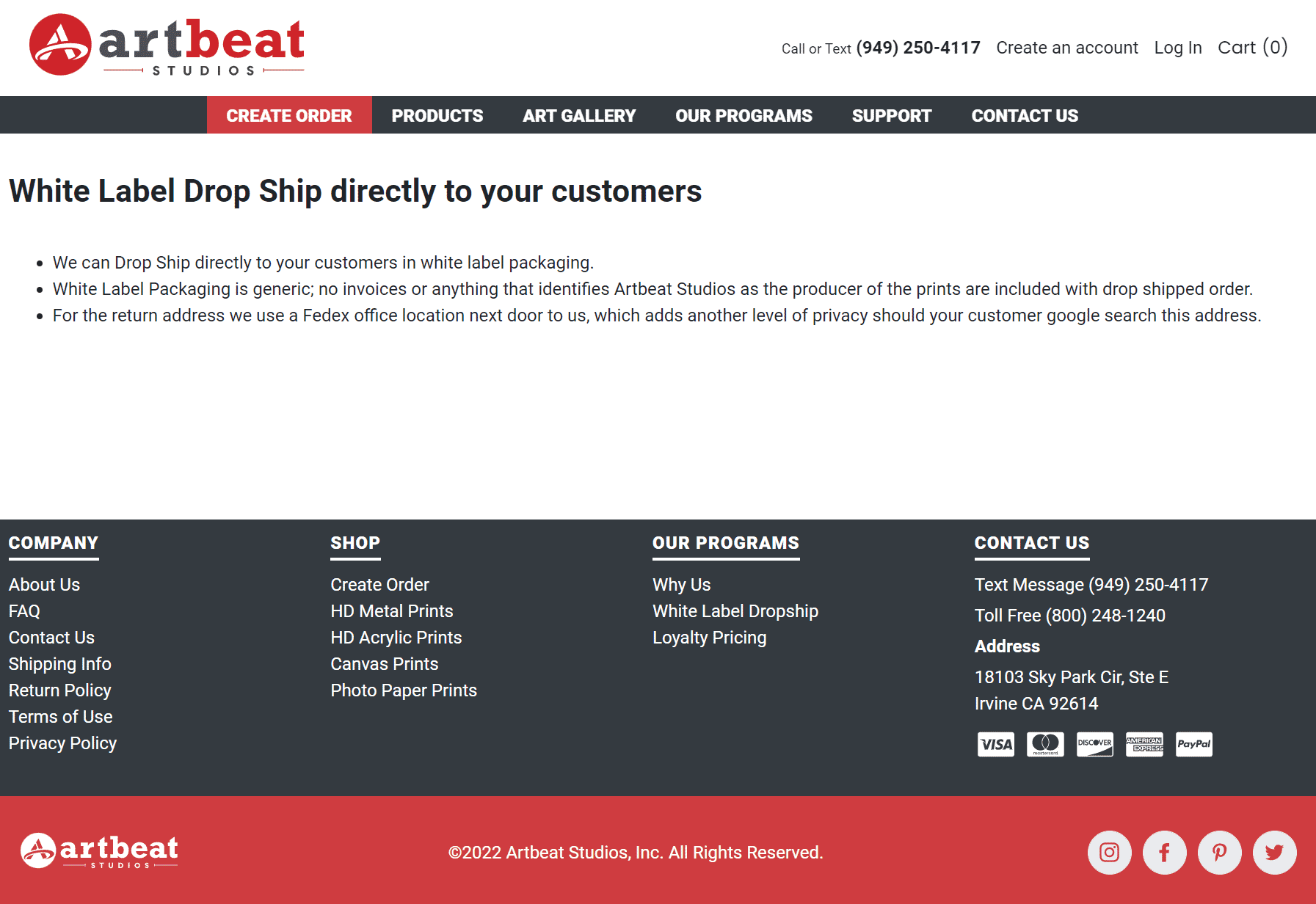 Artbeat Studios will mail your order to the client in discreet white-label packaging. Should the client need to return the print for any reason, the return address goes to a FedEx office next door to the studio. Your client will not be able to figure out that a lab was used for the print even if they decide to Google the return address.
Artbeat Studios does offer integrations, but you have to call the lab to get the details. It's a bit strange that the company doesn't list some of the big e-commerce solutions, which makes us worry that integrating with the lab may be a hassle.
The Benefits of Dropshipping
Dropshipping offers plenty of opportunities for photographers. Some of the benefits of dropshipping include:
You no longer store products in your studio. By ordering only after you make a sale and by shipping directly to your client, it becomes unnecessary to turn your photo studio or home into a storage unit.
You save money on inventory. Since nothing needs to be ordered in advance, you only order after your client pays.
Dropshipping can improve profit margins. Dropshipping removes a lot of unnecessary costs from the standard business workflow. For instance, you no longer need to get products to your clients.
Photographers don't need to become printers. Not everyone can have large-format printers in their studios or homes, so dropshipping definitely handles that problem.
If you're a photographer who sells fine-art prints online through a storefront or e-commerce solution, dropshipping offers great passive income. Your store will automatically place an order with the lab, the lab will deliver to the client, and all you have to worry about is when the money will hit your bank account!
The Downsides to Dropshipping
Everything has its drawbacks. Here are the main issues with dropshipping:
You won't have any hand in quality control. Because you never actually see the product, you just have to trust that the lab won't mess something up. This can cause problems if the lab prints something incorrectly.
Shipping times can be slow. Dropshipping by automation tends to select the most standard shipping option, which isn't especially fast.
The packaging won't be very aesthetic. Unless you pay extra for boutique packaging, most dropshipping packages use your run-of-the-mill cardboard with none of your company branding. This also means that you won't have the chance to slip in any business cards, company materials, or other branded content.
Dropshipping Might Be the Way Forward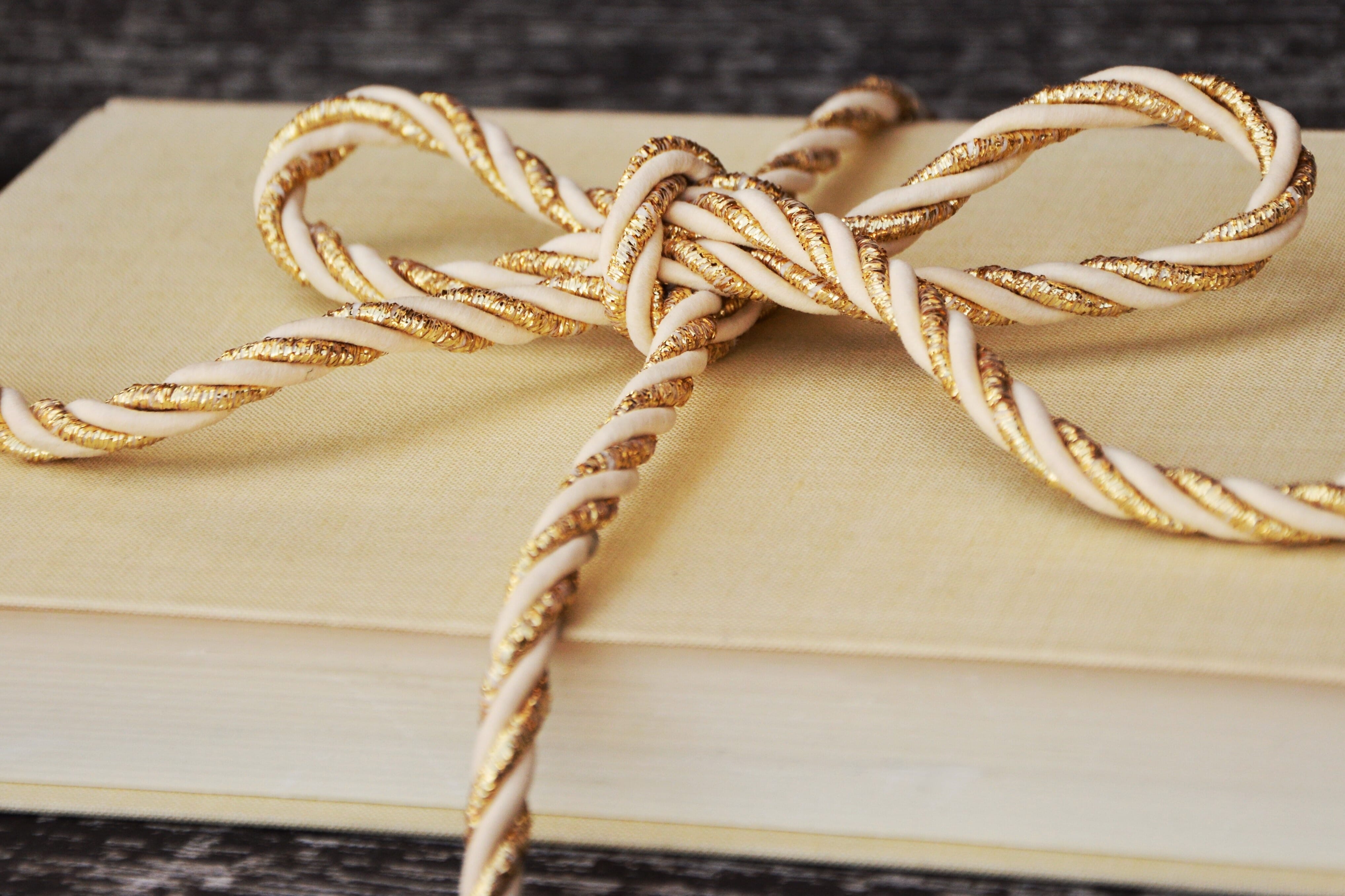 Dropshipping has made it far easier to run a photography business without needing your own printing studio. All five of the dropshipping options on our list are there for a reason, and each one caters to a specific type of business. Therefore, it's a bit difficult to determine which one is the absolute best.
It's also hard for us to say whether dropshipping is the right choice for you. Every photography business is different, and what works for some may not work for others. So consider the pros and cons and make an informed decision!