These days, there are so many types of photo prints that picking a print type for your photos can seem like a daunting task.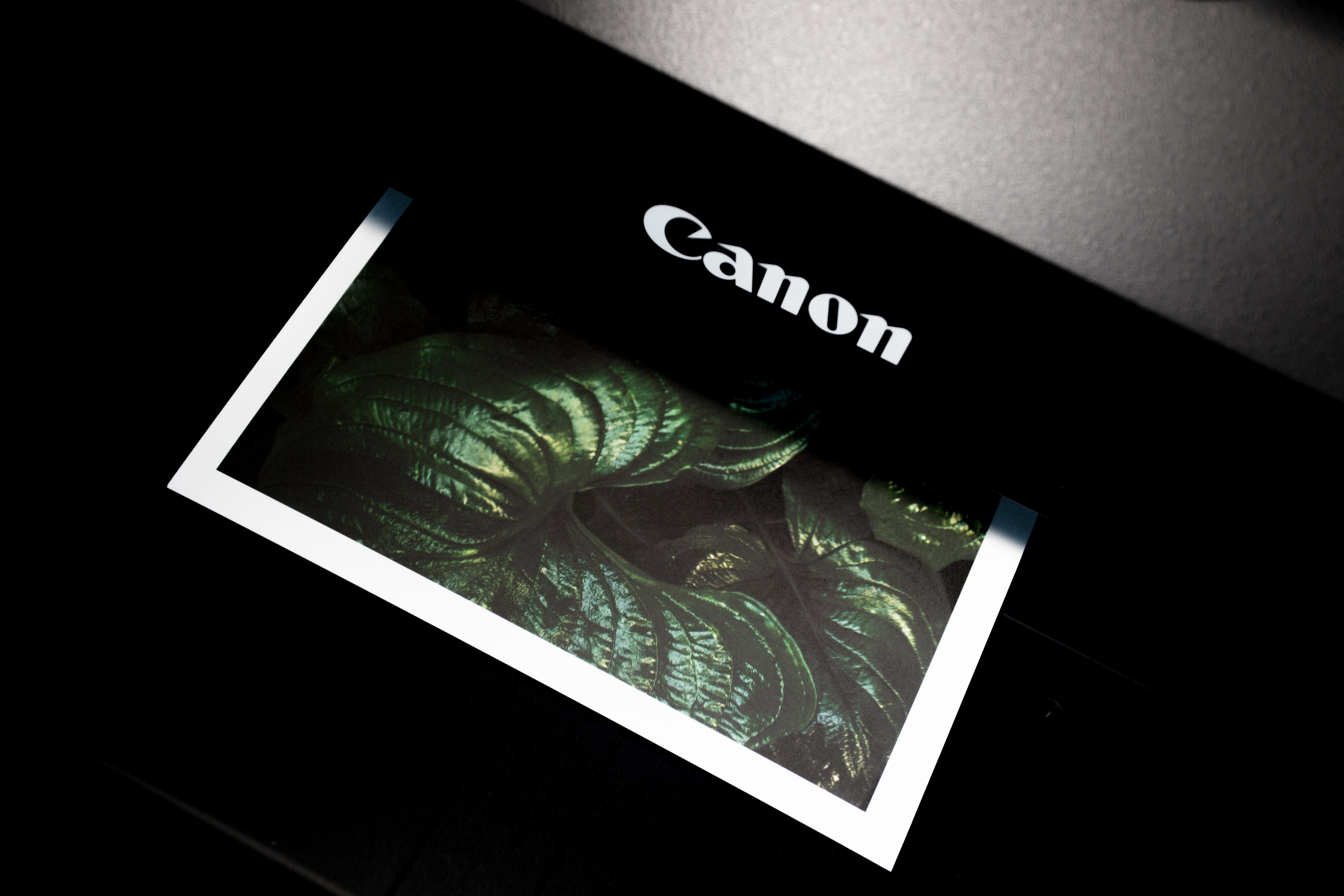 That's why we've written this guide, which explains all about different printing mediums, and takes you through the pros and cons of each option.
So if you're thinking about printing your photos but you're not sure what type of material is best…
…let's dive right in.
What Is a Photographic Print?
A photographic print refers to any photo item created through a printing process. It's a method of taking a digital (or film) photo and turning it into a physical print for display.
The most well-known photo print type is a standard paper print, which you can often pick up at your local supermarket for a few dollars.
But you can also print using a number of other mediums – many of which are quite popular – and can give your images different looks.
What Is a Printing Medium?
A printing medium refers to the material on which a print is created.
Paper is a common printing medium, on which you can print a photo then frame and hang it as you desire.
There are plenty of other popular mediums, however.
Some of these mediums are designed for a very "classic" look.
Others aim for a more modern style.
And even within a single printing medium, there are often several methods and styles of creating a print (as well as several methods and styles for hanging that same print).
So you might create a modern-looking paper print, or a classic-looking paper print, or a high-contrast paper print, or a faded paper print, all based on the different types of paper used and the different methods of printing.
Now, broadly speaking, each printing medium has its own strengths and weaknesses. These tend to be grouped in a few categories, including longevity (i.e., how long the print can go without fading), overall look, and cost (with some print mediums costing far more than others).
Now let's take a look at the most popular types of photo prints available, as well as their strengths and weaknesses.
Photo Print Types: The Big Three Printing Mediums
Out of all available printing mediums, there are three that stand out as extremely popular in today's world:
Paper Prints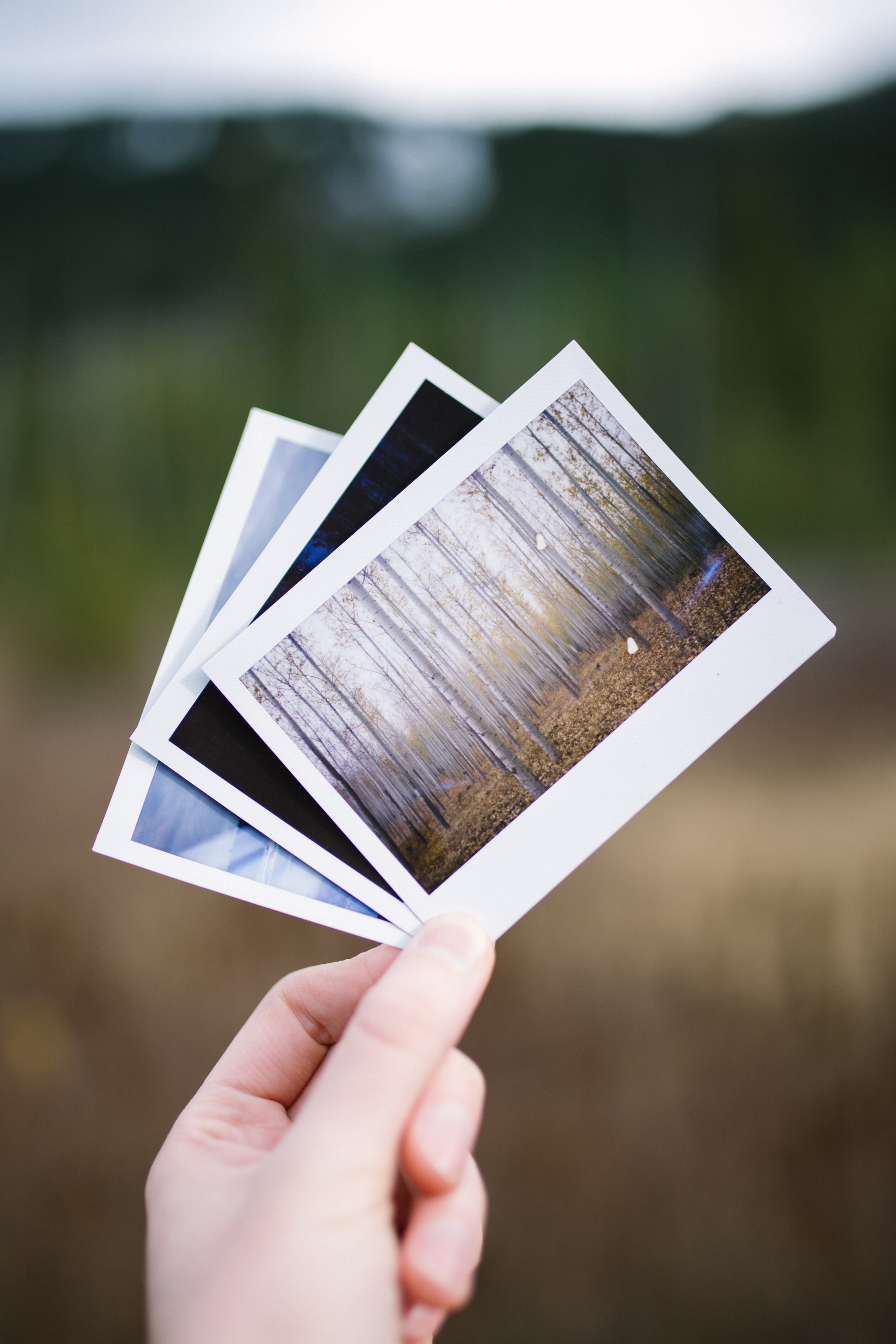 Paper prints are a classic in the photography world, thanks to their flexibility, refined look, and ease at which they can be created. A paper prints is merely ink on paper, so it's lightweight and low-cost.
You can purchase paper prints of all sizes, from tiny 4 x 6 prints to hulking 40 x 60 pieces. Or you can make a nice print, yourself, by investing in a relatively low-cost home printer.
But paper prints vary in quality, and it's tough to know how long a paper print will last without examining the materials used in the printing process. Plus, paper prints are very fragile, which is why you'll generally want to add a frame to prevent scratches, fingerprints, and other wear from destroying the image.
And frames themselves can be quite pricey, so even if you save on printing costs, you'll still have to deal with the cost of the frame.
On the other hand, paper prints offer very true-to-life colors, so your images will come out looking nice without any color or tone distortion.
Metal Prints
Metal prints are hugely popular in today's art world. They're made by printing ink on metal, and they offer beautiful quality with a modern look–so while you probably wouldn't consider hanging a metal print in an old Victorian home, it'd look great in a fresh, new house.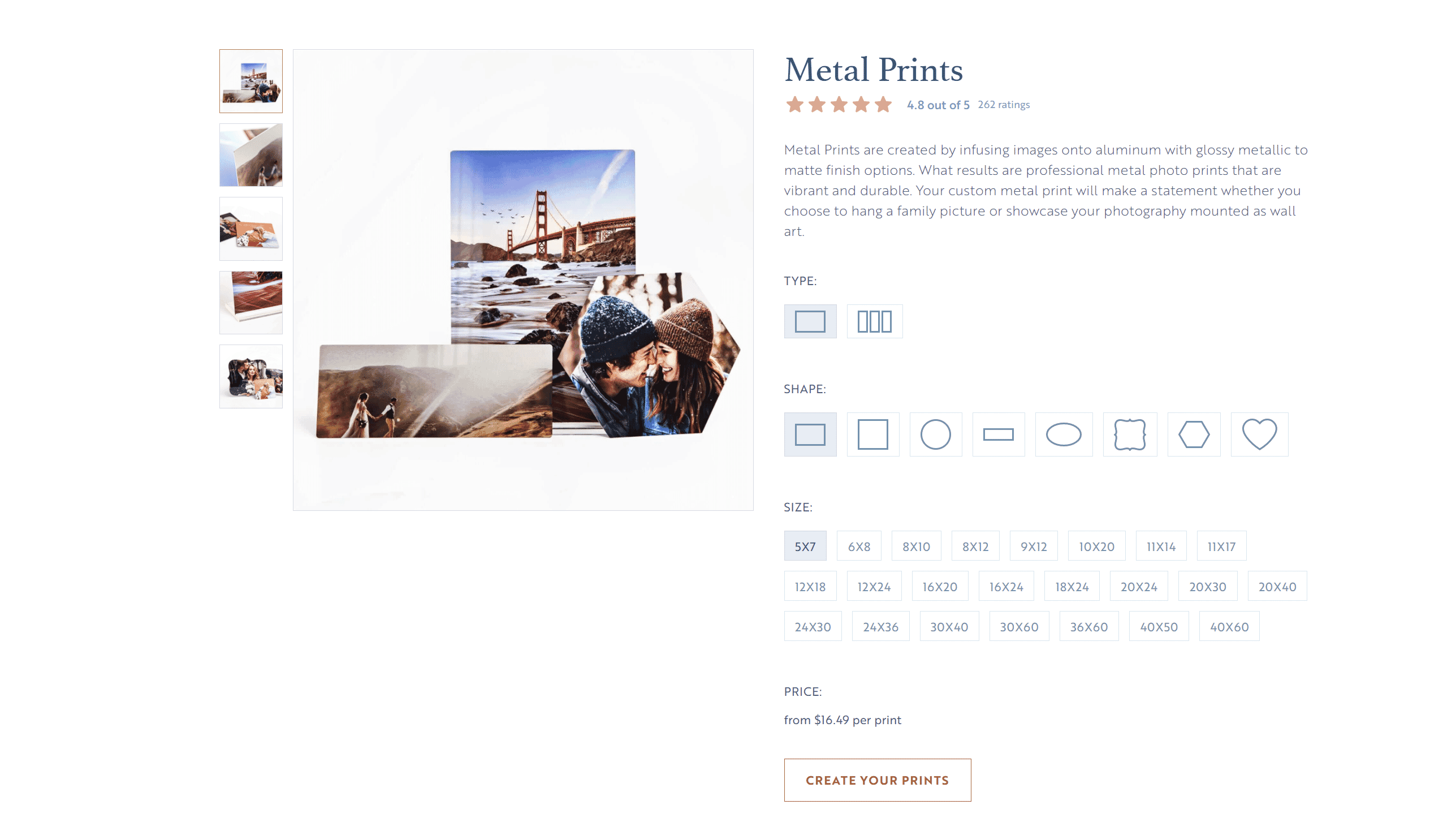 High-quality metal prints tend to last a long time, but they're very expensive to make. So if you're looking to create a few family prints for your walls at home, you may want to consider other options.
On the other hand, metal prints can handle a fair bit of wear (they're waterproof, after all!). And metal prints are instantly eye-catching, thanks to the way they enhance colors and make your image pop off the background. Plus, you don't need to frame metal prints–you can mount them directly to the wall–which can save you substantial money and headache.
So if you're looking for a high-quality print that can really impress viewers, metal is a great choice.
Canvas Prints
Canvas prints are beautiful, they're elegant, and they look great in pretty much any home.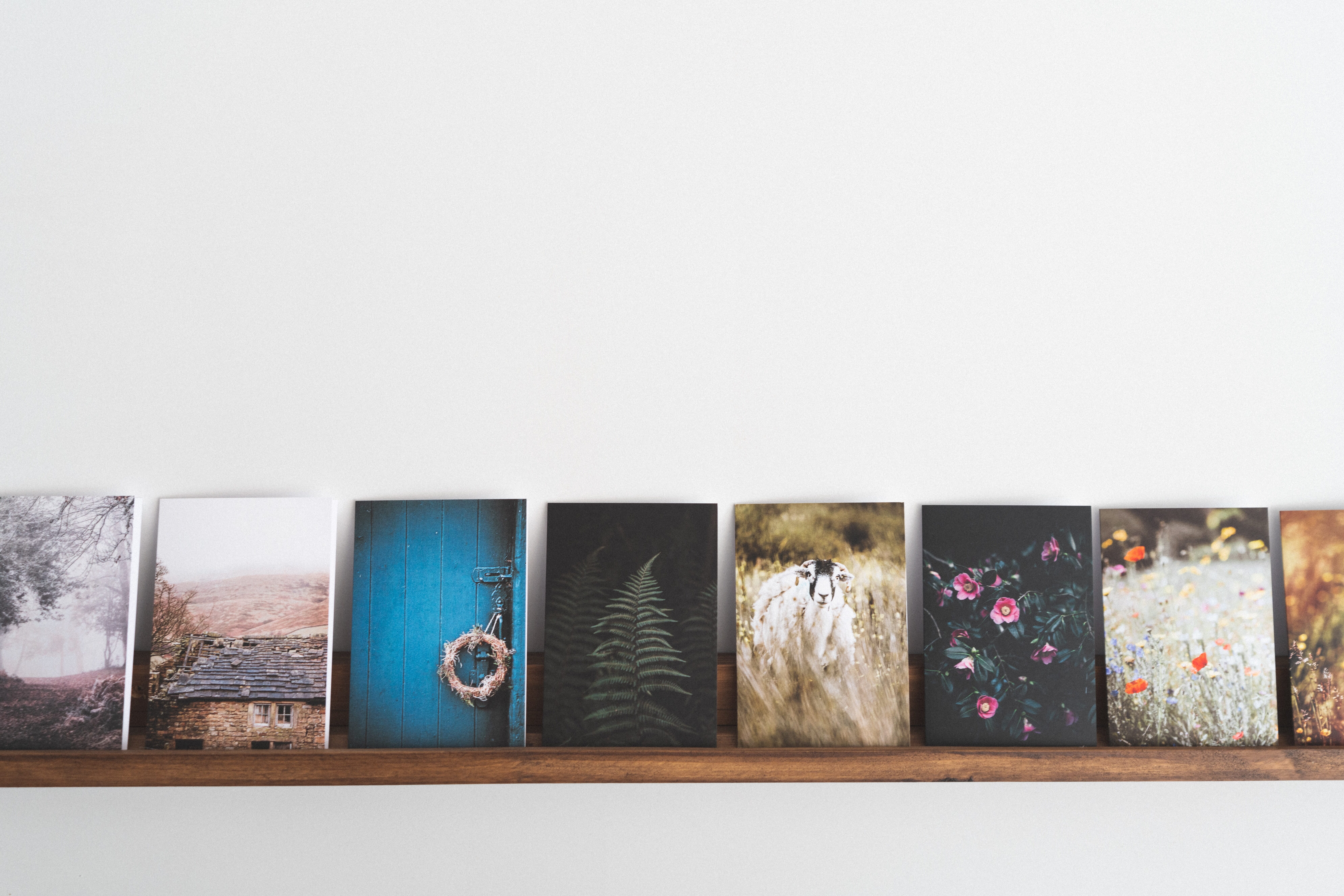 They're made by printing on canvas, then stretching it across a (generally wood) frame.
Canvas prints offer some nice texture for your photos–so they're a great choice if you want to give your images a more three-dimensional feel.
While canvas prints don't come cheap, they don't require framing, which can save substantially on costs.
In the photography world, canvas prints really became popular over the last few years. Take a walk through a prestigious art fair, and you'll see canvas prints left and right (assuming all the photographers haven't yet switched to metal!).
A nice feature of canvas prints is the lack of glare, which makes them displayable in all sorts of locations. While canvas prints don't have the durability of metal, they offer a nice compromise, because they can certainly handle more than a paper print–or an unframed one, at least!


Creative Printing Mediums
Now that you're familiar with the most popular types of photo prints, it's time to look at the less popular–but still highly relevant!–options, including:
Acrylic prints.
Wood prints.
And posters.
Let's dive right in, starting with:
Acrylic Prints
Acrylic prints are an up-and-coming print type, offering gorgeous, vibrant colors, as well as a modern look that'll impress pretty much anyone.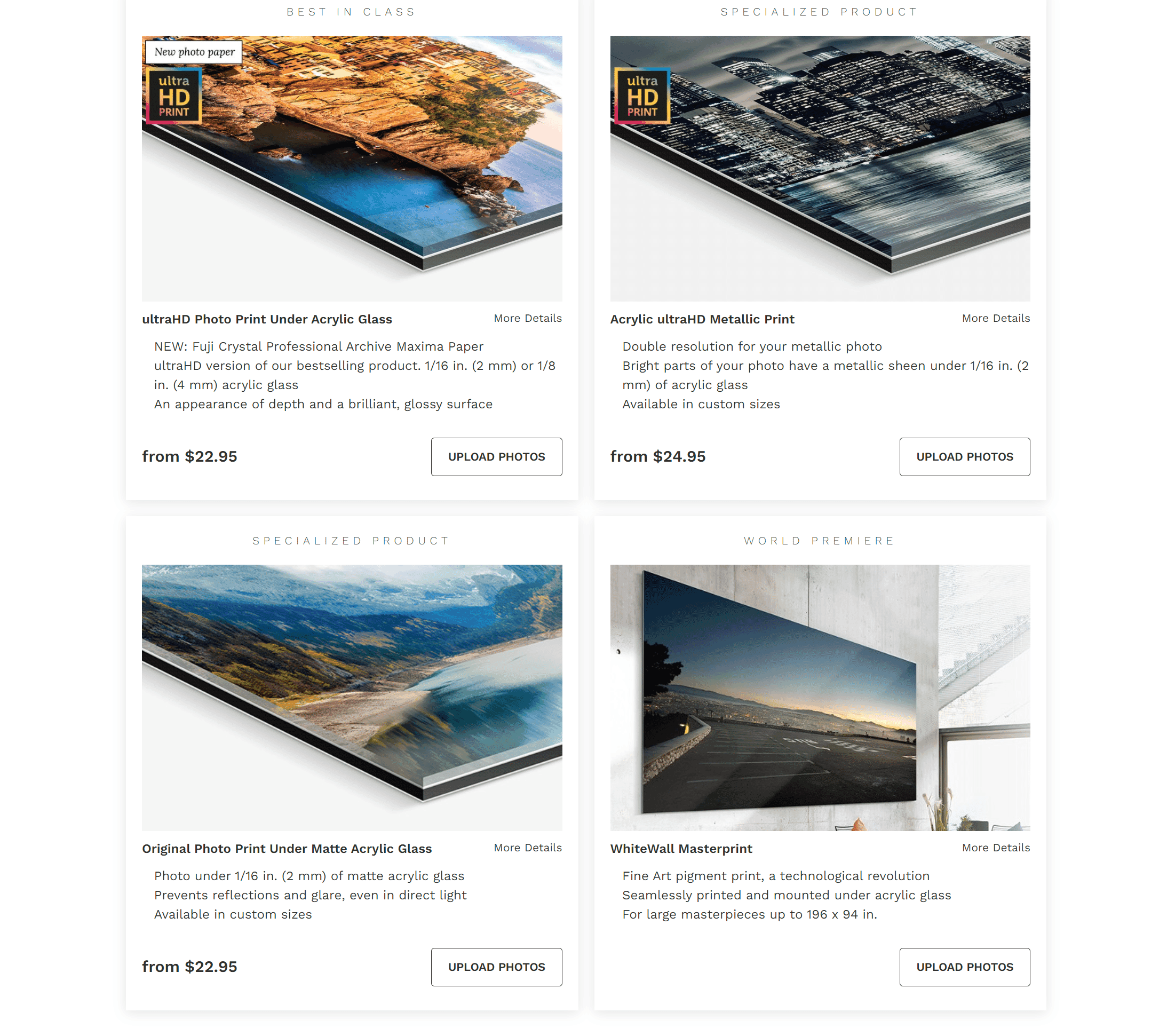 You'll generally be given two options for your acrylic print:
Printing directly onto the acrylic material (also known as plexiglass).
Or putting acrylic in front of a paper print.
Both of these methods can look good, giving you a beautiful acrylic shine that'll knock your socks off.
Acrylic is often compared with metal, thanks to its similarly vibrant, modern look. And, like metal, acrylic is a very durable material, which means it can be displayed in high-humidity environments (e.g., bathrooms).
As you might expect, acrylic prints are expensive. But if you're looking to make your photos stand out as much as possible, they're well worth the price.
Wood Prints
Wood prints aren't exactly the most well-known option on the market, but they're artsy and creative, making them perfect for photographers looking to go against the grain.
Wood will give your photos a rougher, more textured look for a uniquely vintage feel.
When creating wood prints, you'll often be given the option to use different types of wood (with some wood, such as birch, coming in at a lower price, while other wood, such as bamboo, will cost similar to acrylic).
As you'd expect, wood is a durable medium. And you can hang it without a frame, for a very clean-yet-rustic result.
If you're an outdoorsy person with a desire for more natural–yet still very high-quality!–results, then take a look at wood.
Posters
Posters aren't the most traditional method of displaying photos, but they've risen in popularity over the past few years.
And for good reason:
Posters give you a cheap, flexible way to print your images large.
Do posters tend to offer the same quality as a fine-art paper or canvas print?
No, not generally. Posters tend to have less impressive colors and are far less durable than most of the options listed above.
But they're inexpensive, plus they're easy to hang (simply tape them to your wall and you're done!).
So don't write off posters as a printing option. They can look great–and if you edit them accordingly, you can end up with some very cool "poster" effects.
Types of Photo Prints: The Next Step
Hopefully, you now feel better able to choose the type of photo print that will work for your images.
But whether you go with paper, canvas, metal, acrylic, or something else entirely…
…the results are going to look great.
After all, there's nothing quite like getting a beautiful new print in the mail!
What is the best medium for printing photos?
The best medium for printing photos depends on your needs. Paper is very traditional and can give you a lot of options: a fine-art matte look, a glossy modern look, or a lustre photo album look. Plus, you can choose to display your paper prints in dozens of ways: with mats, with frames, clipped up on the wall, and much more. On the other hand, metal offers a fresher, more modern look, as does acrylic (though you'll need to be willing to spend a lot of money, because metal and acrylic prints don't come cheap!). And canvas prints are tough to beat if you're after a print that'll really wow your viewers; these prints look gorgeous and even include a nice textured finish that's perfect for more fine-art projects.
Do you need to mat and frame paper prints?
No, you definitely don't need to mat and frame paper prints! If you like, you can create paper prints, then mount them to the wall in a number of different ways. Or you can choose to clip them to a piece of twine and hang them from the ceiling, or you can create a collage on a posterboard–really, the opportunities are endless. However, if you want to maximize the life of your prints, I do recommend matting and framing. This will make the prints look good, of course, but it'll also protect the print from fingerprint damage, water damage, and more.
What's the most durable photo printing medium?
There are a number of durable printing mediums, but if you're after extreme durability and don't mind paying for it, metal is probably the way to go. You can display metal prints in high-humidity environments and you can clean off fingerprints with a cleaning solution thanks to a strong finish that doesn't damage easily. Acrylic is another option. But if you're after durability, make sure to stay away from paper and canvas prints; these scratch easily, plus they're easy to rip and tear.
What are some creative printing mediums?
If you're not interested in the standard printing mediums, I'd recommend checking out innovative options such as wood prints, acrylic prints, or even posters. These are all a bit more unorthodox, but can still give great results. Of course, you can always make a standard paper print more creative through your matting and framing (for instance, you can hang a paper print from string or use it in any number of creative framing projects). So don't be afraid to start with a basic print and spice it up through your creativity!