EasyHDR is an excellent program that provides users with a simple automated HDR merging process. Originally released in 2006, this software has received continual updates and new features added.
Compared to other HDR software programs, this program is extremely cheap. If you want a basic HDR processing solution – EasyHDR is a top choice. Outside HDR processing and management, the program is limited, however. It is not a full editing suite like Lightroom – its primary function is HDR processing and it does this extremely well.
EasyHDR Review Summary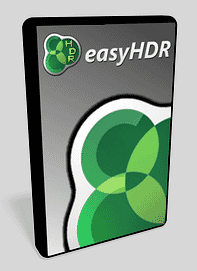 Name: EasyHDR
Description: EasyHDR is a photo editor software for Windows and Mac that uses HDR image processing techniques (High Dynamic Range imaging, or HDRi) to make your photos free of unwanted over and under exposures.
Offer price: 33
Currency: USD
Operating System: Windows, Mac
Application Category: Multimedia
Author: Bartłomiej Okonek
Layout

Ease of Use

HDR Quality

Post-Processing
Summary
In this EasyHDR review, we have delved into the quality and utility of this program. The results are clear – for creating high-quality HDR images, this software is a great option. For those who have minimal editing or computing knowledge, EasyHDR offers a straightforward solution.
Whilst it is certainly one of the best HDR software available, EasyHDR does lack depth. If you are looking for an all-encompassing editing tool – you might be better suited to other choices. For example, EasyHDR does not provide advanced data management tools. It is an HDR processing program, and it performs its primary function well.
Pros
Simple interface
Straightforward HDR process
High-quality HDR images
Cons
Lacks in post-processing tools
When you buy through links on our site, we may earn a commission at no cost to you. We evaluate products independently. Commissions do not affect our evaluations.
System Requirements & Basic Features
EasyHDR is available as a demo version and a paid version. The demo version has full functionality. However, exported HDR images have a watermark. For a one-off purchase the full version removes watermarks and allows unlimited usage.
This software is also translated into 17 other languages including Spanish, German, Russian, French, and Polish. Listed below are the basic system requirements of this software:
System Requirements
Windows – Windows 7 or later
Screen Resolution – 1024 x 768
Memory – 4GB of RAM
CPU – Any CPU manufactured after 2006
HDD – 2GB of free storage
MAC – macOS 10.10 or later
Screen Resolution – 1024 x 768
Memory – 4GB of RAM
CPU – Any CPU manufactured after 2006
HDD – 2GB of free storage
The minimum system requirements are not demanding at all. 4GB of RAM and 2GB of storage should be standard on any modern computer within the last 5 years. Moreover, an advanced GPU is not required either. If you do not have a state-of-the-art computer, EasyHDR could be a great solution.
Basic Features
Formats – JPEG, JPEG2000, PNG, OpenEXR, RGBE, FITS, RAW
Automatic lens correction
Automatic ghost removal
Automated HDR merging
Tone mapping
Retouching options
Basic image transformations
Preset image effects
Layout
The basic layout of this software is extremely simple. It is split into four main components:
Preview panel
HDR Processing panel
Presets panel
Main toolbar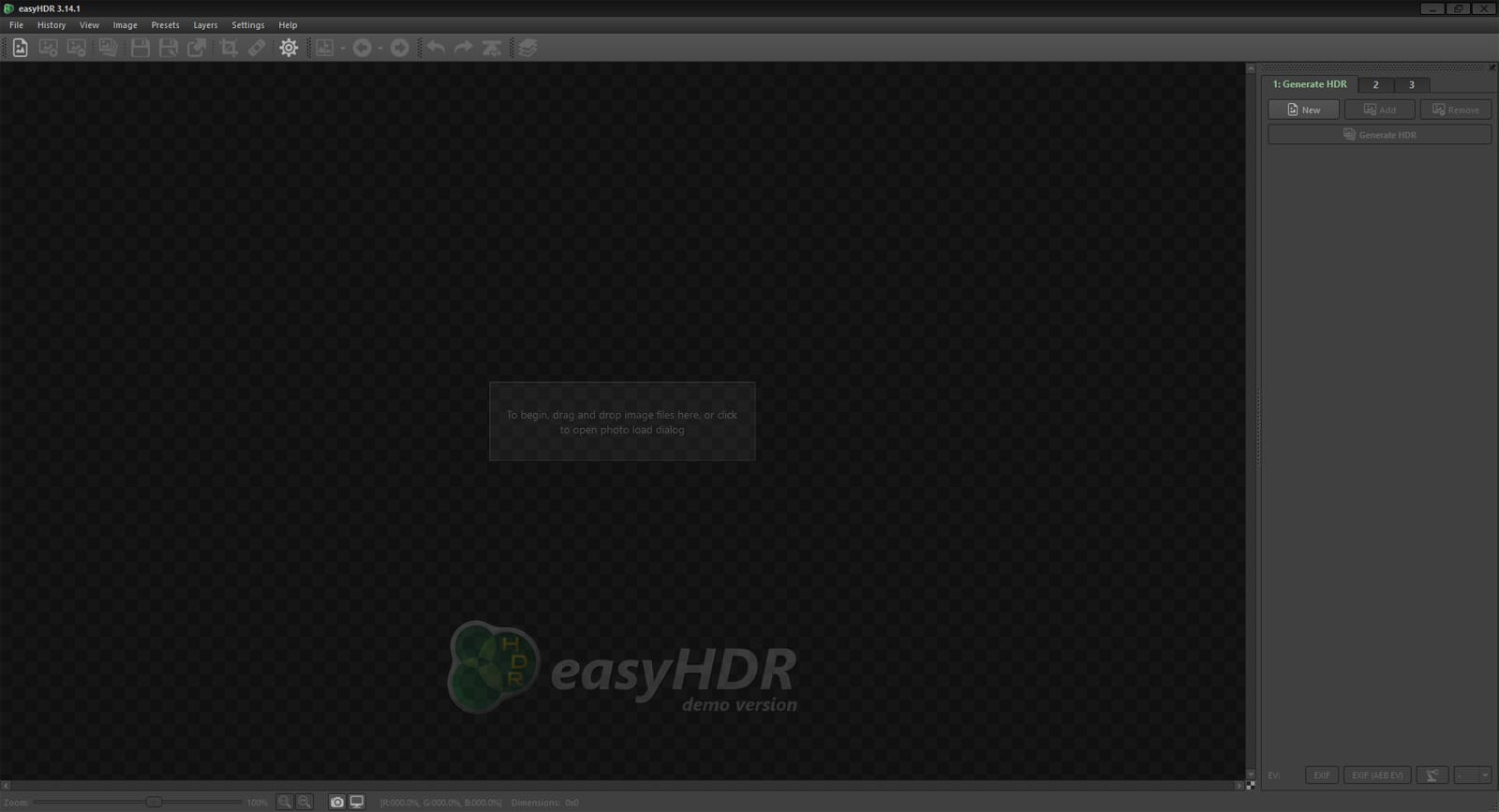 This simple approach as you will see below means this program is easy to use. The preview panel is in the center of the program. This is where your images are displayed as a live preview.
On the right, the main HDR processing panel is located. This is essentially the main part of the software – it is where you create new projects, and tailor the HDR merging process. We like how this is a separate panel as it makes the process easy to follow.
To the left of the preview panel is the presets panel. Again, this is logically located and easy to follow. It simply contains thumbnails of the different preset edits available. Moreover, you can create your own presets and load samples from other sources.
At the top of the program, there is the main toolbar. This essentially contains everything else. For example, you can save projects here, and change the preview panel viewing options.
Generally, we found the layout to be effective due to its simplicity. The software is not cluttered – it has a minimalistic design that is easy to navigate.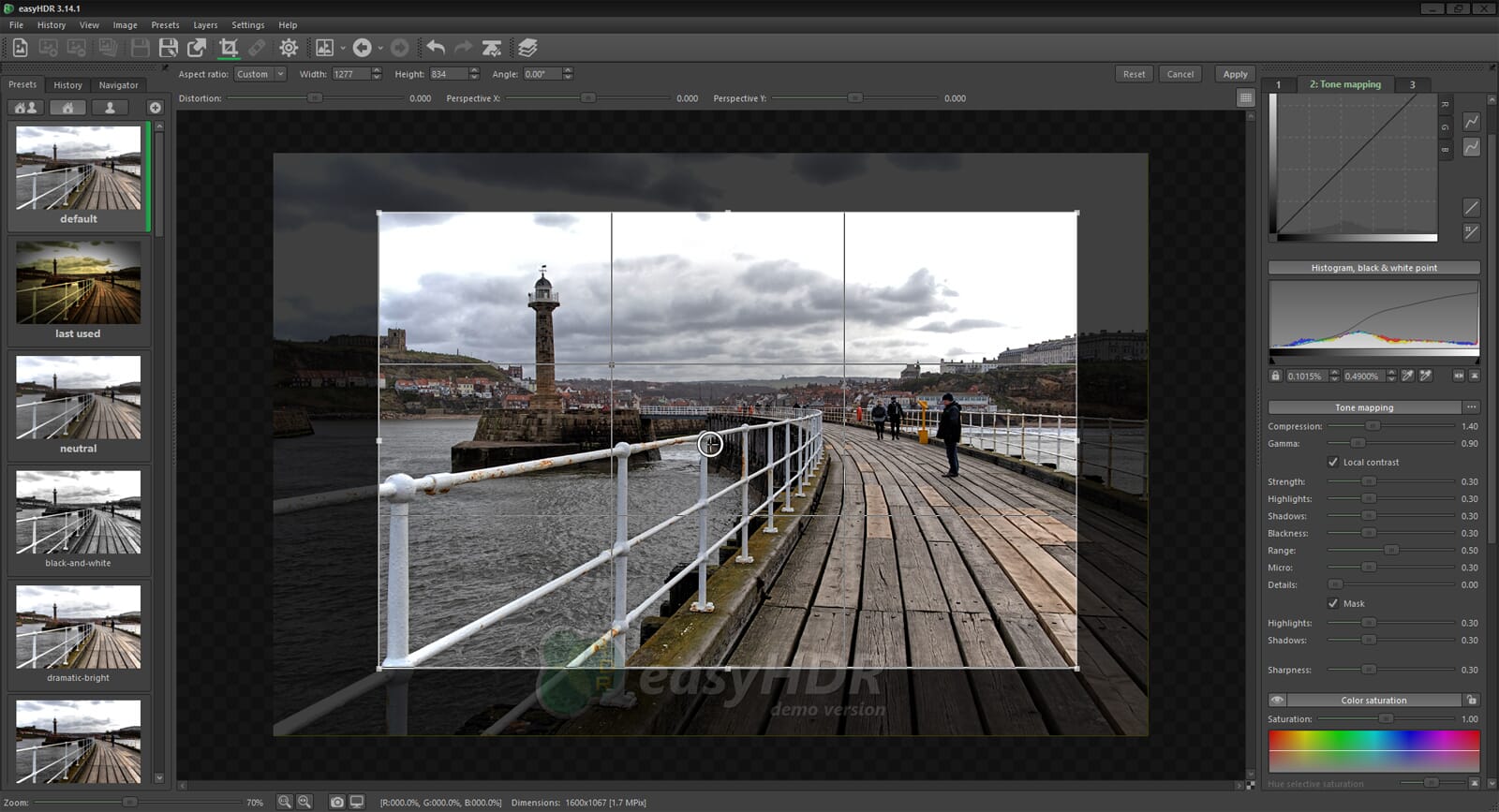 Ease of Use
EasyHDR as the name implies is straightforward to use. After just a few minutes of testing the software, we could easily load images, and start the automated HDR process. If you can't figure out the basic process, each button and tool has a tooltip that explains its function when you hover over it with your mouse.
As you will see in the below section, loading bracketed shots and starting the HDR merging process takes mere seconds. EasyHDR uses a simple 3-step procedure that anyone can understand.
Furthermore, making changes and using the different editing tools is also straightforward. For example, the editing tools are based on sliders – simply drag the slider to change the relevant value and the preview is updated in real-time.
"EasyHDR is an intuitive program with a set of logical HDR-processing tools"
HDR Process
To create an HDR composite, you utilize the previously mentioned right-hand toolbar as shown in the screenshot below: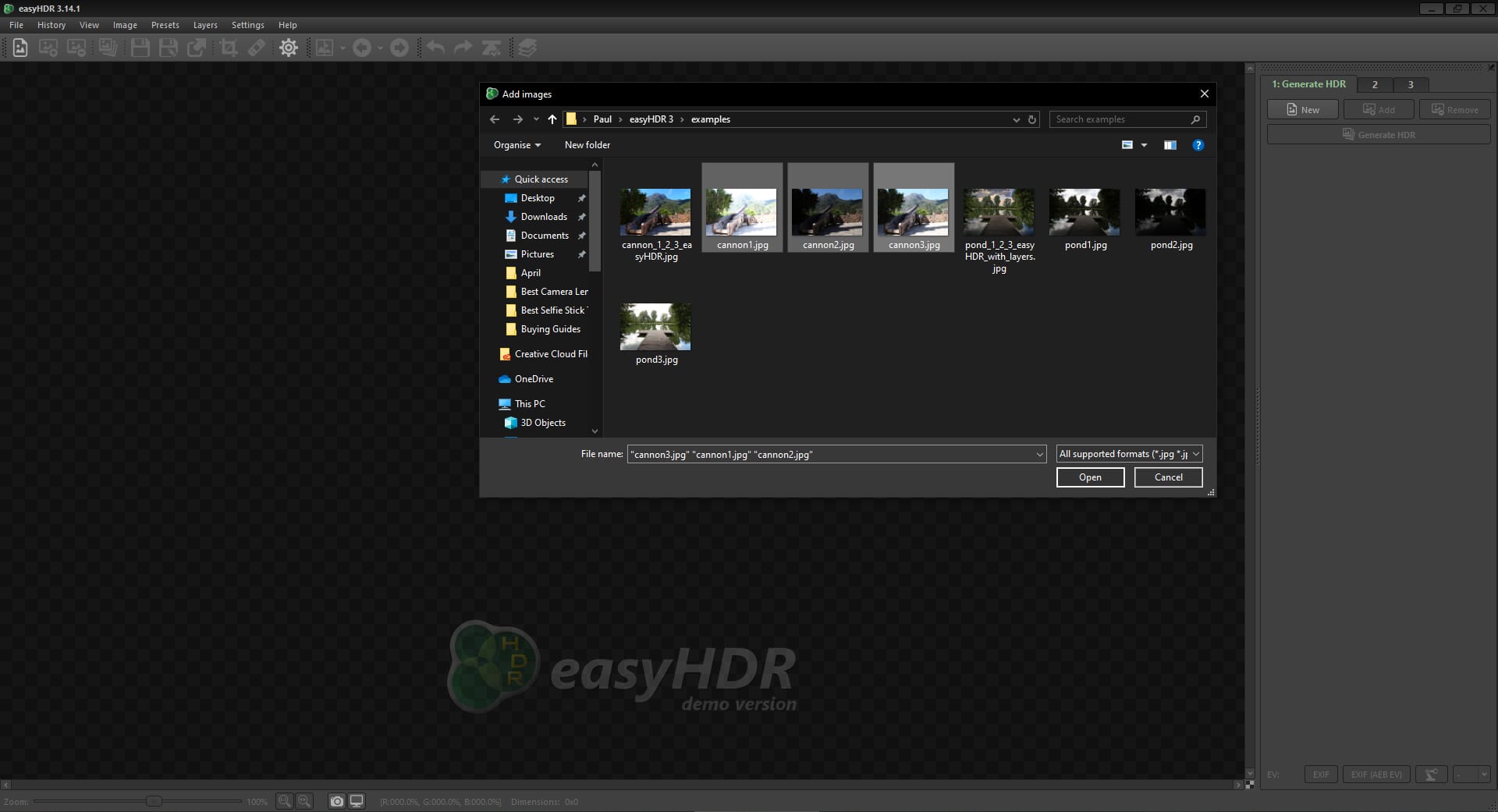 Click on "new"
Select the desired bracketed files
Tailor options in the "Generate HDR" dialogue box"
Click on "Generate HDR"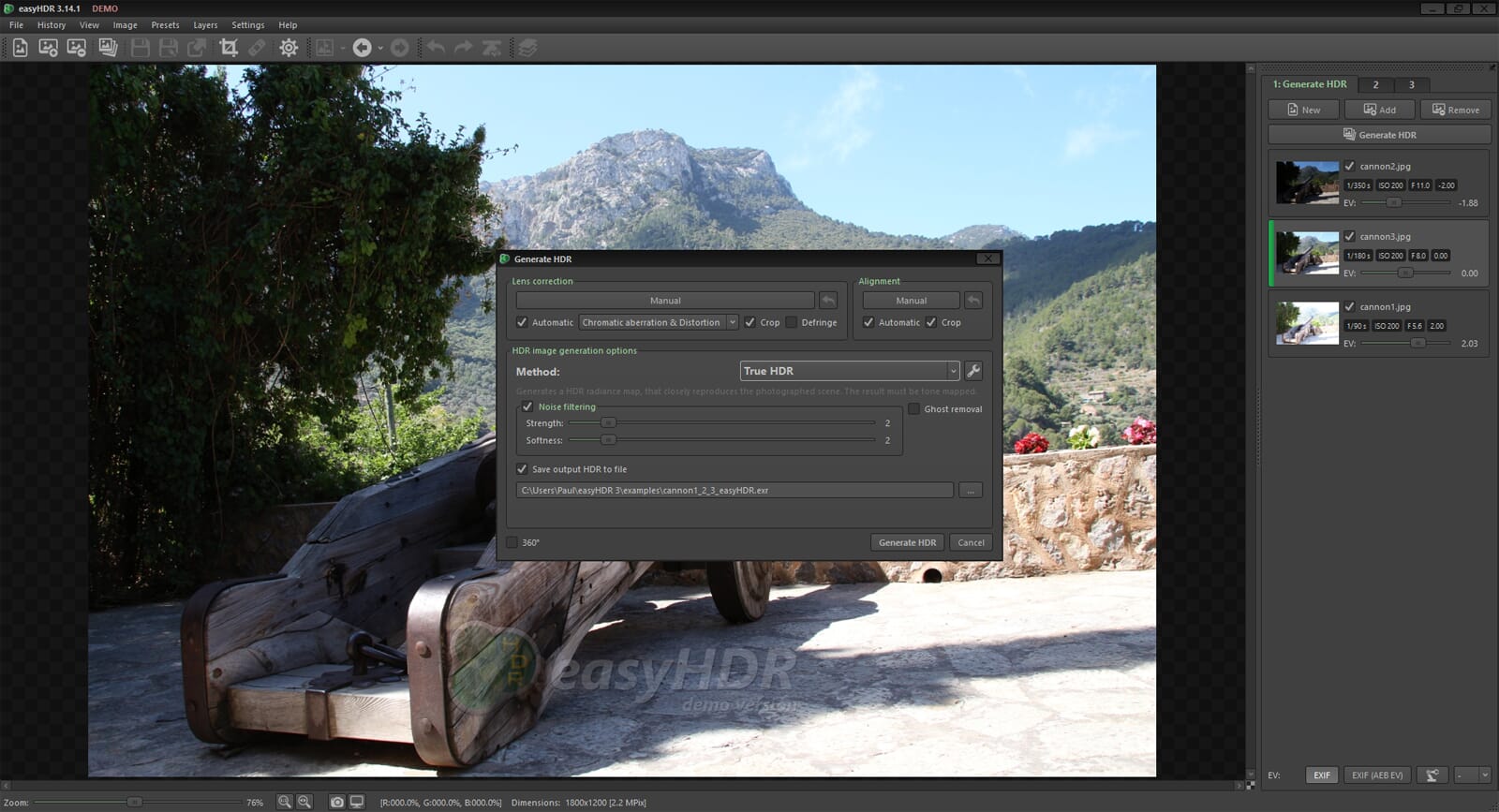 As you can see, this process is extremely quick and easy to follow. It takes just a couple of minutes to generate a HDR image – if you are looking for a straightforward, effective process, this is exactly what EasyHDR provides.
The HDR dialogue box allows you to change the following parameters:
Lens correction
Alignment
HDR processing method
Output save location
This provides great flexibility. The lens correction options are either manual or automatic. We advise using the automatic correction tools – the manual option provides greater control but is much more complicated.
For the automatic lens correction to work, you must first define the make of camera and lens that was used to take the original photos – a slight inconvenience as many of the best HDR software detects this automatically.
Simple features like ghost removal, defringe, and automatic alignment complement the whole HDR process and make it that much easier. Moreover, we like the fact that you can alter the strength of the noise filtering.
Once the process is complete, the tone mapping section of the HDR process is accessible. From here you can edit the basic parameters of the image like highlights, shadows, sharpness, and saturation.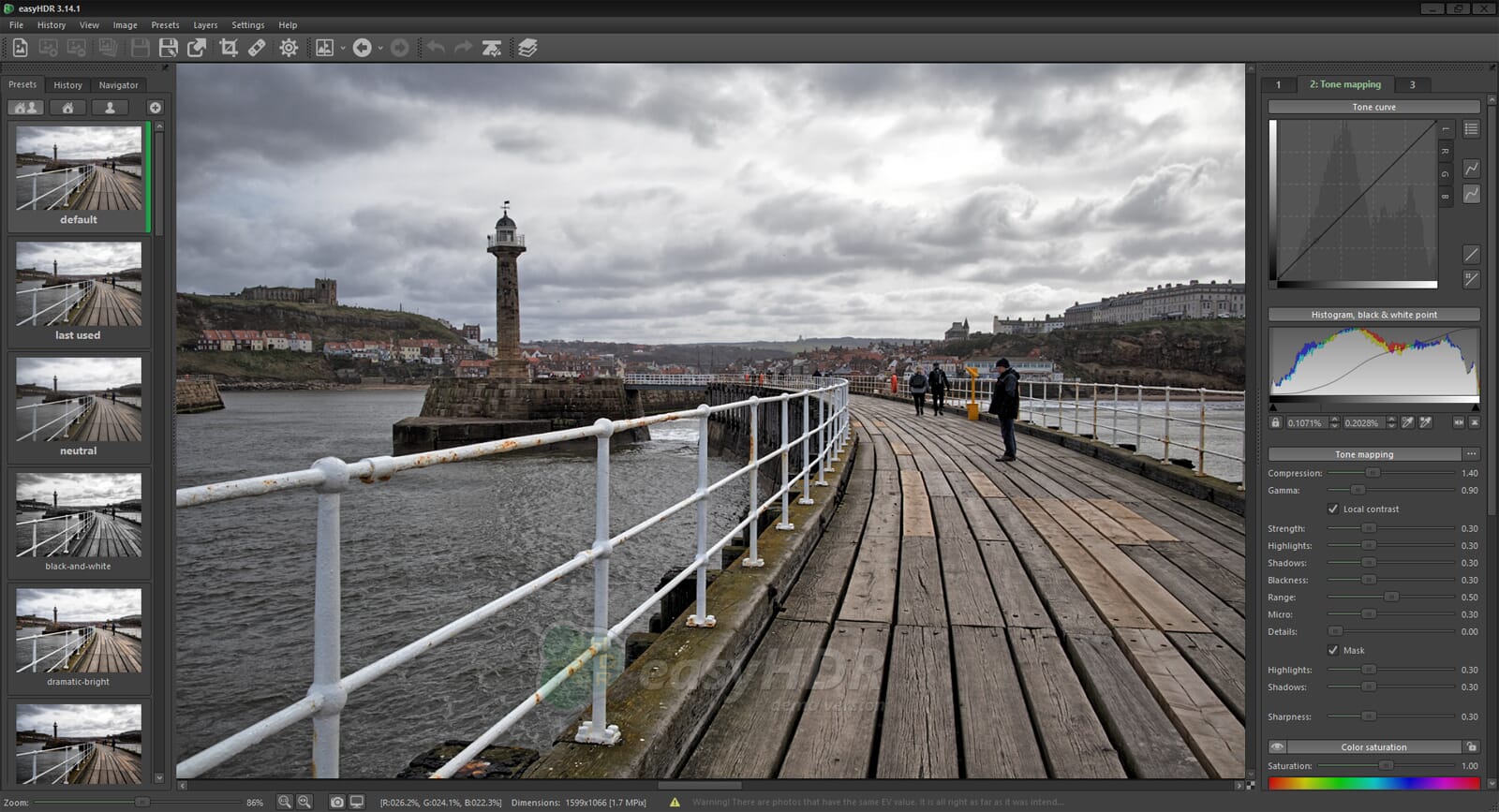 When viewing the compose HDR image, there is an option to display a before and after split view. This is accessed via the top toolbar menu. We used this option frequently when creating this EasyHDR review to see if the HDR process improves the images.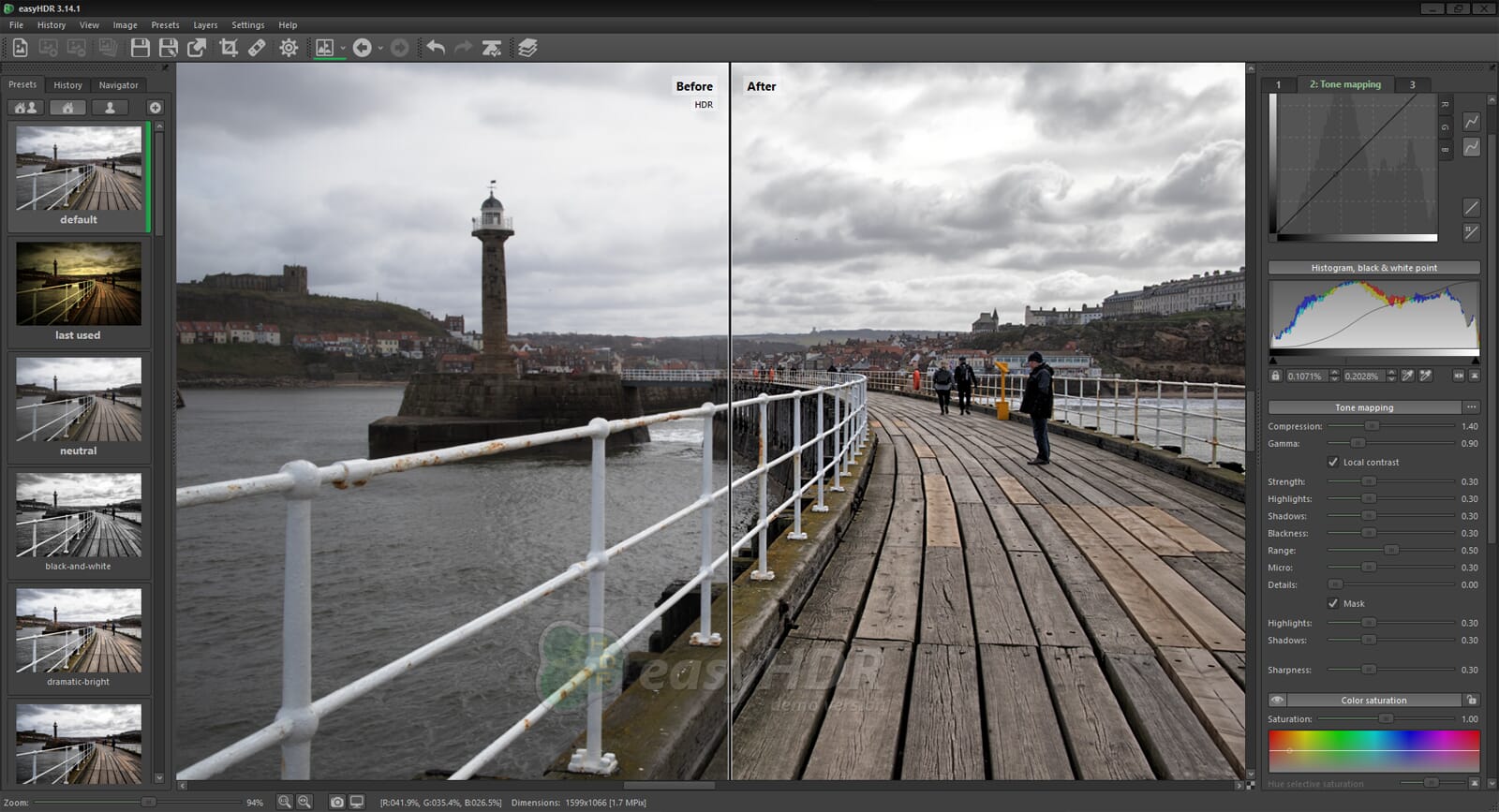 HDR Quality
The resulting quality is more than acceptable. We found the final HDR images to look realistic and much better than their originals. Moreover, the automatic features like lens correction and automatic alignment really helped. The photos we created were all excellent quality.
The only downside we found was the minimal post-processing options as you will see below. EasyHDR is available as a plugin for Lightroom and it could work better when using in conjunction with a full post-processing program. You could then use the powerful HDR merging process of EasyHDR, together with advanced post-processing from other software.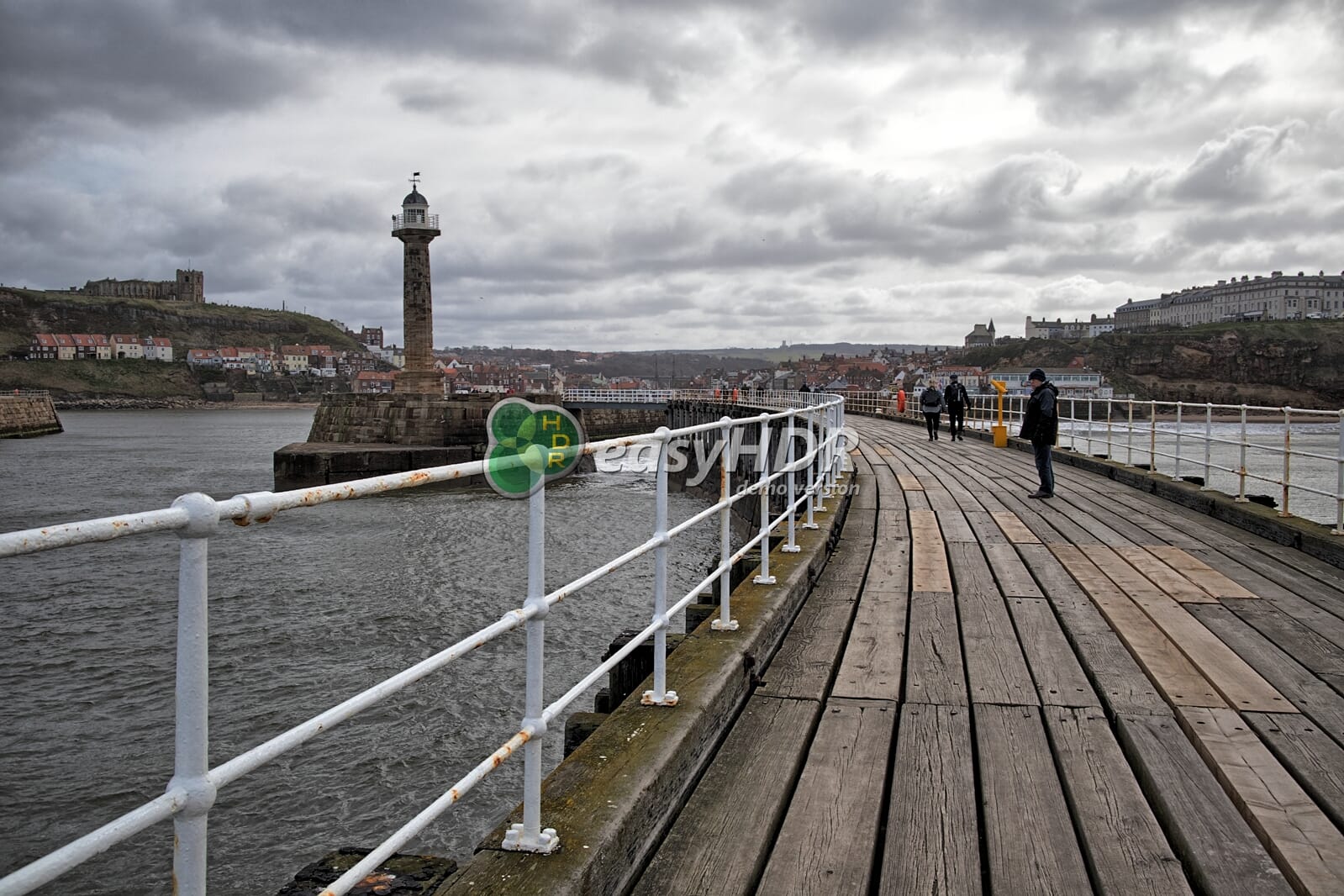 Post Processing Features
Once the HDR merge is complete, you are given the option to edit the image and its basic parameters. This is the tone mapping section. From here you can edit parameters like highlights, shadows, saturation, and vignette, and color adjustments.
Although these post-processing features are basic, you can improve the quality of your HDR composite and edit it as you see fit. Generally, we found that due to the quality of the HDR process, minimal editing was needed anyway. That being said, if you are expecting advanced editing options, you may be disappointed.
Aside from basic editing, you can transform the image and utilize standard tools you would expect from editing software. For example, a detailed crop tool allows you to crop and transform the final HDR image.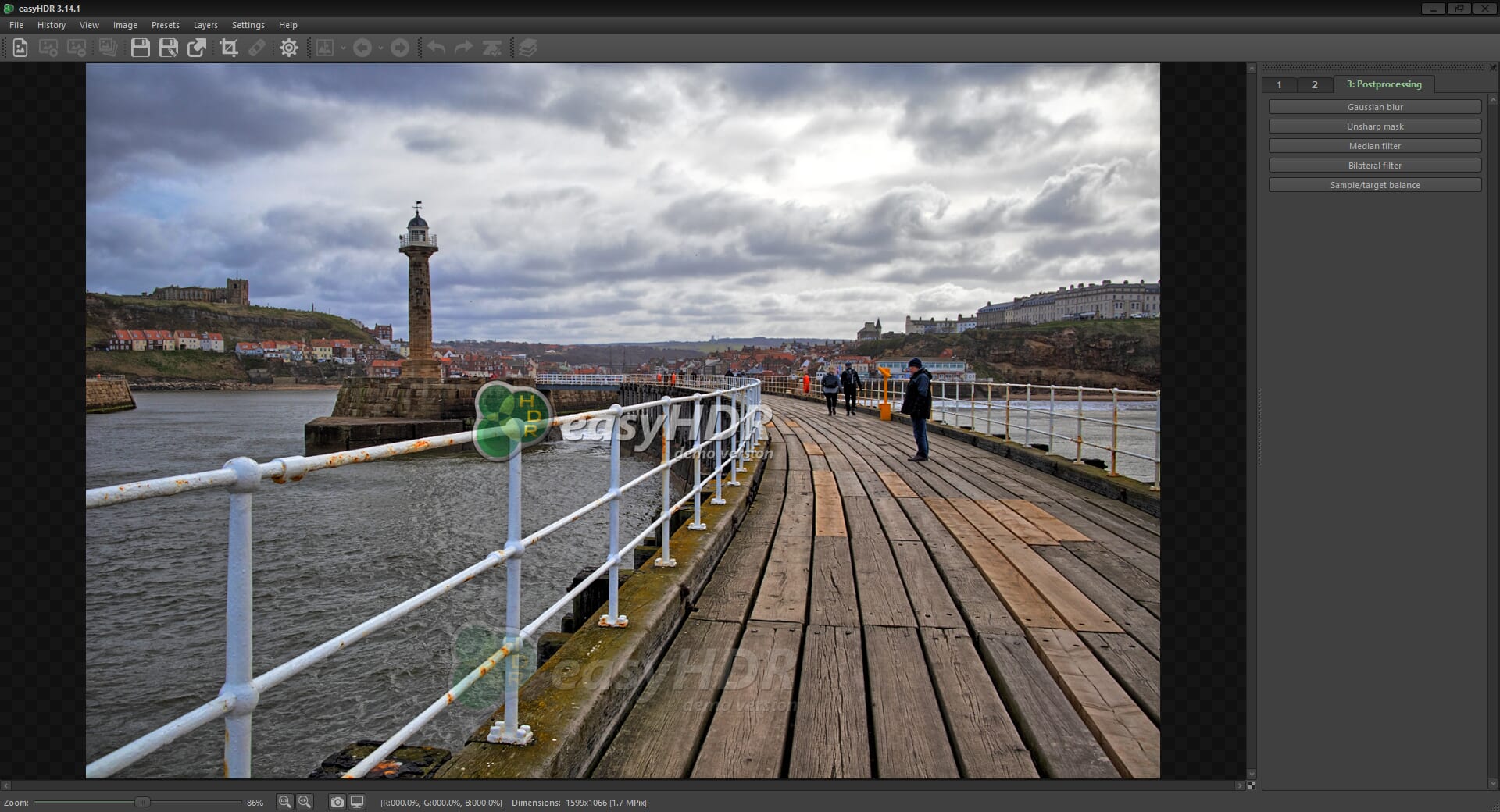 Presets
EasyHDR does have a basic range of presets you can apply to your HDR images. These edits range from basic image improvements, through to artistic effects like retro color grading. We found the edits easy to apply, and created brilliant end results.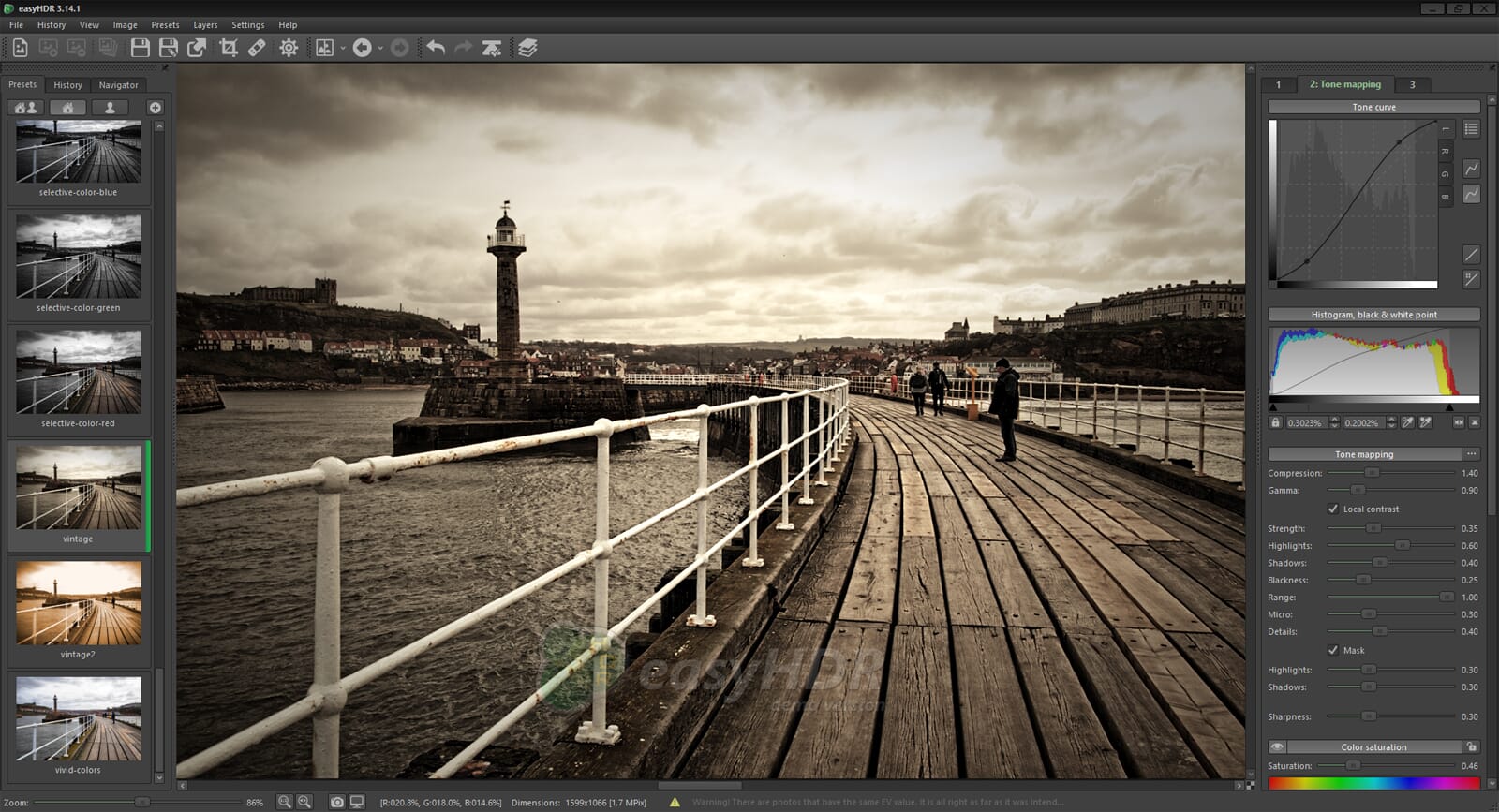 EasyHDR Examples
To show the power and quality of this program in our EasyHDR review, we have produced some basic examples using the software. These images were created using three of our own photos, and three example photos provided in the EasyHDR installation files: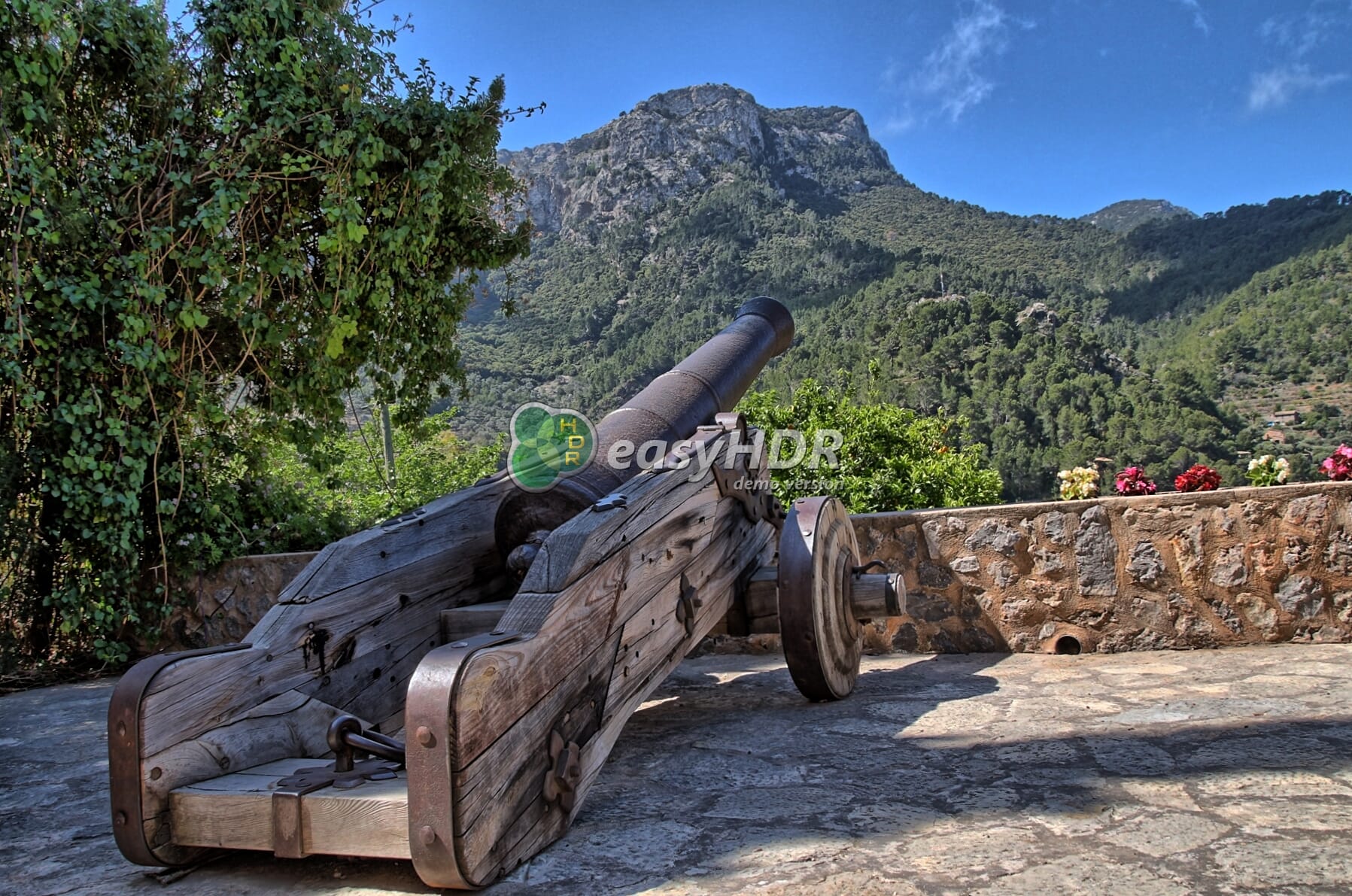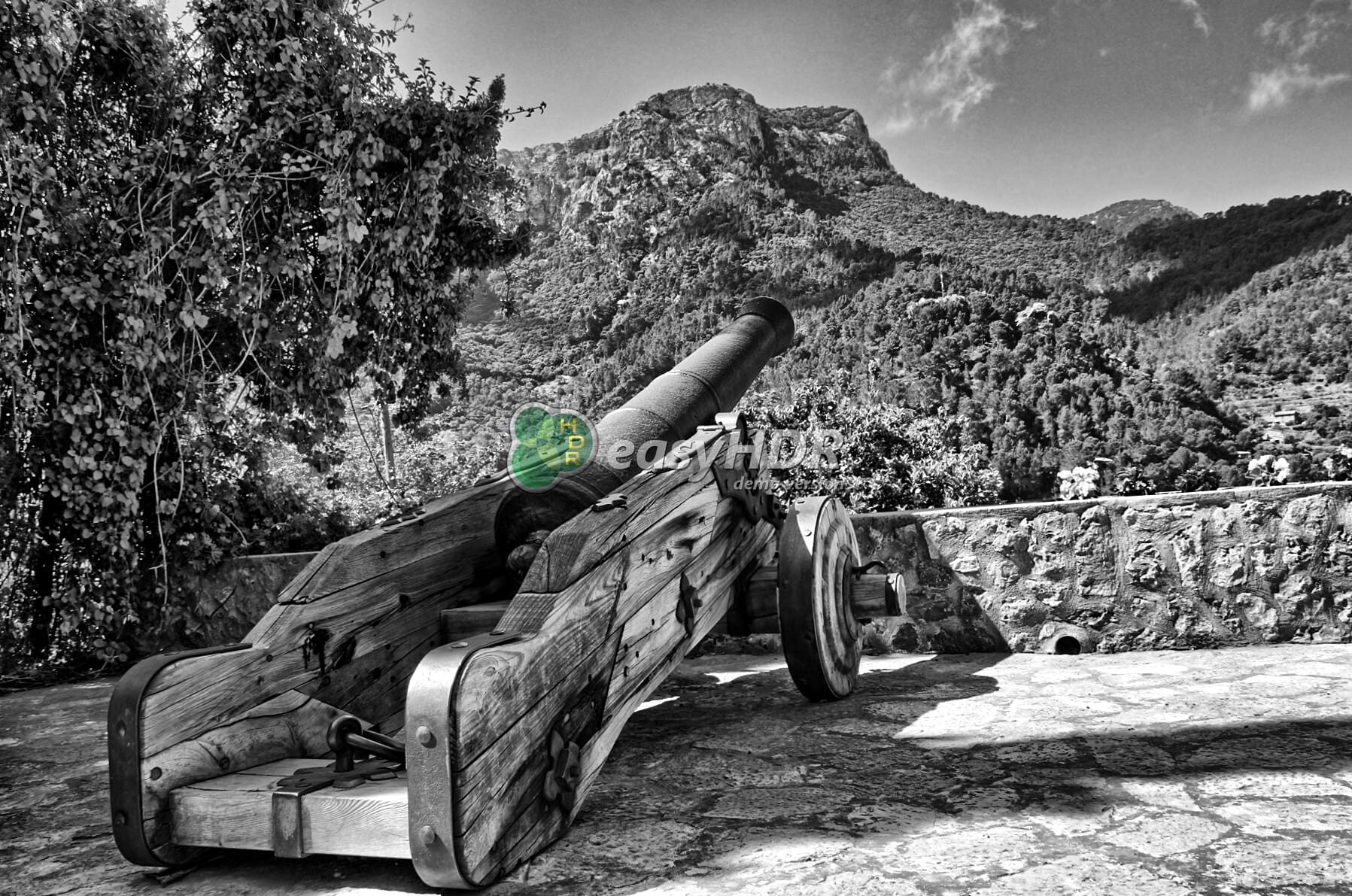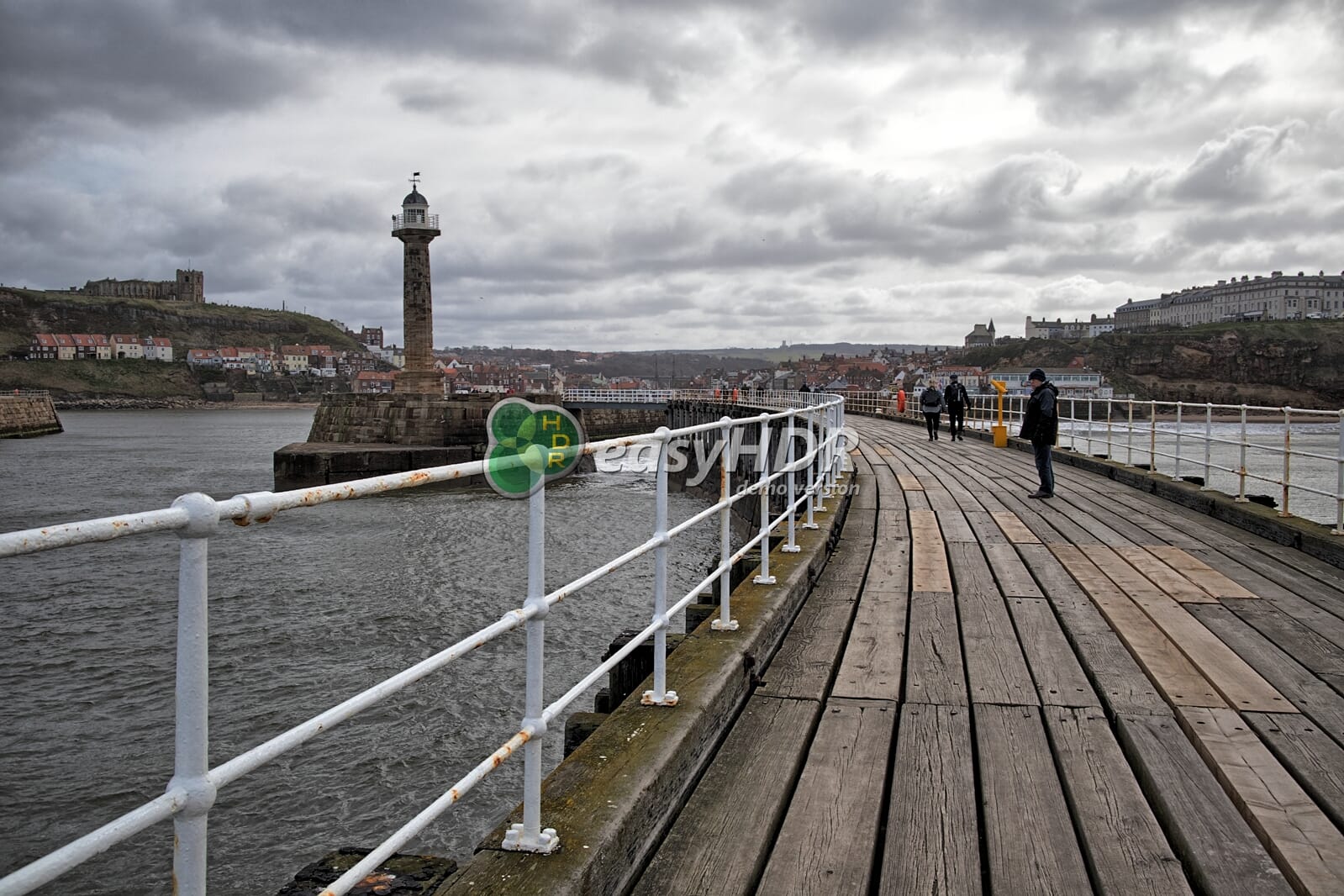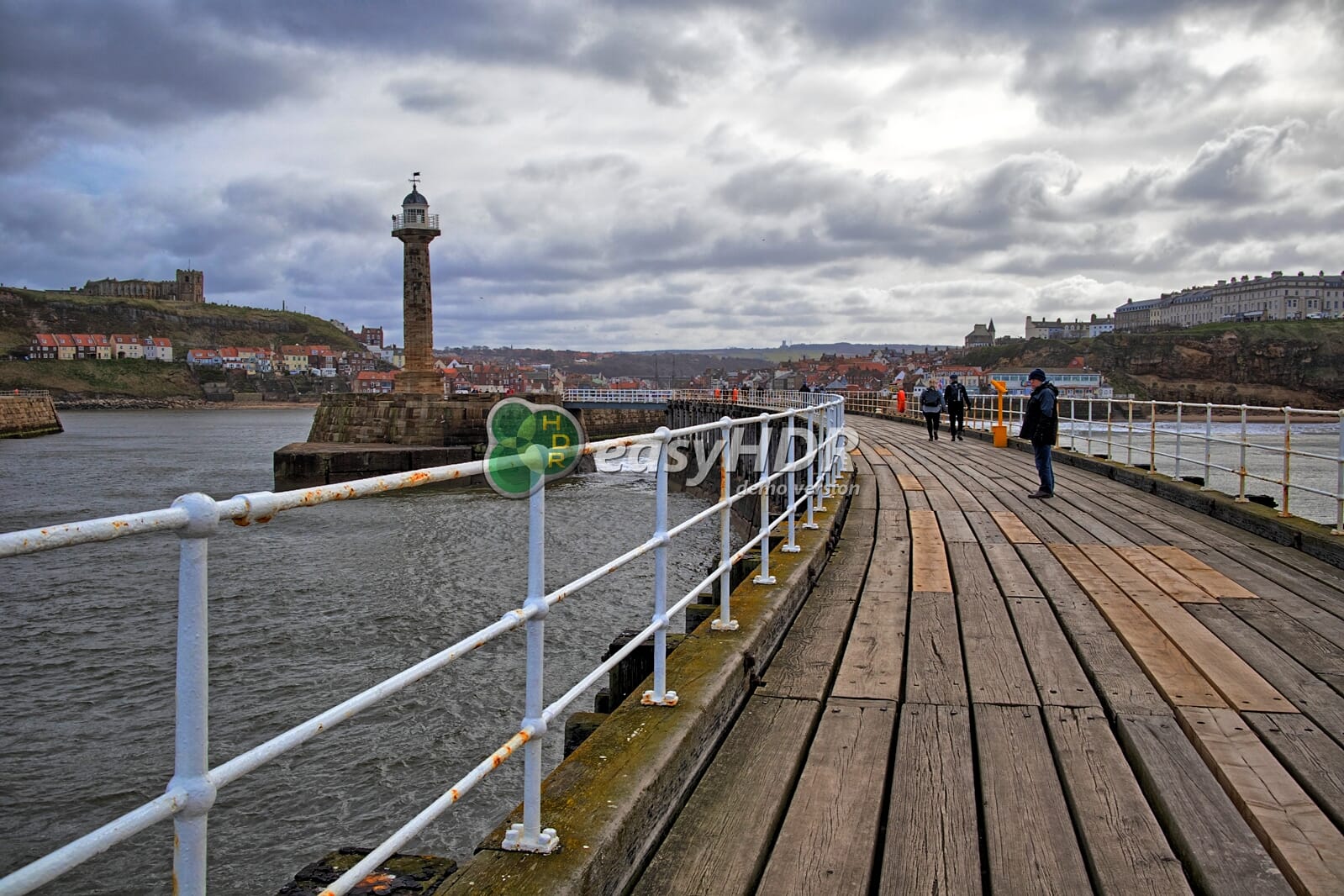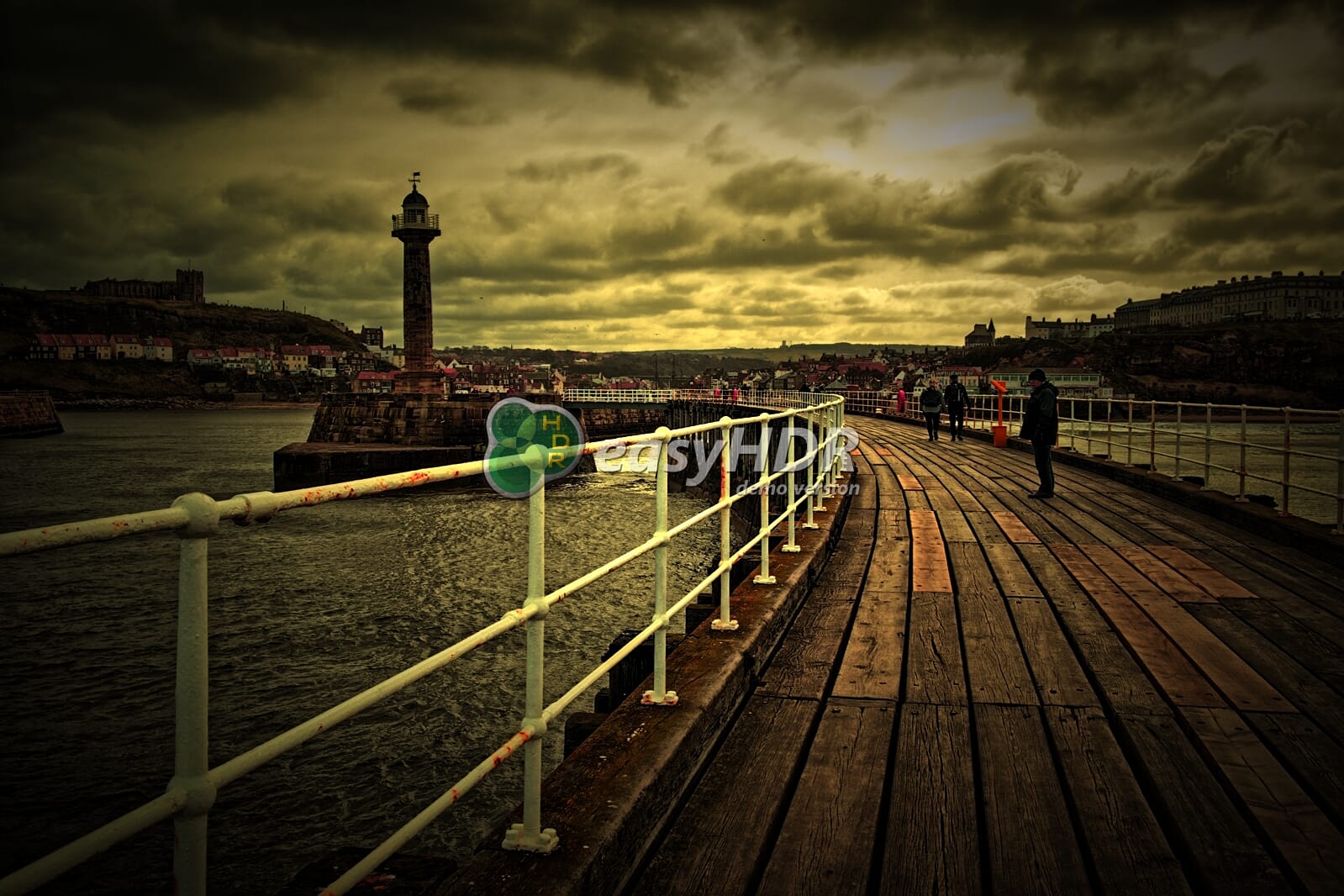 FAQs
Does the license for EasyHDR expire?
No, the license can be used indefinitely and does not expire.
Can I install the software on multiple devices?
Yes, providing they are owned and used by you – the basic license is for one user only on multiple devices.
What limitations does the demo version of EasyHDR have?
The demo version has watermarks on images and you cannot save TIFF files.