Eclipse HDR Pro is a standalone HDR processing software from InPixio. This company is responsible for other popular editing and retouching programs like InPixio Photo Studio and Photo Focus. Eclipse HDR Pro is a simple but effective program that allows you to quickly create HDR composites. In this Eclipse HDR Pro review, we analyze the performance, usability, and features of this program to see if it is a worthwhile product.
You can use a 30-day trial version of Eclipse HDR Pro to test its features. Once this trial has expired, it is available for a one-off fee. Read on to find out more about this useful HDR software.
Eclipse HDR Pro Review
Layout

Ease of Use

HDR Quality

Post Processing
Review Summary
To create the best quality HDR images, you would need to export your composites into a separate post processing program. This is the only drawback of Eclipse HDR Pro. Otherwise, it is a simple, effective, and quality program for HDR merging.
Pros
Incredibly easy to use
Simple and quick HDR process
Solid batch processing tools
Cons
Limited post processing tools
When you buy through links on our site, we may earn a commission at no cost to you. We evaluate products independently. Commissions do not affect our evaluations.
System Requirements & Basic Features
For the first part of this Eclipse HDR Pro review, let's look at the system requirements and an overview of its features. Please note that this software is only available on Windows devices, and it has the following minimum system requirements:
System requirements
Windows – Windows XP or later
Screen Resolution – 1280 x 720
Memory – 1.5GB of RAM
CPU – 1.6 GHz Intel or AMD with SSE2, Dual Core
HDD – 200MB of free storage
The system requirements for Eclipse HDR Pro are minimal. It does not require an advanced computer to run effectively. When creating this Eclipse HDR Pro review, we didn't notice any performance issues. It is a relatively lightweight program that doesn't use much processing power at all.
Basic Features
Supported file formats – RAW, JPEG, TIFF, PSD
Automatic denoise
Automatic ghost removal
Automatic image alignment
Tone mapping
Preset image effects
Batch processing
Minimal post processing tools
Eclipse HDR Pro does not have a huge array of features. It is very much a simple program meant for quickly creating HDR composites. It is essentially a standalone HDR processing program with minimal post-processing application.
Layout
Now that we have looked at the specs, we can check out the layout of Eclipse HDR Pro. The program is split into two main tabs – browse and edit.
The browse tab is where you manage your HDR files, and select new files to process. It has a simple layout – on the left, there is an image info box showing the basic photo specs like ISO and camera make. In the middle, you can see file thumbnails and a folder view. Finally, on the right, is the HDR process toolbox, and the project management features.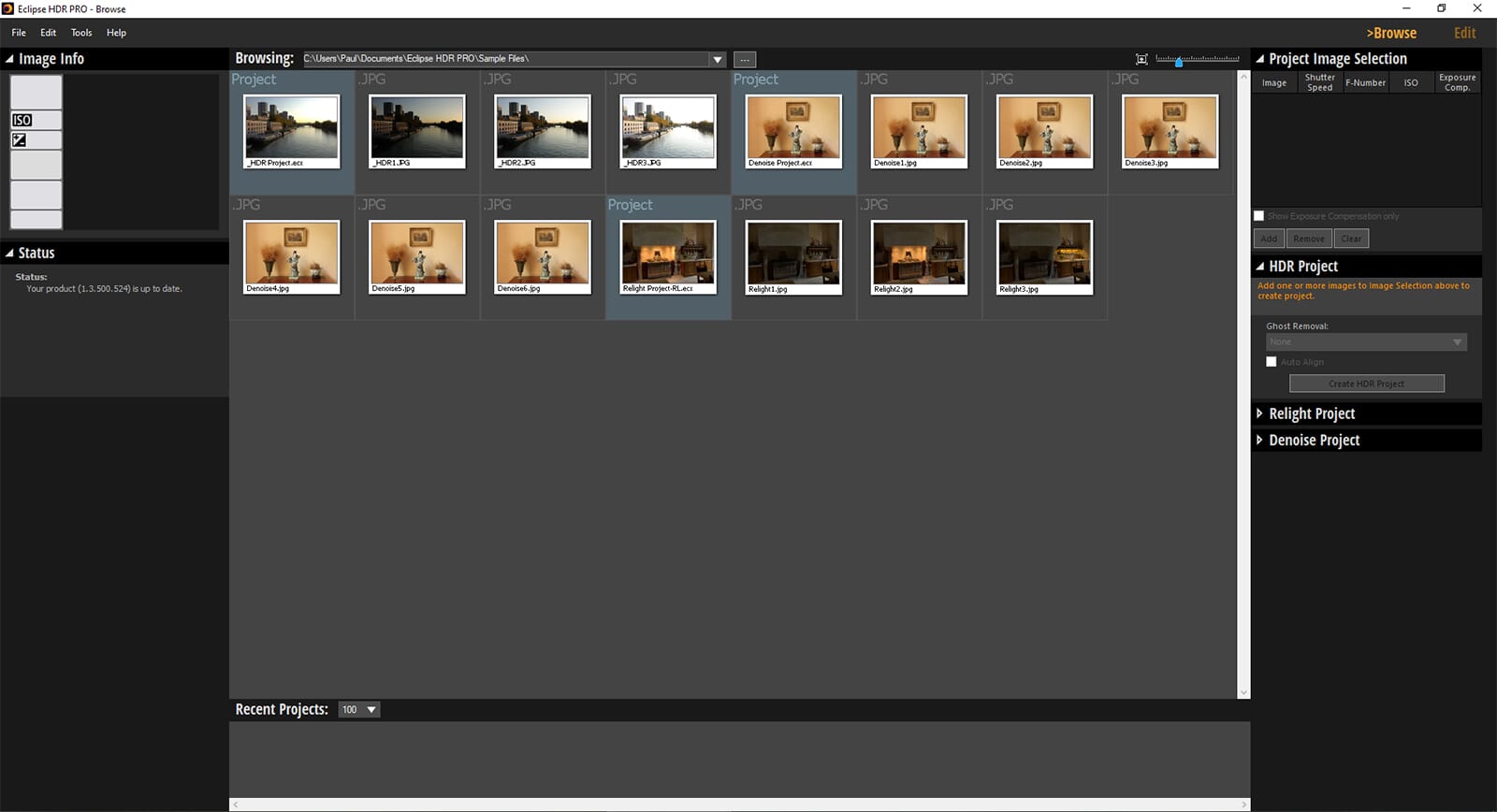 The edit tab has a similarly simple layout. On the left, you can see a list of preset edits. Next, in the center, is the image preview. Finally, on the right, there are editing tools. Both of these layouts are effective and easy to grasp. You should have no issue using this program and understanding where the different tools are.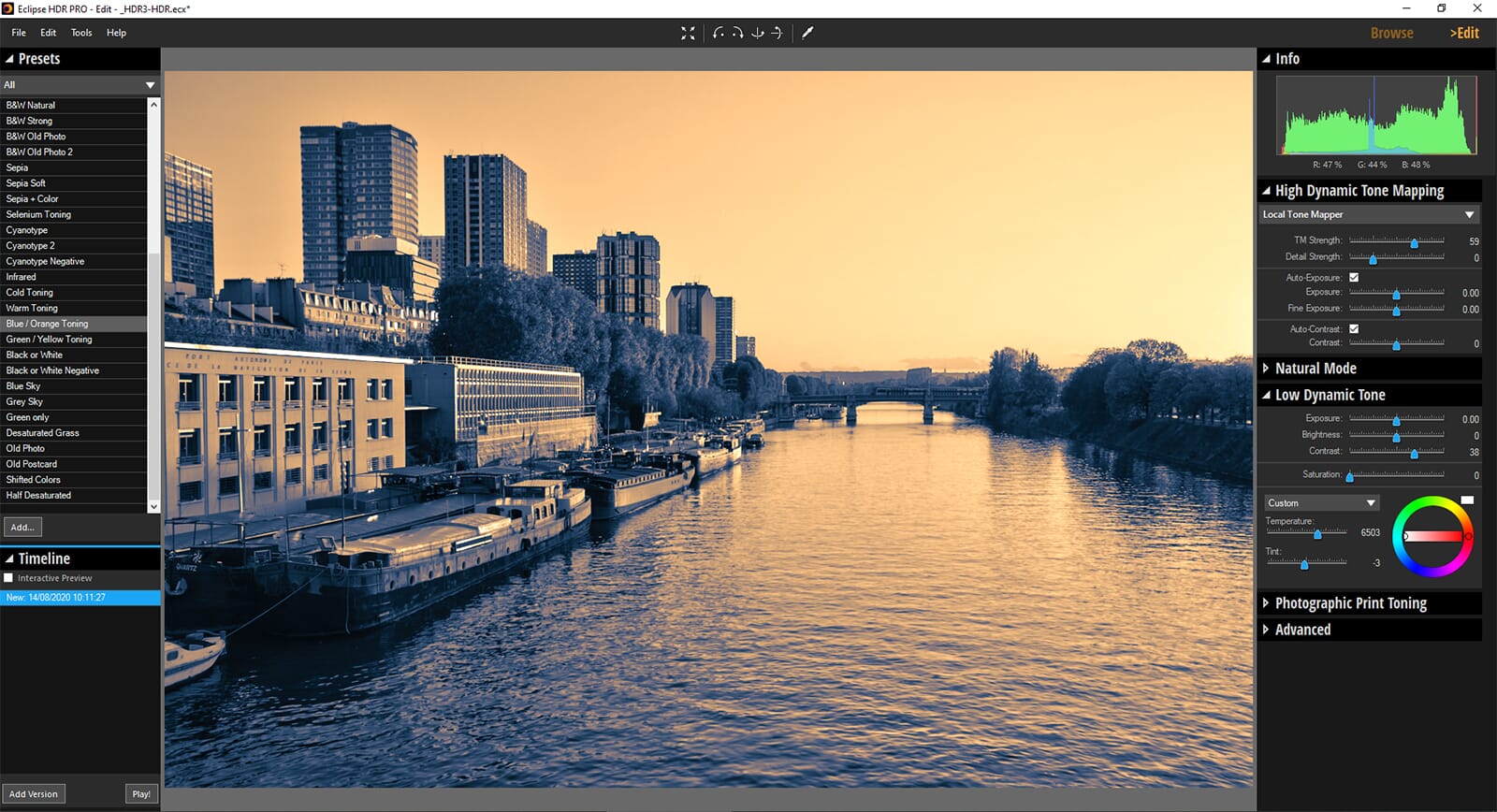 Ease of Use
The simplicity of Eclipse HDR Pro is one of it strong points. It is easy to use and the HDR process is straightforward. You can quickly browse for files, and the browse tab itself is easy to understand. This program keeps everything simple, and there isn't a huge host of tools, windows, or tabs – it is simple, and spartan.
The editing screen is also relatively easy to use. There is a list of preset options which you can select with a single click. Also, the editing tools are easy to access.
The only thing some people may struggle with is using the editing curves and tone maps. You have to drag these to alter the saturation and hue, for example. If you don't have basic knowledge of post-processing, you may take some time to learn this concept.
HDR Process
The HDR process is simple. From selecting files to processing, it takes just a few minutes max. Once the program is open, navigate to your images in the browse tab, and add the HDR bracketed images to the project image selection tab.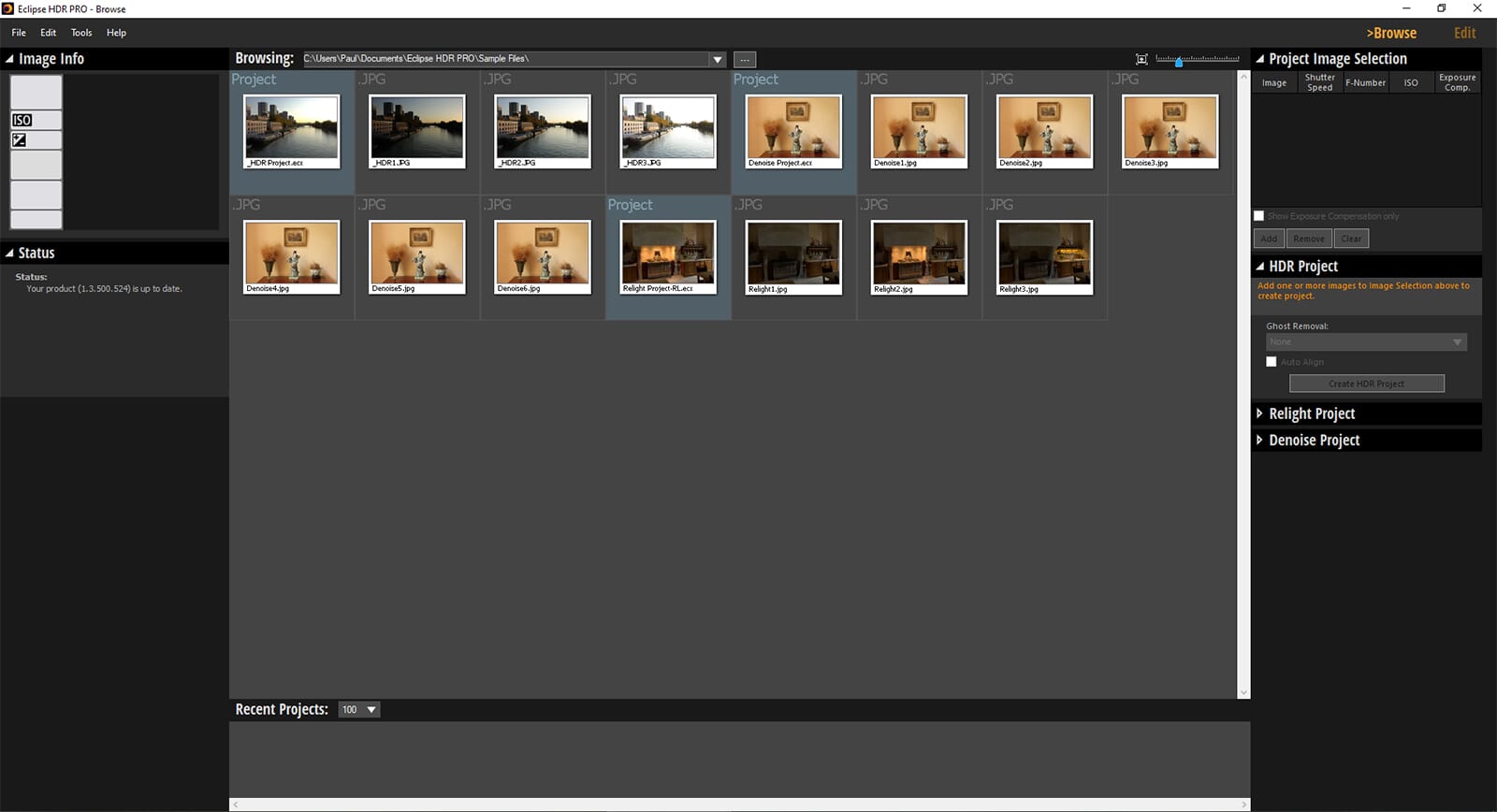 Once you have done this, change any of the options you want like ghost removal, relight, and denoise, and press the "Create HDR Project" button.
This processes and merges the bracketed shots and takes you to the edit screen. That is it! You now have a completed HDR composite that is ready to be edited. This whole process is lightning fast and one of the quickest HDR processes we have seen.
HDR Quality
When creating this Eclipse HDR Pro review we look ed at the basic HDR quality. The quality is consistent, and the detail retained in the HDR images is fantastic. We tried a host of different image combinations including the samples provided, and the HDR image processor appears to be accurate and intelligent.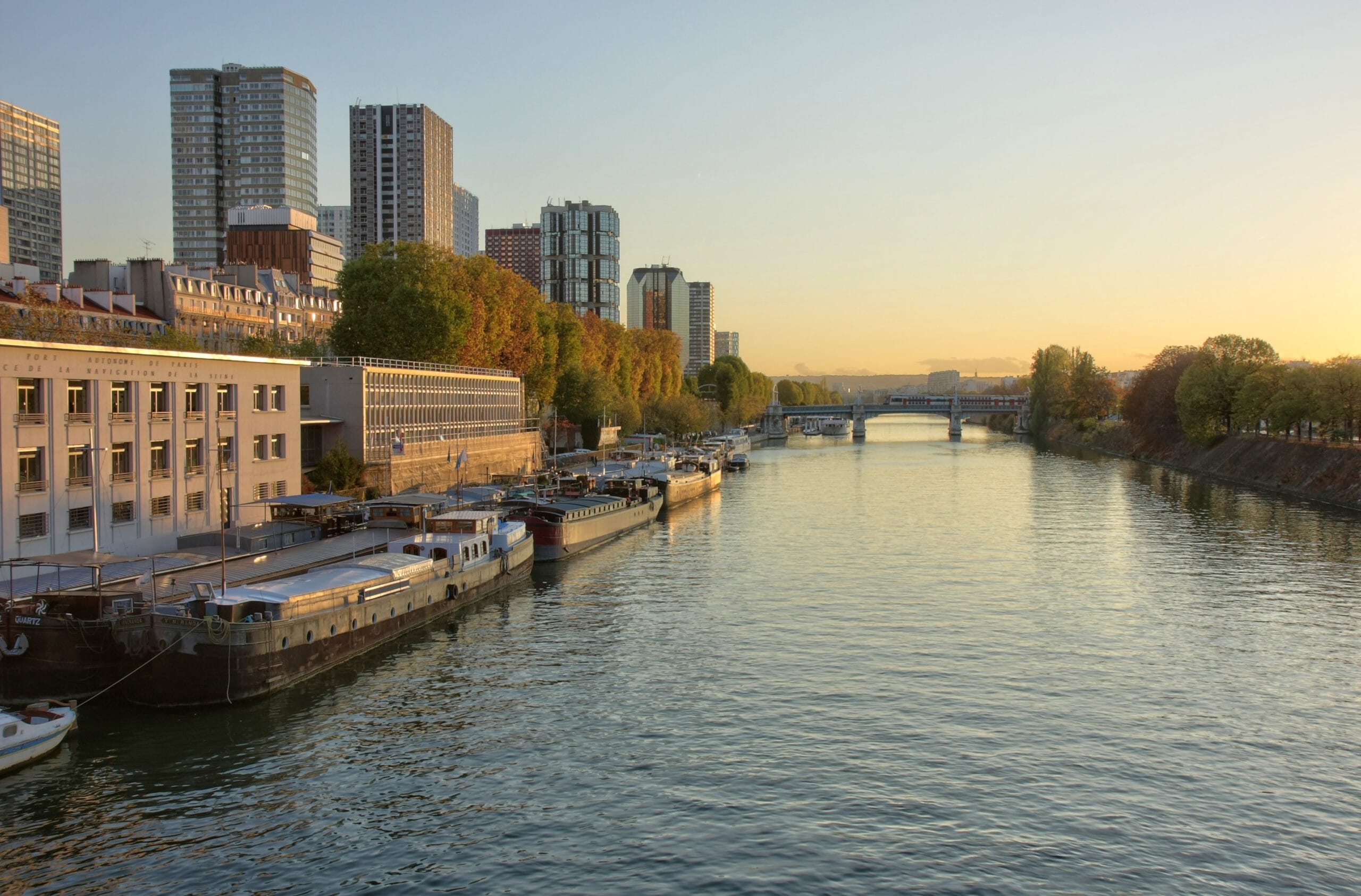 The HDR process is fast, and once you have selected the initial images, it creates the composite within a few seconds. It works well with extreme exposure differences, and the processing of RAW images is also effective.
Although the post-processing features are lacking, you can still create high-quality HDR images using Eclipse HDR Pro.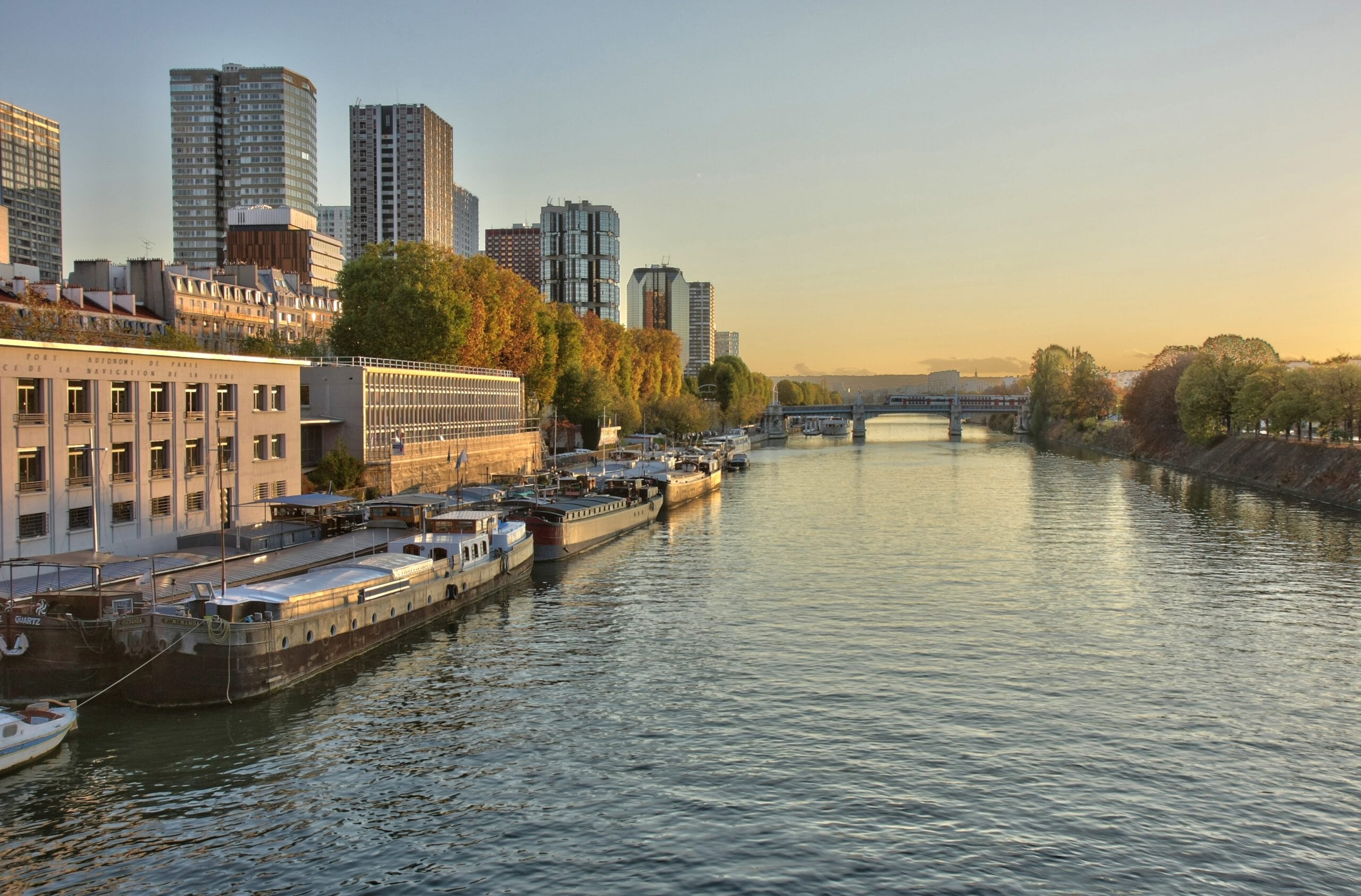 Post-Processing Features
One of the main drawbacks of Eclipse HDR is that it does not have extensive post-processing features. Some software like Aurora HDR has a full toolset of post-processing features – you essentially get the same editing tools as you would in a dedicated editing program.
As we found when creating our Eclipse HDR Pro review, this program doesn't have that. Once you have composed an HDR image, you can use the following editing tools:
High Dynamic Tone Mapping
Natural Mode
Low Dynamic Tone
Photographic Print Toning
Advanced
High Dynamic Tone Mapping essentially allows you to tweak the basic HDR composition settings. Alternatively, Natural Mode is a simple tick box – if this is enabled it does some automatic processing to give the HDR image a natural look.
The Low Dynamic Tone box allows you to edit exposure, brightness, contrast, and temperature. Finally, the Advanced mode allows you to directly edit tone maps and curves for different aspects like Hue, Luminance, and Saturation.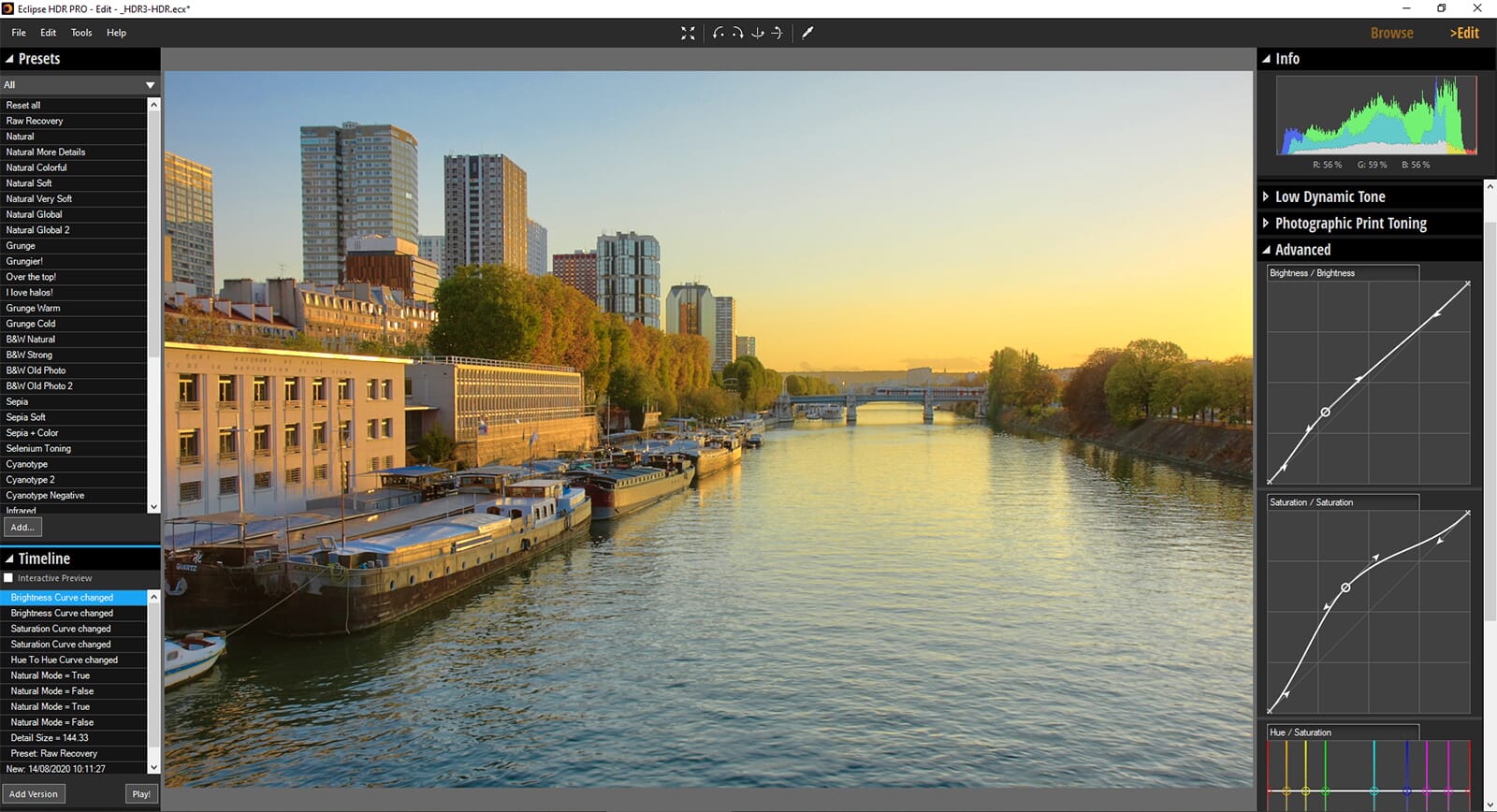 Compared to other HDR software, the post-processing falls short. You can make basic edits and improve the quality of your HDR composite, however, to edit the image in great detail, you would need to export it into a dedicated editing program like Lightroom.
Eclipse HDR Pro does have a good batch processing feature. As you can see from the screenshot below, you can change multiple features and quickly process large volumes of HDR images with minimal effort: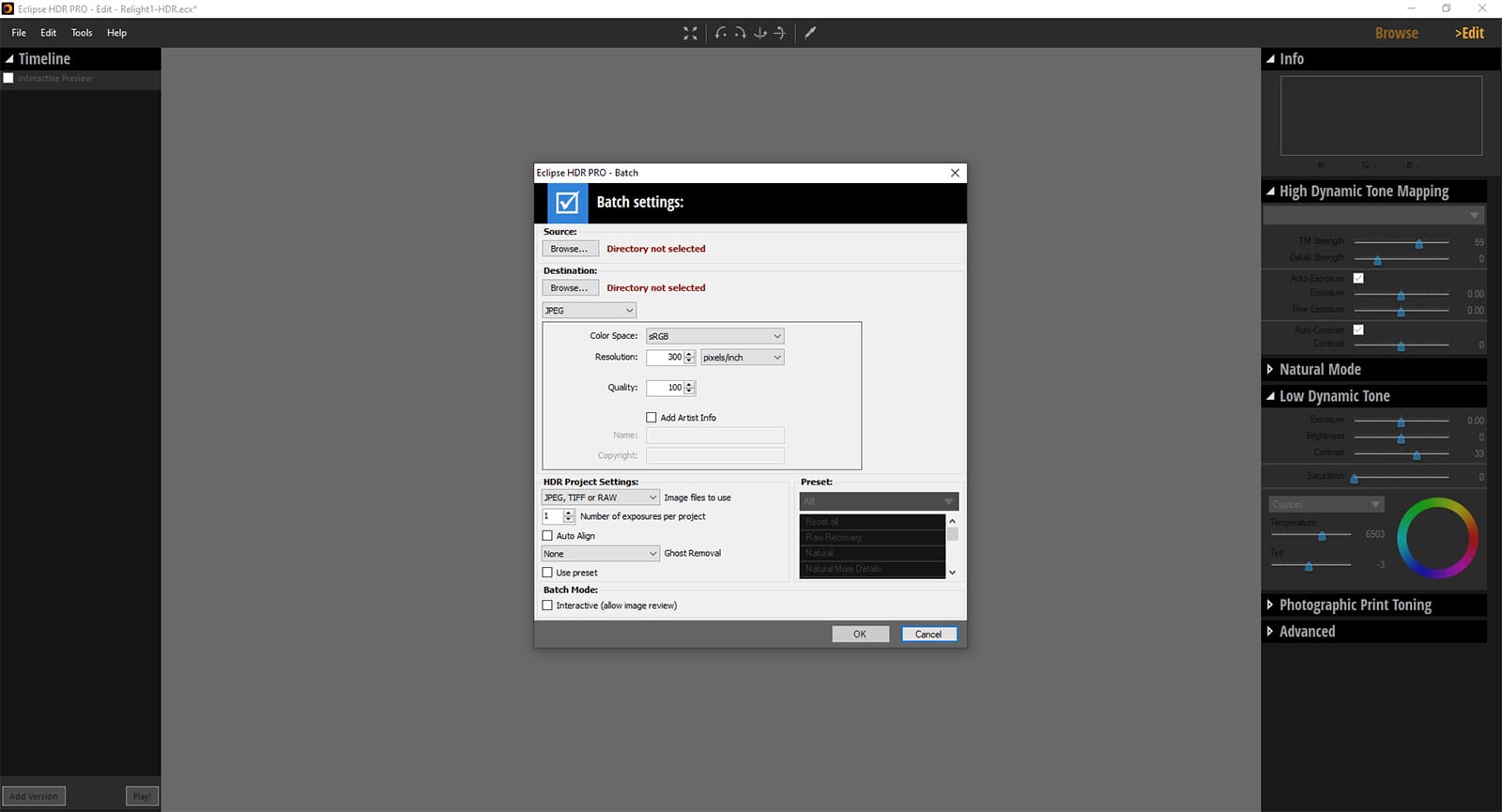 Presets
Eclipse HDR Pro has 39 presets to choose from. This includes different categories such as black & white, special EFX, natural, and architecture. The quality of the presets is generally decent although there are some presets that are more for fun purposes as opposed to genuinely improving the image quality.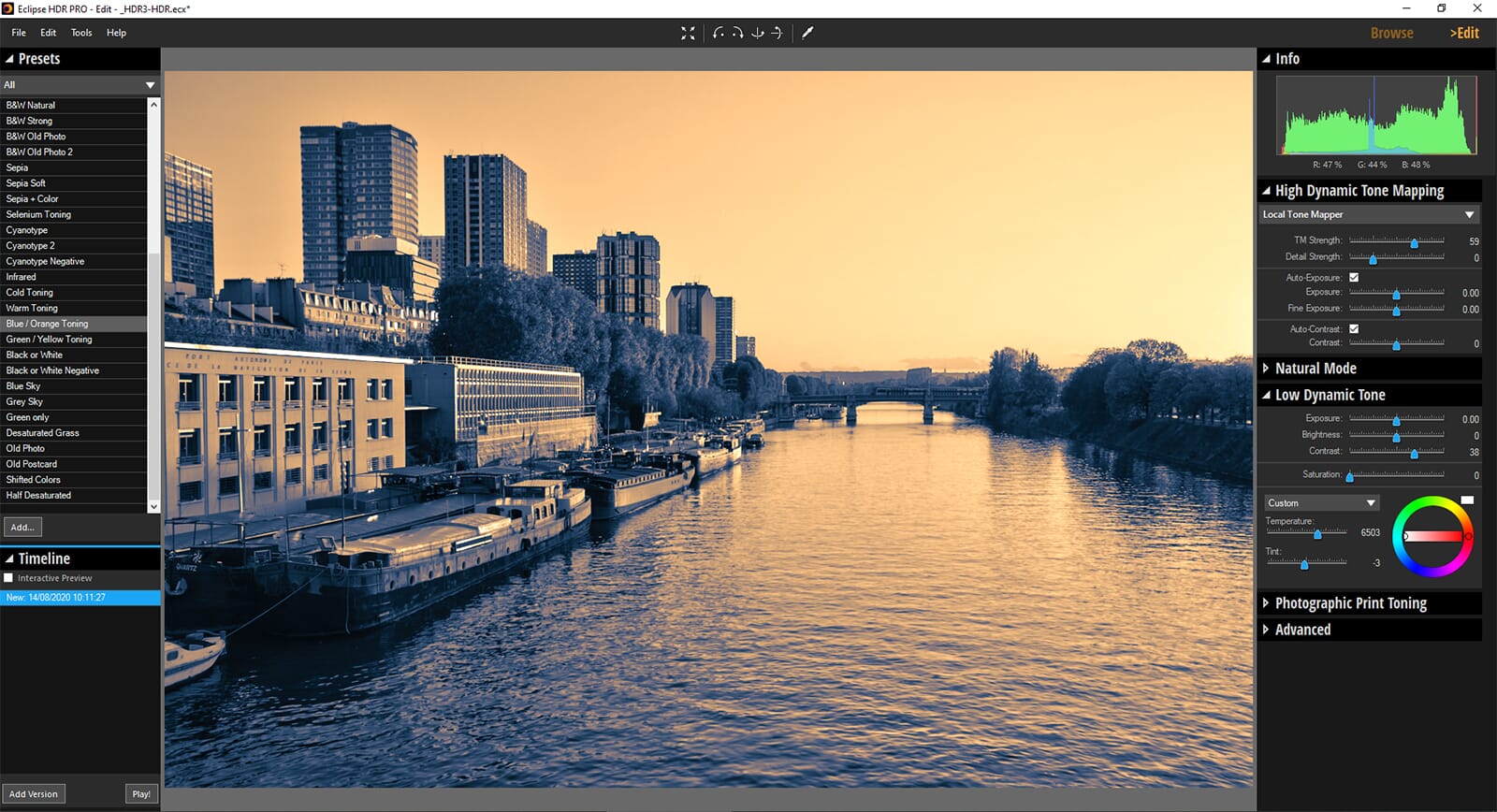 The presets that are most useful are the natural presets, and the RAW recovery preset. The natural presets enhance the HDR image in such a way that makes it look balanced with even lighting and details. Alternatively, the RAW recovery preset is incredibly useful as it basically turns a dull RAW HDR composite into a brighter shot with greater detail.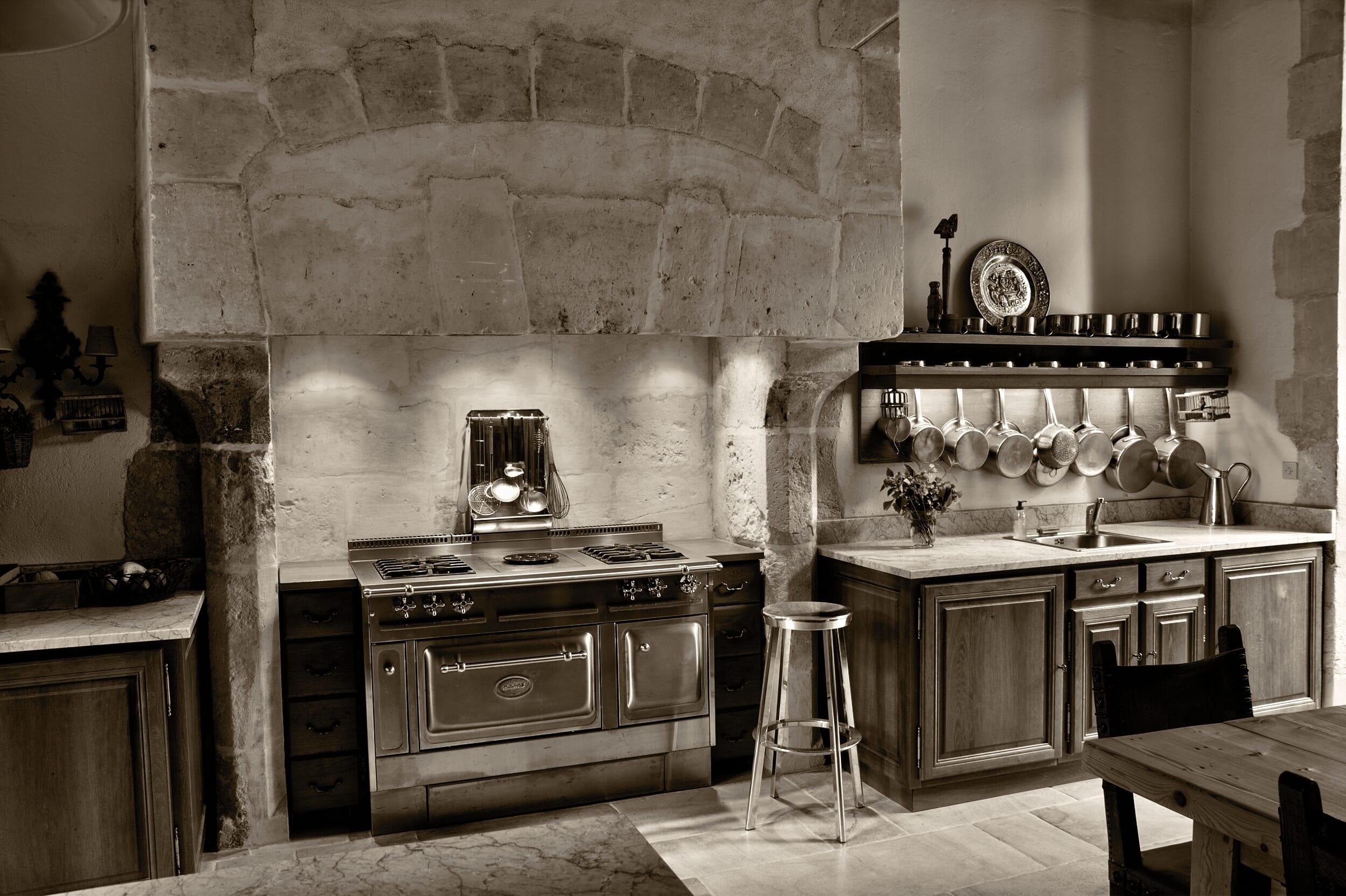 HDR Examples
To complete this Eclipse HDR Pro review, we have created a range of examples using the sample images provided with the program. We tested different presets, and tried the advanced editing tools too, to create a variety of finished HDR images.
You can compare the quality of these images by checking out some of our other HDR reviews like Aurora HDR, ON1 HDR.
FAQ
Is Eclipse HDR Pro available for MAC computers?
No, Eclipse HDR Pro is currently only available for Windows devices.
Does Eclipse HDR Pro have support for RAW images?
Yes, and it has special presets that enhance RAW images after the HDR processing stage is completed.
What export file types does Eclipse HDR provide?
You can export images as JPEG, and TIFF, you can also export HDR composites directly to Adobe Photoshop for further editing.
Does Eclipse HDR Pro have a batch processing feature?
Yes, there is a separate batch editing tool where you can apply a single HDR preset to multiple files.