HDR Projects 8 Professional is the latest version of this powerful HDR software from Franzis. The program includes a large range of improvements, new tools, and features.
In this HDR Projects review, we compare the software to the previous version, see how it has improved, and consider whether it's worth the investment.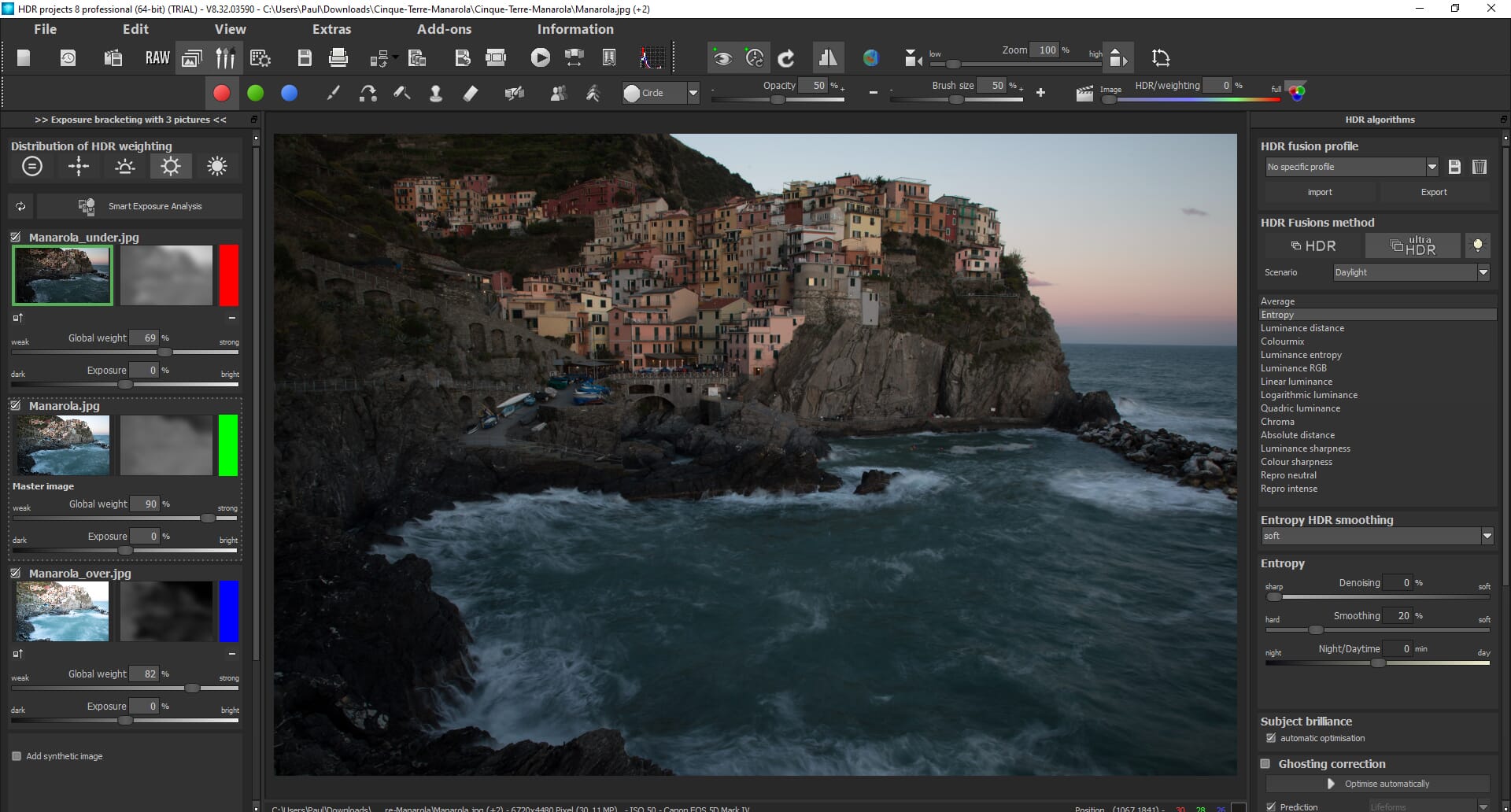 When you buy through links on our site, we may earn a commission at no cost to you. We evaluate products independently. Commissions do not affect our evaluations.
HDR Projects 8 Overview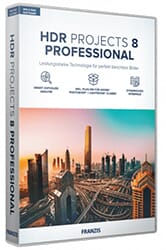 Great for detailed HDR-file creation
HDR Projects 8 is geared toward professional use and gives users full control over their HDR compositions.
Pros
The color module is incredibly useful
The focus module allows you to easily see if your camera misfocused
HDR quality is greatly improved
Supports over 1000 RAW file formats
Excellent control over the HDR process
Cons
Interface can feel cluttered
The software is initially confusing
HDR Projects 8 Professional presents a huge change and improvement compared to the previous version. Franzis has added several useful tools, including the color module and focus module. The underlying HDR analysis and merging process is also greatly improved, which means that you can create better-quality HDR compositions.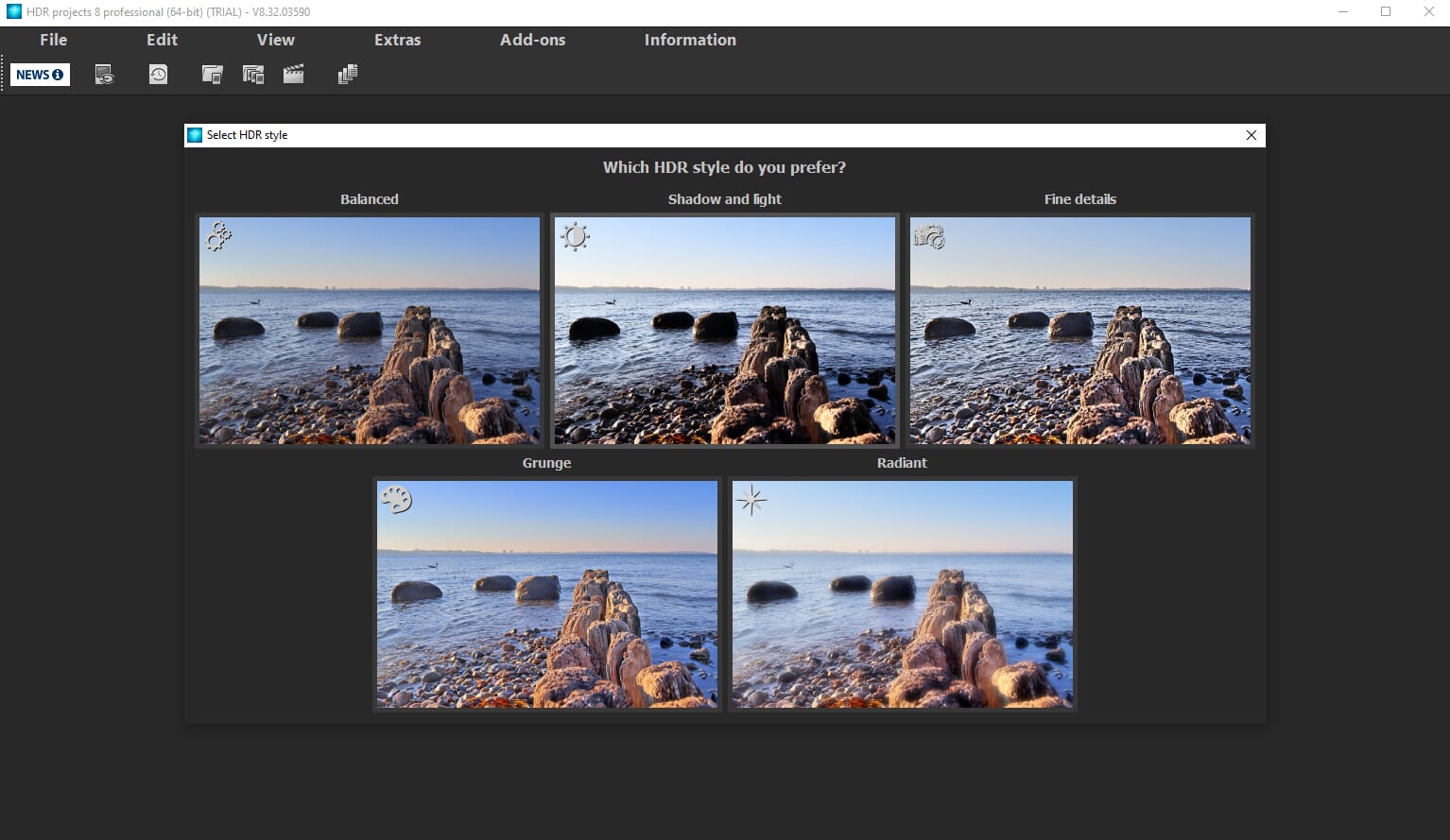 The software is not process-hungry and doesn't require a high-spec device to run smoothly. However, beginners could find the interface and number of tools overwhelming. In contrast, professional and experienced users can benefit from the advanced tools as well as the impressive level of control provided over the editing and HDR processes.
For accurate and realistic HDR creation, HDR Projects 8 allows you to edit the initial bracketed images. You can then choose from a variety of HDR presets or use post-processing tools to edit the final image as desired. Overall, HDR Projects 8 is a significant improvement over its predecessor and is one of the best standalone HDR editing programs available.
What's New in HDR Projects 8?
To start our HDR Projects 8 Review, it is important to understand what has improved from version 7.
Version 8 offers a balanced update that includes performance improvements, new tools, and vast upgrades to the HDR process. The following are particularly notable improvements:
Color module with eyedropper
Enhanced RAW mode
Revised and optimized presets
Improved exposure analysis for HDR merging
Improved image alignment during the HDR process
Focus peaking module
Improved interface
The first things to note are the various improvements to the HDR creation process. There are several upgrades that result in better-quality HDR composites.
For example, the underlying technology that analyzes the exposure of each bracketed image is improved. Each bracketed image is individually assessed for exposure and blur to identify outliers more accurately. The image alignment process is also improved: During HDR preparation, image alignment is calculated more accurately.
Aside from these excellent improvements to HDR file quality, HDR Projects 8 also includes several new tools:
Color Module
The Color module is a fantastic improvement and a useful tool. It's found in the right-hand editing toolbar, and clicking it opens a new dialog box. Using the dropper tool, you can select any color in your HDR image.
With an accent color selected, you can then edit the associated color parameters. These include color tone, saturation, exposure, and contrast. In other words, you can selectively control single colors in your images.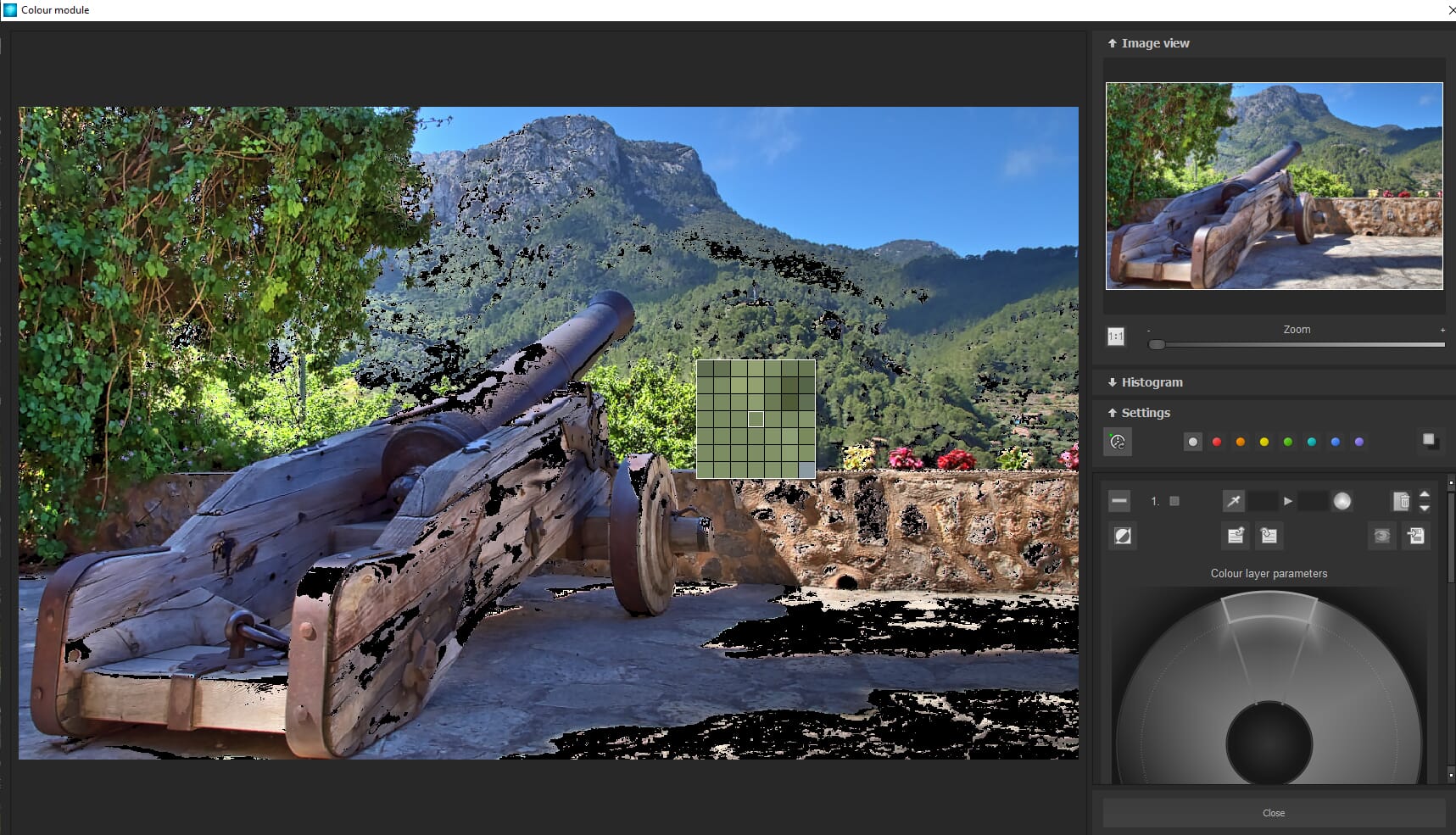 This gives you fantastic power and allows you to emphasize on accent colors. For example, in a landscape shot of a forest, you could choose to boost the saturation of the greens of the leaves. The dropper tool – and its masking selections – are incredibly accurate, too.
You can also create individual layers within the Color module. For example, you can create an initial layer and use it to adjust the blues in your image, while a second layer could be used to change the yellows.
Focus Peaking Module
The other major addition is the Focus Peaking module. Using this tool, you can effectively see the areas of your image that your lens was focused on when shooting.
The Focus Peaking module is found in the editing toolbar on the right-hand side. Click it to activate the module; it'll then highlight all the in-focus areas: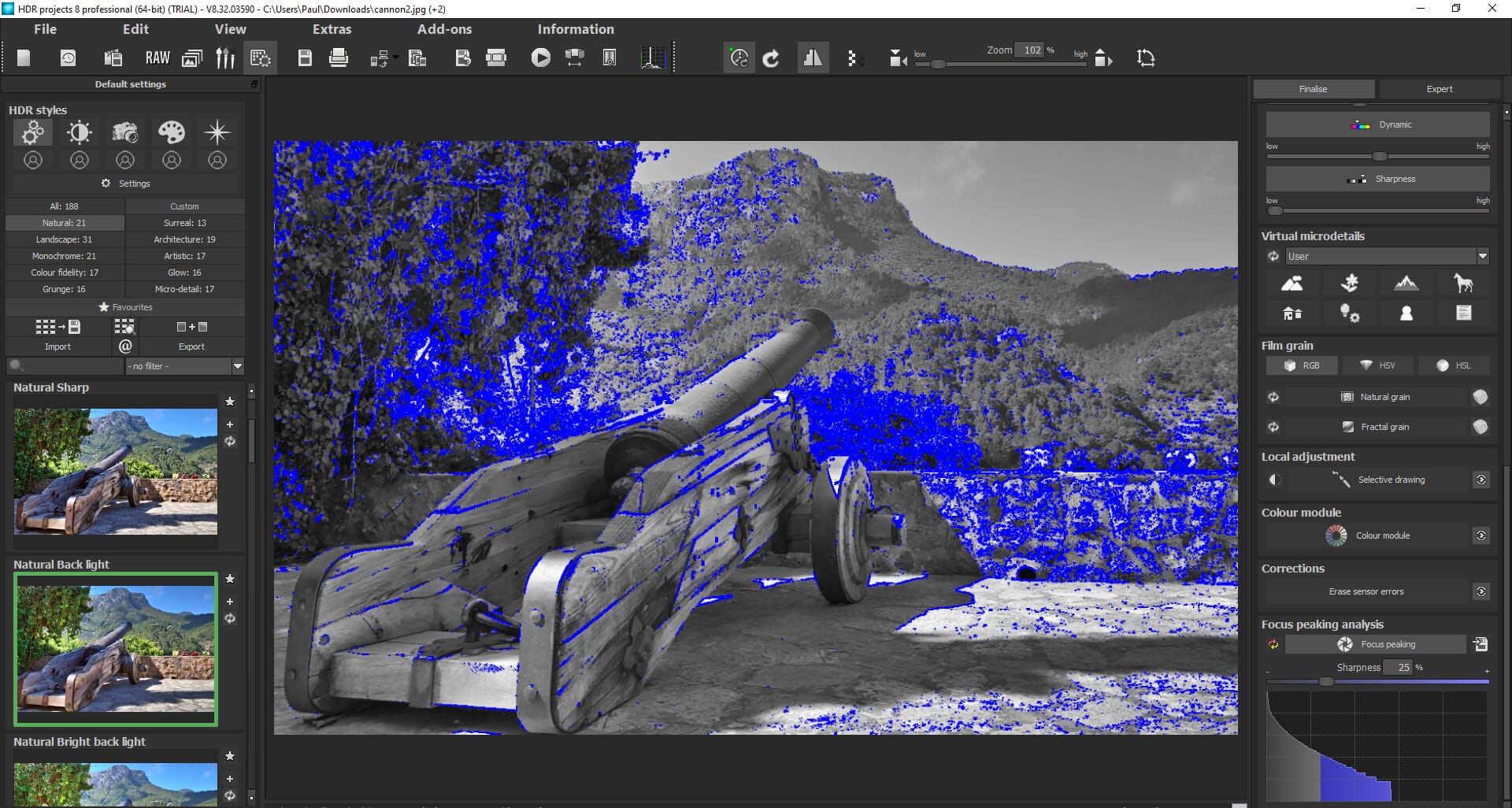 HDR Projects 8 Review
For this, HDR Project 8 review, we extensively tested the software using sample bracketed images. To give you a clear overview of the software, we have broken this review into simple sections including performance, HDR quality, and pricing.
Performance
The system requirements of HDR Projects 8 are listed below. It is not a particularly resource-hungry program; in other words, you don't need a supercomputer to run the software effectively!
We tested HDR Projects 8 using a desktop computer with an Intel Core i5 processor, 24 GB of RAM, and an NVIDIA GeForce GTX 1050 graphics card, but this is way above the minimum system requirements. We also had Adobe Photoshop open while using the program along with various web browsers.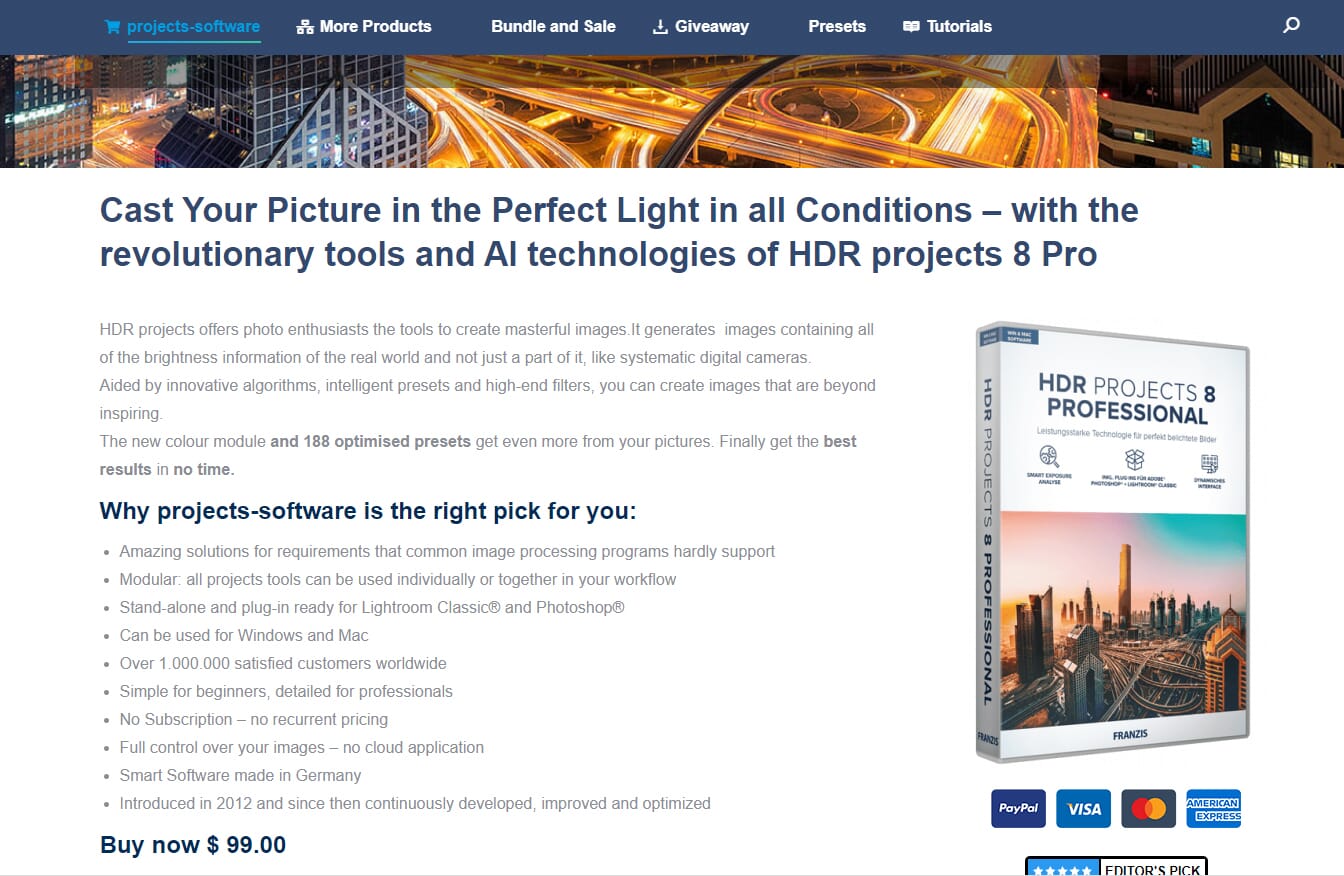 We noticed no performance issues at all. The bracketed photos loaded quickly, and the HDR process was complete in seconds. Applying presets was also a quick process. Even the Color and Focus Peaking modules caused no performance issues.
We are confident that – even with a basic computer – you should not have any performance problems. HDR Projects 8 appears to be a reliable program that doesn't put too much strain on your device.
Minimum System Requirements
Operating System – Windows 7, 8, 10, or macOS 10.7 or later
Processor – Core Duo or Intel processor
Memory – 2 GB
Graphics – DirectX compatible or with Retina 2 Display
Recommended System Requirements
Operating System – Windows 7, 8, 10, or macOS 10.7 or later
Processor – Intel i5 processor
Memory – 8 GB
Graphics – DirectX compatible or with Retina 2 Display
Ease of Use
Although its performance is excellent, some people may find HDR Projects 8 initially difficult to use. Upon opening the software, there is no explanation of how to create an HDR image. An optional tutorial would be useful here to explain to new users how to open bracketed images to create an HDR composite.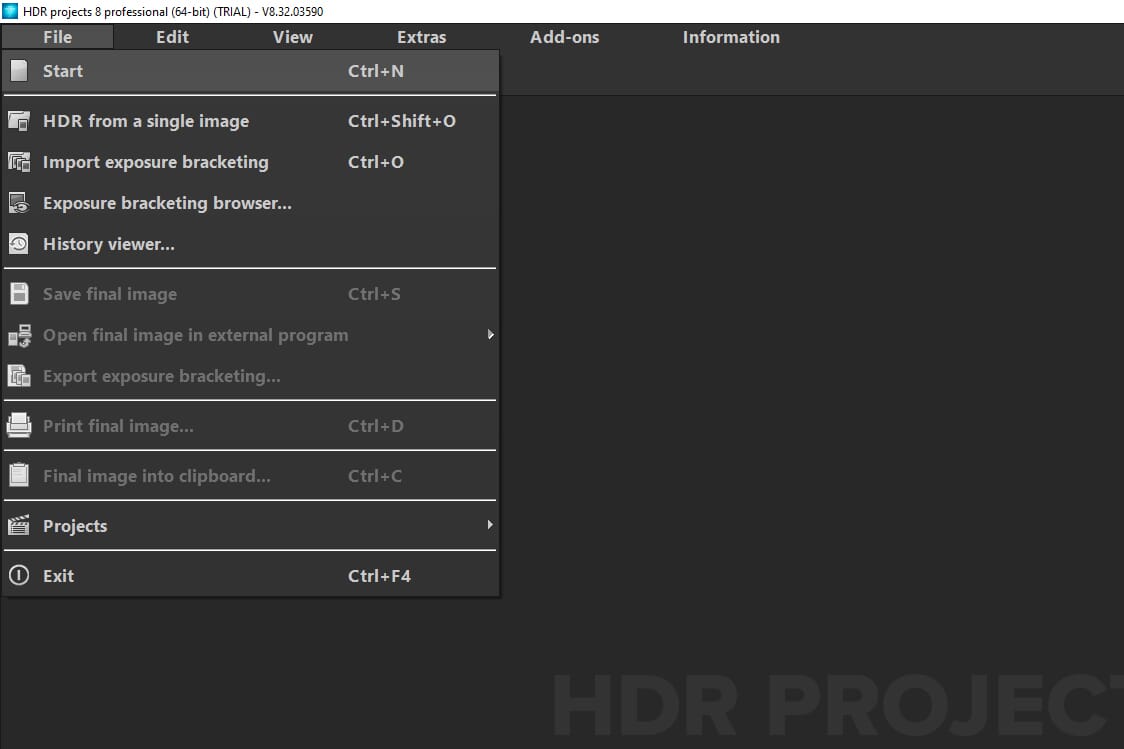 The main screen could also be confusing for inexperienced users. It can feel cluttered as there is a host of menus, toolbars, and information to absorb. If you don't have much experience with editing software, you could find it overwhelming.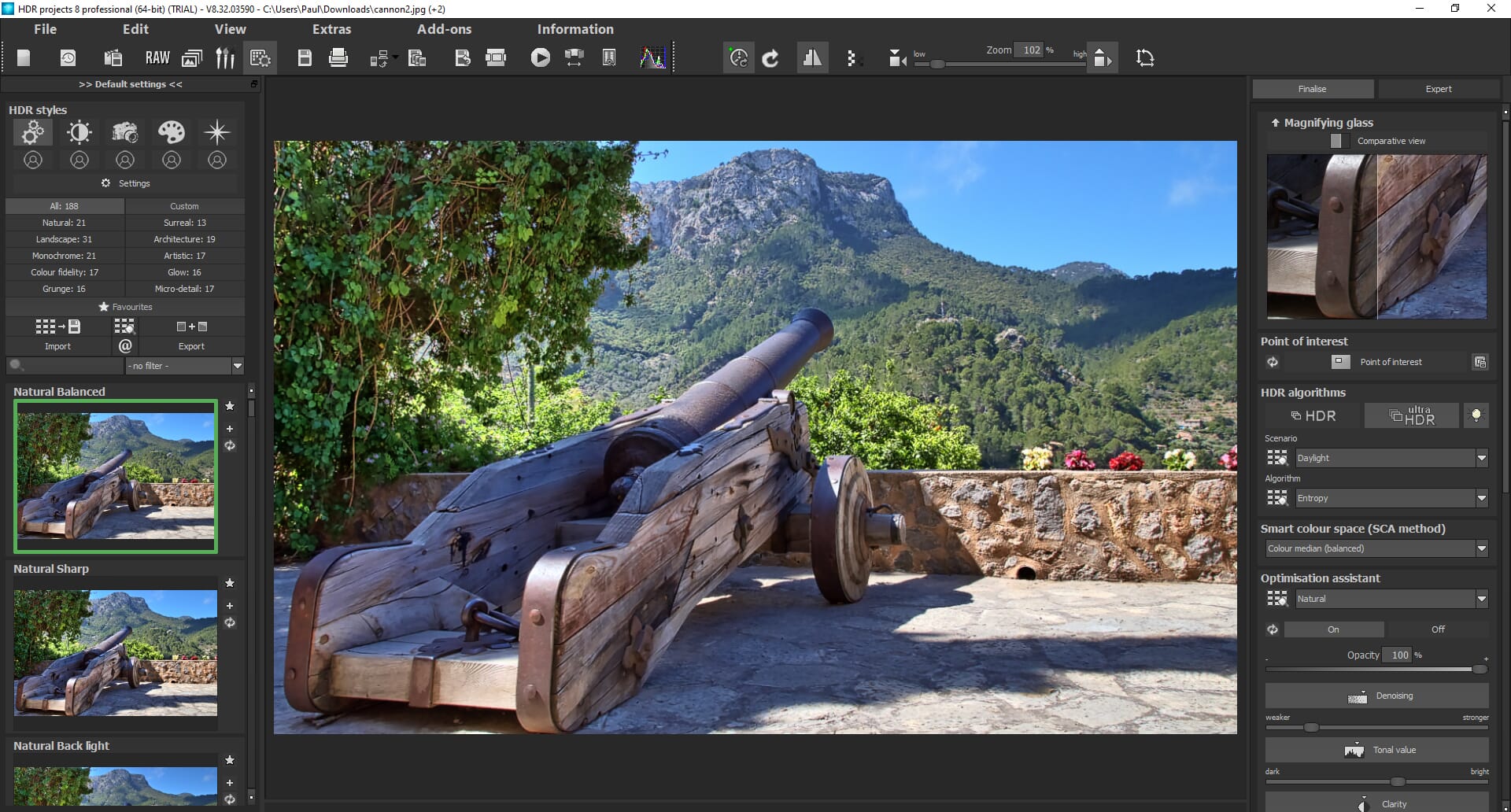 Helpfully, almost every tool has a description (just hover over the tool with your cursor). And the tools are simple and mainly use sliders. You can also create restore points periodically. This means that the editing is non-destructive. You can create restore points when you make drastic changes, for example, and then quickly revert to previous points if you dislike the changes.
The major benefit is the level of control. The number of tools and features means that you can create incredibly detailed HDR shots exactly as you want them. Whether you want to produce high-quality, realistic HDR photography or artistic creations, HDR Projects 8 offers the solution.
HDR Process
The HDR process is at first automatic. Using the main menu, you either open a new project or a series of bracketed images. The software then automatically analyzes and combines the files to create an HDR composite.
Next, there is a series of options to edit the underlying HDR process or edit the final image. For example, you can select the "Edit Brackets" and the "Edit Weightings" options. These allow you to edit the initial bracketed shots used to create the HDR image. The "Edit Brackets" option allows you to edit the exposure and weighting of each bracketed shot to change the overall balance of the HDR composite.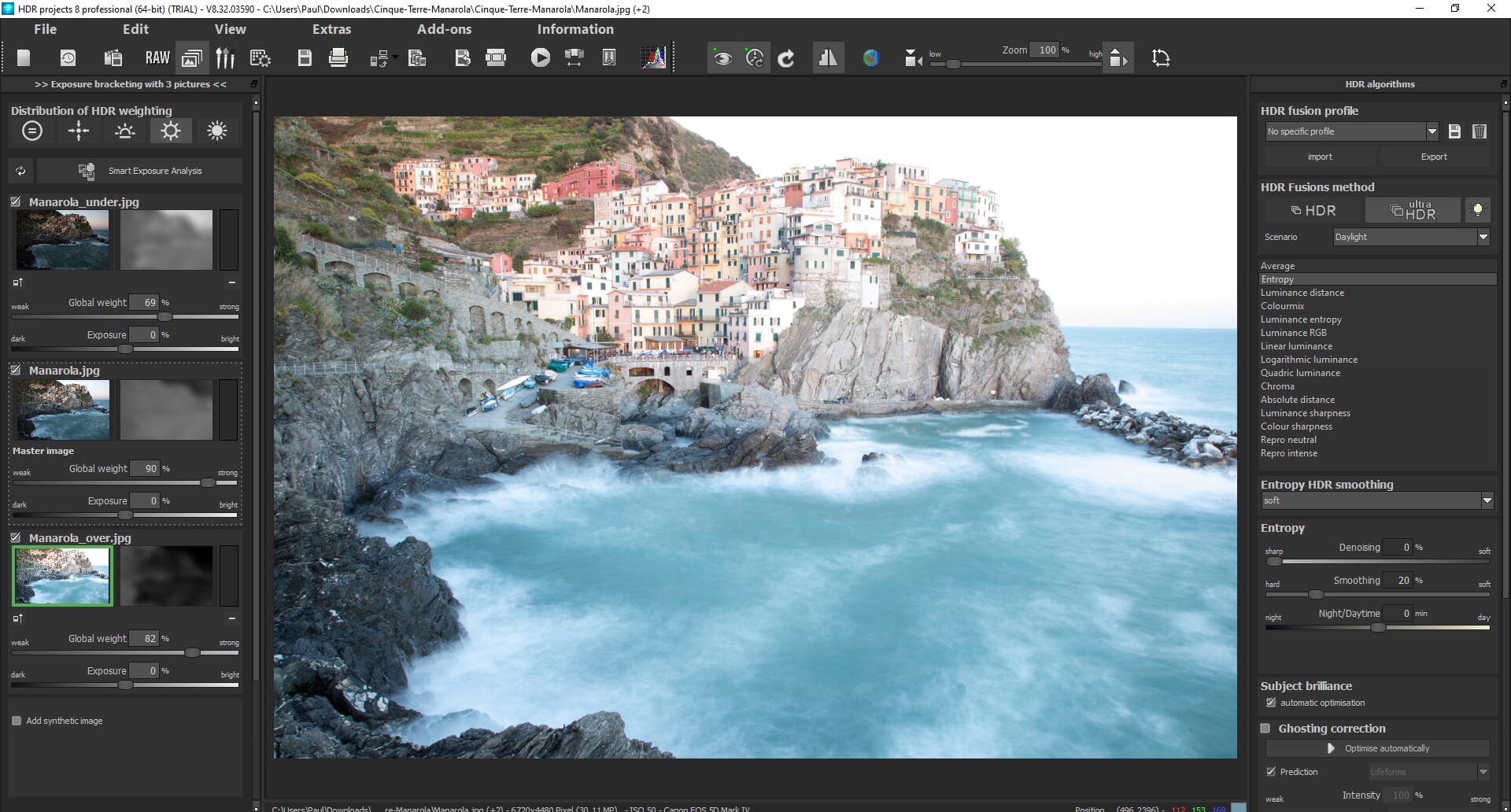 Alternatively, the "Edit Weighting" option has similar tools but also features a range of presets. For example, you can select from "Even Tones", "Master Dominant", "Shadow Dominant", or "Mid-tone Dominant". These affect the weightings of the bracketed images and create different results in terms of shadow, lighting, and contrast.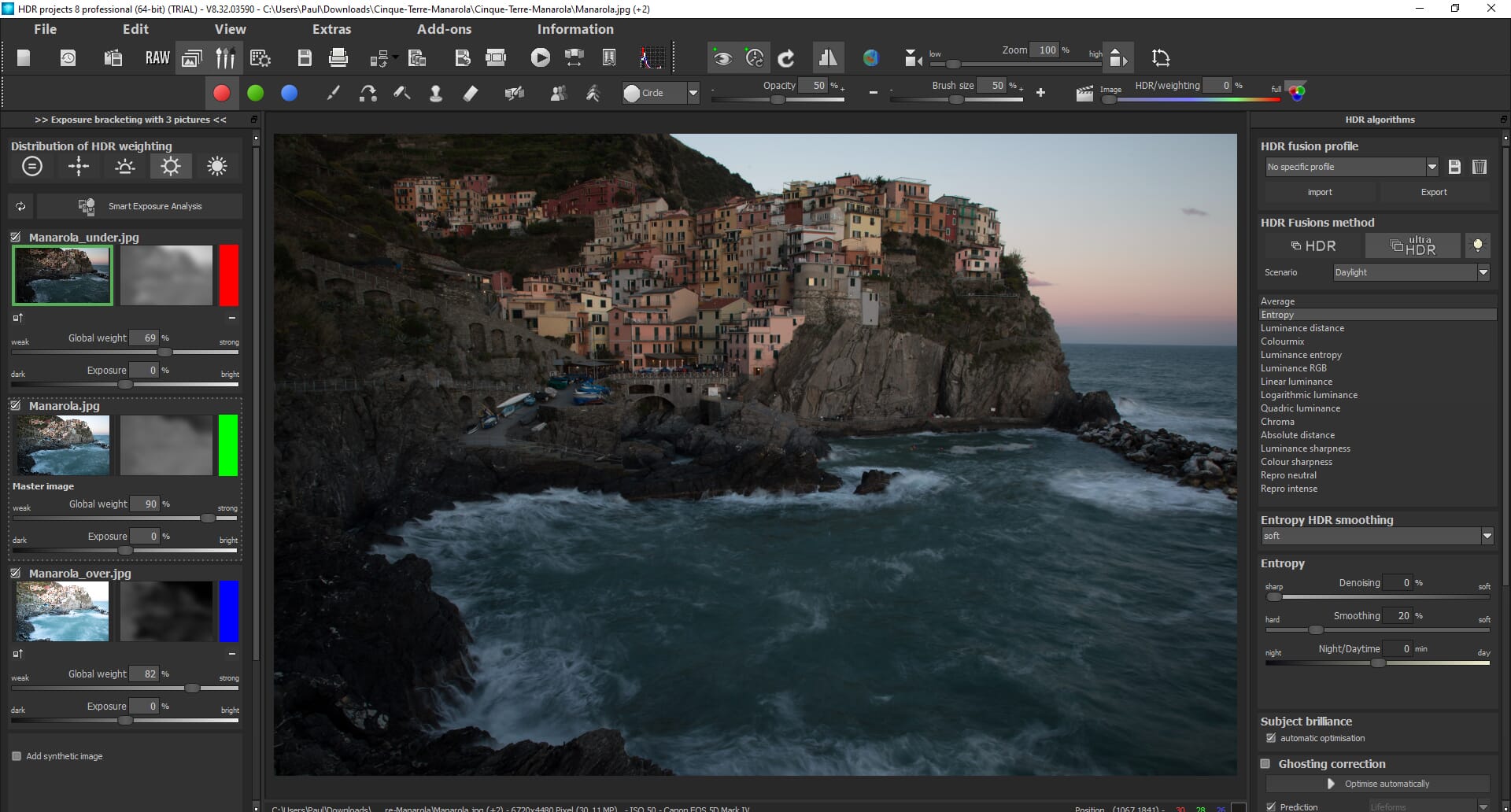 On the left-hand side, there is also a range of advanced HDR options. You can choose from different HDR algorithms, including different scenarios such as "Daylight", "Landscape", and "Architecture." These settings alter the HDR process in subtle ways to give a more realistic composite based on the type of photo.
Overall, the HDR process is incredibly detailed. Unlike some simple HDR programs, HDR Projects 8 gives the user complete control. This includes control over the original bracketed photos and control over the final HDR file.
HDR Quality
HDR Projects 7 already had a great HDR merging process and created high-quality compositions with ease. HDR Projects 8 improves on this.
For example, the alignment process is more detailed and results in fewer outline issues, while the underlying exposure analysis has been tweaked. The exposure of each bracketed image is calculated precisely for more balanced results.
To create this HDR Projects 8 review, we used a range of bracketed images. The HDR process worked flawlessly, and the files that we were able to create looked remarkable.
Post-Processing Features
While the HDR merging process is important, the editing features are also vital. Ideally, HDR software should have a comprehensive set of post-processing tools. These should allow you to tweak the final image and make creative adjustments.
Fortunately, HDR Projects 8 has a great set of editing tools. These are split into two categories: HDR Processing, and the RAW module.
HDR Processing
Once you have created an HDR composition, you still have the option to edit the final image. This means that you can tweak the image as you want. The HDR Processing tools are found on the right-hand side and include:
HDR Algorithms
Smart Color Spaces
Optimization Assistant
Film Grain
Local Adjustments
Color module
Corrections
Focus Peaking Analysis
The Optimization Assistant is particularly interesting. Here, you can change important aspects of the image, including the clarity, sharpness, tonal value, and denoising strength. You can also add artistic effects like film grain or a vignette.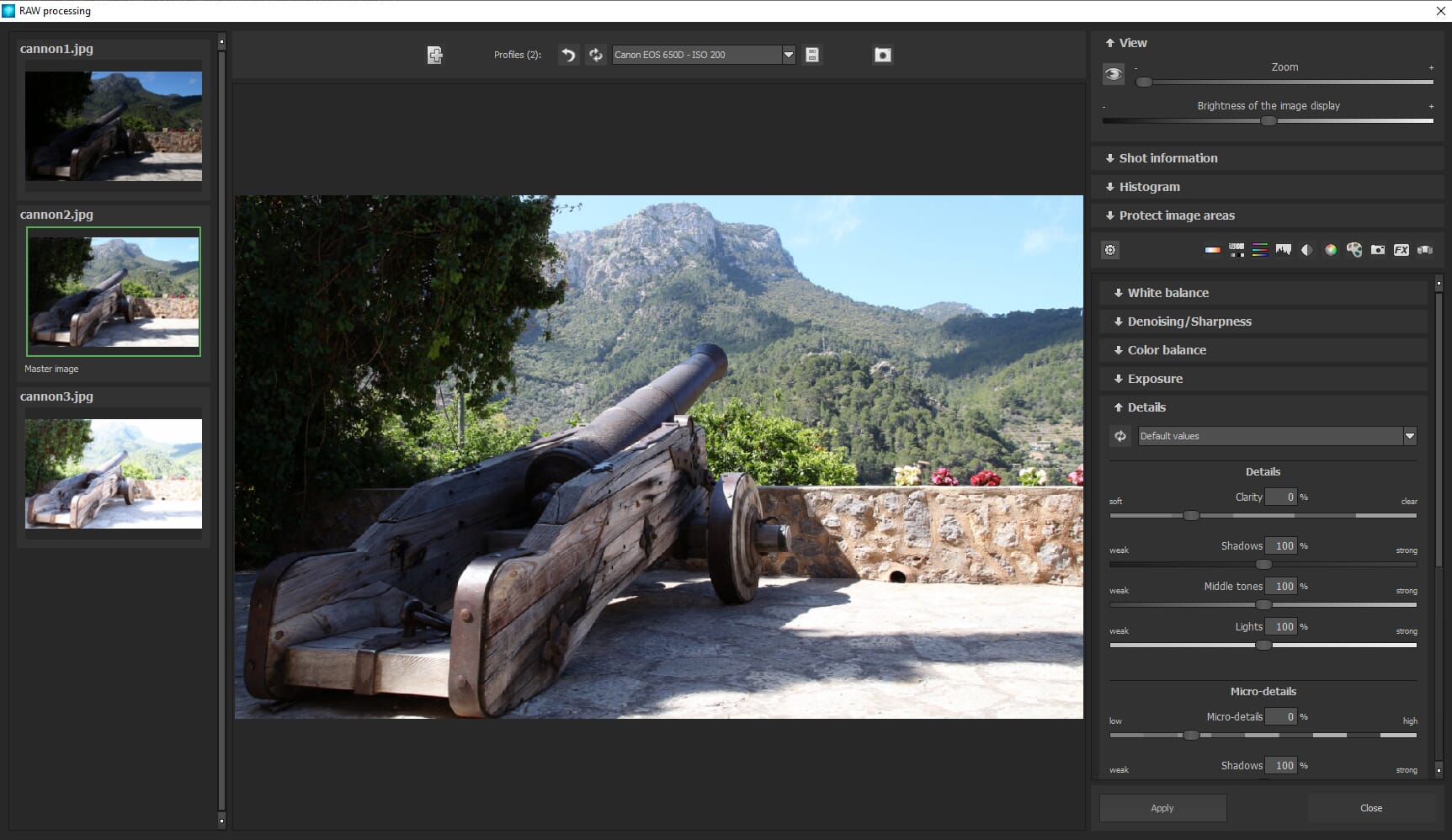 We also like that you can use brush tools to edit select areas of the HDR image. This gives you fantastic control and means you can edit your compositions cautiously if needed.
RAW Module
Even once you've created an HDR composite, you can still edit the initial bracketed photos. This is achieved via the RAW module. The RAW module is essentially a complete set of editing tools, similar to what you would find in editing software like Lightroom Classic or ON1 Photo RAW.
Related Post: ON1 Photo RAW 2022 Review
What's more, HDR Projects 8 supports over 1000 RAW file formats. This includes support for proprietary RAW formats from Apple, Canon, and Nikon. It also supports some of the best HDR cameras and hundreds of models from popular camera and lens manufacturers.
The RAW module is located in the top toolbar. Once the module is active, you can swap between the different bracketed images using the thumbnails on the left-hand side.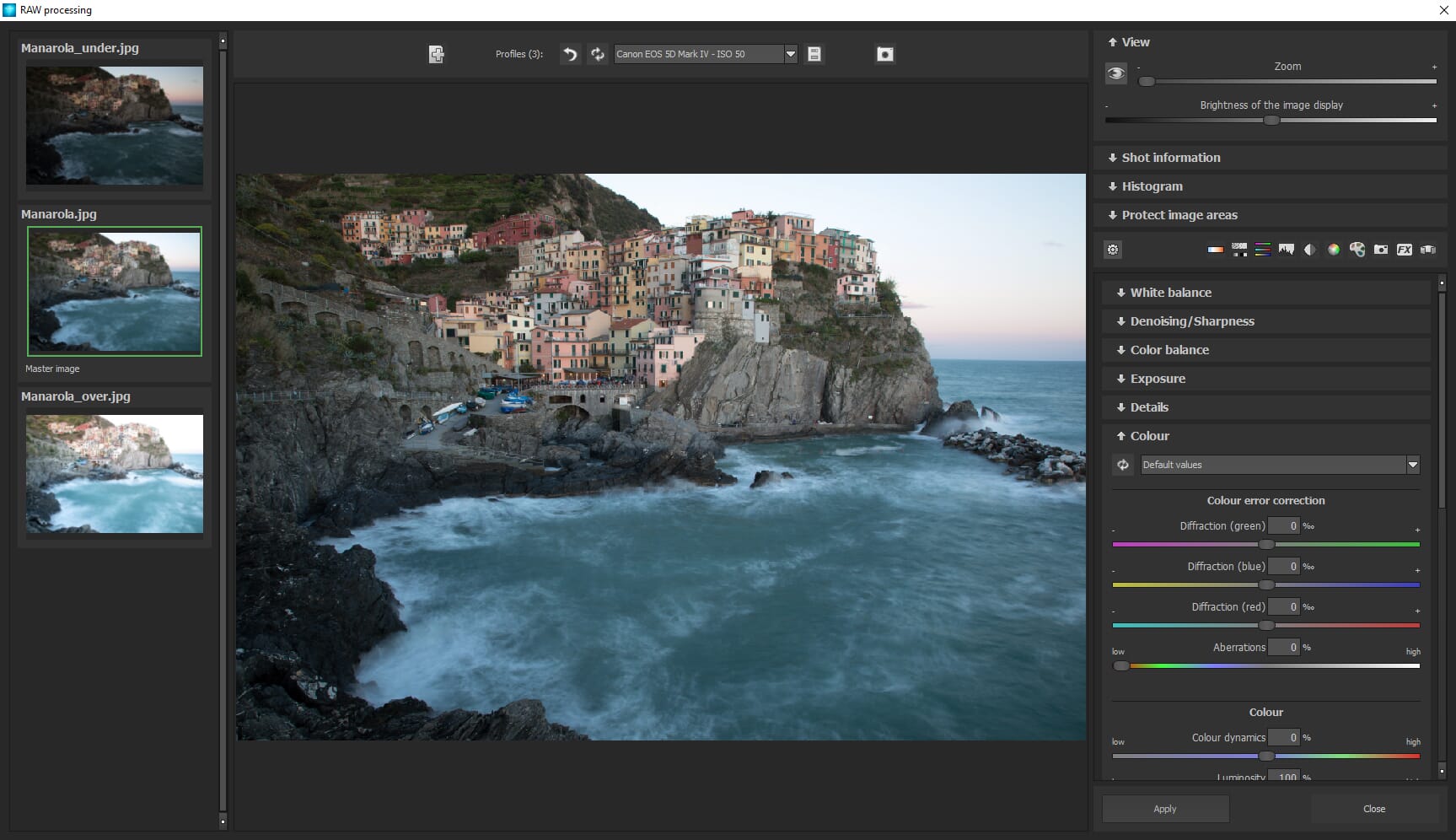 You can then edit different parameters for each image. These include white balance, exposure, color balance, details, and sharpness. The tools are easy to use and broken into separate categories. Once you have finished editing, you can apply the changes, which will alter the initial bracketed shots and re-calculate the final HDR composition.
The RAW module is an outstanding tool and one of the best features of HDR Projects 8. It means that you do not have to first edit your bracketed photos using different editing software. Instead, everything can be done in the program!
Presets
While creating this HDR Projects 8 review, we tested the large choice of editing presets. These are applied after the HDR merging process.
The presets provide a simple way to quickly edit your photos. This removes the need to use the RAW module and the editing tools. It greatly speeds up the HDR creation process.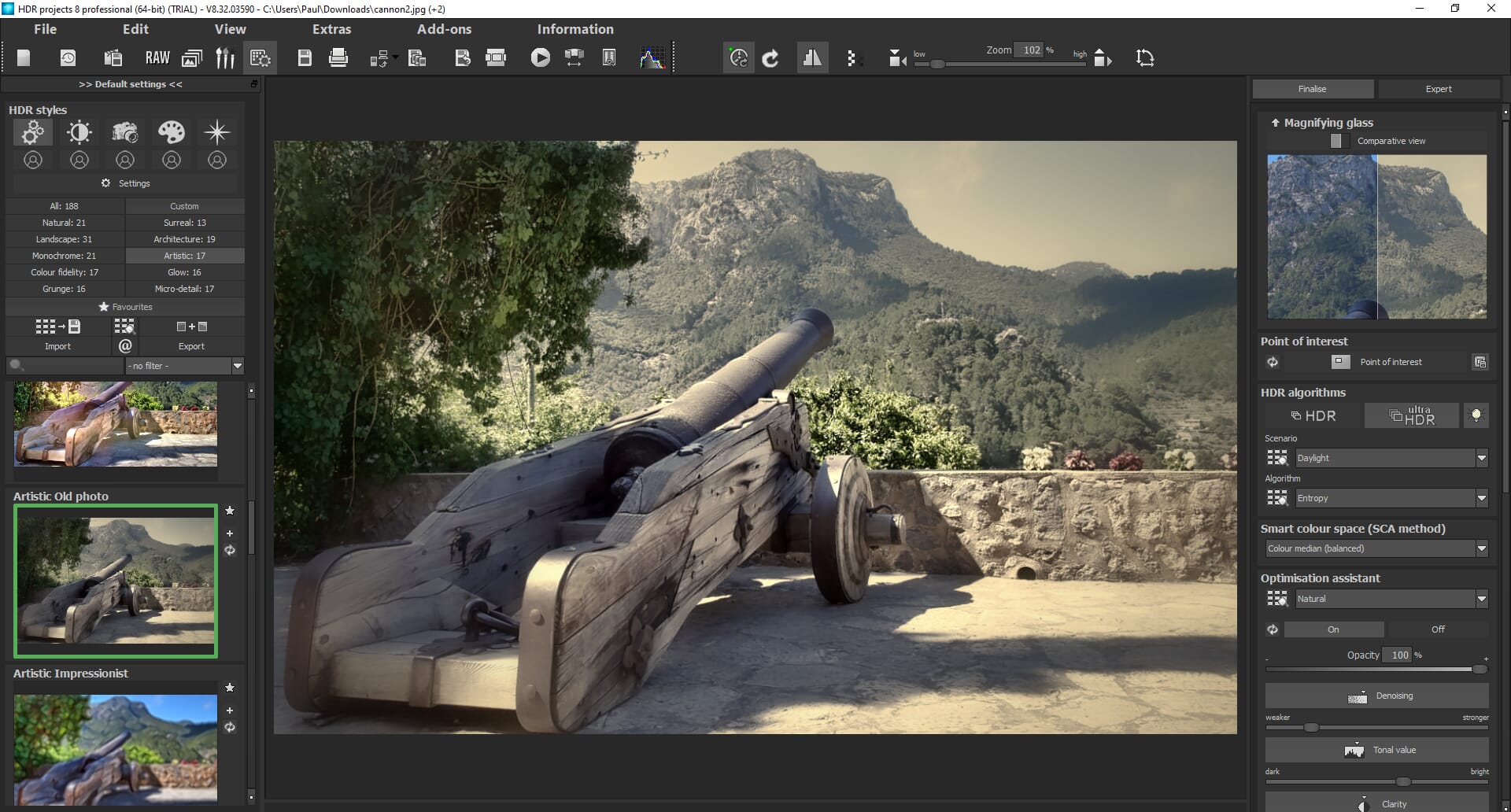 The presets are found on the left-hand side of the main screen. They are split into different categories like Architecture, Artistic, Natural, and Surreal. The variety is excellent. For example, there are many basic presets that create a realistic HDR look, and there are also some stylistic artistic presets you can use to create interesting results.
The presets are easy to use: simply click on a thumbnail and the preset is automatically applied. The effect is smooth and virtually instant.
Many of the presets do feel rather similar. There isn't much difference between many of the Natural presets, for instance. However, they do have a use and can reduce your overall workload.
Pricing
Unlike many other editing programs, HDR Projects 8 is available for a one-off license fee. Many people still prefer this payment method as it doesn't require a regular commitment.
Here are the current prices:
HDR Projects 8 Professional – $99.99

Upgrade from the previous version to HDR Projects 8 Professional – $59.00
The upgrade price is reasonable and cheap. If you have an older version of HDR Projects and use it regularly, there is no reason not to upgrade. The improvements are worth it.
HDR Projects Is Perfect for Professionals
We hope you have found this HDR Projects 8 review useful. But is it the right software for you? That depends on your level of experience and your needs.
Beginners may feel overwhelmed by the sheer volume of tools and features, while the lack of an initial tutorial could be detrimental. Combine this with the $100 license fee, and it's not really a program suitable for novice or hobbyist users. There are simpler options available.
However, those who have experience using editing software will find HDR Projects 8 easy to use. The level of control offered at every stage of HDR creation also means that this software is a great choice for professional use. If you regularly need to create high-quality HDR files from RAW images, HDR Projects 8 is a good option.