As a photographer, having a home photography studio can greatly elevate the consistency and efficiency of your work.
If you're a professional photographer looking to shoot more studio work, there are multiple benefits to having your own creative space. With a home photography studio, you will save money on rental spaces, have the ability to shoot regularly and be as creative as you want with set design and backdrop setups.
Setting up a home photography studio is a relatively simple process with minimum start-up costs. You can choose to create your studio in its own specific room or block off areas of an existing space and dedicate it to your photography. Depending on what type of content you will shoot, will determine the lighting conditions of your new space.
If you want a true studio, with no natural lighting from outside sources, it is best to pick a room with the least amount of windows.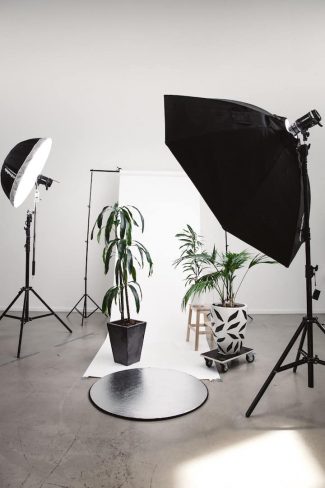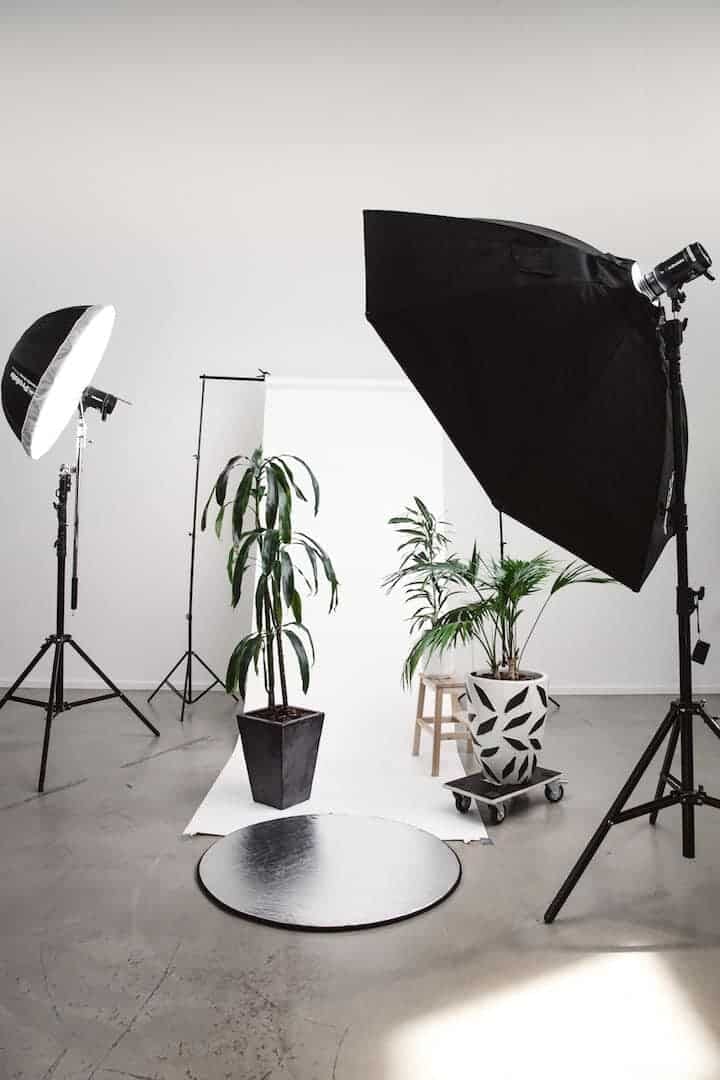 To block out any contrasting lighting from your studio setup, you will need to find a way to cover these with either shades or blackout curtains.
If you are someone who wants to build a studio setup using a mixture of ambient and artificial light, choose a room that has an open space and several windows. The type of lighting you will use is based on personal preference and specific to the photographer.
Now that you have your space to shoot, let's fill your studio with the essentials.
Step 1: Purchase a Backdrop Stand
Depending on your personal budget and setup preference, there is a wide selection of backdrop stands. A backdrop stand will essentially hold up your backdrop and be the starting point for your photography set.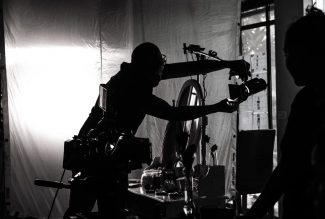 If you are building your first photography studio, I would recommend keeping the price of your backdrop stand low. This will allow you to experiment, test and figure out what you like or dislike without too much financial overhead.
A standard backdrop kit starts at around $32 and includes the backdrop support system, clamps for your backdrop, a carrying bag and sandbags to hold down the bases. You can find a list of starter backdrop sets available for purchase on Amazon, e.g.:
If you're interested in the next-level backdrop options, you can always purchase a Multi Pole Vault stand. These are sturdy options with the ability to hold multiple backdrops at once, an ideal option if you use varying colors or textures during a photography session. You can purchase these through B&H.
Step 2: Decide on Your Type of Backdrop
Once you have purchased your backdrop stand, you need to decide which type of backdrop you will use. There are two standard options for backdrops, each chosen based on a photographer's preference. You have the paper roll backdrop or the sheet backdrop.
A paper roll backdrop, better known as a Seamless, is a long cylinder that slides onto the top connecting pole of your backdrop stand. These come in a variety of sizes, colors, textures and are made of quality, non-reflective material. To use, you will slide the backdrop onto your frame and pull it down toward the floor. The length of paper used is determined by how you will frame your subject.
If your subject is sitting, you will just need to pull the backdrop straight down to the floor to secure it. But, if you plan to shoot full-body images, where your model will be standing on the backdrop, you will need to pull the paper down and out toward your gear setup. In both scenarios, make sure you have heavy-duty tape to secure your backdrop to the ground. You can find the biggest selection of both solid color and textured paper backdrops from Savage on their B&H Shop Page.
A sheet backdrop, better known as a Muslin backdrop, is made of high-quality, non-reflective cotton material. These are more unique options that will add texture to your images and are available in solid colors, special effects such as airbrushing or even hand-painted options. Attaching Muslin backdrops require several sturdy clamps to connect the material to your backdrop pole. Your backdrop setup will come with starter clamps, but it may be best to purchase several more to ensure that your backdrop remains intact during your sessions.
Related Post: Best Photography Backdrops
Step 3: Purchase a Starter Lighting Kit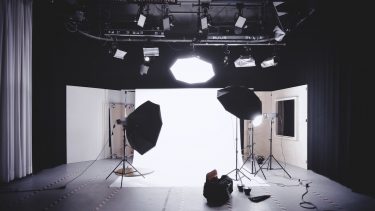 Now that you have your complete backdrop setup, the last component you need is your studio lighting. As previously mentioned, lightning is a very specific and personal preference for each photographer.
The lighting that you choose will depend on your studio experience and style. From softboxes to oktoboxes to stripboxes, the type of lighting kit you assemble will be determined by which types of projects you will shoot. In any situation, you can always start off with a starter lighting kit to learn which setup you prefer.
An example of an affordable and easy-to-use starter lighting kit is by Neewer. This kit includes two, 400W continuous lighting setups with umbrellas that can be used for both portrait sessions and video shooting. Using continuous light is the first step to understanding studio lighting without integrating more technical gear. This option costs only $40 and can be purchased on Amazon.
How to Market & Sell In-Home Shots
With your in-home photography studio setup complete, it's time for you to start shooting. Whether you are a portrait or product photographer, there are multiple ways for you to market and sell your work.
Related Post: Personal Photography Names
To start bringing in clients, here are some ways you can market your work.
Use Local Advertising to Gain Clients
The best place to start generating potential client leads is in your own city. Use self-placement advertising forums such as newspapers or Internet websites to promote your professional services.
Create a simple flyer with your contact details and hang them up in local gyms, coffee shops and community gathered areas. You can even make a list of potential companies that fit into your niche and reach out to them directly by phone, email or an in-person meeting. Start at home, grow your network and build a base of solid potential customers.
Word of Mouth
Another great way to land clients is through word of mouth and referrals. Once you have completed your home studio setup, be sure to share the news with anyone and everyone in your social circle. Emphasize what type of photography you do and what services you will provide.
Start an incentive referral process that leads clients to your business by offering a discounted rate on their first session. More often than none, friend and family referrals are the basis for a photographer's first clients.
Share Your Work Online
As a photographer, you are most likely already sharing your work on social media platforms and your personal website. As you continue to strengthen your online presence, be sure to add your new studio and ways to book a session on your contact page.
You may include details such as the address and even set up a specific email dedicated just to your photography studio. Market your studio with professionalism and confidence to attract new clientele.
Related Post: Best Photography Portfolio Websites
Use Job Boards and Pitch Emailing to Land New Clients
The final option to land new work can be through using job boards and sending pitch emails to specific brands.
The method of using job boards such as UpWork or Freelancer works best for product photographers. These platforms are always full of clients looking for a photographer well versed in studio product photography to capture their merchandise for e-commerce purposes. These products are usually not location-dependent, so you can still land work even if you are in different places.
As for portrait photographers, you can use these jobs to search for projects in your area by using "your city name, photography" in the search engine. In some cases, these websites will have project proposals that allow the photographer to receive clothing or product to shoot on or with a model. Although these are less frequent, it is worth keeping tabs on and applying to any that align with your skillset.
Related Post: Best Paid Photography Jobs
You can also gain new clients by making a list of local and national brands or companies you wish to work with.
First, put together a small work sample of your studio work and craft a short, but engaging email to send off as pitches. This is one of the more difficult ways to land new leads, but with persistence, you may be able to generate interest and buzz about your work. Using a mixture of these two inquiry methods is guaranteed to open up new photographic opportunities.
Selling Your Work
The process of selling your work is all determined by your photographic niche.
To sell your work as a product or still life photographer, you will need to use a mixture of client and personal projects. For clients, you can set up a method of pricing per image. You can put together rates and offer packages with a fixed amount of images with the ability to obtain more at an additional cost.
Another way to sell your product imagery work is to create personal projects that can be used for stock or editorial purpose.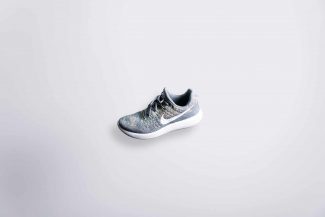 With a studio, you can essentially design your own set and infuse creativity into your images. You could conceptualize product shots centered around specific holidays, events or design elements. Look at publications you admire and see what kind of imagery they are looking to publish or reference stock imagery sites for the types of images that have a high selling rate (read our post on the Stock Photography Tends 2022).
As a portrait photographer, you will need to sell your work primarily to your clients. The best method is to offer a low sitting fee, the price for the actual shooting of the session, and then have a per image pricing sheet that the client can choose from. This can include either digital or physical prints.
Related Post: Best Professional Photo Printing Services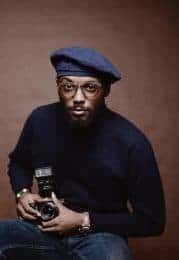 For example, you could market your studio as offering professional corporate headshots. Charge a sitting fee of $100 for each employee and offer a maximum number of fully retouched images each for an additional price. Let's say you have a company of 10 employees and offer each five edited images at $20/image. Your studio would profit $1000 in sitting fees and an additional $1000 in selling digital or physical prints.
Related Post: How to Sell Stock Photos
Selling your work is determined by your ability to properly price your sessions and images. Rates will vary depending on your level of skill and experience, but it is important to create a price sheet and stick to them. When running a studio, you have to remember that with every session the cost of maintaining the space and equipment should be built into your final prices.
Start off at a price you feel comfortable with, but do not be afraid to increase as the popularity and success of your studio grows.
—-
Do you have any experience setting up a home photo studio and selling your work? Share your thoughts with us in the comments below.
---
As an Amazon Associate we earn from qualifying purchases. Certain content that appears on PhotoWorkout.com comes from Amazon. This content is provided 'as is' and is subject to change or removal at any time.