The Neewer Table Top Photography Studio Lighting Kit
Table top photography, especially where you want to photograph jewelry, small items like handicrafts, watches, shoes etc. requires bright white and balanced daylight which can highlight the products. The Neewer Table Top Photography Studio Lighting Kit manufactured by Neewer is ideal for macros studio photography and making Youtube videos.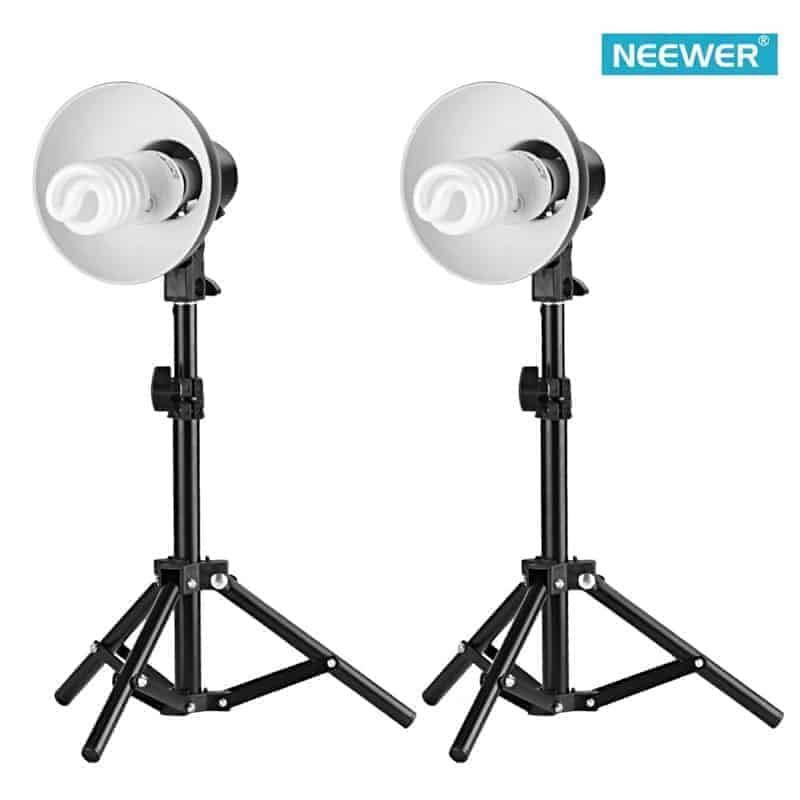 Small subjects are invariably shot with macro lenses and these lenses have a short working distance. At such short working distances your camera and lens setup often blocks any ambient light there might be, creating deep distracting shadows.
In such situations, the use of external lights to properly light a scene makes perfect sense. Photographers use flashes in combination with light tents, specialized ring-flashes and other contraptions to get the right shot. There is a debate whether flash or continuous lights is the better choice among the two.
Continuous lights are most suitable for photographing small subjects. With flashes and strobes, it is a trial and error situation trying to position them at the right spot. Each time you change the position of the lights you will need to fire a test shot to check the results. Strobes / flashes fire an intense burst of light but that is only for a small fraction of a second.
Another problem with strobes / flashes is that there is no way to find out how the exposure is going to be unless you actually press the shutter button. Sure, you can make an educated guess using external light meters. But using continuous lights, which are always on, makes things a little easier to set-up.
Continuous lights, especially ones that have been designed for the purpose of shooting table-top photography, are ideal for macro photography. You can compose and get a fair idea of the image you are going to capture even before pressing the shutter release.
Another commonly faced problem is that there are not many small light stands that are optimized for the purpose of shooting macro. Add to this the almost throw-away price to own these lighting kit and this is where the Neewer set-up is such an unbeatable offering.
What's included in the box
Two 18"/45cm table top light stands
Two light heads with reflector
Two 110V 45W daylight studio light bulbs
A two-light setup is usually the basic platform around which you can set-up your table top photography. Made out of aluminum alloy, the legs of the Neewer light stands extend in 3 stages, with a very secure stance. They extend up to a height of 18"/45cm.
The lights provided in this kit are 45W each. These have a color temperature of 5500 degrees Kelvin, about the same as bright sunlight at around midday. They have a regular screw base which easily screws on to the light heads.
The light heads come with shiny reflectors which amplify the light output. The focused light is suitable for producing well-lit images. Another reason you need a focused beam of light is so that you can use accessories such as light tents for a softer look.
These lights can be used not only for macro shots but they work really well as accent lights where you need a small hint of halo effect around the subject's head and shoulders.
Conclusion
At a price of less than $32 the Neewer table top photography studio lighting kit is a cool piece of lighting gear. It is ideal for anyone starting out by experimenting with external lights. It augments existing flash lighting set-ups or works as a stand-alone table-top lighting set-up adding value to your production.