Peak Design has unveiled an upgraded model of their cuff camera wrist strap. We managed to get our hands on one and put it to the test.
This product from Peak Design is an excellent creative solution to handling your camera and one of the best camera straps on the market. As with other products from Peak Design, this is a quality accessory that we loved.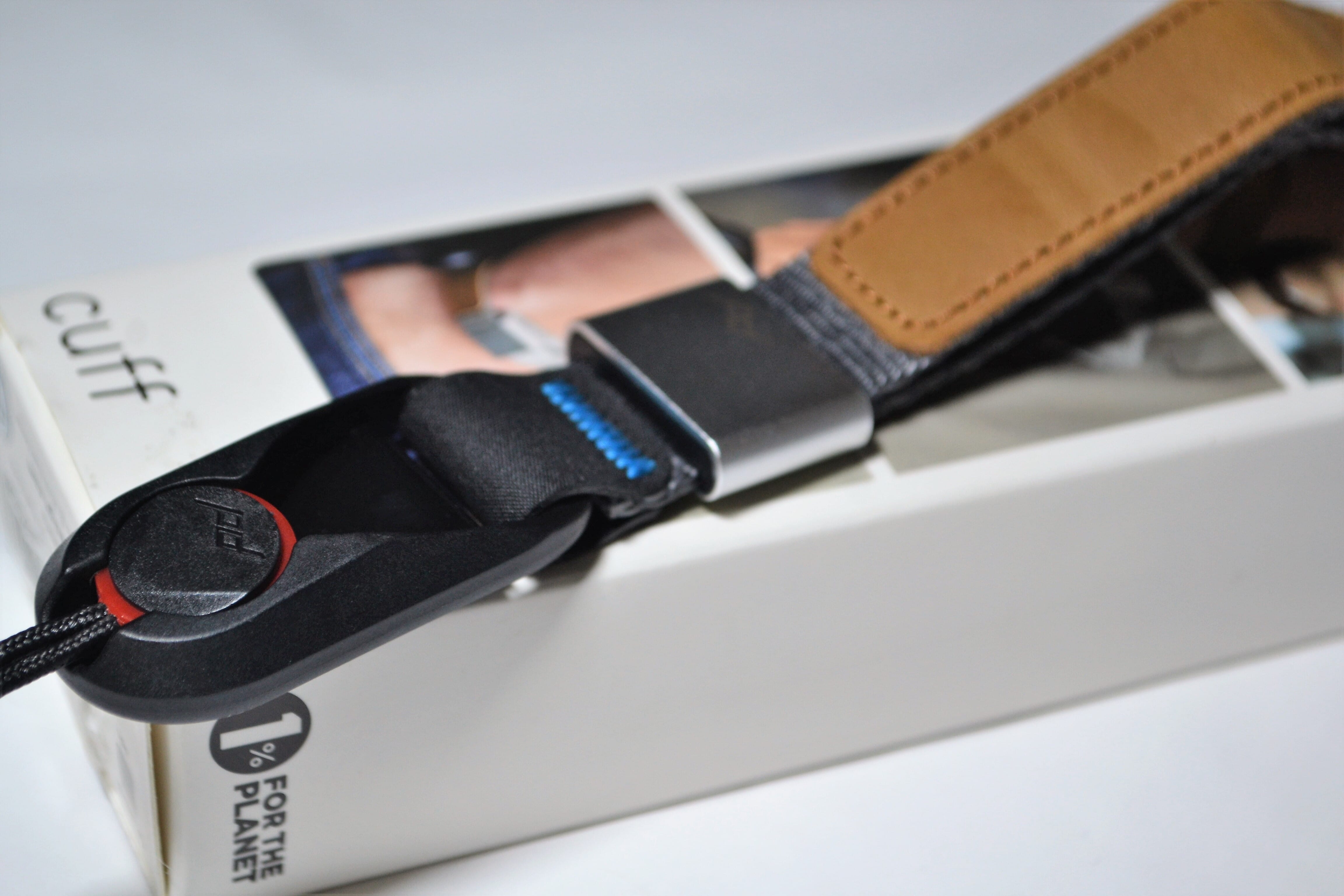 Peak Design Cuff Review
Design

Functionality

Durability

Price
Summary
The Peak Design Cuff is a great accessory to carry your camera around on the go. If you're looking for a comfortable and stylish strap, look no further!
Pros
Multi-purpose design
Universal fit
Lifetime warranty
Cons
More costly camera strap option
Some issues with design
When you buy through links on our site, we may earn a commission at no cost to you. We evaluate products independently. Commissions do not affect our evaluations.
Key Specs
Product Dimensions: 16.51 x 6.1 x 2.79 cm (36g)
Anchor can hold over 200 lbs (90 kg)
Strap Width: 19 mm (0.75″)
Wrist Loop Size: 3.82″ (9.7 cm) to 1.75″ (4.5 cm)
Immediate Benefits:
Neat, compact, and portable
Simple locking mechanism
Magnetic clasp that converts to a bracelet
Twist resistant
Bonus Benefits:
Anchors interchangeable with other Peak Design straps and products
Accidental drop protection
Lifetime warranty offered; product guaranteed for life
Fashionable (particularly the ash tone)
Features
The Cuff strap is a redesigned version of an original model released by Peak Design in 2017.
The updated modifications include:
New Adjuster + Magnets: Anodized aluminum adjuster that holds the strap in an open position or binds it to your wrist with an adjustable magnet, allowing you to also wear the strap as a bracelet when not in use
Updated Anchors: V4 anchor connectors, which hold 200lbs (90kg) each
Refined Housing Hardware: 25% slimmer anchor connection panel
New canted anchor shape that facilitates easy fastening
Upgraded, anti-fluctuating nylon fabric
Related Post: Peak Design Cuff vs Peak Design Clutch
The Cuff really is a versatile bit of kit and we love how it looks and feels when in use. While it may cost slightly more than other camera straps, it really does its job spectacularly and you know that it is made to last. You can attach so many things to the cuff, and the best part? When you're not using it, you can keep it safe and look stylish with it as a bracelet!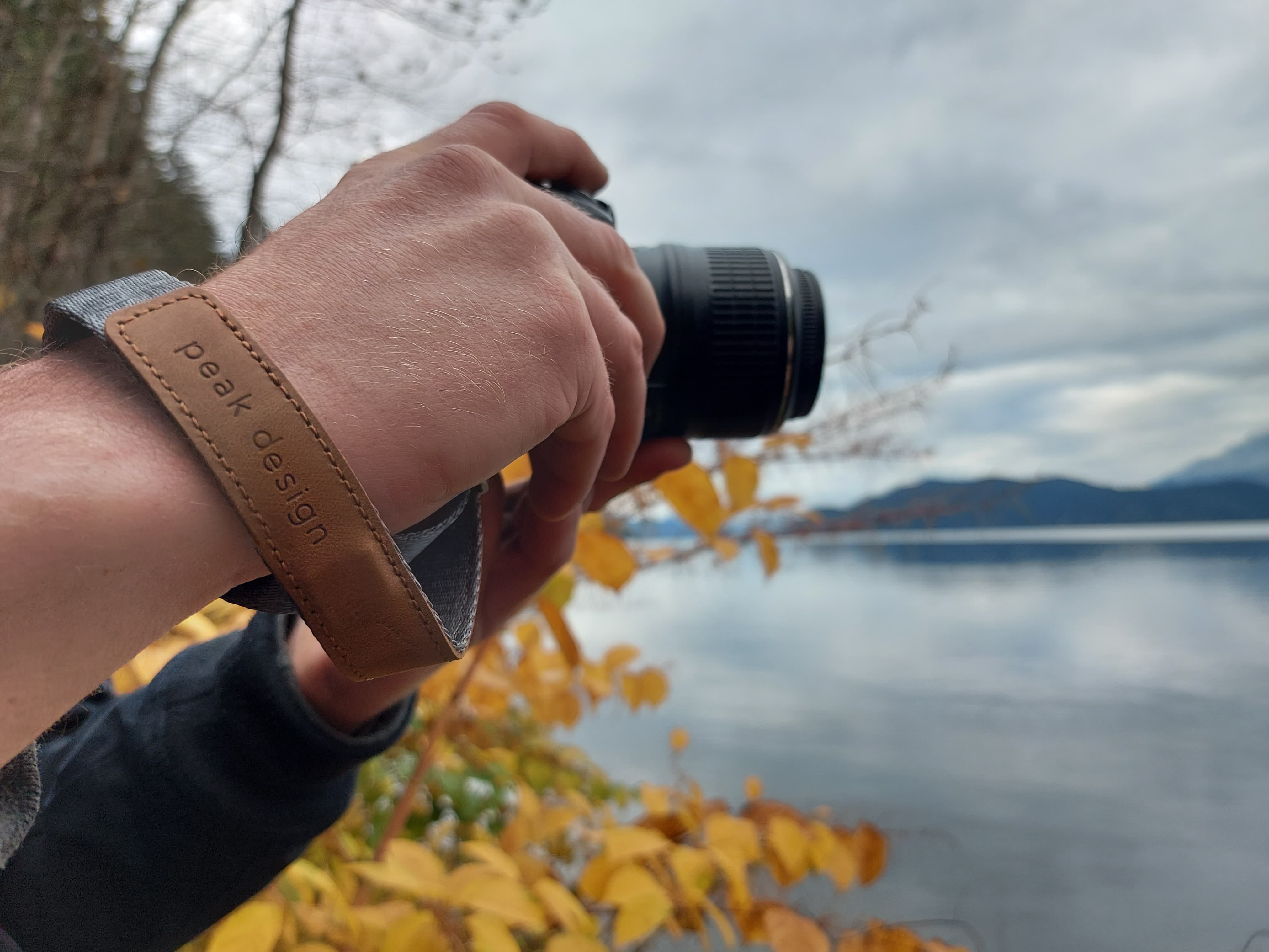 Design
Design is central to Peak Design's directive… it's in the name! They market themselves primarily as a design company. A design company with a mission to create ease of use and access for their users by providing the most value, efficiency, and utility possible from their products. Their thoughtful and durable designs, Cuff included, support this mandate.
The materials used in the construction of the Cuff strap include gold-rated leather, a percentage of recycled aluminum, nylon webbing, and environmentally friendly e.dye.
As you can see, Peak Design really cares about sustainability. If you're looking for greener gear, Peak Design is definitely one of the top competitors!
As part of Peak Design's scheme to reduce their carbon footprint, they offer a lifetime guarantee on all products. They will repair and restore broken items as means of extending their use and lowering the amount of waste injected into our ecosystems.
Pretty neat, right?
And here's an added bonus design feature: the Cuff offers a great deal of accessibility. The magnetic clasp is used to lock the strap in place, but it can also be used as a bracelet when the strap is not in use, creating a dual-purpose function.
We really think the design is stellar. It is incredibly stylish and also comfortable to wear. While the color palette offered is limited to black or tan, these options should still suit most people who want to sport a modern and stylish camera accessory.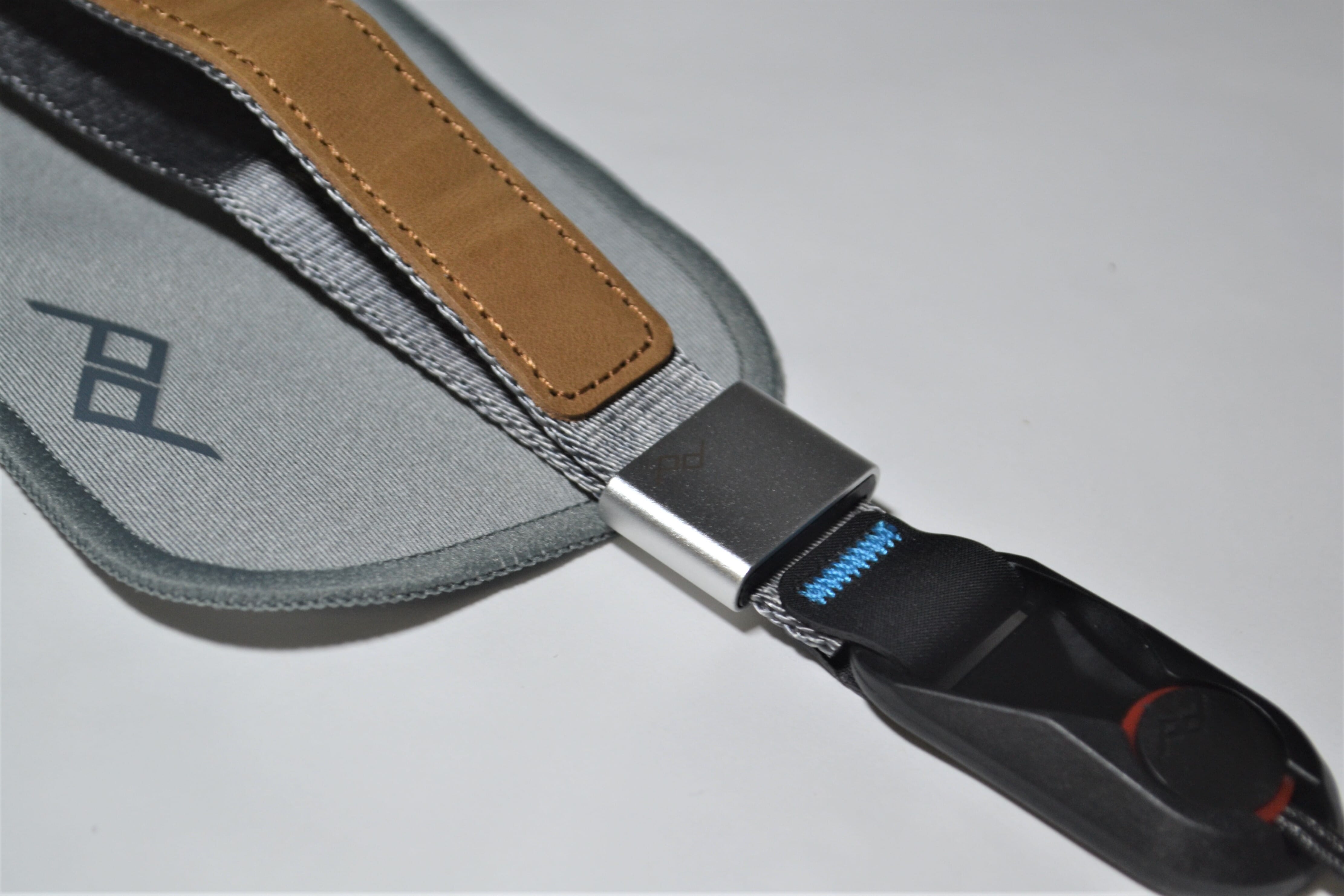 Versatility
The Cuff is not just for cameras, it can be used with tools, GoPros, binoculars, GPS devices, rangefinders, microphones, keychains, and other pieces of like minded equipment and/or gear.
As previously mentioned, it also doubles as a personal accessory. The Cuff converts to a bracelet when not in use. The magnetic clasp allows the user to cinch the strap to the wrist discreetly until needed.
The same cinching mechanism creates priceless fall protection. In the event your camera slips, the strap tightens and latches around the wrist to keep your system safe and secure.
The strap can be worn loose-fitting or skin-tight. The new adjusting hardware that has been added to the strap allows you to slide the Cuff to an open position and tether it in a firm, controlled position around the wrist for total security.
The 5-inch loop diameter offers a ton of scope and caters to almost all hands. However, when fully fastened to the wrist, the length of the strap is almost a bit too long and creates the potential for damage.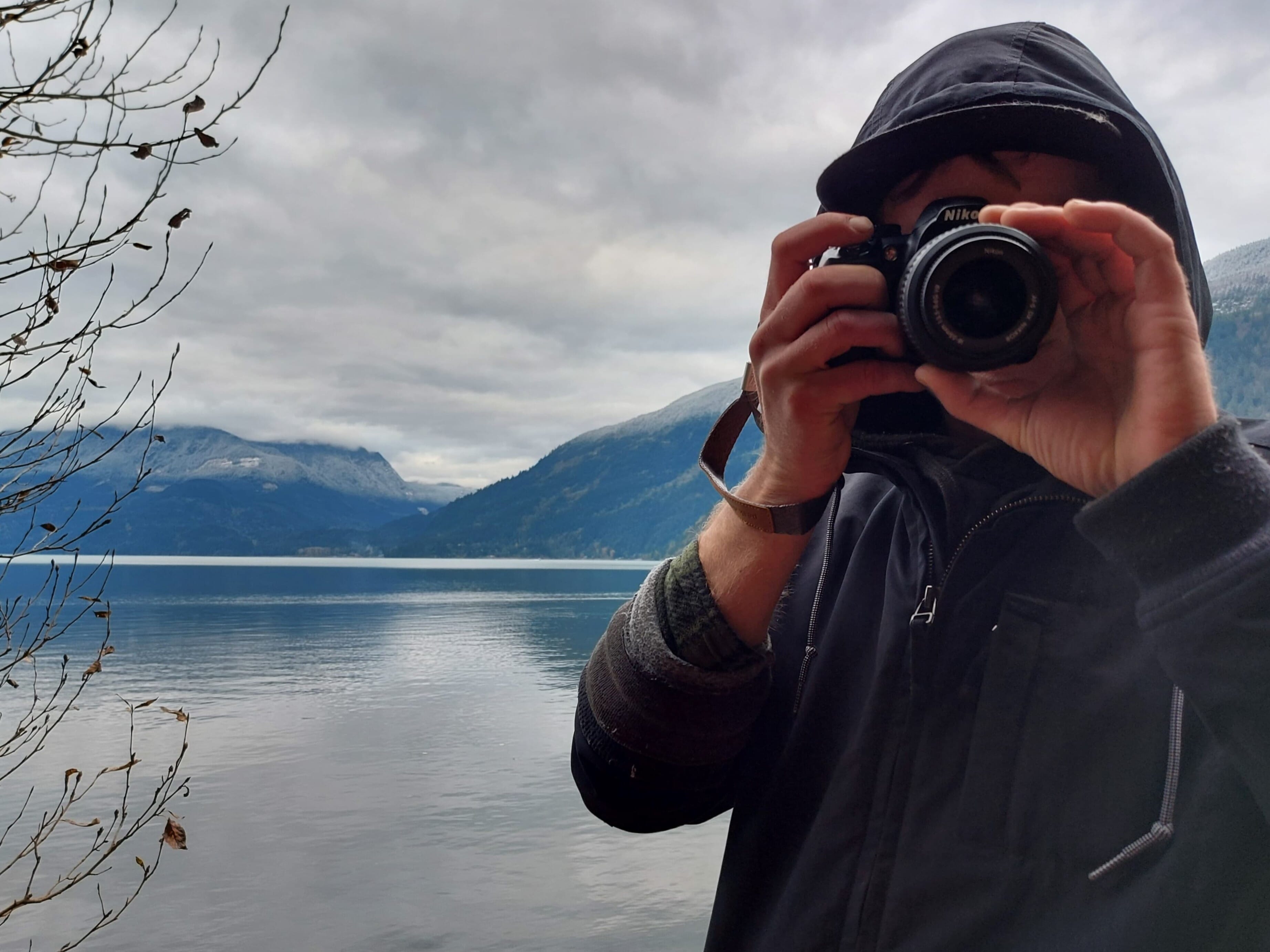 Durability
The webbing, featured on the latest cuff, offers increased durability, comfort, and resistance against twists, turns, and twirls when shooting.
The anchors can withstand up to 200lbs (90kg) to hold a combination of camera systems and accessories, while the magnetic clasp establishes accidental drop protection to culminate in a stress-free, secure experience.
The overall design definitely seems to be durable, and we think the Peak Design cuff could withstand a lot of regular use. However, should the time come where it is starting to wear, remember that you can always send it off for repair or replacement thanks to the lifetime warranty!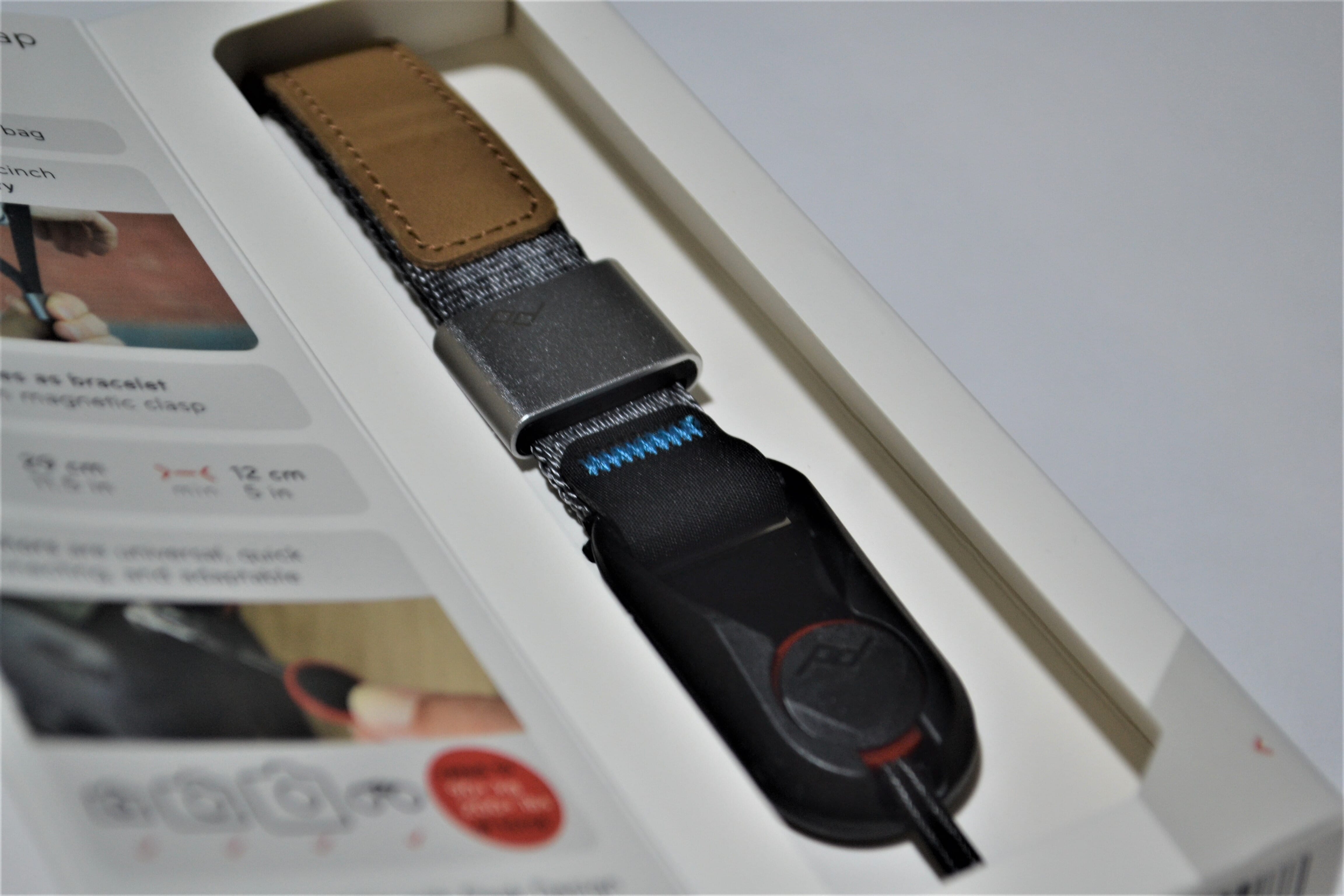 Functionality
The additional anchor provided with the product means the set-up can be attached to a secondary camera or device, offering you the option to have 2 devices ready to go.
The anchors are extremely light, they do not add any weight to your rig or create additional volume. They are an ingenious patent-pending creation. The Cuff itself, is subtle and compact, constructed by and large with ultralight materials.
It is effortless to attach and detach, connecting and disconnecting from its application effortlessly.
We loved taking the Cuff out on more casual shoots. It fared well as a secure accessory for taking a camera out to do some walkaround street photography. It would also be great for a beginner who wants to easily access their camera at all times without the worry of damaging it.
The Cuff might not be best for shoots where you find yourself needing to take off a camera because with the added security, the strap offers also comes the challenge of removing a securely fixed strap!
Also, if you have a large, weighty set-up, we might recommend laying off using the Cuff. Having your kit around your neck is hard enough when it's weighty, fixing it to a single wrist is just plain uncomfortable!
Cost
The cuff retails on Amazon for approximately $34.95 direct from the manufacturer. All shipping is free within the US (extra charges are incurred for product shipping outside the US).
There is a variation between the cost of the ash and black cuff straps if purchased through Amazon due to low stock availability and private sellers owning a monopoly. If you want the best and fair deal, we recommend getting the cuff off the Peak Design website.
Conclusion
The cuff is a classy security system. It is very versatile, posing dual purpose and functionally, and its compatibility speaks for itself.