About Photomatix – Photomatix Pro is a standalone HDR photo editing application for Linux, Mac, and Windows. Mainly, photographers use the application to:
Merge,
adjust, and
edit exposure brackets on
a batch or single image project.
With the merged image, you can then:
Adjust an image's saturation and curve range levels.
Moreover, you can fix image distortion, correct depth perception, or perform more advanced image correction functions.
Photomatix offers you a broad range of editing tools and resources to help you get started in the least amount of time possible. Besides that, with an Adobe Creative Cloud subscription, you can use it as a plug-in in Lightroom.
When you buy through links on our site, we may earn a commission at no cost to you. We evaluate products independently. Commissions do not affect our evaluations.
Photomatix Pro 6: Price
Unfortunately, Photomatix 6 Pro is not available as freeware. Its Essentials' version retails at $39 and is limited to only five bracketed images per project, while Photomatix 6 Pro costs $99 on HDRsoft's official website.
With the Photomatix Pro version, you also get the brand new HDR Batch Plugin for Lightroom.
Get the Pro version if you need to use it as a Lightroom plugin. On purchasing Photomatix, you get a single license that works on Mac, Windows, and several machines too. Plus, you can even share your license with someone else.
Upgrading from version 5 to 6 is free, though. But there is a fee of $29 for previous users to access the Pro version. HDRsoft has a form on its website for submitting a version 6 user request after upgrading. For students, the company offers a 60-75% discount based on one's academic status.
If you are unsure about purchasing Photomatix right away, a free trial version is also available. You can download and use the Software for as long as you like, but it adds a Photomatix branded watermark to all photos you edit.
Examples of Photomatix HDR Images
Photomatix edited images are available all over the web that highlight its capabilities.
See the HDRsoft gallery for inspiration and a demonstration of what it can do for you. You can browse Photomatix gallery pieces by either artists or features. The gallery curates pieces from contests and competitions.
Photomatix Pro vs. Photomatix Essentials
Two versions of the application are available from HDRsoft that fit the unique needs of different users. Photomatix 6 Pro is a comprehensive package with features like:
40 styling presets,
multiple rendering modes,
advanced tools,
and a Lightroom plug-in.
The Photomatix Pro version also contains distortion correction tools and supports batch image editing.
If you are looking for a professional HRD editing solution, then Photomatix Pro is for you!
Photomatix Essentials comes with 30 presets, three rendering modes, and essential editing features. And is cheaper than Pro too!
For general users, Photomatix Essentials will possibly satisfy your needs. If undecided about which version to go for, use the HDRsoft comparison chart to evaluate between the two.
Photomatix 6 New Features
Introducing Photomatix Pro 6
A first look at Photomatix Pro 6: Merging to HDR and creating HDR photos, changing HDR styles, a sneak peek at the new Brush Tool and improved Finishing Touc…
HDRsoft Photomatix 6 Pro helps photographers create High Dynamic Range (HDR) images using some new features. What's more, you can expand the range of your styles too, from realistic to artistic!
Review of the Key Benefits of the Photomatix 6 Release:
In-depth review of the HDR Software Photomatix Pro 6 by HDRSoft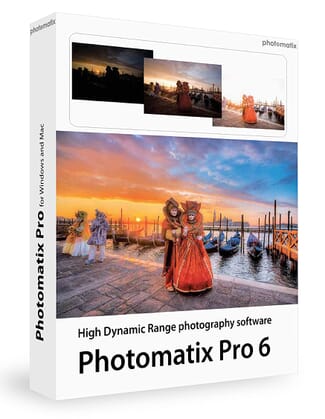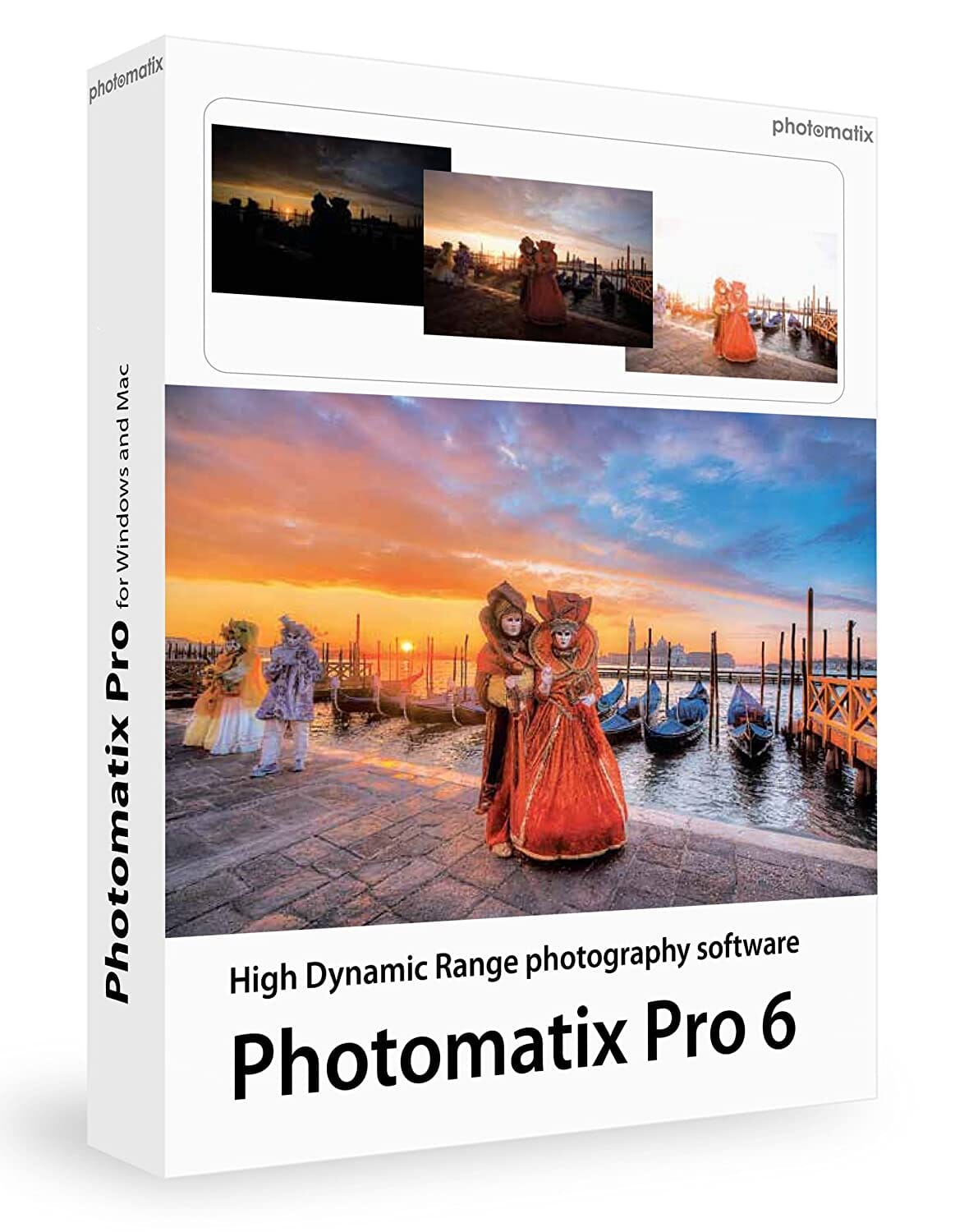 Name: Photomatix Pro 6
Description: Photomatix Pro 6 lets you combine High Dynamic Range (HDR) photos (photos of multiple exposures).
Offer price: 99.00
Currency: USD
Operating System: Windows, Mac
Application Category: Multimedia
Author: HDRSoft
Ease of Use

Quality of HDR Output

Presets

Export Functionalities

Price

Support & Resources
Photomatix Review Summary
Overall we highly recommend this photo software to any beginner, enthusiast and even pro photographer.
✔ Realistic Styles for Better Results: In this release, HDRsoft introduced a new feature known as HDR rendering for balancing the tone of your images. Use it to achieve a more realistic look on natural landscape and real estate photos.
✔ Improved Image and Color Control: paint over an image to change its color with Photomatix's new interactive brush tool. Also, achieve better control of a photo's brightness, hue, saturation levels, as well as its individual colors. You can use this feature to remove color casts and perform other edits. Plus, you can even crop your images to remove any distractions or to improve an image's composition.
✔ Exposure Blending and Masking: Photomatix now supports selective brush and global blending of an original image with its rendered version. Although there is a risk you might overdo HDR rendering, Photomatix lets you avoid this pitfall through its new Tone Balancer feature. For that, you need to use its collection of style presets to help you achieve the perfect photo.
✔ Distortion Correction: use this feature to correct perspective issues and for straightening distorted photos. This is especially helpful when editing landscapes and architecture images.
✔ Ghost Reduction: with this new version, you can choose to apply global or local ghost reduction. So far, Pro users are satisfied with the effectiveness of this feature. Use it to reduce ghosting in shots for later blending with darker photos.
✔ Rendering Modes: Photomatix Pro comes with the following image-rendering modes
Contrast Optimizer Details Enhancer
Tone Balancer
Tone Compressor
Fusion/Natural
Fusion/Interior
Fusion/Intensive
Average
Each of these features has its own unique settings for fine-tuning the rendering effect. What's more, its user interface lets you have smooth workflows whether you are working with a single image or bracketed photo sets. This makes the application easy to use especially when preparing images for editing.
How to Use Photomatix
Often, getting started with any new software is a daunting task. Thanks to Photomatix Pros' wide user base, it is easier than ever to get started using this great HDR tool.
Checkout HDRSoft video channel for all the latest tutorials and reference resources for all user levels. Plus, the application has numerous third-party resources too.
Available videos guide users on how to set exposure bracketing for all DSLR camera models. Better yet, if you prefer written resources to videos, there are excellent manuals on the HDRsoft website for both its Windows and Mac versions.
Exploring Photomatix Pro 6 Features & Tools
User Interface & Integration
Photomatix is easy to get started with. After your download completes, double-click on the setup file to begin installing the application to your system. Fortunately, the application has a straightforward install. Simply follow the instructions on your screen to select the install location. Be patient and let the installer finish. Once it is finished, launch the application, navigate to its Help menu, select License Information, and paste your license key to activate the Pro version. After successful activation, a confirmation dialog pops up, click OK to take go back to the main window.
Only a few editing commands are available on the main screen until you load images. You can load images into the application using two methods. One, click the large Browse and Load button or select Batch Bracketed Photos from the Workflow Shortcuts panel.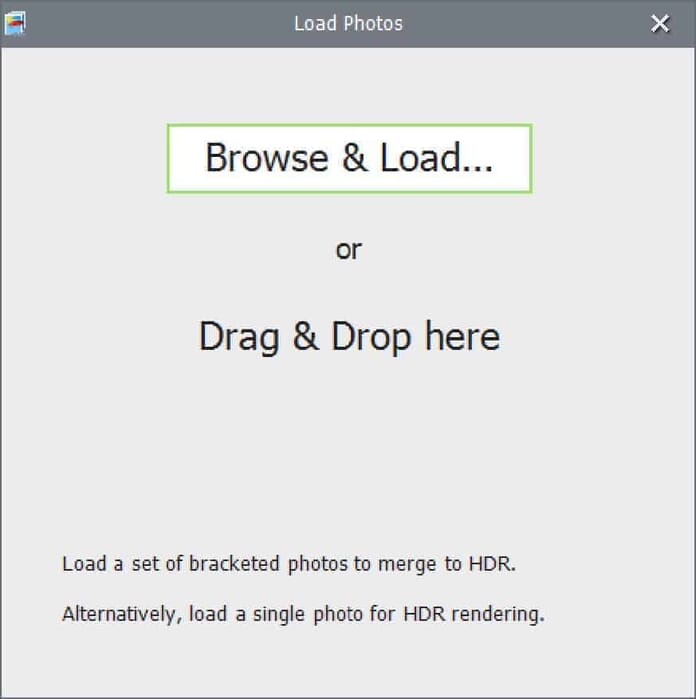 Photomatix displays different dialog boxes based on the selected image loading option. Adjust exposure levels using Set EV Spacing for images missing exposure metadata. When doing so, use Photomatix's global setting and then click Next: Choose Merge Options.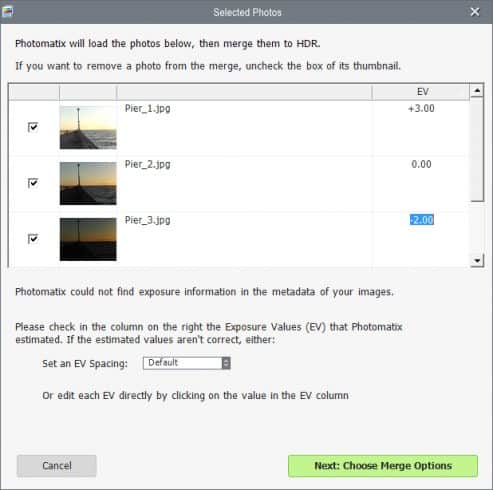 After setting your preferred merge options, your photo opens up in the editor so you can begin working on it. For inexperienced photographers, HDRsoft provides bracketed photo samples on its website for use when trying out its features and functionality.
Importing a bracketed photo merges all shots into one image in preparation for editing. By contrast, Photomatix imports a single shot as one image similar to the original.
The above Screenshots are from a Windows installation, let's do a test run on the Mac:
We drag and drop three images from Adobe Lightroom into Photomatix Pro, and this is what we get: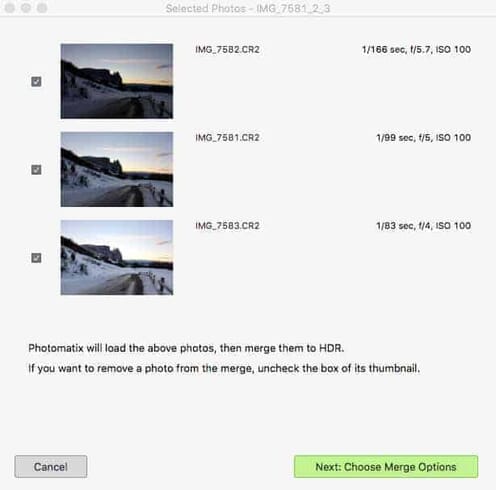 Next up, you can see the "Merge to HDR Options":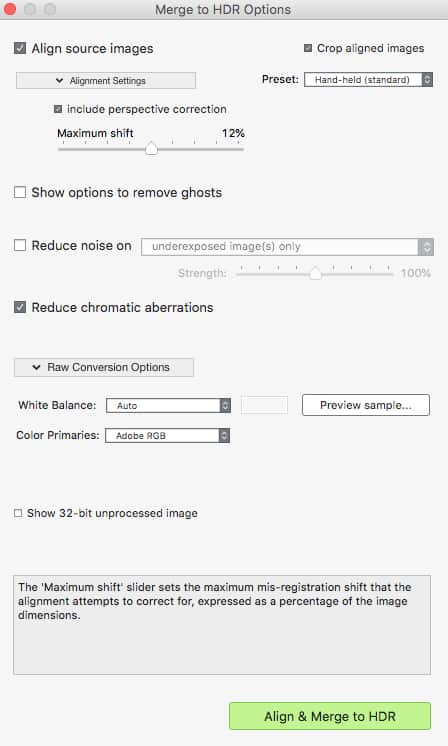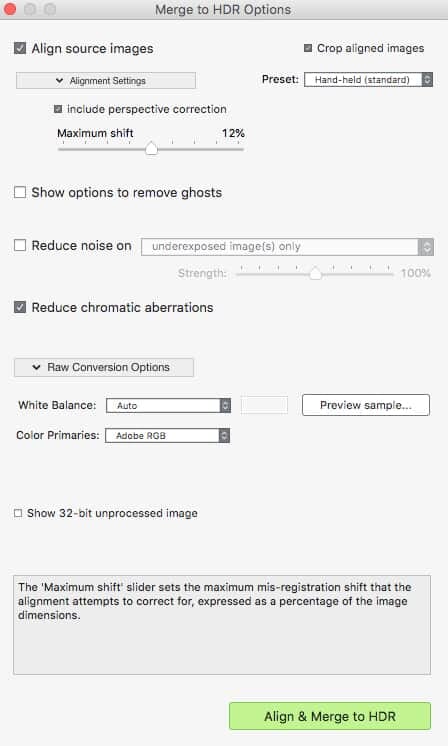 If you have moving subjects (e.g., people) you can click "remove ghosts," and on any or all the images you can "reduce noise."
Also, the perspective correction helps you to align all the shots (if you don't use a tripod there will always be a slight motion).
Since we haven't done any editing of these RAW photos in Lightroom we can as Photomatix to "Auto Adjust" the white balance (apart from auto white balance, there are other settings like daylight, cloudy, shade, etc.).
Photomatix's interface has three main panels.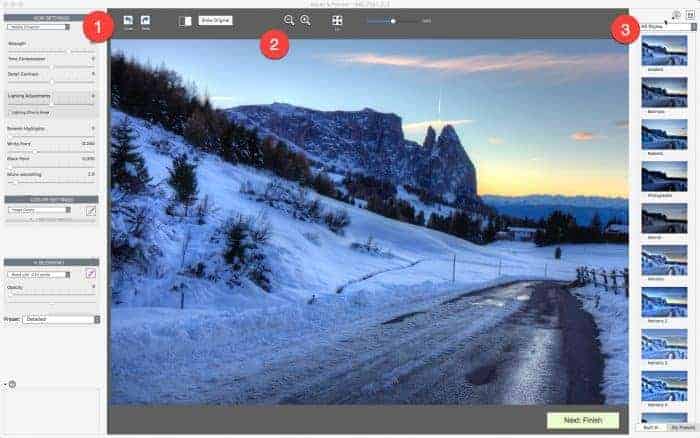 1. On the left-hand side are sliders for adjusting editing and color settings as well as blending options when working with multiple exposures. Hovering on any of these options displays useful information on a box located at the bottom of the panel.
2. In the middle of the main screen is the canvas that displays the image that you are editing. At the top of the canvas are redo and undo buttons as well as a preview button for comparing the original and the new image. A strategically placed zoom button lets you adjust an image's viewing depth and position.
3. Located on the right is a scrolling bar of styling presets. You will find plenty of styles to choose from here, but if you find none that fits your editing needs, you are free to create your styles. You will mostly perform all Photomatix functions using a series of windows. Invoking a tool opens up a window and all image editing actions have their own windows as well.
Photomatix always displays its main window throughout the editing session along with frequent histogram-like dialog windows. If you prefer having your entire controls in one place, this can easily get annoying. However, it allows for greater customization of the interface and your workflow too.
Once done adjusting press Next: Finish … and boom you are done!
Out of three not very impressive images:

…we created a quite stunning image in no time (we did zero fine-tuning or adjusting, just selected the balanced filter):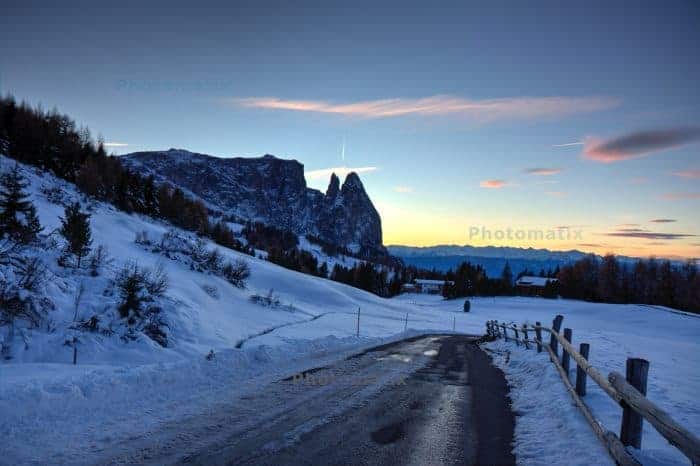 Photomatix Pro 6: Integrations
The most important feature of Photomatix is its integration with Adobe Lightroom. As we don't have a Creative Cloud subscription, we could not assess its effectiveness. Nonetheless, installing the plug-in is a breeze if you already have Lightroom installed on your workstation.
Lightroom's plug-in bundles Photomatix Pro 6 but to integrate plug-ins like Apple Aperture or Adobe Photoshop with Lightroom you have to purchase them separately. HDRsoft tutorials have excellent tips on how to install Photomatix's Lightroom plug-in. Check out video tutorials on the web to help you get started with the Photomatix Lightroom plug-in.
Photomatix 6 Pro Presets
When working with any photo-editing tool, presets offer great control over editing activities. Though you might prefer using their default settings, often they are a source of ideas for your projects. Not only that, presets can lessen your work volumes, especially when editing batch jobs.

Initially, when you load pictures, Photomatix doesn't apply any presets. Use any of the 40 presets located on the right panel in your HDR projects. Photomatix lets you switch to a two-column view of the presets bar if desired. Doing so allows you to enjoy convenient workflows, but leads to loss of working space.
It has nine preset styling categories including natural, realistic, painter, architecture, and black & white (in total there are well over 30 presets to choose from). Tinker around with these presets to evaluate their effect on your images or customize any to your liking.
Any preset you use contextually updates a filter's setting on the left panel. Use the left panel to customize the effect and intensity a filter has on your image. When doing so, always remember that you cannot layer two presets together.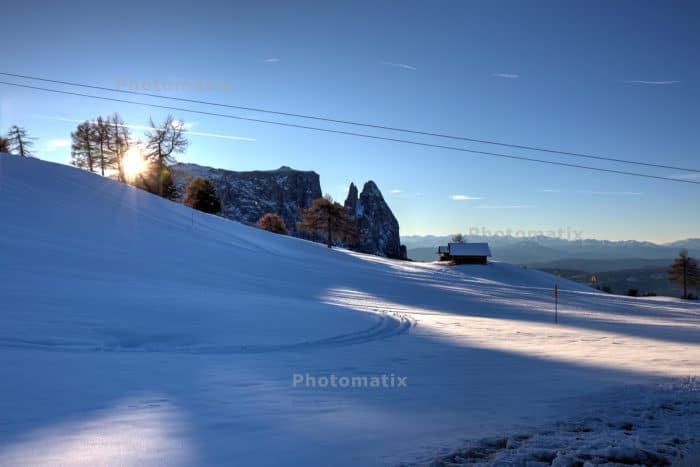 However, doing so transforms your entire image. Even so, the application is flexible enough and supports the creation of custom presets. So if you frequently shoot similar scenes, you have a bag of presets to let you achieve a specific look and feel on your photos. Creating a custom preset is as simple as editing a single image and choosing "Save Preset". Any of your saved customs presets appear in the presets scrolling bar when you toggle "My Presets".
Editing and Adjustments
Catering to the editing needs of photographers is the sole reason why HDRSoft develops this application. Besides, it has a large and loyal user base that appreciates what it can do to photos. For that reason, HDRsoft understands the user's need for a simple-to-use UI. Accordingly, its left editing panel is divided into three sections, top to bottom. Scrolling through each section displays more sliders for accomplishing different editing tasks.

1. In the first section, you will find HDR Settings and a drop-down that has five options to pick from. Note that choosing any HDR edit mode erases previous edits. Also, each mode employs a different algorithm to achieve the editing effect you want.
2. In the next panel are Color Settings for manipulating image brightness and saturation variables. Use this tool to edit a single color or color channel using the drop-down menu to select the adjustments you need.
3. Finally, in the third section are Blending options for combining several shots into a custom image. Use this panel to blend any photos you have edited with their original exposures.
If you are doubtful about a control's function hover your mouse on it to display explanatory information on the help box at the bottom of the panel. You will find a tiny brush icon Color and Blending panels. Use this tool to apply color corrections or selective blending to an image.
Also, its brush can detect image edges and is resizable to fit your temporary needs.
Finishing and Exporting Finished Photos
Once you are satisfied with the results of editing, click the Finish button in the lower right-hand corner to render your image. Apply any other needed adjustments to your photo and click Done to save the HDR enhanced photo.
However, Photomatix lacks advanced image export options. In contrast to other platforms, Photomatix doesn't have an export to other programs or sharing feature.
Instead, it uses the typical Save As command to export your project. Users receive a Save As dialog box for navigating and selecting a "save to location".
Regrettably, you only have three file extensions to save your finished photos: TIFF 16-bit, TIFF 8-bit, and JPEG. But plenty of third-party converters are available to help you convert between image formats.
Review Summary
Features
We love the Photomatix features and feel it is a great HDR photo editing application with plenty of cool and powerful features. Primarily, it is designed to help photographers create stunning visual imagery.
Related Post: Review of the Best HDR Software
Nonetheless, it disappoints in three key ways: its lack of layering functionality, three image export formats, and no curve charts. Though it might not necessarily inconvenience experienced users, keep this point in mind when shopping for an HDR photo-editing tool.
Pricing
By retailing at $99, Photomatix 6 Pro is pocket-friendly in comparison to its competitors. Plus, if you use our Promo Code "PHOTOWORKOUT" at checkout, you get 15% off! You don't need to purchase an expensive subscription plan to achieve impressive and great-looking photos.
Plus, there is "Photomatix Essentials" at $39. Even so, Aurora HDR offers the same features and supports layering at the same price tag. What's more, it has limited plug-in functionality except for its Lightroom plug-in. Nonetheless, it is not a bad bargain if you know what your specific needs are.
User Friendliness
Overall, Photomatix functionality is robust. It sports a clean interface combined with highly visible buttons. Also, its inclusion of a help box at the bottom left corner of the left panel is a nice feature that helps enhance your workflow. Use it to get information on what a tool does before you use it. However, sometimes its "undo button" is buggy, which slows down brush error undo operations.
User Support
Due to its large user base, it's not hard obtaining help for any problem or challenge you might encounter. Its vendor also maintains a comprehensive collection of manuals and other resources to help you quickly harness Photomatix's power.
Visit its online portal to learn more from its excellent collection of tutorials and user queries in its FAQs section. These resources cover everything you need to know from setting up bracketed exposures on your camera to color correction and image blending. Photomatix manuals are well written and cover every release and version of the program. Additionally, the HDRSoft tech team typically replies to any of your queries within 1 or 2 business days.
Photomatix Bottomline
With Photomatix 6 Pro, you have an application primarily built for rendering bracketed exposures. Even so, it supports single image HDR rendering. Its toolset lets you edit images in single or in batch mode.
Also, you can apply color correction, fix distortion, and perspective as well. For these reasons, Photomatix is the ideal application for professional photographers, enthusiasts, architects, and students.
What's more, its Adobe Lightroom integration recommends it to a large photography audience and user base. In this way, the application lets you leverage the power of both worlds.
Although alternatives are available in the market, Photomatix remains the only viable option for the serious professional photographer. This means that you have access to a solid and reliable tool for creating stunning and breathtaking HDR photos.
We highly recommend that you download the free trial and give it a try.
In case you want to buy the software, we have reached out to the team behind Photomatix (HDRSoft), and they have agreed to give PhotoWorkout readers 15% off on the regular list price (just use the coupon code "PHOTOWORKOUT" at checkout).
Although Photomatix was the first widespread software to merge and generate HDR images, it now faces stiff competition from the likes of Aurora HDR and Adobe Lightroom. In order to keep up with competitors, the latest version was released about a year ago, to the delight of photographers worldwide. But, even the best software will eventually run into kinks. Photomatix 6.1 attempts to work out some of the major hiccups of its predecessor.
Related Post: Photomatix vs Aurora
Featuring aesthetic tweaks, new tools, and usability expansions, 6.1 elevates the all-around Photomatix experience. Today, we'll go over everything you can expect thanks to the latest system overhaul. But first, let's take a moment to go over just what the program is about, and how it can be used to improve your photographs.
New & Updated: Photomatix 6.1
So, what exactly does Photomatix 6.1 have to offer? Here are just a few of the features the latest update brings to the table.
Expanded camera support. Photomatix 6.1 now keep up with a number of new proprietary RAW files. This includes support for the compressed RAW files Sony and Fuji take advantage of, which Photomatix previously struggled to process.
New color scheme. Photomatix 6.1 has gone through a bit of a makeover. Depending on each user's personal preferences, it's possible to switch between dark and light color schemes.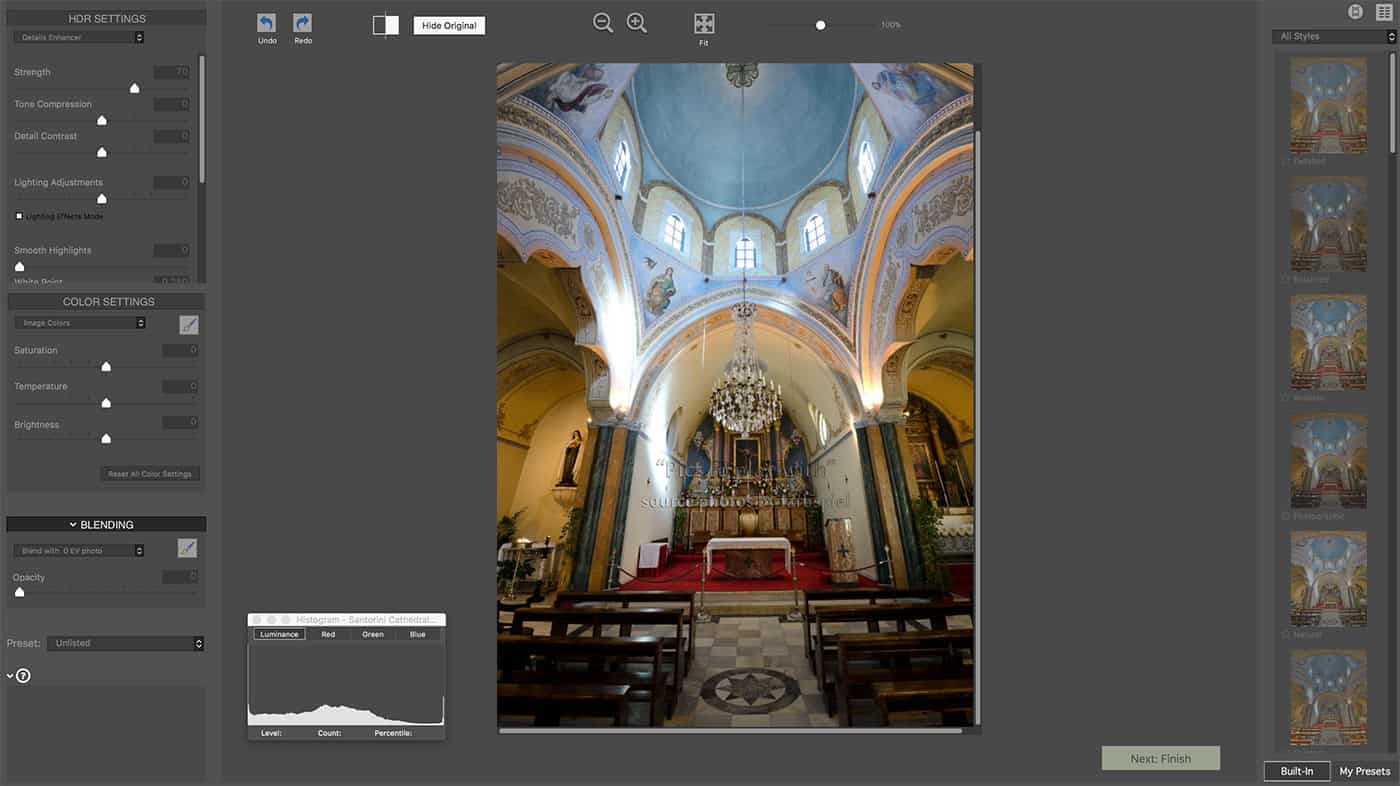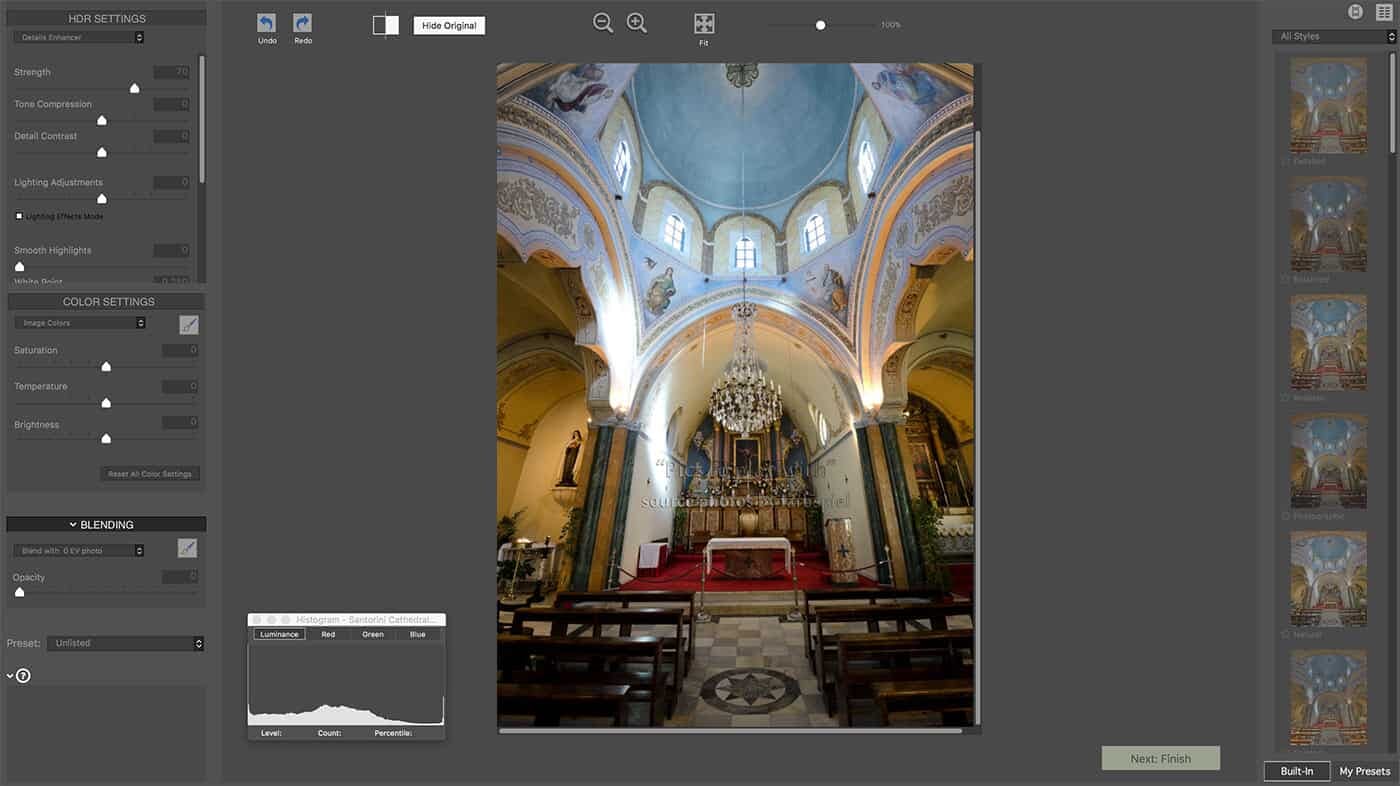 UI enhancements. Both Mac and Windows users alike will notice some subtle UI enhancements present in the latest update. A few improvement examples include smoother brush movements as well as more responsive adjustment sliders.
Brand new lasso tool. In addition to the existing brush tool, Photomatix 6.1 has also implemented a lasso tool. Designed to select geometric areas with eases, the lasso can be a huge help when a small space needs color or blending adjustments.
Dual white balancing capabilities. Photomatix 6.1 makes it easy to remedy mixed lighting scenarios. During the HDR merge process, the program can apply separate white balances for the brightest images in a bracket as well as the darkest. The result is a more coherent, natural looking end product.
Download Photomatix 6.1 Today
Photomatix 6.1 is now available for download for both Mac and Windows platforms.
For new users, the program can be purchased through a one-time payment of $99 USD. However, existing Photomatix users can take advantage of the new improvements for an even lower price.
6.1 is available at no additional charge for existing Photomatix Pro 5 or Pro 6 customers. Photographers with earlier versions of Photomatix may also upgrade at the discounted price of $29 USD. And for those unsure about whether Photomatix Pro is for them, there's a fully functional free trial worth trying out. Although it does add a Photomatix watermark to images, the trial period never expires.
So, whether you're a long-time Photomatix fan, a newcomer, a seasoned photographer, or an amateur, this is one update that's worth looking into. The latest affordable HDR tools have arrived – don't miss the opportunity to bring them into your workspace!