Pixpa is an online platform designed to help photographers create a portfolio website, send their clients proofing galleries, and sell their photographs to the public. But does this all-in-one website platform truly live up to its promise? Read our Pixpa review to find out!


When you buy through links on our site, we may earn a commission at no cost to you. We evaluate products independently. Commissions do not affect our evaluations.
Pixpa Overview

The perfect platform for working photographers
With Pixpa, you can make anything you might need for an online photography business, including portfolio pages, blogs, and client galleries. The platform aims to give photographers one place to create it all!
Use PHOTOWORKOUT10 for 10% off on all Pixpa Plans
Pros
Websites, blogs, client galleries, storefronts, and e-commerce galleries all made easy
Beautiful layouts and templates
Generally easy to use once you get past the initial learning curve
Very competitively priced
Cons
Not as intuitive as you would expect
Limited design flexibility in comparison to other website builders
Cloud storage options are limited
According to Pixpa's own website, the platform is "the easiest way to create your portfolio website and sell your work." Although this encompasses much of what Pixpa does, the company actually offers a bit more than they initially let on.
Pixpa is a quick drag-and-drop website builder that also includes the option to start a blog, sell your photography through a storefront, and send clients proofing galleries of their images. Although the actual list of features is a bit lengthier than the ones I've listed, those are the primary offerings.
Initial Impressions and Features
At first glance, the website is neatly put together and is quite enticing. At the top of the web page, you'll find tabs that explain the many features Pixpa incorporates into the platform.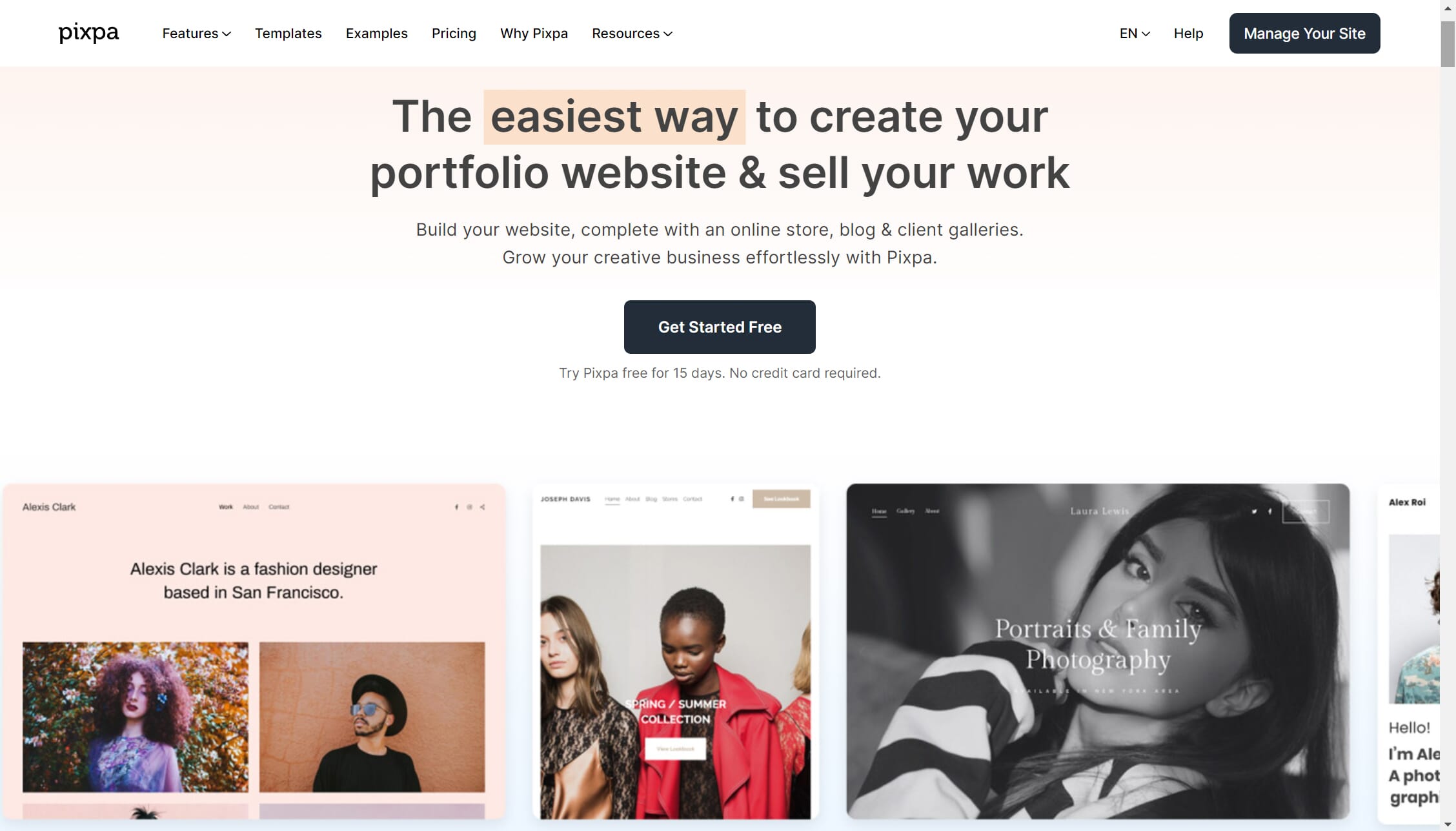 Personally, I am a varied photographer who uses both proofing galleries for photo sessions and e-commerce gallery solutions for the sporting events I capture. My website needs to be able to handle client galleries and e-commerce solutions together. I also spend time blogging about recent photo sessions in order to give a good glimpse into what a photoshoot with me is like, so I need to be able to create a blog, too.
The many features that Pixpa offers certainly encompass my needs, and they also include a slew of other benefits such as automated SEO strategies and implementation, integration with platforms such as Square, and so much more.
Ease of Use
On to the moment of truth: How easy to use and effective is Pixpa? Well, I grabbed a free trial to check it out, focusing on the four key components of the platform.
Website
The website is the first thing that you can design once you get a Pixpa account. It's Pixpa's bread and butter. Upon registering for the website (which is a wonderfully simple process that doesn't require payment information), you are immediately prompted to select from a slew of website presets. These presets are categorized, making it fairly simple to sort through interfaces that fit your needs.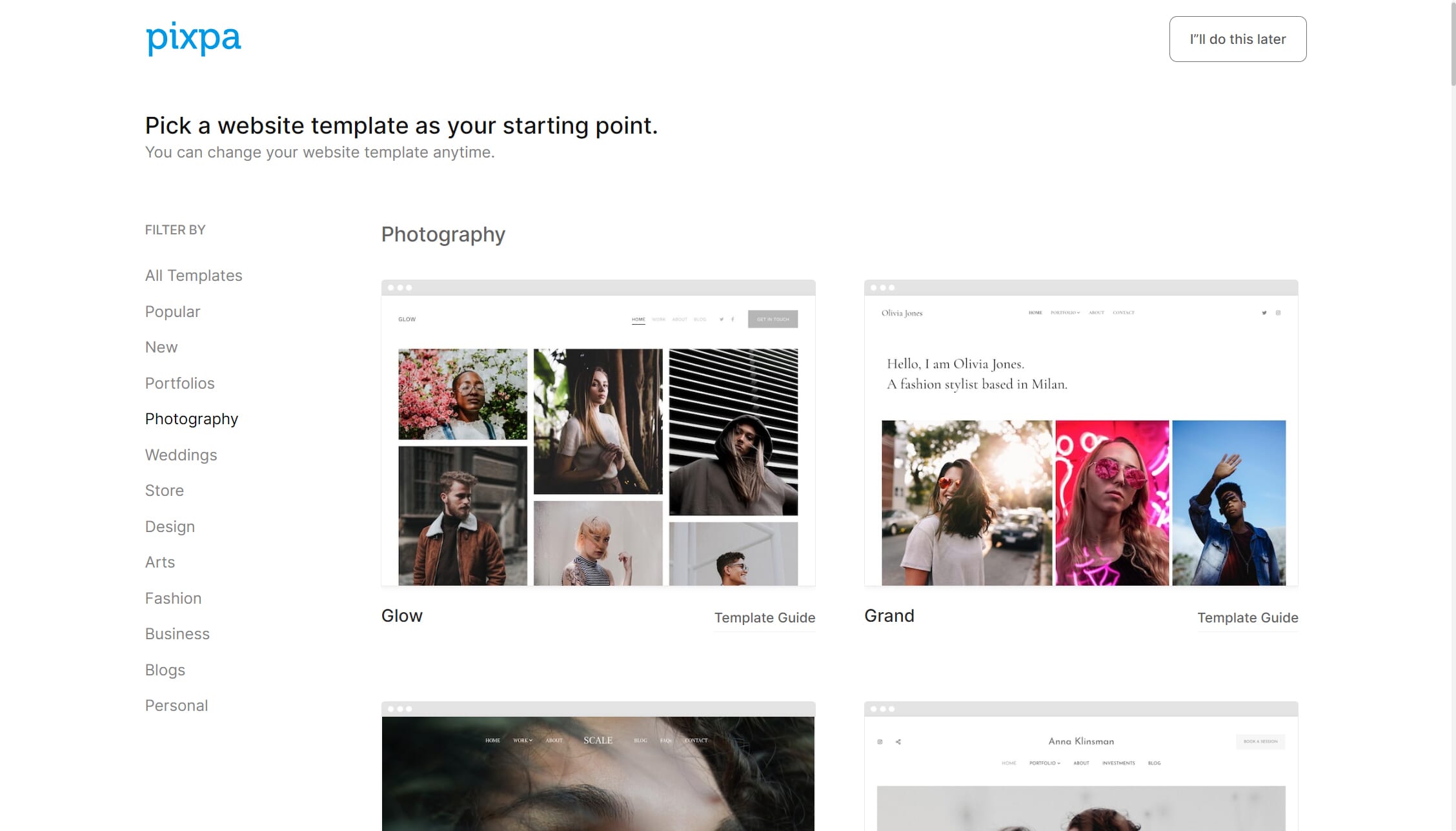 Once you choose a website template, you are directed to the administrative screen, where you can see everything that Pixpa has to offer. The organization of this main admin hub is simple to follow and lays out everything that you need. That being said, I did run into a few snags that were frustrating until I sorted them out.

After clicking on the "Website" button, I was immediately directed to the template I had selected. I played around with some of the design button options, which were all pretty great and easy to understand. But I ran into issues when changing the images on the template.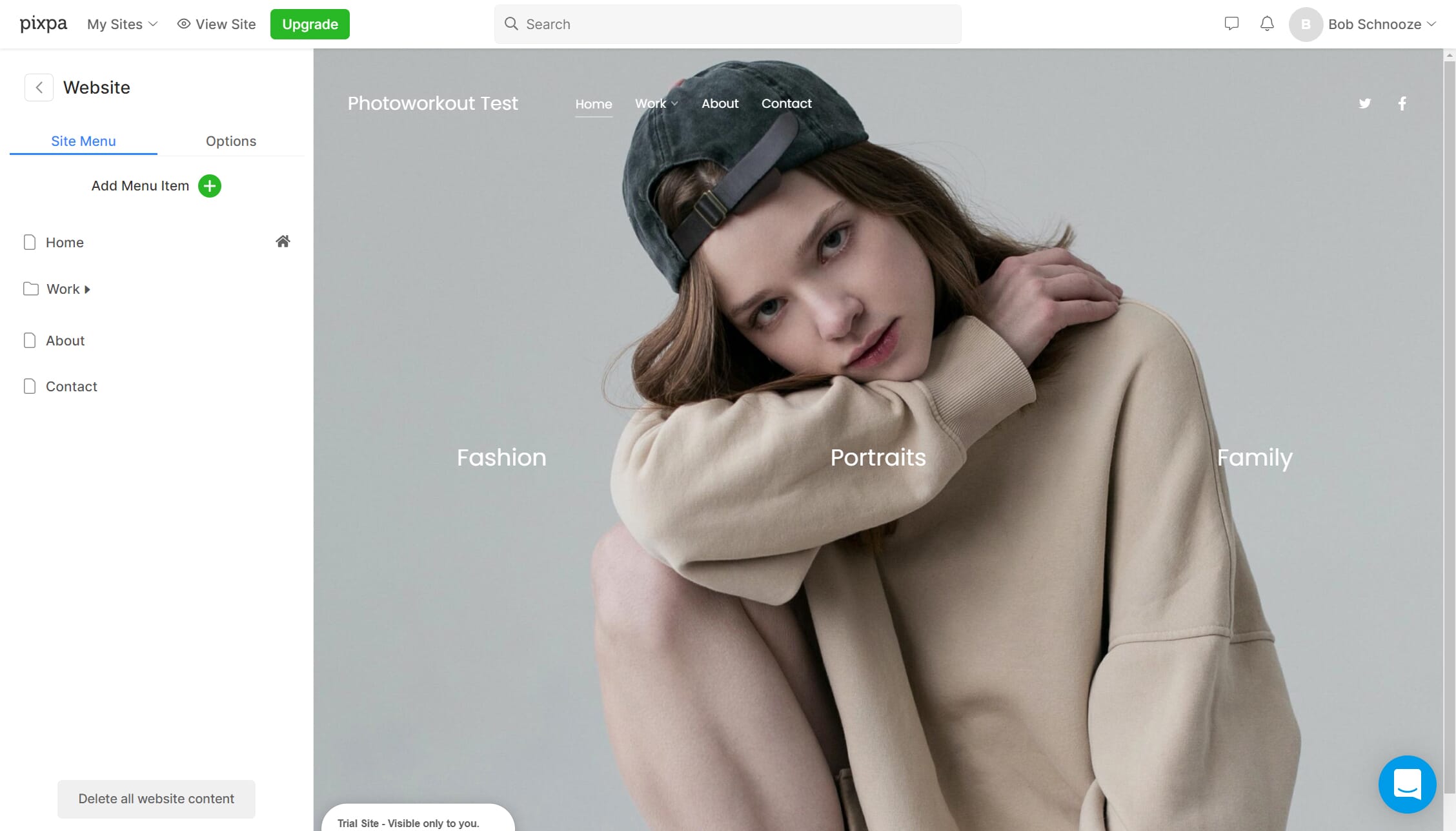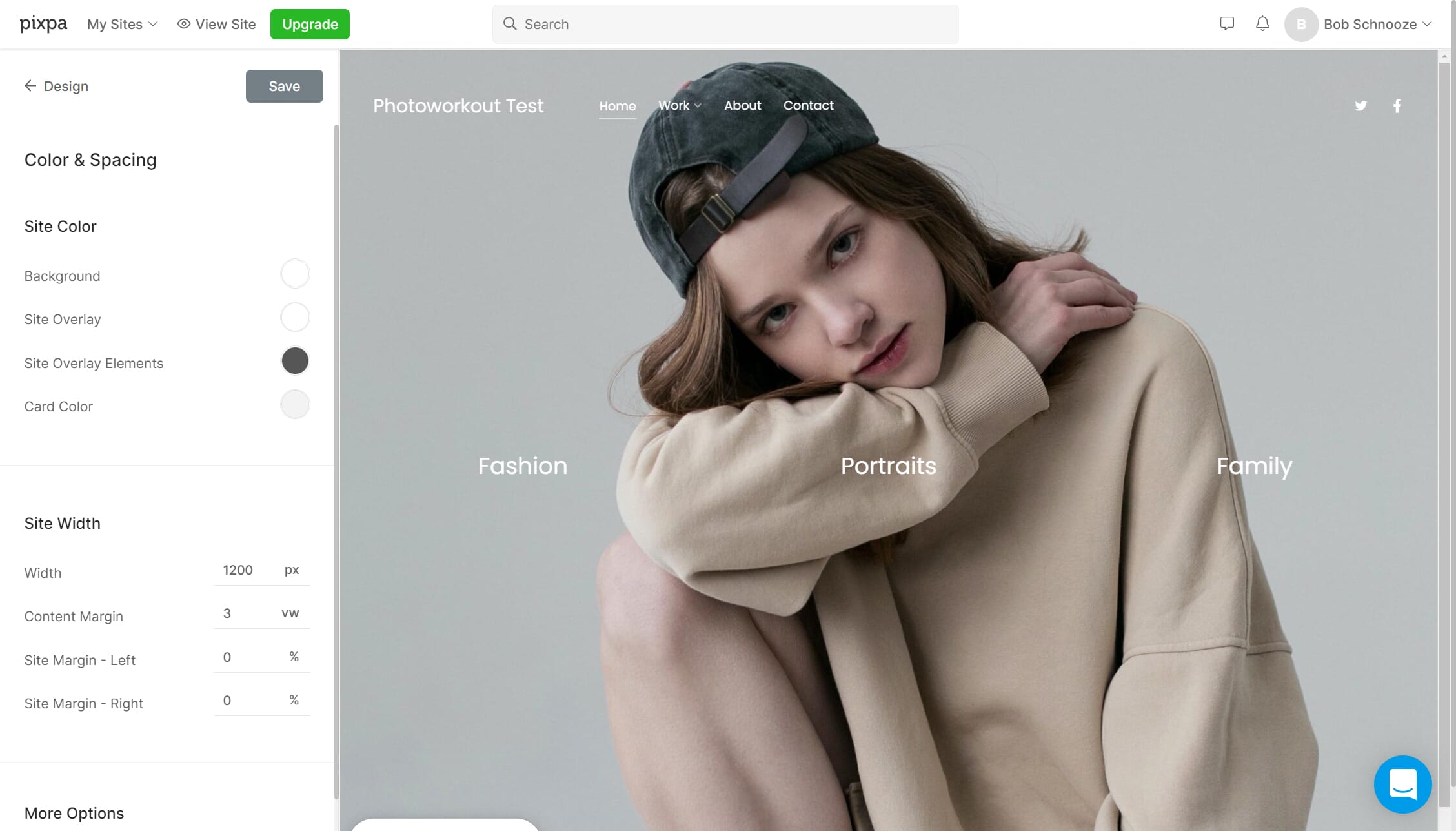 I kept attempting to drag and drop my images, but that didn't work! Then I selected elements on the page to adjust and Pixpa kept glitching and bumping me back to another page. Once I was able to finally sort out the images, the website wouldn't properly save, nor would it render.
I fixed the above problem by editing the website from a different editor page, which made it generally easy to start building.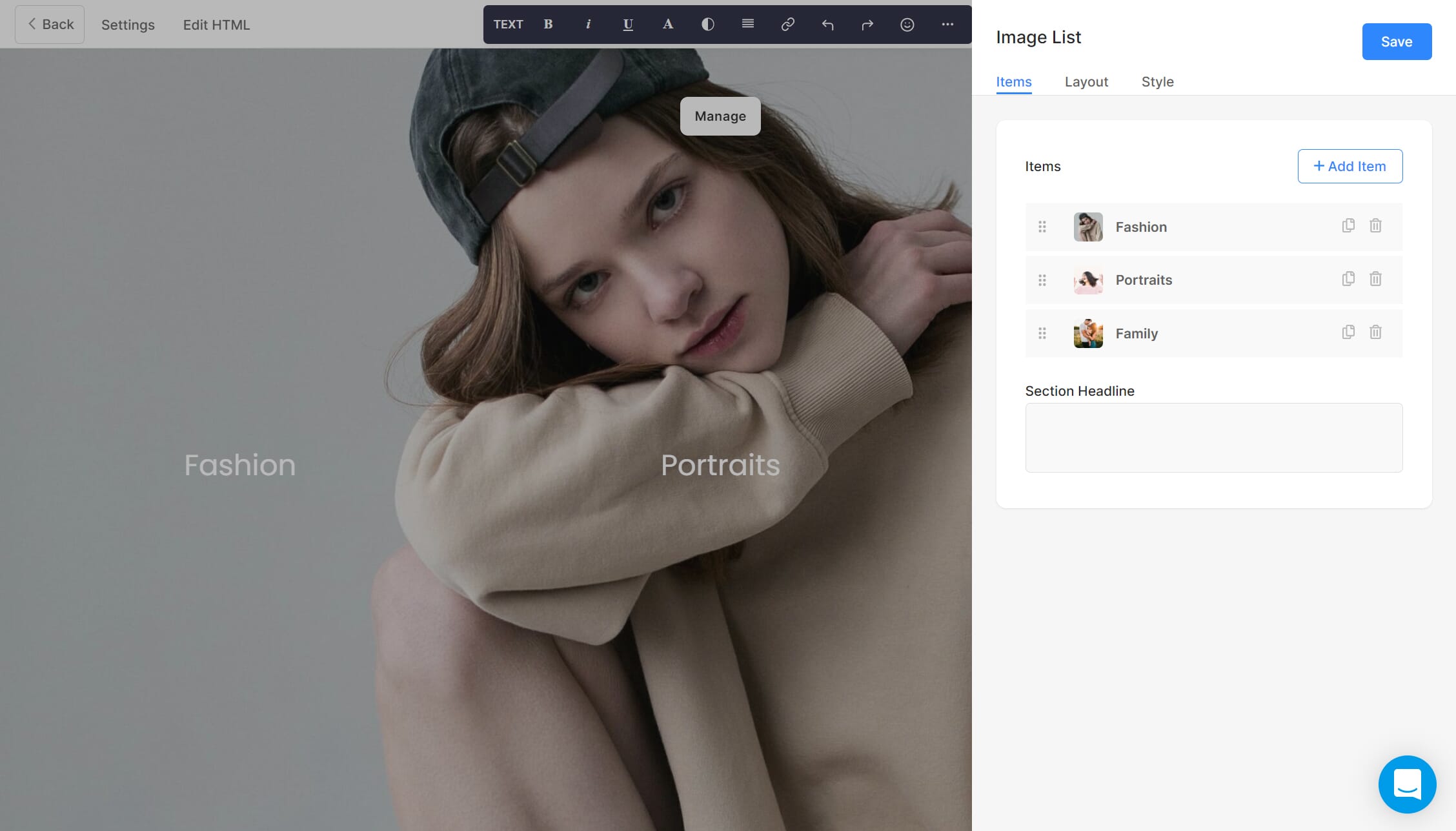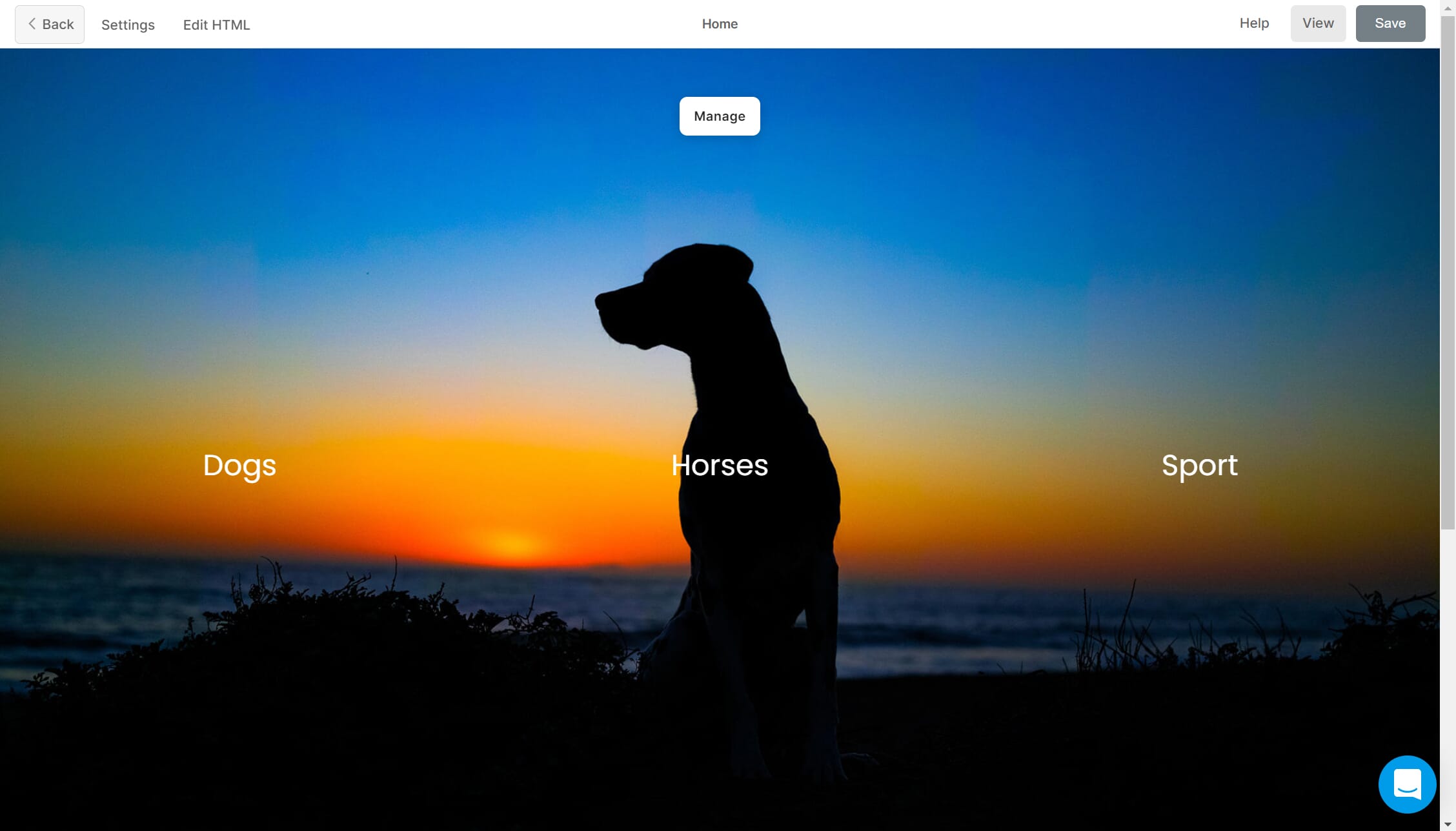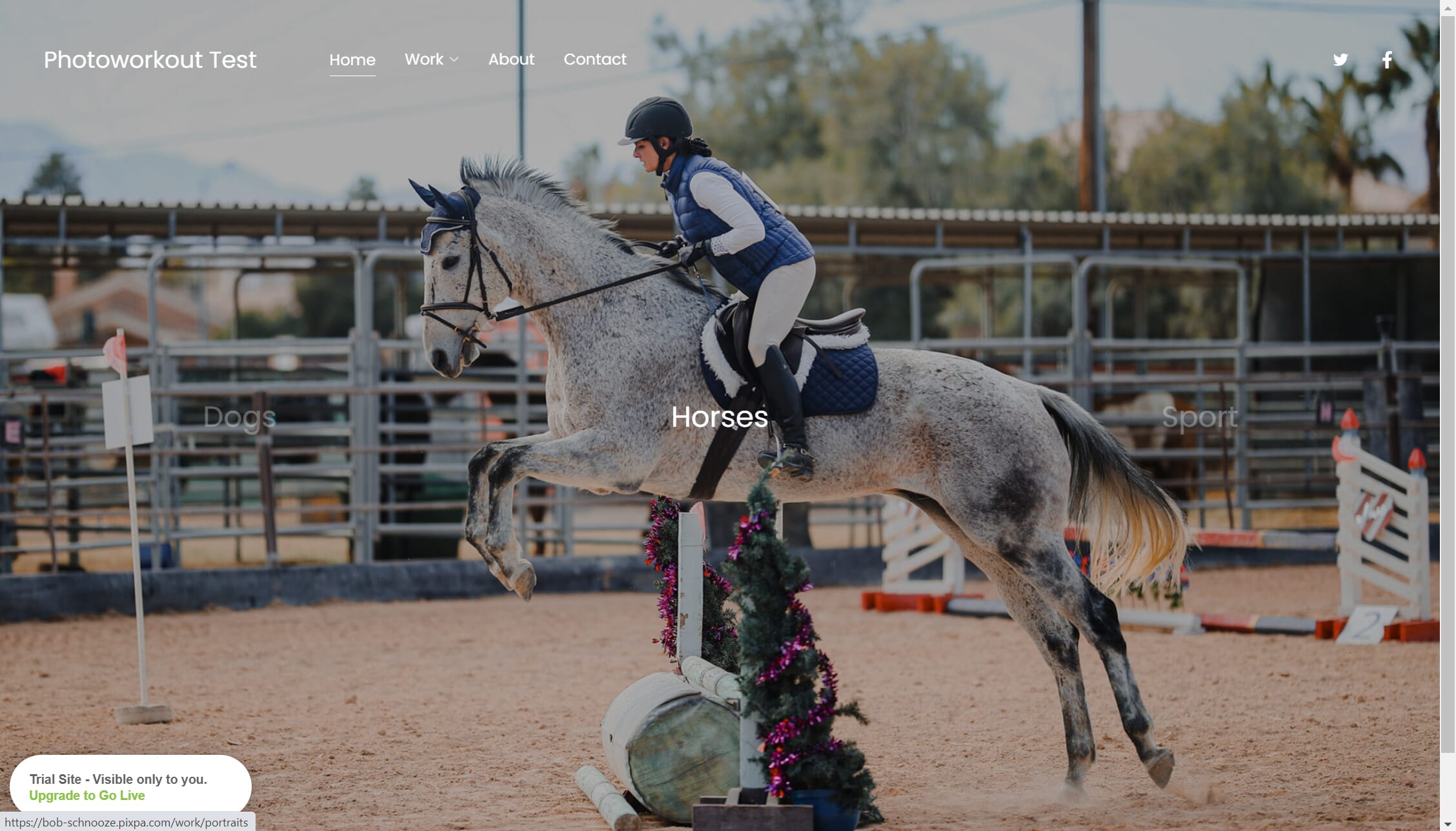 Building the pages and portfolio galleries was very simple. I just used the left-hand panels to pick out what I wanted. Uploading was quick and altering the gallery design was a breeze, too. The banner option for the gallery kept failing to properly render, so I did end up giving that up.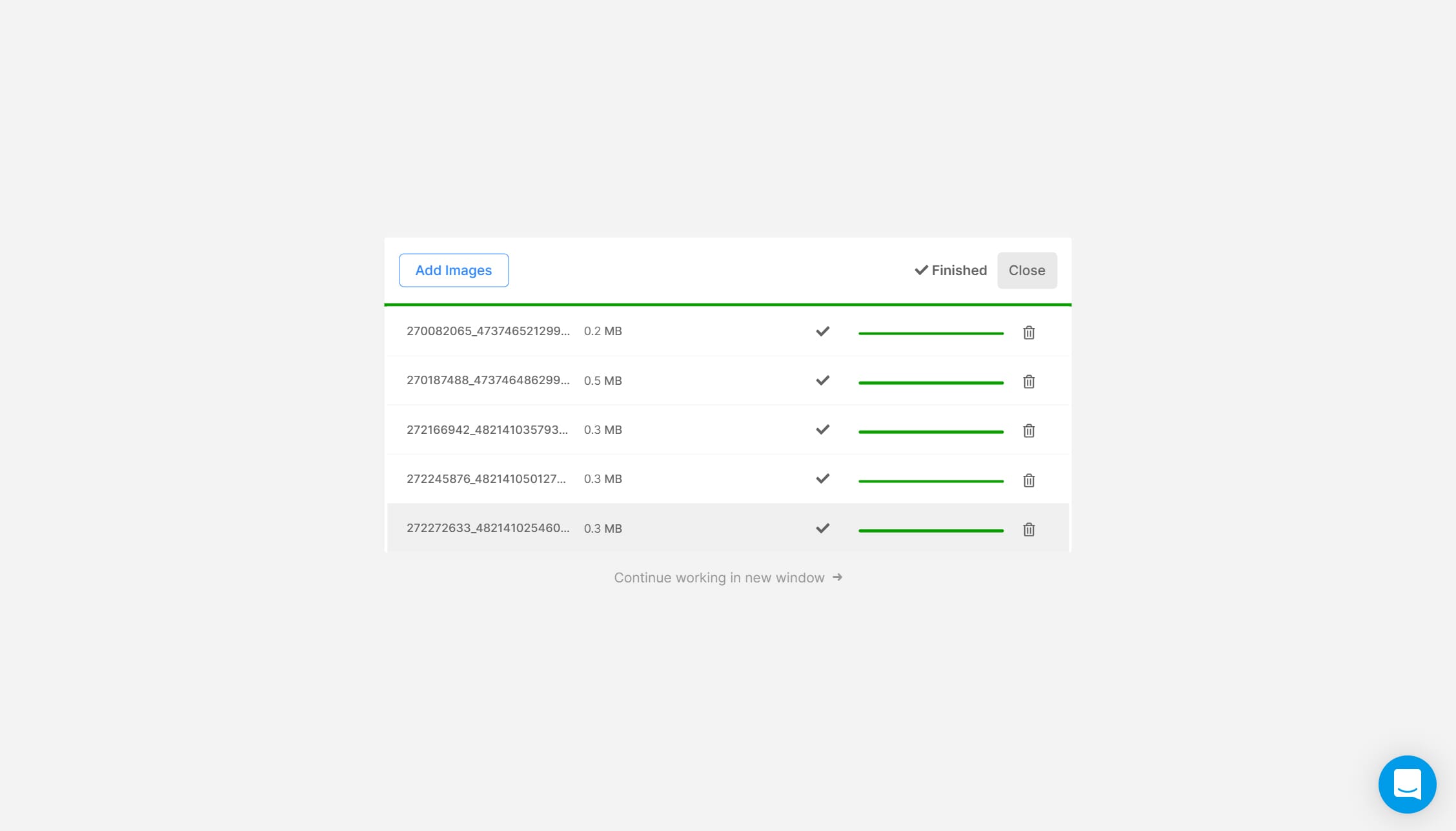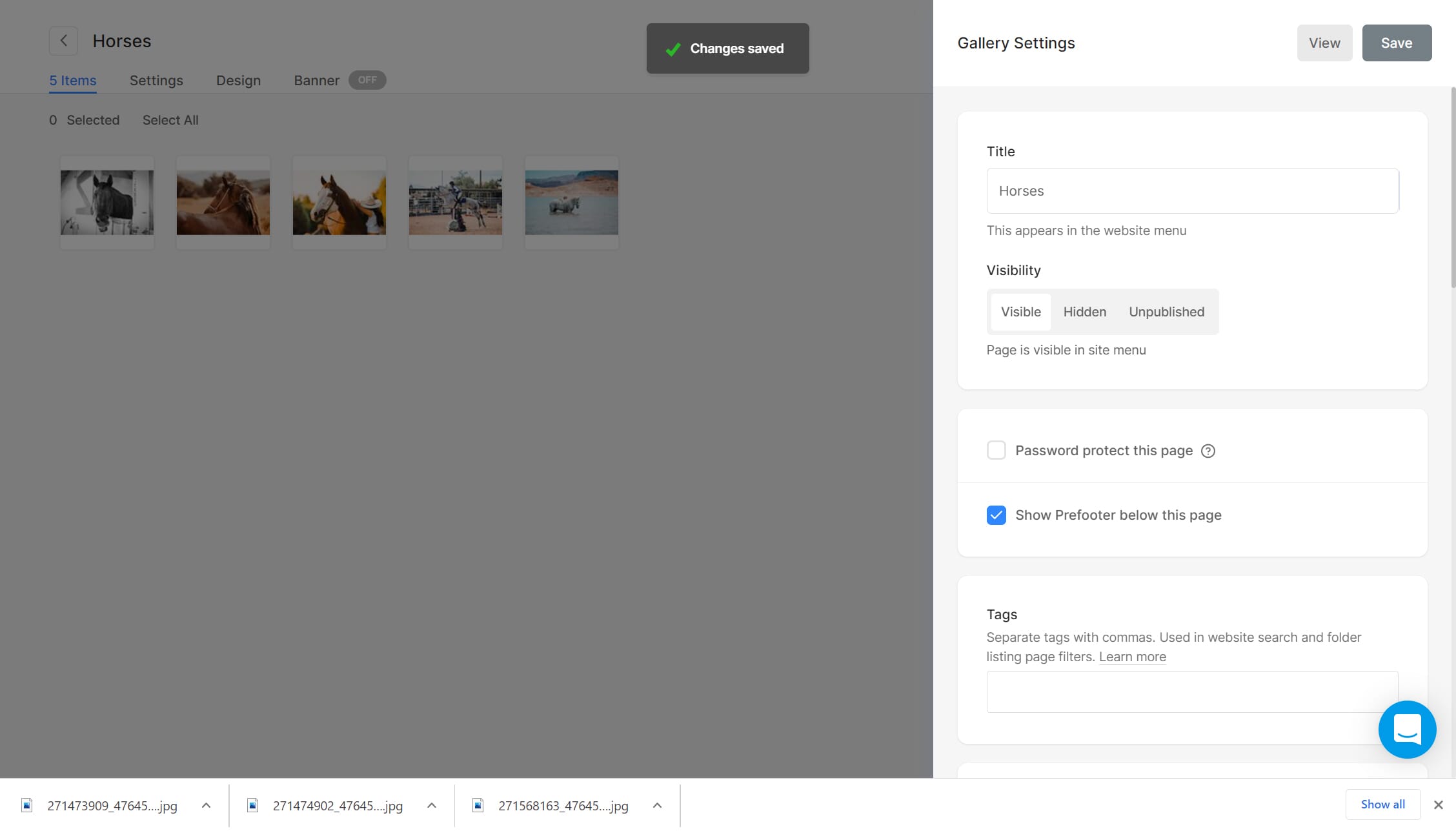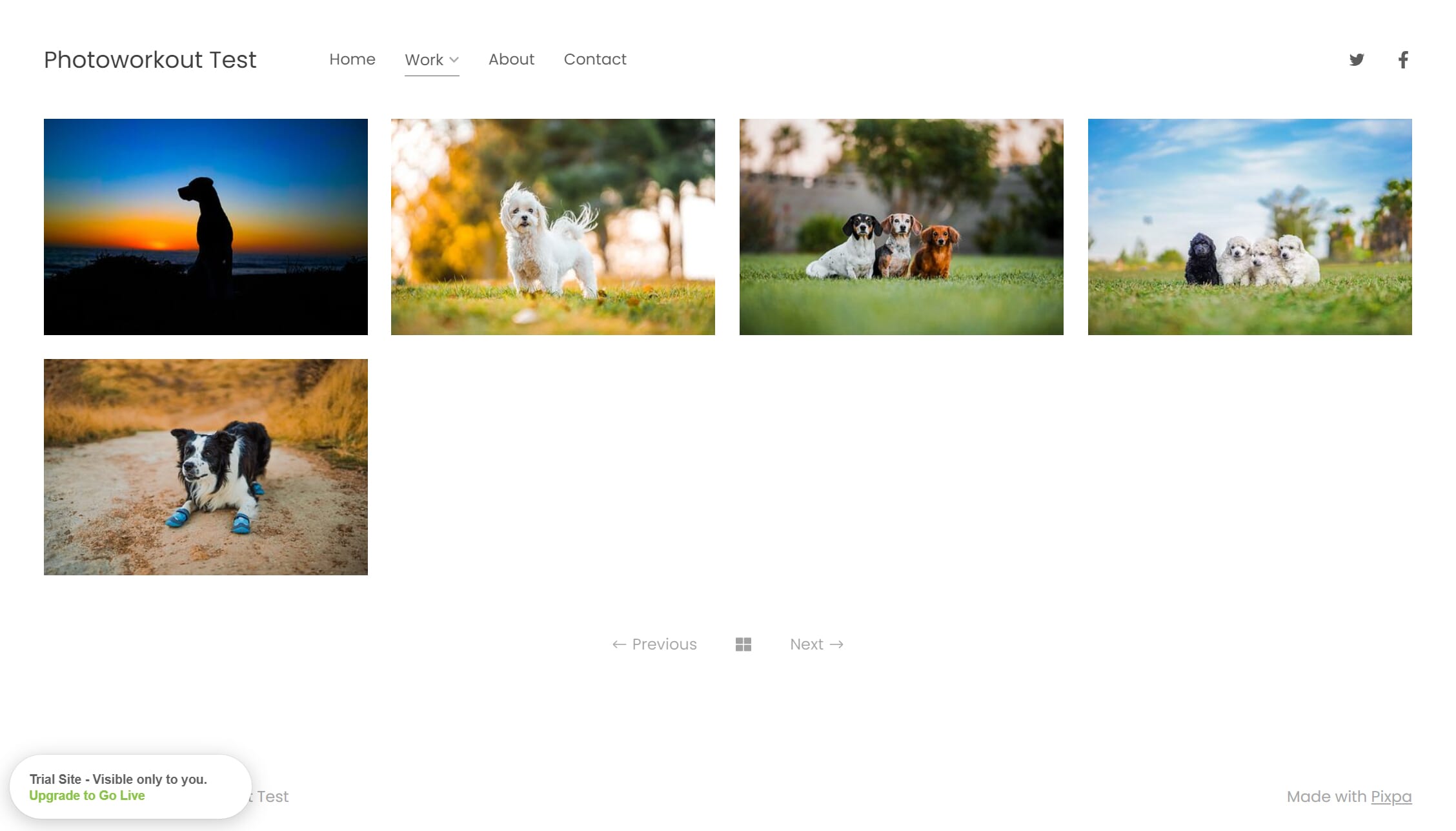 Overall, it was simple enough (minus some glitches here and there)!
Client Gallery, Storefront, and Blog
Next up was the client gallery. Client galleries are private, well, galleries that you send a client after a photoshoot – either for them to select the images they would like or for them to be able to download the shots taken of their session. These galleries tend to play a pretty fundamental role in the client process for modern-day photographers.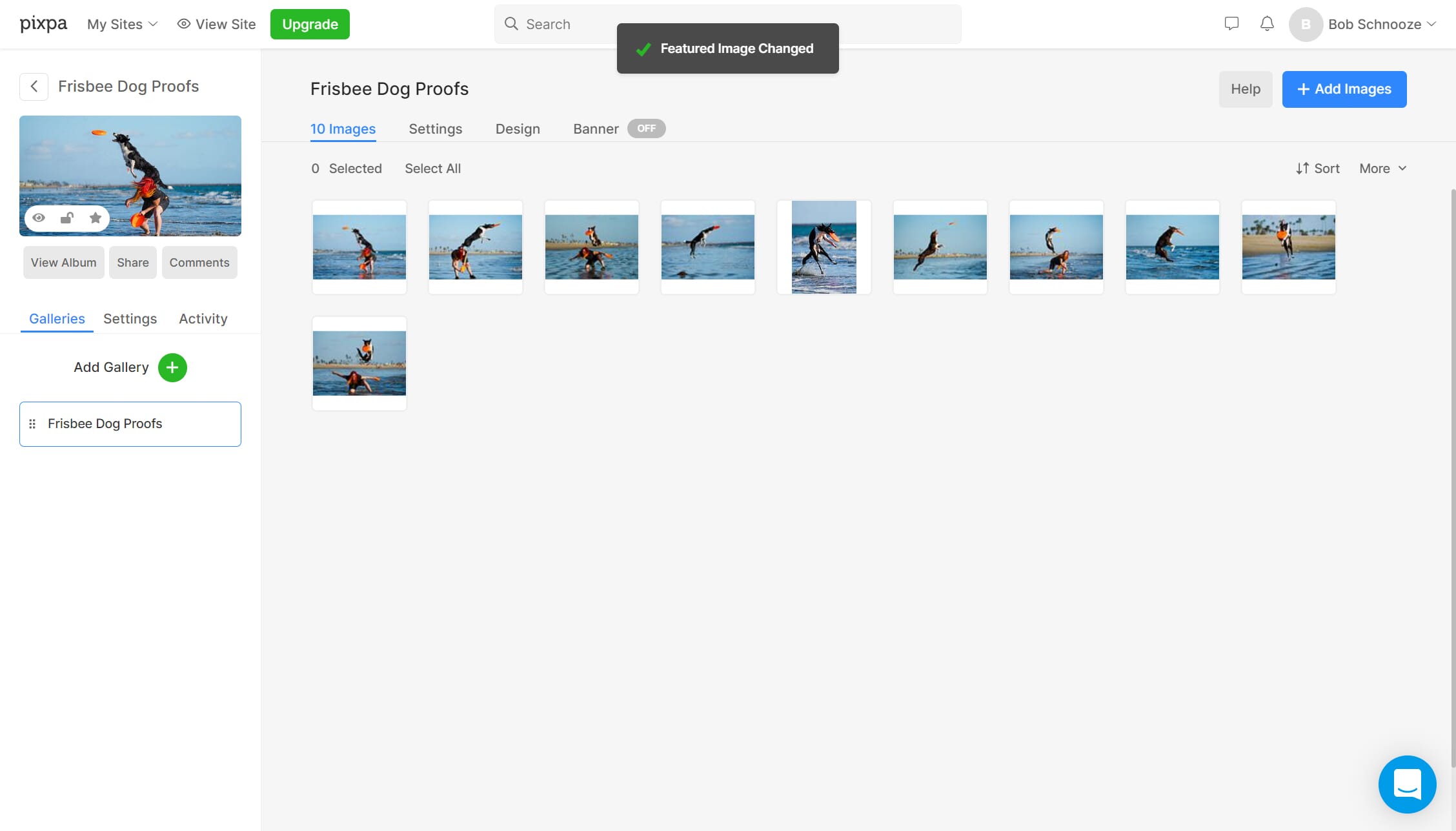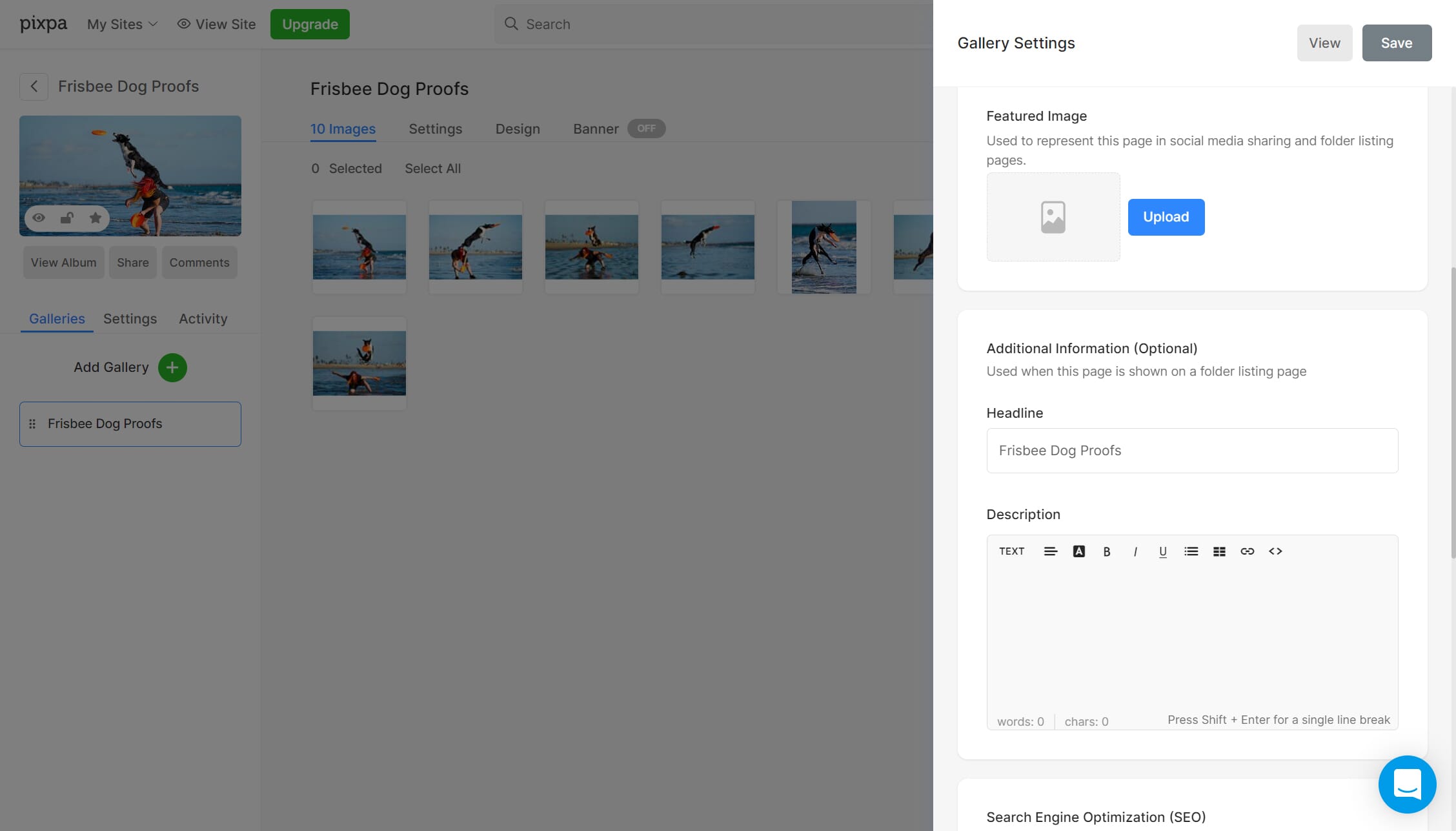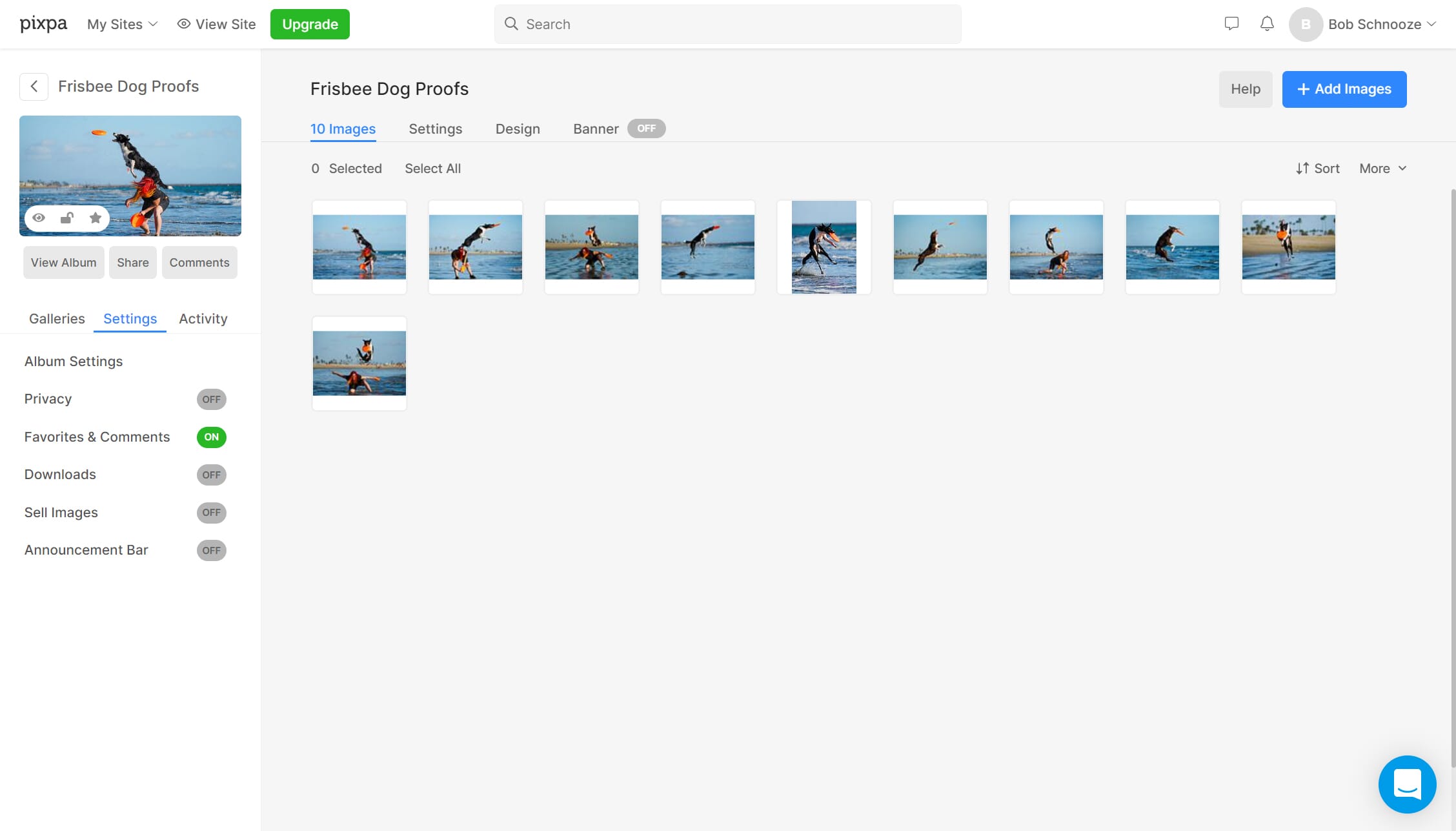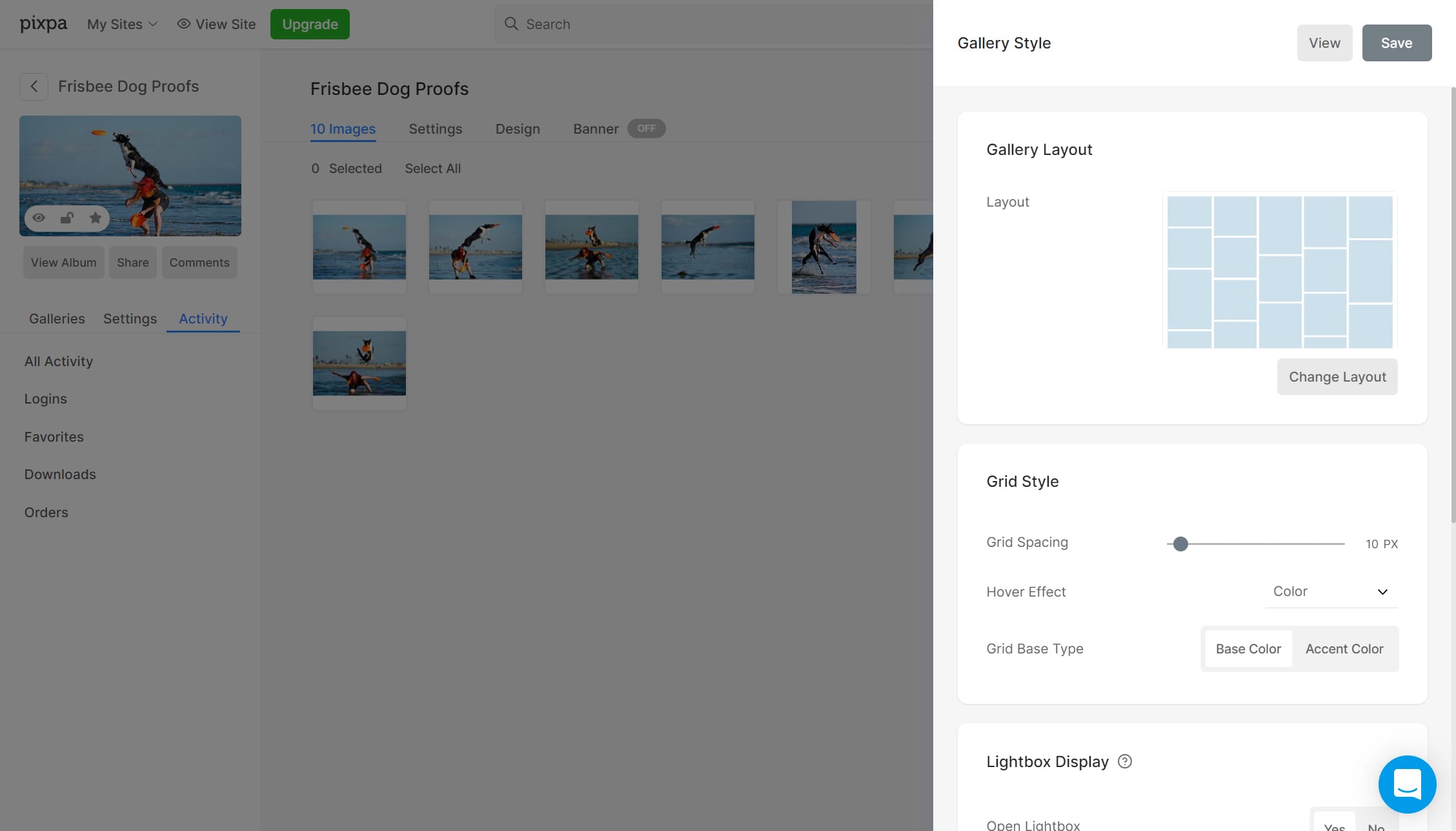 With Pixpa, designing a client gallery was easy. All of the bells and whistles photographers look for are available, from customizing the main image to adjusting the general look of the gallery. There are also much-appreciated options regarding privacy, downloads, and even an announcement bar (something you don't frequently see on competitive proofing gallery websites). And your client can create a favorites list that you are able to see on your end, which makes everything so much simpler.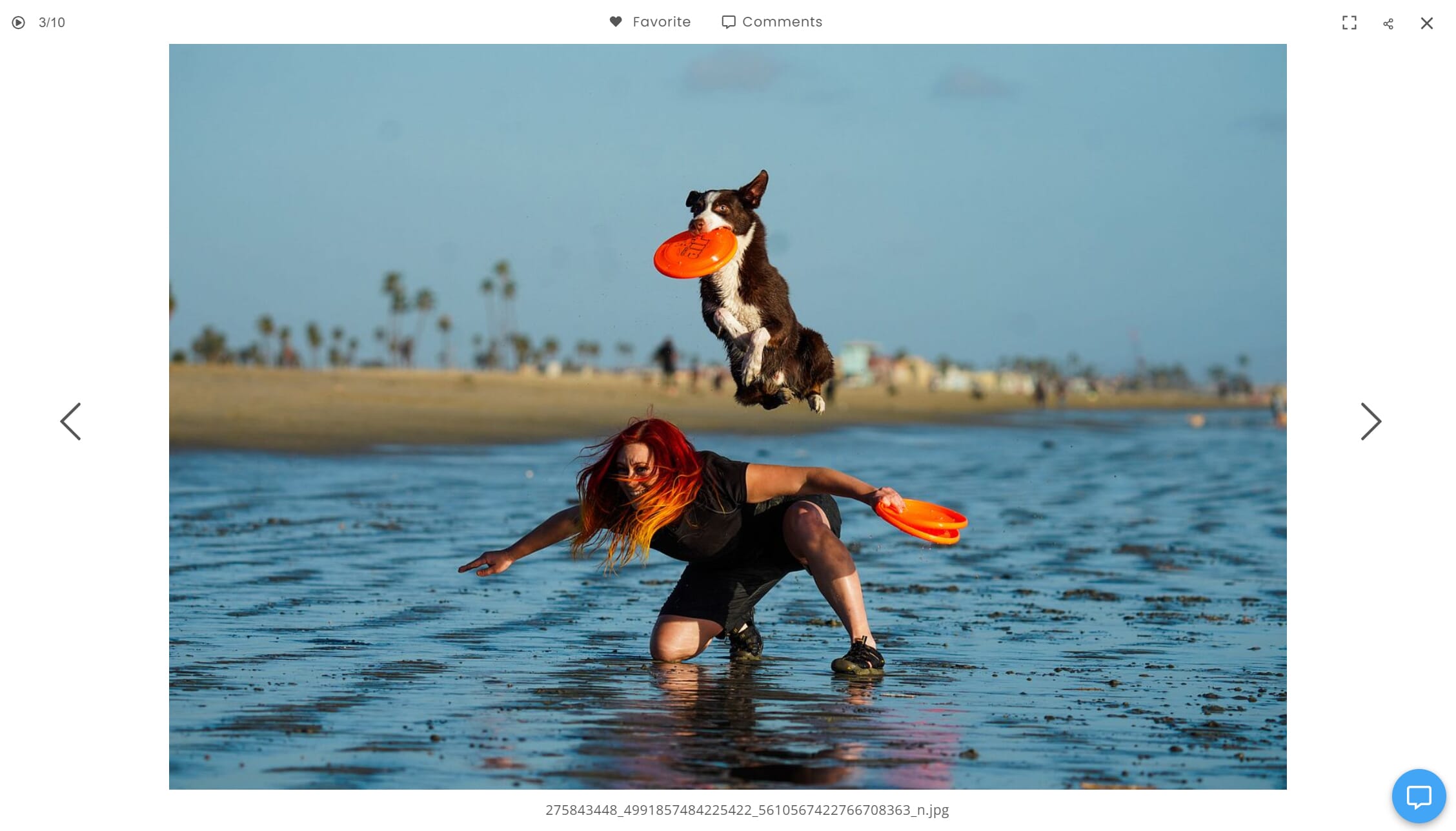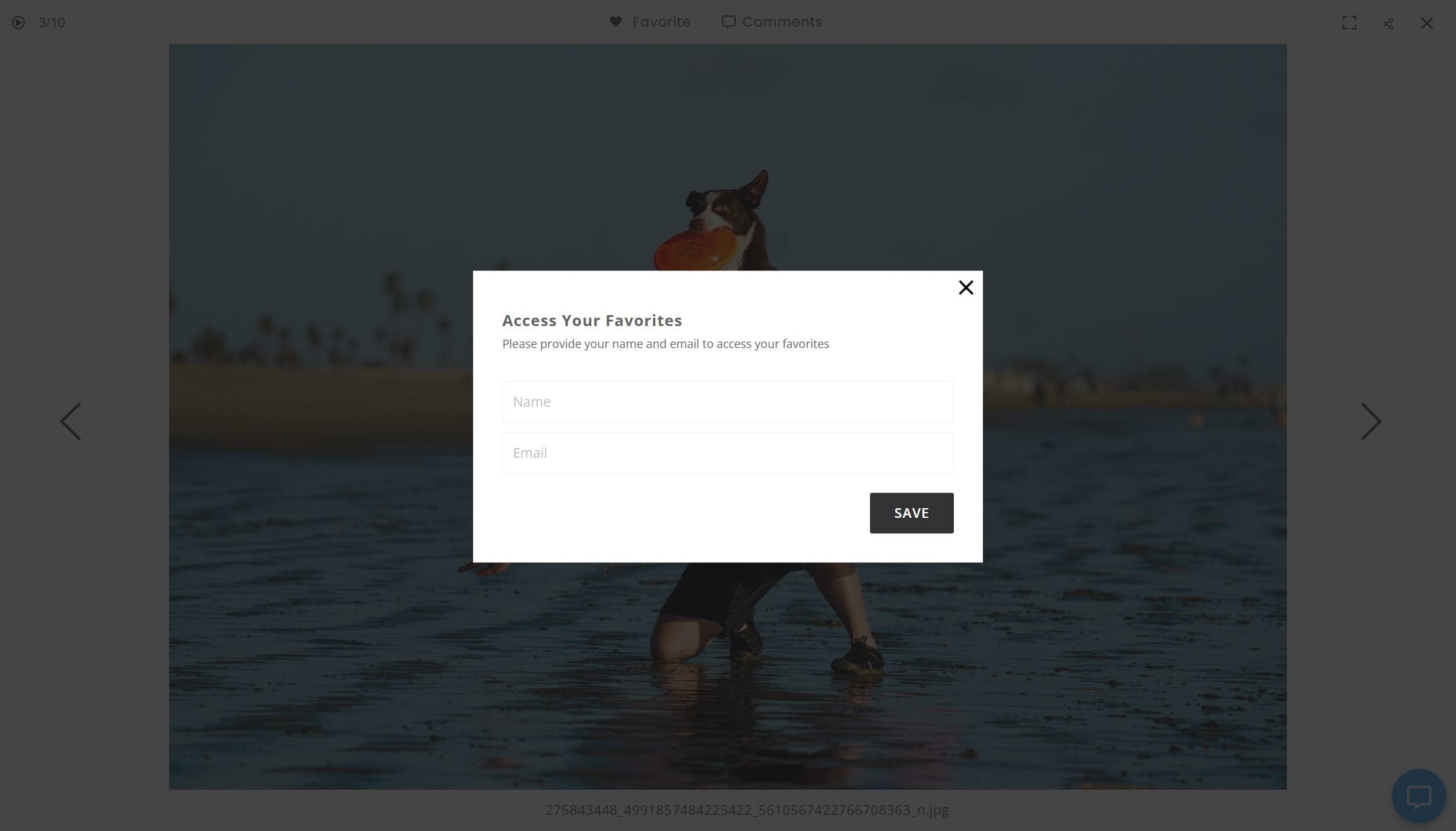 The only quirk was that the banner system did not work properly when selected.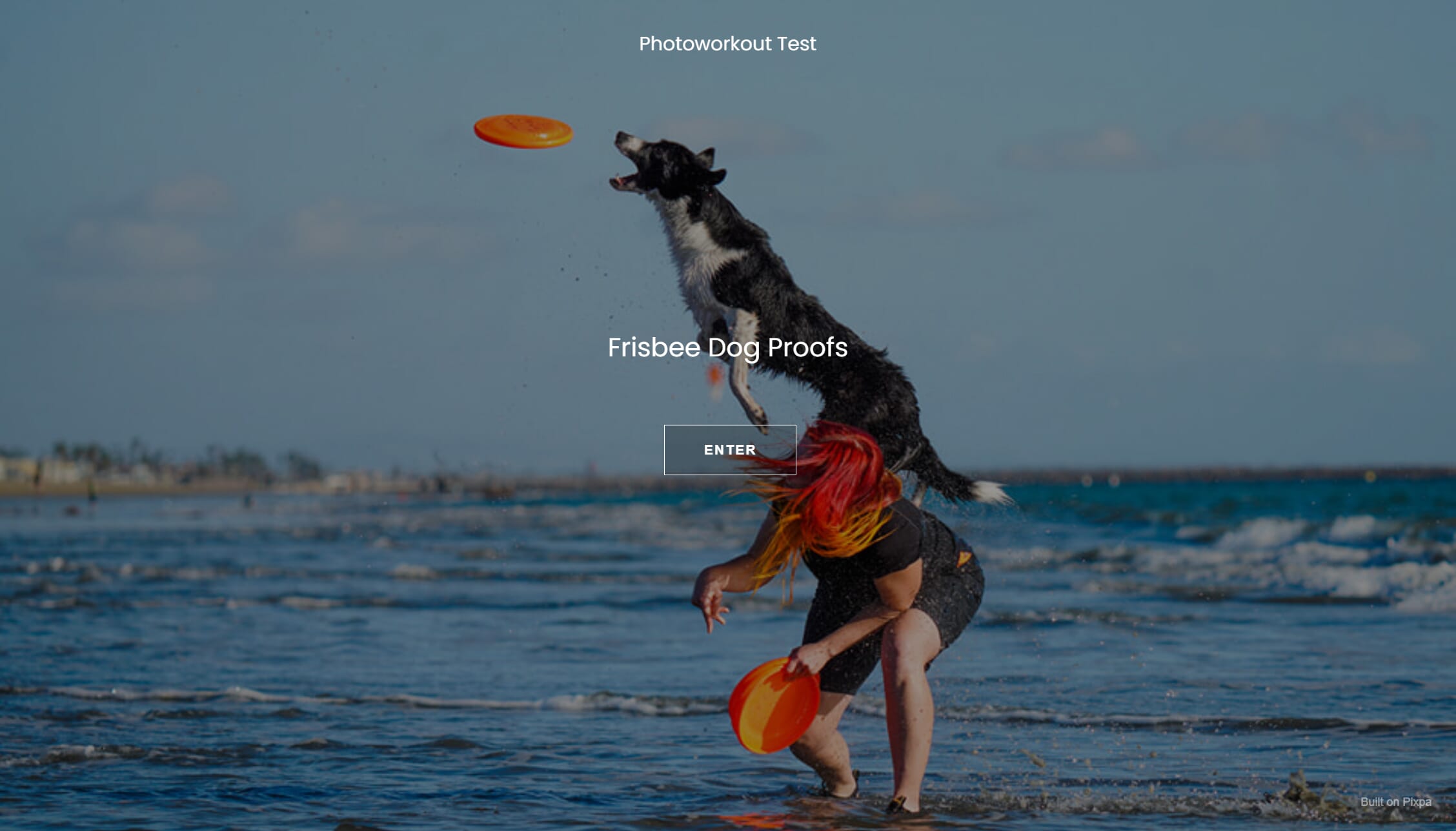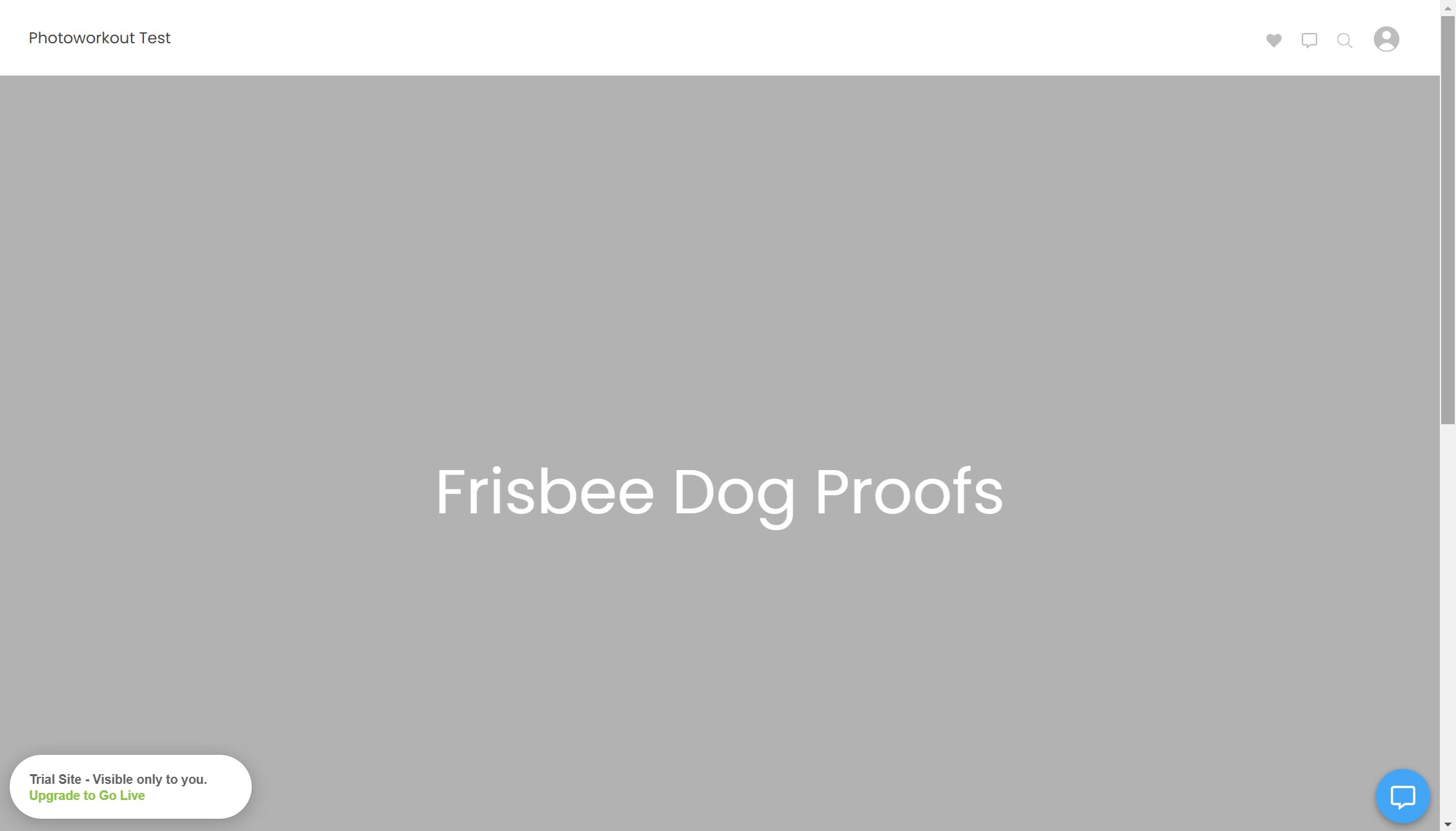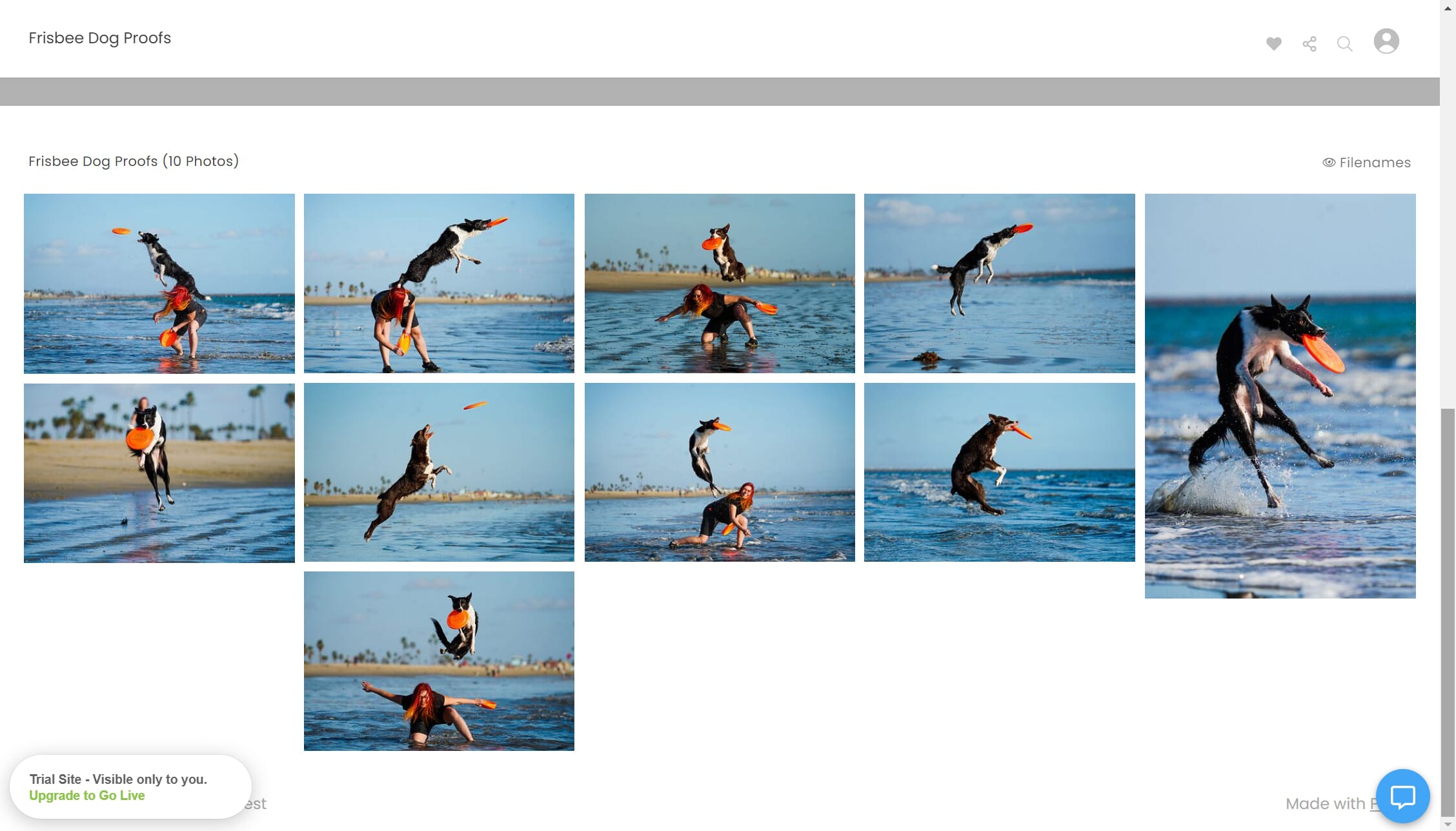 As for the storefront: Turning a proofing gallery into a store was as simple as pressing the "Store" button on the left-hand side. You can also start from scratch by creating a specific e-commerce gallery. As expected, you have a slew of customization options, such as setting up your pricing sheets (one of which comes filled out as a basic template), handling taxes, fulfillment, and more.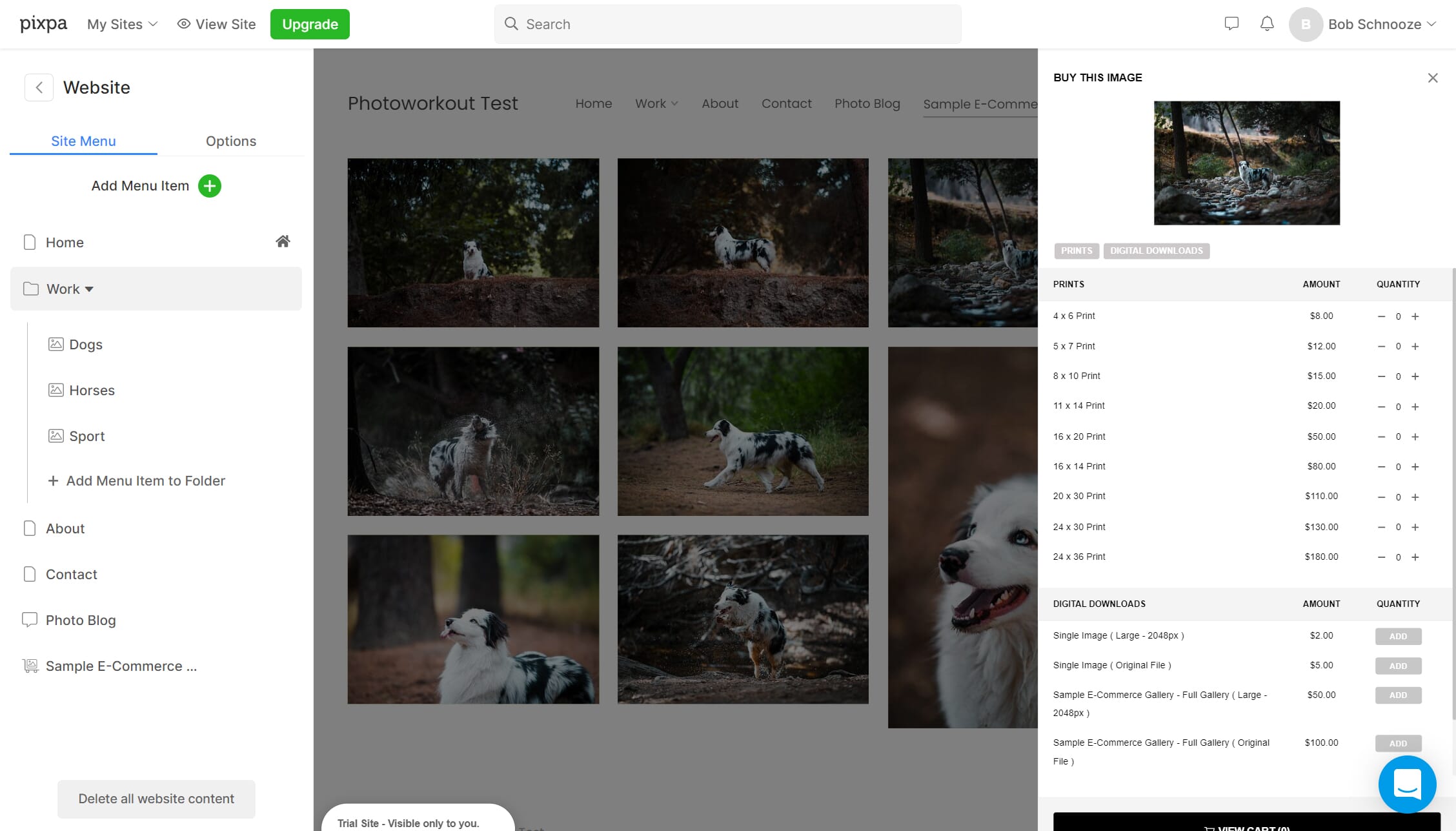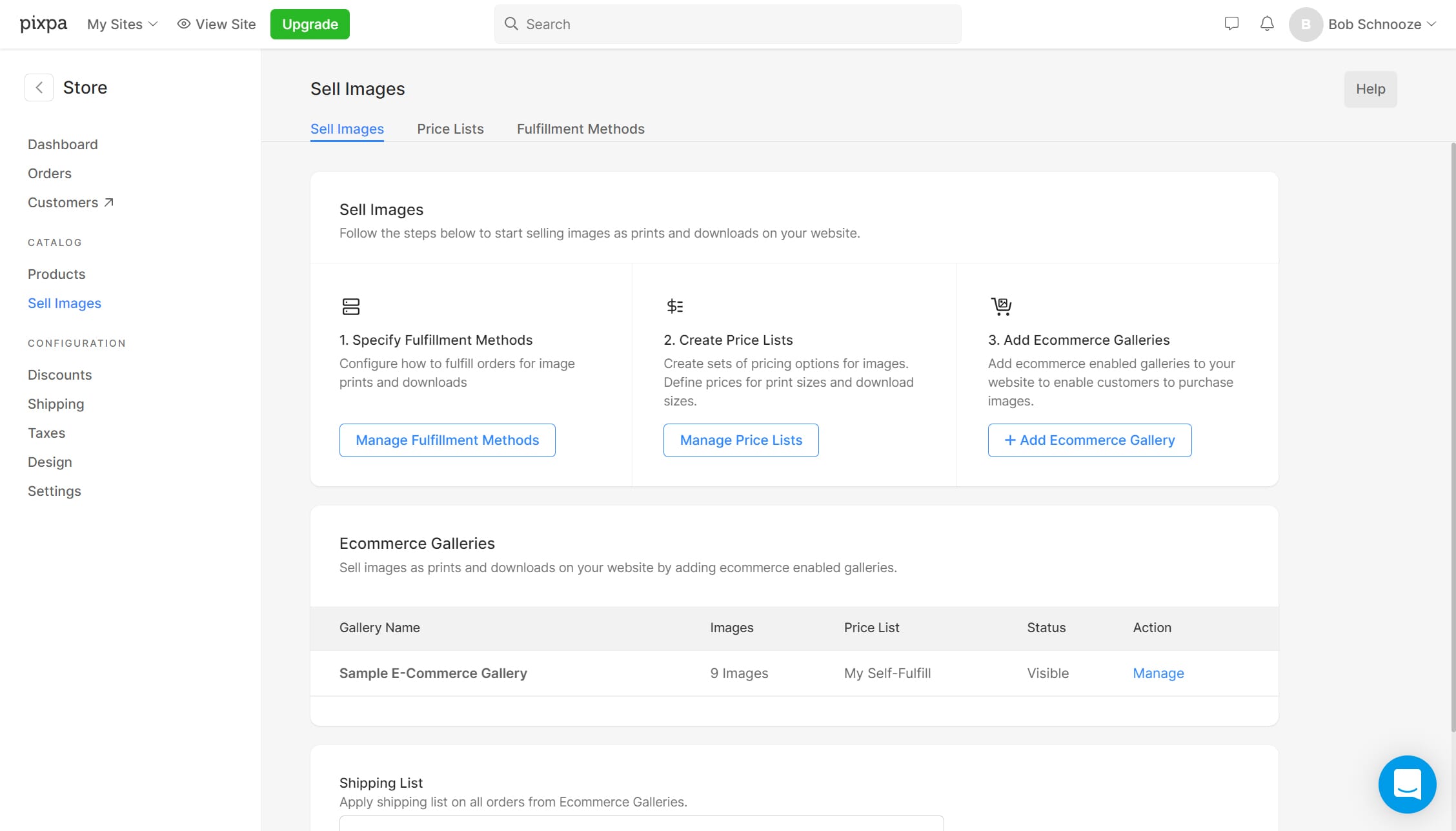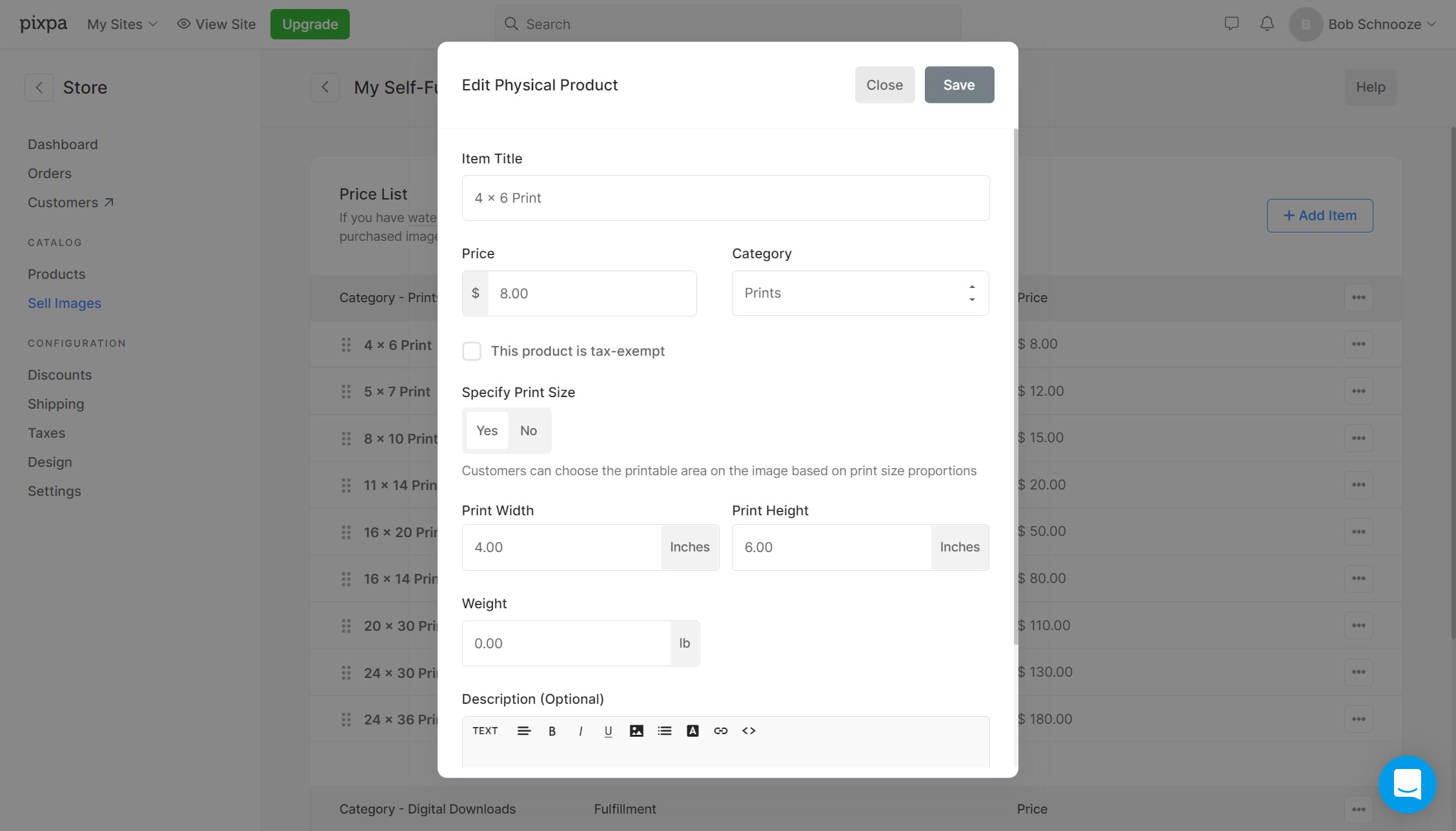 You can do fulfillment on your own, or you can automate it. Pixpa is quite unique in that it allows you to fulfill your orders using any lab that accepts orders by email. Pixpa will send an automatic email with download links of images to be printed. Pretty neat! Alternatively, if you're content with the printing quality of WHCC Labs (a partner of Pixpa), then the order can be auto-fulfilled by them.

The blog feature is similarly simple, and it provides you with everything you could possibly need to get started, including handy SEO boxes.
Pricing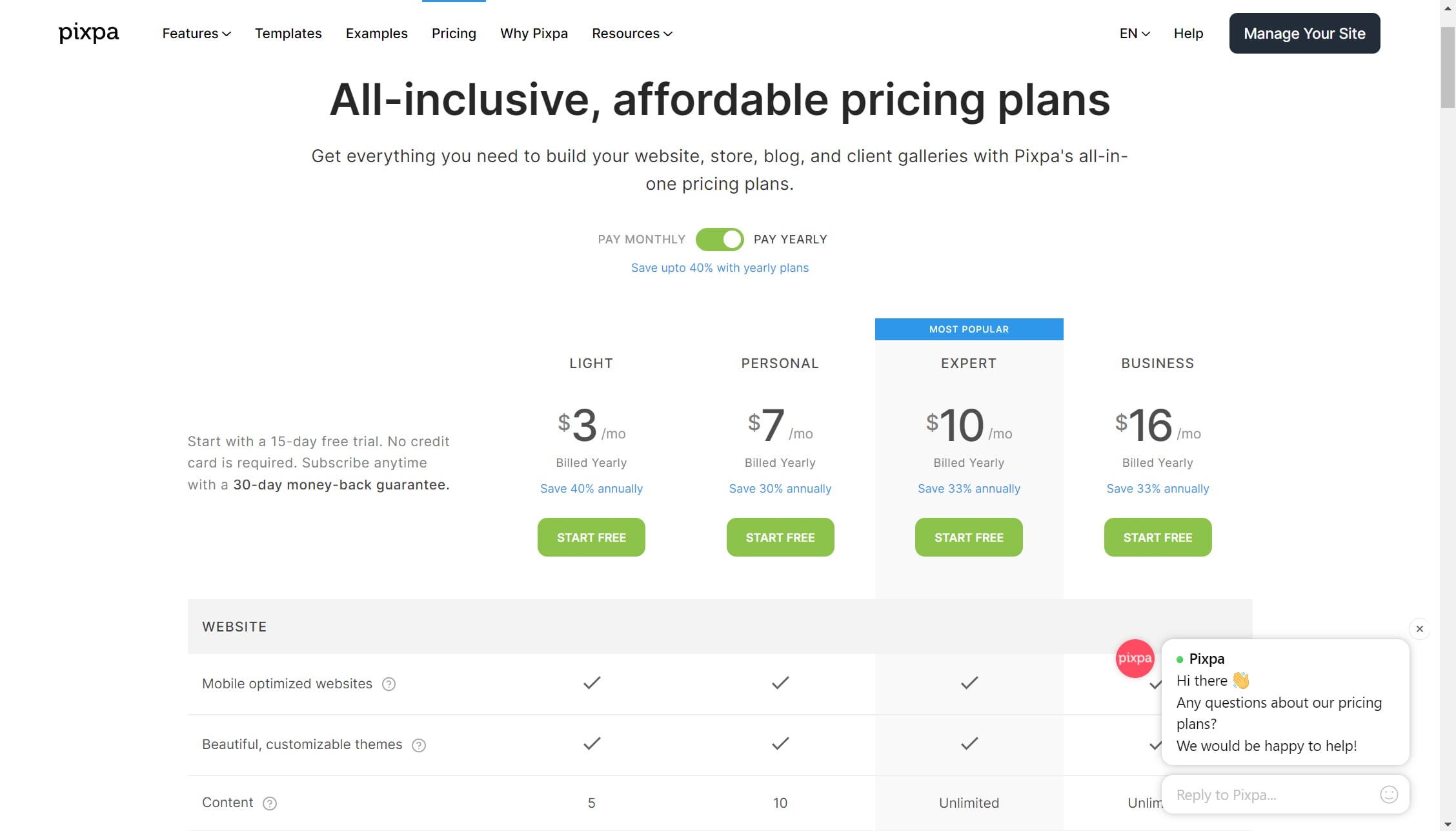 With regard to pricing, Pixpa is very competitive. For starters, there is a 15-day free trial. You won't be able to publish the website until a subscription plan has been chosen, but it's a great way to play around with the various features and determine if Pixpa is the right platform for you.
If Pixpa indeed wins your business, you can choose from among four payment tiers (all billed annually):
Light: $3/month
Personal: $7/month
Expert: $10/month
Business: $16/month
(Note: By using our special discount count – PHOTOWORKOUT10 – you can get 10% off your Pixpa plan!)
The Light plan significantly limits the amount of content and perks your portfolio website has (for example, it doesn't allow client galleries or online stores, and it limits your website to five pages). These limitations are partially lifted with the Personal plan and fully lifted with the Expert and Business plans. The Business plan offers additional perks over the Expert plan that are aimed at full-fledged photography companies.
One (Big) Little Downside…
There are downsides to the Pixpa model, and one in particular that caught my attention: There's a limit to the storage space available for online galleries.
This caps the amount of original file data Pixpa is offering to keep for you to be able to upload full resolution files into your gallery for automatic sales fulfillment or client downloading. All competitor websites have a limit, but Pixpa has the most limited offering in this regard. The Personal plan has a 3 GB limit, the Expert plan has a 25 GB limit, and the Business plan has a 100 GB limit.
Pixpa does let you purchase more space, but the fee is monthly and will quickly add up. Not too cool. That's why, in fact, I haven't switched to Pixpa in full myself. Granted, it's not something that would impact all photographers, just those who shoot a lot of images.
Pixpa Compared to Alternatives
Pixpa is certainly not the only platform that helps photographers build an online business. Popular alternatives include Pixieset, Wix, Pic-Time, SmugMug, and more.
Pixieset (which is the platform I use personally) is comparable to Pixpa, but the website design and editing options are still very limited, whereas Pixpa's site designer is quite customizable.
Pic-Time is a gallery platform that allows photographers to create photo displays for their clients. Pic-Time combines sharing images with selling prints, offering a storefront that's integrated perfectly with the online gallery. Although Pic-Time can be used as a photography website, that is not its central purpose, and you will miss out on features such as blogging.
Wix is a website builder that offers pretty much anything you could want. Wix's pricing is the most comparable to Pixpa as plans range from $5 per month to $25 per month, but the cheapest plans have a slew of perks already available that Pixpa tends to limit. However, Wix is not photography-specific; instead, it's a website-builder platform geared toward anyone needing a website. As such, designing your site can be overwhelming and really requires the user to have an idea of what they want.
SmugMug and other SmugMug alternatives (such as Zenfolio) all feel like they are cut from the same cloth and were originally intended to be gallery platforms. As such, the website-building aspect is fairly limited and customizations are lacking. That being said, their cloud storage offerings tend to be the highest of the bunch.
Pixpa Review: Our Verdict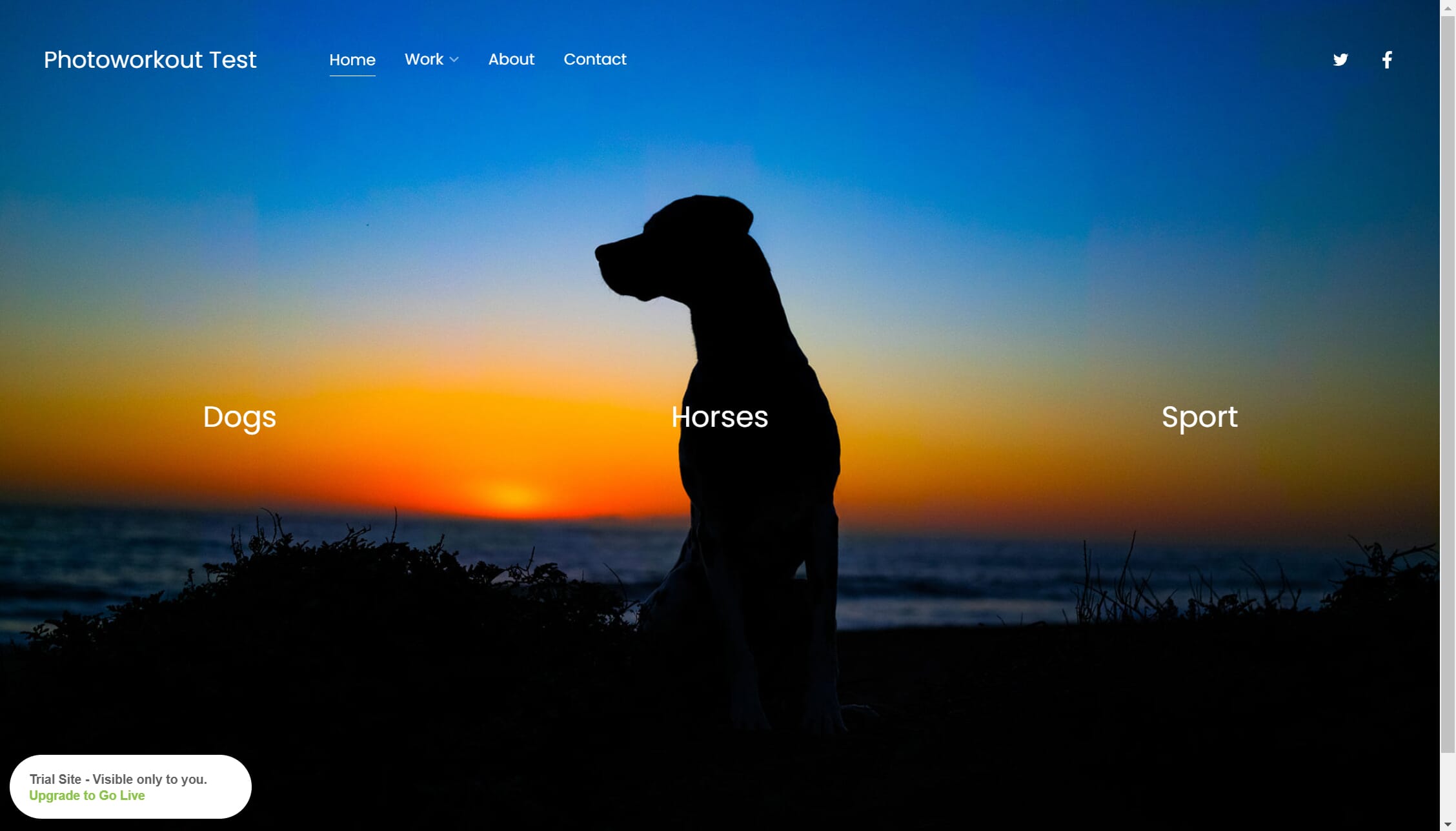 In conclusion, Pixpa is a very solid option that provides a slew of features necessary for successful photography businesses. Pixpa is certainly not perfect and won't fit everyone's exact wants and needs, but it works quite well as a general offering for photographers looking to make their own way in the world.