Are you trying to decide between a prime vs zoom, but you're not sure which one is right for you?
Choosing between these two options can be a challenge, especially for a beginner photographer.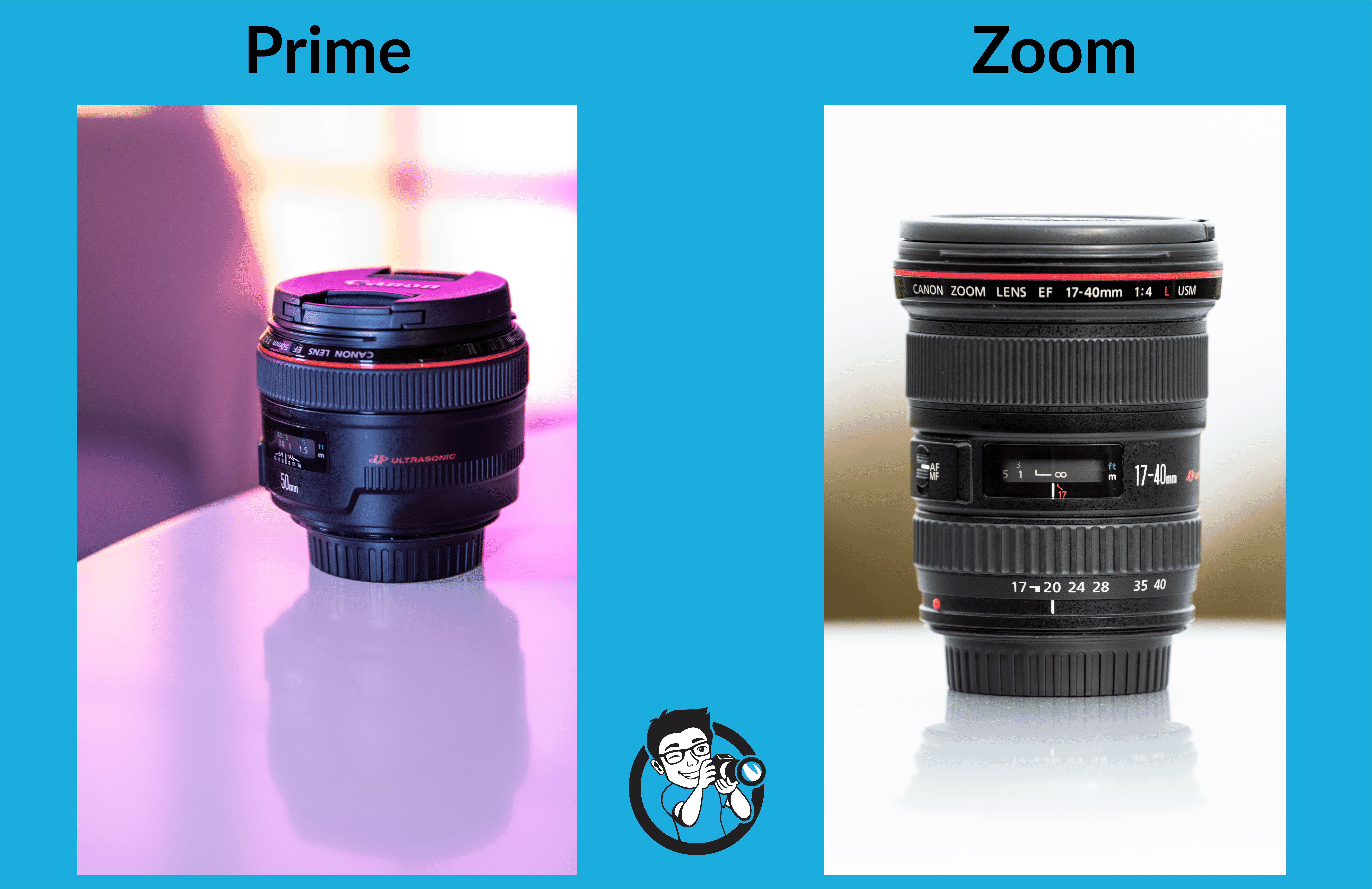 Which is why this article breaks it all down for you. You're going to discover the benefits and drawbacks of both lens types. I'll show you why you might want a zoom, why you might want a prime, and which lens is best for different photography genres.
And when you've finished, you'll know exactly which lens to get.
Let's get started.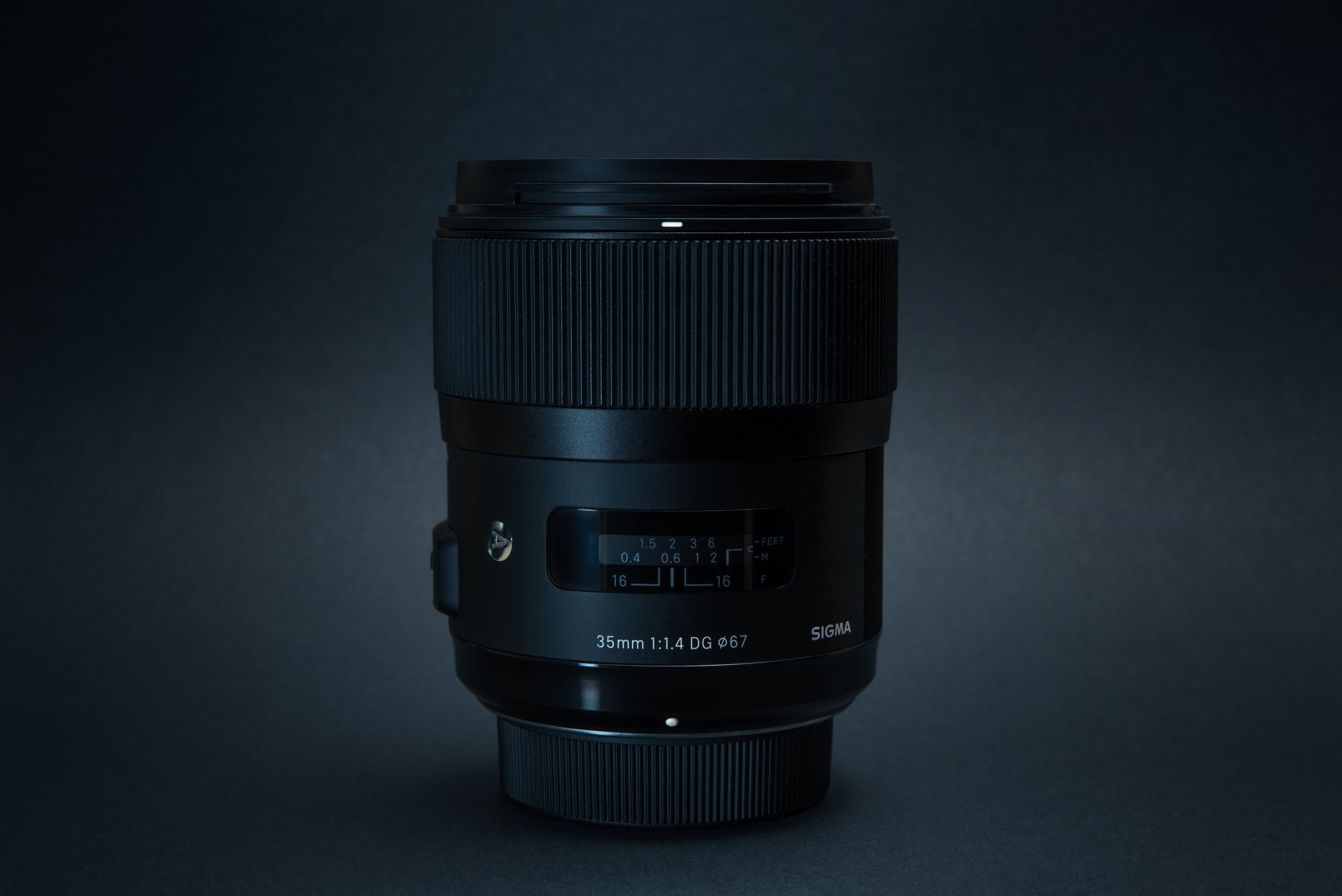 When you buy through links on our site, we may earn a commission at no cost to you. We evaluate products independently. Commissions do not affect our evaluations.
Prime vs Zoom: What's the Difference?
First things first:
Prime lenses and zoom lenses have one fundamental distinction:
Focal length.
Prime lenses offer a single unchanging focal length, such as 50mm, 90mm, 300mm, etc.
Whereas zoom lenses offer a range of focal lengths, such as 70mm to 200mm, or 16mm to 35mm.
When shooting a prime lens, you can only work at a single focal length.
In other words, while you can zoom in and out by changing your position, the lens focal length doesn't actually change.
When shooting a zoom lens, on the other hand, you can work at any focal length within the included range. So on an 18mm to 200mm zoom lens, you can shoot wide-angle photos at 18mm, standard photos at 50mm, and telephoto shots at 200mm.
Now let's look at the benefits of prime lenses:
Prime Benefits: Optical Quality
One of the key reasons to purchase a prime lens is enhanced optical quality.
Prime lenses offer superior sharpness, vignetting, and chromatic aberration compared to zoom lenses–which means that you can get professional-quality optics at a much lower cost.
For many photographers, this is the main reason to choose a prime lens over a zoom lens. For instance, a 50mm f/1.8 costs less than $200 for both Canon and Nikon cameras. An 85mm f/1.8 doesn't cost much more.
So for just a few hundred dollars, you can put together a seriously impressive lens kit–one that features stellar optical quality and can compete with a professional lens kit.
Prime lenses also come with a second benefit:
Size.
Prime Benefits: Size
While zoom lenses tend to be fairly hefty (they span a broad set of focal lengths, after all!), the corresponding prime focal lengths tend to be much smaller and lighter.
Why does this matter?
The smaller and lighter the lens, the easier it is to pack and carry for day trips, walkaround photography, and more involved travel photography. Plus, lighter lenses are simply more pleasant to work with; after hours of holding a camera around your neck, heavy lenses become, well, heavy.
Of course, this is less important if you're interested in studio-type photography, where your camera often sits on a stationary tripod. But for nature photographers, landscape photographers, outdoor portrait photographers, and more, having a light lens is a real benefit.
It's tough to get landscape shots like this without a light lens because of the amount of travel involved: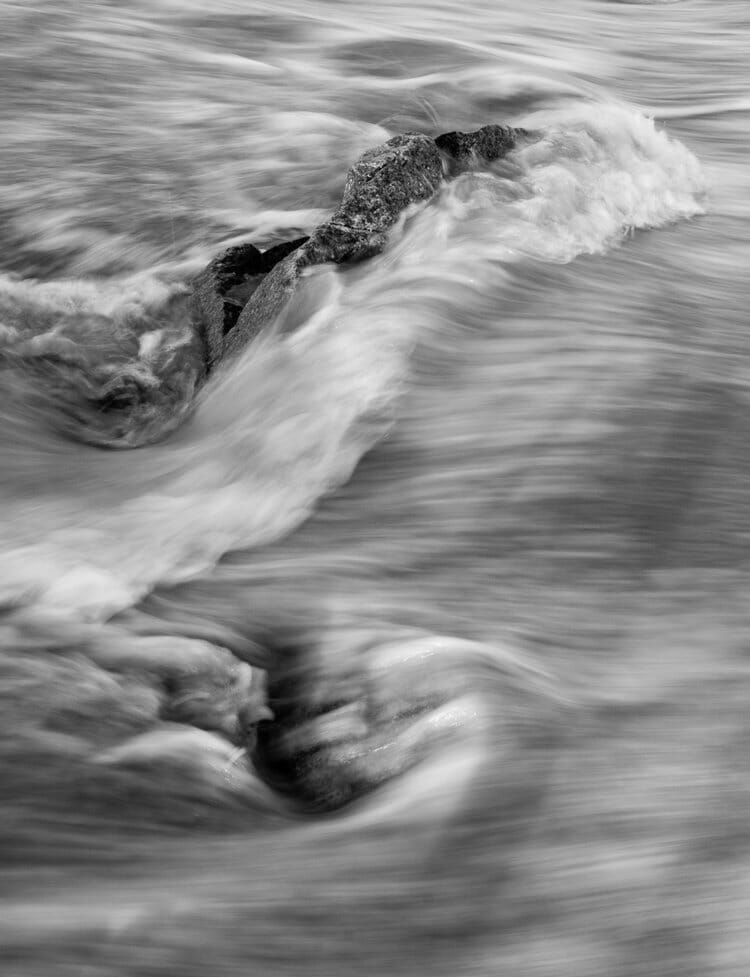 One drawback when it comes to lighter lenses is build quality. Lighter lenses do often offer more plasticky builds–but there are plenty of prime lenses out there that compromise on size and build quality, so that you get a decent build combined with a reasonable weight.
Related Post: 50mm vs 35mm – Which Prime Lens to Buy?
Prime Benefits: Maximum Aperture
The maximum aperture refers to the widest aperture that a lens allows.
Note that this is generally written as part of a lens's title, so you can easily find out a maximum aperture; the Canon 35mm f/1.8, for instance, has a maximum aperture of f/1.8. And the Nikon 70-200mm f/4 has a maximum aperture of f/4.
Now here's the difference between primes and zooms when it comes to maximum aperture:
Primes have very wide apertures for cheap. You frequently find prime lenses at f/2.8, f/1.8, and even f/1.4–and they don't come close to breaking the bank.
While zooms tend to have maximum apertures in the f/3.5-f/5.6 range. To grab a zoom at a wide maximum aperture, you'll pay a premium (for example, check out the Canon 24-70mm f/2.8L).
Why is this important?
Wide maximum apertures allow the lens to gather more light and therefore help you shoot in darker environments, such as indoor events as well as outdoor scenes at dawn and dusk.
A shot like this required a wide maximum aperture, because the early-morning light was low: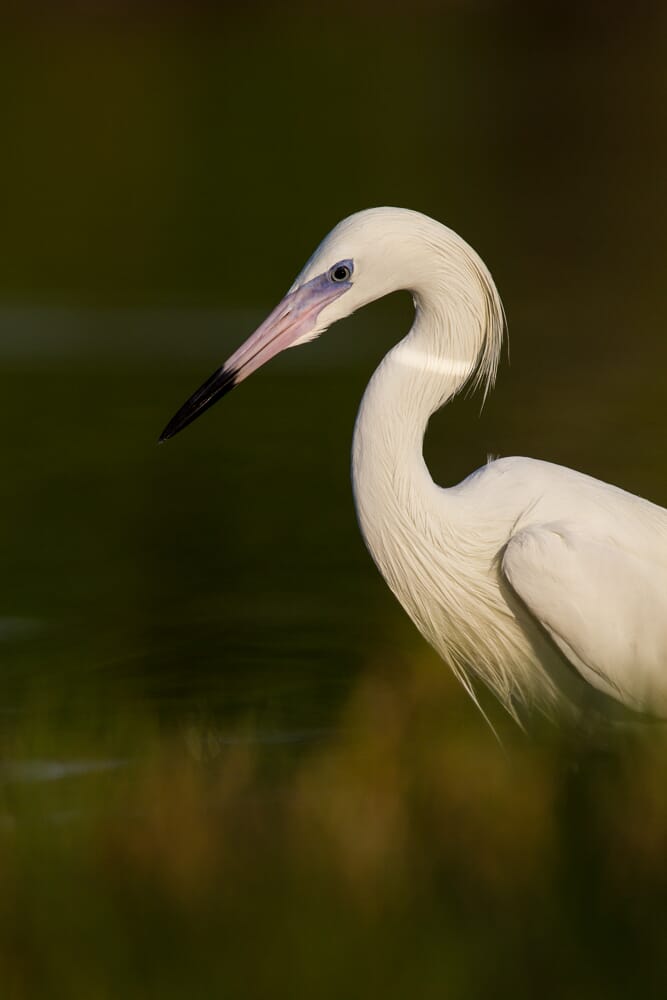 Wide maximum apertures also increase background blur quality (bokeh), which is why portrait photographers, in particular, are fans of lenses with at least an f/1.8 maximum aperture.
Note the blurry background that comes from shooting at a wide aperture: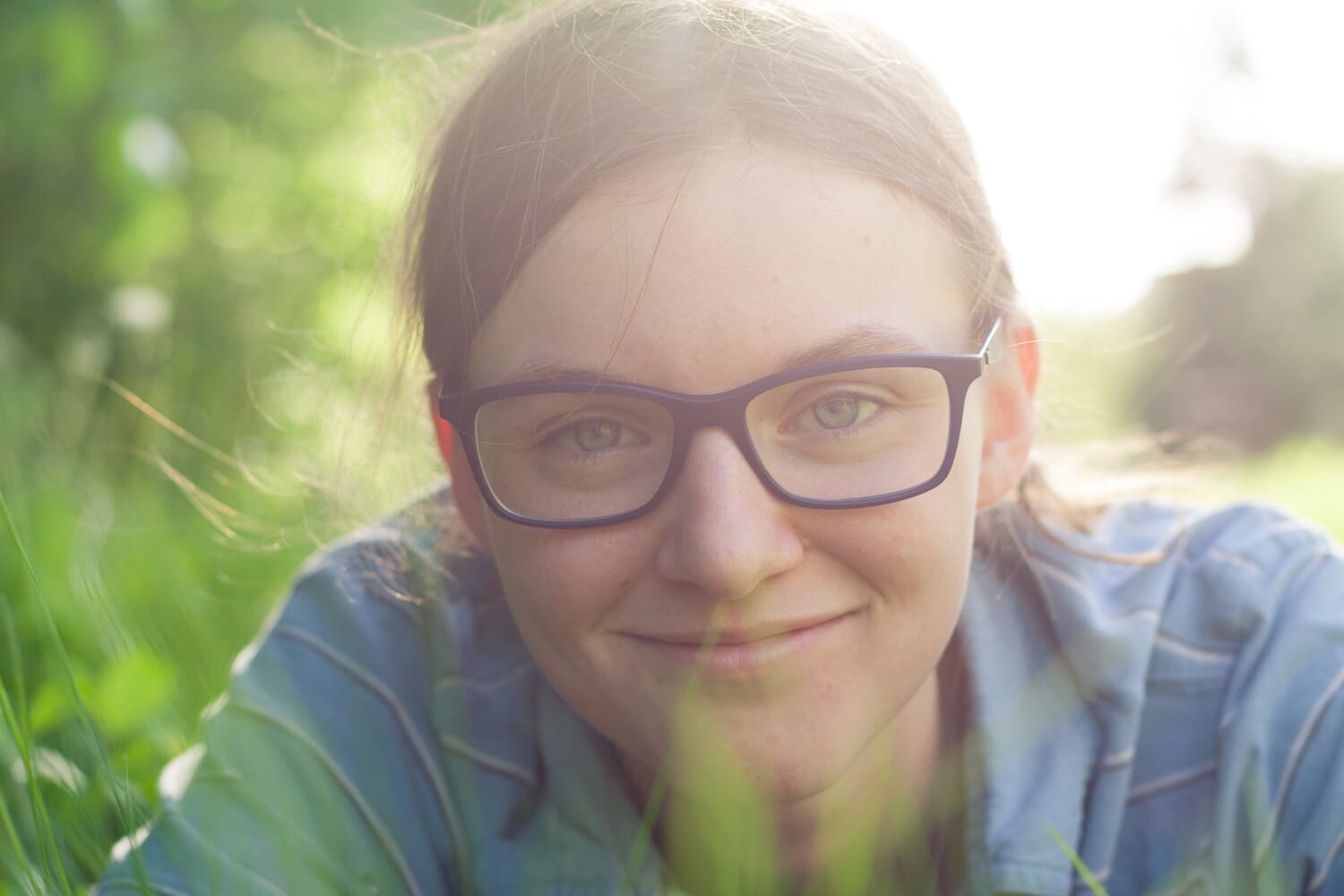 Note that zoom lenses also have a variable aperture, which means that the maximum aperture changes across the focal length range. So when you shoot a Canon 100-400mm f/4.5-5.6L at 100mm, you can open up the aperture to f/4.5, but when you shoot at 400mm, you'll be forced to stop down to f/5.6. This can be frustrating, especially if you're shooting in low light and suddenly find your lens at a far narrower aperture than you want to use.
Prime Benefits: Price
Here's the final prime lens benefit:
They're cheap.
While I touched on this above, it bears repeating: A good zoom lens can cost upwards of $1000 USD. While a high-quality prime lens can be had for $300, $200, or even $100.
Now, these inexpensive prime lenses don't offer everything that a lens ten times the price can provide. But you can get strong optical quality and a good build for an impressively cheap price. So for photographers on a budget, a prime lens is often the way to go, especially when image quality is extremely important.
Zoom Benefits: Flexibility
There's one main benefit to zoom lenses, and it's often enough to sway beginners (and more serious photographers) to the zoom lens camp:
Zoom lenses are ultra-versatile.
Because they offer such a large focal length range, you can carry a single zoom lens and use it in nearly every situation.
In practical terms, this means that you can replace several prime lenses with a single zoom lens in your camera bag. It also means that you can avoid having to switch lenses repeatedly during a photoshoot.
For instance, if you're a portrait shooter, you won't need to repeatedly switch between 35mm, 50mm, and 200mm prime lenses (as you go from wider shots to standard shots to tighter headshots). Instead, you can mount a single lens that can go from wide to standard to telephoto with a single twist of the zoom ring.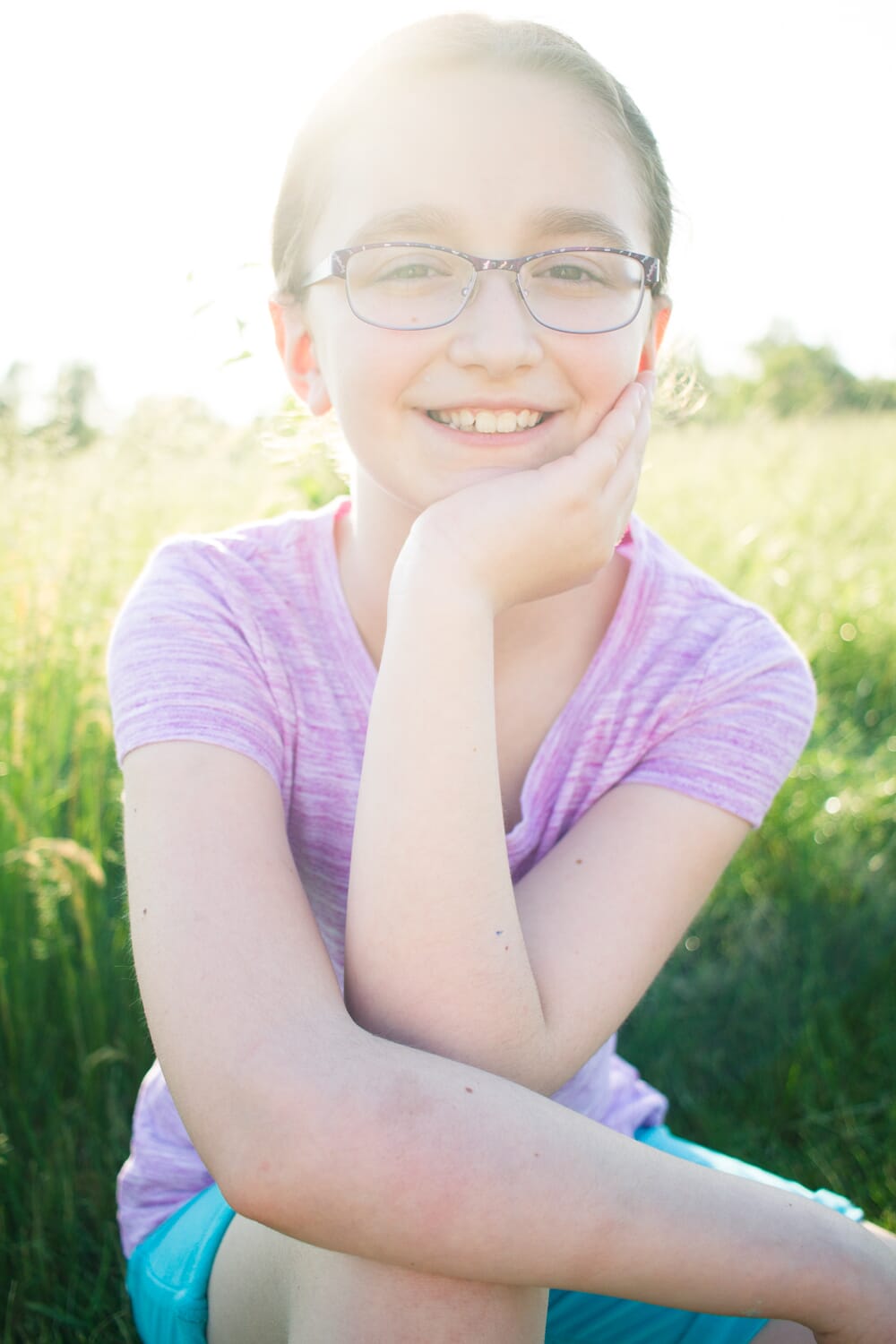 Another common situation where a zoom comes in handy is when travel photographers prefer not to lug around an entire camera bag full of equipment. Instead, you can pack away a single lens mounted on your main camera, then take it around on all your travels without much hassle.
Now, as I explained above, zoom lenses do cost more for the same optical quality when compared to primes. But you can sometimes save money on zooms, because a single zoom can rival (and replace) three or four primes in your camera bag. So if you need to span a large focal length range down the line, a zoom lens might be the way to go.
The Best Prime Lenses You Can Buy
If you've decided that a prime lens is the best choice for your needs, then you should consider one of these excellent options:
First, you should check out the Nikon 50mm f/1.8G or the Canon 50mm f/1.8 STM. These lenses are especially great for photographers on a budget, because they're an absolute steal–but they don't compromise on optical quality, offering impressive sharpness and bokeh.
Plus, the 50mm focal length is good for just about everything. You can shoot portraits, street photos, travel, walkaround photography, you name it.
If you're looking for a prime that's a bit wider–for more environmental-style or photojournalistic shooting, say–a 35mm lens might be a better option. These are also a favorite of street photographers, because they capture a lot of the scene, but don't go overboard with a wider perspective.
Nikon shooters should check out the Nikkor 35mm f/1.8G lens, while Canon snappers should take a look at the Canon 35mm f/2 IS USM. Both of these lenses are well-priced and feature reasonably good optics.
Finally, for photographers who are looking for something a little longer, an 85mm prime should do the trick. The telephoto focal length results in a slight compression effect that is perfect for tighter portraits and headshots. The 85mm focal length is also a great choice for product and food photography (though you'll want to make sure the lens focuses close enough).
Canon offers an 85mm f/1.8 lens that should satisfy most photographers for cheap, while Nikon's 85mm f/1.8G lens is definitely worth a look.
Of course, the lenses listed here aren't the only prime lenses available–just some of the best deals at the most common focal lengths. And note that a prime lens kit generally includes multiple lenses, rather than a single piece of glass. So if you're not sure which focal length is the right one, you can grab the 50mm f/1.8, then purchase a wider 35mm or a longer 85mm sometime down the line.
Related Post: Best Canon Prime Lenses
For instance, if you're looking to shoot wildlife or birds, you'll want something in the 300mm to 600mm range, and there are plenty of prime lenses that will do the trick. Check out 300mm f/4 options, as well as lenses in the 400mm f/5.6 range.
The Best Zoom Lenses for Your Needs
If you've decided that you're looking for a zoom, then you'll have to decide between two basic options:
A general zoom, one that covers every focal length you're interested in shooting at.
Or a specialist zoom, which features a narrower focal length range, and will probably need supplementing with another zoom down the line to round out your kit.
If you're looking to do more casual walkaround shooting, a general zoom is a great option. If you like to capture the wider side of things but still want a nice long end, you could opt for a lens like the Canon EF-S 18-200mm f/3.5-5.6 IS, or the Nikon 18-200mm f/3.5-5.6G VR II.
Note that you don't want to get a lens with any focal lengths you don't plan on using. So if you're not into photography at 200mm (e.g., headshots, distant shots of people, tight landscapes), go for a different lens instead.
If you're willing to pay for serious quality, the Canon 24-105mm f/4L IS II is a great option, as is the Canon 24-70mm f/4L IS. These lenses are extremely sharp and offer a great range of focal lengths, but they're also expensive, so I only recommend them if you've got a lot of cash to spend. The Sigma 24-105mm f/4.0 ART lens is also worth a look (and costs significantly less!).
As for specialist zoom lenses, there are generally three sets of options:
First, there are wide-angle zooms. These are used pretty exclusively by landscape and architecture photographers, and tend to include serious optical quality for a large price tag. If this is something you're interested in, check out the Nikon 16-35mm f/4G VR or the Canon 16-35mm f/4 IS.
Second, there are telephoto zooms. These are great for tighter shots: tighter portraits (e.g., headshots), tight sports photos, and tighter landscapes. They're also good for product photographers looking for a nice compression effect. I'm a big fan of 70-200mm zooms, because they're easy to find at a decent price, and offer a nice focal length range; check out the Canon 70-200mm f/4 for a bargain option, as well as the Tamron 70-200mm f/2.8.
Third, there are super-telephoto zooms. These are made pretty exclusively for bird and wildlife photographers.
If you're looking to shoot wildlife and you want to keep the cost down, a zoom in the 100-400mm range is your best bet, such as the Canon 100-400mm IS II or the Nikon 80-400mm VR.
But if you want to capture even the smallest critters (especially birds), you'll ideally grab a lens that reaches at least 500mm. That's where zooms like the Nikon 200-500mm f/5.6 VR and the Tamron 150-600mm f/5-6.3 VC come into play.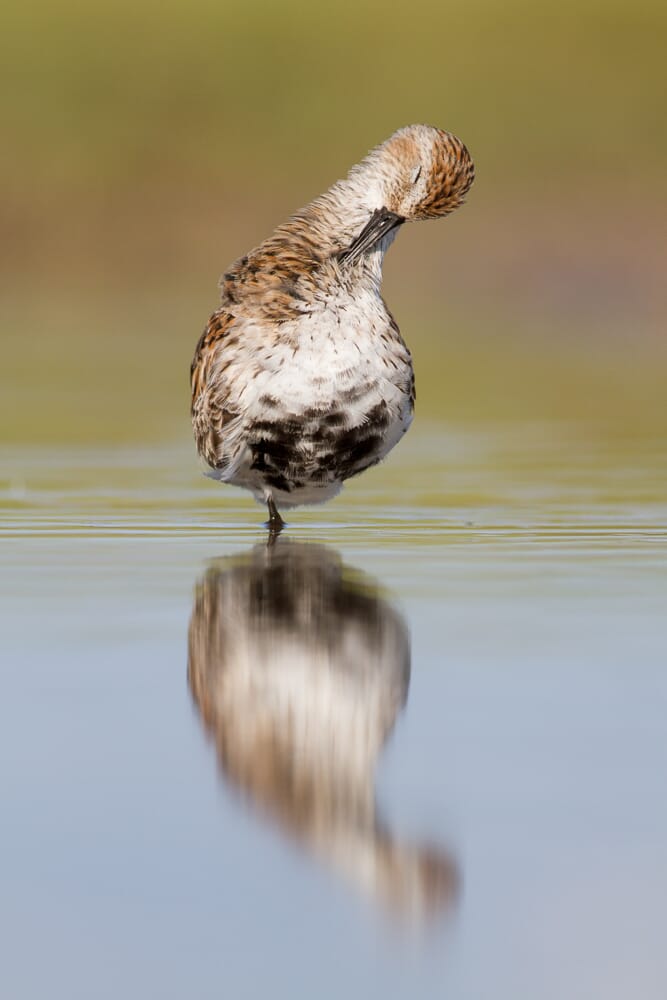 Prime vs Zoom: Next Steps
Now that you know all about prime vs zoom lenses, you should have a sense of the perfect lens type for your needs.
Prime lenses offer great optics for an excellent price, and are especially useful for photographers who know the focal lengths they'll need in advance.
And zoom lenses are deeply versatile pieces of equipment, good for extended travel.
So while neither is better than the other, there are certainly photographers who will prefer primes over zooms, or zooms over primes.
It all depends on your situation!
What is a prime lens?
A prime lens is a lens with a fixed focal length. In other words, you can only shoot at a single distance: 50mm, or 35mm, or 90mm, etc. If you want to zoom in, you have to zoom with your feet–by walking closer. If you want to zoom out, you have to step back.
What is a zoom lens?
A zoom lens is a lens that offers a range of focal lengths. Some zooms feature small focal length ranges (e.g., 16-35mm and 24-70mm), while other zooms feature large ranges (e.g., 18-300mm or 100-400mm).
Should I purchase a prime lens or a zoom lens?
Whether you purchase a prime lens or a zoom lens depends on your needs. Prime lenses tend to offer amazing optical quality for an impressive price. They also feature wide maximum apertures and are smaller and lighter than many zoom counterparts. However, prime lenses are far less convenient than zooms, because it often takes several primes to create the focal length equivalent of a single zoom. And by the time you've purchased several primes, you may be out the same amount of money as if you'd purchased one zoom lens. Here's the bottom line: If you're on a budget, and you can only afford one or two lenses, I recommend primes. They're a great way to get started with high-quality optics. But if you prize convenience over everything else and are willing to pay an increased price, zoom lenses are the way to go.
What are the best prime lenses?
I recommend looking at 50mm lenses (especially 50mm f/1.8 lenses, which are optically impressive and very cheap). If you think you prefer a more environmental style of photography, a wider 35mm lens might be a good choice. And if you want to capture tighter shots, go for an 85mm f/1.8.
Who should buy a prime lens?
You should buy a prime lens if you're looking for good optical quality for a good price, but care less about the overall convenience of your lens kit.
Who should buy a zoom lens?
You should buy a zoom lens if you're willing to pay significantly more for the convenience of having a range of focal lengths in your camera bag–so that you only have to carry one lens when you go out shooting, rather than three or four.
---
Disclosure/Disclaimer: As an Amazon Associate, we earn from qualifying purchases. Certain content was provided "as is" from Amazon and is subject to change or removal at any time.