How to Sell Photos with SmugMug
Selling photos on SmugMug is a much talked about in the photographic community. The image sharing and hosting platform has built a strong following since it was founded in 2002.
In fact, it's reached a bit of superstar status. Amateurs and professionals alike rave over the platform. And, thanks to a 2018 acquisition of Flickr, it's become a stronger force than ever before.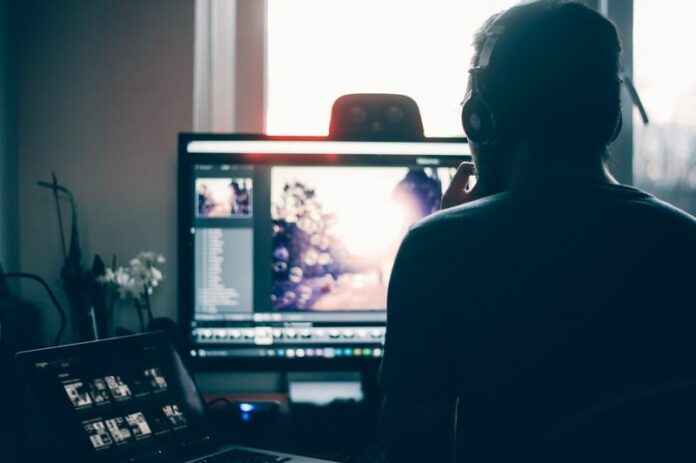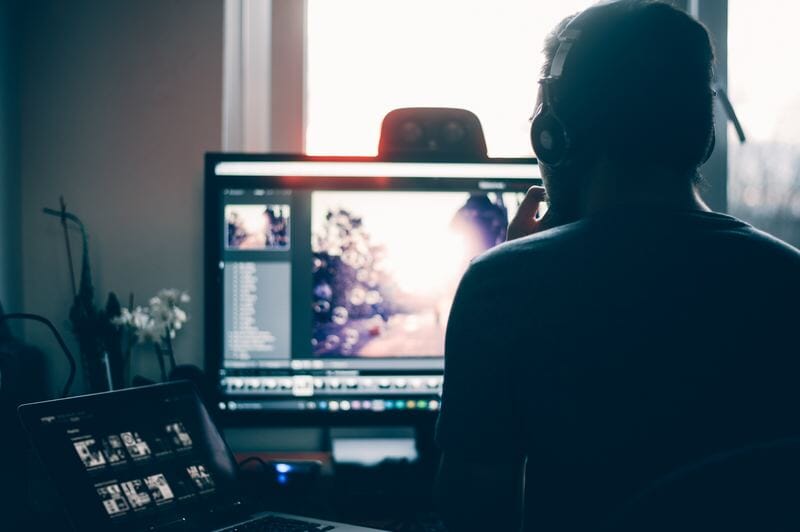 Is Selling Photos On SmugMug Viable?
There's plenty of people out there who haven't checked the service out yet. Nor have they explored the full extent of the site's capabilities. We found ourselves wondering whether SmugMug would increase the visibility of our images.
And most of all, we were curious to test out the platform's built-in marketplace.
Could it be a viable source of income for photographers eager to make a few extra dollars?
And here at PhotoWorkout we like cold hard facts.
So, we decided to take things into our own hands. We tested the service out just to answer a few of the most basic questions SmugMug skeptics ask.
RELATED POST: SmugMug vs Zenfolio (Find out Which Option is Best for You)
What Can I Expect from SmugMug?
In the past, we've had a few things to say about SmugMug. At the very least, it's a reliable platform with responsive customer support. Its arsenal of statistics, analytics, and e-commerce tools at the ready.
Recently, it's also claimed it has the "safest cloud storage available".
Now, to be clear…
There's no way to determine if it is, in fact, the "safest" option. But, its system is advantageous in that it puts no limits on how many photos or videos a user can upload.
What Selling Photos On SmugMug Is Going To Cost You
In reality, what you can expect from SmugMug depends solely on how much you're willing to pay.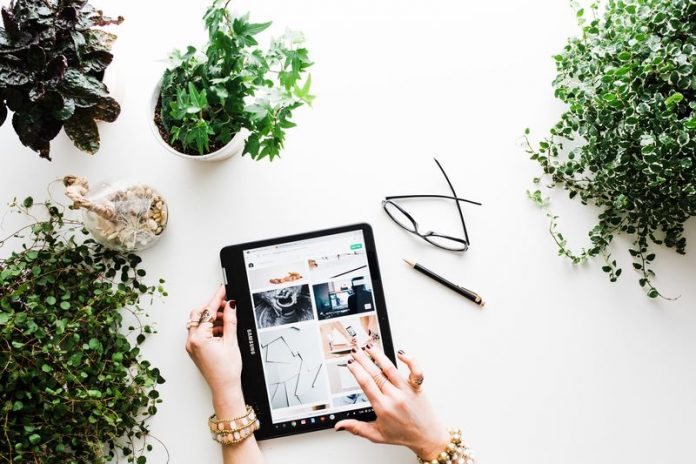 All new users get a two-week free trial. But, those who want to continue with the service will need to choose between one of the following plans:
BASIC $47.88/year ($5.99/month)
What's included:
A customizable personal website
Unlimited photo uploads
The ability to order prints from high-quality labs
POWER $71.88/year ($8.99/month)
What's included:
The basic plan features
Optional HTML/CSS customization
Use of a personal domain name
PORTFOLIO $179.88/year (23.99/month)
What's included:
The basic and power plan features
Turnkey storefront
Ability to sell digital video photo and video for download
PRO $359.99/year ($41.99/month)
What's included:
The basic and power plan features
Apply custom price lists and coupons
Group galleries for client convenience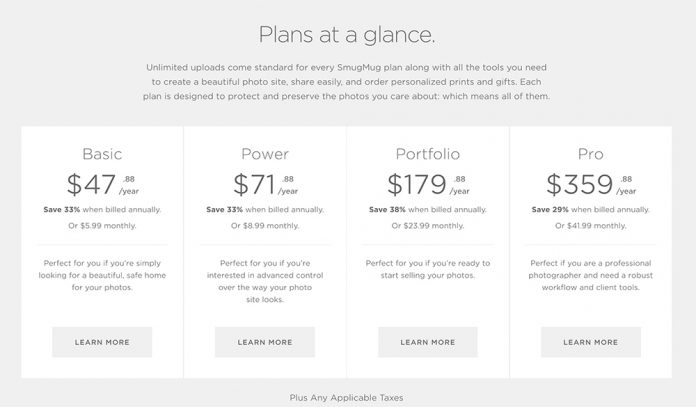 Related Post: Smugmug Alternatives
Selling photos on SmugMug can open some new doors for budding photographers. Plus, it's easy to build SmugMug into your existing workflow.
It's especially easy if your workflow involves Lightroom…
How Do I Sync my Lightroom Catalog with my SmugMug Account?
Do you already use SmugMug and Lightroom? If so, there's no reason not to download the free SmugMug Lightroom plug-in.
For Lightroom 6 or earlier:
Unfortunately, users utilizing LR6 or earlier will have to plugin manually. Luckily, even the old fashioned approach only takes a few minutes to do and you'll be selling photos on SmugMug in no time.
First, you'll have to download and unzip the plugin. You can find it on the SmugMug website. Once the file is accessible, move it into one of the following folders:
Mac OSX users:
/Users/your-username/Library/Application Support/Adobe/Lightroom/Modules
Windows Vista/7/8/10 users:
C:Usersyour-usernameAppDataRoamingAdobeLightroomModules
Windows XP users:
C:Documents and Usersyour-usernameApplication DataAdobeLightroomModules
Once you've moved the file, boot up Lightroom. Head to the Plug-in Manager, then add the SmugMug plug-in. That's all there is to it!
Lightroom 7 or Later:
Running a newer version of Lightroom? Lucky you! The installation process is already automated for you.
Just open up the Library module in Lightroom. Then look for a tab titled Publishing Services on the left-hand navigation panel.
Under that tab, you'll encounter the familiar SmugMug logo.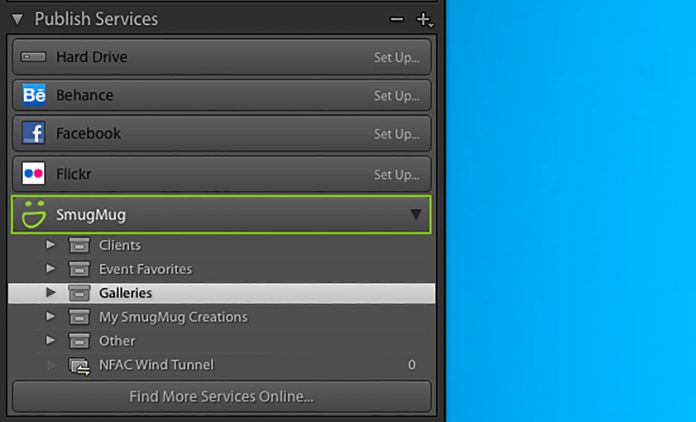 Pressing on the logo prompts users to "Set Up".
You'll go through a SmugMug authorization check, then the process is over and the plug-in will be ready to run!
Badda-bing, badda-boom!
RELATED POST: Lightroom Workflow Guide (Simple Tips To Get You Started)
How Does the Plug-in Work?
We've discussed just how easy it is to install Lightroom's SmugMug plug-in.
But, what exactly does it accomplish?
You can synchronize SmugMug galleries with your Lightroom catalog using the Publishing Manager. Without ever having to leave Lightroom.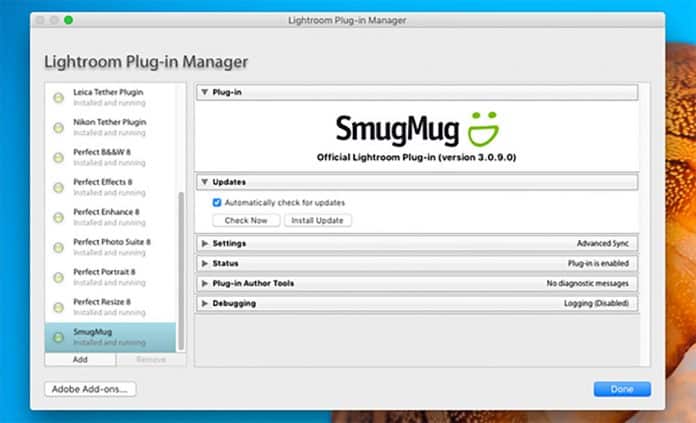 Think of all tags and metadata you use to keep track of your shots.
Now imagine this…
What if you could instantly migrate those to your SmugMug photographs.
Whoa, right?!
Think about how convenient it would be if Lightroom edits were automatically applied to SmugMug selections. But… without the need to upload new edits.
The SmugMug plug-in makes these tasks easy to accomplish.
This is a big time saver if SmugMug is the final destination for your photos. You can also organize your cloud archives using the same format as your existing cataloging software.
For smooth photo management, this plug-in is a must-have accessory. That is if you plan on selling photos on SmugMug.
Up-to-date edits are also a benefit for those seeking to turn a profit through the platform.
RELATED POST: The Best Software to Organize Your Photos On A Windows PC
Selling photos on SmugMug is a privilege users on competing platforms don't get to enjoy. Integrating the Lightroom plug-in speeds the process of selling photos online.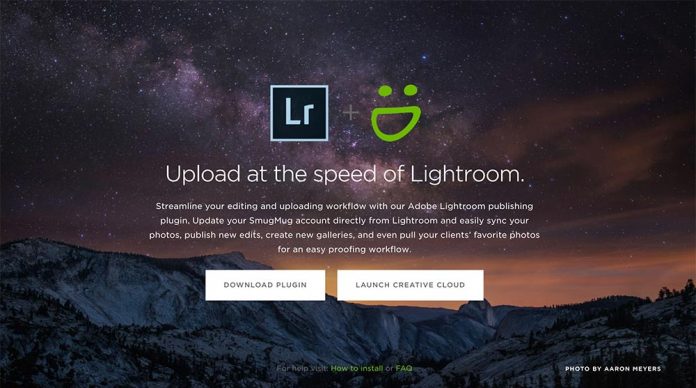 Can I Really Make a Profit Selling Photos on SmugMug?
Whether selling photos on SmugMug is worth it or not depends on your expectations.
Artists selling through SmugMug keep 85% of their product's base cost. Some people consider this a huge profit margin. Others feel that artists should get to keep 100% of their sales.
The 15% SmugMug pockets cover things like customer service and credit card fees. Then again, users pay monthly or annual fees, and some feel that charging user's extra is flat out unfair.
Those willing to fend for themselves may be willing to sacrifice the ease of SmugMug in exchange for a larger slice of the profit pie.
RELATED POST: Best Photo Portfolio Websites Compared (11 Amazing Picks)
It's certainly possible to make money using SmugMug. Although it may not make you a millionaire.
The Truth Is:
Part of how much you earn will always come down to your own marketing strategies and what you have to offer potential customers.
Selling photos on SmugMug does help get your work out there for interested parties. Now more so than ever, the company has placed emphasis on sharing. This makes the work of photographers more visible to new audiences.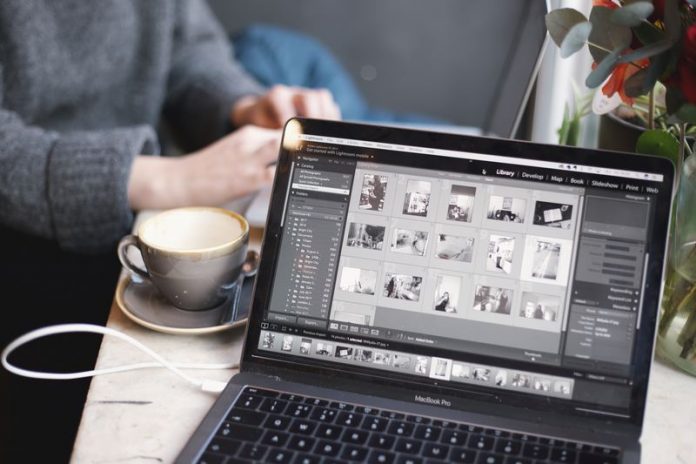 On top of that, the included e-commerce tools help send your images out even further.
What's more, selling photos on SmugMug takes out some of the guesswork that comes with operating a similar business alone. Clients can have their images printed at some of the most renowned print labs in the US and UK.
That means that customers can expect to receive a quality product every time they order. Furthermore, its online marketplace is clean, intuitive, and easy to navigate.
While these may seem like small details, a bad web experience can drive a potential customer away. The easier the ordering experience, the more likely a person is to go through with a purchase. Working with less established turnkey stores or homemade order sheets may deter people from your online work.
One of the best things about selling photos on SmugMug?
The product you're selling doesn't always need to be a print. Not finding much luck reaching clients anxious to put your work on their wall?
Try making your files available to purchase as a download instead.
Having many different buying options attracts a wide variety of customers.
So, be willing to experiment!
Pay attention to how others interact with your image. Learn from that and adjust your products accordingly. Then the more likely you are to make sales and find success selling photos on SmugMug.
RELATED POST: Stock Photography Tips: What Are Buyers Looking For?
Gone are the days in which SmugMug was just another photo platform for wanna-be photographers. After nearly two decades of growth, it's grown into a cloud safe haven for digital archives. It broadens horizons for admirers and vendors alike.
And, most importantly, it provides fiscal opportunity via direct image sales.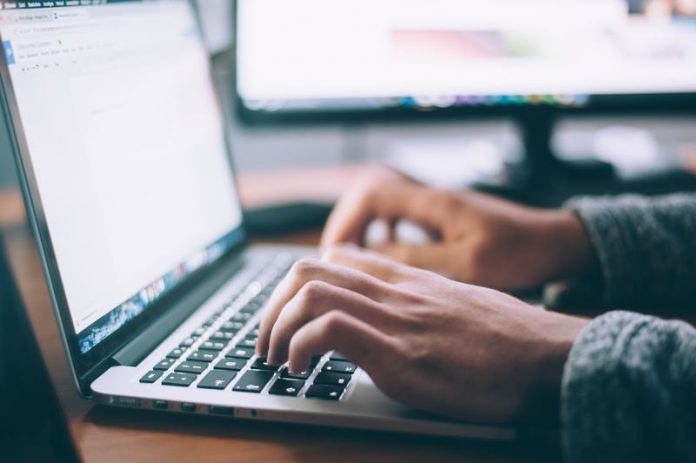 Selling Photos On SmugMug Is Worth A Try
If you're curious about selling photos on SmugMug, I'd say this platform is worth a shot.
And make sure you get the Lightroom plugin!
Check out SmugMug's latest offerings and choose the path that works for you today!