Shutterstock and Adobe Stock are arguably the best and most popular stock asset websites on the internet today. The former has been a staple in the niche since 2002, while the latter was launched three years later by one of the most trusted software companies in the world.
Collectively known as "stock assets", stock photos, footage, and graphics are considered a designer and editor's lifesavers. A case in point is when they do not have the means to create assets of their own or the budget to conduct a professional photoshoot—either for personal or commercial purposes.
Both global marketplaces have garnered a lot of success throughout the years.
But which stock photo site is truly better: Shutterstock or Adobe Stock?
Read on to find out what we think.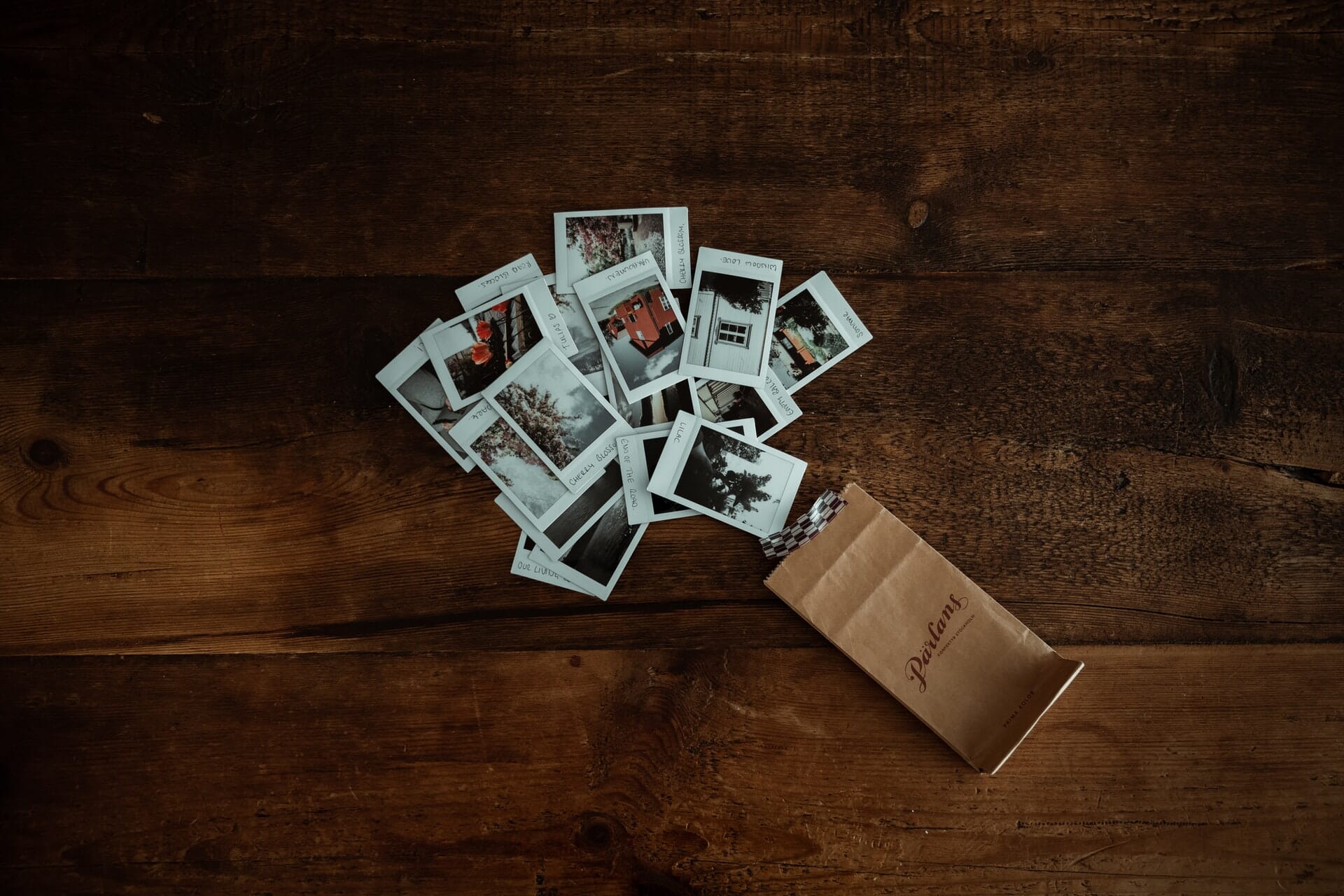 Shutterstock vs Adobe Stock:
When you buy through links on our site, we may earn a commission at no cost to you. We evaluate products independently. Commissions do not affect our evaluations.
Shutterstock: Overview
Shutterstock is a website known for its large stock photography, footage, and music selection. You can access its library of over a billion royalty-free photos submitted by more than a million site contributors at a reasonable subscription price.
These photos range from vector graphics to professionally taken images. They even have over 10 million videos and music that you can use for your editing purposes without worrying about royalty fees.
| | |
| --- | --- |
| Pros | Cons |
| Large selection of assets (photo, video and music) | Selection of free images are watermarked when downloaded |
| Great budget option for teams and enterprises | Lack of efficient integration with different applications and software |
| Variety of subscription plans | Subscription credits expire at the end of the month (does not apply to "on-demand" credits, which stay active for one year) |
| Has an online photo editor | The team account is expensive |
Adobe Stock: Overview
Software giant Adobe contributes to the stock asset catalog with Adobe Stock. Competitively, it also has over 200 million high-quality and royalty-free assets within its collection. These include photos, videos, vector graphics, and more.
Adobe Stock specifically stands out due to its seamless integration with other Creative Cloud software, allowing its users to preview and license different creative assets within the aforementioned applications. The site also lets you easily search for the content you want by using content, color, and composition filters.
| | |
| --- | --- |
| Pros | Cons |
| Large selection of assets (photo, video, music and even 3D assets) | Too many varieties of licensing makes it confusing |
| Higher quality selection of photos | Not easy for teams & enterprises to use |
| Powerful native integration to Adobe applications | Software integration is limited to only Adobe software |
| Has an online photo editor | |
Adobe Stock vs Shutterstock
At one point, as a creative content creator, you must have asked yourself which stock collection software to use: Adobe Stock or Shutterstock? It's a valid question, but the answer varies depending on the features you want to prioritize.
Here's a quick overview of some of the features that these two sites have to offer:
| | | |
| --- | --- | --- |
| Feature | Adobe Stock | Shutterstock |
| Plans | Two plans to choose from: Credit packs Subscriptions | Separate plans for images, videos, and music |
| Free trial | One month | One month |
| Free downloads | Free downloads with a free account in the free assets section | 10 free images with a 30 days trial account |
| Image and search quality | Higher | Lower |
| App Integrations | Allows for integration with Adobe's Creative Cloud software | Allows for plugins to integrate with different desktop applications |
Related Post: Best Stock Video Sites
Below, we give a more thorough rundown of each of these features.
Plans
Both Shutterstock and Adobe Stock offer a wide variety of plans to choose from that you can pay for either annually or monthly.
1. Shutterstock Plans
For images, you have the following options:
Plan
Features
Price
On-Demand
Standard License
5 image downloads within one year
25 image downloads within one year
$49
$229
Enhanced License
2 image downloads within one year
5 image downloads within one year
25 image downloads within one year
$199
$449
$1,699

FLEX Subscription
All-in-one plan including images, videos, and music allowing the spending of up to 25 credits per month
$49 annual plan, billed monthly
$499 annual plan, billed upfront
$69 monthly, no contract
Image Subscription
A subscription for a fixed number of image downloads per month for one user


10 downloads
50 downloads
350 downloads
750 downloads
Annual plan billed monthly:
$29/month
$99/month
$169/month
$199/month


10 downloads
50 downloads
350 downloads
750 downloads
Annual plan, billed upfront:
$299/year
$979/year
$1649/year
$1,999/year


10 downloads
50 downloads
350 downloads
750 downloads
Monthly plan with no contract:
$49/month
$125/month
$199/month
$249/month
Team
750 downloads per month
$479 per month
Enterprise
Customized packages for customized needs
Billed after contacting the website
Shutterstock vs Adobe Stock subscription plans
If you want to add some music to your creations, Shutterstock also has them. You can choose between a single standard or an enhanced license:
| | | |
| --- | --- | --- |
| License | Features | Price |
| Standard | Personal use license | $49.00 |
| Enhanced | Personal use license for up to 1k copies or downloads | $419.00 |
Lastly, for Shutterstock's video clips, you can choose to have 5, 10, or 20 clips a month.
| | | | |
| --- | --- | --- | --- |
| Payment options | Cost of 5 clips per month | Cost of 10 clips per month | Cost of 20 clips per month |
| Annual payment billed monthly | $99 | $159 | $199 |
| One month subscription with no contract | $189 | $359 | $669 |
| One year subscription billed upfront | $949 | $1599 | $1999 |
2. Adobe Stock Plans
Adobe Stock's plans and pricing are quite different from Shutterstock. Each Adobe Stock subscription gives you access to its standard assets. These include:
High-resolution images
Vectors
Illustrations
Templates
3D
Music tracks
To have access to their Premium assets, you will need to use credits to purchase them. More on that later. Meanwhile, here's how much a subscription with Adobe Stock will cost you, depending on the number of assets you want access to per month:
Subscription Plan
Features
Pricing
10 standard assets a month
Includes standard assets

Can roll over up to 120 unused licenses
Annual commitment: $29.99/month

Month-to-month commitment: $49.99
25 standard assets a month
Allows for a mix of standard assets and HD videos with varied prices

Can roll over up to 300 unused credits

20% off purchases on 4K videos, extended licenses, and premium assets
Annual commitment: $49.99/month

Month-to-month commitment: $69.99
750 standard assets a month or 25 HD videos a month
Allows for a mix of standard assets and HD videos with varied prices

20% off purchases of 4K videos, extended licenses, and premium assets
Annual commitment: $199.99/month

Month-to-month commitment: $249.99
As mentioned earlier, Adobe Stock also gives users the option to purchase credit packs. These can then be used to buy different licenses, depending on what a user might need.
One credit can get you a standard license to access standard, high-quality images or standard templates and 3Ds. To access HD and 4K videos, you will need 8 and 20 credits, respectively. Don't worry because, unlike the subscriptions, these credits don't auto-renew every month, and they expire a year after you buy them.
Here's how much you'll need to pay if you'd rather purchase credits than pay for an Adobe Stock subscription:
| | |
| --- | --- |
| 5 credits | $49.95 |
| 16 credits | $149.99 |
| 40 credits | $359.99 |
| 80 credits | $669.99 |
| 150 credits | $1,200.00 |
Free Trial
Both Adobe Stock and Shutterstock offer a one-month free trial for those who aren't ready to commit to a subscription plan yet. With the free trial, you get to test out all of their features first to see if what they have to offer is something you might need. If you like what they have or feel that they have something that you can use for your own content, you can then upgrade to a paid plan.
Free Downloads (with a free account)
You can find lots of free stock assets in Adobe Stock. It has a separate section just for these types of items. However, you only get 10 free assets from this library when creating a free account. Likewise, Shutterstock offers the same.
The difference is Shutterstock's free downloads have watermarks on them. Here is a comparison of images downloaded using free accounts on both sites: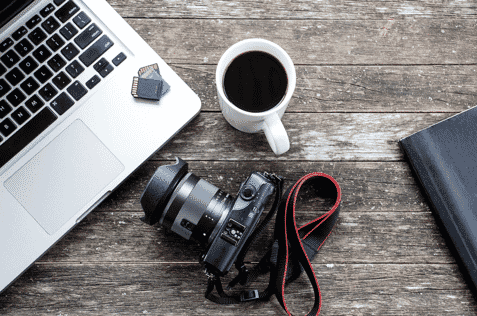 Adobe Stock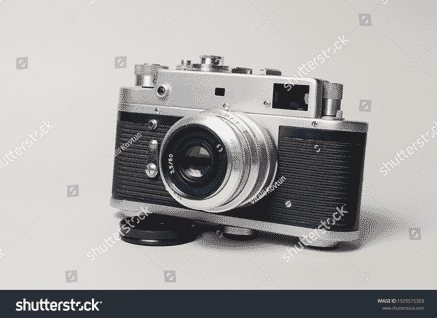 Shutterstock
App Integrations
Moving forward to systems, the popular software Photoshop and Illustrator are both from Adobe. So, if you're already using these to create your content, then it'd make sense for you to stay in the Adobe ecosystem and choose Adobe Stock.
Being from the same company means that it allows integration within the native software, and you can access your licensed assets directly while editing.
Unfortunately, Shutterstock does not have existing tools and software systems like Adobe. However, they do have their own built-in browser-based editor called Shutterstock Editor. This user-friendly and straightforward app lets you create and customize designs, but it's not as feature-heavy as desktop-based applications.
However, you can still integrate Shutterstock into your native applications like the usual Adobe software, Chrome, and Google Slides. You can do this by using Shutterstock's plugins and extensions.
Image Quality
Of the two, Adobe Stock has higher image qualities than Shutterstock, which is also why you have to pay more to enjoy Adobe Stock's features. This is due to the difference in their upload guidelines and Adobe Stock having stricter rules.
Here is a comparison of some of the image results you get when searching using the keyword "house":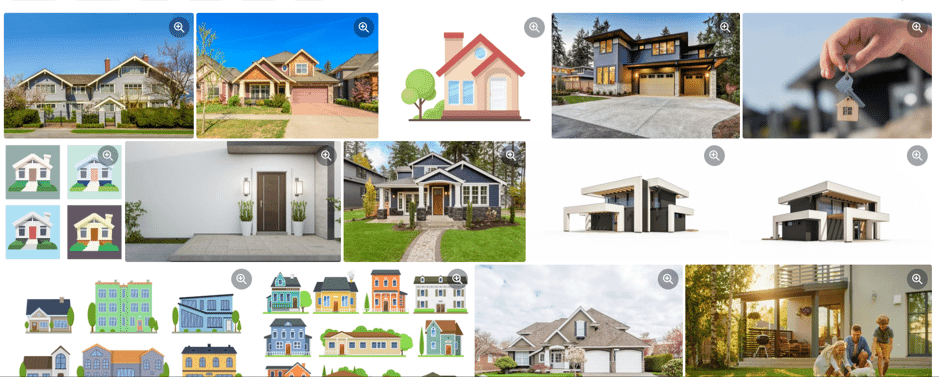 Shutterstock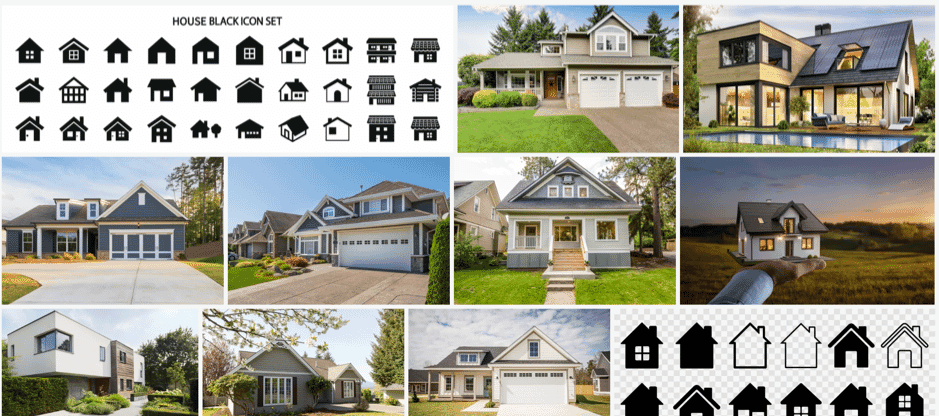 Adobe Stock
Which Stock Photo Subscription Should You Get?
Truthfully, neither one is ultimately better than the other. Both have a pretty extensive collection and their own pros and cons. It's impossible not to find what you need with either subscription. So, when it comes to choosing which stock photo subscription you should get, it all boils down to a matter of preference and usage.
If you're on a budget, then Shutterstock is the more practical option because of its cheaper subscription plans. Shutterstock provides its users with hundreds of millions of licenses for assets that can be used for editing and graphic design. It is also great for businesses that constantly need photos to utilize for commercial use.
But for artists and graphic designers, we would argue that Adobe Stock is the better option. It has a robust collection of higher quality and evergreen files. And if you're in the market for 3D assets, then Adobe Stock is the clear choice, since Shutterstock does not provide any of these in its selection.
Conclusion
Stock photos are some of the best ways to visually spice up your projects for personal, advertising, or marketing purposes. They're readily available online, not to mention quick and easy to access. Plus, they have royalty-free licenses, so you can do away with worrying about the legal consequences of downloading random images from the internet.
Adobe Stock and Shutterstock are both great options. They are among the best stock photo sites and have a vast collection of stock photos for you to select from.
If you are not sure about the quality, you can even just sign up for a free account and download from their list of images at no cost.
Rather than planning a photoshoot that includes scouring for a nice area, paying for a model, and spending a whole day trying to get everything right, you can get what you need straight from the internet and get to work immediately.
So, which stock photo subscription should you get? We'll let you decide.