Image management and optimization are vital in modern digital businesses. In this Sirv review, we look at why this platform is useful, and how it could help your online business.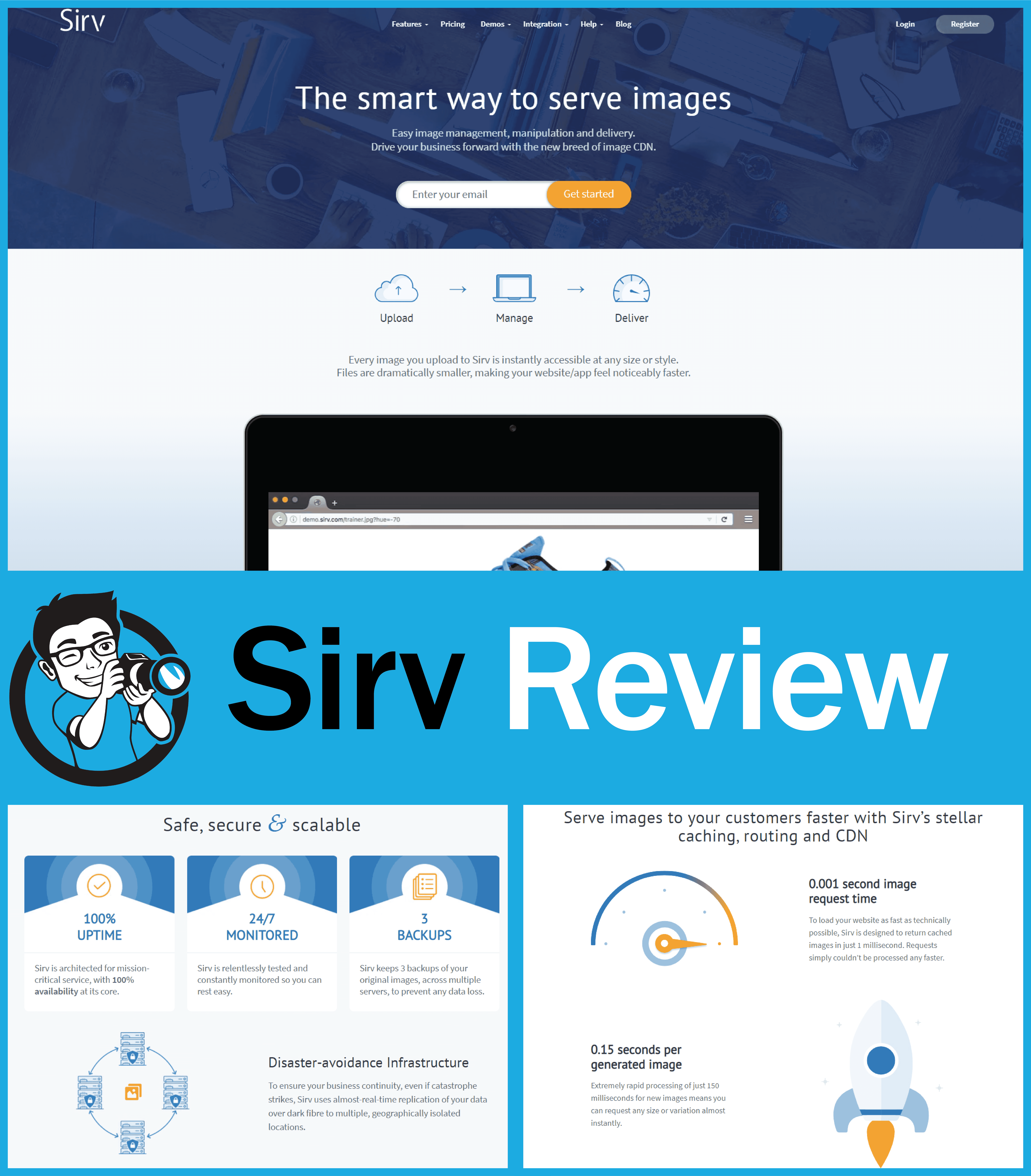 Sirv is an image management tool that provides numerous services that help you manage and optimize your images. Read our Sirv review to find out exactly what this platform has to offer:


What is Sirv?


Founded in 2007 in the UK, Sirv's primary function started out as an image management tool. Since then, the platform has developed and provided services for various customers including Walmart, Toyota, and Sony.
Sirv was created on the idea that images account for 60% of web traffic and that many businesses simply don't optimize images in the correct way. Currently, Sirv offers the following services:
Image storage
Resizing of images
Image optimization
Responsive images
Image display features including zoom and 360 views.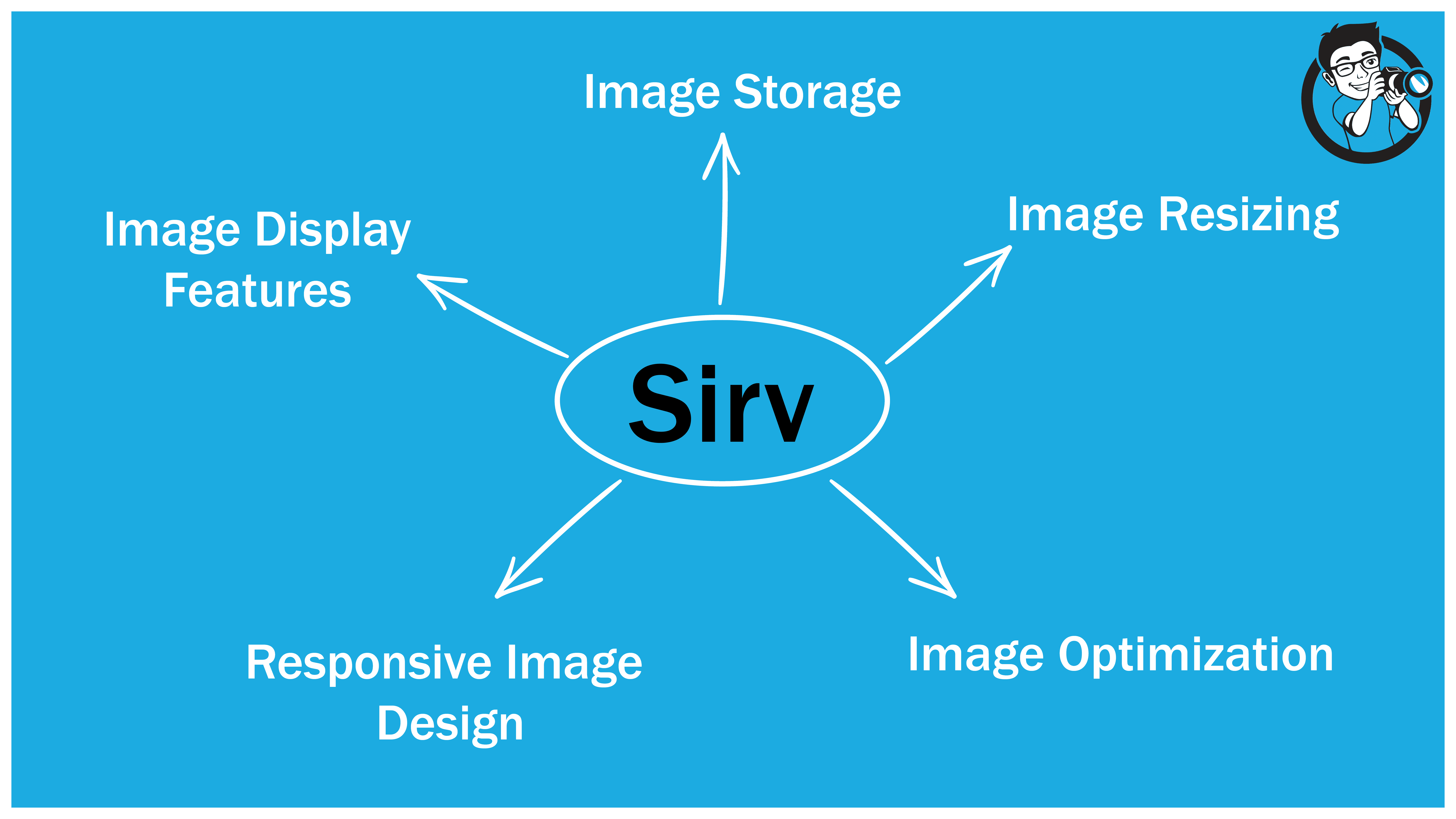 Basically, if you regularly use images in your work (like photographers do), Sirv is a useful platform. Using Sirv helps improve efficiency, SEO ranking, and web content optimization. It also makes image management simple. In the following sections of our Sirv review, we look at pricing, features, and usability.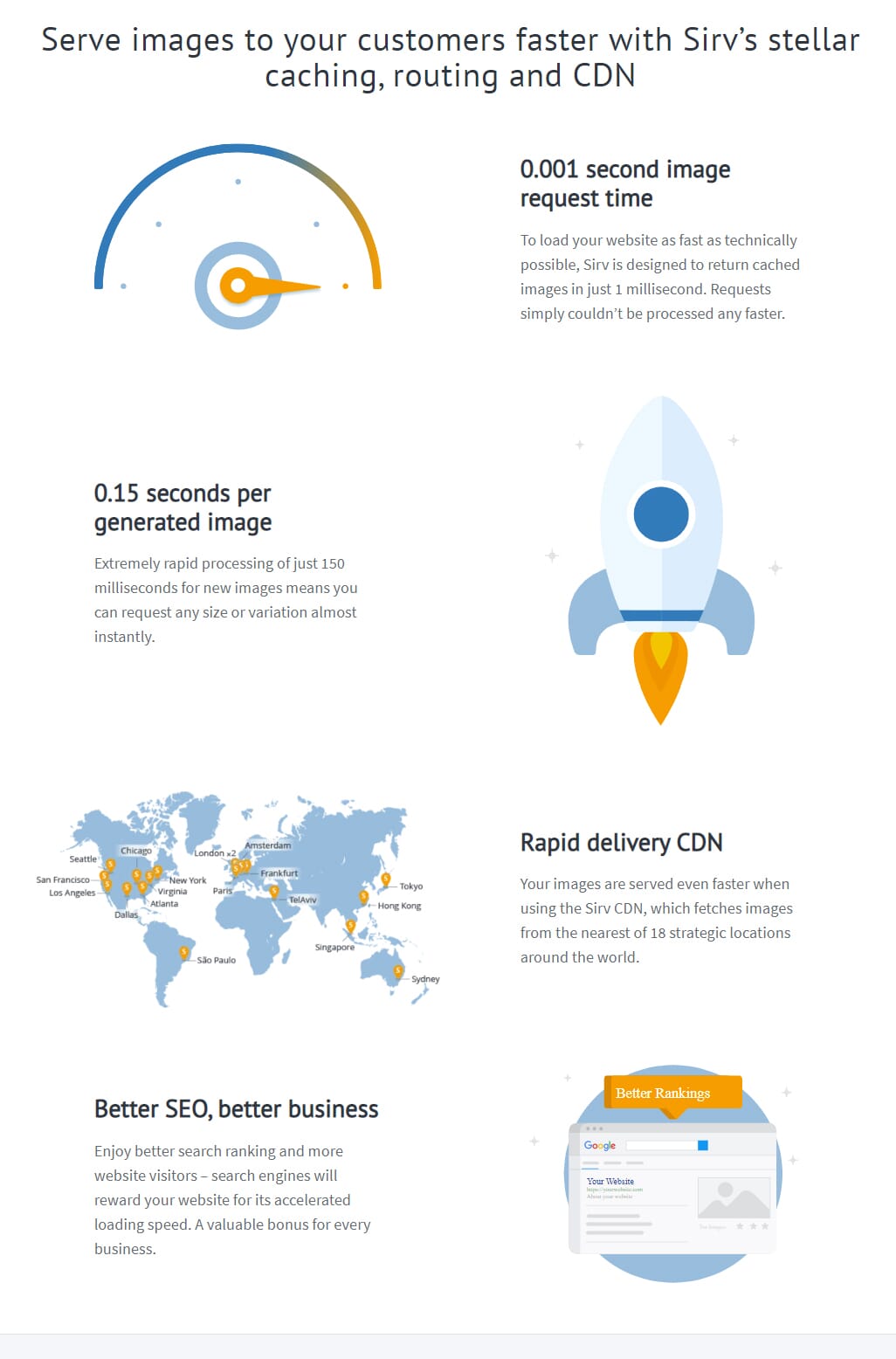 Sirv Review – Price Plans, Availability, and Platforms
In the first part of our Sirv review, we look at pricing, availability, and demo material. When using the Sirv website, users find tons of useful information. Sirv has gone out of their way to ensure users have an abundance of information about the services offered.
Pricing
Sirv offers a simple pricing structure. Three different packages to suit different business sizes. Flexible payment methods are also available, with monthly or annual subscriptions. If you choose to pay annually, you will receive a discount.
The current plans available are: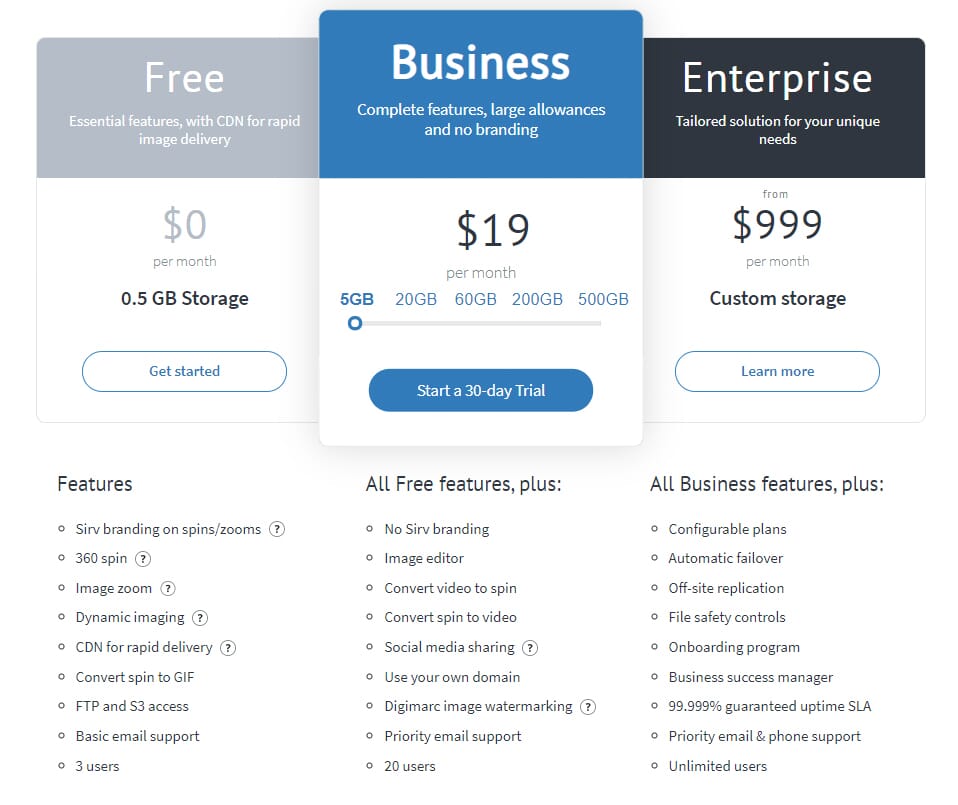 The free package offers 500MB storage, 2GB data transfer, unlimited uploads, 3 user accounts, and basic image editing. If you have a small blog or personal website, the free price plan is a great choice. The only downside is that free users don't have access to all of the image features such as converting to video, and social media sharing.
If you're considering the business plan, prices start from $19.00/month. Included in this are 5GB storage, 20GB data transfer, unlimited uploads, up to 20 user accounts, and advanced image editing. The business plan offers storage options from 5GB through to 500GB, allowing for business growth. The business plan also offers additional image features compared to the free plan.
If the business plan doesn't suit your needs, Sirv is willing to be flexible and come up with a tailor-made solution under the enterprise plan. This is something you might want to consider if you're a very large business with specific needs. Prices start from $999, but users must enquire for full details and to discuss options with Sirv.
Availability
As part of our Sirv review, we looked at availability. Sirv is basically available on any modern web browser. It can run on any type of device including smartphones and tablets. Furthermore, Sirv is available as a plugin for various platforms including:
WordPress
WooCommerce
Shopify
Drupal
Squarespace

As a plugin, Sirv is extremely easy to use and accessible. This gives the program even more versatility – users can either use Sirv as a standalone image management system or integrate it into their existing workflow.
Demos
Before committing to Sirv, users have the opportunity to try out numerous demos. The Sirv website has a whole section dedicated to demos of the different image tools. Users can also view live demonstrations to see how various tools work. We think this is a fantastic feature as it gives users detailed insight into how the platform works and what can be done with it. Demos available include:
Deep zoom
Responsive imaging
360 Spins
Image zoom
Dynamic imaging
3D spin with controls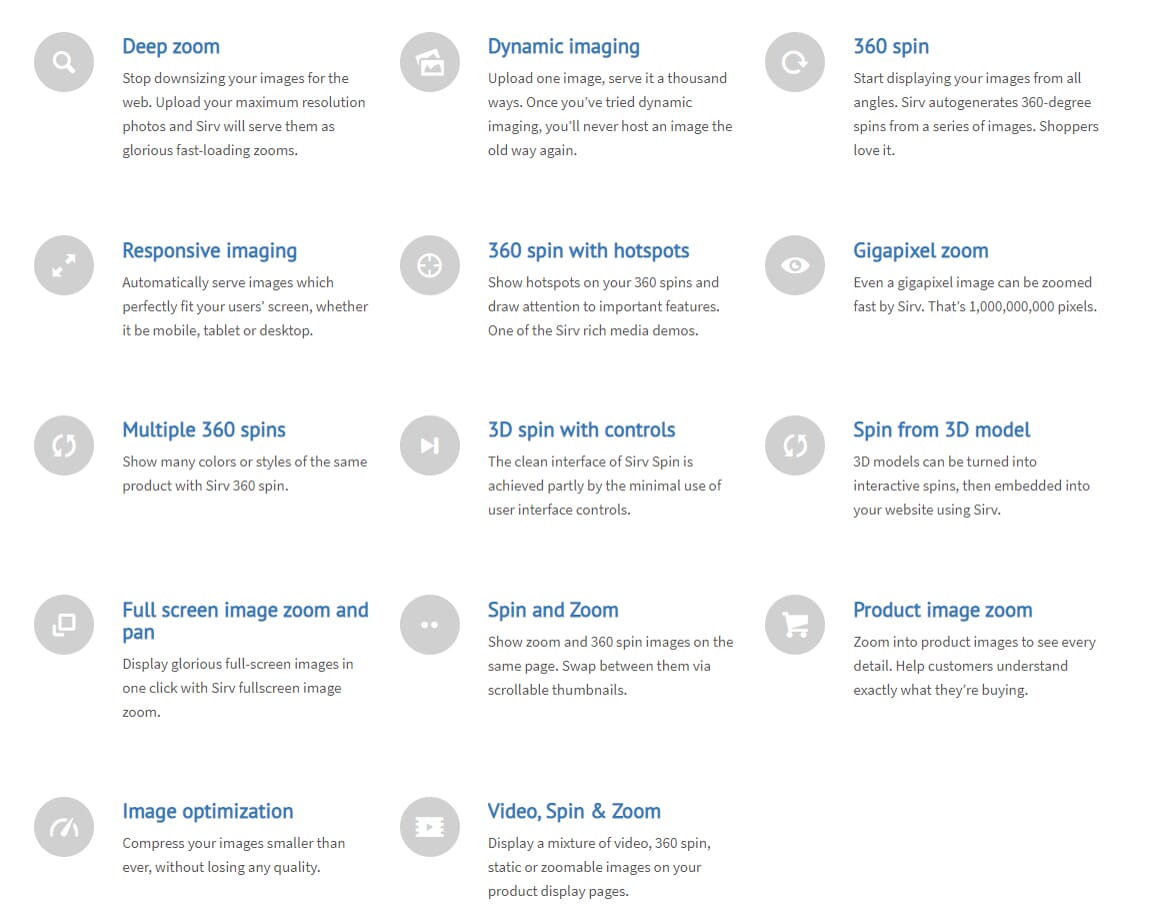 We looked at the live demos and found they gave an accurate representation of what users can expect from the Sirv service.
Main Features
Sirv has some amazing features. As part of our Sirv review, we're going to explore these features in-depth.
Image Management



The main function of Sirv is to provide image management.
If you access the main account page, you are at the heart of your image management system. A standard control panel and toolset allow users to quickly upload and organize photos. The interface itself is user-friendly.
Users can create detailed folder structures with just a few clicks. If you want advanced options for folders, they are available! These options include sharing the folder and exporting it as a CSV file. If you want to manage photos, Sirv has an excellent set of tools and options.
Sirv Review – Image Processing
One of the best tools available is the image processing and editing tool. Aside from simply uploading and inserting images, users also have various editing tools available. Tools available include:
Format
Light
Color
Levels
Effects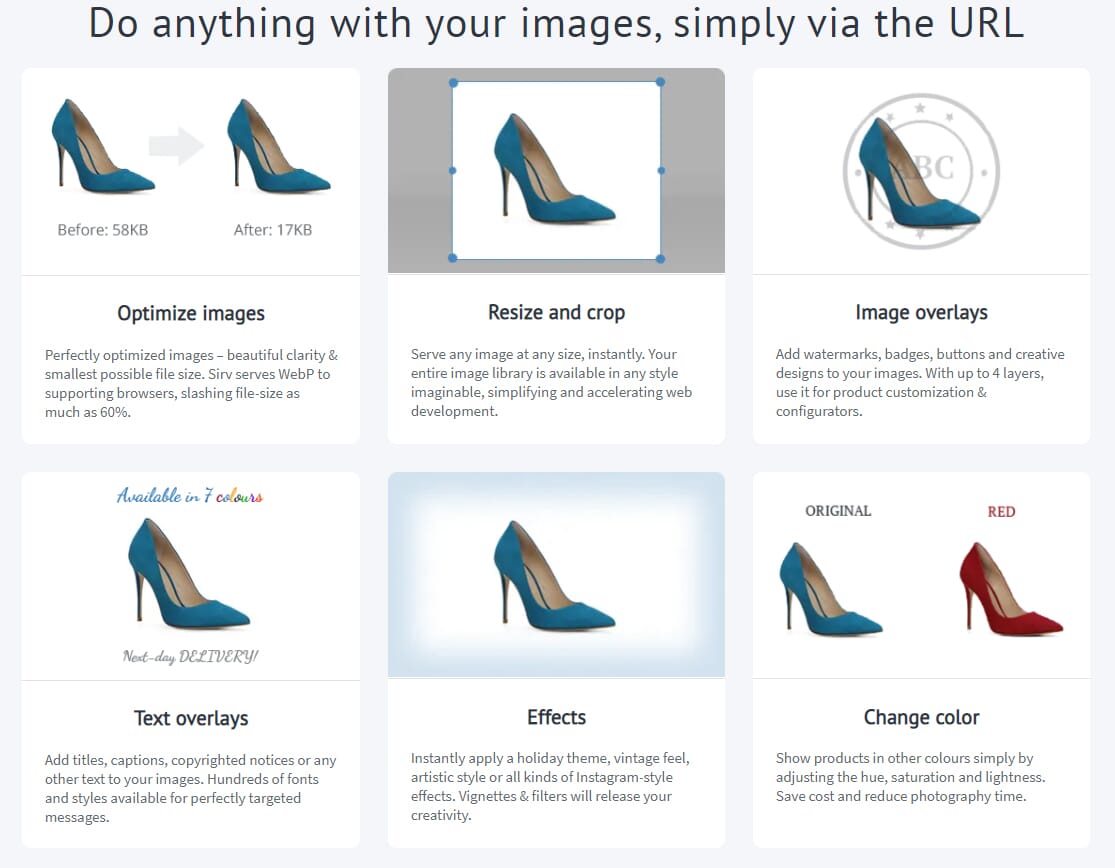 Formatting includes basic image options such as PNG optimization. Default settings render image quality at 80%.
Light settings allow users to alter basic image parameters including brightness, contrast, and exposure.
Whilst the color tab allows users to change saturation, lightness, and hue.
Finally, the filters tab provides a myriad of filters including vignette, sharpen, and borders.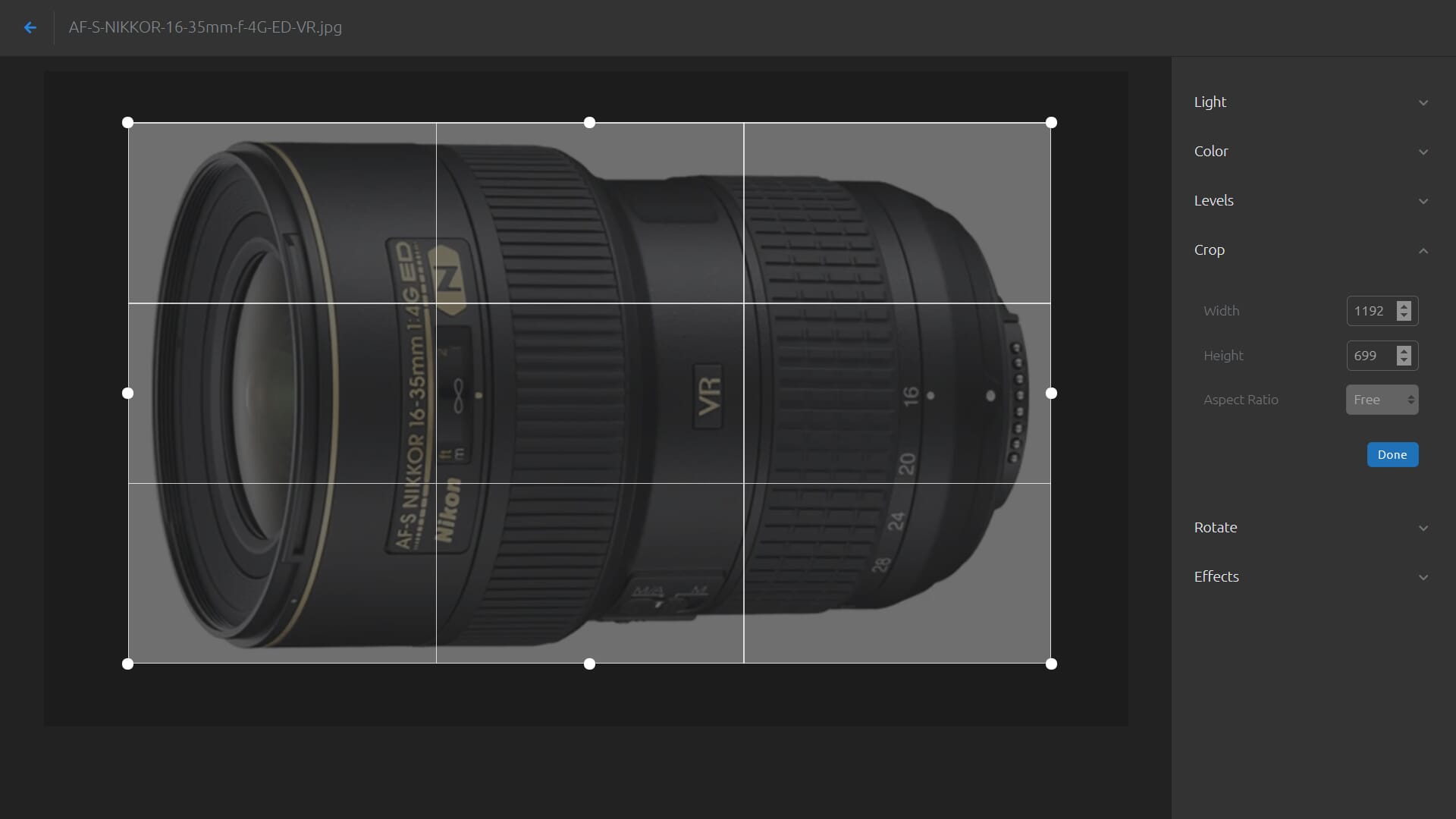 Sirv processing tools are simple and easy to use. To alter most elements, you use sliders. And if you don't like an edit, just hit the master reset button. These processing tools provide users with extra control and functionality.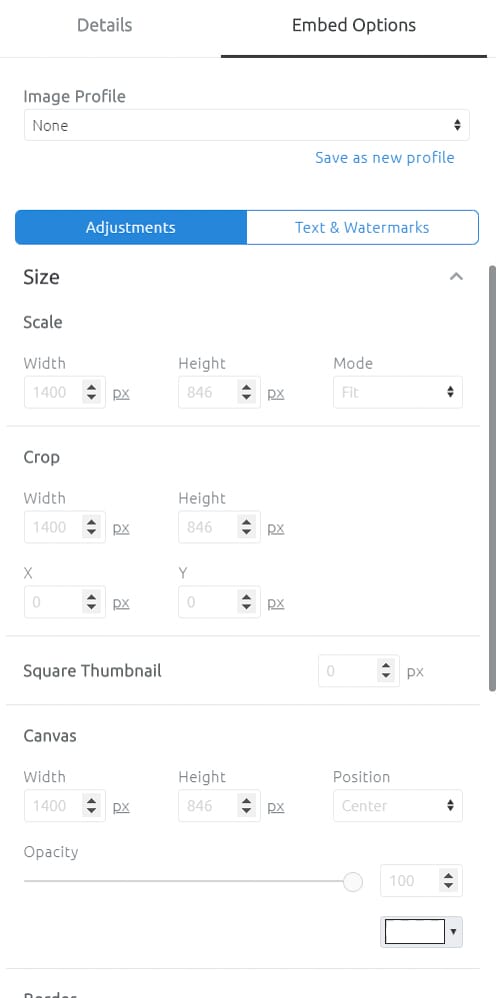 Responsive Image Resizing
Until solutions like Sirv came about, if you wanted to display images in different sizes you had to put in a lot of work. If you have Sirv, it does the work for you.
Default settings make all images uploaded to the platform responsive. But instead of using several pre-determined sizes, Sirv resizes the image based on the exact dimensions of the browser. It's ultra-precise.
The below image is responsive and should scale regardless of browser size – try resizing the browser to see how the image automatically changes the size: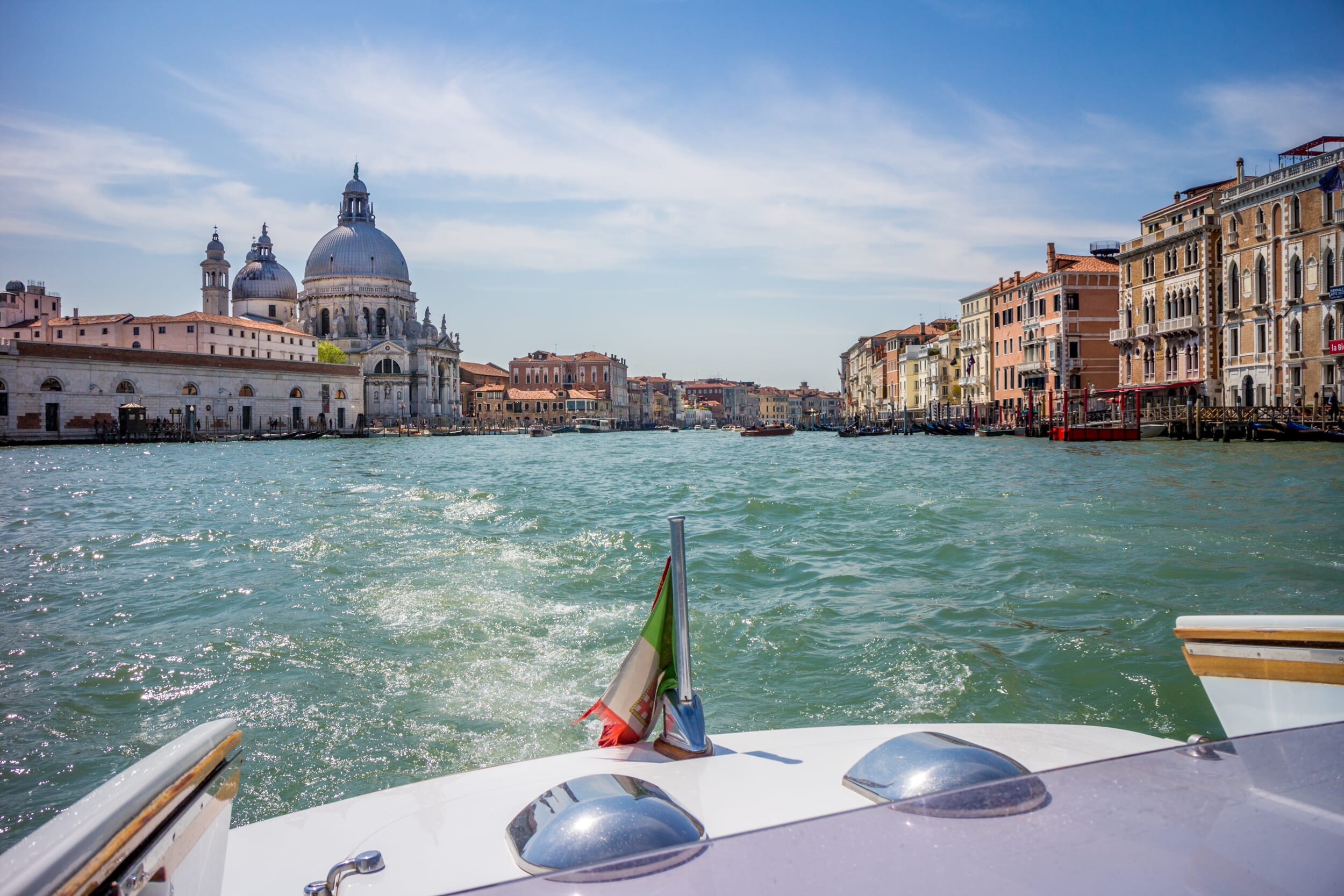 Sirv Review – Image Optimization
Optimizing images is a key aspect of web content. Why? First, optimized images reduce loading times. This helps improve SEO and also boost user engagement. Which, in turn, can lead to increased conversions and revenue.
Related Post: Must-Know SEO Tips for Photographers
So how do you optimize your images using Sirv?
Well, truth be told, Sirv automatically optimizes images. Yes, that's right, you don't have to do anything.
How does Sirv optimize images?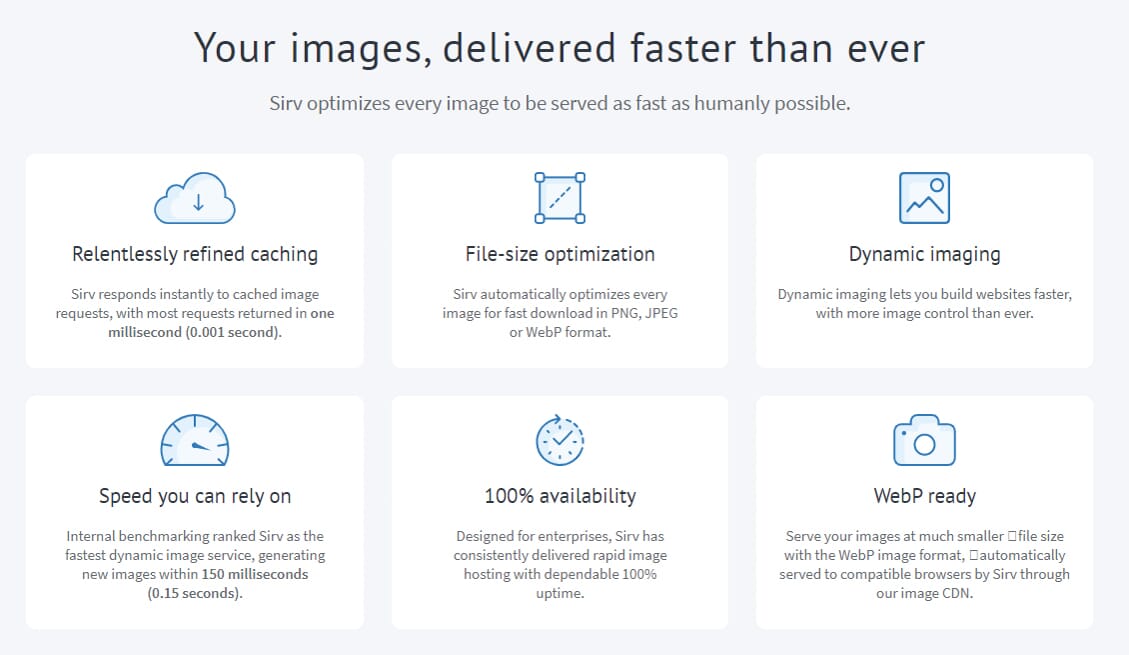 Sirv optimizes your images by compressing them and converting them to a WebP format. This means that images are between 25-30% smaller than the original JPEGs.
In addition to this, Sirv uses an ultra-fast CDN. This ensures image loading times are insignificant.
We found the image optimization to be a huge plus of this service. If you want to rank high for SEO purposes and provide website visitors with an excellent experience, Sirv certainly helps.
Image Zoom & 360 spin
Sirv features two awesome tools – Image Zoom and 360 image spin. Whilst creating our Sirv review we enjoyed testing these features and looking at the end results.
Both features are freely available and are essential for product display. If you have an e-commerce business, the zoom feature alone is worth subscribing to Sirv for.
Image Zoom
We absolutely love this feature. How many times have you looked at a product image and wanted to see extra detail but can't?
Using Sirv zoom, users can hone in on small details easily.
If you want to incorporate the zoom feature, an automatically generated HTML code is provided to insert the image.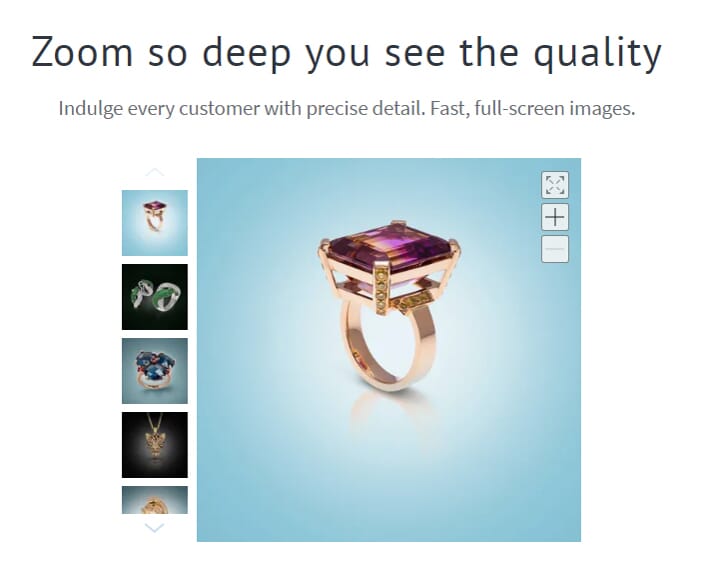 Zoom images have a control menu in the top right-hand corner. This menu has a full-screen toggle, and plus and minus zoom buttons.
When using the zoom tools, the transition is smooth, and the zoom quality is superb.
It's important to note that the quality depends on the original resolution of your image. If you create a zoom version of a low-resolution image, the resulting zoom is pixelated.
360 spin
If you can capture 360-degree images, Sirv can transform them into 360-degree spin images.
The 360 spin looks superb and has smooth transitions – there is no lag, and the controls are easy to use.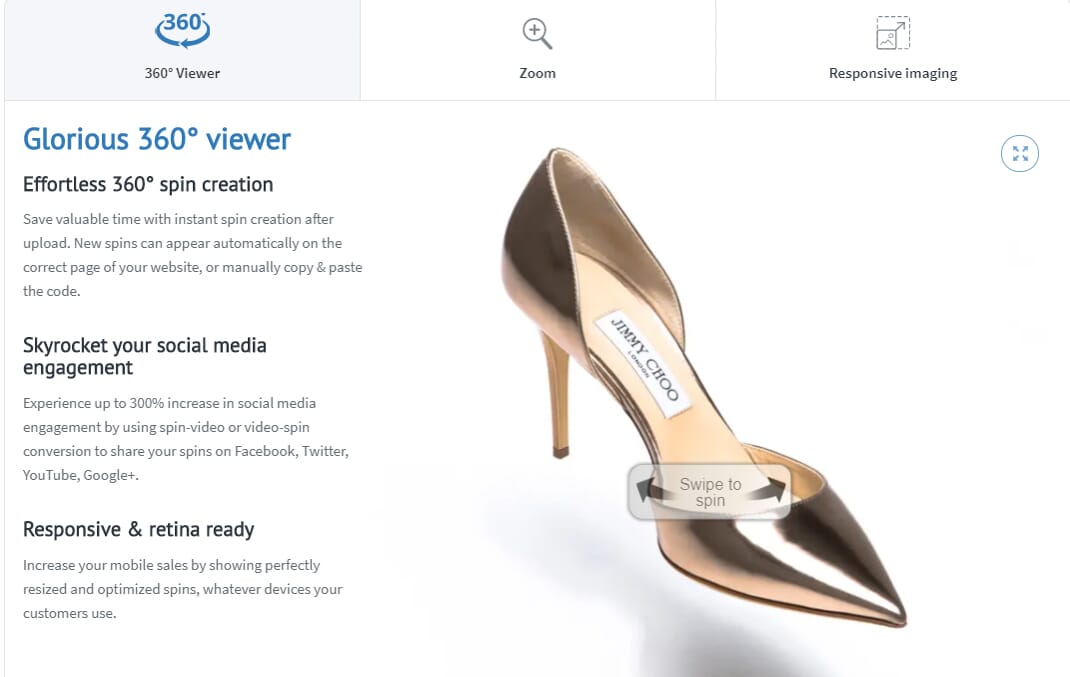 Sirv Review – Usability
Usability is a key aspect of any platform. There is no point using a platform if it is difficult to use. And if the processes take longer to complete, the platform would be counter-productive.
Sirv doesn't cause any of those issues. The developers have really considered usability when creating the platform.
When testing the functions for our Sirv review, we found the platform straightforward and easy to use. The controls and toolbars are intuitive, and inserting images is unbelievably easy.
Sirv Review – Browser Layout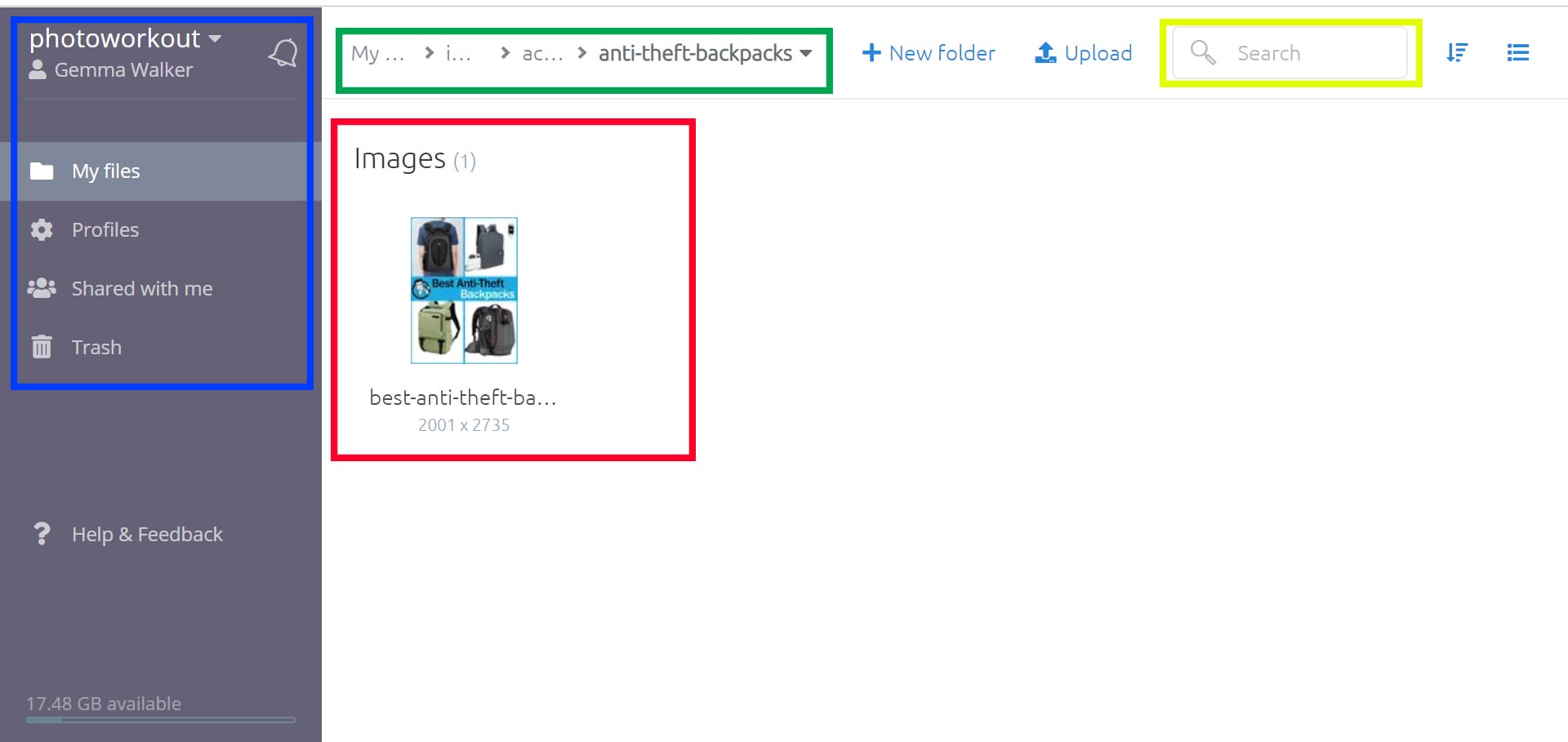 The basic browser layout is simple. Moreover, it is easy to understand and navigate.
The left-hand toolbar contains main tools such as files, profiles, and trash. Whilst the central pane displays the image folder hierarchy. Finally, there is search functionality allowing users to quickly find images or folders.
This simple layout is effective. Users can quickly create entire folder hierarchies and organize their images.
Image Controls
With so many tools, you'd expect confusing and inaccessible controls. This is not true.
When creating our Sirv review, we tasted various features such as zoom and responsive design.
When you upload an image, Sirv automatically creates HTML code to insert the image into web content. Code is generated for each type of image such as static, zoom, and responsive.
The screenshot below shows HTML code generate for a zoom image:


Plugins
As a plugin, Sirv works superbly.
In WordPress, for example, instead of inserting a standard image, users choose to insert Sirv media. This connects directly to their Sirv account. Users then choose how the image should be inserted.
The below screenshot shows the insert option for Sirv media in WordPress: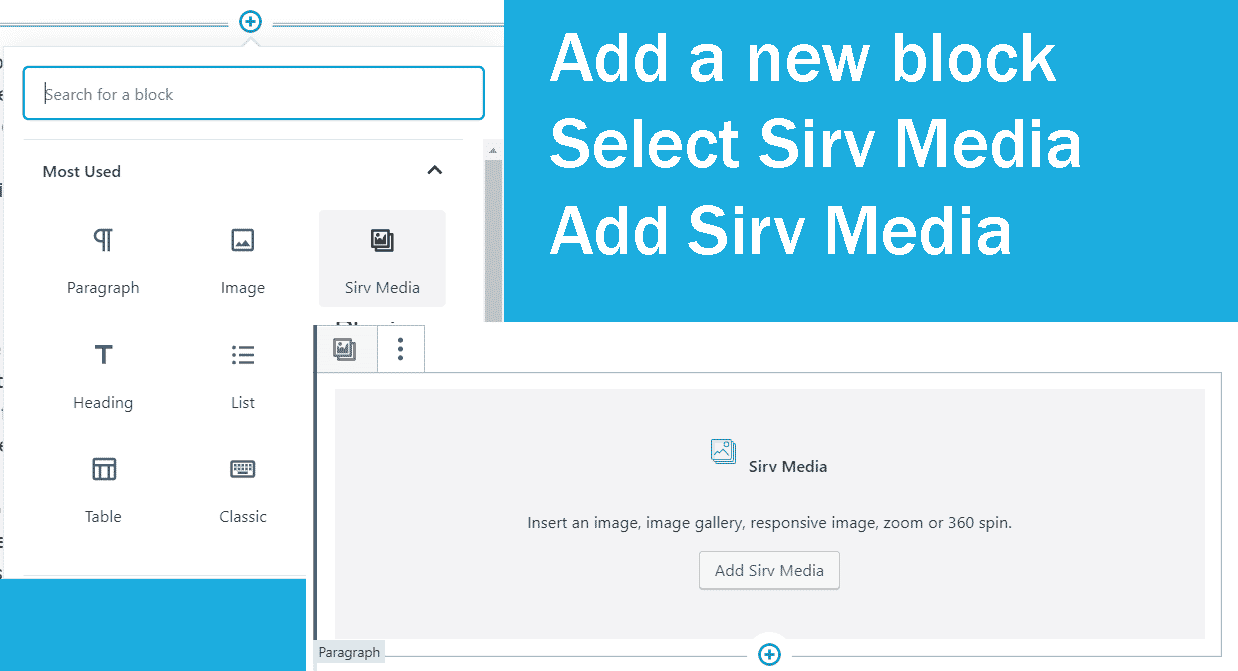 Sirv Review – Would We Recommend Sirv?
After reading this review, we hope you have a clear insight into what Sirv offers.
After our extensive testing, we know that Sirv has potential. Any website could benefit from the features Sirv offers.
Overall, we would recommend Sirv! To summarize, read the pros and cons below:
Pros
Fast content delivery network
Responsive image design
Ability to create zoom and 360 spin images
Fantastic organization tools
Improved security and copyright protection
Option to create galleries, slideshows, and other features
Cons
High volumes of traffic can cause additional bandwidth expenses