Having a website is a brilliant way to share your photos. You can create a portfolio to show to potential clients, or you can share your photos with the world for fun. For the budding entrepreneur, a website could offer the opportunity to sell your photos and create an online business.
But to create your online portfolio, you need a reliable website builder. SmugMug and Wix are two great platforms to do this. As you will see below in our SmugMug vs Wix comparison, both of these website builders could serve as excellent tools to start sharing your photos online!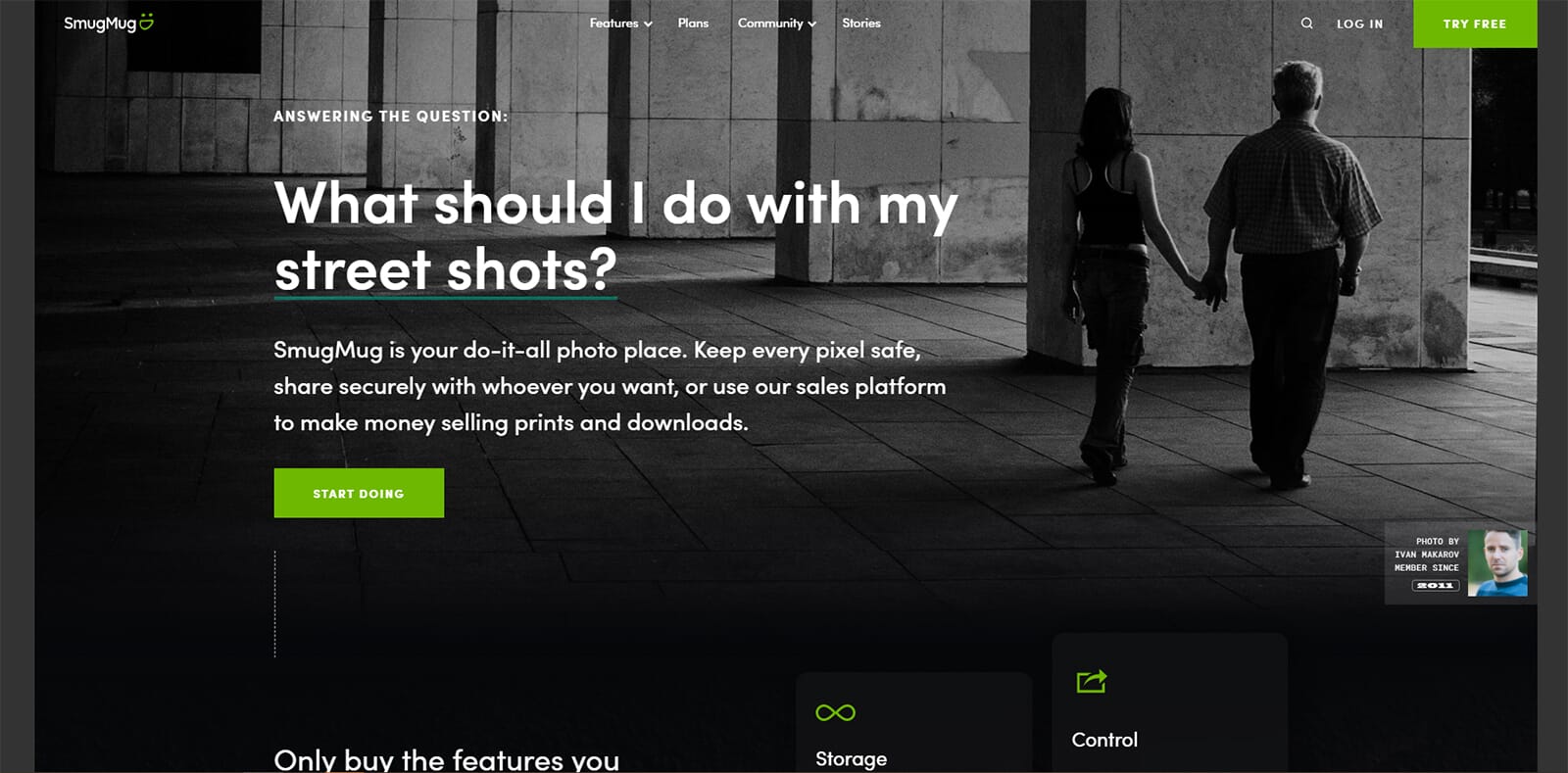 When you buy through links on our site, we may earn a commission at no cost to you. We evaluate products independently. Commissions do not affect our evaluations.
SmugMug: Overview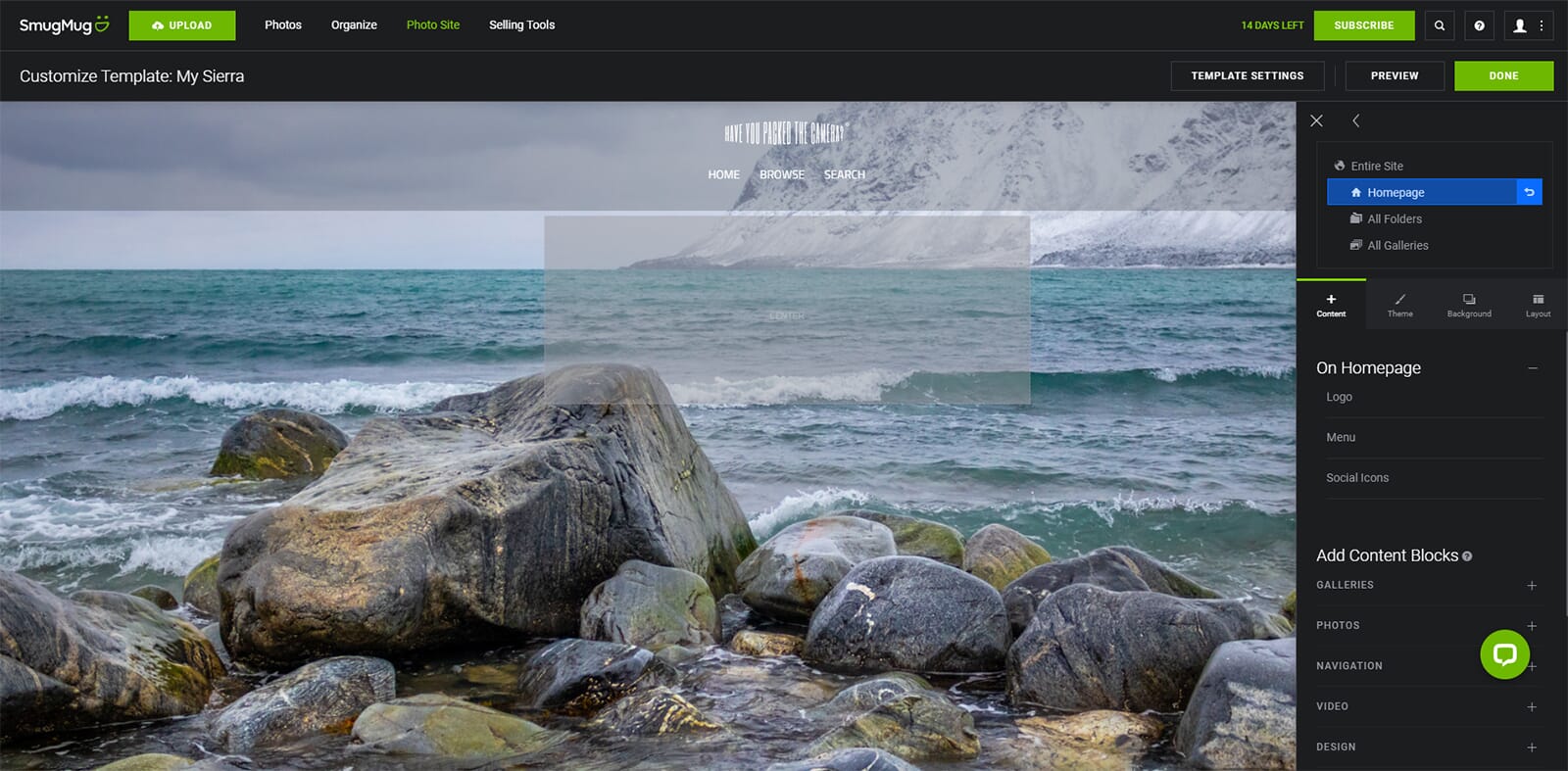 A simple builder for professional photo galleries
SmugMug is incredibly easy to use and offers unlimited photo storage to share your images with the world.
Pros
Simple to use
Intuitive wizards for website creation
Unlimited photo storage
A simple website builder
Great gallery management
Cons
Does not have large range of templates
No third-party apps or widgets
SmugMug is a website builder aimed specifically at photographers and digital artists. It is marketed as a one-stop shop for photo sharing and has a great set of features. As it is primarily aimed at photographers, it does not have the same variety of website building tools and plugins as Wix.
For photo sharing, it is one of the best builders available, however, and it has the following features:
Unlimited photo storage
Excellent privacy and security controls
Professional gallery creation
A good selection of templates
Simple tutorials and wizards
We also feel that the pricing is reasonable – especially for the lower-tier packages. For example, the basic photo package is just $8 per month, and you get unlimited photo storage.
Wix: Overview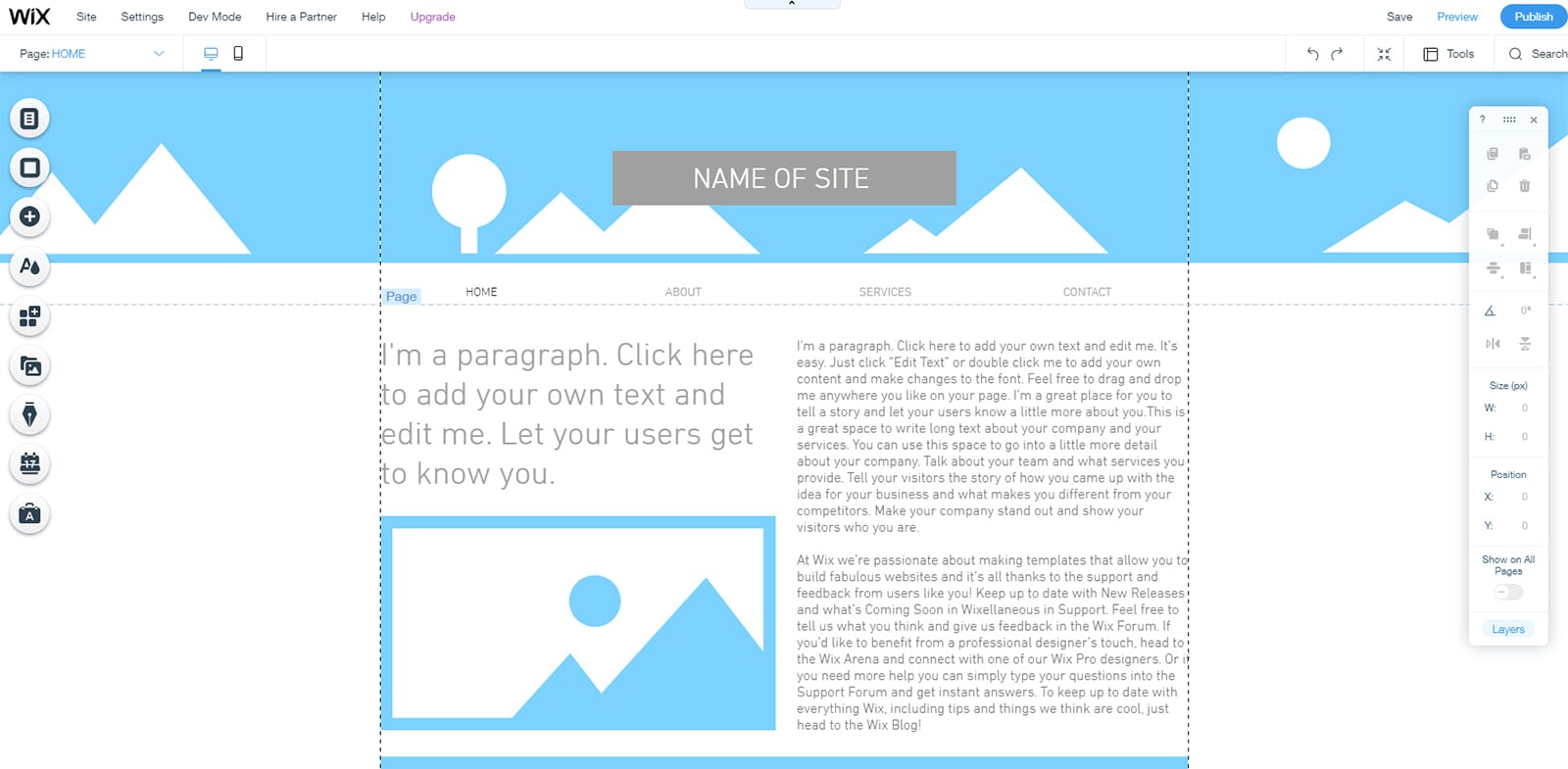 Advanced customization for online stores
Wix has a great set of features and allows photographers to create a detailed online store with ease.
Pros
800+ templates
An excellent range of apps and plugins
A simple drag and drop website builder
Cons
Some could find the features overwhelming
Entry-level price plans have minimal storage
While SmugMug is geared specifically for photographers and photos, Wix is a more generic website builder. It does have tools for photographers, but it is geared toward online businesses and digital entrepreneurs from any industry. It offers many more tools for marketing, social media integration, and analytics.
The following are the main features of Wix:
A vast collection of templates
Great customization for website layouts
Management for customers
Analytics and reports for business growth
It is a versatile website builder that also offers flexible price plans depending on what you want to achieve.
SmugMug vs Wix – Feature Comparison
To give a full overview of SmugMug vs Wix, I have broken the comparison into different sections. You should be able to get a clear idea of what these website builders have to offer:
Storage
When choosing a website builder, storage capacity is important. You will undoubtedly have folders packed full of high-resolution images you want to share. When looking at SmugMug vs Wix, this is one of the first factors I looked for.
SmugMug is the clear winner here. It offers unlimited photo storage. Yes – unlimited! That means there is no restriction on how many photos you can upload. This is perfect for photographers who have thousands of photos. Alternatively, it is also great for professionals who have to upload galleries of photos for their clients – like wedding photographers.
In contrast, Wix does not offer unlimited storage. Its basic package, while cheap, only gives 500MB of storage space – this could be limiting if you intend to display multiple galleries. The mid-range package, which is what I would consider the best for photographers, offers 10GB. This is better but still doesn't compare to the unlimited photo storage offered by SmugMug.
Website Builder Interface
One of the main aspects of a builder… is the builder itself. How easy is it to create a website and what tools does the builder provide to edit and create content?
Wix has a simple drag-and-drop website builder. You can easily import one of the 800+ templates and modify it as you wish. The menus are simple to use, and you also have excellent control over each element on the page. I also like the themes manager, and the menu manager – you can quickly create responsive website menus and edit the overall theme and colors of your site.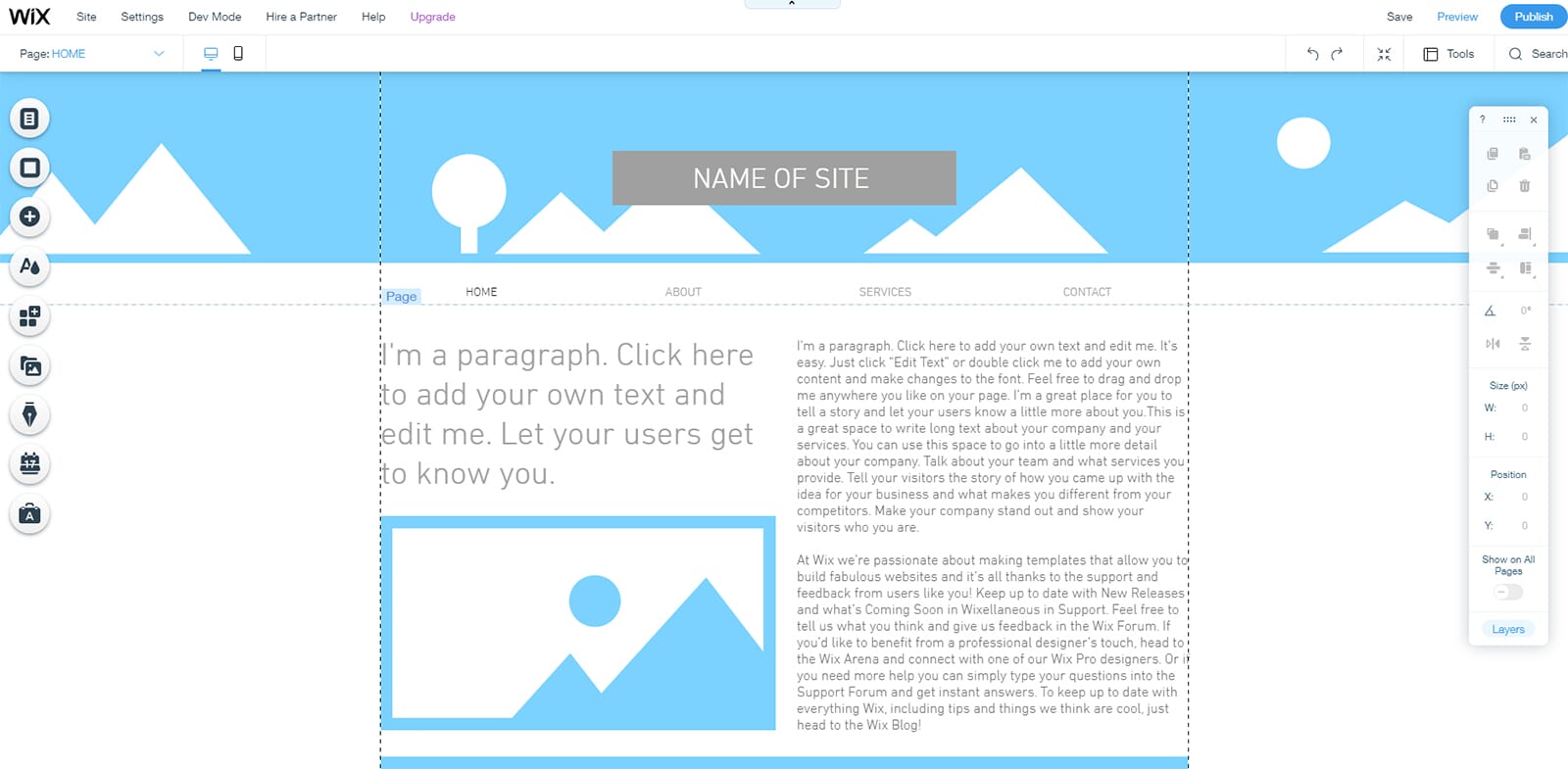 Similarly, SmugMug also has a simple drag-and-drop builder. When using it, I found it a little more difficult to understand than Wix. However, after five minutes of experimenting – it is definitely equally as easy to use. The builder is split into different categories that separate the different functions. For example, there is a section for your photos, galleries, the website, and selling tools. The tools are easy to use and most items have a useful tooltip too.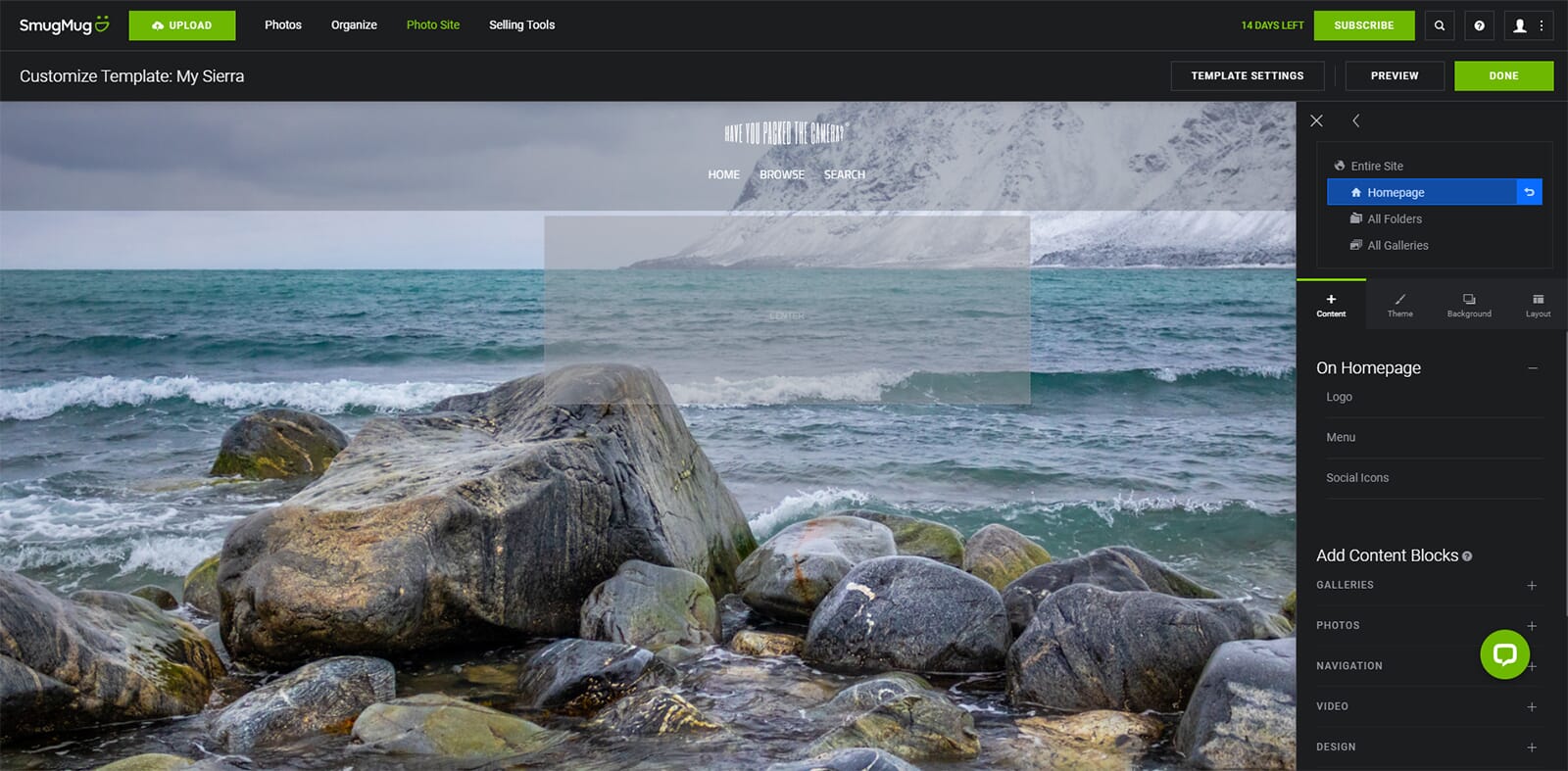 Pre-Designed Templates
Not everyone can create a stunning website layout from scratch. Luckily, most website builders have pre-designed templates. You can generally select a template and customize it to make it your own.
SmugMug has a limited selection of templates – 26 in total. This is much less than I would expect from a website builder. However, the templates are of excellent quality. They have been professionally created and are specific for photography portfolios. You can also customize the templates with different themes and layouts.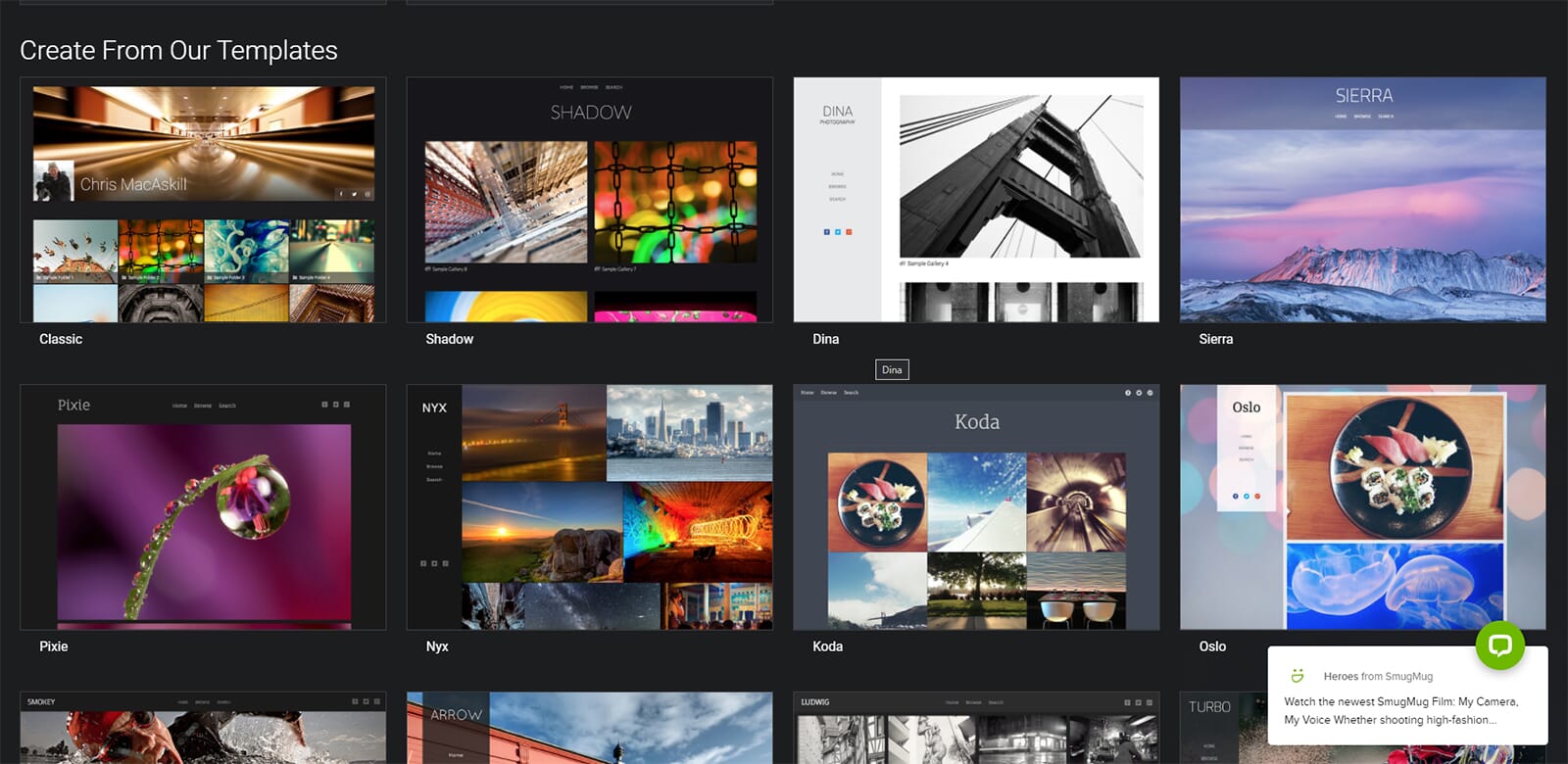 In contrast, Wix currently offers over 800 templates. That's a staggering amount! Their template library is easy to navigate and is split into different categories. Again, the Wix templates are of great quality and there is a dedicated section for photography website templates.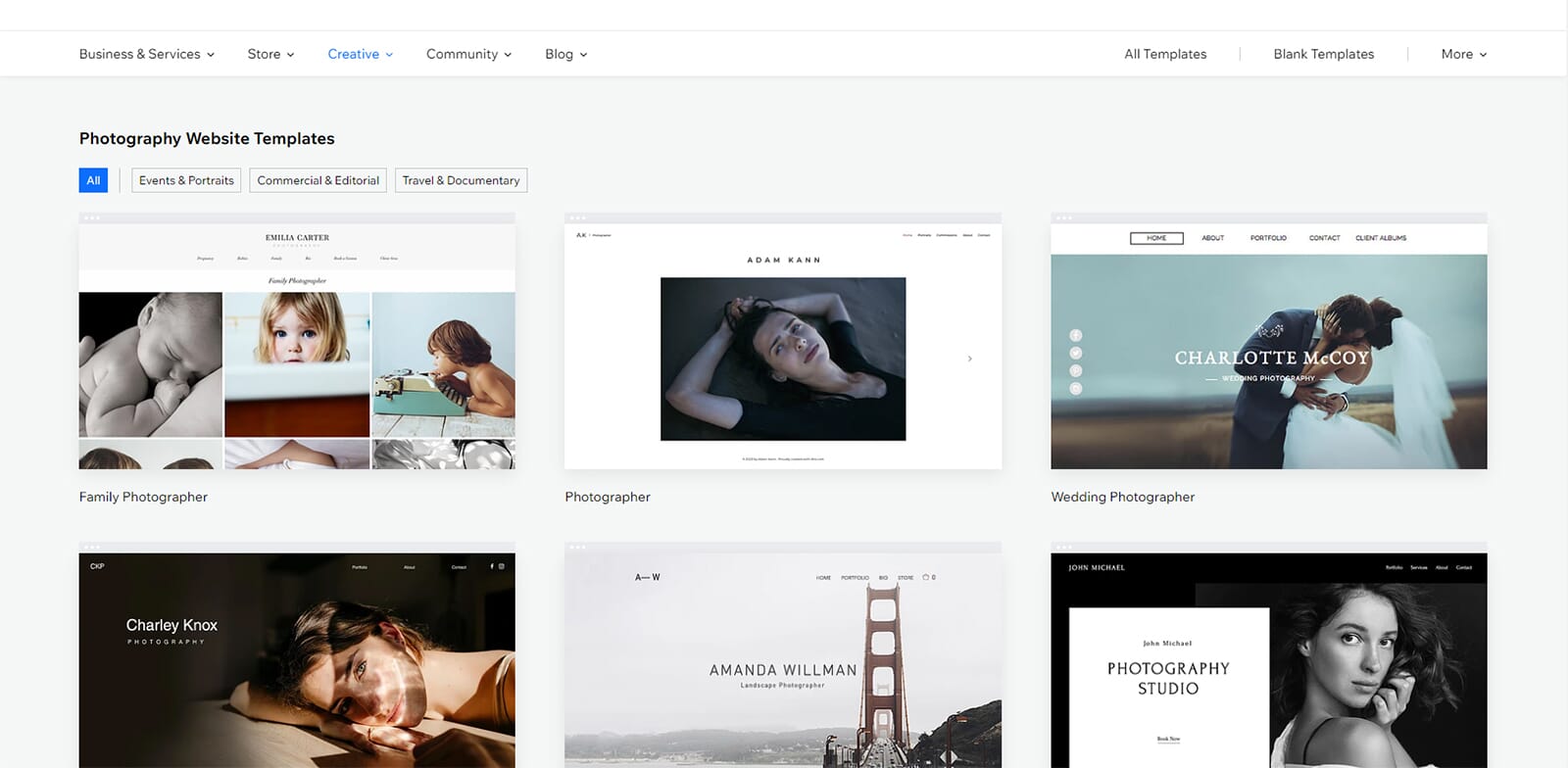 Online Store Capabilities
If you want to sell your photos online, the website builder must have some type of an online store.
SmugMug has a limited selling function that is tailored specifically for photography. This functionality is found in the selling tools. Here you can create price lists and manage your sales. It has great functionality, and you can even create special photo packages and coupons for special deals and discounts. The only downside is that it does not have advanced tools – you are essentially limited to selling your photos.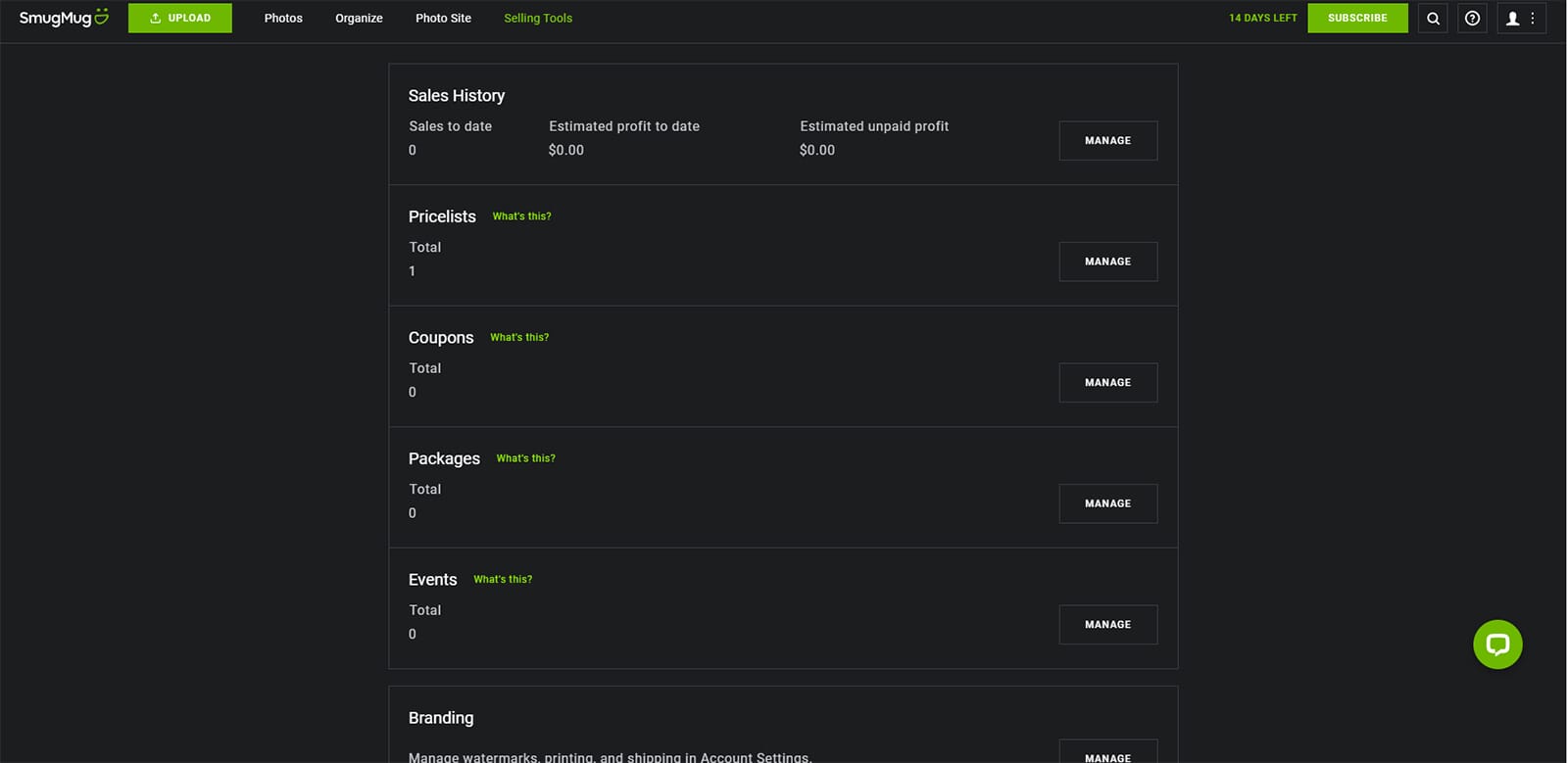 Wix, on the other hand, has a comprehensive online store creator that goes far beyond simply selling photographs. If you want to create a detailed online store and have full control, Wix is definitely the better option. There are 500+ store templates, and you can easily connect payment providers and create exciting product catalogs.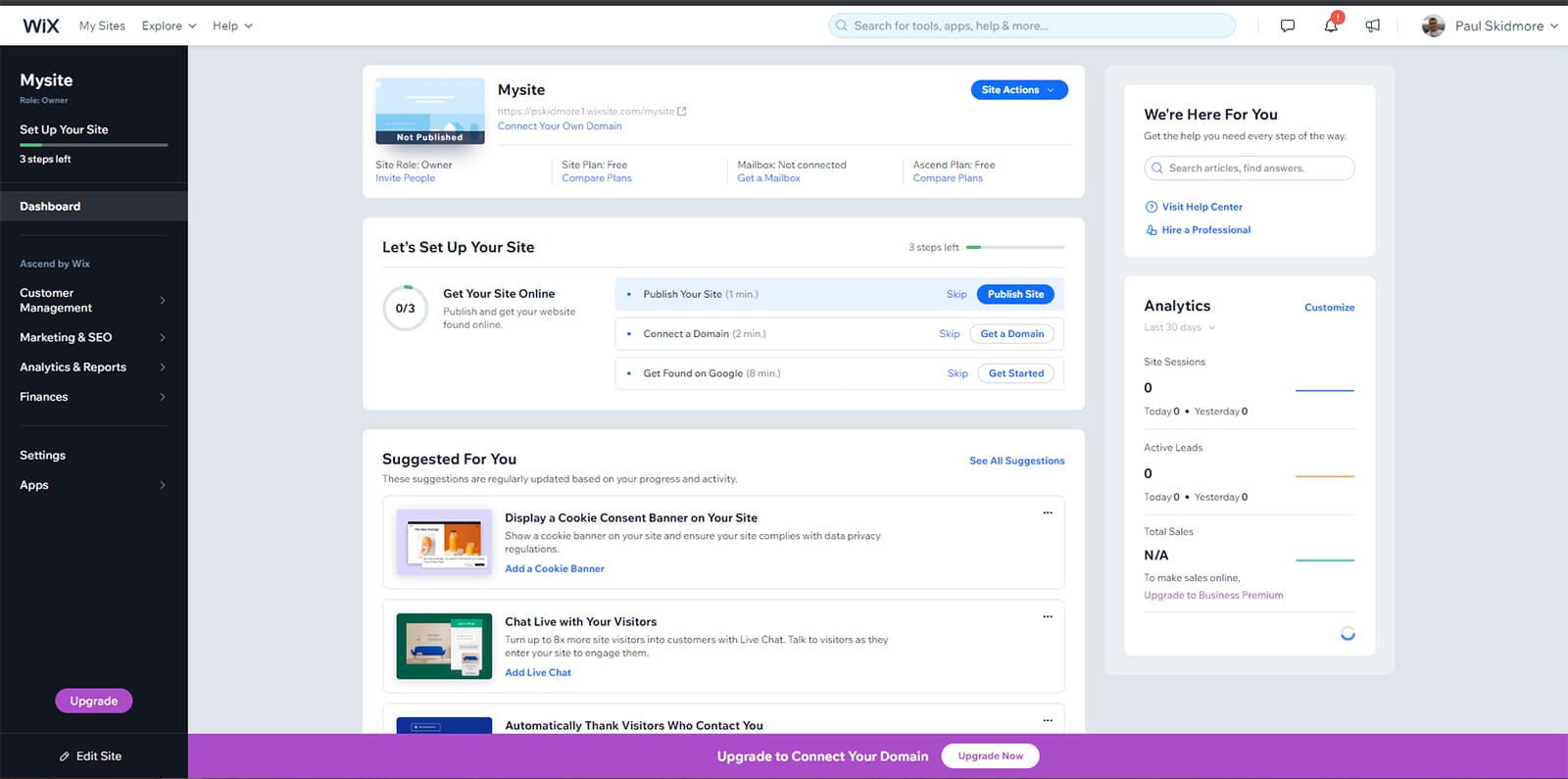 Plugins and Widgets
Once you have your basic website created, you may want to extend its functionality and add new features. Typically, website builders do this via the availability of third-party apps and plugins. When creating this SmugMug vs Wix comparison, I checked out what additional features they offered.
Wix is the clear winner here. This website builder has a dedicated app market – the Wix App Market. Here you can find hundreds of plugins and tools to improve the functionality of your photography website. The apps span many different categories and include social sharing, analytical tools, marketing tools, and more. This is brilliant for those who want to turn their website into a professional business.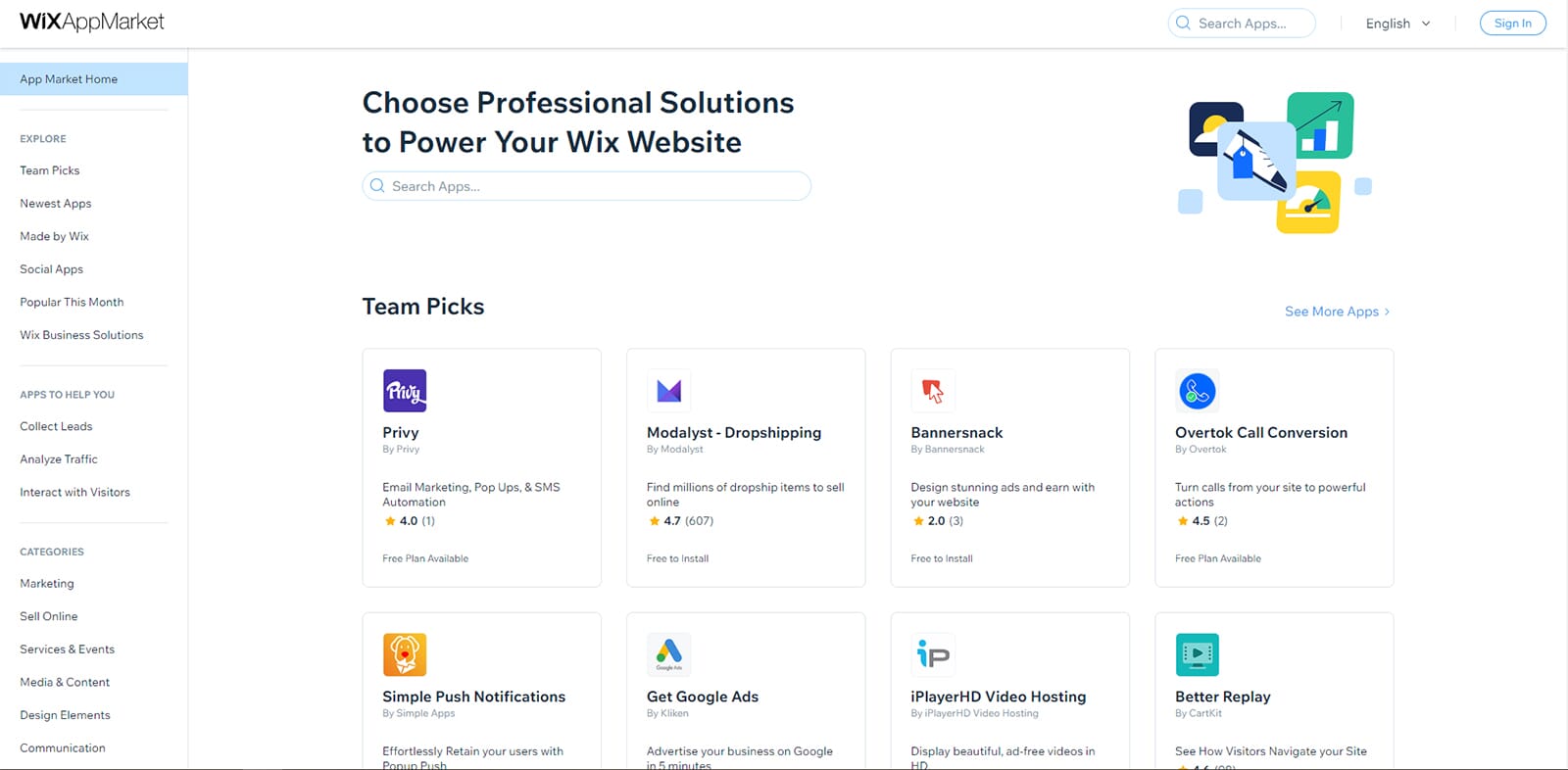 SmugMug unfortunately does not have any plugins or apps. It is virtually limited to the website builder and tools within the platform. The only integrations it has, are for photo uploading. For example, you can upload photos directly from Lightroom and Aperture.
Website Responsiveness
In today's digital world, having a responsive website is a must. By this, I mean a website that displays perfectly on any type of device – desktop computer, laptop, tablet, or smartphone. Therefore, an important feature of website builders is their ability to create responsive sites.
Wix has brilliant responsive design features. In the website editor, you can switch between desktop or mobile development mode. As a result, you can design two separate versions of your site – one for desktop and one for mobile. This is an incredibly handy feature.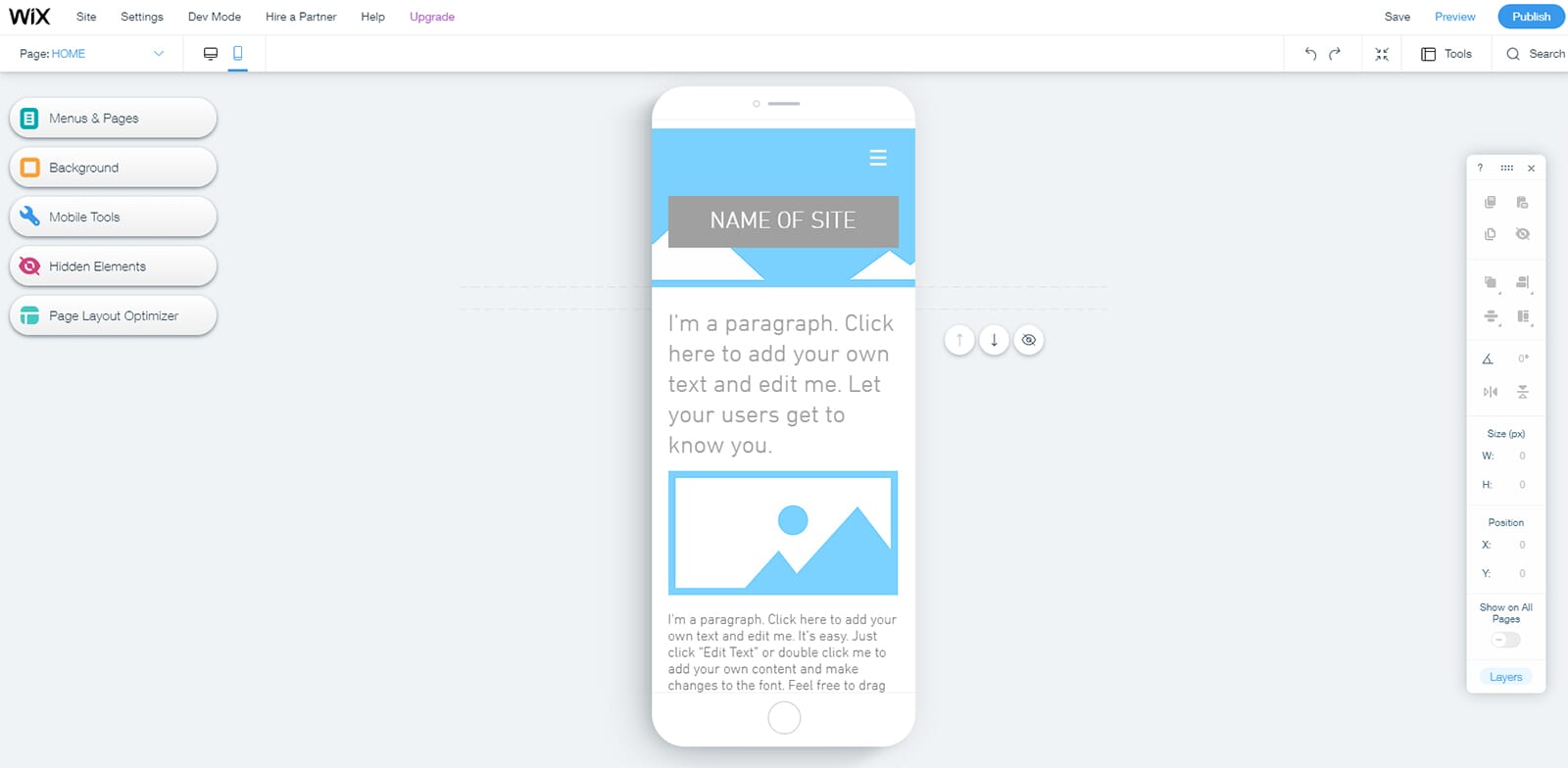 SmugMug does not have a similar feature. However, the galleries and websites you develop are fully mobile responsive. This means you have less control, but you can still create a photography gallery that is suitable for mobile usage.
Domain Name Availability
If you want your website to shine, you ideally need a domain name. A proper domain name – not a sub-domain. A sub-domain would be something like www.smugmug.yourwebsite.com – it doesn't look as professional. Whereas your own domain would be something like www.yourwebsite.com.
SmugMug does offer a custom domain name, however, you have to upgrade to the Power plan. This is $13 per month which is still reasonable. If you use the basic plan for $8 per month, you have to use a SmugMug sub-domain.
Wix has a similar plan for domain names. For its free plan and connect domain plan, you get a Wix sub-domain and the site has adverts. However, for the Combo plan and any plan above, you get a free custom domain name for one year. This comes in the form of a domain voucher and can be used with various extensions like .com, .co.uk, .org, and .biz.
Pricing
In terms of pricing, both website builders are reasonable. Wix has four price plans for personal usage – Connect Domain, Combo, Unlimited, and VIP. These range from $3 per month to $18 per month. Alternatively, it also has three business plans which are geared toward accepting online payments. These range from $13 per month to $22 per month.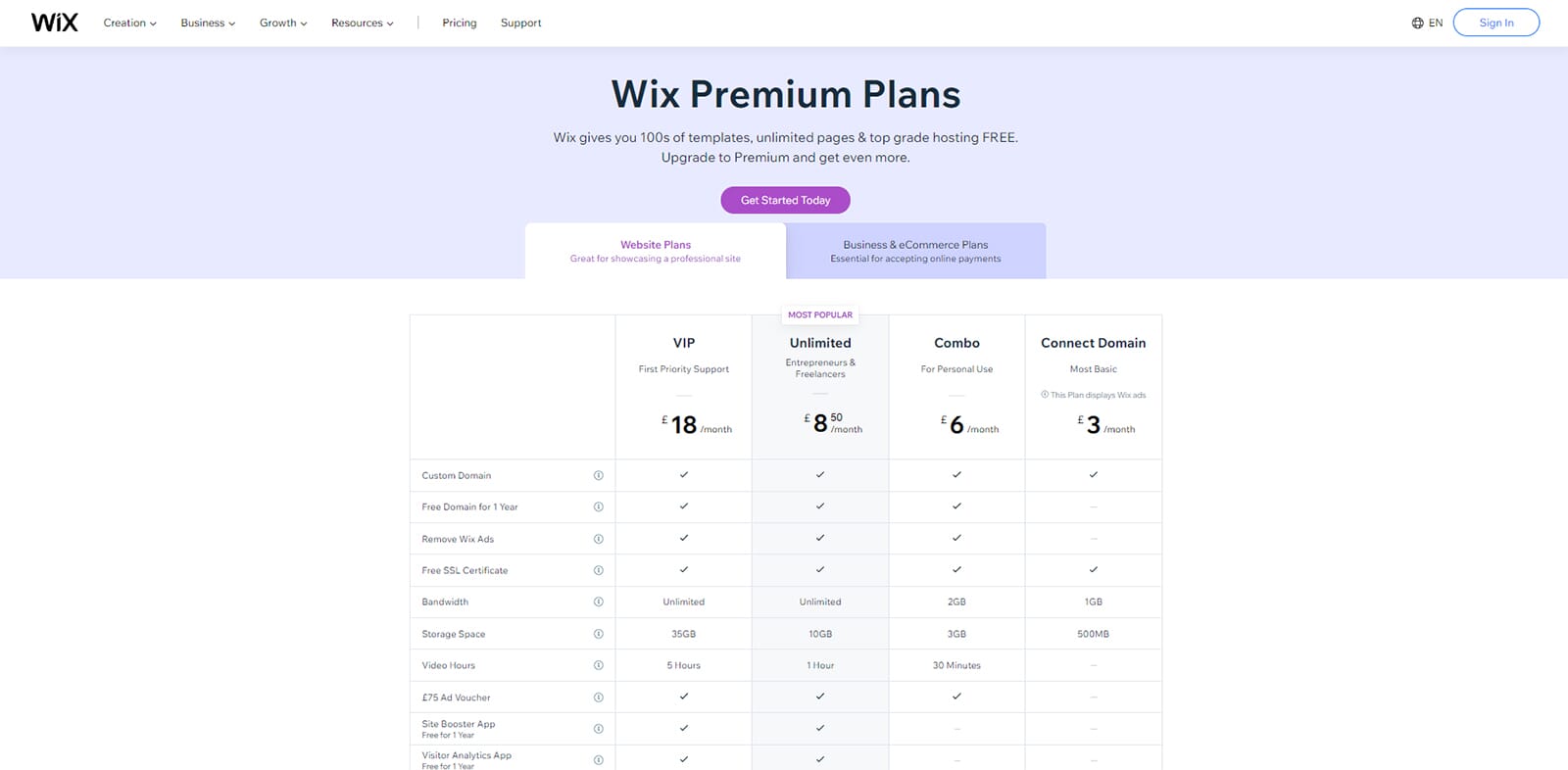 In contrast, SmugMug has just four price plans – Basic, Power, Portfolio, and Pro. These range from $8 per month to $50 per month for the pro package. I feel the pro package is a little expensive here, however it does offer extensive client management tools.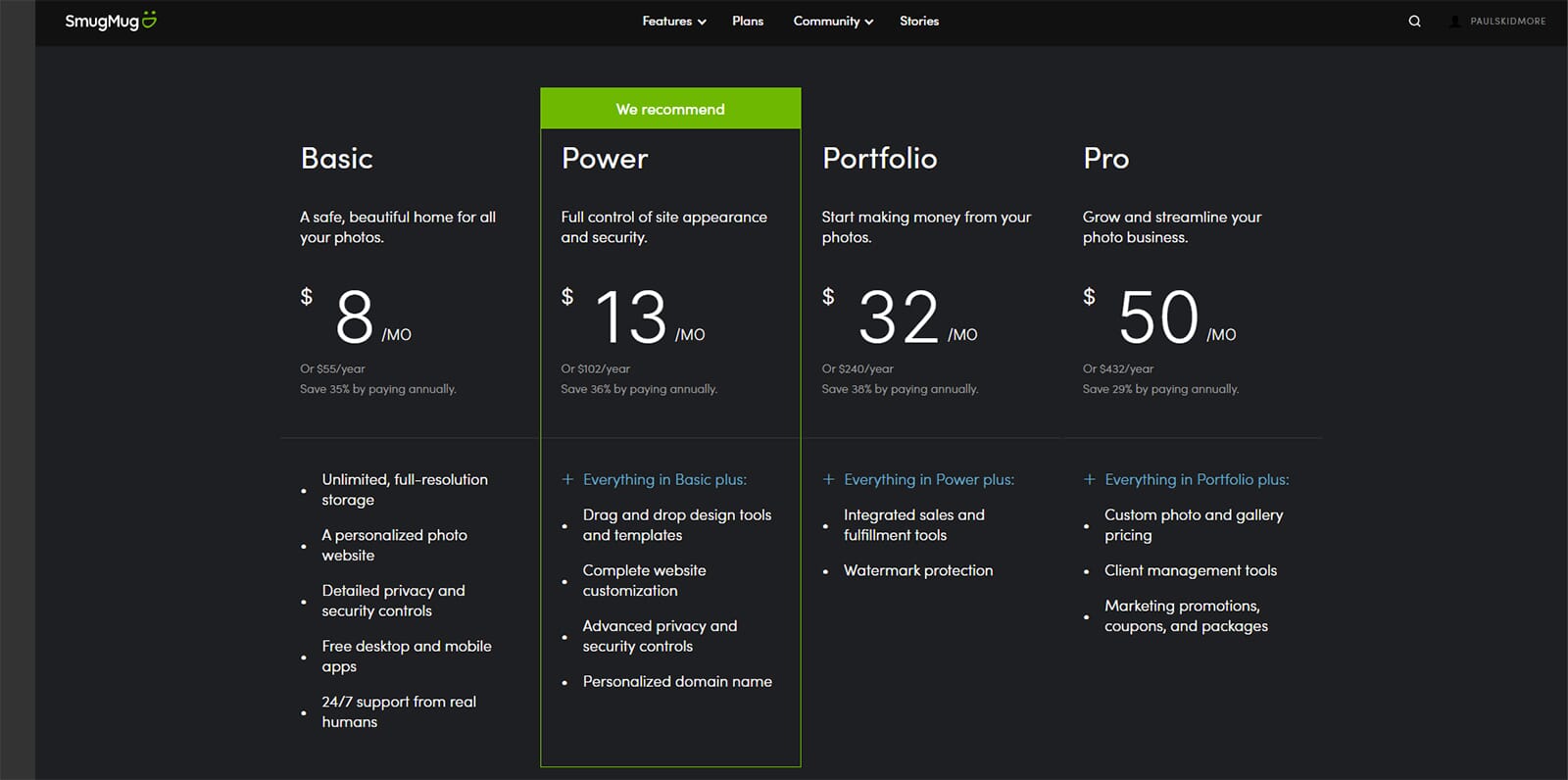 There is little to choose from in terms of pricing. Both SmugMug and Wix have a range of reasonably priced packages to suit different purposes – whether you just want to create a portfolio site, or you want to start making money from your photography via an online store.
SmugMug vs Wix – Our Verdict
Both of these website builders have excellent potential for creating a photography portfolio website. However, they have quite different capabilities and are suitable for different purposes.
SmugMug is the "less advanced" website builder. This platform is much better for simply uploading and sharing photos and creating cool galleries to share with friends or clients. While it does have selling tools and online store capabilities – these are limited by the lack of third-party apps and tools. Hobbyists and professionals who want to share their work would benefit from SmugMug and its simple approach to website design.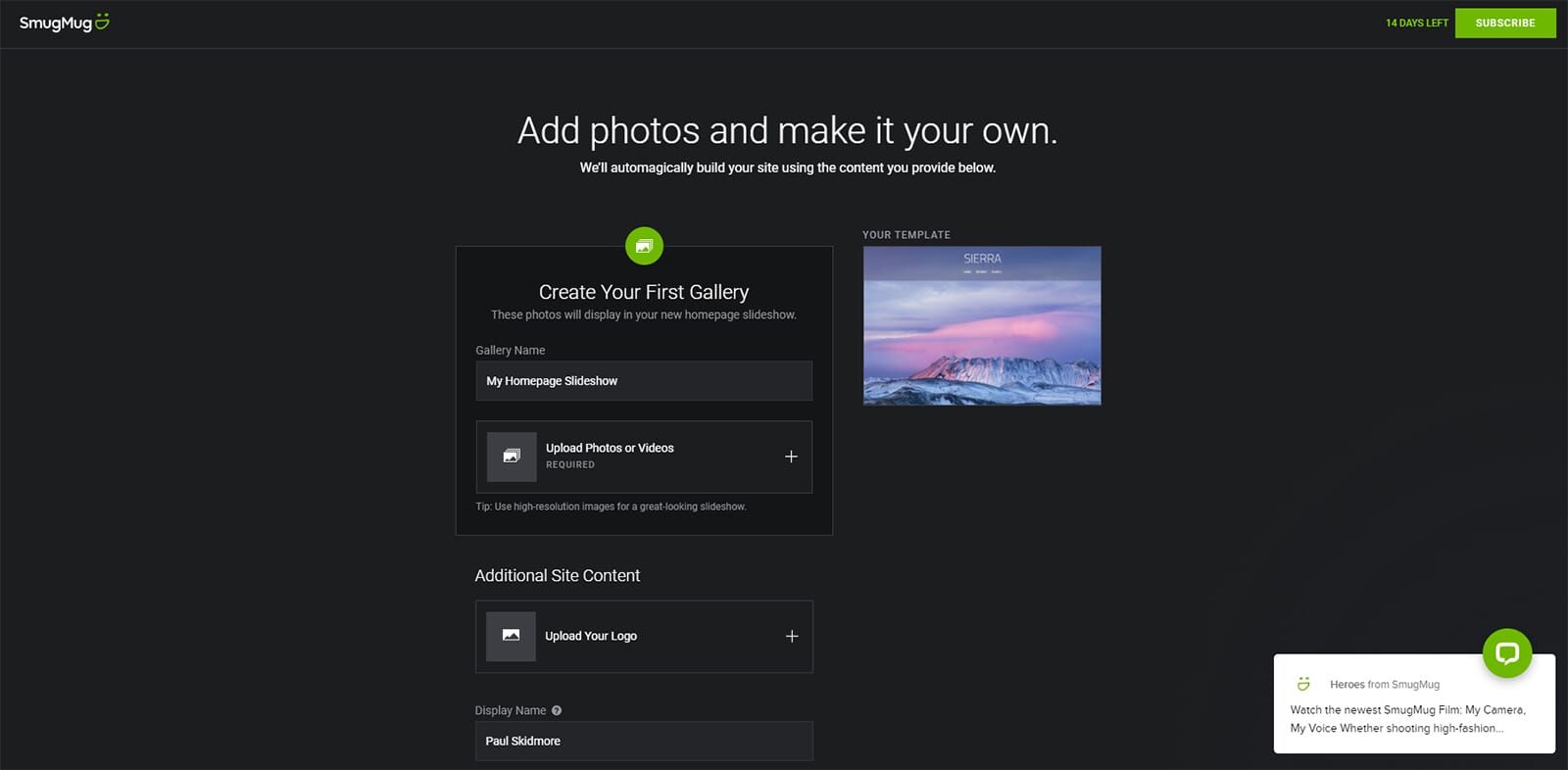 In contrast, Wix offers a more generic set of tools for website building and creating an online business. It still has excellent tools for photographers, but it is not as tailored toward photography. This website builder is better suited for photographers wanting to start an online business. It has a great array of selling, marketing, and social tools. Also, its App Market and 800+ templates really give you the tools to create something unique and special.
Conclusion
I hope you have found this SmugMug vs Wix comparison useful. If you want to move online with your photography, either of these website builders makes a great choice. However, I recommend considering carefully what you want to achieve from your website as this will help you choose which website platform to use.
SmugMug vs Wix FAQs
Do I need coding knowledge to use SmugMug or Wix?
No, both of these website builders use drag and drop tools that anyone can use. No HTML coding knowledge is required.
Can I choose any domain name for SmugMug or Wix?
If the domain name is available to buy, yes. Remember that many website domains are already registered and owned. When choosing a domain, both website builders allow you to search and check for available names.
Can you upload RAW files to SmugMug?
Yes, however, you need to use the SmugVault upgrade which supports RAW files. As standard, you can only upload and display JPEG, PNG, and GIF images.