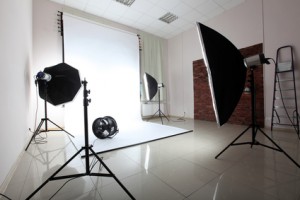 Today, the advances in technology have made easier for us to turn a hobby into a promising business.
If you have camera equipment, experience, and the needed skills, you can start a studio photography business. You can set one of many rooms in your home as a studio, it's such a cheaper option than renting a studio.
However, the studio equipment needed to build a photo studio is very diverse and there are a lot of things to be prepared. It is not enough to rely on just a camera and printer to build even a small scale photo studio business. You will need other equipment such as studio lighting, backgrounds etc.
Related Post: Best Studio Lighting Equipment (all under $1,000)
Studio Photography Lighting & Equipment needed to start:
Camera: To run a photo studio business you certainly will need a camera to take pictures. At least you must have one piece of DSLR camera in the studio. However, you need to have more than one camera because you do not know what will happen when the photo session is in progress. Read More: Best Cameras for Headshot Photos
Lens: The use of lenses is very important, although each purchase of DSLR camera is accompanied with a lens, it's only a standard lens. Therefore you need an additional lens in order to obtain maximum results. Read More: Best Portrait Photography Lenses
Tripod: A tripod is used to keep the camera from shaking when you take a picture. You don't need to buy a professional tripod, you can use a simple tripod.
Lightings: The studio photography lighting is very important in photography, this will make your photos stand out from others. For a beginner, you can use just 3 lights as a light source. A battery operated studio lighting is cheaper than plug-in models. Although natural light is great, if there are windows in your studio, you need however to have something to block off the light from affecting your shots.
Umbrellas: Umbrellas are also important as studio equipment. This kind of umbrellas is used as a light reflector to maximize the images of the picture.
Printer: The printer has a very important role in transferring the digital images to the paper. So you need to have a printer to support your business. Read More: The Best Home Studio Photo Printers
Computer: The computer is necessary to provide added value to those who love photo editing. Thus, the images would have an added value when they were printed.
Backdrops: You can find inexpensive backdrops on a number of online stores. The more backdrops you have the better it will be. But gray, white, and blue base backdrop will be enough to start. You can hang the sheet or you can install a curtain rod for it.
Clothing: Clothing/costume is also important because there are some consumers who want to look at the photos using an unusual costume. Remember that there is a possibility that you will work with children and babies.
Related Post: Best Backdrops for Photography (7 Amazing Picks)
Once you have the necessary photography equipment, you need to think about how your studio look will be. The size of the room is also an important factor that you need to consider when setting up studio photography. A room that is longer can do better to control the lighting in your studio.
A good studio must have proper lighting and atmosphere since they play an important role in producing quality photographs. You must have enough space to install the umbrellas and other items needed for your studio.
Photography Photo Portrait Studio 600W Day Light Umbrella Continuous Lighting Kit by...
Contents: [3 pcs] 45W CFL Bulb / [3 pcs] Bulb Socket / [2 pcs] 33-inch Umbrella Reflector / [2 pcs] 86-inch Light Stand
[1 pc] 28-inch Light Stand / [1 pc] Bulb Carry Bag / [1 pc] Photo Equipment Carry Bag
45W Photo CFL Bulb: 6000K / 1820 Lumen / E26, E27 Standard Screw Base / Max Energy Saving up to 80%
33-inch Diameter White Umbrella Reflector: Made of Enhanced Nylon / Works well with Any Flash or Lighting Fixture
(Attention) Bulb, on a rare occasion, creates a mild burning scent, which is a normal reaction as the bulb gets heat
The quality of your studio can be determined by the budget you want to invest. Some photographers spent thousands of dollars for accessories related to their studio setup. But you don't have to empty your wallet to set up a studio. You can look for discounts and offers to cut the expenses.
Setting up the right photography studio lighting and equipment can be difficult, but when you have improved your knowledge, it will be easier to achieve your goal.