Continuous Video & Photo Studio Softbox
The StudioPRO 2500 watt is a three light setup consisting of a set of three softboxes, light stands, boom arm, an array of light bulbs, diffusing materials, and reflectors.
A really good professional grade three-light continuous lighting setup from a renowned brand can set you back by thousands of dollars. The StudioPRO 2500 watt is a much better solution in terms of the price that you have to shell out to own it.
Lighting Light Kit – 20×28″ – Softbox with One-Quick EZ Setup Softbox and Boom Arm With Bag
What's included in the Box
StudioPRO five socket head with umbrella mount
One rectangle quick setup softbox 20" x 28" with AC socket
Three light stands
Two rectangle softboxes 20" x 28" for the 5 head fluorescent sockets
5' Basic boom arm with sandbag
A set of 11 45w CFL 5500 kelvin daylight balanced fluorescent bulbs
A large bag for transporting the entire kit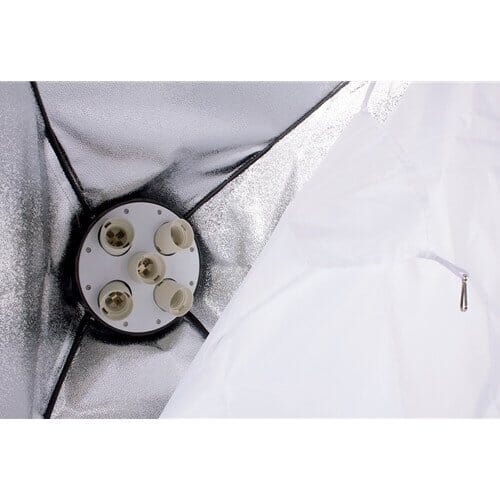 A medium sized softbox is ideal for those interested portrait lighting setups. Two lights are the bare minimum for a professional setup. There are however a number of ways in which a single light can also be used to produce a portrait lighting set-up. The StudioPRO setup provides not one or two but three lights. That's a hundred different combinations you can create using the kit.
The StudioPRO five socket head is a powerful source of artificial light. It houses a total of 5 light bulbs with a maximum of 85W per bulb. There are a total of three on/off switches at the back of the socket head. When you add the 20" x 28" rectangular softbox to it, the resulting setup produces enough light for a really good broad lighting setup.
Add the second lightbox to it and you have a very nice studio portrait lighting setup going. Each of these softboxes has a removal inner diffuser. You can fire the lights bare for a much more intense hard lighting effect or use the diffuser to soften the intensity, for a more flattering portrait lighting setup.
The 5″ boom arm is ideal when you need a hair light or an accent light for your portrait images. On many instances, to create a moody partial lighting scenario it is essential to set up the light from high up the subject's head.
This boom stand is a great piece of tool for photographers who want to experiment with their lighting arrangements and add value to their production.
The setup includes a set of 11 light bulbs. Each of them is a 45w 5,500 ° K daylight balanced light bulb that produces 1500 lumens at 1 meter.
Conclusion
The StudioPro Lighting Kit manufactured by Fovitec is a great three light set-up for a professional-quality studio lighting arrangement.
Continuous lights have an edge over flashes/strobes because they are always on. You can check the image even before pressing the shutter release button.
However, there are also a few downsides to them. They are less powerful. Plus they tend to get very hot over several hours. But with the StudioPRO 2500 watt set-up, you always have the option to shut off the extra lights when you don't need them. This leaves only one on to act as a modeling light to frame and compose the shot.
The other issue noted with continuous lights is the lack of power. This is a minor issue as you can increase the power of the lights. Simply exchange the 45w CFL lights for something with higher power.
Overall, this a very good setup to go with especially if you are just a beginner and looking for a less-pricey yet effective studio lighting solution to light up your portraitures and other shoots with.
Fovitec 3-Light Fluorescent Studio Lighting Kit w/ Boom arm, 20"x28" Softboxes, 11...
Contains 2 5-socket heads, 2 20" x 28" softboxes, 1 single-socket head with a built-in softbox, 11 45W fluorescent lamps, 3...
Suitable for a wide variety of photo and video applications such as live streaming, interviews, online tutorials, and more
Offers easy-to-use lighting controls for maximum versatility and light quality
Provides quick mastering for both beginners and professionals, making it ideal for large or small projects
Offers 5500K color temperature specifications for optimal daylight clarity, exceptional color accuracy
---
As an Amazon Associate we earn from qualifying purchases. Certain content that appears on PhotoWorkout.com comes from Amazon. This content is provided 'as is' and is subject to change or removal at any time.