The Tamron 10-24mm f/3.5 – 4.5 Di II VC HLD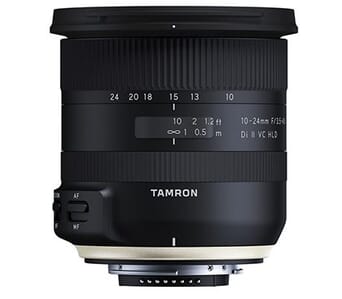 Along with the new Tamron 70-200mm f/2.8 Di VC USD G2 telephoto zoom lens that we recently updated you about, another new lens was also announced by Tamron.
This one is the Tamron 10-24mm f/3.5 – 4.5 Di II VC HLD.
This lens is designed for the smaller image circle of crop frame cameras. Resultantly, the focal length of the lens becomes a 35mm equivalent of 15 – 36mm.
This is because of the crop factor of Nikon's APS-C systems (Nikon DX cameras).
On Canon systems, the focal length is a 35mm equivalent of 16-37mm (because of the 1.6x crop factor).
Construction
The lens features one XLD (Extra Low-Dispersion) element and one LD (Low-Dispersion) element. These elements help in reducing chromatic aberrations and color fringing. In addition to that, a glass-molded aspherical element and a hybrid aspherical element are also present. These prevent spherical aberrations and distortions plus increase the overall resolution of your images.
Plus, the lens also has BBAR coating that prevents lens flares and ghosting from affecting image contrast and color saturation of your images.
Fluorine coating in front of the lens ensures dust, dirt, and grime do not affect the front element of the lens and therefore do not hamper the quality of images produced.
Also, the lens has a moisture resistant construction. It means it can be used in bad weather. That being said, there is a big difference between moisture resistant and fully weather sealed. It waits to be to be seen how much of bad weather the lens can withstand.
The lens aperture diaphragm is constructed out of seven rounded blades. This means the lens should be able to produce reasonable quality bokeh or soft background out of focus effect for your images.
At f/3.5, which is the lens' widest aperture, however, bokeh quality should be limited compared to that of the Tamron 70-200mm f/2.8 Di VC USD G2 that was announced with this lens.
Image Stabilization
The Tamron 10-24mm f/3.5 – 4.5 Di II VC HLD features four stops of image stabilization. In other words, when shooting hand-held you can choose to shoot at up to four stops slower shutter speed than normally allowed with lenses that have no image stabilization. This comes in handy when shooting in low light situations.
Auto-Focusing
Auto-focusing on the lens is powered by an HLD auto-focus motor. This is the first lens ever from Tamron that features this technology. HLD stands for High/Low Torque modulated Drive.
The motor provides very smooth auto-focusing performance. It is super silent while focusing.
Ina addition, the lens comes with full-time manual focusing override.
Full-time manual focusing override allows the lens can be manually adjusted for focus perfection even when auto-focusing is engaged.
Price
Tamron has priced the lens at
$529.00.
At that price it has an edge, so far as the economic factor is concerned, over the
Nikon AF-S DX Nikkor 10-24mm f/3.5-4.5 G ED
and the
Fujifilm X mount 10-24mm f/4 R OIS
.
With the
existing Tamron SP AF 10-24mm f/3.5 – 4.5 Di II
also being sold at
Check on Amazon
, the new lens certainly makes more buying sense. Especially, considering the better AF motor and improved image stabilization system.
---
Note: Amazon.com prices, reviews, and ratings were updated on 2019-07-19 - Product prices and availability are accurate as of the date indicated and are subject to change. Some product prices may refer to used/refurbished items. Any price and availability information displayed on Amazon sites at the time of purchase will apply to the purchase of the product. As an Amazon Associate we earn from qualifying purchases. Certain content that appears on PhotoWorkout.com comes from Amazon.com. This content is provided "as is" and is subject to change or removal at any time. For more information refer to our Affiliate Disclosure and Disclaimer.