Running a business isn't easy, but there are platforms designed to ease your burden. Zenfolio is one such company, offering a slew of useful solutions for photographers. Including website-to-client galleries, storefronts, and marketing tools, Zenfolio aims to support your business aspirations as you navigate the photography industry.
But is it really worth buying? We dive in to find out how well the platform performs. Read on for our in-depth Zenfolio review!


When you buy through links on our site, we may earn a commission at no cost to you. We evaluate products independently. Commissions do not affect our evaluations.
Zenfolio Overview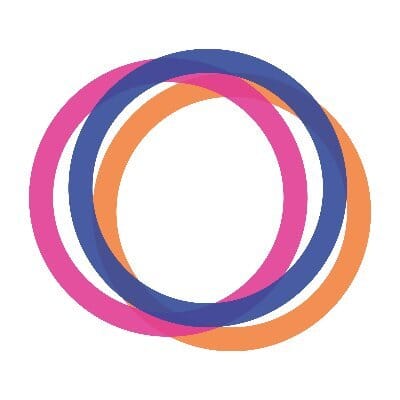 A one-stop shop business solution
Zenfolio provides businesses of all levels with a website, a gallery, marketing tools, a storefront, and so much more.
Pros
An all-in-one solution for all photography businesses (big and small)
Incredible automations and integrations
Clean, beautful design that is optimized for computer and mobile viewing
Very easy to use and get started
Decent price
Cons
Only 11 website templates to choose from
No dedicated blog platform
With so many different photographer business solutions, it can be difficult to determine which one is right for you. Zenfolio aims to stand out from the crowd with its slew of automations designed to help you run your business with less effort.
And thanks to a client-proofing gallery, a storefront, a website, marketing tools, and a business manager, Zenfolio provides photographers with plenty of options for maintaining – and growing – a business.
Initial Impressions and Features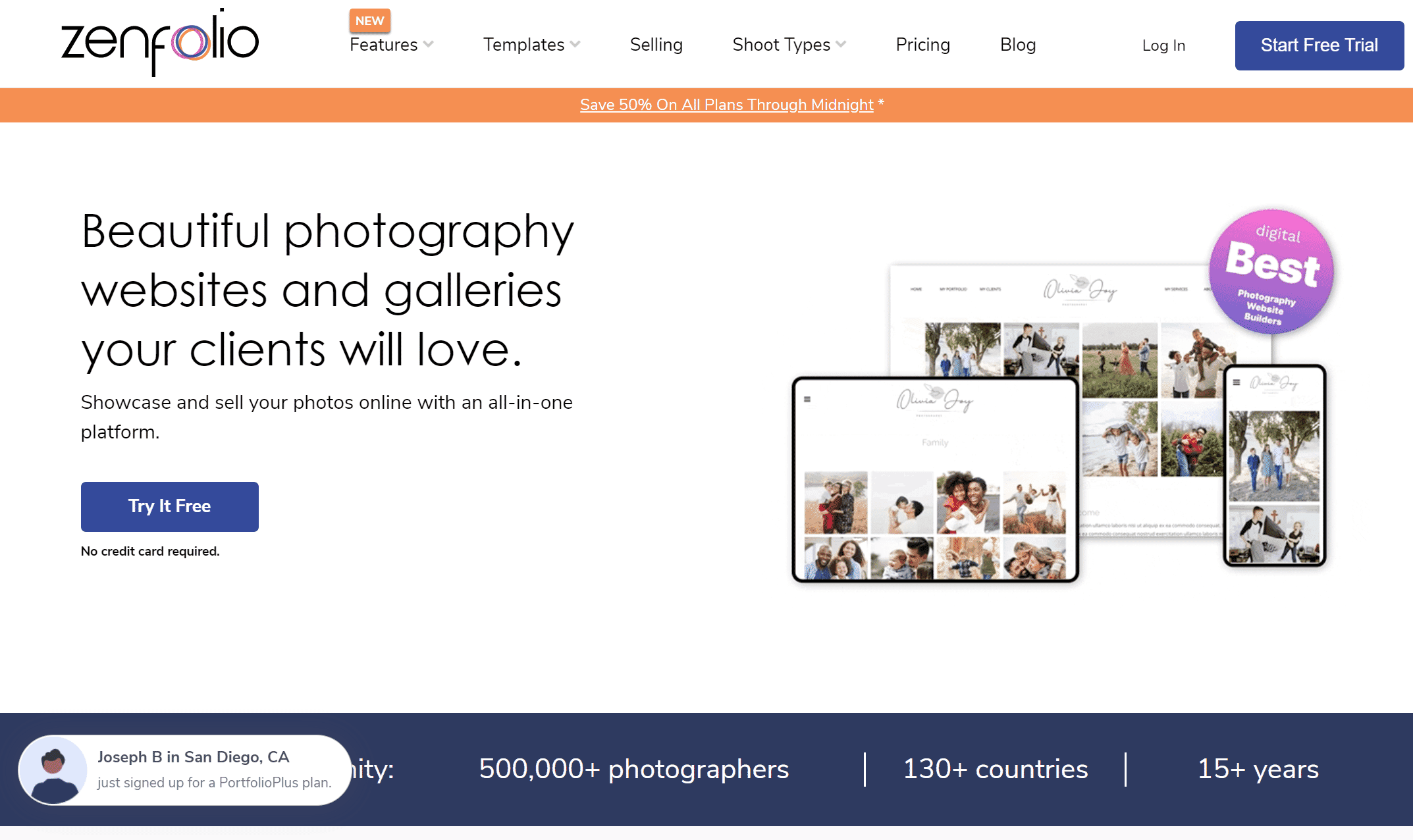 Zenfolio clearly knows its market. The entire website immediately opens with everything you'd want to know before getting started, organized strategically to allow photographers from all walks of life to feel welcome.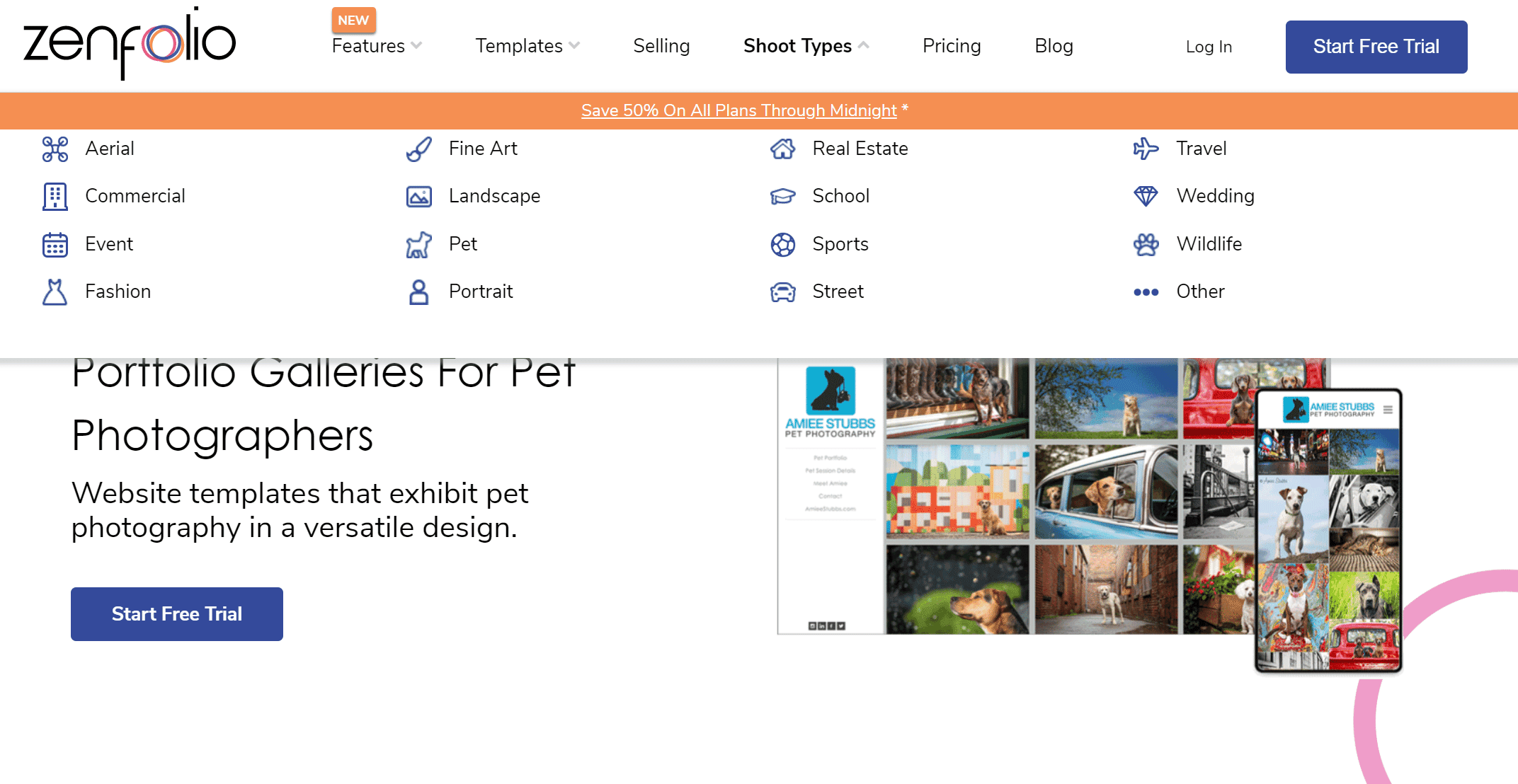 The "Shoot Type" window is quite nifty, allowing photographers of specific niches to select their subject of choice and see how Zenfolio can help improve their business.


The "Features" tab quickly shows the many tools Zenfolio has to boost your photography career. The majority revolve around automation, a genuine game-changer.
Let's take a look at the most important Zenfolio features:
Automation and Marketing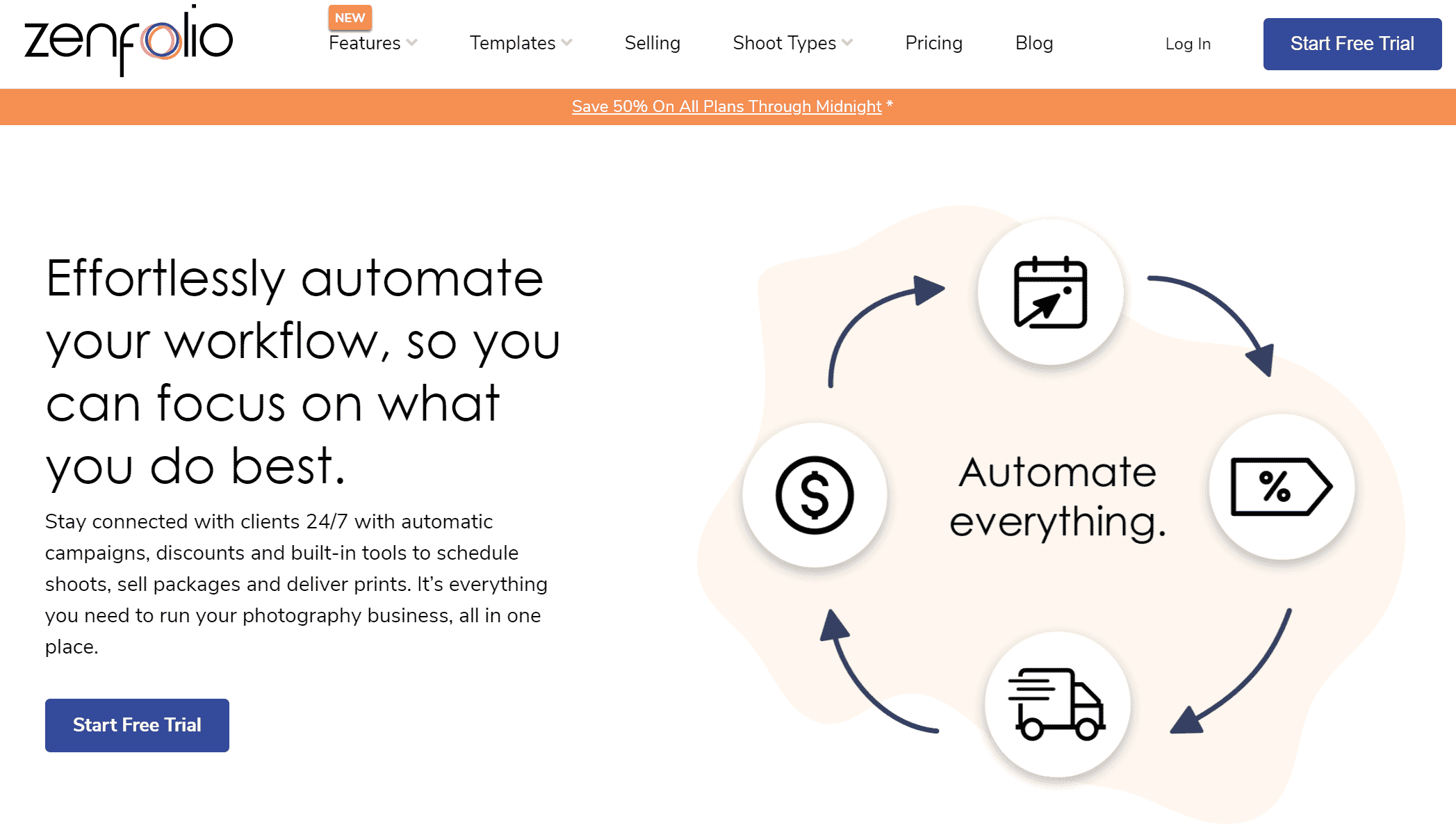 The automation part is what impressed us the most; as photographers, so much of our daily time is taken up by administrative tasks that could (in theory) be easily automated. Zenfolio offers a bevy of automation tools that cover many different levels of business:
Potential clients can be sent contracts, booking payments, and more – all in one fell swoop. Zenfolio syncs with Google Calendar to create a full availability schedule for clients. You can even design and book mini sessions!
Zenfolio integrates with print labs to automatically fulfill orders.
Zenfolio lets you send automated emails, including abandoned-cart reminders, gallery-expiry emails, coupon and promotional emails, and more.
These tools are a massive help, especially the marketing emails, which are tough to send out week after week.
Website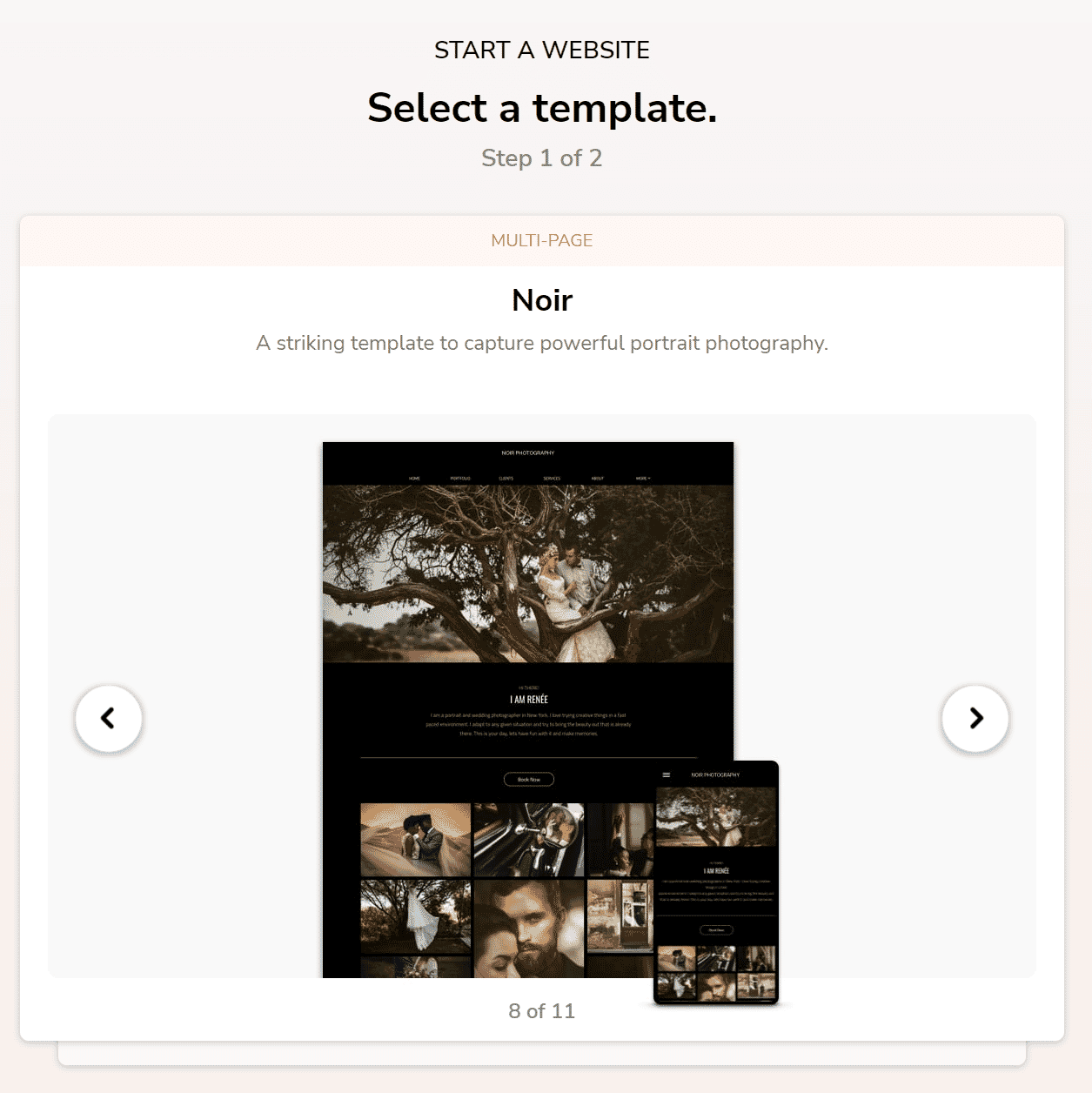 Even in the age of social media, every photographer needs a website. Zenfolio offers beautiful and clean templates so you can build any sort of great photography website.
Creating your website involves a fairly simple drag-and-drop process, so you don't need any coding knowledge. And you can pretty easily integrate the client galleries, online store, and booking manager with your site, too.
Proofing and Sales Galleries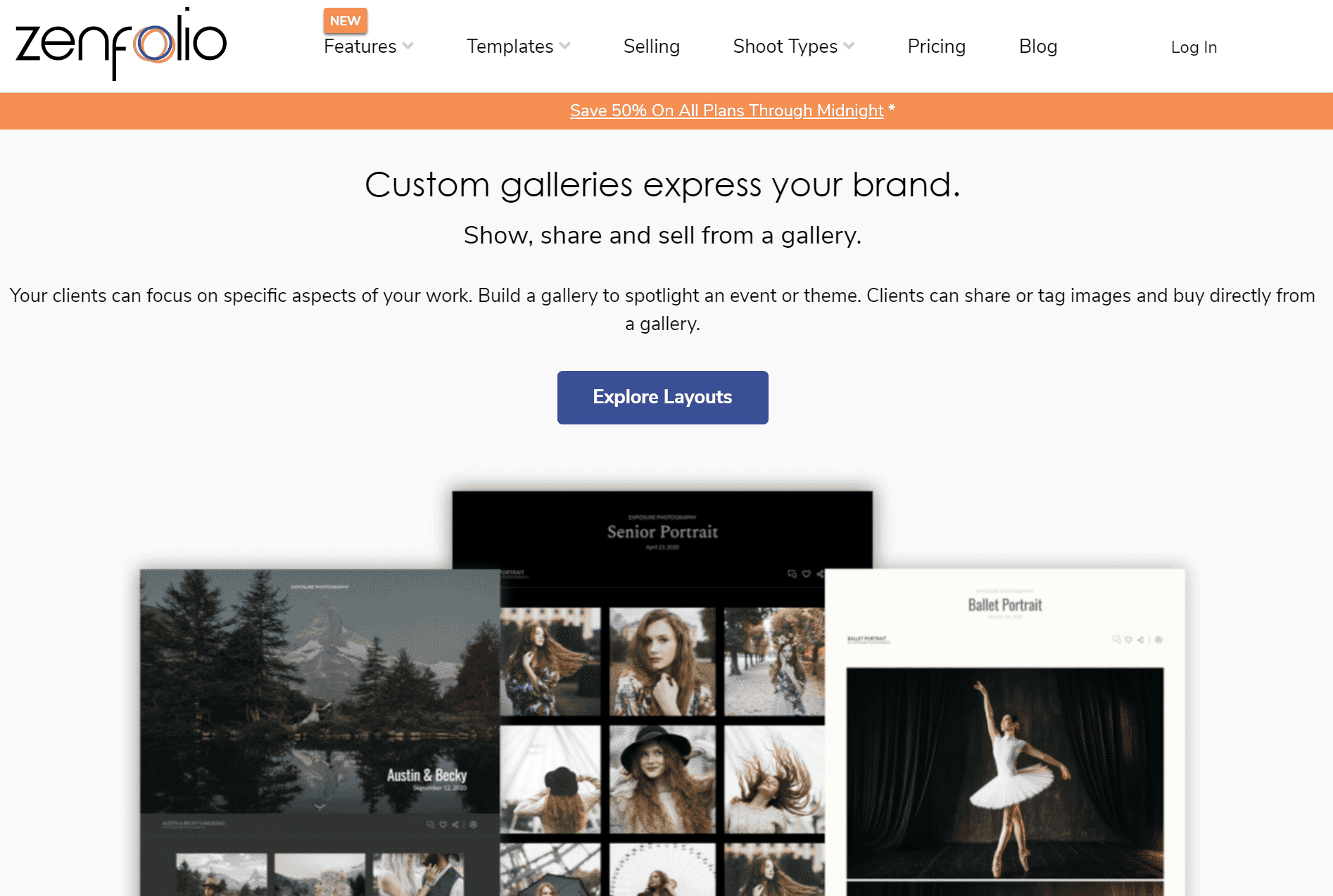 The client galleries might be what Zenfolio is known for best as there has been a massive increase in proofing gallery needs over the last few years.
Zenfolio's proofing gallery allows clients to view their images, make lists of favorites (which you can see in your administrative portal), download galleries, and share photos with their friends and family. The galleries are also mobile friendly and work well with pretty much every device.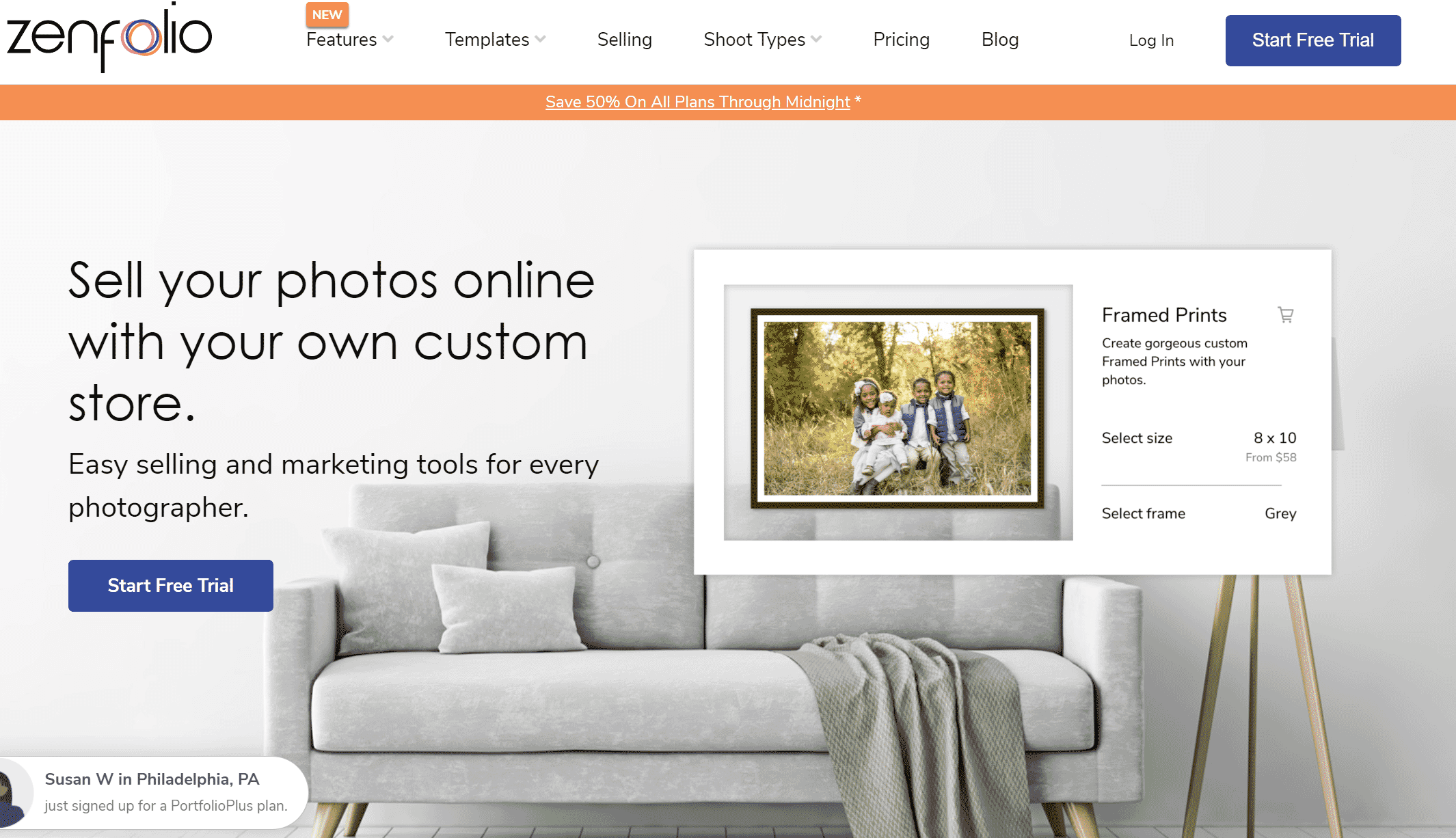 The online store looks pretty similar to the galleries, and client galleries can easily be made into an online store. Clients can add the products they want to order to a shopping cart and have a pretty standard checkout process.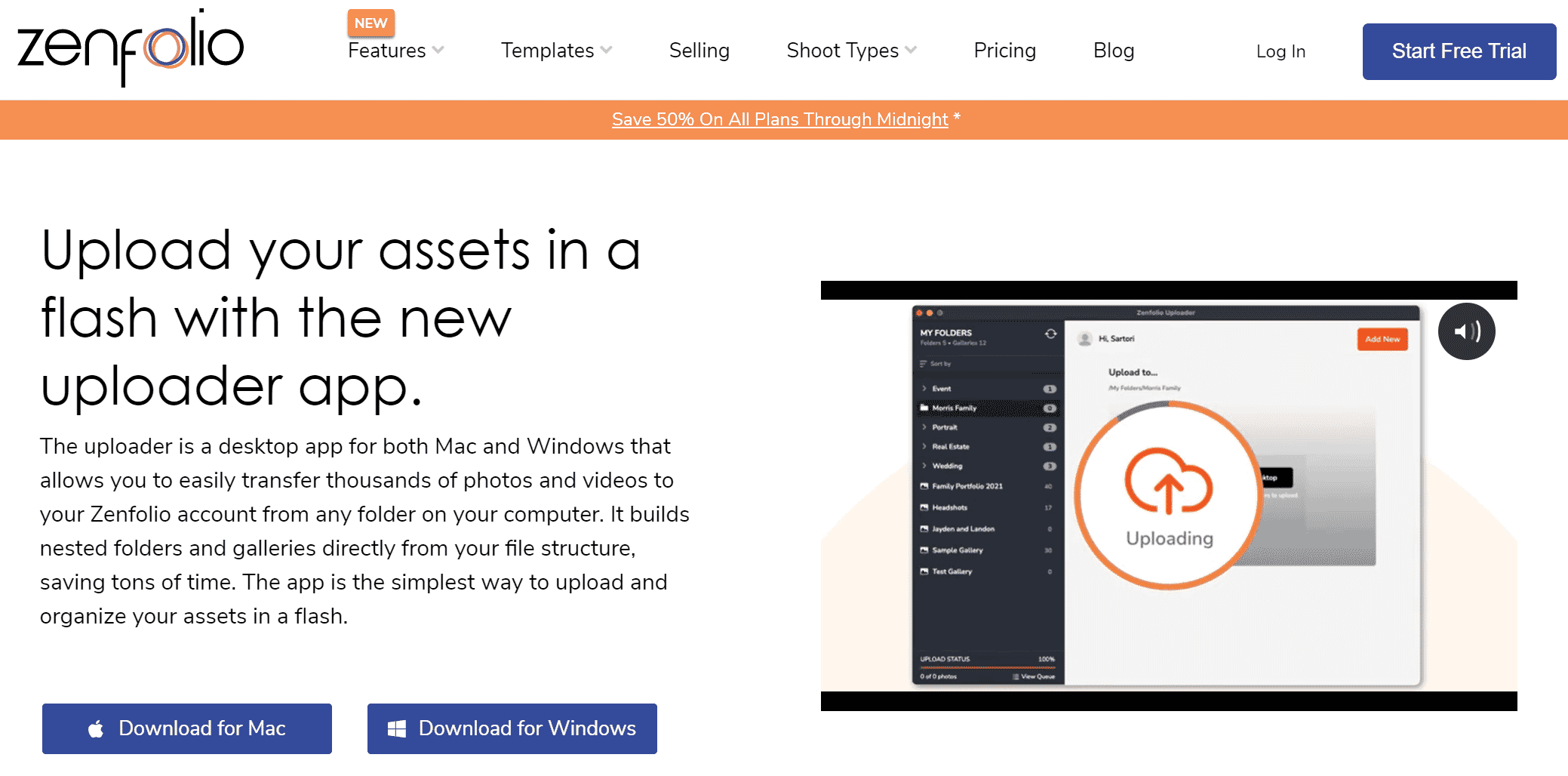 The uploader is pretty nifty, too. It makes uploads efficient!
Photoshoot Booking Manager
Zenfolio's newest perk is the integration of BookMe, which is a major timesaver.
First, the platform synchronizes your Google Calendar with a scheduling system that allows clients to pick time slots based on your availability (the schedule updates on your side whenever there are any changes). BookMe then auto-generates a client gallery based on the format you set for the package the client has purchased. Once the shoot is done and images are loaded into the gallery, the platform automatically emails the gallery to your client and can then automatically fulfill any orders your client places through the Zenfolio lab integrations.
There are a lot more details and options, such as customizing client payment frequency and making mini sessions, but you should now be familiar with the essentials!
Ease of Use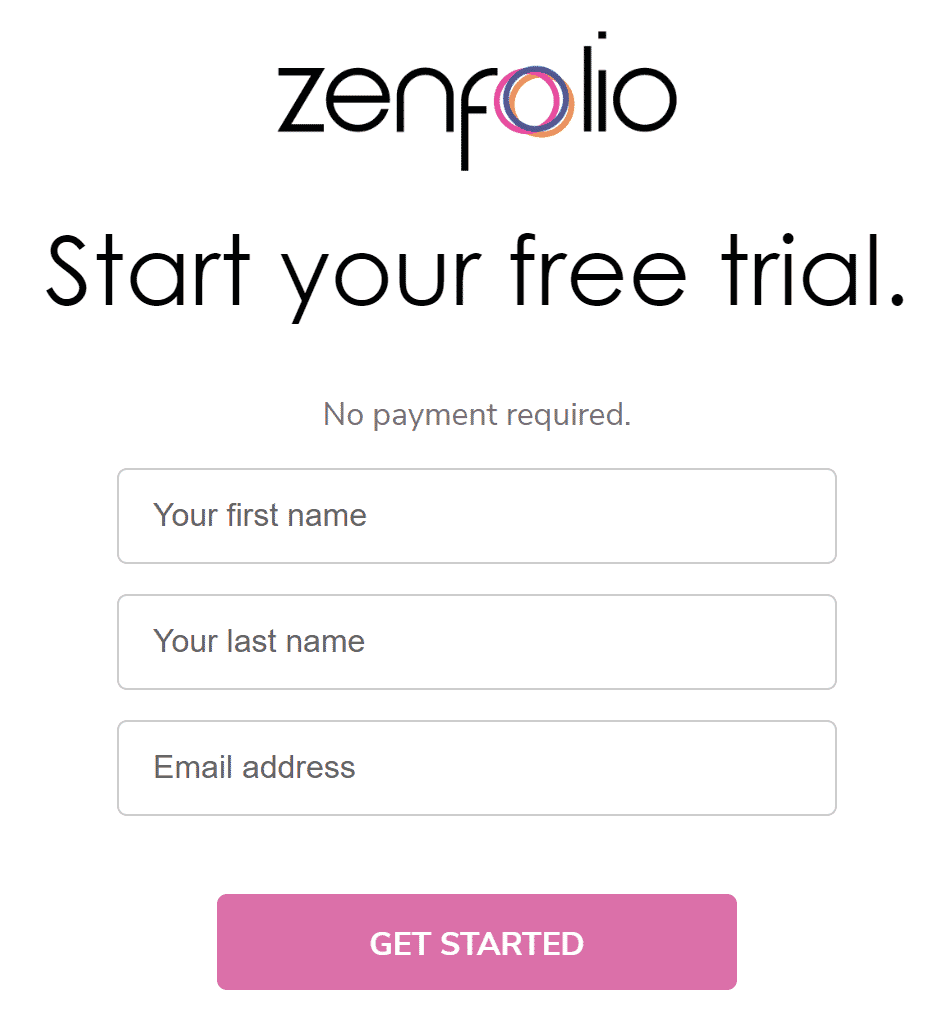 For this Zenfolio review, we went ahead and started a free trial, which involved nothing more than adding a name and email address! Other platforms collect a lot more information than this, so it felt nice to be able to hop right into the service without jumping through tons of hoops.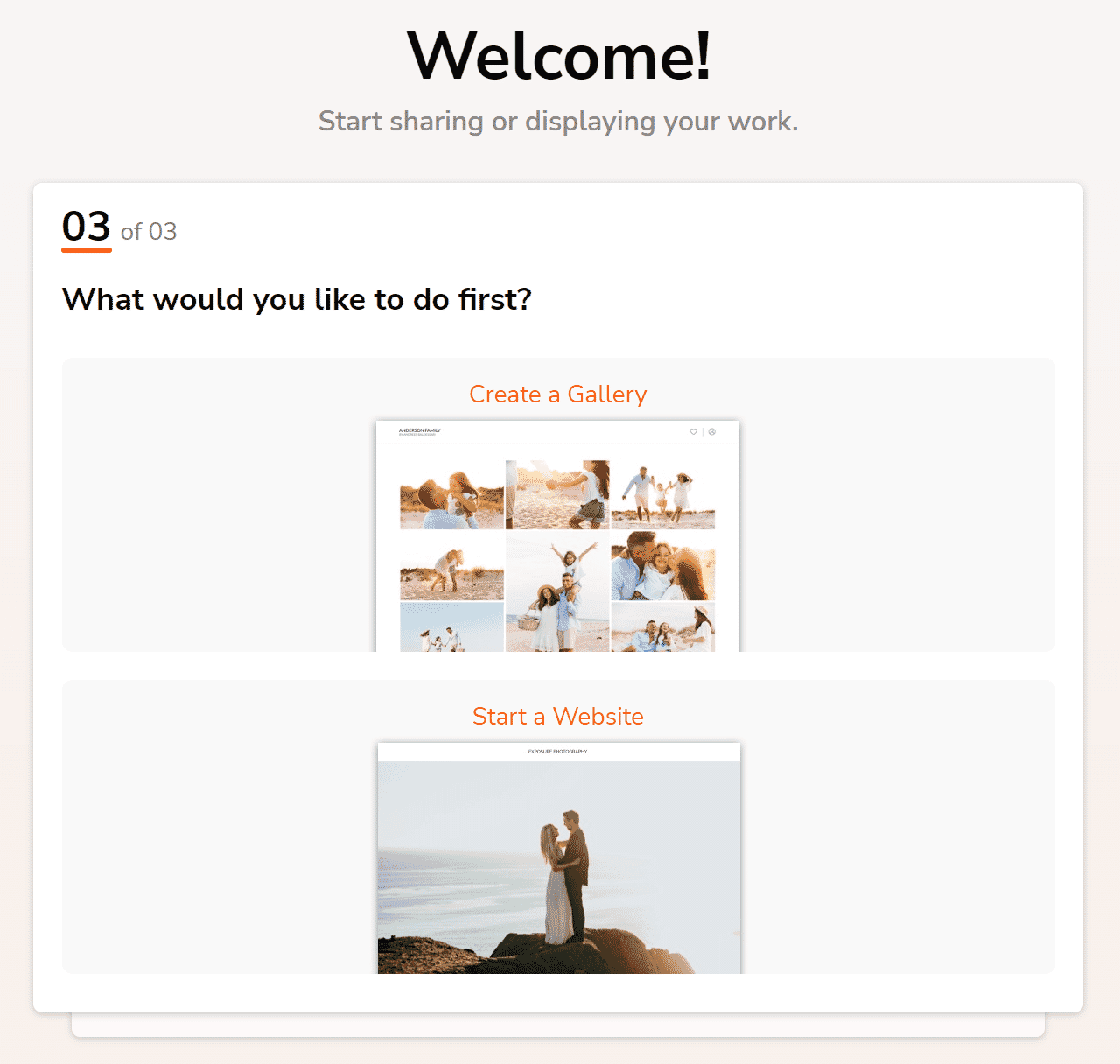 After answering a couple of simple questions, Zenfolio asked if we'd like to start with a gallery or if we'd like to start with a website. For the purposes of this review, we did both – and we're happy to report that both were very easy to create!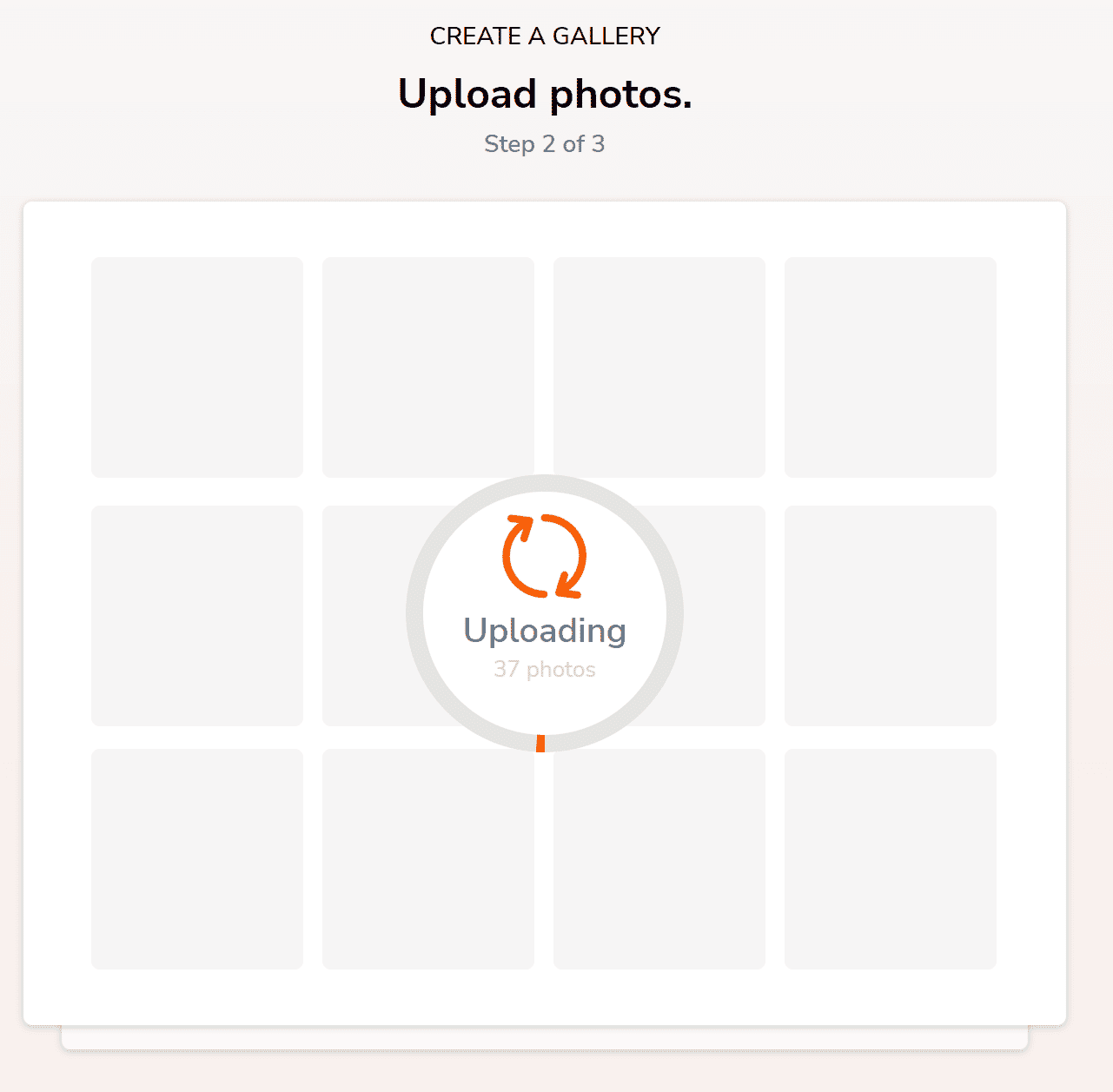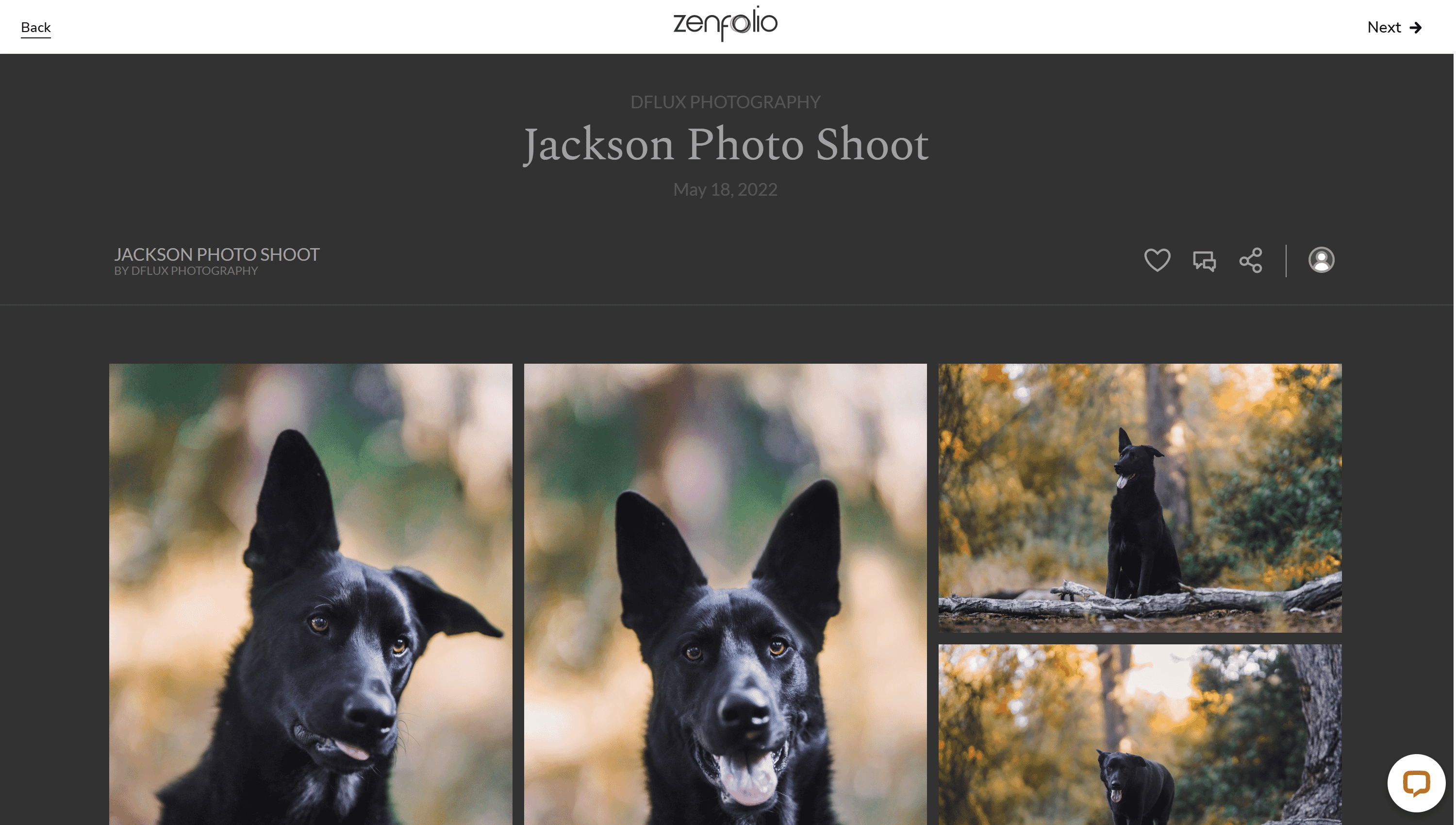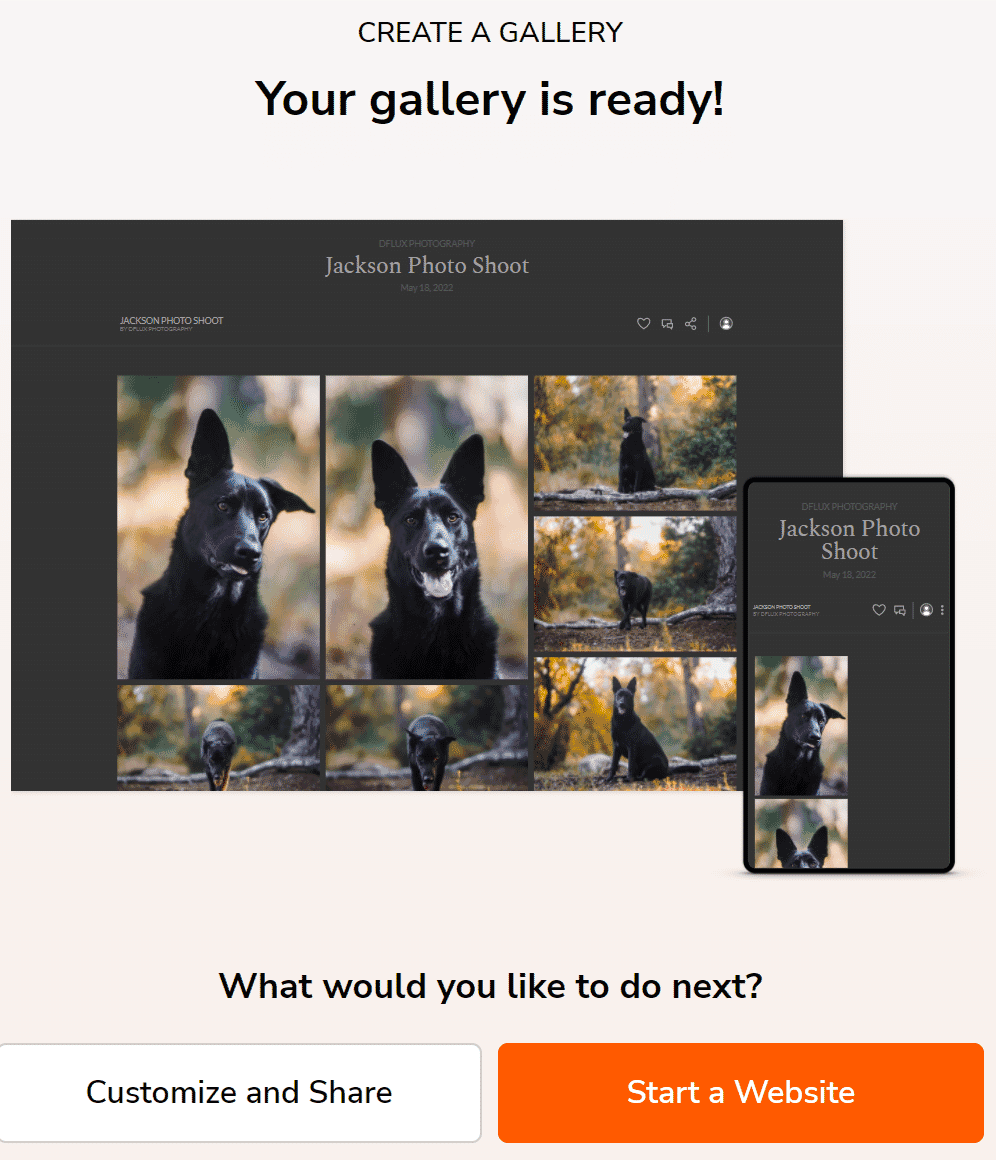 We started with the gallery, as we had some full-resolution images from a recent pet shoot. The uploader worked fairly quickly despite a slow internet connection and the gallery was generated automatically. It looked great and took absolutely no computer know-how to set up, which was quite impressive.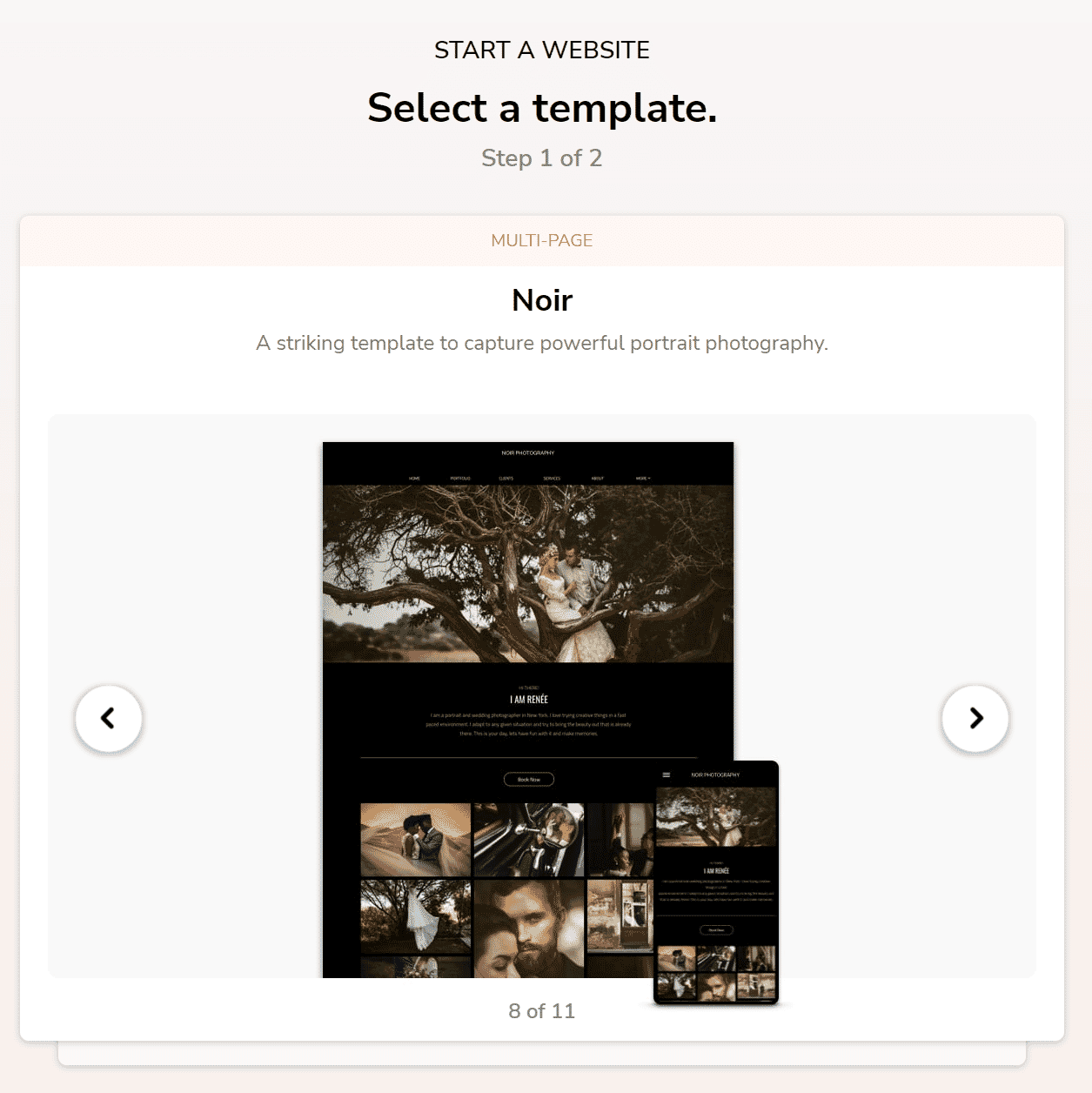 Next was the website. Zenfolio limits you to 11 templates, but we were eager to see how much you could customize the template you picked. We went with Noir, as we've always liked darker websites.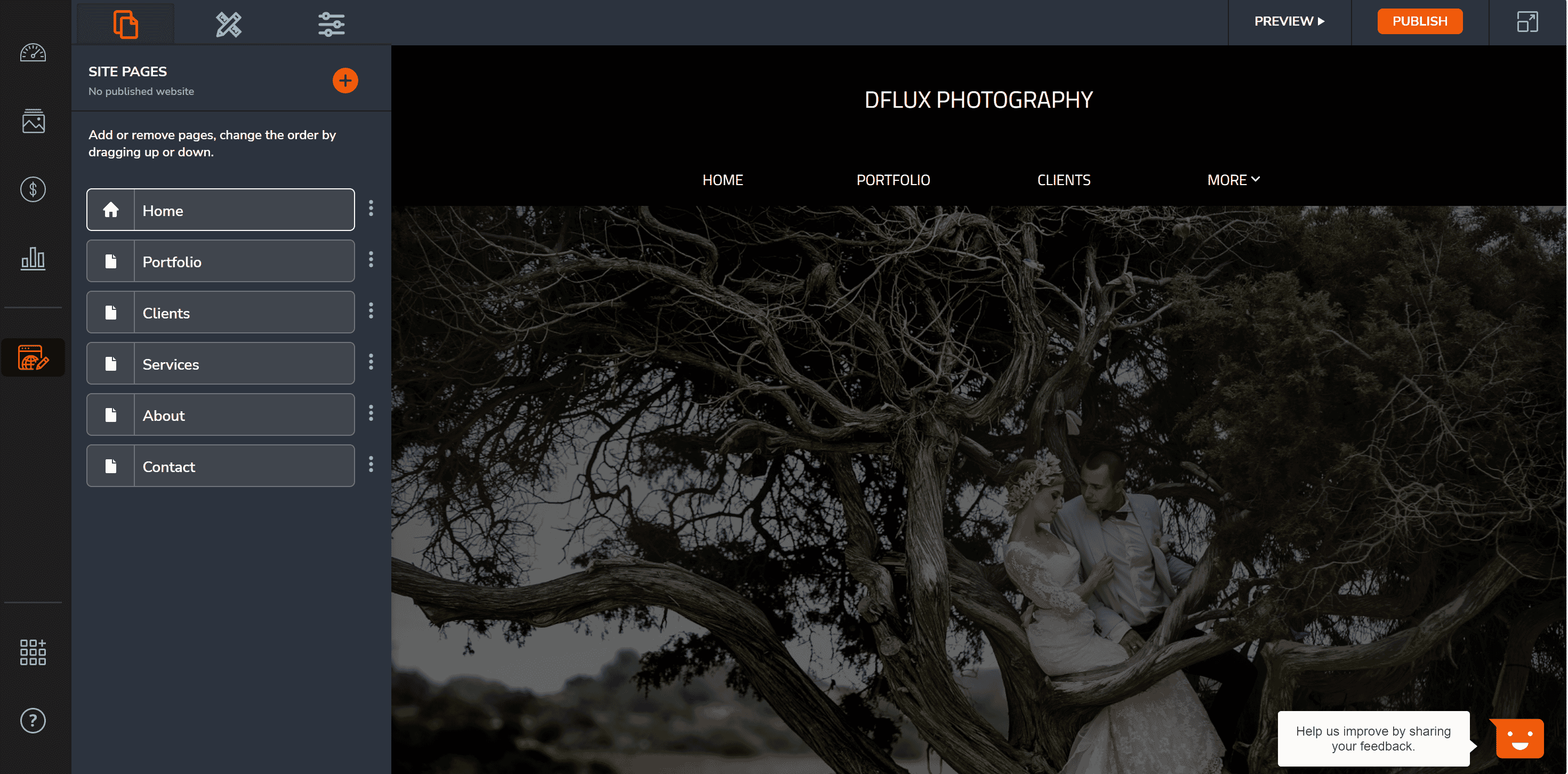 The website editor was pretty well organized. We clicked on various blocks in the website panel to bring up additional customizations and options. Unfortunately, compared to a builder like Wix, Zenfolio offers very limited customization.
Although Zenfolio certainly provides a tremendous number of useful tools for photographers, we're a bit concerned that the end result will often end up looking like every other photography website – sleek, yes, but unoriginal, and not great for differentiating yourself from other companies.
Also, the website is missing a key feature that many photographers in the industry currently use: a blog. In our view, this is a big oversight! Blogs can help improve website SEO, provide clients with something to read, and so much more. You can technically emulate a blog using Zenfolio's blocks, but this isn't convenient.
The galleries suffered from the same customization issues as the website, but truth be told, galleries really don't need to be customized as much as websites. Simpler is generally better!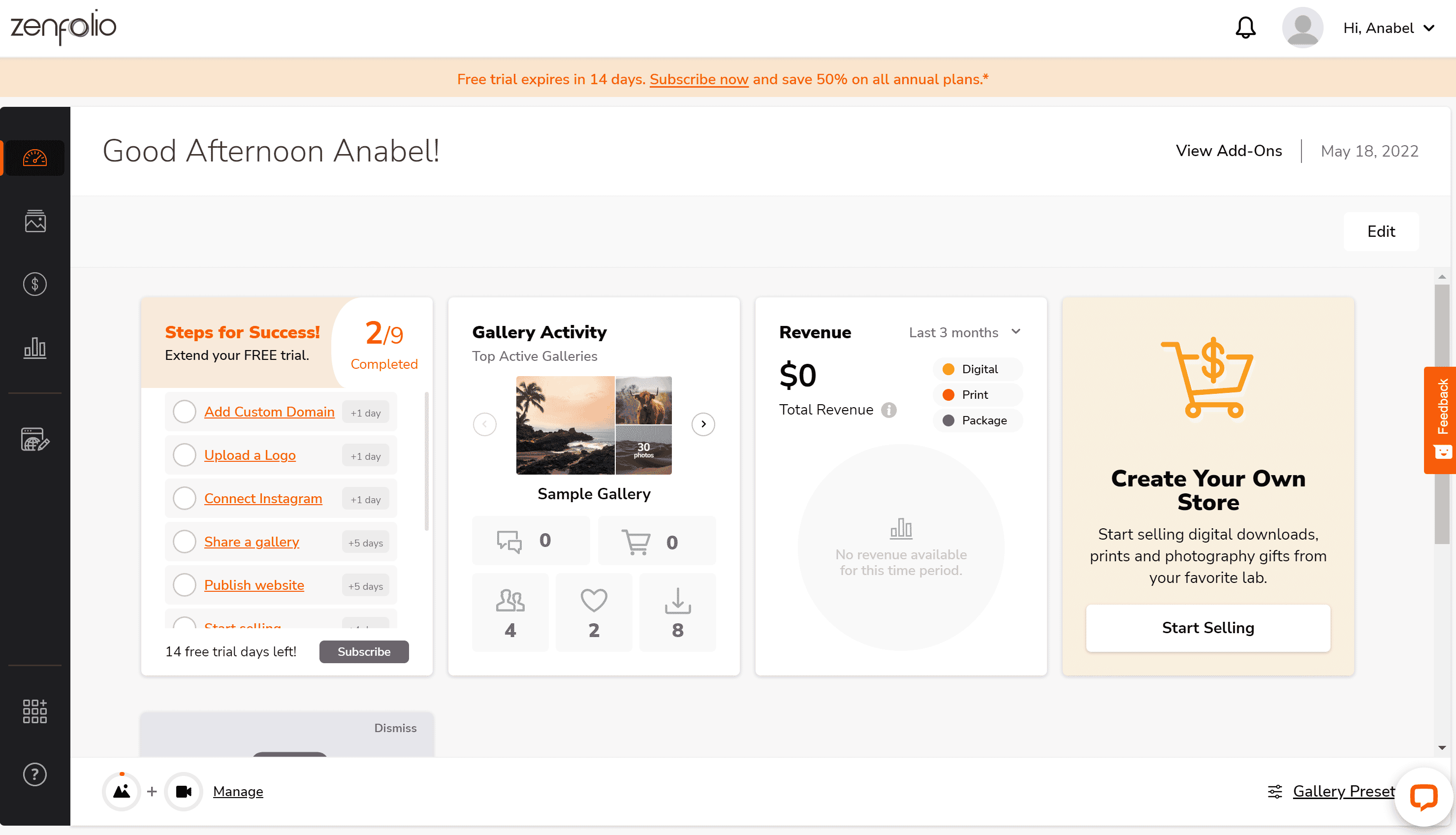 The administrative side of Zenfolio is rather nicely organized, and everything is easy to access.
Truth be told, Zenfolio is extremely easy to use – it does take several hours to make the platform perfectly align with your photography business, but all in all, it's easy to understand, intuitive to use, and we have absolutely no complaints other than the lack of customization and the lack of a photography blog.
Pricing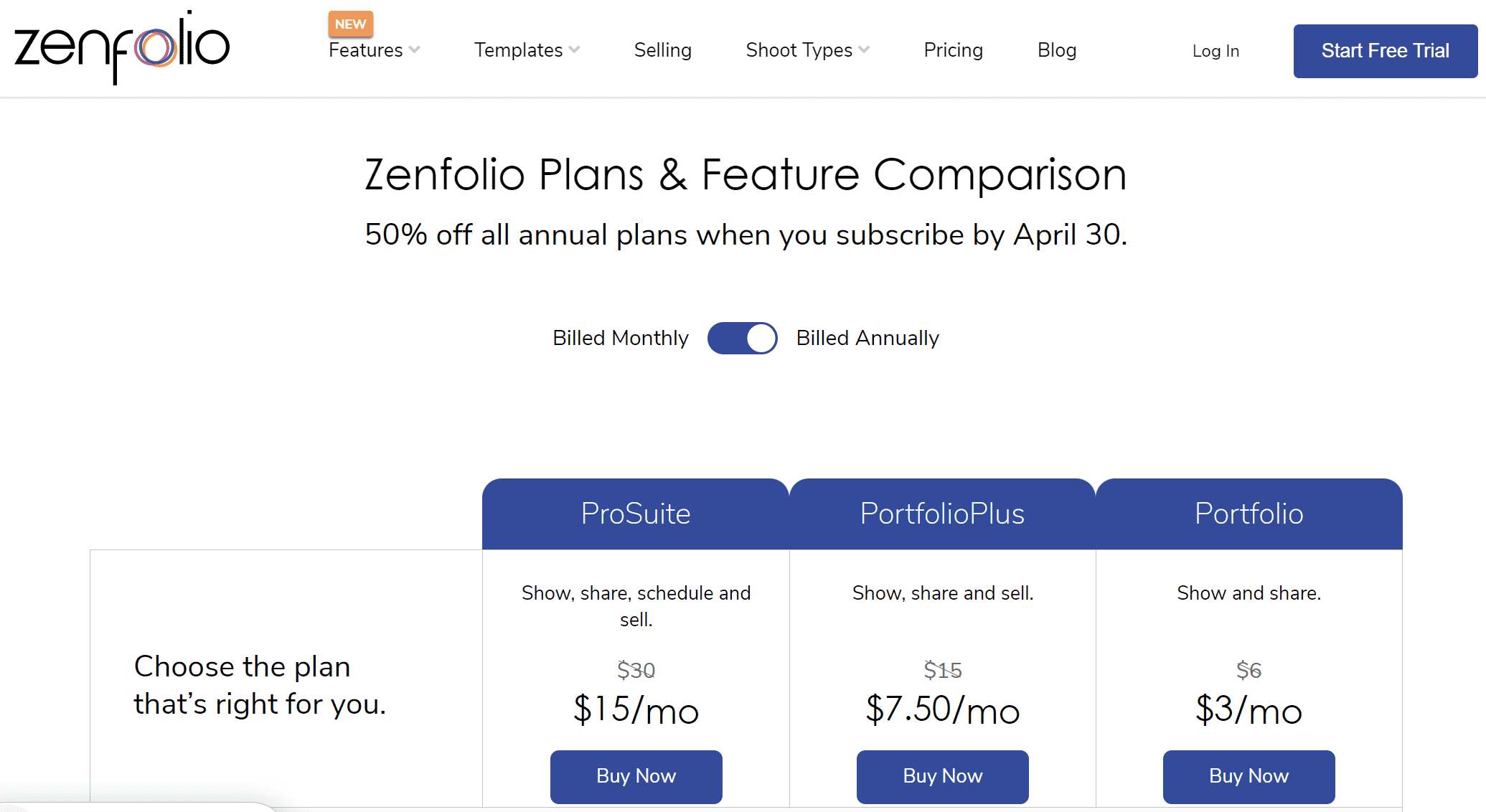 Zenfolio is placed pretty well in the market (especially for what it offers). You can do a free trial to see if Zenfolio is right for you, and if the platform strikes your fancy, there are a few pricing tiers to choose from:
Portfolio: $6/month
PortfolioPlus: $15/month
ProSuite: $30/month
The Portfolio pricing tier includes the following primary perks:
A multi-page website
Client galleries with mobile versions available
15 GB photo storage
25 hosted videos
A custom watermark
SEO tools
Social media integration
An Adobe Lightroom plugin
The ability to search images using facial recognition
The PortfolioPlus tier includes all of the above and adds:
100 GB of photo storage
75 hosted videos
An online store
Integrated lab access
Ability to create coupon discounts
The ProSuite includes all of the features from Portfolio and PortfolioPlus, but it adds:
1 TB photo storage
Advanced selling and expanded lab access
Automated marketing campaigns
An all-in-one scheduling, booking, and payment solution
The Portfolio and PortfolioPlus options are in line with alternative platforms offering similar solutions, which makes Zenfolio a good investment. The ProSuite plan is on the pricier side, but it offers perks that may not be offered by competitors, so you might argue that they justify the price.
BookMe, the all-in-one scheduling, booking, and payment service, can be purchased for an additional $10 per month on the Portfolio and PortfolioPlus plans but is included in the ProSuite plan.
That being said, many of the perks that make Zenfolio so attractive are only available as part of the most expensive plan. The basic plan doesn't even allow for online selling! This is a problem for Zenfolio as some alternatives offer these features in their most basic pricing tiers.
Zenfolio Alternatives
The first direct alternatives that pop to mind immediately include Pixieset, Pic-Time, and Pixpa. Other platforms that offer similar features but may not be considered direct competitors include SmugMug, Wix, Squarespace, and more.
All of these platforms vary in where they outperform Zenfolio or deeply underperform in comparison, so the best platform really depends on your business.
For example, Pixieset has more attractive pricing tiers and recently introduced a studio manager, but the automations are much less impressive than Zenfolio's. And while Wix is a marvelous website builder that can create far more sophisticated websites than Zenfolio, it does require more manual effort.
Zenfolio Review: Our Verdict
Zenfolio Review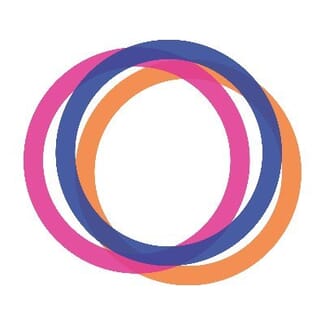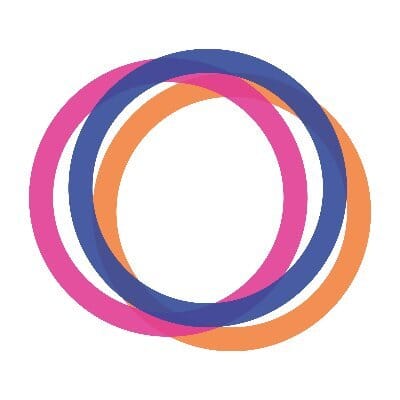 Product Name: Zenfolio
Product Description: Zenfolio is a multifaceted business solution that provides photographers with websites, galleries, storefronts, marketing tools, SEO, booking, and so much more.
Features

Ease of Use

Customization

Price
Zenfolio Summary
Zenfolio is an all-in-one suite for photography businesses (big and small) that includes galleries, websites, storefronts, automated emails, a scheduling app, a booking and payment processor, and more.
Pros
Incredible automations and integrations to save hours of administrative and marketing time
Clean, beautiful design that is optimized for computer and mobile viewing
Very easy to use and get started
Decent price
Cons
Only 11 website templates to choose from
Lack of customization in comparison to other web builders
No dedicated blog platform
Main automations are expensive (only available with the priciest plan)
At the end of the day, we think Zenfolio is a great option for photography businesses. It's the perfect platform to start a brand-new photography company, and it's great for veteran professional photographers, too.
That being said, there are some drawbacks to the platform, and it's up to you to decide if the cons will impact your business!