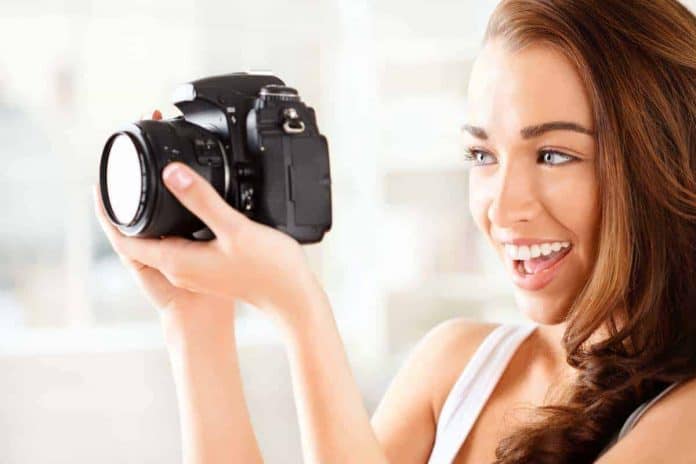 Best Beginner Photography Gear
Obvious First Choice: A Camera
In order to shoot photos the first thing that you need is a camera.
Everything else comes after it. A DSLR (Digital Single Lens Reflex) camera allows you to use different lenses – which is a critical advantage because with a single camera body you can shoot wildlife, macro, wide angle and anything else you may have a fancy for. All you need is the right lens to go with the camera body. No other camera gives you an advantage like this.
Obviously, medium format and film SLR camera also offer you the same option to use different lenses, but one of them costs a fortune and the other one uses film, which is an old medium of photography.
The true champion of modern digital photography is a DSLR, the ideal combination of performance, convenience and affordability.
Which is the best DSLR camera for a Photography Beginner?
There is no easy answer to this really. It all depends on which features you would be using, how an individual camera feels in your hands and of course your overall budget.
Remember, budget encompasses not only the price that you have to pay for the camera but also the accessories that goes with it. This includes a lens, memory cards, batteries, tripods, flash etc.
Before buying your new DSLR camera be sure that you are comfortable using it and not necessarily gives you the bragging rights. We recommend the Canon Rebel T5 and the Nikon D5300 and feel one of those should be part of the best photography gear for photography beginners.
The Best DSLR Body for Beginners
The Canon Rebel T5
The Nikon D5300
The best Lenses for Beginners
To work with a DSLR you need at least one lens, any lens. Without a lens the camera is nothing because it won't be able to focus the rays of light bouncing off a subject on to the digital sensor.
But which DSLR lens should you pick?
There are many different choices. There are colorful (and confusing) names – primes, zooms, telephoto, wide-angle, fish-eye, tilt-shift, macro and so on. Each offer a different view through the viewfinder and each is suitable for a specific type of photography. But they all they do the same thing.
They project light coming through a small opening at the front of the lens (aperture) and directs it on to the sensor at the back of the camera. Thus, an image is captured. So, once you have got yourself a camera the next thing you need is a lens.
Choose a lens depending on the type of photography that you would want to do and also depending on your budget.
Professionals would prefer to buy at least one wide angle, one telephoto and one macro lens so that they can cover every essential photography requirement. Special purpose lenses like tilt-shit, fish-eye are required for very specific type of photography.
Our suggested lens Gear for Photography Beginner are to start off with one zoom lens either a Canon EF-S 18-55mm or a a Canon EF 28-105mm.
That should cover most of your everyday photography requirements.
You could add one Marco Lens to you portofolio of lenses. In this case the Canon EF-S 60 mm f/2.8 Macro USM would be a good choice.
The Canon EF-S 18-55mm
The Canon EF-S 60mm f2.8 Macro USM