Event photography is a fast-paced genre, and while it's a lot of fun, it does have its challenges. In particular, you often need to shoot moving subjects in low light, which can be difficult – or impossible – without the right camera.
But what is the best camera for event photography? We picked the following 12 cameras by considering shooting speeds, autofocus capabilities, and overall low-light performance. No matter your budget or level of experience, you're guaranteed to find the perfect camera for your needs.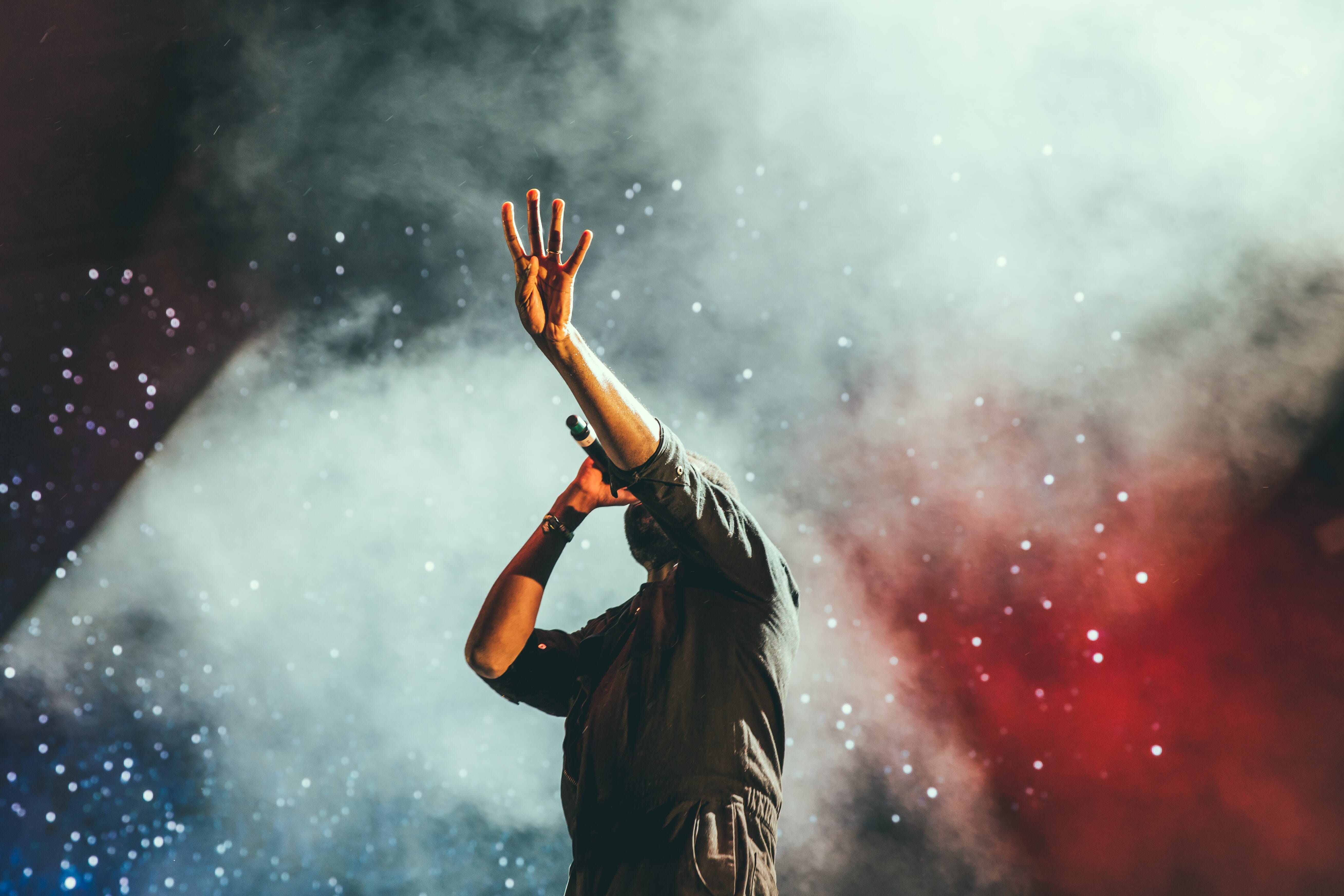 Best Cameras for Event Photography:
When you buy through links on our site, we may earn a commission at no cost to you. We evaluate products independently. Commissions do not affect our evaluations.
1. Canon EOS-1D X Mark III
Our Pick
Best for professional event photography
The Canon 1D X Mark III offers lightning-fast focusing, a rugged body, and outstanding high-ISO performance.
Pros
Amazing high-ISO capabilities
Fast focusing even in low light
Built like a tank
If you're a serious photographer in need of a low-light action camera, then the Canon EOS-1D X Mark III, while eye-wateringly expensive, is an outstanding choice.
It's a DSLR designed for professional sports shooters, which means you get blisteringly fast autofocus, perfect for capturing musicians as they move around a stage or partygoers as they whirl across a dance floor. And Canon has specifically optimized the 1D X Mark III for low-light focusing, so expect to keep shooting long after other photographers have called it quits.
Fast-paced events are hard to photograph, but the 1D X Mark III's 20 frames-per-second continuous shooting should make things easier. Plus, you get one of the best camera batteries in existence, which lets you shoot a whopping 2000+ frames without pause.
While the 1D X Mark III's 20 MP resolution isn't anything to write home about, the large pixel size helps deliver class-leading high-ISO performance. You can capture relatively noise-free images up to ISO 3200, and even ISO 25600 shots are usable. In other words, you won't have to worry about keeping your shutter speed fast, even in near darkness.
If you plan to shoot in rough environments (e.g., rainy outdoor events, or indoor concerts with the potential to get your equipment jostled and kicked), then you'll love the 1D X Mark III's solid, robust design. And the built-in body grip is great for rapidly switching between horizontal and vertical orientations, which – at least in my experience – comes in handy in pretty much every situation.
Before committing to the 1D X Mark III, however, I recommend you carefully consider the price. The camera is $6500, body only, and to really maximize its potential, you'll need to buy a handful of top-notch event photography lenses (none of which are cheap). If you're not sure whether event photography is right for you or you don't have a deep need for a low-light powerhouse, I'd recommend one of the other options on this list.
On the other hand, if you have the cash and you're a dedicated low-light event shooter, then buy the 1D X Mark III. You won't be disappointed.
2. Sony a7S III
Also Great
Great for low-light events
The a7S III has exceptional low-light prowess, and image quality is exceptional.
Pros
Impressive high-ISO performance
Good image stabilization
Dual card slots
Cons
Difficult ergonomics
Very expensive
One of the main things that that we like about the Sony a7S III is the continuous shooting, which reaches speeds of 10 FPS. At this rate, the camera can continue to shoot a maximum of 1000 RAW files. You'll never miss a candid moment again!
The electronic viewfinder on the a7S III deserves a special mention as it has improved substantially over past models. At present, it's one of the finest examples of an electronic viewfinder, and it'll make it far easier to evaluate sharpness and exposure when capturing events.
If you often shoot concerts or other fast-paced events, you will love the convenience of Sony's eye-tracking algorithms. You also get impressive high-ISO performance and an in-body image stabilization system, which go a long way toward ensuring you get sharp shots while handholding in low light.
3. Nikon D850
Best for all-around event photography
The D850 is highly versatile; you can use it for weddings, concerts, sports, and more.
Pros
45 MP sensor
7 FPS continuous shooting speed
Good low-light performance
Cons
Not the best autofocusing
The Nikon D850 is, in many ways, the ultimate all-rounder. It combines high-resolution shooting with low-light capabilities, which is great for serious event photographers.
Powering the D850 is a 45.7 MP sensor, but that doesn't slow the camera down; it is capable of capturing full-resolution images at a rate of 7 frames per second. This burst rate is decent for photographing events and will ensure you get a high number of keepers.
That said, if you want to get a little bit more out of the D850, you can use the optional battery grip to reach 9 FPS.
Compared to its predecessors, the D850's autofocusing speed and accuracy is outstanding. And autofocus sensitivity goes down to -4 EV, so regardless of the lighting situation at an event, you will never find the D850 struggling!
4. Nikon Z7 II
Best for slower events
The Z7 II offers very nice continuous shooting speeds, plus low-light performance is excellent.
Pros
Beautiful image quality
10 FPS continuous shooting
High autofocus sensitivity
Cons
No optical low-pass filter
The Nikon Z7 II is the latest version of Nikon's excellent Z7 series, designed to take the experience of shooting with the Z7 to the next level.
The Z7 II is designed to be an all-around camera. Like the original Z7, it offers a 45.7 MP full-frame sensor, which produces stunning images (and offers surprisingly good high-ISO performance, too).
Up-and-coming event photographers will love the 10 FPS continuous shooting speed; with such a fast camera, you'll never miss a shot!
The autofocus system even lets you track eyes. This is a huge advantage when shooting weddings, corporate events, and concerts, because you can nail focus on the eyes as your subject moves around the stage.
The camera also features in-body image stabilization technology, which will help you shoot handheld in low light.
5. Nikon Z6
Best for ergonomics
The Z6 offers 12 FPS continuous shooting and good low-light capabilities. It's also very pleasurable to use.
Pros
Accurate autofocus
Amazing high-ISO performance
Outstanding ergonomics
Cons
Buffer isn't great
While there is an upgraded Z6 model, we still love the older Nikon Z6. Why? For two reasons: the excellent continuous shooting speed and the stunning image quality.
The Nikon Z6 shoots at up to 12 FPS, and we like a camera with a high frame rate for shooting events. Image quality is amazing and is especially impressive in low-light scenarios.
The continuous autofocusing performance is also rather good and should satisfy the needs of many event photographers.
Overall, this slightly dated model is a great mirrorless option if you're looking to save a couple of bucks. It'll provide everything you'd need to shoot incredible event images.
6. Sony a7R IV
Best for all-around event shooting
The Sony a7R IV packs insane resolution, decent focusing, and very nice high-ISO performance.
Pros
61 MP sensor
10 frames-per-second shooting
Tilting screen
Cons
Autofocus struggles in low light
At first glance, Sony's 61 MP a7R IV might seem like a nature photography camera. And to some extent, it is – yet the a7R IV is a surprisingly capable all-around body, one that offers plenty of features for event photographers of all stripes.
For instance, the 61 MP sensor, in addition to delivering commercial-level image quality, boasts very impressive high-ISO capabilities. You can shoot up to ISO 3200 without significant noise, and I wouldn't hesitate to push the camera to ISO 6400 or even ISO 12800 if necessary. Of course, every photographer's tolerance for noise is different, but in our estimation, you can use the a7R IV to shoot dimly lit events without too much trouble; the a7R IV's in-body image stabilization is also a big help.
And when photographing in bright light, image quality is mind-blowing. Imagine capturing clear, crisp, noise-free images, which you can offer as wall-sized prints to your clients.
The a7R IV is a fast camera, too. Autofocus isn't on the same level as, say, the Sony a9 II (on this list, below), but Sony's tracking algorithms work great and focusing is snappy in good light. You can even shoot (compressed) RAW files at 10 frames per second, which comes in handy when capturing concerts and other fast-paced events.
Serious photographers will appreciate the dual card slots for that extra bit of security, while the tilting LCD is great for capturing beautiful low-angle compositions without hurting your back. And then there's the high-resolution electronic viewfinder, which lets you preview exposure and colors in astonishing detail.
Bottom line: While the Sony a7R IV isn't the fastest camera on the market, it certainly performs well, especially if the light is good and image quality is your main consideration.
7. Nikon D500
The best APS-C camera for event photography
You can never go wrong with the D500, which boasts advanced autofocusing prowess, excellent image quality, and fast continuous shooting speeds.
Pros
Fast autofocus
Dual card slots
10 FPS continuous shooting
Cons
APS-C sensor
Limited resolution
Yes, the Nikon D500 is an APS-C camera, but it's still highly capable and very fast.
To help you focus quickly and accurately, the D500 has a 153-point AF system; this lets you focus on your subject and stay locked on – no matter what happens.
Now, the D500 has a 20.9 MP APS-C sensor. While the resolution doesn't seem like a lot, as long as you don't do extensive cropping, you'll be fine. And the low resolution has other benefits, such as faster continuous shooting and advanced high-ISO capabilities.
The maximum frame rate of the D500 is 10 FPS, and you get up to 200 lossless RAW frames before the buffer fills up. That way, you can shoot events in burst mode and then select the perfect shot during post-processing.
The camera also features two card slots. One accepts XQD (or CFexpress) cards and the other accepts SD cards; I recommend you use one as a backup, which will prevent you from losing your shots in the event of a memory card error.
8. Sony a9 II
Best for fast-action photography
The a9 II is Sony's latest action camera; it's an amazing pick for concerts and other low-light events.
Pros
Impressive autofocus performance
Good continuous shooting with an improved buffer
Weather-sealed design
The Sony a9 II is a favorite of ours in many ways. It is one of the best mirrorless cameras you can get your hands on and one of the best cameras for event photography.
The Sony a9 II is built around a powerful 24 MP sensor, and it features a 693-point phase-detection AF system that covers almost 93% of the frame. This is a huge advantage when you consistently shoot off-center compositions. Additionally, the 425 contrast-detection AF points ensure excellent autofocusing accuracy.
The a9 II's electronic shutter is capable of shooting at a whopping 20 frames per second. And the electronic shutter is completely silent, which comes in handy when you're shooting events like weddings and concerts.
The a9 II's ISO range is quite expansive, and you can capture beautiful images even in dimly lit environments. Plus, if you often shoot outdoor events in bad weather, you'll appreciate the camera's weather sealing.
9. Canon EOS R6
Great for action and low-light event photography
The Canon EOS R6 is a versatile camera capable of handling any event, including concerts and dimly lit parties.
Pros
20.1 MP resolution sensor
Weather-sealed design
20 FPS continuous shooting
Cons
Incredibly pricey
The Canon EOS R6 is a relatively new full-frame mirrorless camera, and one that you can confidently use to photograph any event.
The camera can record an incredible 20 frames per second using the electronic shutter. If you prefer to use the mechanical shutter, you still get a very respectable 12 FPS.
But the best bit is the sensor, which produces bright, noiseless photos in low-light situations. Most events are conducted indoors and the lighting is usually dim. That's why a great low-light camera like the EOS R6 is so helpful.
The camera also offers lightning-fast autofocus and excellent weather sealing, not to mention a reliable in-body image stabilization system. It's the sort of camera you can use to capture crisp photos at any event, no matter the lighting conditions.
10. Nikon D7500
A budget APS-C camera for beginners
The D7500 is a great camera for beginners on a budget; it features fast continuous shooting and good autofocus for the price.
Pros
Budget-friendly option
Maximum buffer of 100 JPEGs
Good low-light performance
Cons
Autofocus is decent but not incredible
The Nikon D7500 is a budget pick for the entry-level event photographer. It is not the best low-light camera, nor is it the fastest focuser. But it has plenty of great features to interest a beginner looking for an event photography camera. Plus, it's inexpensive!
The D7500 packs a 20 MP APS-C sensor, which does a decent job of handling high ISOs. You can confidently shoot photos of low-light events, even if the ISO performance can't compete with the full-frame cameras listed above.
The Nikon D7500 offers an impressive continuous shooting performance for the price. It's able to shoot at up to 8 frames per second, and it can even fire off 100 JPEGs before the camera locks up.
If you're serious about event photography and you can afford a full-frame camera, I do recommend you buy one of the other cameras on this list. However, if you're a beginner looking for a basic camera to get started, then the D7500 is a good choice.
11. Olympus OM-D E-M1 Mark III
Best for distant events
The Olympus OM-D E-M1 Mark III offers great image quality, exceptional image stabilization, and even decent noise performance.
Pros
Compact design
Reasonable price
Good image stabilization
Cons
Smaller sensor size can be limiting
If you have already invest in Micro Four Thirds lenses, then the Olympus OM-D E-M1 Mark III is a great camera to buy. And at its current price, it's a bargain.
The Olympus OM-D E-M1 Mark III is powered by a 20 MP Four Thirds sensor. While FT sensors aren't known for their low-light capabilities, the E-M1 Mark III offers surprisingly good files at high ISOs, which means you can shoot indoor events without too much trouble.
The camera is able to shoot stills at an astonishing rate of 60 FPS (albeit with the electronic shutter). But even with the mechanical shutter, it can still shoot at 15 FPS. While you probably won't need such high frame rates all the time, they're great to have!
As I mentioned above, the E-M1 Mark III's high-ISO performance is pretty good. But if you plan to shoot lots of low-light events and you want extra insurance, the camera does offer in-body image stabilization, which will help you capture sharp handheld shots at slow shutter speeds.
12. Canon EOS 6D Mark II
A great budget full-frame option
The EOS 6D Mark II has a little of everything, making it a perfect beginner camera for event photography.
Pros
Reasonable price compared to other cameras
Full-frame sensor
Good low-light sensitivity
Cons
Older camera model
Not the best continuous shooting speed
The Canon EOS 6D Mark II is a full-frame camera from the Canon stable, and it's a neat little package for beginner event photographers in search of a first DSLR.
Continuous shooting only ever reaches 6.5 FPS, and the buffer isn't especially impressive. But a 6.5 FPS burst rate is good enough for photographing events such as weddings, corporate meetings, and fashion shows.
Autofocusing on the 6D Mark II is powered by a 45-point AF system. It does a decent job, but it'll likely frustrate anyone shooting low-light action. Fortunately, the camera is also equipped with Canon's Dual Pixel AF technology, which means you can focus more quickly in Live View mode.
Compared to high-level full-frame cameras like the EOS R6, the 6D Mark II might seem underwhelming. But the price is excellent, the body is compact, and the image quality is really quite good, so if you're a beginner, the 6D Mark II is worth a look.
Choose the Right Camera for Stellar Event Photos
Event photography is often exhilarating. And with the right equipment, you can get some truly stunning shots!
Of course, a camera is merely one part of the event photography puzzle – but a good camera will take you a long way!
---
Disclosure/Disclaimer: As an Amazon Associate, we earn from qualifying purchases. Certain content was provided "as is" from Amazon and is subject to change or removal at any time. Product prices and availability: Amazon prices are updated daily or are accurate as of the date/time indicated and are subject to change. Any price and availability information displayed on Amazon.com at the time of purchase will apply to the purchase of this product.