Choosing the Best Camera for a Safari Trip
This blog post covers the best camera for a safari.
Many years ago, I saw an amazing movie that changed my whole perspective towards wild animals. I fell in love with the wild and the mighty beasts that roam its inner sanctum where no man is welcome. That movie was Born Free.
When I grew up, I was introduced to the lucid, at times spine-chilling and yet beautiful words of Jim Corbett, Kenneth Anderson and Jack London and of course Bibhutibhushan Bandopadhyay.
Their words have continued to inspire me and instill in me a deep love for the wild. It is but no secret that when it comes to choosing a camera for a safari, I always like to take my time.
Related Post: Best Full Frame Camera Bodies
Their words have continued to inspire me and instill in me a deep love for the wild. It is but no secret that when it comes to choosing a camera for a safari, I always like to take my time.
When it comes to photographing wildlife, I prefer a camera that has a fast continuous shooting speed, a lot of AF points that are well-spread out and an excellent metering mechanism among other features.
My choice is always a DSLR. This is because I find mirrorless systems and compact point & shoot or bridge cameras not doing justice to the wonderful moments.
✔ The Best Cameras for Safaris
1. Nikon D5 DSLR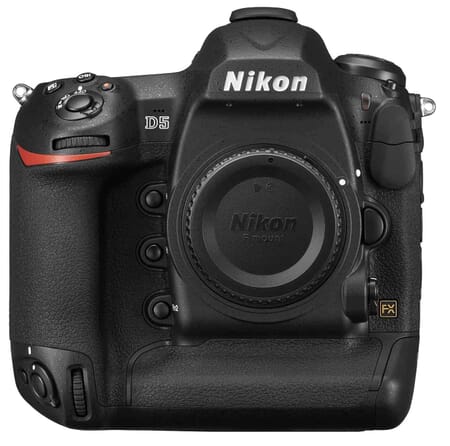 The Nikon D5 is the latest and the greatest DSLR camera from the Nikon stable. It is the current flagship of the Nikon range. What I like about the D5, is its fast auto-focusing speed, powered by a Multi-CAM 20K 153-point AF system and its blazing fast 12 fps continuous shooting speed with full auto exposure and auto focusing on for a maximum of 200 RAW frames.
Plus, it has a 180kpixel RGB sensor as well as a Group Area AF mechanism that uses a cluster of AF points as a single AF point for faster and more accurate auto-focusing.
All of these features come in handy when shooting wildlife photography in low light, low contrast and dark conditions. Group AF system, especially, comes in handy when due to lack of contrast in a scene (a hyena lost in the straw-colored grass around it) or a lion taking shelter under some rock formations. Anybody who has photographed wildlife will vouch for the importance of an accurate AF system in such situations.
The advanced 3D tracking option is fantastic to work with as it keeps track of a moving subject quite effortlessly. The one area where the camera probably loses out is in its resolution. The heart of the camera is a 20.8 megapixel FX CMOS sensor. But if you consider the other features, as well as the fact that this is a full-frame camera, the smaller resolution doesn't seem so bad.
The D5 does produce clean low light images even when shooting at high ISO compared to other cameras of its type.
Additionally, the D5 has fantastic weather sealing. If you are heading towards unknown territories, there is always the looming risk of inclement weather, dust, and dirt. It is reassuring to have a camera with good weather sealing. Mother Nature's extreme mood swings will not have any effect on the performance of the camera.
Another feature that you should consider when finalizing on the best camera for a safari is its memory capacity. The D5 comes with dual XQD memory card slots. This gives you a lot of storage options when out in the field and away from a laptop.
Related Post: DJI Spark Mini – The New Drone Everyone Can Fly
2. Canon EOS 1D X Mark II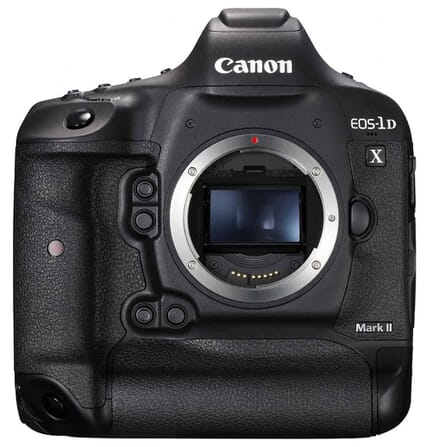 Canon's current flagship the EOS 1D X Mark II is a fast and formidable camera. Just like the D5 above, the heart of the EOS 1D X is also a 20 megapixel (20.2) full-frame CMOS sensor. But where the EOS 1D X beats the D5 is in its continuous shooting speed. The EOS 1D X has a continuous shooting speed of 16 fps in live view mode.
When shooting with full auto-exposure and auto-focusing, you get a maximum continuous burst of 14 fps. The maximum the buffer will last is 73 frames when shooting RAW or an unlimited number of JPEGs (when using CF cards). When using CF2.0 cards, RAW shooting power shoots up to 170 RAW files.
A 61-point high-density reticular AF II system powers the auto-focusing on the EOS 1D X. It includes a total of 41 cross-type AF points. Cross-type points, as we have often discussed before, has far greater accuracy in detecting contrast and therefore results in much faster auto-focusing performance than traditional line sensors.
Related Post: The Best Cameras for Video Recording under $1,000
On a safari, you would probably be using a telelens. This goes almost without saying. When using a telelens, the maximum available aperture drops down, especially when used in conjugation with a teleconverter. Even in situations such as this when you are down to say f/8, all the 61 AF points continue to be available for auto-focusing.
Even in situations such as this when you are down to say f/8, all the 61 AF points continue to be available for auto-focusing.
Additionally, the camera has excellent weather sealing which is ideal for shooting in inclement weather as well as in dusty environments you are likely going to face on a safari.
If you need the best camera or a safari you cannot overlook the importance of memory slots. Dual memory card slots ensure you never run out of storage. But with it, you need compatibility with the latest (and fastest) cards. The EOS 1D X comes with dual slots that support both CFast and Compact Flash Cards.
Related Post: Best Astrophotography Camera
3. Nikon D500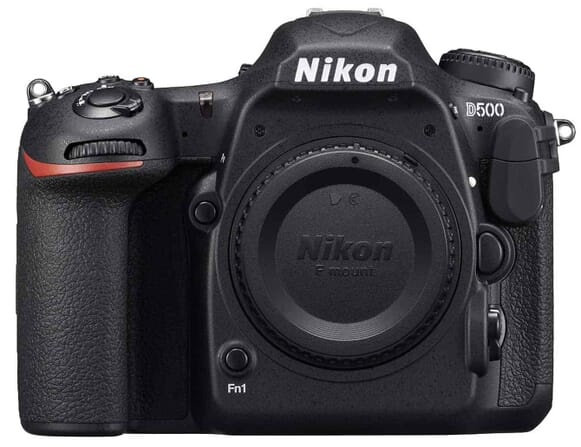 The Nikon D500 is a newly launched APS-C sensor powered DSLR from Nikon. Though it is a cropped camera, it packs an enormous number of features, some borrowed from the top of the line full-frame systems made by Nikon.
Despite being a crop sensor camera, Nikon has concentrated on packing the D500 with pro features rather than walk the traditional route packing it with a huge number of megapixels. The D500 has a resolution of only 20.9 megapixels.
But the advantage that this camera brings to the table is its crop factor of 1.5x. If you own a professional telelens, you would love the extended effective focal length that this camera will transform the lens into.
The Nikon D500 has a 153-point Multi-CAM 20K AF mechanism which is built around a 99 all cross-type autofocusing mechanism. Out of the 99 cross-type AF points, 55 of them are selectable. Plus, 15 of the points are including nine selectable points autofocus at f/8. Thus, making it possible to autofocus even when shooting with super telephoto lenses.
In addition to this, the D500 enjoys the same Group area AF system that is available on the D5. This ensures faster focus lock when photographing in low contrast or low light situations. The D500 is one of the fastest APS-C systems in the market and will even give any full-frame flagship DSLR a run for its money.
Related Post: The Nikon D500 Review
D500 is every bit a professional camera, as the D5 or for that matter any full-frame pro bodies that other manufacturers offer. Notwithstanding, Nikon does not label this as a pro body for some strange reasons. But even then the D500 comes with all the features that can easily befit a pro camera. To top it all the D500 has excellent weather sealing and dual card slots supporting both SD and XQD cards.
Sale
4. Pentax KP DSLR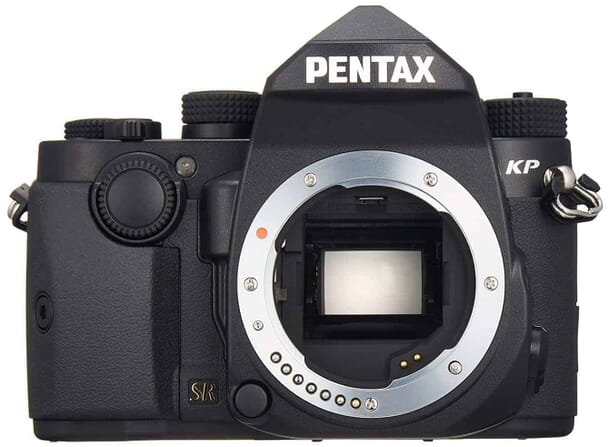 Pentax systems are known for their superior weather sealing.
The Pentax KP certainly does not disappoint in that department at all. The magnesium alloy body provides good weather sealing. At the heart of the camera is a 24.3 megapixel APS-C AA-filterless CMOS sensor. There are a couple of things that you need to know about this sensor to appreciate it.
First, there is no AA (anti-aliasing) filter on the sensor.
This does two things:
First, it eliminates the image softening properties that AA filters tend to have.
Second, there is a high chance that your images will suffer from moiré and false coloring.
Being crop camera, you have the advantage of the crop factor on your side. A lens will give you a longer effective focal length because of the crop factor. Plus, Pentax systems have body-based image stabilization systems. All compatible lenses are automatically stabilized.
Related Post: Best Camera for Cruising Vacation
Image stabilization is rated up to 5 stops. That translates into that when shooting in low light; you can shoot at up to 5 stops slower shutter speed than what the camera's metering system would tell you to. It is an incredible advantage when photographing birds that are deep in their surroundings and are thus, in the very low light.
A SAFOX 11 AF system powers the auto-focusing mechanism on the camera. It consists of 27 AF points, 25 out of them being cross-type. Going by our parameters for the best camera for a safari, the Pentax KP has a 7 fps maximum shooting speed. This is very handy too when photographing wildlife and birds. Another unique feature of the camera is its exchangeable grip mechanism. You have three different choices. When using telephoto lenses, the large hefty grip gives more stability.
5. Pentax K-1 DSLR
Our Pick for "Best Camera for Safari Trips"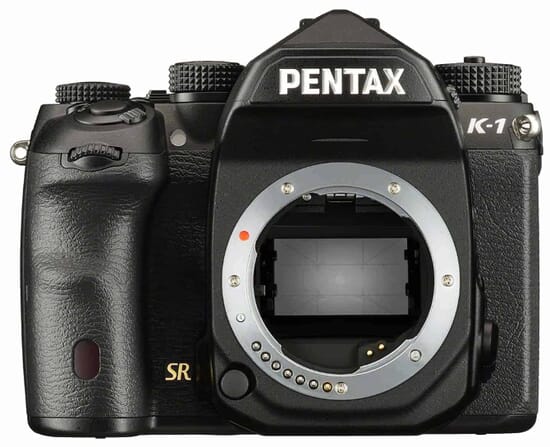 Finally, we take a look at the Pentax K-1. The Pentax K-1 is a full-frame DSLR with a 36.4-megapixel resolution sensor and a PRIME IV image processing engine. The K-1 does not have a dedicated full-time anti-aliasing filter. This AA filter reduces moiré and false coloring. So you should expect some when shooting in normal mode.
However, with wildlife photography that is never a problem as there are rarely repeating patterns involved. Having said that there is an AA filter simulator which you can activate when needed.
Related Post: Best Cameras for Blogging
A SAFOX 12 33-point AF sensor powers the auto-focusing mechanism on the camera. Out of these 25 are cross-type. When on a safari you would want to have a camera that features excellent weather sealing. There are many
There are many annoyances to shooting outdoors, the weather being the biggest of them all. Then there is dust. Thankfully, the K-1 is weather sealed and is protected against all of these. It is also the reason this camera made it to this list of the best camera for a safari.
Additionally, the camera has a built-in 5-axis image shake reduction system. But where the K-1 loses out against some of the other cameras is its meager burst speed. The K-1 has a burst speed of 4.5 fps only.
Sale
Related Post: Stock Photography Trends 2019
6. Sony Alpha a99 II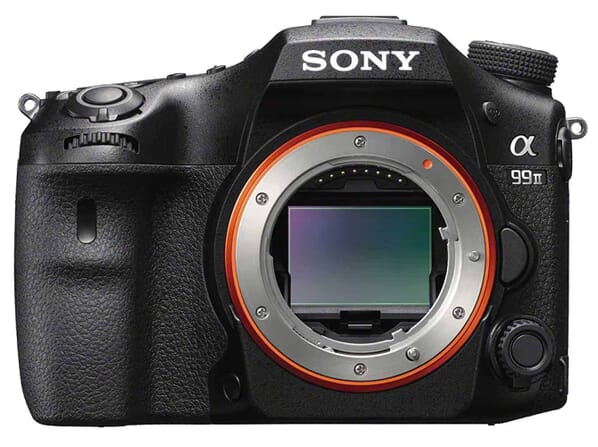 The Sony alpha a99 II is the lone DSLT design in this discussion of the best camera for a safari. The Alpha a99 II is a formidable camera. At the heart of the camera is a 42-megapixel full-frame EXMOR R BSI CMOS sensor. Backlit sensors have a much better low light performance compared to traditional sensor designs. The high resolution promises a lot of detail every time you click the shutter button.
Backlit sensors have a much better low light performance compared to traditional sensor designs. The high resolution promises a lot of detail every time you click the shutter button.
Related Post: Sony Alpha 99 II Review
The biggest benefit of its unique design is that the reflex mirror does not move about. In other words, there is no mechanical movement of the mirror as the shutter opens and closes to make an exposure.
Due to the absence of this mechanical movement, faster shutter speed is possible. The Alpha a99 II can shoot at 12 fps. Another advantage is that the camera does not produce shake induced vibration when shooting.
Just like Pentax systems, Sony too provides body-based image stabilization. This means every compatible lens is automatically stabilized.
Good weather sealing prevents inclement weather from damaging the camera. The magnesium alloy chassis is well sealed at various points to ensure that water, dust, and moisture cannot damage the camera's sensitive internal areas.
Sony a99II 42.4MP Digital SLR Camera with 3" LCD, Black (ILCA99M2)
Up to 12fps at 424MP continuous shooting with AE/AF tracking, World's first 79 hybrid AF cross-point array for unmatched...
Operating temperature:0°C - 40°C (+32°F - +104°F)C.424MP full-frame sensor w/ no low-pass filter up to ISO 102,4004,...
High bitrate XAVC S5 , S-log, slow/quick frame rates6, 4:2:2 HDMI out, 4D Focus hybrid phase AF w/ 79-point sensor plus...
Wi-Fi/NFC code for easy file transfer and remote control, Dust/moisture resistant magnesium alloy body w/ 300k+ cycle...
Total number of pixels:43.6 megapixels approx.
Related Post: Best Cameras for Vacations
---
Note: Amazon.com prices, reviews, and ratings were updated on 2019-08-23 - Product prices and availability are accurate as of the date indicated and are subject to change. Some product prices may refer to used/refurbished items. Any price and availability information displayed on Amazon sites at the time of purchase will apply to the purchase of the product. As an Amazon Associate we earn from qualifying purchases. Certain content that appears on PhotoWorkout.com comes from Amazon.com. This content is provided "as is" and is subject to change or removal at any time. For more information refer to our Affiliate Disclosure and Disclaimer.