If you've ever been fascinated with wildlife, a safari might seem like a dream come true. Capturing images of animals in their natural habitat can produce stunning images.
To get these images, you need one of the best cameras for safari. We've come up with some top choices for safari photography. In this article, we are going to shortlist and give you a detailed rundown of the best cameras on the market for your safari ventures.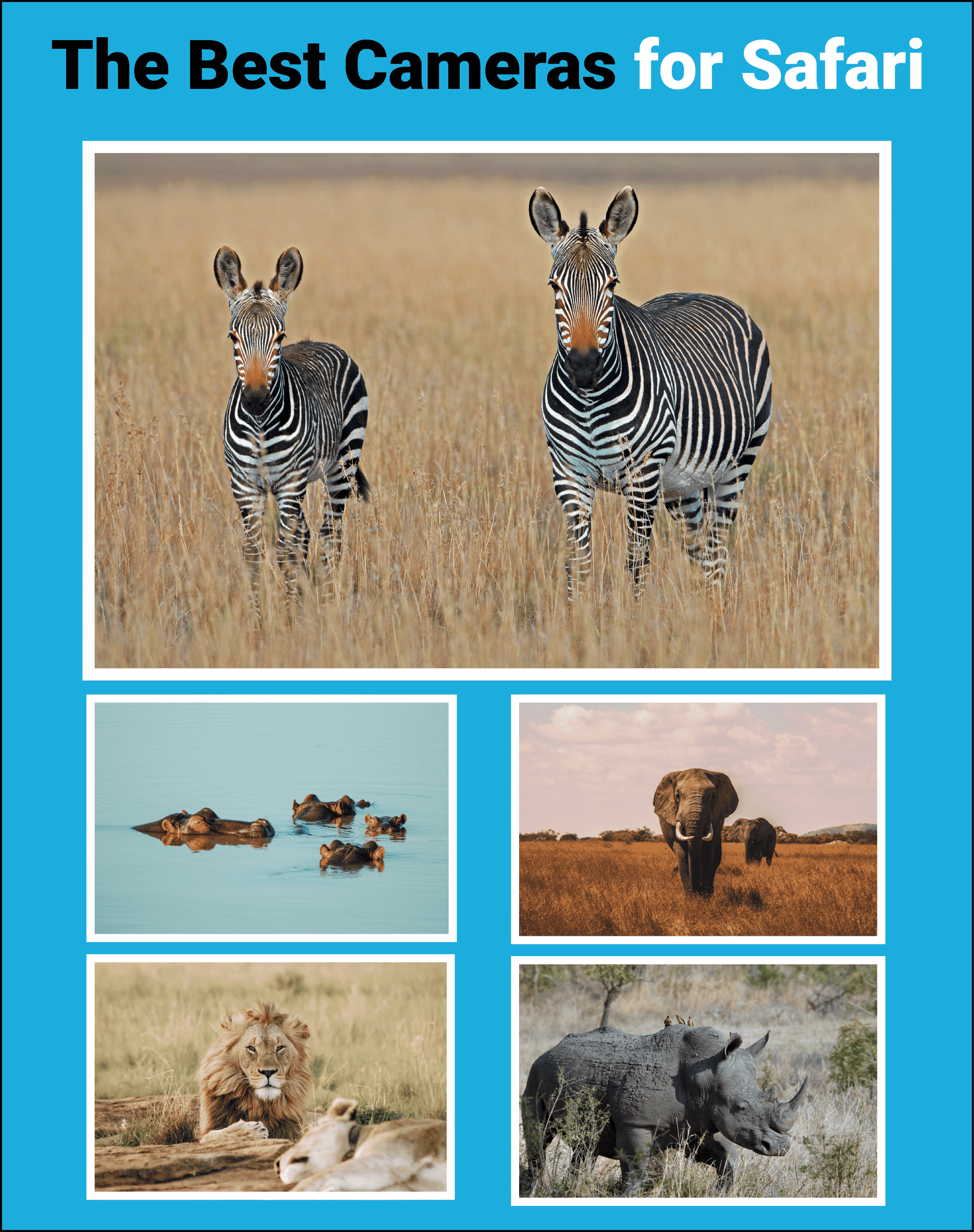 When you buy through links on our site, we may earn a commission at no cost to you. We evaluate products independently. Commissions do not affect our evaluations.
Best Camera for Safari (Full-Frame DSLRs)
Nikon D5 (Best Camera for Safari – Full-Frame)
Best Camera for Safari (Crop DSLR / DSLTs)
Best Camera for Safari (Other Options)
Best Cameras for Safari – Things to Look Out For
Excellent continuous shooting speed
Good autofocusing speed
Good low light capability
Tight framing while using even a medium-long zoom
Excellent weather sealing
Full-Frame Cameras
Til the Nikon D6 is officially announced, the D5 will continue to rule the DSLR segment and carry the flagship tag.
The Evolution Continues: Behind the Winning Shot with Joel Marklund
The newly announced D6 development will reinforce Nikon DSLRs advantage in sports photo journalism. In this video, top professional photographer and D5 user Joel Marklund explains how Nikon's cutting-edge technology has helped him stay ahead of the game.
The D5 is powered by a 20.8 megapixel CMOS sensor which is paired with Nikon's EXPEED 5 image processor. The continuous shooting speed of the D5 is phenomenal at 12 fps with full continuous autoexposure and autofocusing engaged.
The ISO sensitivity of the camera ranges from 100–102400. Which can be further extended from 50-3280000.
The D5 is a true workhorse for wildlife photographers as well as sports shooters. One of the reasons for this is its autofocusing prowess. The D5's autofocusing mechanism is powered by a 153-point Multi-CAM 20K system. Out of those 153 points, 99 are cross-type. That means low light and low contrast scenes can also be handled better using the D5 than with any other camera system.
One more major advantage of the D5 is that it comes with weather sealing. The chassis of the unit is crafted out of magnesium alloy, which makes it durable and yet lightweight at the same time.
Sealing has been provided at several points on the camera to make it seep proof and dust-proof. You can take the camera practically anywhere with you and it will be able to make stunning images without fuss.
Related Post: Best Astrophotography Camera
The D850 does not have the continuous shooting speed as some other APS-C or even the micro four-thirds systems discussed here. It can only shoot at a maximum of 7 fps and for a maximum of 51 RAW frames before the buffer overruns. But the reason it is considered as one of the best cameras for safari is that it is a full-frame unit and has an overall excellent list of features. That said, if you use the optional MB-D18 battery grip you get a higher frame rate of 9 fps.
The D850 is powered by a 45.7 MP BSI CMOS sensor and is paired with Nikon's EXPEED 5 image-processing engine. BSI stands for back-illuminated sensor design. This design eliminates noise while enhancing low light performance.
The sensor does not have an optical low pass filter which results in sharper images. But at the same time, it also increases the chances of moiré and false colors.
One of the strong points of the D850 is its autofocusing technology. The D850's autofocusing is powered by a 153-point Multi-CAM system. All the 153 points support an effective aperture of f/5.6.
There are a total of 99 cross-type AF points in the mix. This system has been inherited from the current Nikon flagship – the D5. The presence of numerous cross-type AF points ensures that the camera can lock on focus in low light, low contrast and even high-speed situations much easier than other cameras.
Related Post: Best Nikon Full Frame DSLRs
The D850 is having a weather-sealed design. It is one of the best cameras for safari photography when you factor in the overall features and the weather sealing.
Nikon D850 FX-Format Digital SLR Camera Body
Nikon designed back side illuminated (BSI) full frame image sensor with no optical low pass filter
45.7 megapixels of extraordinary resolution, outstanding dynamic range and virtually no risk of moiré
Up to 9 fps1 continuous shooting at full resolution with full AF performance
8k6 and 4k time lapse movies with new levels of sharpness and detail; file system : DCF 2.0, exif 2.31, Pict bridge
Tilting touchscreen, focus shift shooting mode, outstanding battery performance and much more; total pixels: 46.89 million
The Pentax K-1 Mark II is powered by a 36.4 megapixel full-frame CMOS sensor paired with Pentax's Prime IV image-processing engine.
The Pentax K-1 Mark II has a number of features that makes it a great choice for wildlife photography. One of them is definitely the weather-sealed construction. Weather sealing on the K-1 Mark II is superb. It can withstand almost anything that Mother Nature can throw at it.
The autofocusing system on the K-1 Mark II is composed of 33 phase-detection points. 25 out of these are cross-type.
The one area where the K-1 Mark II loses out to the rest of the cameras in this group of the best cameras for wildlife and in its continuous shooting speed. Continuous shooting of the K-1 Mark II is only 4.4 fps for a maximum of 17 full-resolution RAW frames.
One more feature you would enjoy using is built-in image stabilization. The sensor-shift type image stabilization, which offers 5-axis stabilization. Built-in image stabilization negates the need for the same in the lens.
Crop DSLR/DSLT
We had recently listed the Fujifilm X-T2 in our list of the best cameras for astrophotography. The X-T3 is the advanced version of the X-T2. Just like the X-T2 the X-T3 is very highly recommended. It is designed for sports, action, low light and video. Don't get taken by the APS-C sensor that powers the camera. This is no doubt a powerful camera system.
For someone migrating from a film camera to a DSLR, the X-T3's buttons and layout will make for an easy transition. Almost every camera setting you ever need to tweak has a button for it. That means two things, no more having to take your eyes off the target when changing camera settings. And two, if you are like me, someone who loves buttons more than a software interface, things get done faster.
The X-T3 offers a resolution of 26 MP. It is an APS-C X-Trans CMOS sensor. The crop factor is the same as a Nikon DX camera (1.5x). What it does is that a normal lens mounted on the camera gives a slightly longer effective perspective. I.e., the field of view becomes tighter and that in turn produces a better image.
Regarding the autofocusing specs, the X-T3 has a total of 2160000 phase-detection points which allows it to lock focus almost instantaneously anywhere across the frame.
Shutter speed is an important parameter to consider when looking for the best cameras for safari. Why? Because a fast shutter speed allows you to freeze the moment for posterity. The X-T3 has a fast mechanical shutter capable of firing at 1/8000 sec. The other advantage is when you are shooting in broad daylight and with a fast lens, such as a 85mm prime, you can make full use of the wide aperture.
Speaking of fast Shutter Speed, continuous shooting speed is a requirement to be reckoned as one of the best cameras for safari. A fast continuous shooting speed allows the camera to capture a lot more frames than a camera with a slower drive.
The result is a higher chance of capturing at least one good frame of a moment. The X-T3 shoots at up to 11 fps in RAW for a maximum of 42 frames. The number goes up significantly if you shoot only in JPEG, which is something that we don't recommend.
Finally, the build quality. The X-T3 is superbly built. It has a fully weather sealed magnesium alloy body. This is the sort of camera that you could take with you to the end of the World and come back with images to cherish for life.
Fujifilm X-T3 Mirrorless Digital Camera (Body Only) - Silver
New 26.1MP X trans CMOS 4 sensor with X processor 4 image processing engine
4K movie recording: Internal SD card 4K/60P 4:2:0 10 bit recording and the first mirrorless digital camera with APS C or...
2.16M phase detection pixels across entire frame and low light phase detection limits has been increased over X T2 by 2...
3.69 million dot OLED color viewfinder with 0.75x magnification and blackout free burst shooting
16 film simulation modes: Including eternal/ cinema, B and w adjustment: 9~+9
The D500 is the premium mid-sized DSLR from Nikon. Why would you be interested in a mid-sized DSLR when you could get a premium weather-sealed full-frame DSLR at the same price? The reason is the D500 is the best crop sensor DSLR that Nikon has ever produced. The first and the foremost thing you would notice when you pick the D500 in your hands is the build quality. For a mid-sized DSLR then D500 is definitely very well built.
Related Post: The Nikon D500 Review
The D500 is powered by a 20.9 megapixel CMOS sensor paired with Nikon's EXPEED 5 image processor. Together, the two ensure that the D500 can shoot at a continuous burst speed of 10 fps at full resolution for a maximum of 200 RAW frames. Basically, as long as the exposure and the focusing are right, you will never miss a shot.
Speaking of autofocusing, the D500's autofocusing mechanism is powered by a 153-point phase-detection system. Out of these 153 points, 99 of them are cross-type.
The native ISO range of the DSLR is 100–51200. But that can be further extended to 1640000. The electronic first curtain shutter mechanism can fire the shutter release at a maximum speed of 1/8000 seconds.
The major advantage of using a crop camera is the extended effective focal length that you get for any compatible lens. Say, you are using the D500 along with the Nikkor 200-500mm f/5.6 VR lens.
The effective focal length will become 300-750mm because a crop camera will use only the center part of the lens. The effective aperture, too, will become smaller. So, that's the catch. Notwithstanding, the tighter crop gives close-up shots of your favorite animals from a safer distance.
Nikon D500 DX-Format Digital SLR (Body Only), Base
20.9MP DX format CMOS sensor. Viewfinder: Eye level pentaprism single lens reflex viewfinder
Expeed 5 image processor; Monitor size: 3.2 inches diagonal
3.2 inches 2,539k dot tilting touchscreen LCD
4k UHD video recording at 30 fps
Multi cam 20k 153 point AF system
The Canon EOS 90D is a brand new item. The EOS 90D is the successor to the EOS 80D, which was a fine camera in every right. The EOS 90D is powered by 32.5 MP CMOS APS-C sensor paired with Canon's DIGIC 8 image processor.
The EOS 90D has improved significantly over the older EOS 80D. And we are not referring to the sensor resolution only. But the main thing that has improved and for which we have included it in this list of the best cameras for safari is the frame rate.
The EOS 90D can fire continuous burst at a speed of 10fps compared to 7fps that was possible with the older camera. When shooting in live view mode the camera can shoot a maximum of 11fps.
One more interesting feature added to the EOS 90D is the addition of the 8-way joystick. This joystick allows for focusing point selection.
Related Post: Best Cameras for Blogging
The Canon EOS 90D gets a 45-point all cross-type phase-detection auto-focusing system. While 45 cross-type AF points promise a snappy AF performance, especially, when shooting in low light and low contrast situations, the camera also inherits the Dual Pixel CMOS auto-focusing mechanism. Dual Pixel CMOS auto-focusing is all about accurate focusing in live view mode. And in the case of the 90D, it covers almost the entire frame. 100% vertically and 88% horizontally.
The only thing that probably works in against of the EOS 90D is the build quality. While it is built well, it does not have the same quality weather-sealing that some of the other DSLRs on this list have.
The D7500 offers an effective resolution of 20.9 MP. The sensor is paired with the DIGIC 5 image-processing engine. The D7500 isn't the fastest or the best camera that you could buy for wildlife shooting. But it is an excellent budget option. That is exactly why we have it listed here. When we think of the best cameras for safari we usually think of good weather sealing, fast AF, burst mode, and so on.
The D7500 is a crop camera, and it has good burst speed of 8 fps. At that speed it can shoot at a maximum of 50 RAW exposures before its buffer overruns. The best cameras for safari ought to have more. And we have listed some cameras which easily shoot more than 50% extra frames per second. But that said the D7500 is no pushover.
The fact that the D7500 is a crop camera means compatible lenses gives an effective focal length that is 50% longer than what their actual focal length is. Therefore it is easier to shoot a tighter close-up shot using even a medium telephoto lens.
The all-important autofocusing mechanism of the D7500 features a 51 point phase-detection system with 15 cross-type AF points.
Related Post: Best Selling DSLRs
The D7500 isn't the most ideal piece of gear if you are planning on shooting in inclement weather. Neither it is best suited if the environment is dusty. But, it more than makes up for what it loses out in build quality with its performance and image quality.
Nikon D7500 DX-Format Digital SLR Body
Class leading image quality, ISO range, image processing and metering equivalent to the award winning D500
Large 3.2" 922k dot, tilting Lcd screen with touch functionality. Temperature: 0 °c to 40 °c (32 °f to 104 °f)...
51 point AF system with 15 cross type sensors and group area AF paired with up to 8 fps continuous shooting capability
4k ultra hd and 1080p full hd video with stereo sound, power aperture control, auto ISO, 4k UHD time lapse and more
Built in Wi-Fi and Bluetooth for easy connectivity through the Nikon snap bridge app
The world of photography has been taken by storm by Sony's full-frame mirrorless interchangeable lens cameras. But one camera system that nobody seems to be talking about these days is the SLT. SLT stands for Single Lens Translucent mirror technology.
Sony's Alpha a77 II is one of a handful of SLT systems that Sony makes. The a77 II is powered by a 24.3 megapixel APS-C Exmor CMOS sensor and it is paired with Sony's famed BIONZ X image processing engine. With a translucent mirror technology, the camera does not need a moving mirror mechanism in order to record an exposure. That means less shake while an image is being made.
The autofocusing mechanism of the camera is powered by a 79-point AF system out of which 15 are cross-type. The advantage of this translucent technology is that it always transmits light to the AF sensors, even when making images. That way the sensors are always active and therefore it produces better focusing even when shooting in continuous mode.
The continuous shooting speed of the camera is a whopping 12 fps. But the overall maximum number of frames that you could get is only 26 frames. While that is not excellent when compared to the other best cameras for safari we have listed here, it is not bad either. If you make measured short bursts, allowing the camera to write to the memory card now and then, the a77 II will be able to make decent captures without overrunning the buffer.
The Alpha a77 II comes with good weather sealing. The overall dust and moisture sealing ensure that the camera is a perfect companion for wildlife photography in particular and outdoor photography in general.
Other Options
The micro four-thirds camera system is often underappreciated. The reason is the advent of Sony's powerful full-frame mirrorless systems and, to some extent, the resurgence of DSLRs. And while these cameras are excellent, the OM-D E-M1 Mark II is a formidable system in its own right and deserves all the praise it gets.
Powering the OM-D E-M1 Mark II is a 20.4 MP Live MOS sensor which ensures that the camera is able to capture sufficient resolution for a good wildlife shot. Olympus uses the sensor-shift type image stabilization system. This makes all compatible lenses stabilized by default.
Related Post: Best Camera for Traveling
Speaking of lenses, the four-thirds system has a crop factor of 2x so any compatible lens produces an effective focal length double that of the actual focal length.
One of the key features of the OM-D E-M1 Mark II is its autofocusing system. It is composed of 121 all cross-type AF points. Cross-type AF points gives you double the sensitivity because they can detect contrast both vertically and horizontally. This is a key feature to have when you are shooting in low light or when shooting low contrast subjects.
Continuous shooting speed is a necessary requirement when shooting wildlife. To be counted as one of the best cameras for safari you ought to have a decent burst rate. The OM-D E-M1 Mark II shoots at 18fps with the electronic shutter and continuous autofocusing. With the mechanical shutter that drops down to a still-impressive 15 fps. With the OM-D E-M1 Mark II you practically never miss a shot.
The final thing that makes a good wildlife shooter is its build quality and weather-sealing. In that department, the OM-D E-M1 Mark II is built very well. You can take it outdoors in inclement weather and it would be able to perform without issues.
OLYMPUS OM-D E-M1 Mark II Camera Body Only, (Black)
New 20.4 megapixel live MOS sensor
New TruePic VIII dual quad core image processor, auto focus points phase detection: 121 (121 cross type), contrast detection:...
60 frames per second S AF, 18 frames per second C AF (silent electronic shutter)
15 frames per second S AF, 10 frames per second C AF (mechanical shutter)
121 point dual fast AF with cross type on chip phase detection focusing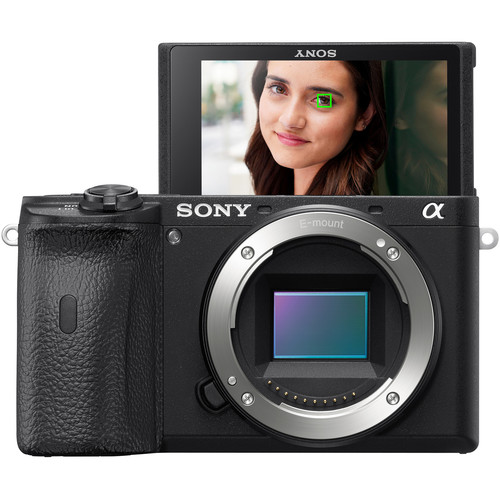 Mirrorless systems have a distinct advantage over DSLRs in terms of continuous shooting speed. It is not easy to get a mirror to move at such high speeds for a sustained period of time. That is why the electronic shutter comes in handy. Mirrorless systems don't have a mirror. Thus, they have one less thing to move. This means that mirrorless systems generally have fast continuous shooting speeds. The a6600 reaches a maximum frame rate of 11 fps at full resolution for a maximum of 46 RAW frames.
The Alpha a6600 comes from a very good lineage. And this mirrorless unit is built well. The chassis is crafted out of magnesium alloy and the body is weather-sealed.
A major advantage of the a6600 is that it is a lightweight camera. That means when you add a telephoto lens in the mix the overall weight remains low compared to a DSLR setup. Which means even when you wield it for several hours it's unlikely your hands will tire in the process.
The autofocusing mechanism of the a6600 is powered by what Sony calls the 4D Focus system. The system consists of 425 phase-detection and 425 contrast-detection points that cover almost 84% of the image frame.
It gives an incredible advantage when the subject that you are trying to photograph is around the corner of the frame, or you deliberately want the subject to be at the corner of the frame.
Speaking of focusing, the a6600 also comes with a manual focus peaking functionality. Focus peaking is suitable for photographers who want to manually lock focus on a subject. Focus peaking with highlight the area where focus is the sharpest.
One of the features that will be suitable for wildlife photography is the presence of built-in image stabilization. The Sony Alpha a6600 comes with a 5-axis image stabilization mechanism, which makes all compatible lenses stabilized by default.
---
As an Amazon Associate, we earn from qualifying purchases. Certain content was provided "as is" from Amazon daily and is subject to change or removal at any time.