Most of us have so many beautiful and meaningful photographs that displaying them all would take up far too much space (and cost a lot of money)! The best solution? Collage prints, which combine all of those special shots into a single frame!
Here is our guide to the best photo collage prints in 2022. Go find the right lab to print your most important images!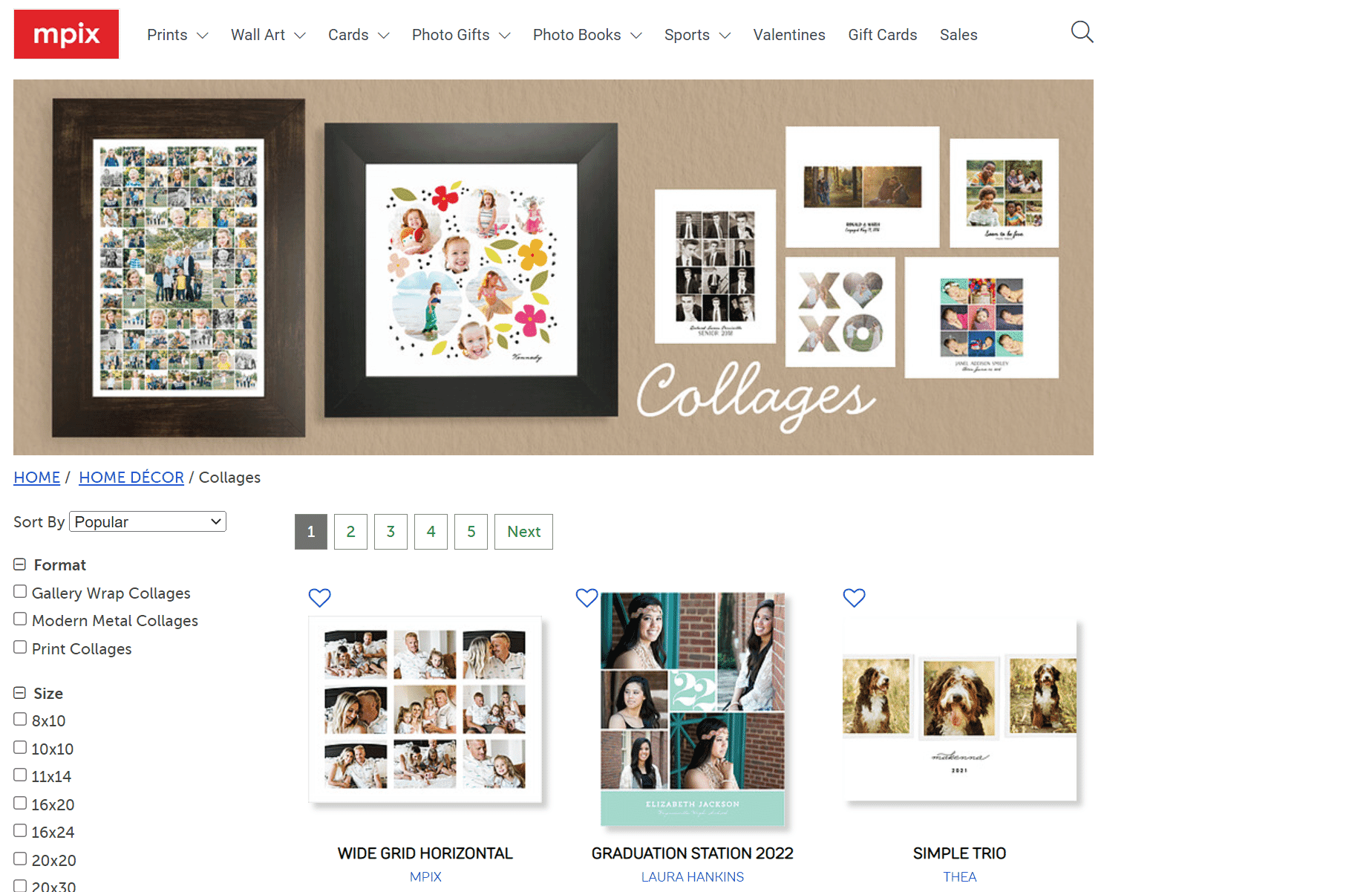 When you buy through links on our site, we may earn a commission at no cost to you. We evaluate products independently. Commissions do not affect our evaluations.
1. Collage.com
Our Pick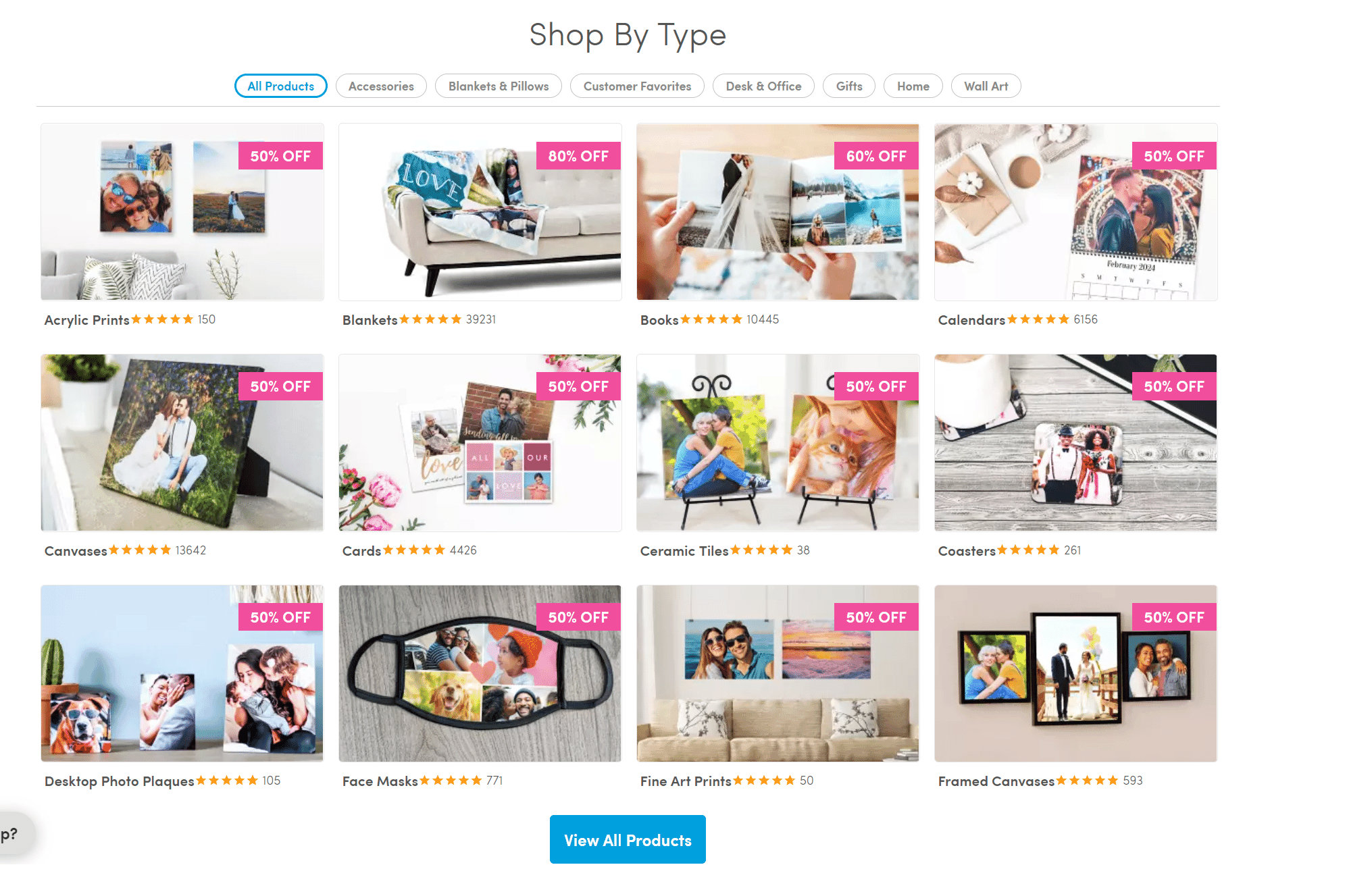 The best collage prints around
You really can't go wrong by picking a lab that specializes in the type of print you want to get!
Pros
Great quality with lots of options
Fantastic array of templates with a user-friendly platform
Great refund policy
Cons
Not the fastest shipping
When a lab has "collage" in its name, you know they're going to have a great array of collage options. Collage.com genuinely specializes in collages, which means you can rest assured that your prints will be well cared for.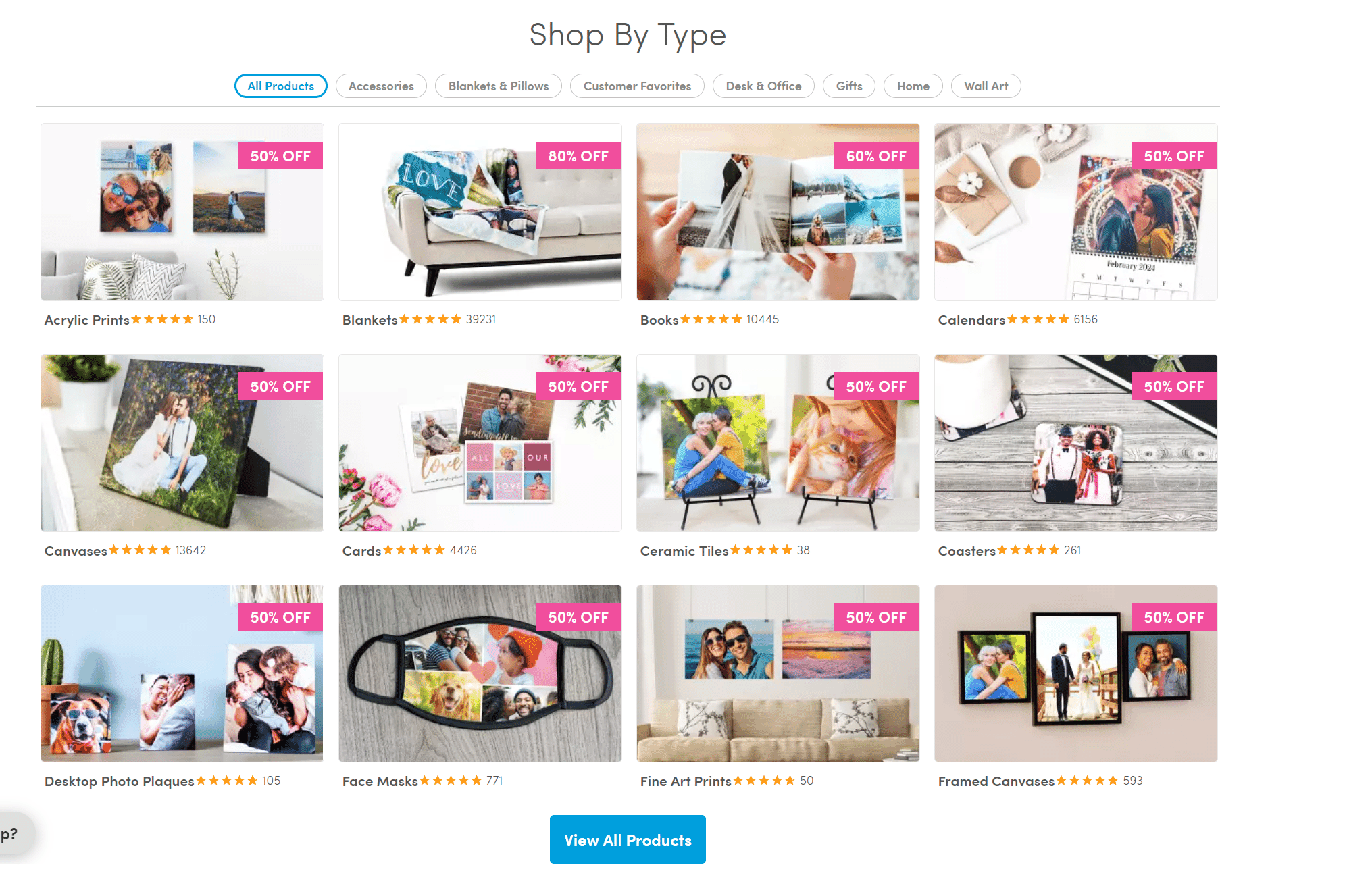 Collage.com features an array of templates, from collages in the shape of a heart or a circle to more traditional options. The paper options are limited, but the choices that are presented are all top quality, and that certainly makes up for the lack of choice. Collage.com has genuinely considered all of the details; they even coat your collage print to make it resistant to glare.
Related Post: Collage.com Review
Collage print options include canvas, paper, acrylic, metal, posters, and so much more. The sky's the limit! Designing your one-of-a-kind canvas print is a breeze, as well; their online system utilizes a drag-and-drop interface to make print creation as simple as can be.
This lab is so confident in its ability to produce magnificent pieces that its return policy is one of the best we've seen: Free returns, full refunds, or replacement products mailed at the lab's expense. You can tell that the company prides itself on good customer service, and this is certainly reflected in the positive reviews.
2. Printique
Also Great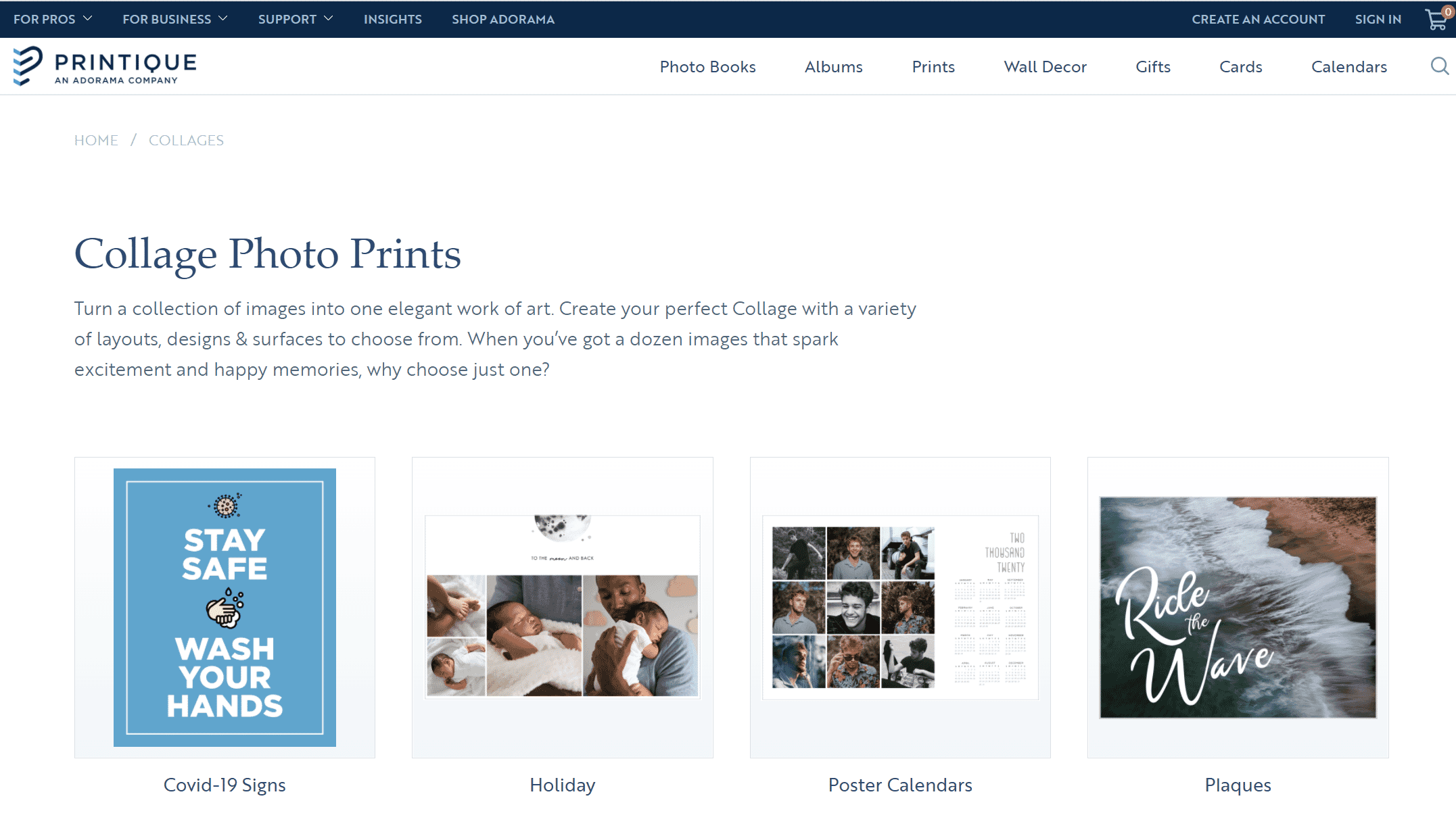 Best for easy-to-make collages
Printique is another wonderful lab for collage prints, and it has tons of great reviews.
Pros
Very popular
A variety of options to fit any style
Good prices
Cons
Customer service can be a bit difficult at times
Printique is a well-regarded brand in the professional photography community. Top-notch reviews back up the legitimacy of Printique's print services, and the company boasts that it is run by "photo people" who follow strict specifications and standards to "ensure Picture-Perfect final products."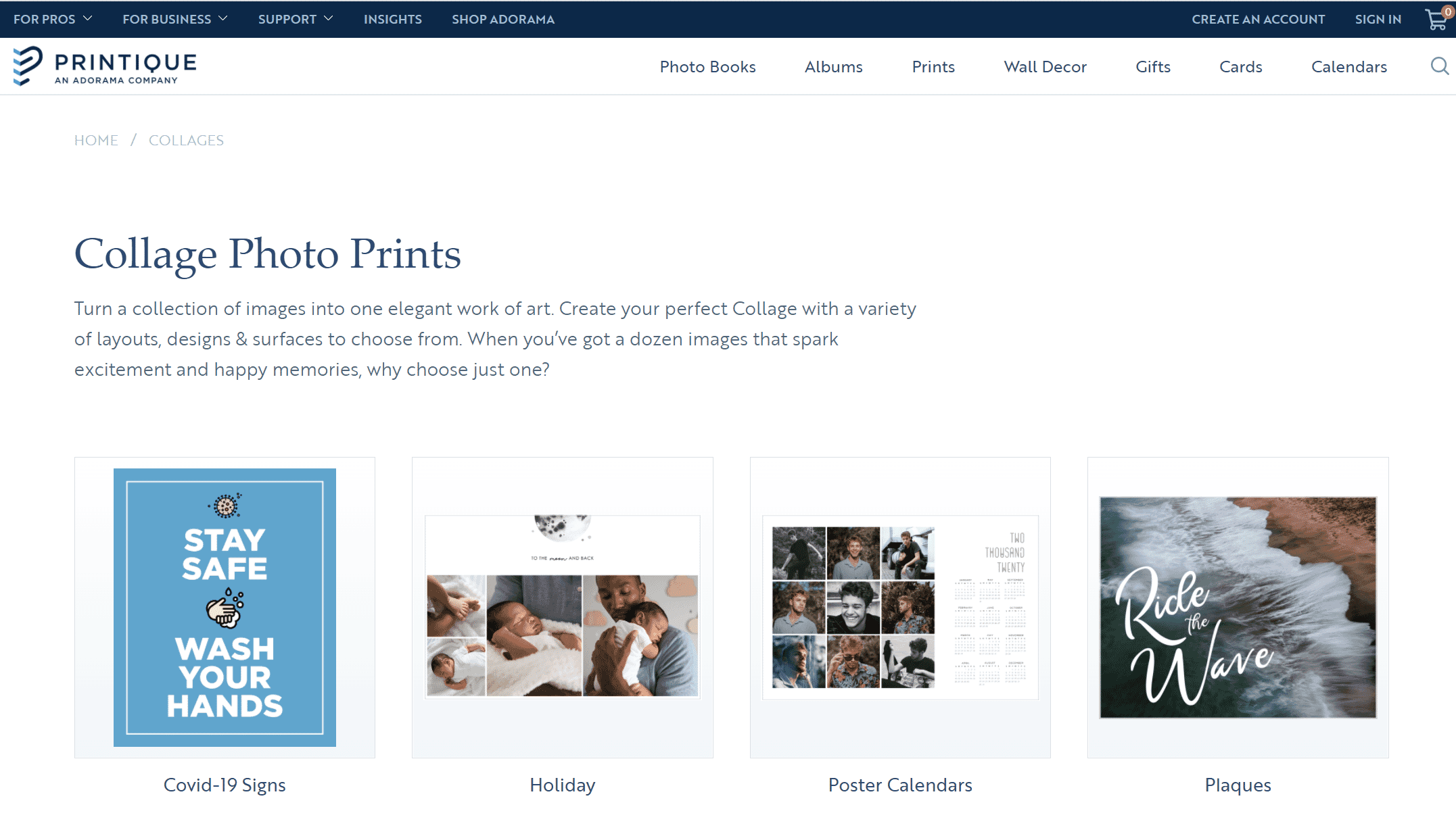 The website and its collage builder are intuitive to use and easy to navigate. The site offers a number of professionally designed templates to choose from, which you can then refine in the site's editing wizard. Creating borders, adjusting opacity, and making other edits is as easy as moving a few sliders. What's more, Printique makes it simple to source images from social media platforms, Google Drive, and Dropbox.
Related Post: Printique Review
Printique has received positive reviews for its print process, and the company uses gallery-quality canvas that is equipped with a scratch-resistant, light-resistant UV coating.
Printique printing services are a bargain. Considering that the company doesn't cut many corners when it comes to the final presentation of their products, it's a tempting option for almost any photographer.
3. Snapfish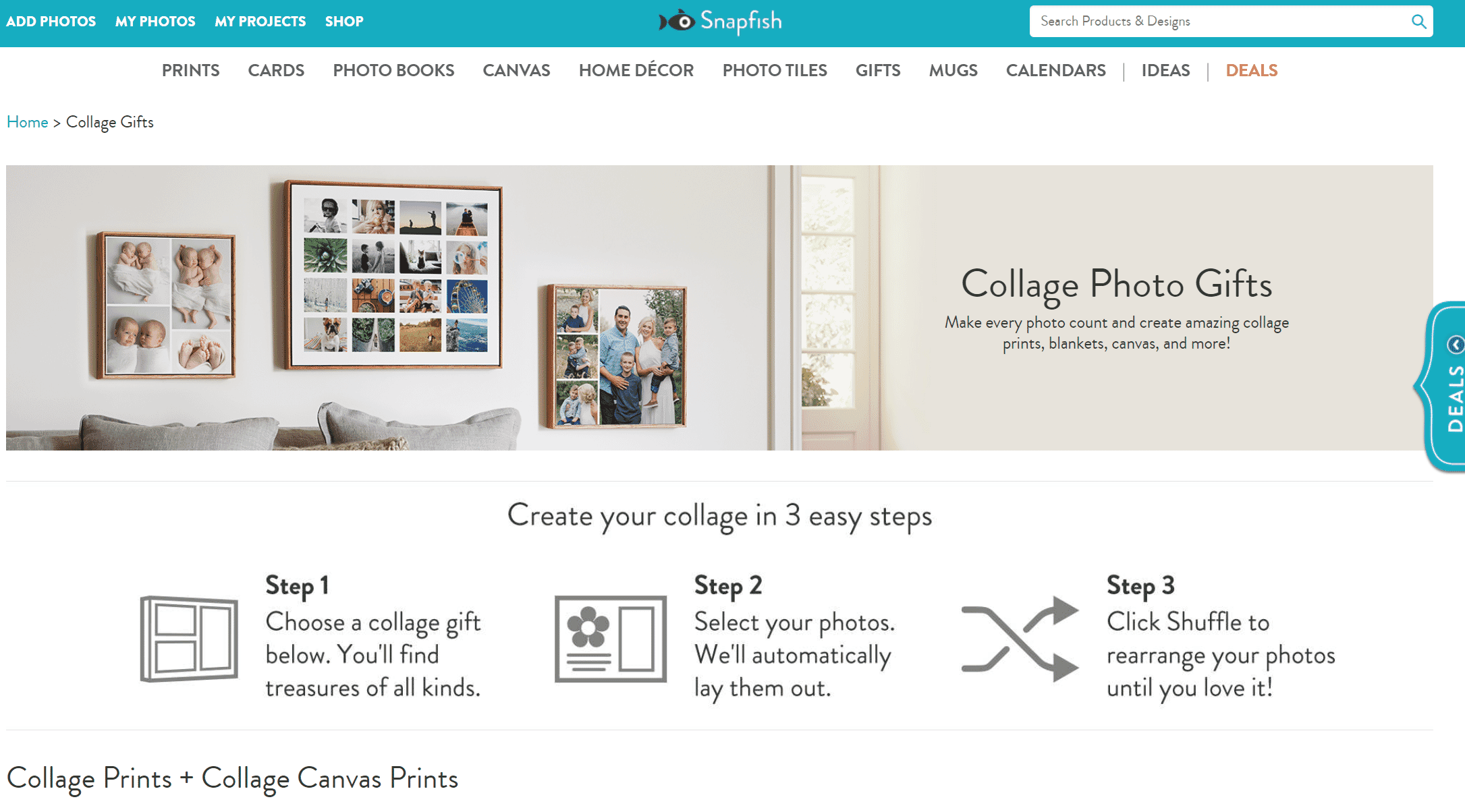 Best for non-photographers
Due to the large assortment of products, purchasing a Snapfish print can be overwhelming. However, the company does have a lot of collage options!
Pros
Inexpensive
Lots of product offerings
Plenty of design options
Cons
Quality isn't the greatest
Snapfish is designed as a one-stop print shop for amateur and family photographers, and the company is more than capable of getting the job done.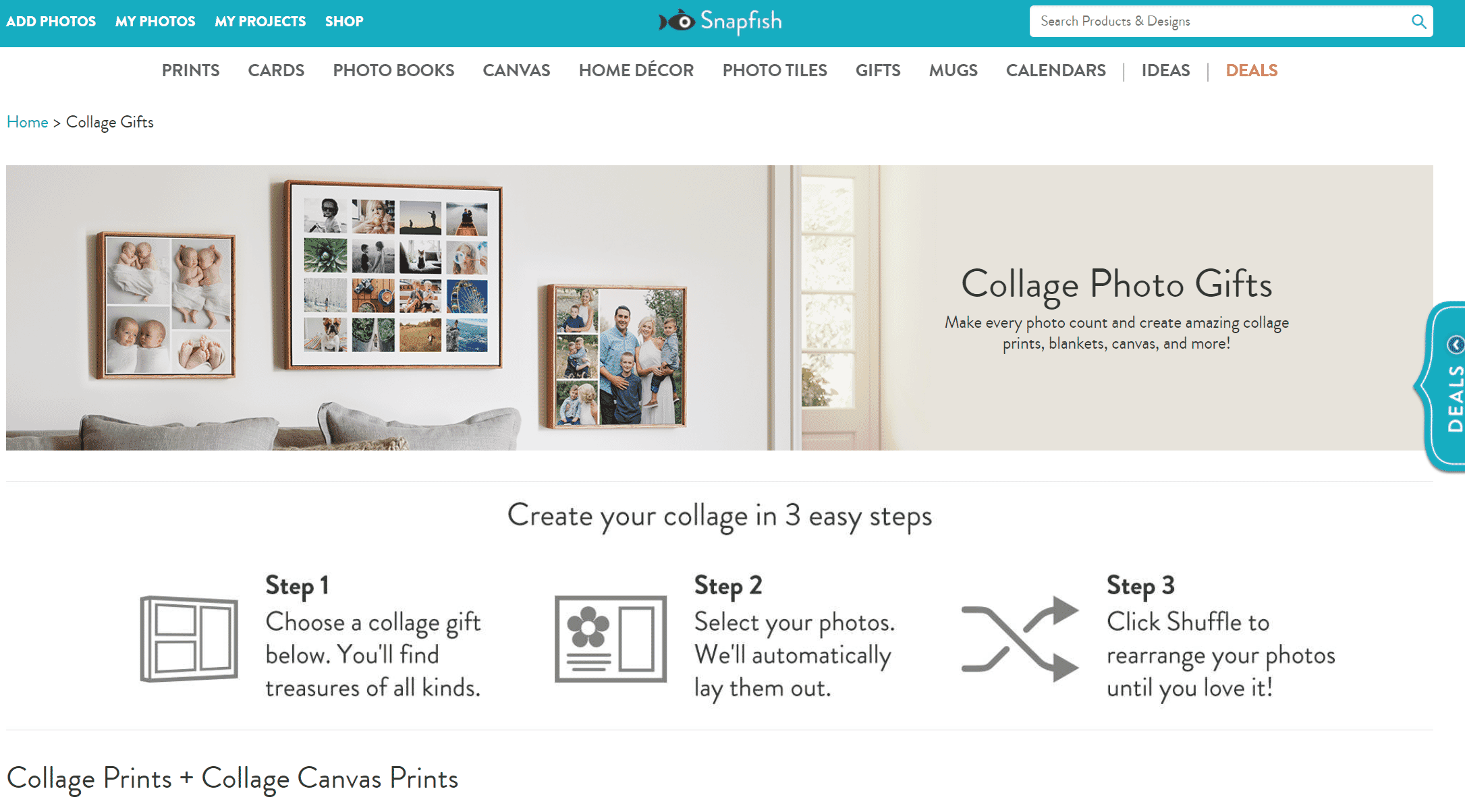 Due to all the options Snapfish has to offer, navigating the website can be a bit overwhelming. What's more, users are required to create a Snapfish account before they can begin building a custom collage. However, there is a slew of design and layout options, which allow you to have plenty of fun and let your creativity run wild!
Related Post: We Tested Snapfish Photo Prints and Were Largely Unimpressed
Snapfish prints its photos on premium satin canvas complete with a fade-resistant matte finish. The company's jack-of-all-trades approach hinders the quality of its specialty prints, but non-photographers probably won't notice any issues. Sure, the professional pixel peeper might, but then again, this lab isn't trying to market to professionals.
4. CanvasChamp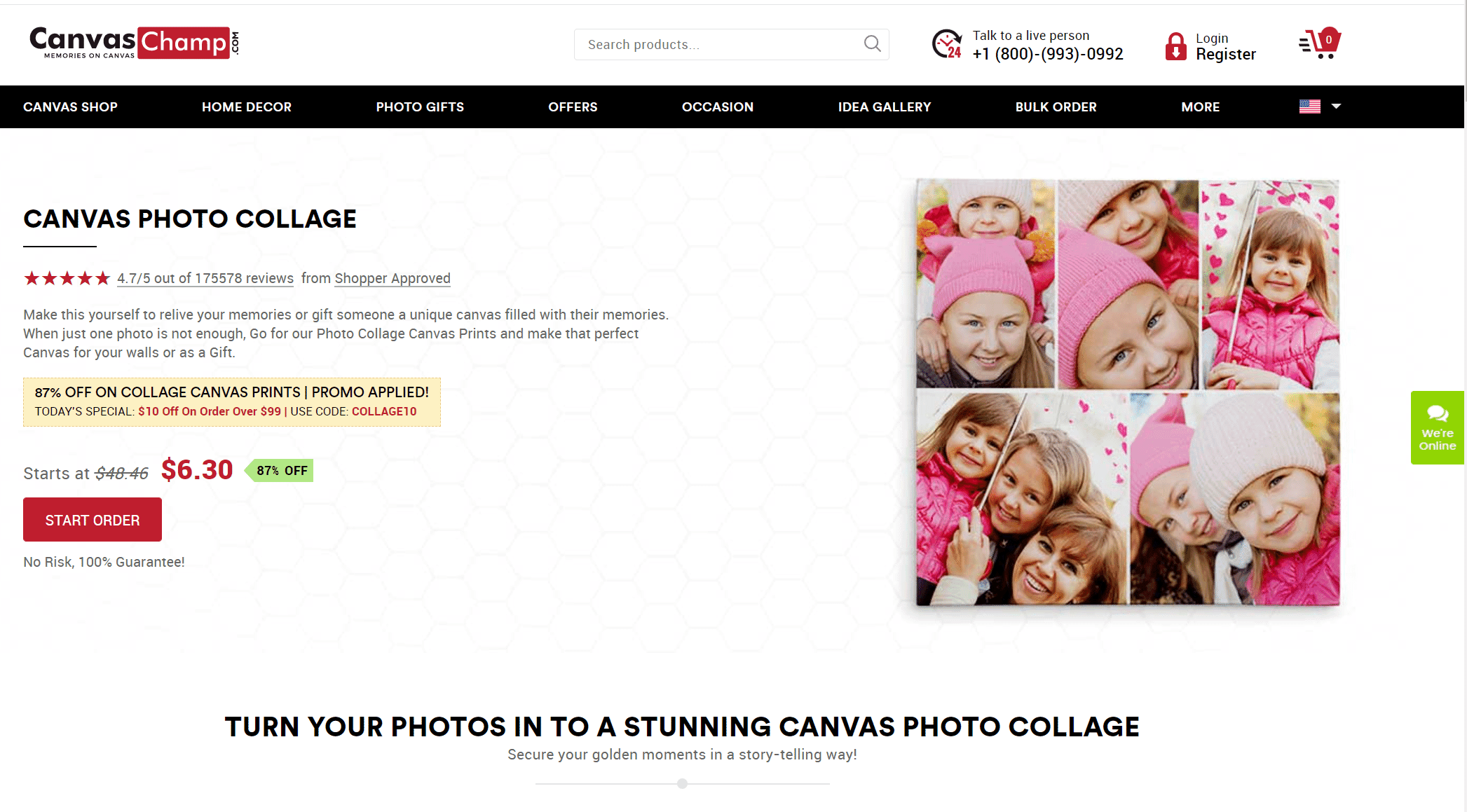 Best for custom collage prints
CanvasChamp promises all kinds of custom collage options, and print quality is outstanding.
Pros
Lots of custom options for collage prints on canvas
Experts at canvas printing
Uses specialized inks
Cons
The ordering experience is complex
CanvasChamp is one of the single most versatile options out there when it comes to printing. Unlike most providers, CanvasChamp allows a great deal of customization and boldly states that "there is no request we cannot fulfill."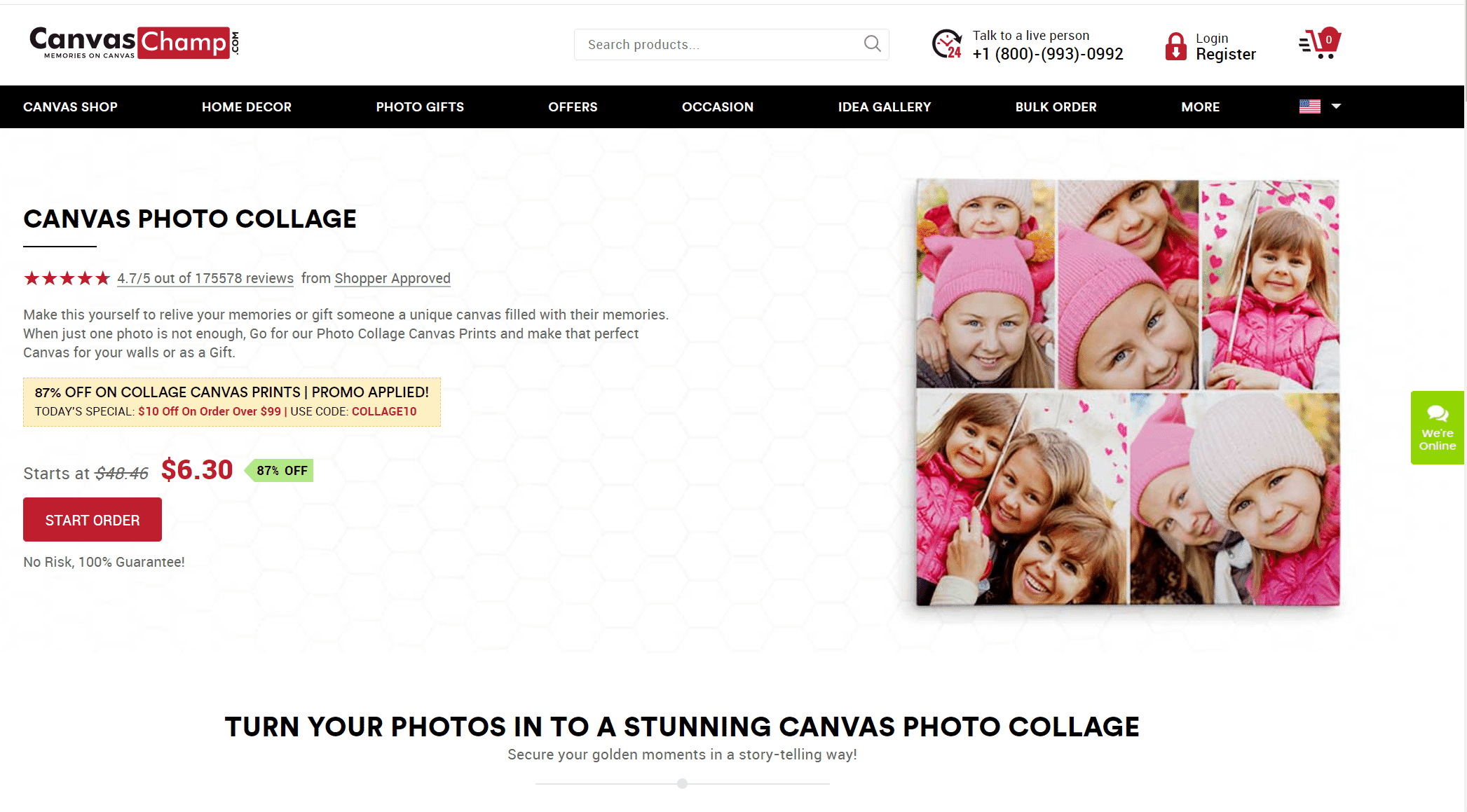 The downside is that uploading pictures for a collage is no walk in the park. In fact, potential customers must enter their email and send images to CanvasChamp without being able to view any sort of collage preview. On the bright side, the site does offer 80 collage designs to choose from, ranging from simple grids to complex shapes. Collages may contain between 10 and 140 images.
Related Post: CanvasChamp Review
The ordering experience falls short, but CanvasChamp makes up for it in quality. Printed on a highly durable archival poly-cotton blend, the collages look amazing. CanvasChamp does an excellent job of avoiding pixelation and feathering; the company also uses special inks designed to retain vibrant colors.
5. CanvasWorld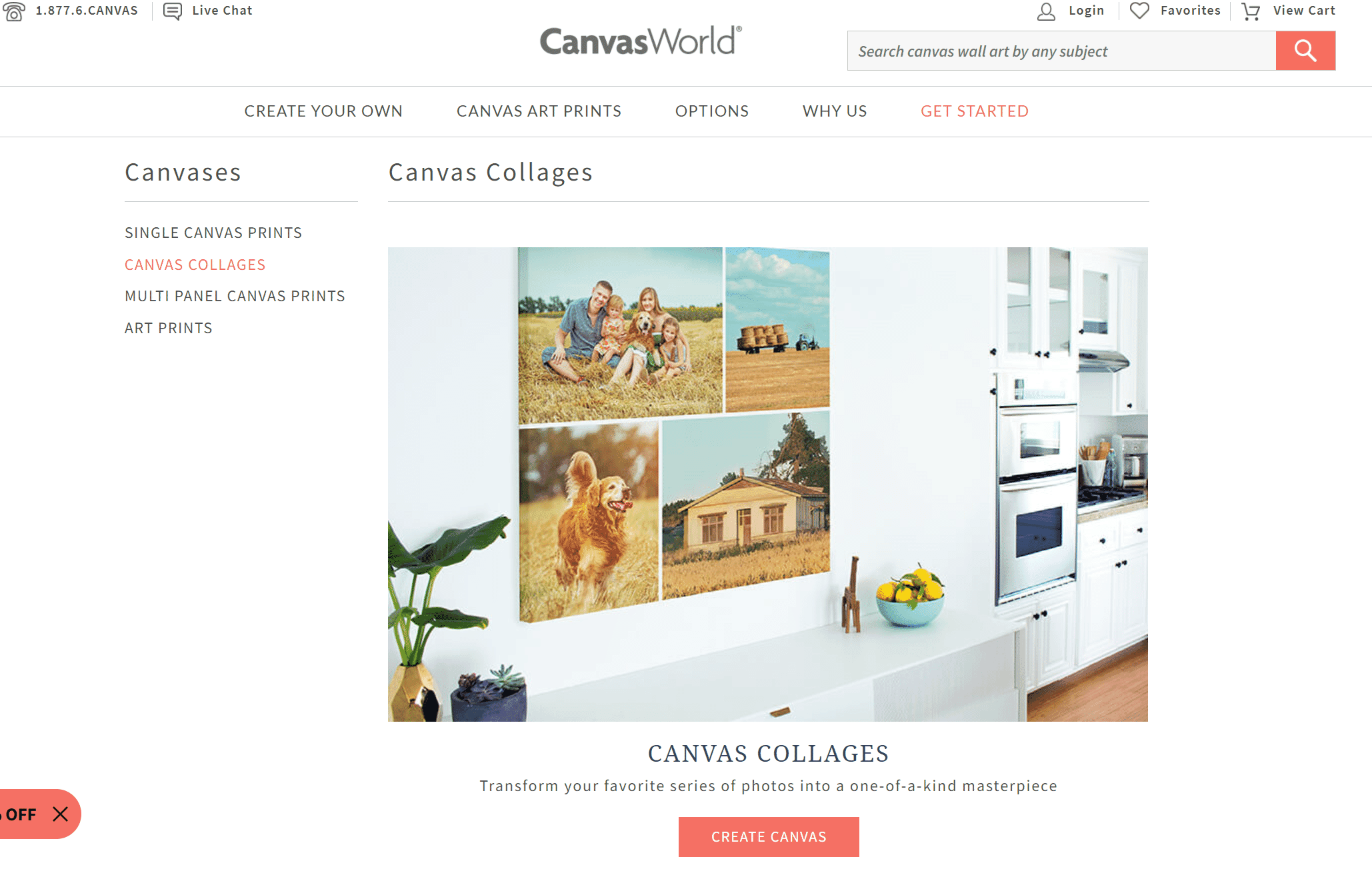 Best for retouching
This lab offers to fix up your photos for free to ensure they look their best when printed!
Pros
Free retouching is included
High-quality printing materials
Easy to order
Cons
Customers pay additional fees for skin retouching
CanvasWorld is a straightforward service that focuses solely on creating quality canvas prints. The service claims to use higher-quality materials than competitors, promising a product without hidden fees, one that's guaranteed to stand the test of time.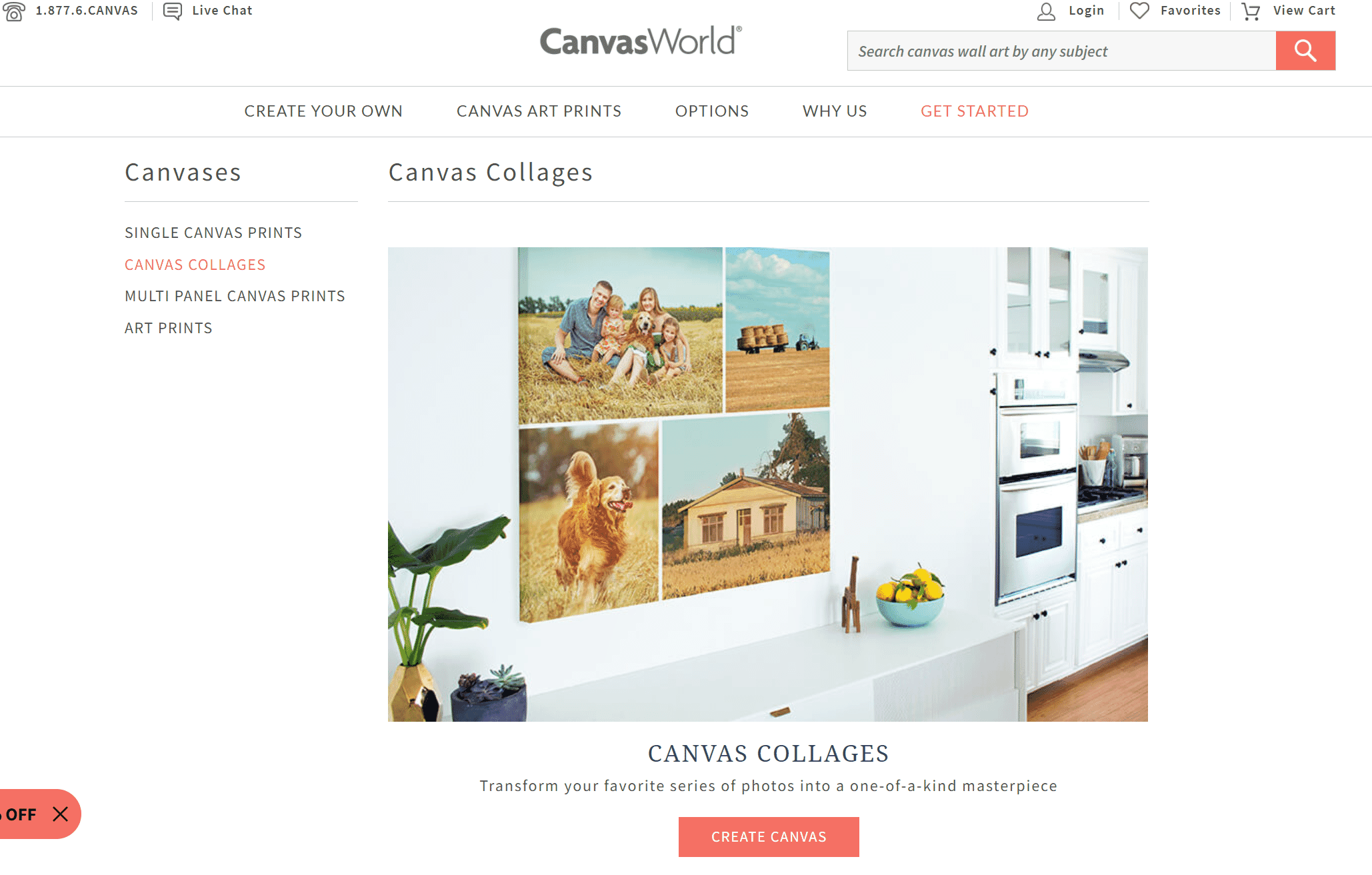 Collages are professionally designed, with portrait, landscape, and square options to choose from. CanvasWorld's museum-quality canvas looks neat and tidy. The printers use ink designed to be environmentally friendly. But what really makes CanvasWorld great is its advanced retouching services.
Complimentary adjustments include sharpening, tonal adjustments, and color corrections. However, customers can pay additional fees to remove wrinkles and blemishes or even to remove distracting foreground and background elements.
6. Shutterfly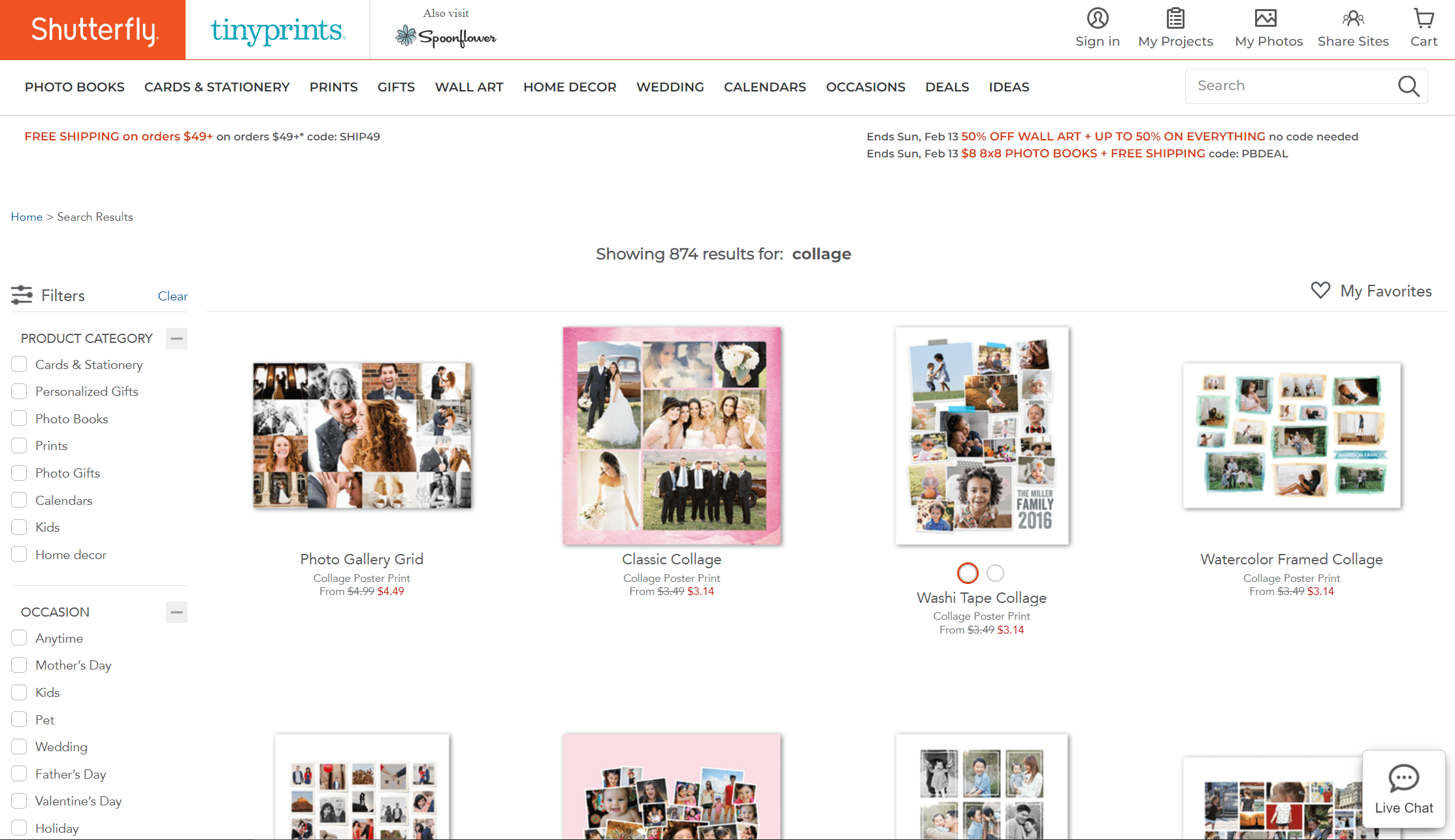 A popular, low-cost option
Shutterfly isn't a high-end printing company, but it offers plenty of options and reasonable prices.
Pros
Large variety of collage products
Great on-demand customer service
Cons
Quality is as you would expect from a non-specialty lab
Many people have heard of Shutterfly's photobook line and on-demand paper prints. However, the company has recently expanded its products to include collage prints in an effort to compete with its main competitor, Snapfish.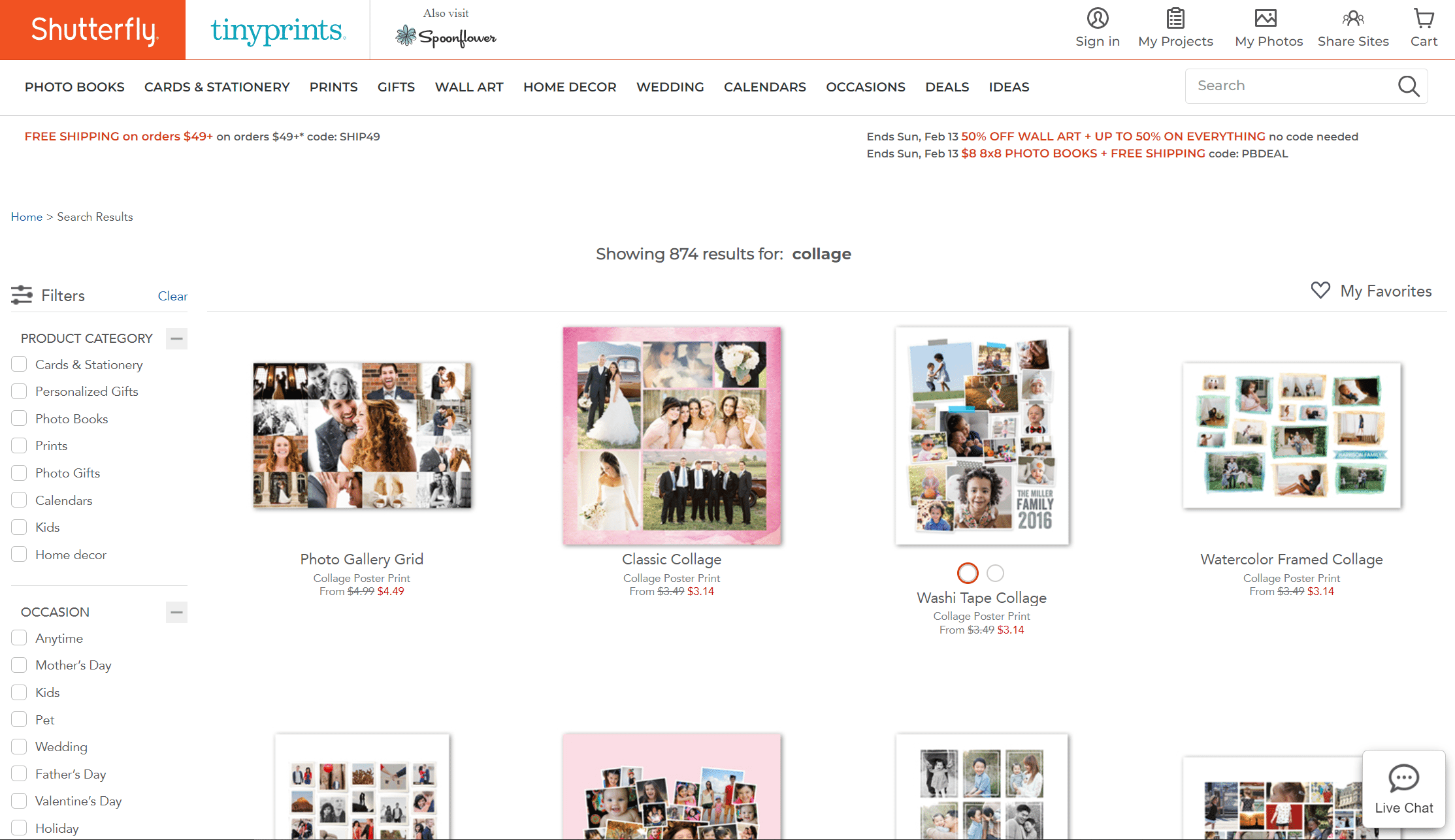 Due to the large number of products, the website may come off as a bit cluttered. Indeed, it can be a challenge just to find the site's canvas options. However, once you've selected a product, the personalization process is easy to understand. A live preview is provided so you can see every adjustment you make along the way.
Related Post: Reviewing Shutterfly On-Demand Photo Prints
Bonus: Shutterfly has on-demand customer service representatives ready to assist you.
7. Canvaspop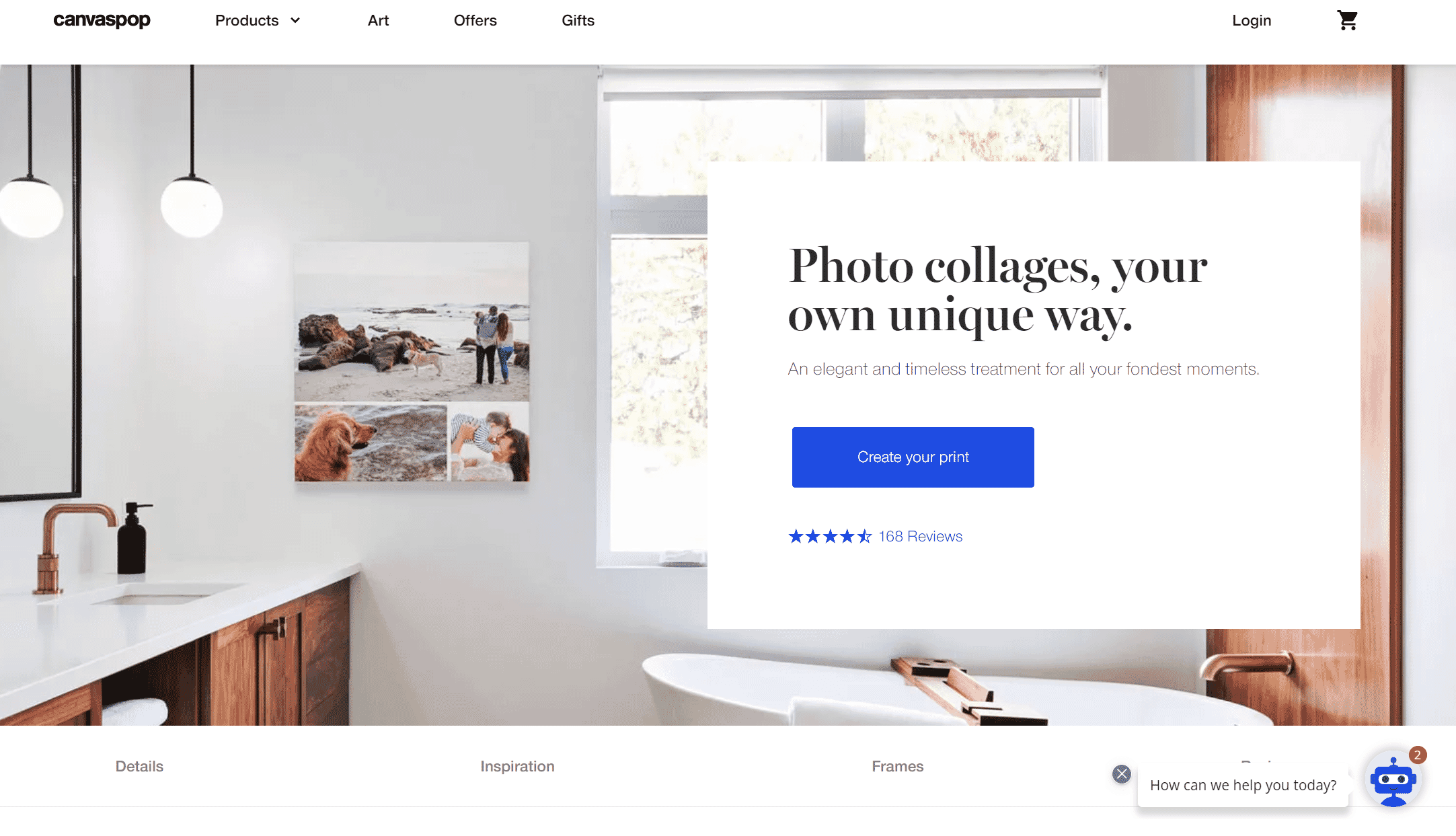 Great-quality collage prints
Doing something over and over again is how you become an expert, right? Canvaspop has created enough prints to ensure consistently good quality.
Pros
Professional care for each print
Very easy to use
Complimentary proofing
Cons
A bit more expensive than some other labs
Since its inception in 2009, Canvaspop has printed around 450,000 canvases for international clients. Divided up, that's about 135 canvases per day – so the professionals working behind the scenes know a thing or two about printing. As a result, Canvaspop has received praise from reputable sources such as the New York Times.
Related Post: Canvaspop Review (2 Custom Canvas Test Orders)
The first thing customers will notice when checking out Canvaspop's products is the site's flawless navigation. Users are guided through the process of building a collage and given ample freedom to determine the look of their canvas.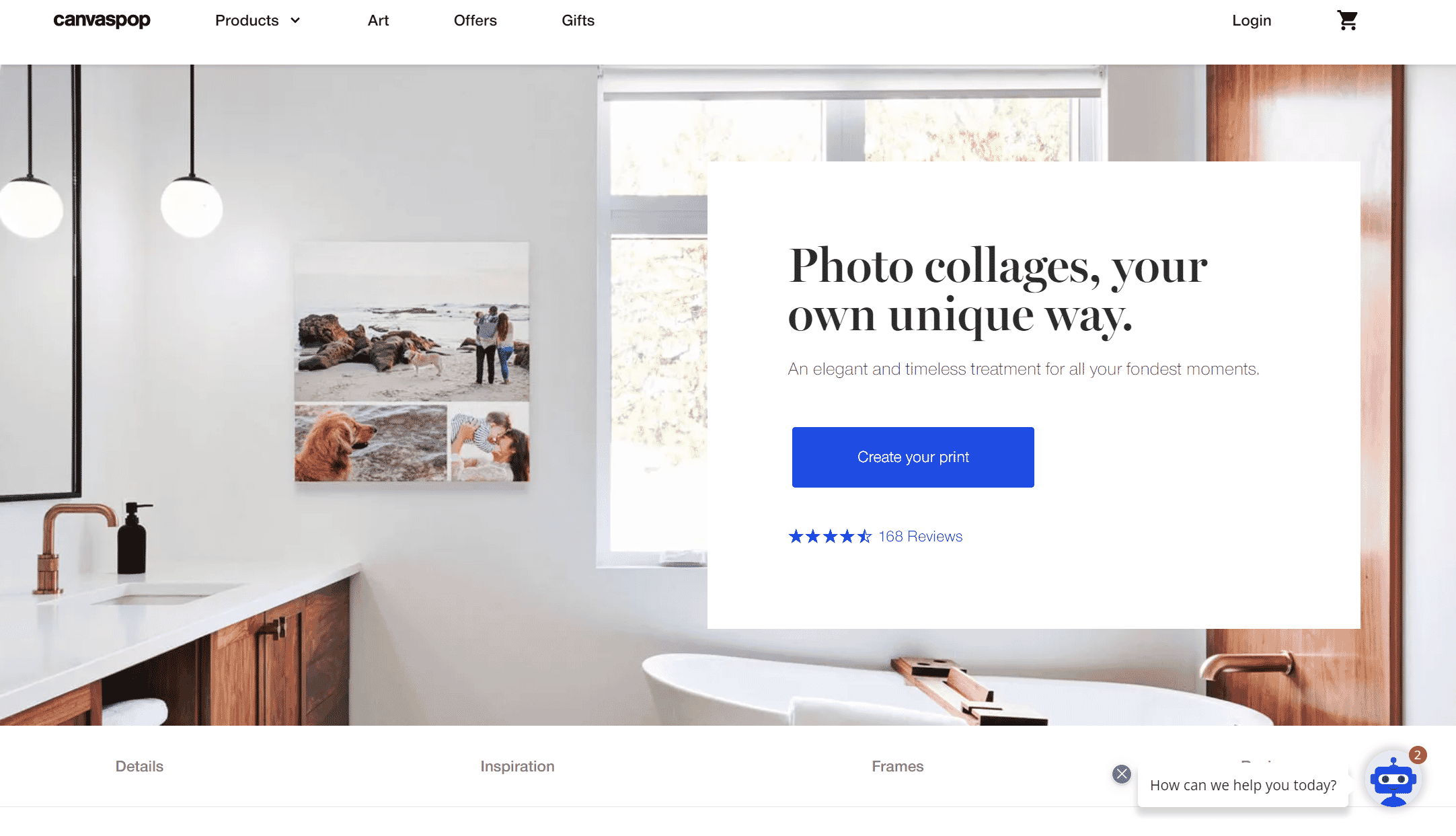 Aside from being able to choose between a number of layout options, customers may refine details such as spacing and coloring between images and the exact position of their photographs. Users even have the option to consult with one of the site's graphic designers to ensure that the canvas looks great before they send it to the printer!
Canvaspop users don't have to wait anxiously for their piece to ship to know how it will look. The company offers all of its customers a digital proof of their piece at absolutely no cost. Once a design is approved, the image is printed onto a poly-cotton matte canvas and protected with a scratch-resistant UV laminate.
8. Mpix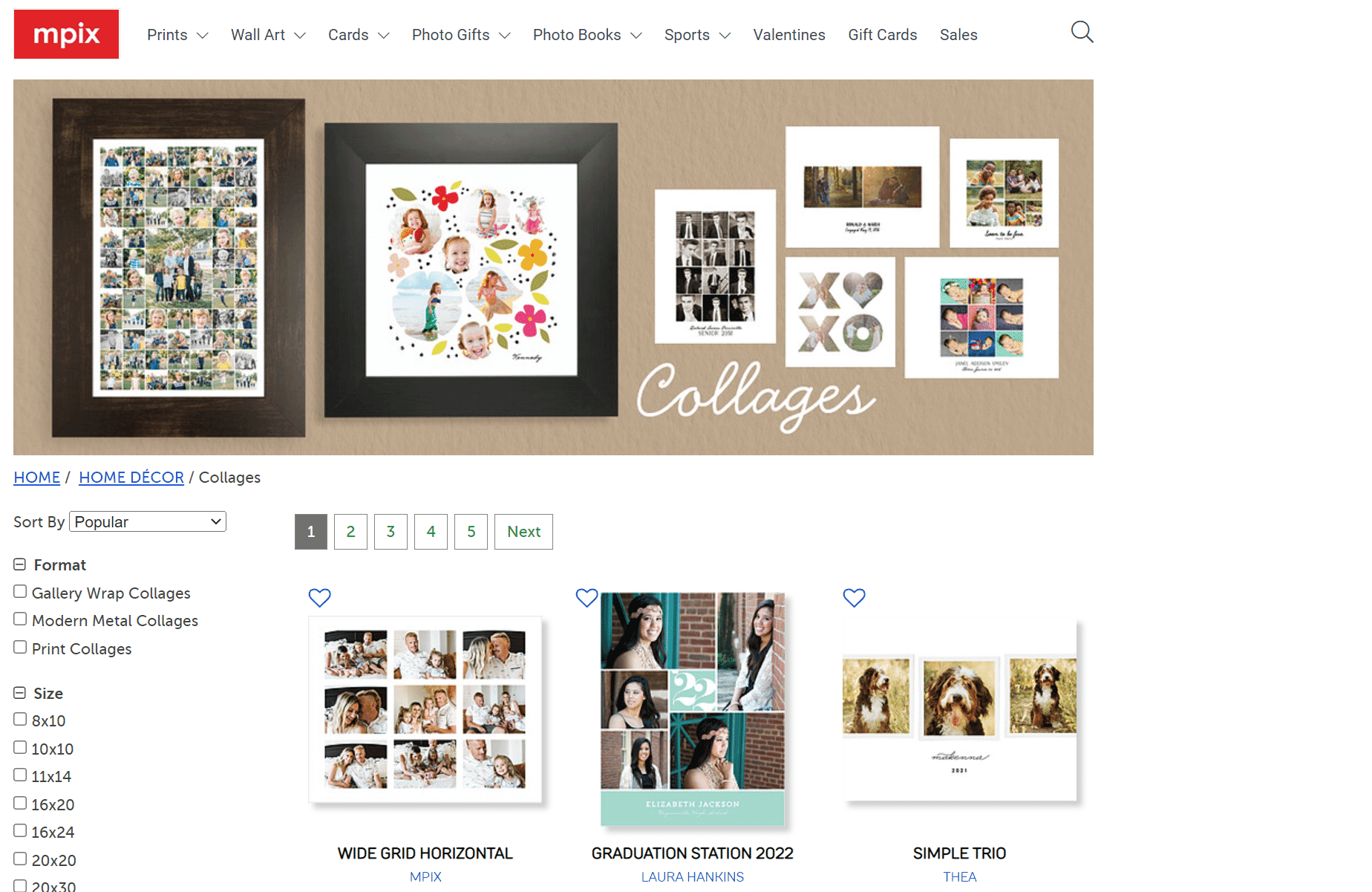 Best for fast printing
Mpix is a top-notch lab that produces high-quality collage prints at high speeds.
Pros
Various collage templates available
Very fast
Lots of print options at decent prices
Cons
Flat-fee shipping regardless of order quantity
Mpix is the consumer division of the world-famous lab, Miller's, and it strives to provide an outstanding experience to the everyday photographer. As the lab is oriented toward gifts and household products, collages are pretty routine.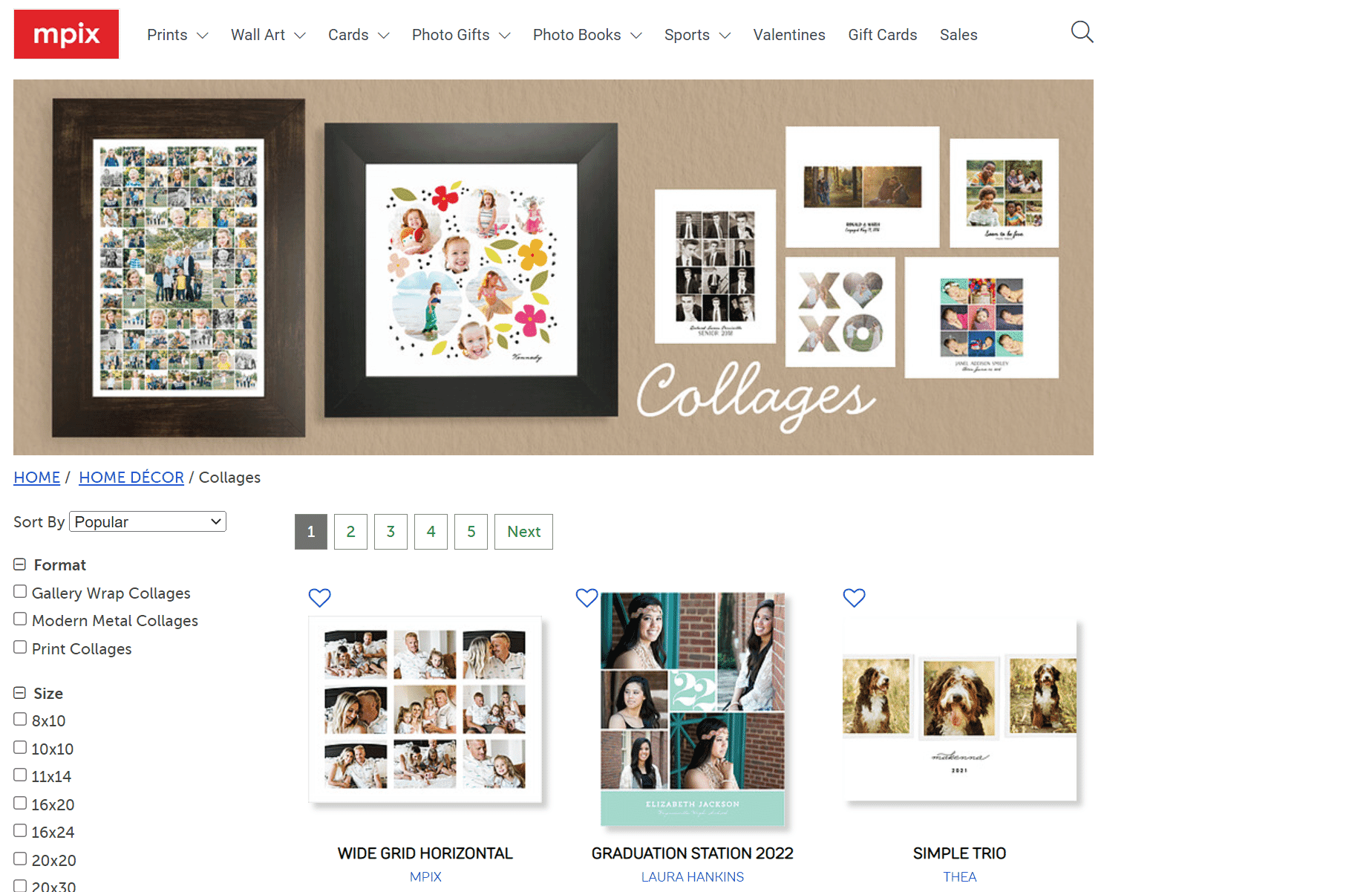 Although the collage templates are pretty standard, each one is beautifully designed. The print quality is where Mpix shines; images are vibrant and fairly true to the original. You can even check a box that allows Mpix lab technicians to adjust your images as needed to ensure that the colors appear as perfect as possible!
Mpix's collage offerings are a bit limited in comparison to labs like Collage.com, but each product is beautifully crafted. You get to choose between a traditional photo print, a metal print, and a canvas print. And it's straightforward to browse the vast collection of templates by filtering the selections by the number of photographs you want to showcase!
Shipping is quick and easy, and production times are exceptionally fast. The only problem is the flat shipping rate, which is far too high if you're only ordering one print! However, if you're bulk ordering many prints, then the flat-rate shipping cost is quite reasonable.
9. Nations Photo Lab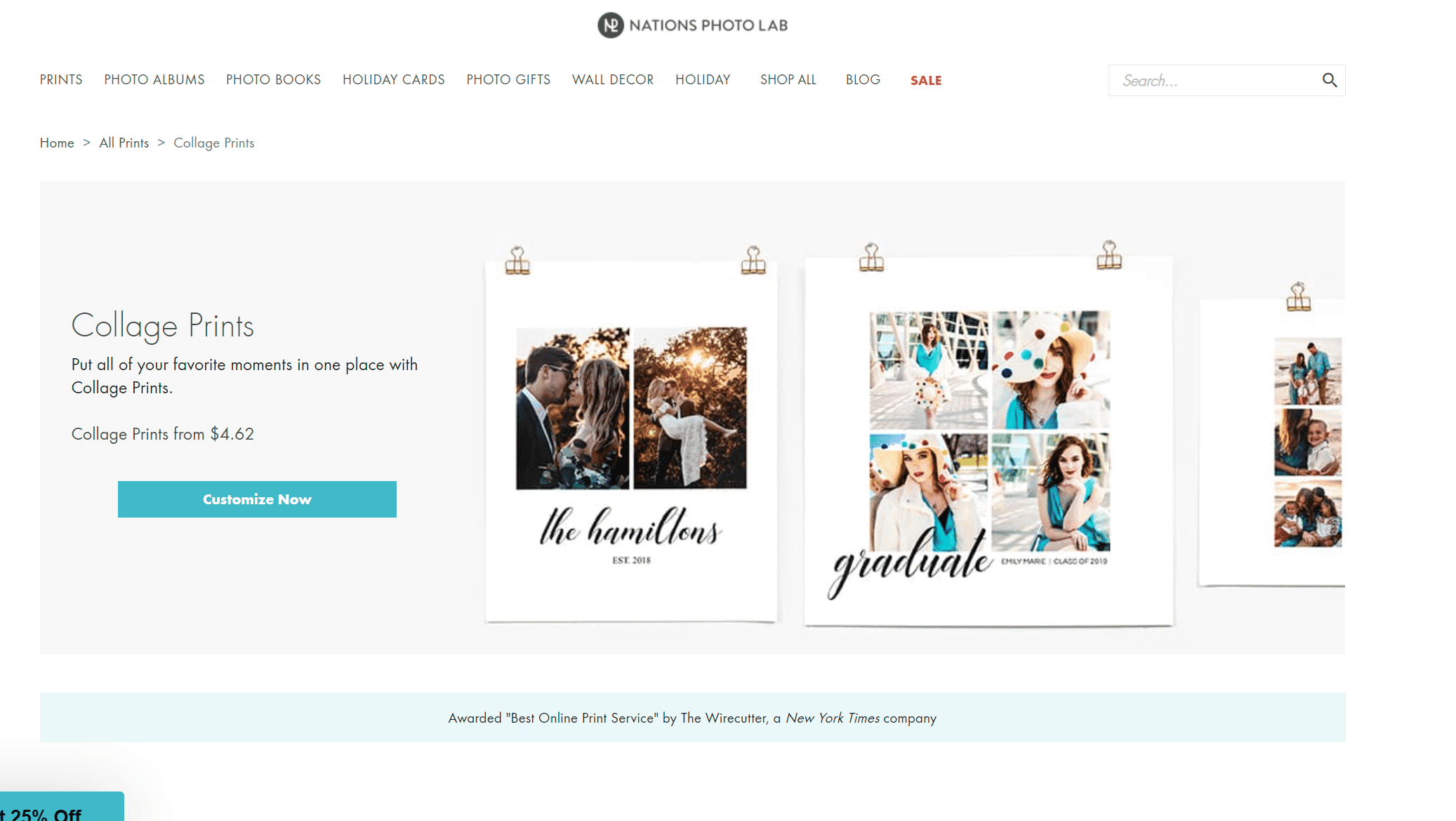 Best for serious consumers
A professional lab wrapped in a consumer package, Nations Photo Lab produces prints of the highest quality.
Pros
Absolutely marvelous print quality
Offers various products done up with collages
Very user-friendly
Cons
Limited collage template options
Nations Photo Lab is similar in style to Mpix, but Nations serves both professional photographers and the everyday family! Voted one of the best online print labs, Nations is a fantastic option for photo collages.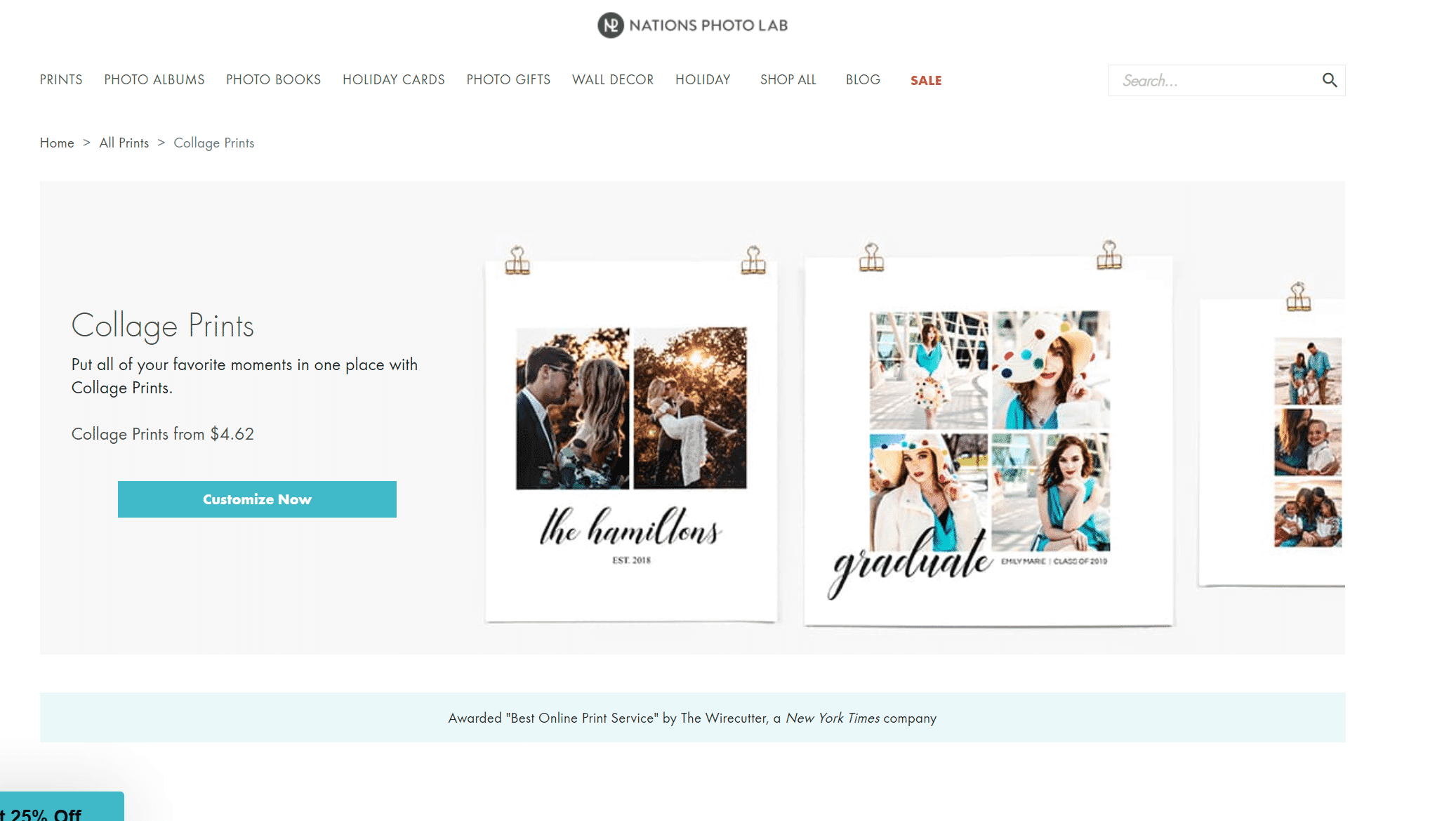 From glorious photo prints to high-quality acrylic and canvas offerings, Nations Photo Lab produces consistently excellent results. Collages are mixed right in there with some of the other print options. The collage templates are beautiful, but there aren't very many of them (which is why Nations has to rank a bit lower on our list).
That being said, the website is extremely user-friendly with a great customer service team ready to assist. The prices are very reasonable, too, given the fantastic quality this lab provides.
10. Minted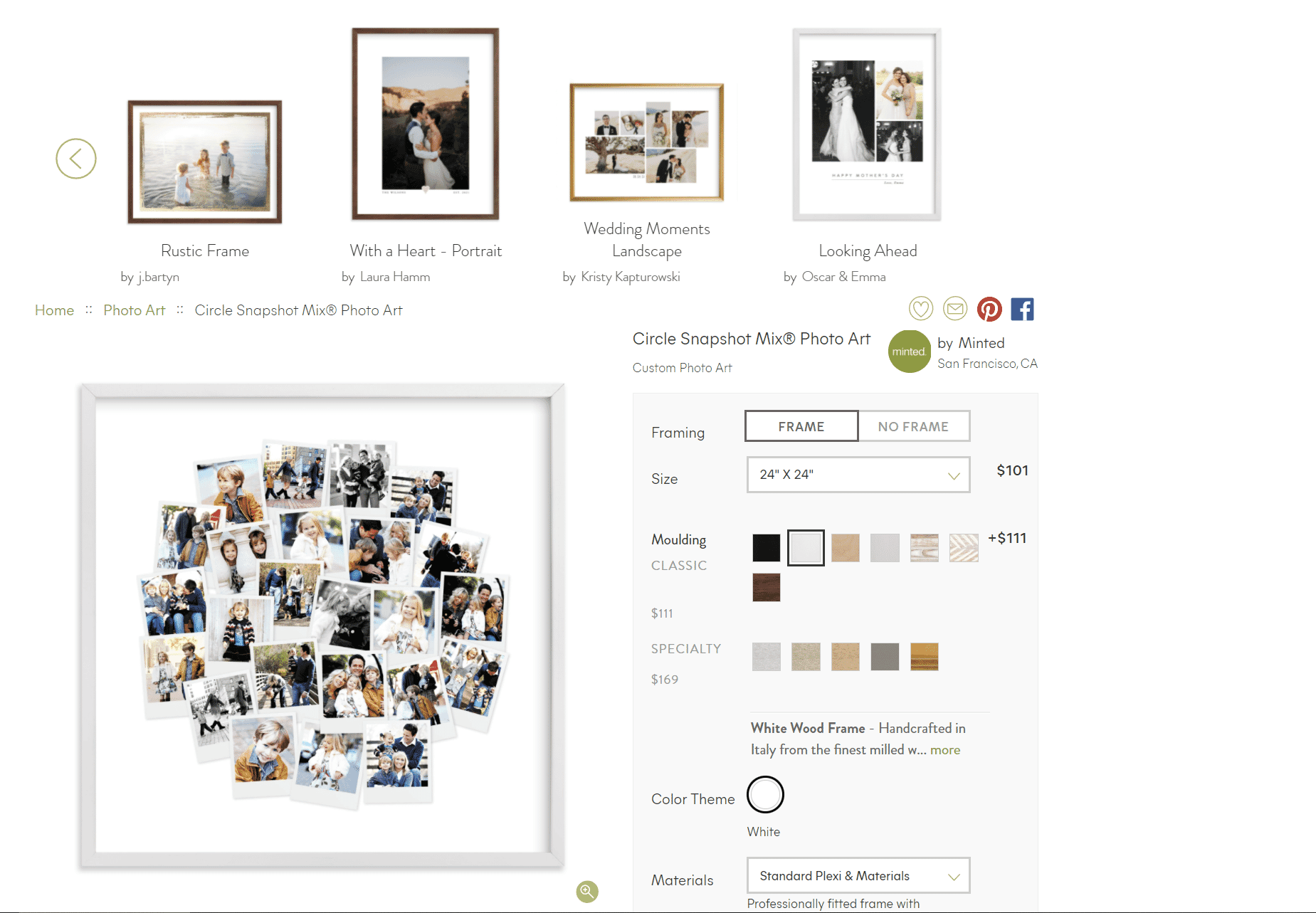 Best for original designs
With designs and layouts sourced from independent artists, this lab helps both the community and the customer!
Pros
Great way to connect artists with customers
Collage designs are unique and eye catching
Offers unique print materials
Minted is a print lab that prides itself on working with amazing local artists to provide unique and one-of-a-kind offerings for their clients. Templates are specially designed by professionals, and there is a lot to love about Minted's array of services.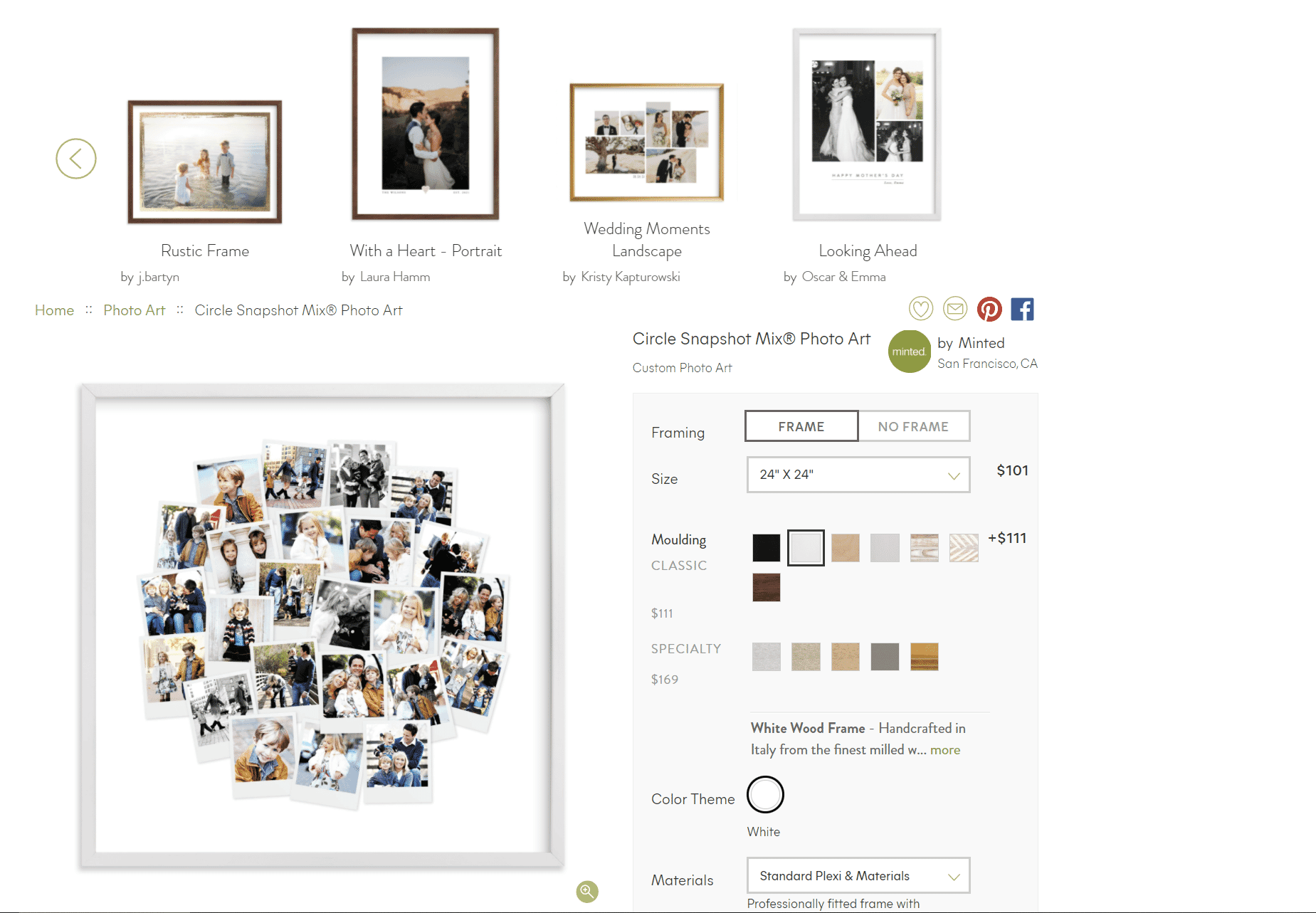 You can find some rather funky collage designs to choose from that'll help your prints stand out! Minted also uses paper not offered by many other labs. Know that your prints will be very unique.
You can order prints already framed and mounted, with customizations galore to match your home! This does come at a more premium price, but you can feel good about your purchase as the profits really do go back to helping local art communities.
Related Post: Posterburner Review
Purchase Your Beautiful Photo Collage Print!
Hopefully, you now know which photo collage printing service to use! In truth, the best photo collage prints are those that suit your needs, desires, and style the best. We really favor Collage.com thanks to their many options and their collage-art specialty. Our runner-up is Printique, which offers a slew of options and a great customer service team.