The holidays are here, so eyeing up gifts is a must. With so many photography products available to custom-order, you have a slew of options to consider! Here is our guide to the best custom photo pillows you can nab, filling your loved ones' homes with your favorite photographs.
As a bonus, pair these pillows with a custom photo blanket for a perfect collection.
Best Custom Photo Pillows:
When you buy through links on our site, we may earn a commission at no cost to you. We evaluate products independently. Commissions do not affect our evaluations.
1. Zazzle
Our Pick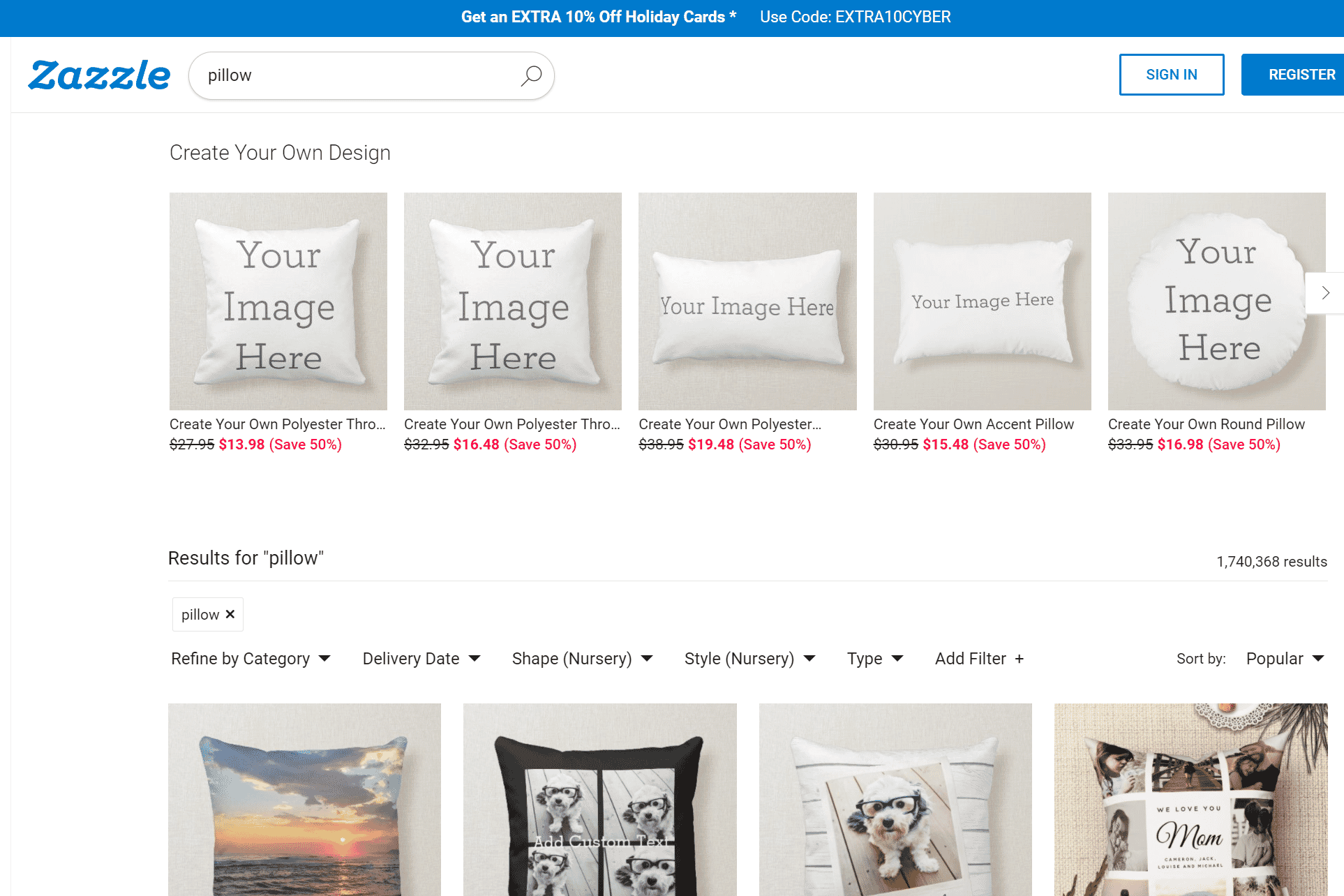 For Those Who Like Different Kinds of Pillows
If square is boring, why not make a round pillow? What about a body pillow? You can do all of that and then some with this lab.
Pros
Incredible array of pillow options, such as round pillows and body pillows
Different fabric choices available, including zipper-less
You can live chat with a rep for help
Cons
Fabric options don't feel as premium as some other labs
Zazzle is a print lab that offers a variety of different products that can also be customized with your photograph(s).
The blanket options are all quite different from our option above but just as vast. For fabrics, Zazzle offers 100% cotton, polyester, outdoor, or a solid pillow that is "zipperless" (is not a pillow cover). Although this selection isn't super premium, what makes Zazzle really shine is the lab's incredible assortment of pillow types you can make!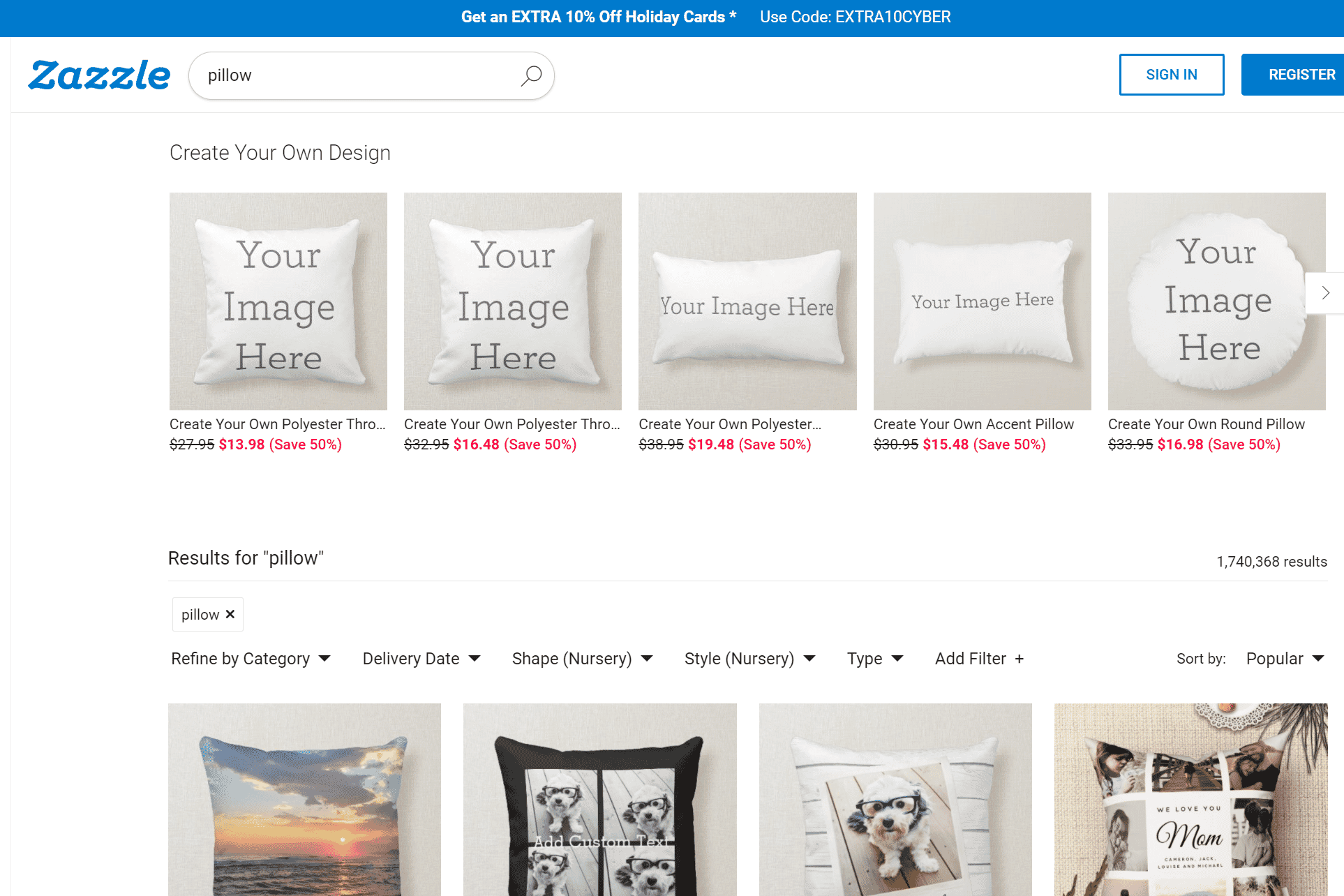 On Zazzle, you are able to not only show off your photography on a regular pillow, but also on a round pillow, body pillow, accent pillow, and more! This opens the door wide open to explore your gift-giving skills or simply add new artistic flair to your home.
Many different pillow sizes are available, and if the choices get overwhelming, you can live chat with a rep for help.
2. Bags of Love
Premium Option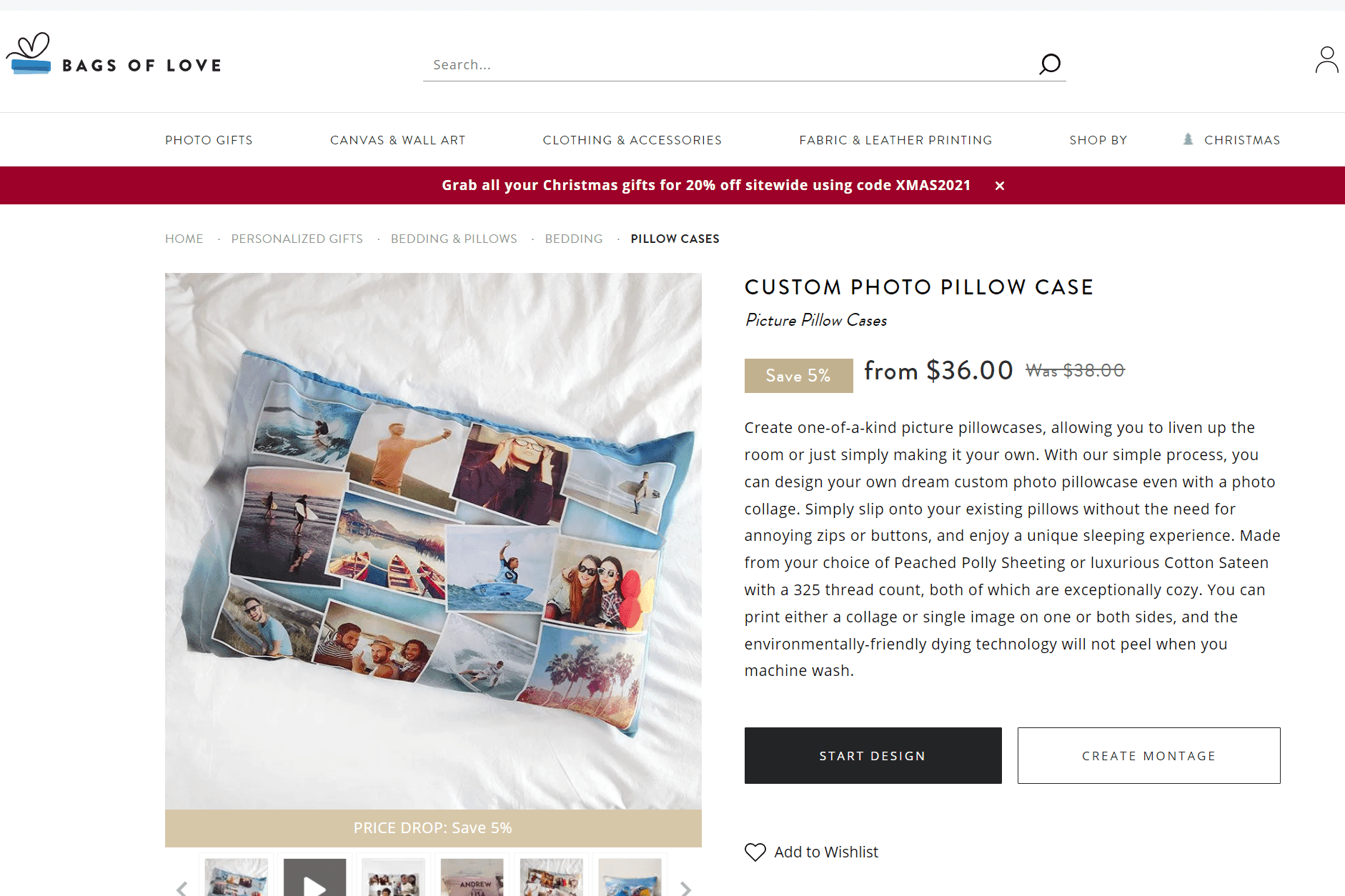 Premium Options for Your Pillow
For the high-end choice, this lab will outstand you.
Pros
Really lush fabric options
Great insert options as well
You can even customize the zipper
Lots of color options for the "blank" side
I am so taken by the name of this lab, it's very sweet! Bags of Love specializes in creating heartwarming and affectionate gift products, offering a true "bag of love". Their photo pillows are one such sentimental keepsake you can make. What makes this choice a particularly incredible one are the premium-style options.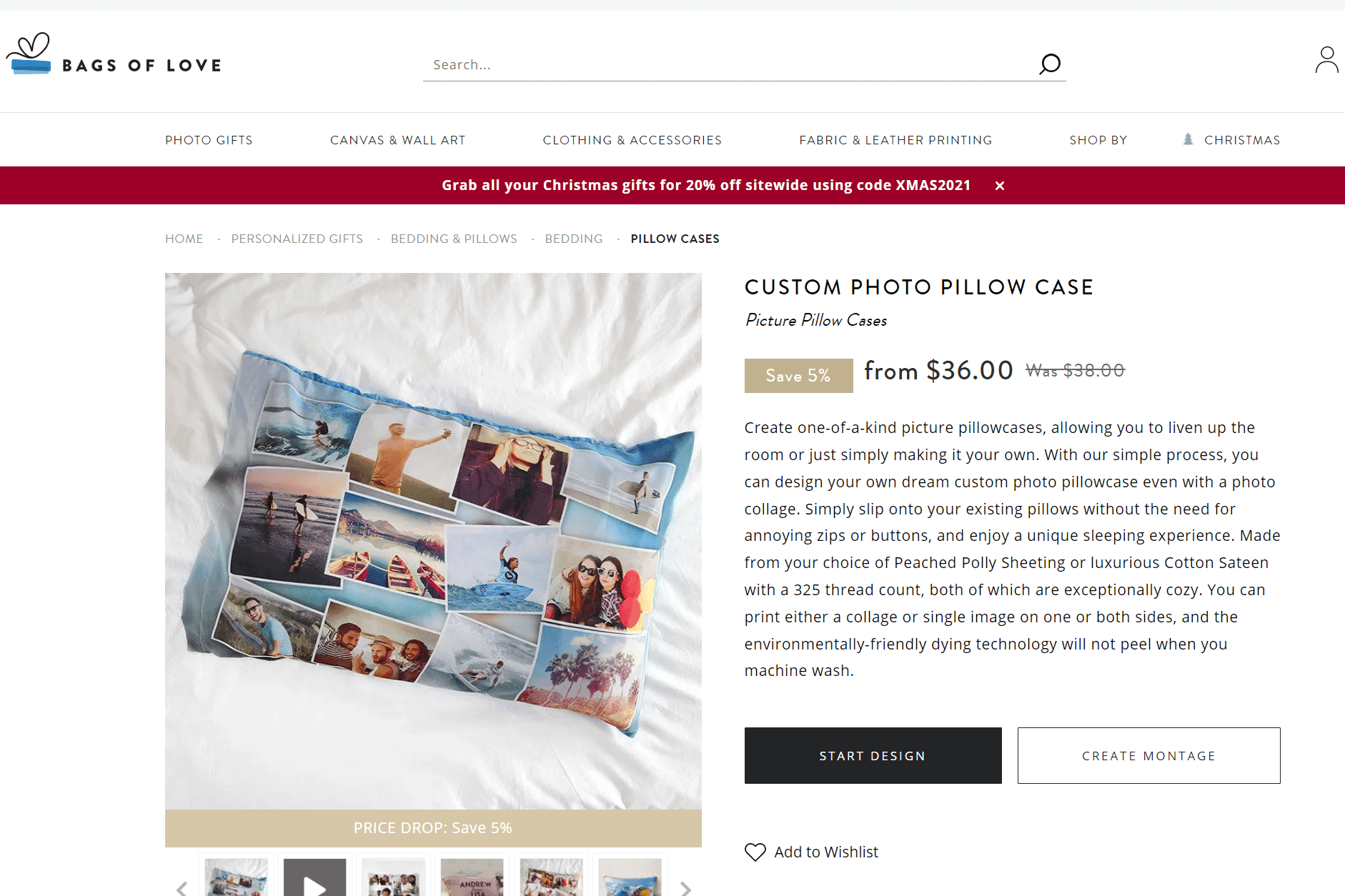 With many similar perks as other labs, such as machine-washable and durable fabric, Bags of Love has something extra special in their services; a pillow made of velvet fabric! How luxurious! Your other options include shimmer velvet, herringbone, and archway brushed twill.
Pillows can be either square or rectangular, with size options available for both. Print on one side or both sides, the choice is yours! If you choose one side photo printing, you can choose from a variety of colors for the "blank" side. You can even decide what kind of zipper you want!
3. Shutterfly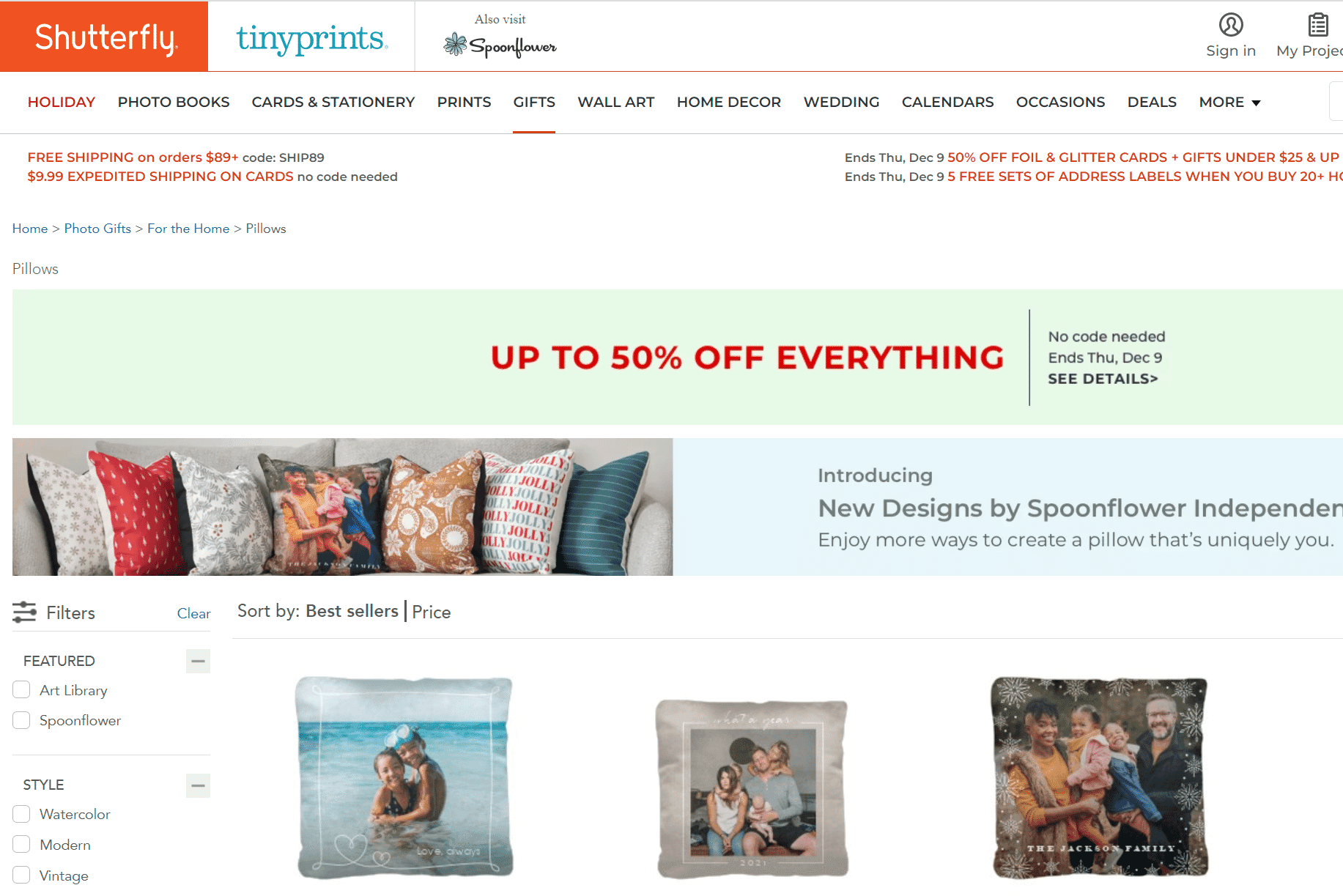 Always Popping Up
With a reputation that proceeds itself, this lab also offers custom photo pillows.
Pros
Been in the industry for a long period of time
Really nice border templates to customize
Sherpa and plush fabrics also available
Cons
Print quality is great for the every day consumer, but some photographers may be a bit miffed at the more muted colors
Shutterfly has once more found its place on our lists! Because of their large assortment of products, it's of no shock that Shutterfly just keeps cropping up again and again. A lab that produces thousands upon thousands of orders, many have entrusted Shutterfly with their gift printing needs.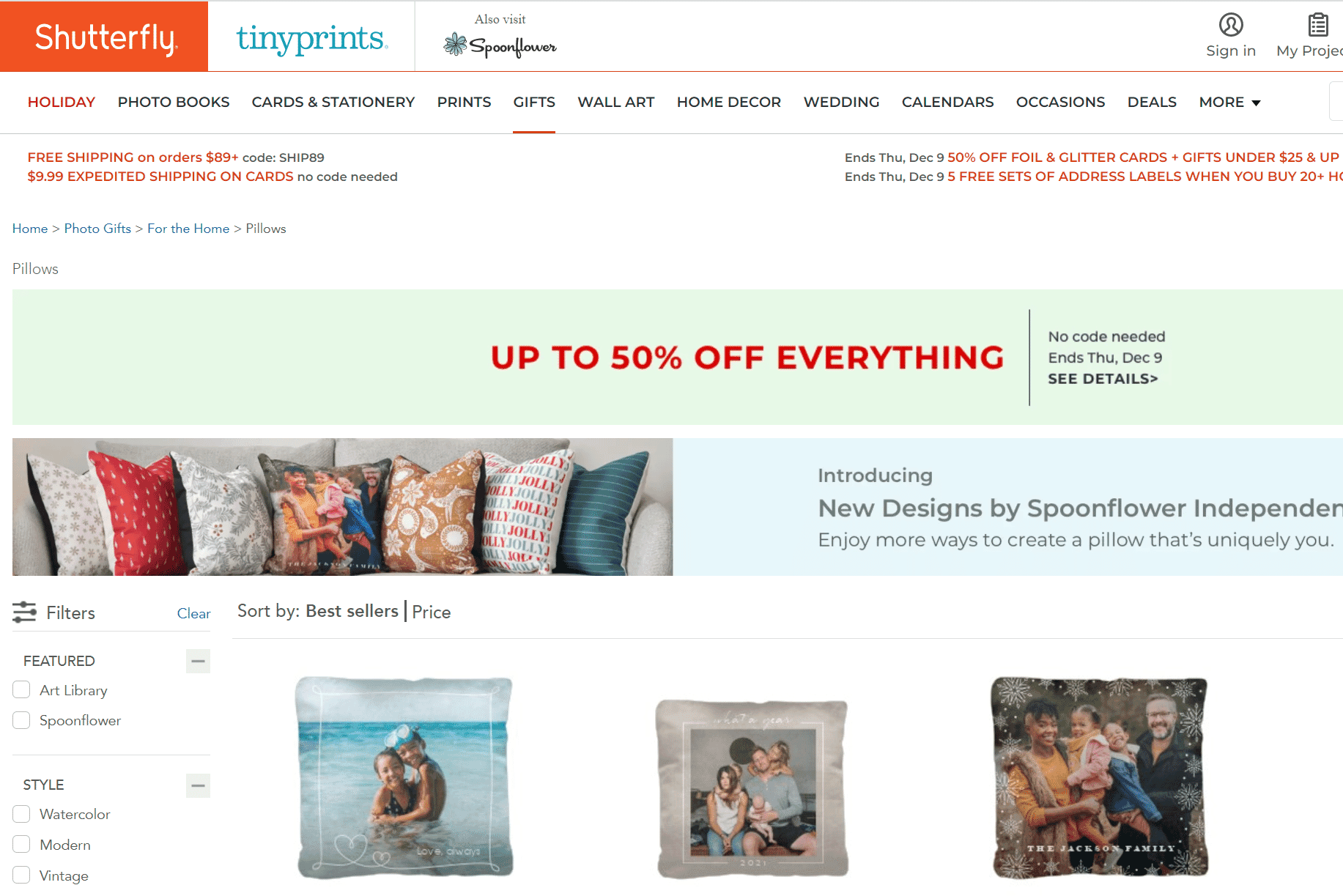 For the lab's pillow offerings, what really catches the eye are their lovely border templates. There are so many nice little touches you can customize upon, adding some fun or elegance to your images. The Modern Arch Border template is a personal favorite!
You can print on one side or both, but if you choose to print only on one side, your backside has the option of either white or black (most labs only offer white!). Inserts are already included, and the zipper is there but remains hidden. Besides regular fabric, you can also select sherpa or plush for maximum cuddle-power!
4. CanvasChamp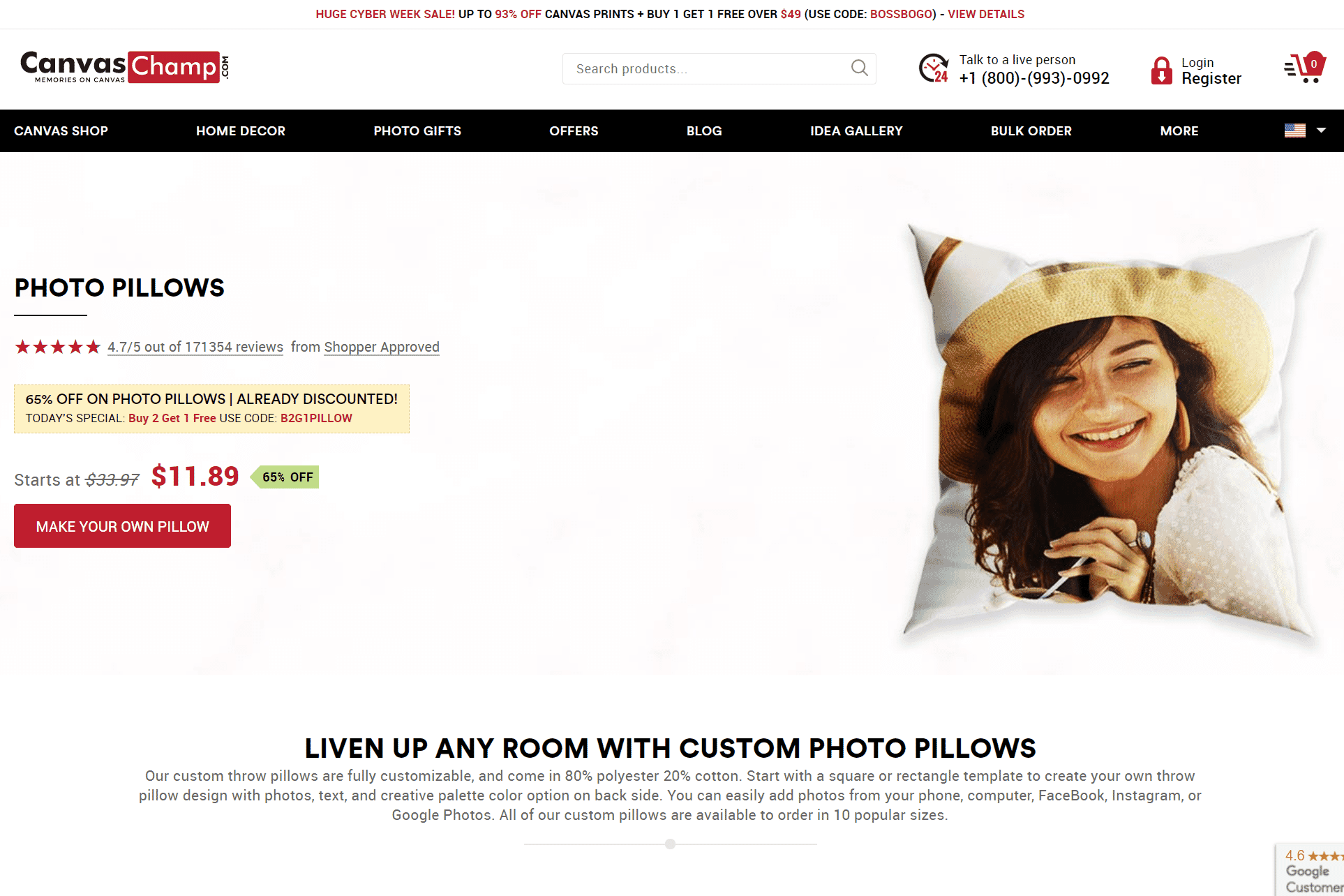 The Champion of Fast Turn Around
Forgot about a special ocassion? Not to worry, CanvasChamp will have that pillow done right in time for gifting!
Pros
Very fast turn around time
Durable, machine-washable, and easy to care for fabrics
Lots of pillow sizes available
Cons
Limited options on fabric
Although there aren't as many fabric options as competitive labs, CanvasChamp does have an impressively fast turn-around time! Shipping within three business days, if you need something quick (or are impatient like me)… this is a great choice!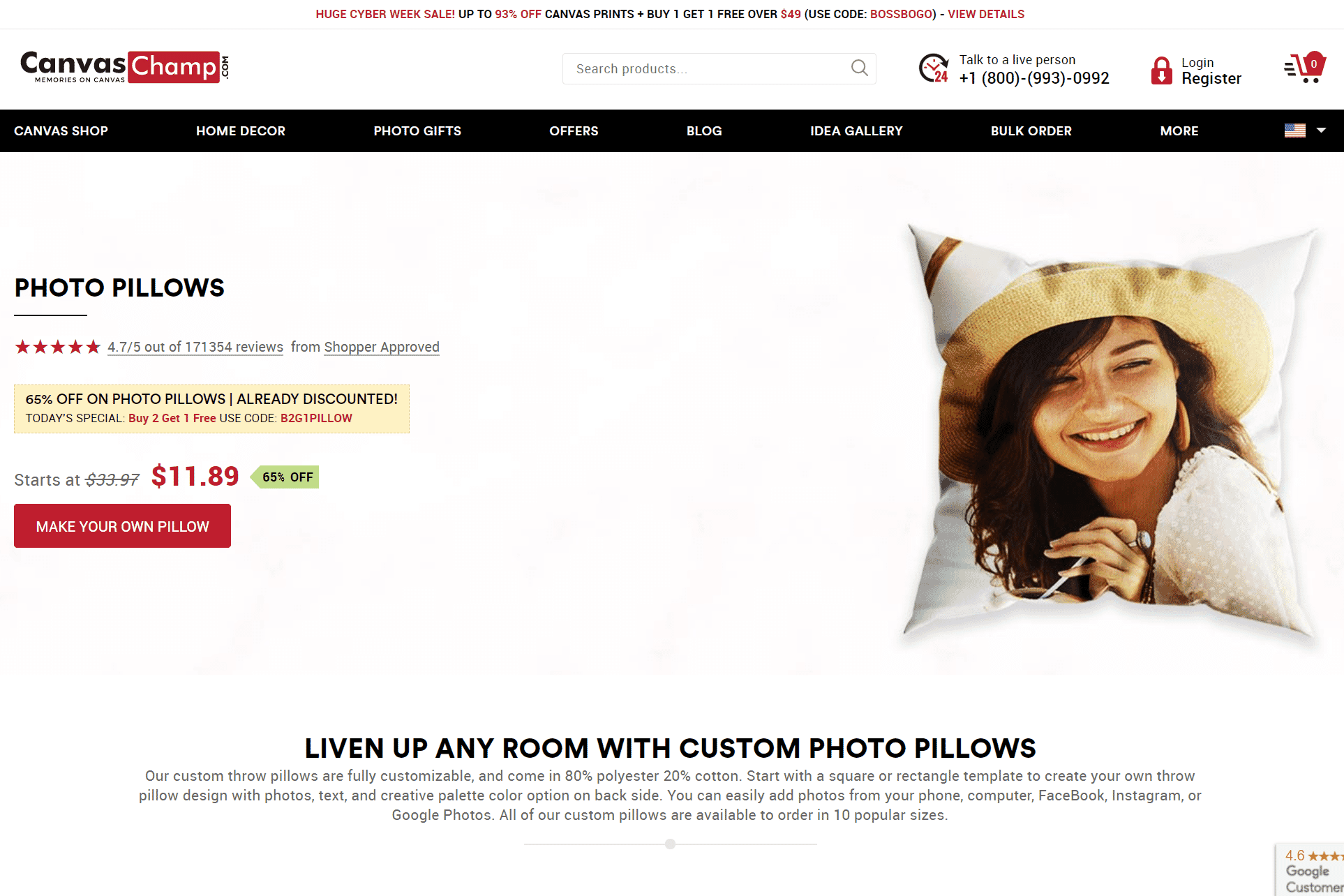 The pillowcases are durable, machine-washable, and easy to care for, so there is limited effort on your part. What CanvasChamp lacks in options, the lab makes up for in a slew of different sizes so you can order an exquisite arrangement!
5. Nations Photo Lab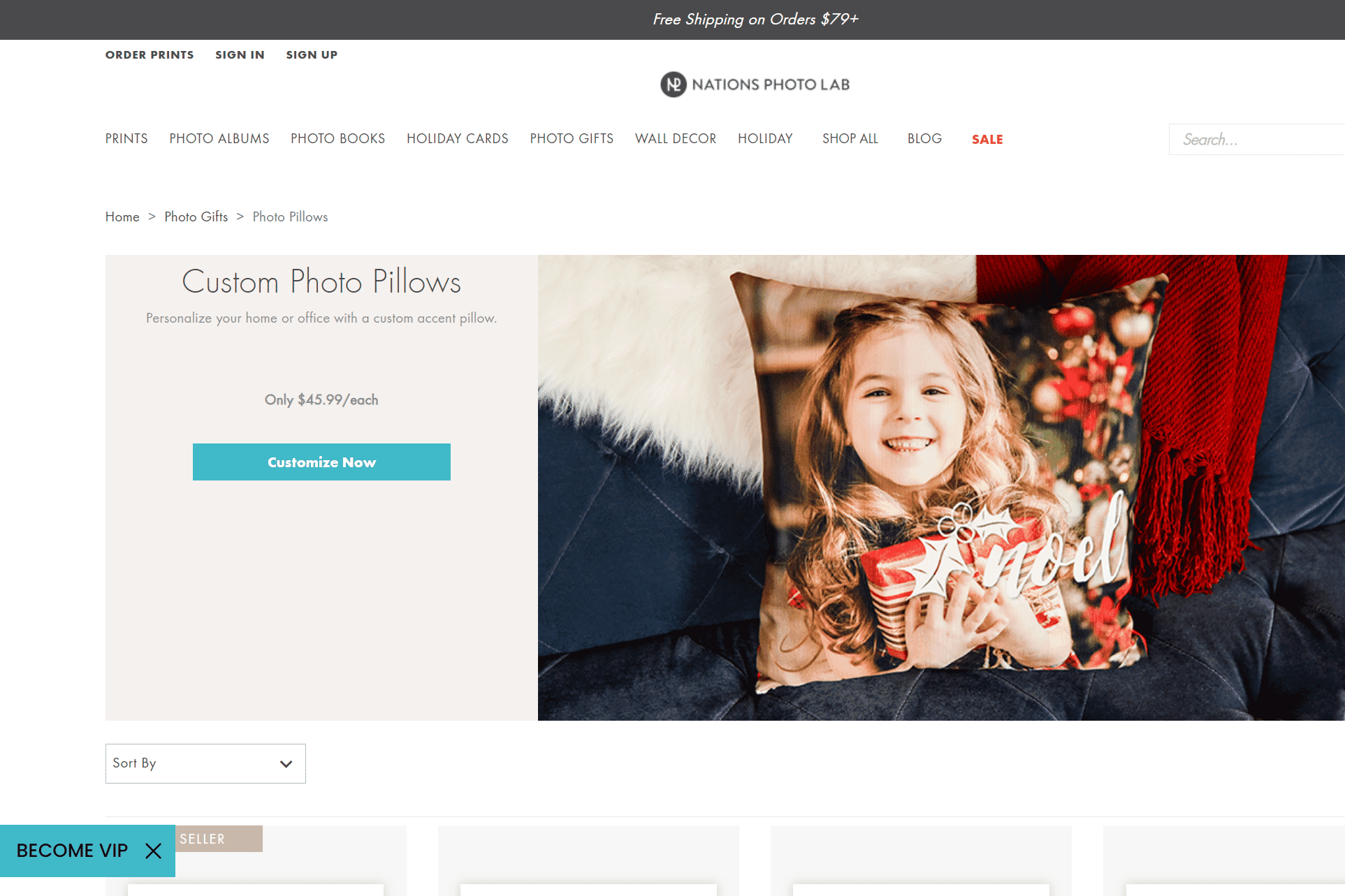 A Photographer's Best Friend
Producing countless products for photographera and clients, this lab is also marketed towards consumers looking for high quality photo reproductions.
Pros
Incredible photo printing quality on the pillows
Cons
Limited sizes
On the pricey side
Nations Photo Lab is an impressive print lab that specializes in a variety of printed paper mediums and photo gifts. Best recognized by photographers who use Nations Photo Lab to create and finish off beautiful works of art for their clients, Nations is available to consumers across, well, the nation!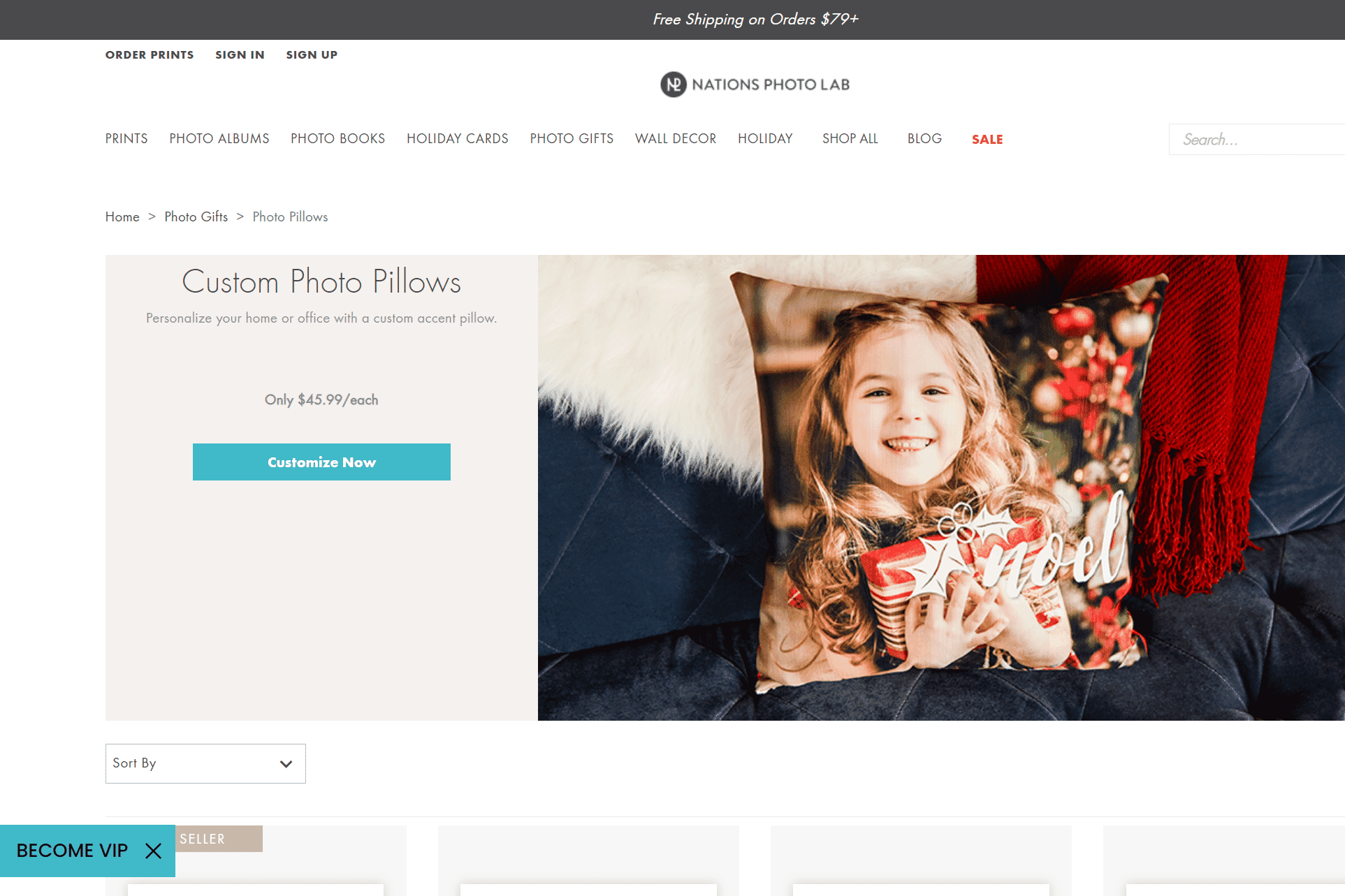 This lab's photo pillow offerings hold true to their original photograph, as you would expect from a lab that has such a strong focus on photography. Although the pillows are pricier than some of the other labs, the quality is truly superb. If you're one who focuses on the photography aspect of it, you won't be disappointed!
The sizes are limited to only 16" x 16" or 18" by 18", but these sizes are pretty unique in comparison to competitive offerings so they might just be the right size for you!
6. Printer Pix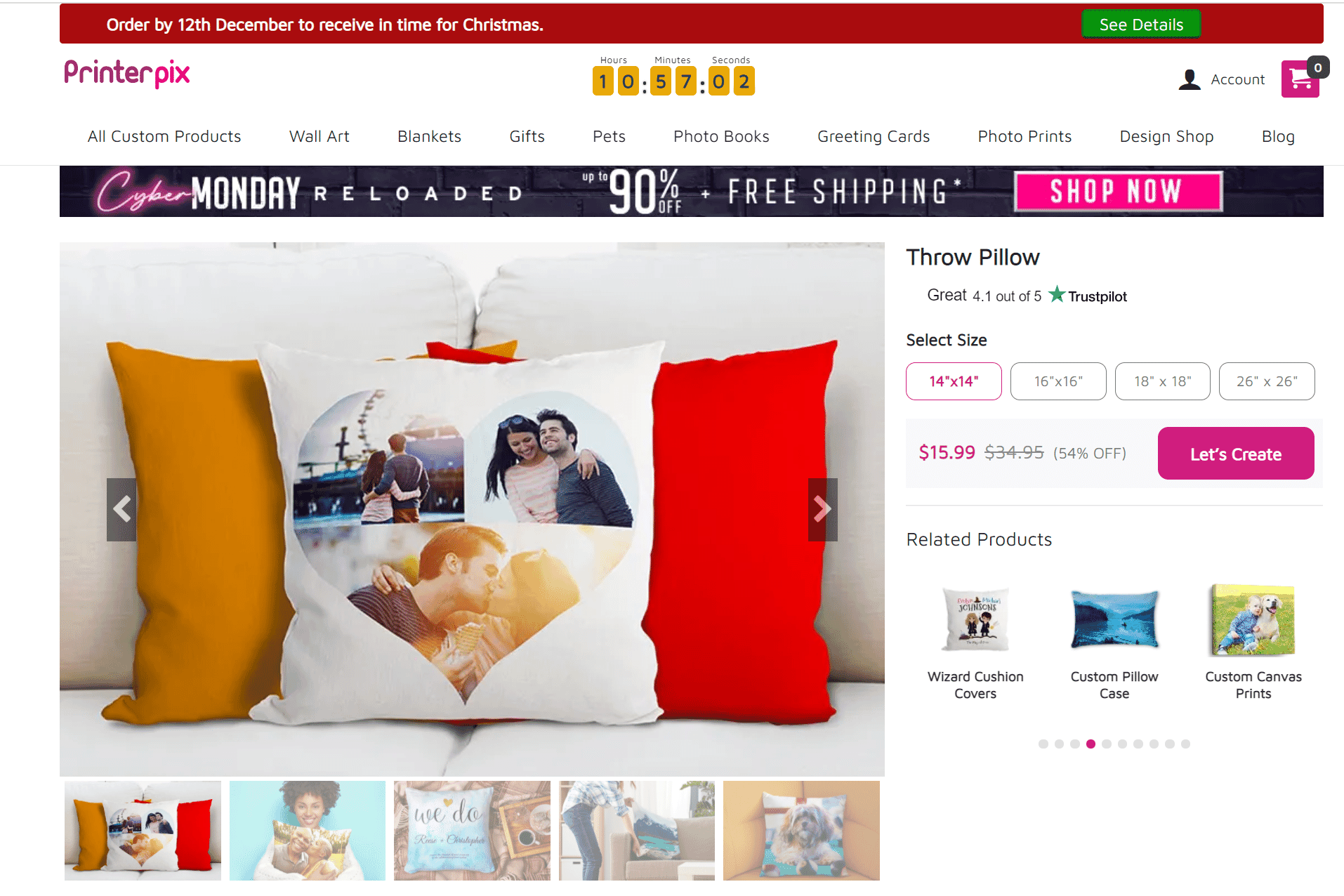 On the Larger Side
If you're looking for some larger standard pillows, this lab will print on the bigger side.
Pros
Larger sizes, such as 26″ x 26″, available
100% satisfaction gaurunteed
Mini editing software built in
Cons
Not as many options as competitor labs
If bigger sizes are what you are after, Printer Pix has you covered! Offering pillows as large as 26" x 26", Printer Pix can really blow up your favorite photographs. Known for printing high-quality, bright, sharp, and vibrant renditions of your files, this lab is so confident in its abilities that they offer a 100% satisfaction guarantee.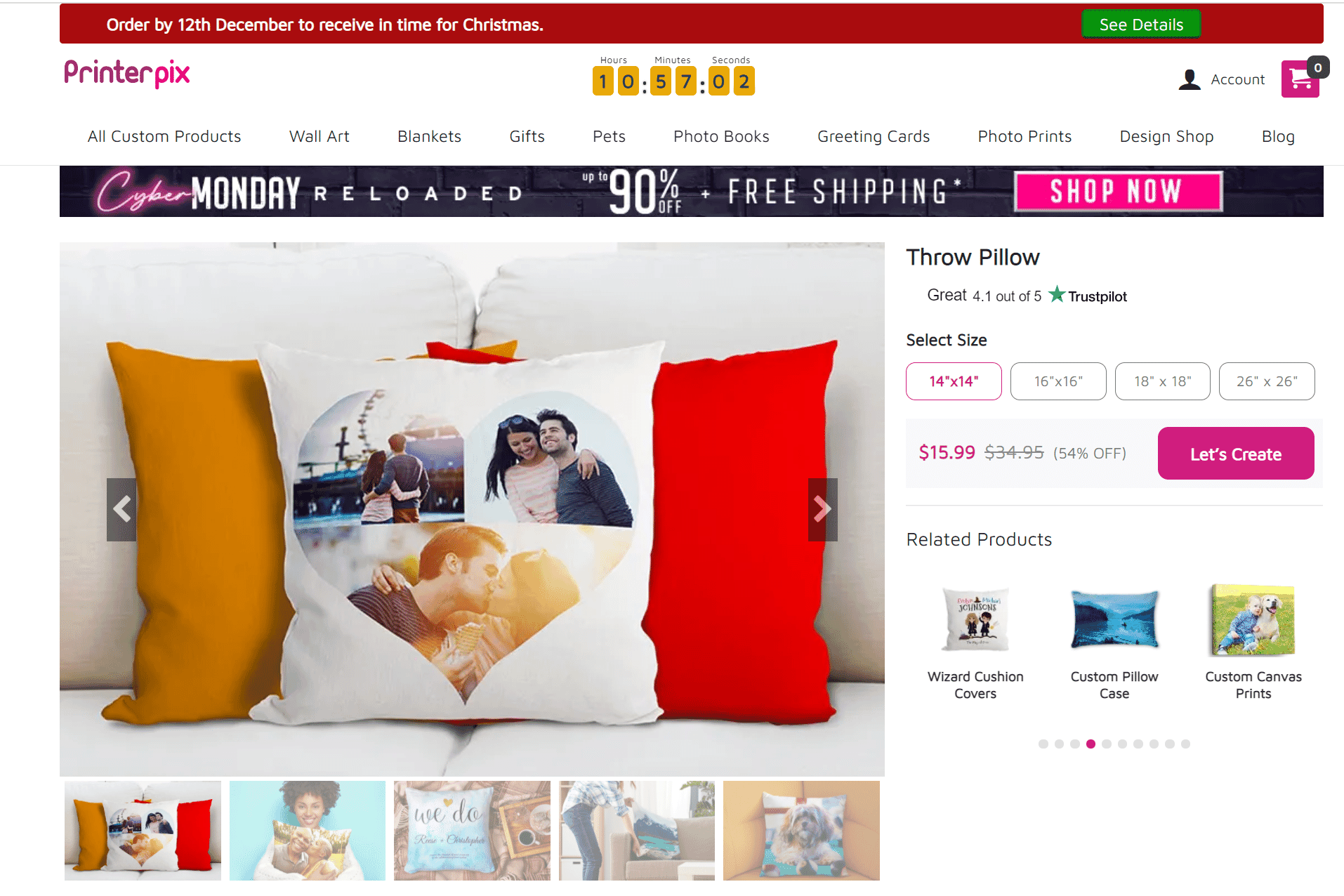 Printer Pix has a mini editing software built into the website interface, allowing you to add text and do little modifications to your images prior to sending them off to be pillow-fied (yes, we just made a new word!). There are also some great bulk-ordering discounts for those that are looking to gift the whole family with pillows!
7. Vistaprint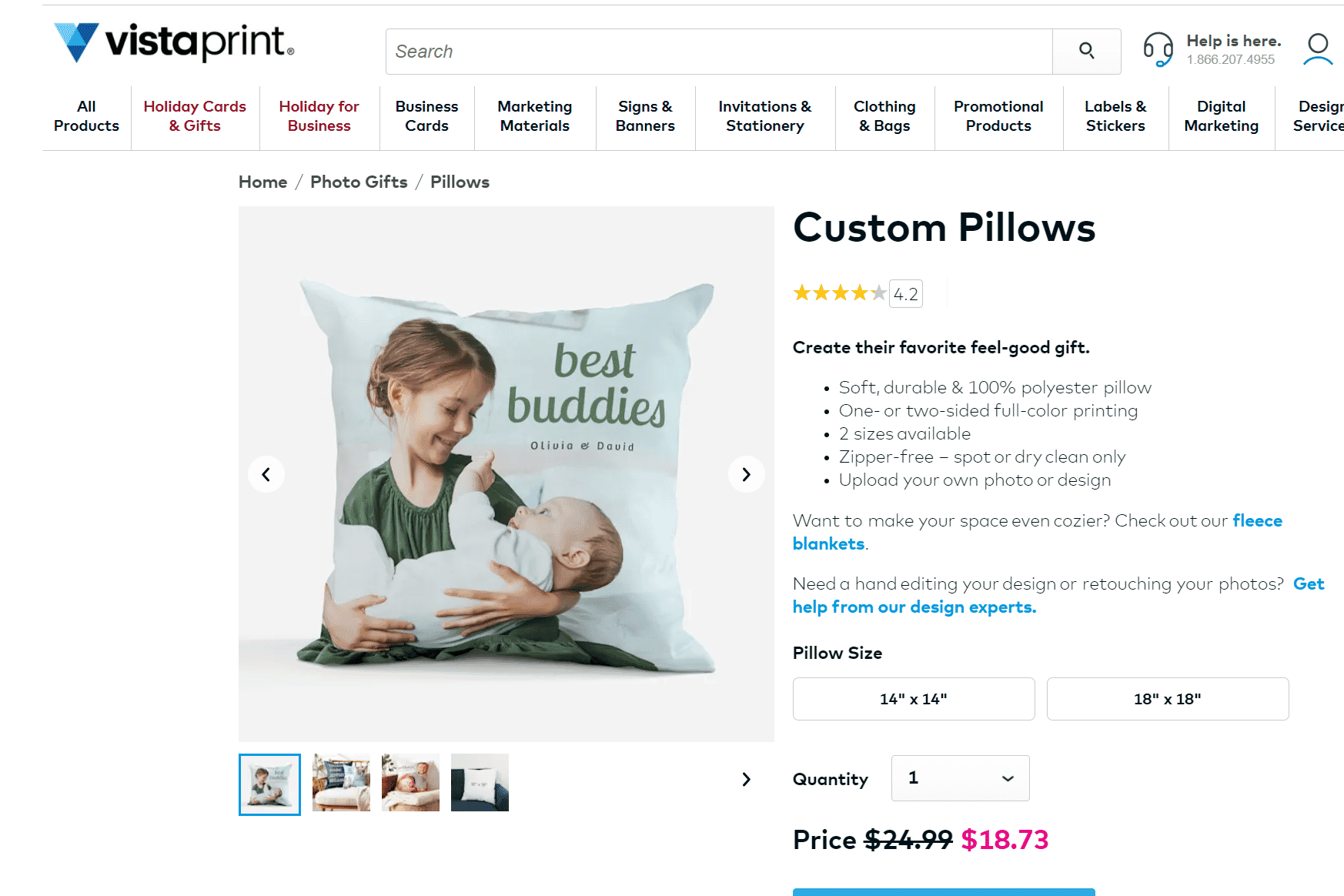 Marketing Company Turned Consumer
Known for their business products, this lab has recently started putting their printers to new uses in the consumer market.
Pros
Fantastic Price
Retouchers and designers on staff to help
Cons
Print quality is alright, but not incredible
If you're familiar with Vistaprint, this may sound like a rather unusual option on the list. With a reputation for creating marketing material for businesses, such as business cards and banners, Vistaprint has expanded to provide more consumer-oriented products in the last few years. I mean, if you have the printers for it, why not?!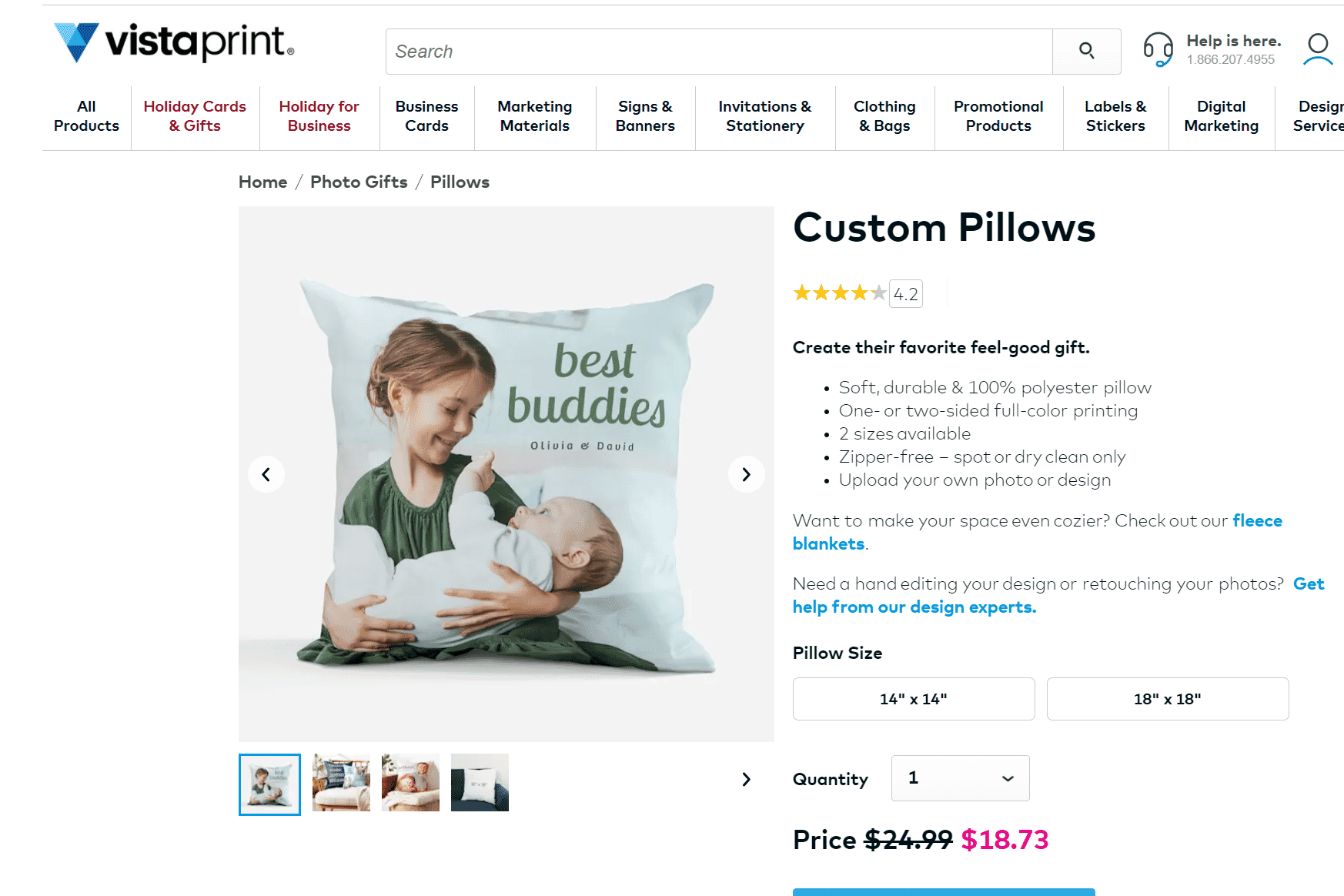 Although the options are pretty limited (you don't have a choice of pillow fabric and only two sizes are available) the price is pretty fantastic. They've always done a fairly decent job printing photographs, so pair this with the price and you've got a steal!
Vistaprint also has retouchers and designers on staff to help you out with any needs, requests, or inquiries.
8. CanvasDiscount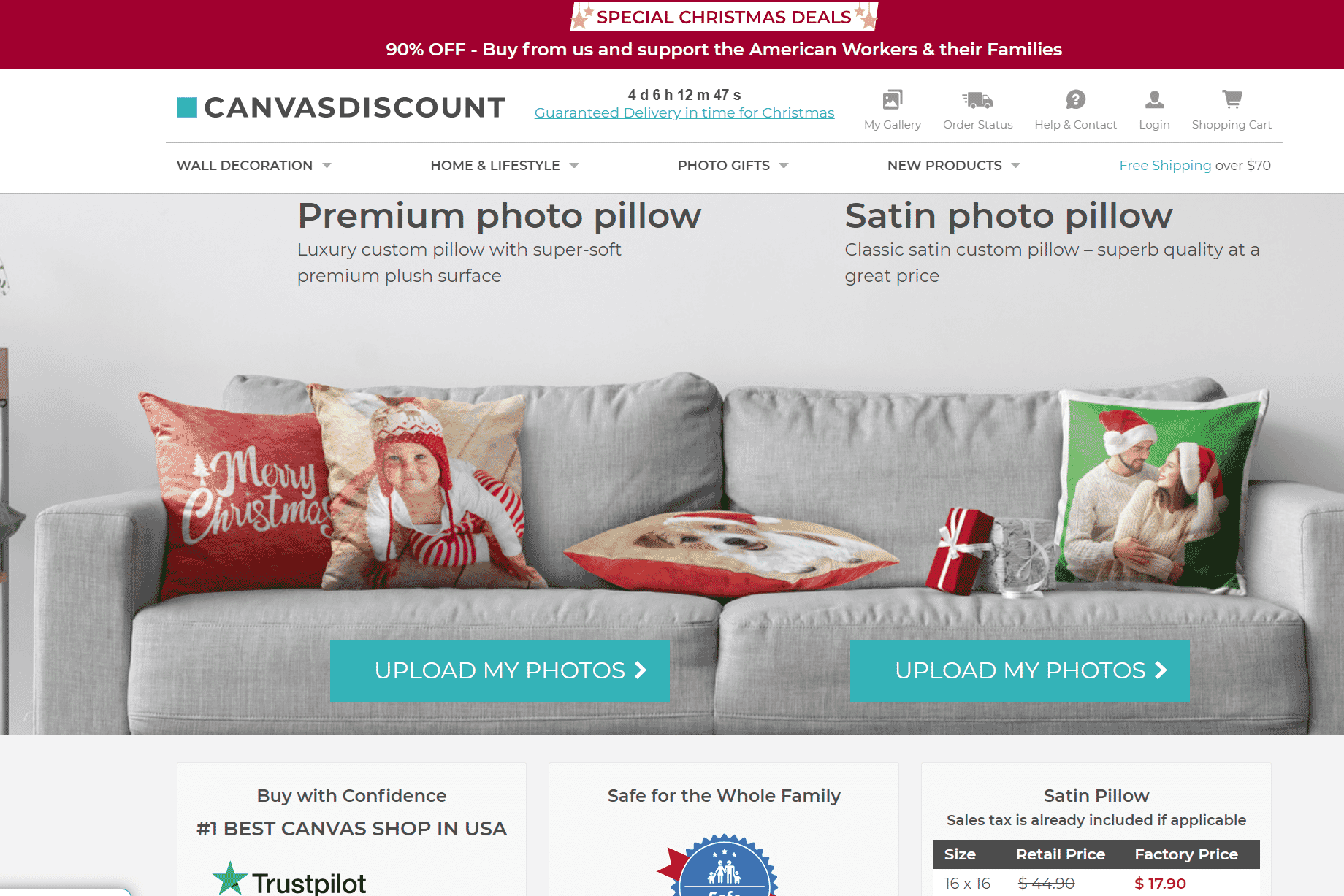 For the Satin Lovers Out There
This lab differs itself from the rest with its unique satin fabric option. Discounts on price, but certainly no discounts on quality!
Pros
Satin fabric available
Choose between an all over print or a white border print
Hand sewn pillows
Cons
Only four sizes available, with satin only coming in one size
After a while, some of the choices on the list can blend together as they offer very similar options – CanvasDiscount holds many of the same perks as other labs. However, each one is certainly special for something, and CanvasDiscount has a fabric that will make some readers swoon… satin!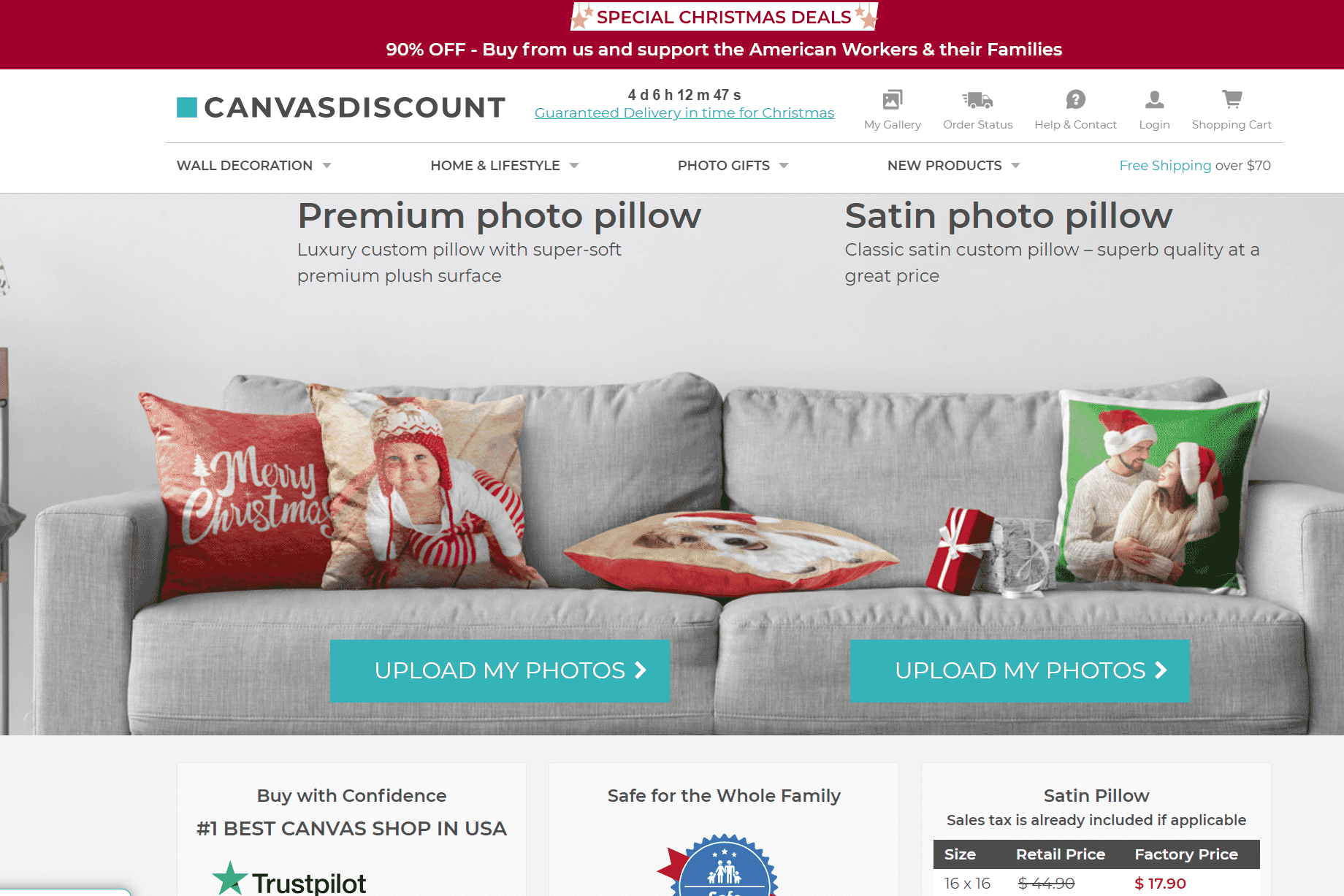 That's right, you can make satin pillow covers with CanvasDiscount. The best part is that they are priced very reasonably! The downside is that satin only comes in one size, 16" x 16". But truth be told, that's a pretty median size for a pillow. The plush pillow comes in three additional sizes, so if you do need something bigger, you have that choice.
You can decide between an all-over print or a pillow with a white border, they'll do it all for you! Unlike some of the other labs, these pillows are hand-sewn so you can be certain that not only are they done well, but a real person looked over the quality of this product.
9. Photo Affections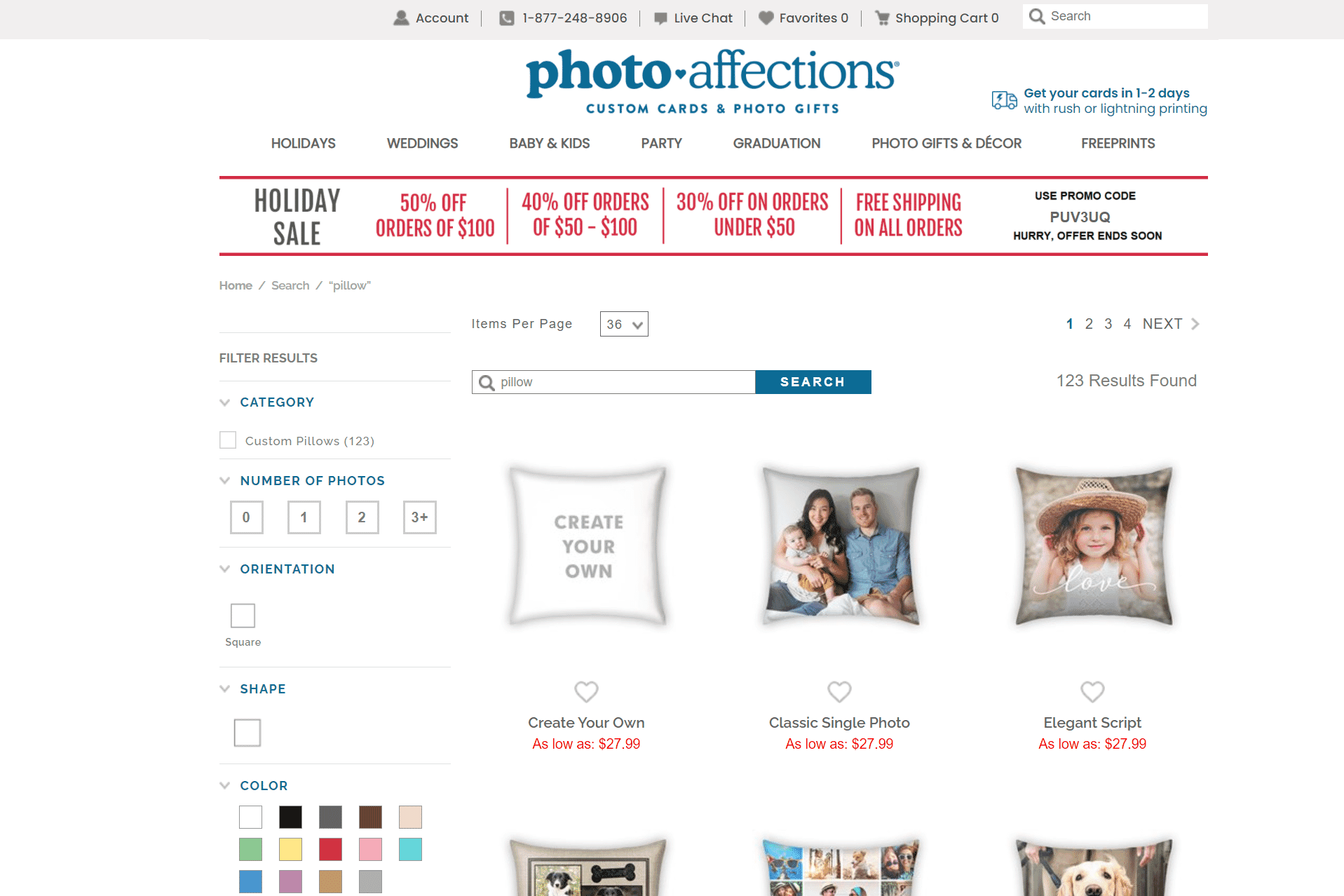 An Affectionate Gift to Give
A lab that specializes in custom gift products exclusively, these weather-proof pillows are gorgeous.
Pros
Pillows are beautiful in quality
Weather-proof fabric that can be easily used outside
Cons
Only two sizes available
Photo Affections is a lab that pretty exclusively deals with photography products rather than prints – making them a bit of a specialty in that regard. From stationeries for weddings to mugs for grandma and grandpa, Photo Affections has serviced a tremendous amount of gifting and custom product needs.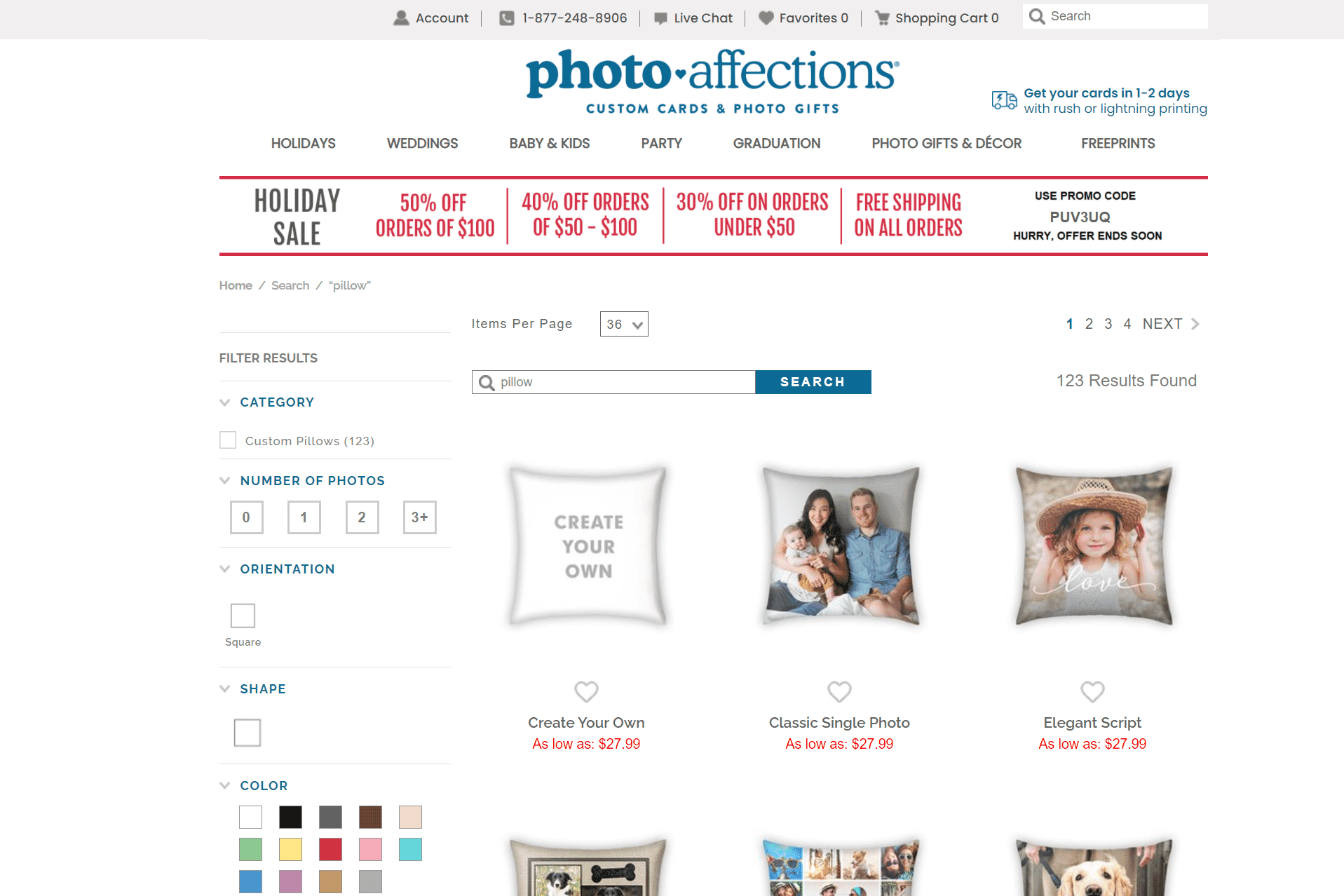 Although their custom pillows are also not as option-driven as some others, the quality of the photograph is something to note. The pillows are vibrant, sharp, and pretty color accurate! Being weather-resistant, you are able to throw these pillows outside and use them in your outdoor living decor.
Which of the Best Custom Photo Pillows Should You Get?
Now, for the moment of truth… which lab should you go with? Well, as much as we'd love to tell you exactly what to do, the best lab really is the one that suits your budget, speed, aesthetic, and needs the best.
However, if we are to generalize, our personal favorite is Zazzle! If you're looking for more luxurious or premium options, Bags of Love allows you to customize those pillows down to the zipper with a slew of unique choices.