To become a great photographer (and get a well-paid photography job), just buying professional photography gear, will not be enough.
Malcolm Gladwell repeatedly mentions in his book "Outliers: The Story of Success" the "10,000-Hour Rule". The key to success in any field, Malcolm explains, is a matter of practicing a specific task for a total of around 10,000 hours. That's roughly 3-4 years of full-time daily practice.
Consequently, becoming a professional photographer (and the reach the top expert level) will take a lot of practice time!
If you have the dedication to take a photography course and you have the time to practice a lot, then there should be no reason why you cannot become a professional photographer and get some of the best-paid photography jobs. Apart from earning more money, joining a photography class will also provide you with other benefits.
Even if you invest just a little of your time, you could do quite well as a freelance photographer. Which means you can click pictures for the so-called "3 Fs": Friends, Family & Fools. 😉
… But how much money can you make as a photographer?
What will you get paid if you invest 10,000 hours of your precious time to become a professional photographer? And how much can you make as a freelance photographer?
Related Post: Business Resources for Photographers
How Much do Professional Photographers Earn?
The Average Pay was $15.65 in 2017
The average pay of a professional photographer in 2017 was $15.62 hourly (Source: ONet Online | Bureau of Labor Statistics), that's not really great after investing 3-4 years of your time and pro camera gear!
Expect an Increase of One Dollar Every 2-3 Years
The good news is that you can expect the median hourly pay to increase over the years:
in 2012 the median wage for photographers was $13.70 per hour/$28,490 p.a.,
in 2014 was $14.66 per hr/$30,490 p.a.;
Plus, over the years, you will be able to build a strong photo portfolio, grow your client base, become more efficient with admin work, and improve your sales & marketing skills. You may even be able to hire an assistant which should significantly increase what you earn per hour (assuming you will be focusing on the most profitable tasks and handing over the low paying activities to your assistant).
Consequently, you may over the years move well above the median pay and enter the league of some of the best-paid photographers in the world.
Earn More by Starting Your Own Business
What do these statistics tell us? To earn an above average income as a photographer, you need to start your own photography business. This allows you to hire assistants and create a strong brand ( a brand doesn't need to be a fancy name and logo. In the photography world your brand could simply be your name).
Upgrade your Sales & Promotion Skills
To get to the top of the "best-paid photography jobs list", you don't only need to improve your photography skills, but you also need solid communication, sales, and marketing skills!
Like in so many other professions:
"Nothing happens until someone sells something."
Same goes for your (self-employed) photography job/business.
Pro Tips and Resources to Boost Your Photography Income:
Join a community of photographers and entrepreneurs providing honest business training, e.g. you could join the KelbyOne Online Learning Platform (which has classes on "Building a Profitable Photography Business", and many more topics).
✔ For more information, read our KelbyOne Membership Review Post or go directly to KelbyOne.com.
✔ Also great (and highly recommended): if you want to learn the essentials of running a photography business: take the Start and Grow Your Photography Business online class at CreativeLive.
Get a taste of the course by watching this course intro: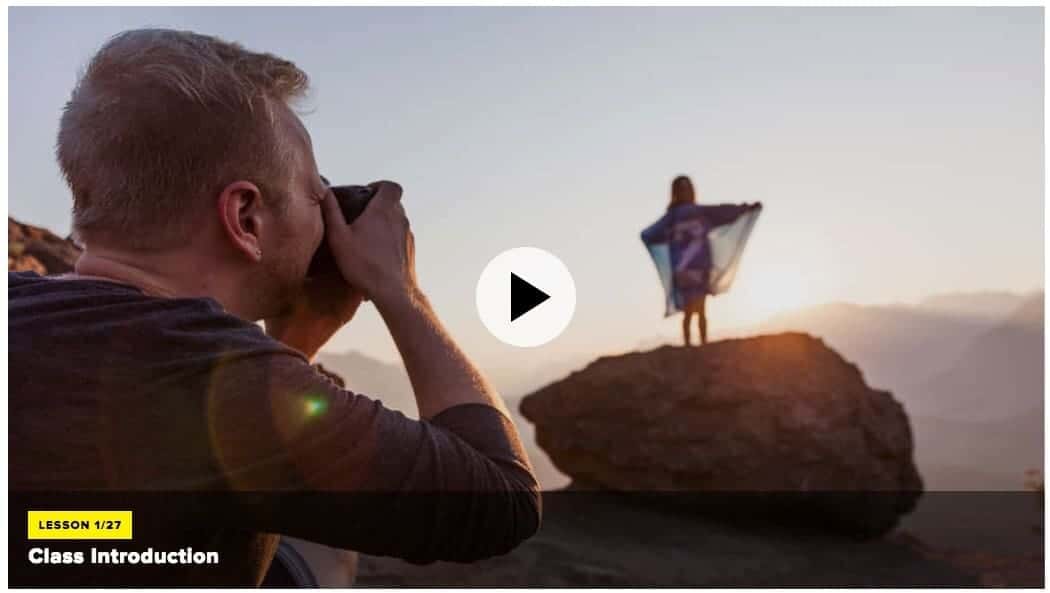 Which are the Best Paid Photography Jobs (by Category)?
Once you have your small professional photography business up and running the best-paid photography jobs are in these categories:
| | |
| --- | --- |
| Photography Job: | Who will pay you?: |
| Architecture Photography | Architects, real estate agents |
| Corporate Photography | Companies CEOs & owners |
| Product & Fashion Photography | Companies making products |
| Wedding Photography | Engaged couples and their parents |
| Family Photography | Parents |
| Food Photography | Food Magazines, Chefs & Restaurants |
| Nature Photography | Nature Magazines |
| Portrait Photography | Private Individuals & Businesses |
Wedding photography and portrait are generally the best-paid freelance photography jobs.
I advise you, however, not to rush into a niche and spent a lot of money on a website, business cards, and incorporation fees. Plan your business well, speak to potential customers and get some of them paying you as a freelancer for your first photography assignments. You may also want to start by selling stock photos (to get a feeling of what the market needs) before you start getting into photography and start a career.
Being a Freelance Photographer
While you want to have your own business in the long-run, freelancing is an easy and fast way to get started. You can start off by looking for jobs in your area or any events that might require a photographer. Chances are you might have to work for peanuts (and even for free) when you first start off. As your reputation and clienteles go up, you can increase your charges and plan your photography business.
Unfortunately, freelance work means you are on and off the job. There may be times when you are overwhelmed with work, and there may be times you won't have an extra $10 in your pocket.
Freelancing is also a good option if you have a day job and photography is something you want to do during your spare time to generate some extra revenue. This way, you can still get to keep your day job until you feel financially ready to go full-time into the photography business.
You could also start building a side income stream by selling stock photos online. It may be not very lucrative in the beginning, but once you have a portfolio of a few hundred images the dollars will start rolling in!
Photography Business: Book Recommendation
Finally, recommend this book if you want to dig deeper and learn more about how to run your photography business:
---
As an Amazon Associate we earn from qualifying purchases. Certain content that appears on PhotoWorkout.com comes from Amazon. This content is provided 'as is' and is subject to change or removal at any time.