There are so many ways to display your photographs, from canvas prints to cute keepsakes. But did you know that you can literally turn your photos into wallpaper?
I'm talking about photo murals, which stick straight to your wall for a unique look.
Below, we share the best photo mural prints you can buy right now – which allow you to quickly stick or paste images to your walls and wow visitors!
When you buy through links on our site, we may earn a commission at no cost to you. We evaluate products independently. Commissions do not affect our evaluations.
Best Photo Mural Prints
1. Photowall
Our Pick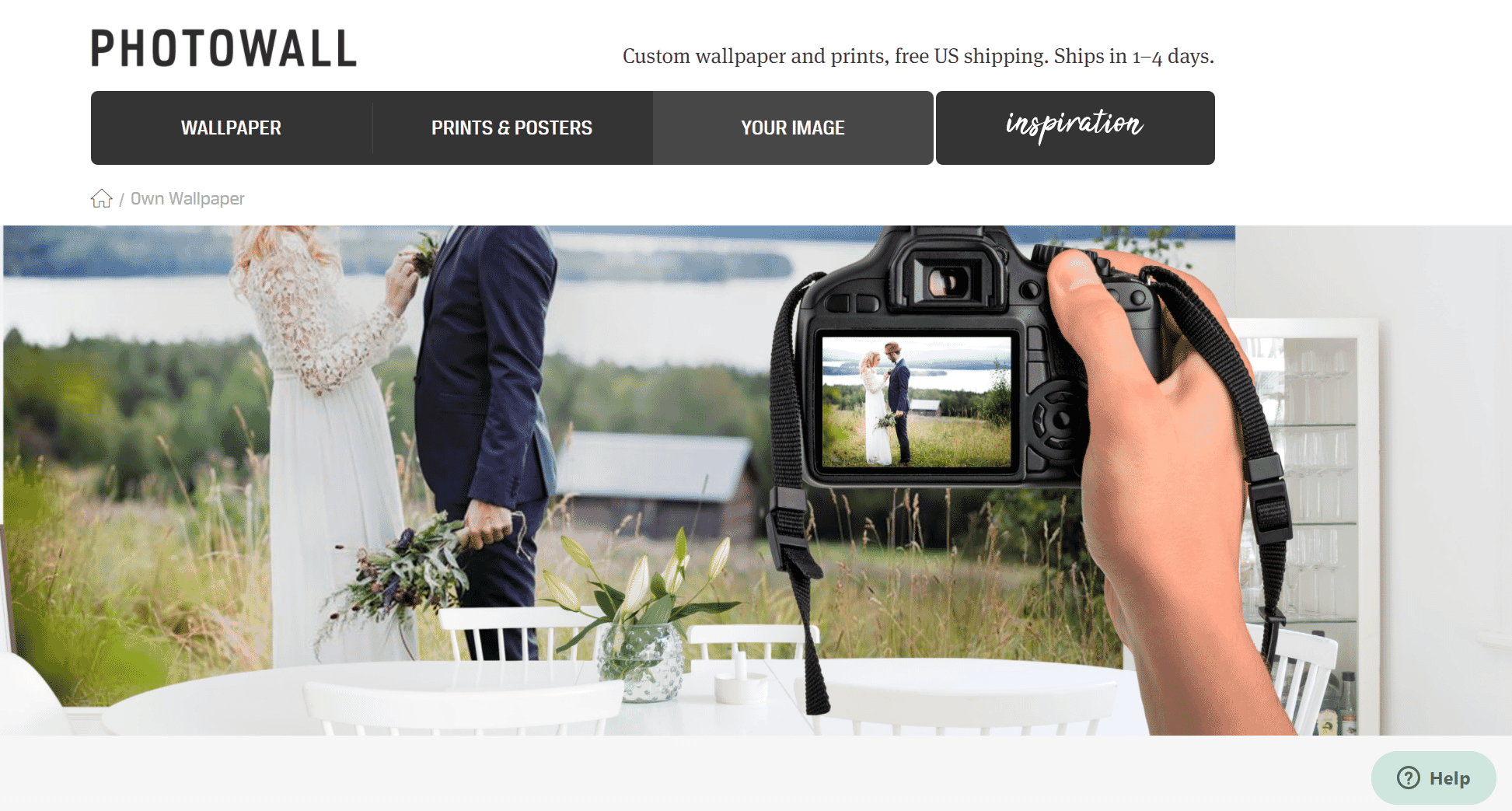 Turn your favorite images into a wall of art
This lab will take your most beautiful photographs and transform them into gorgeous wallpaper.
Pros
Amazing photo retouchers available to modify your image
Free customer assistance
Cons
Can be on the pricier side
Photowall is another service that turns your precious memories into full wall works of art! While the company offers similar perks to other labs, Photowall stands thanks to their one-on-one assistance.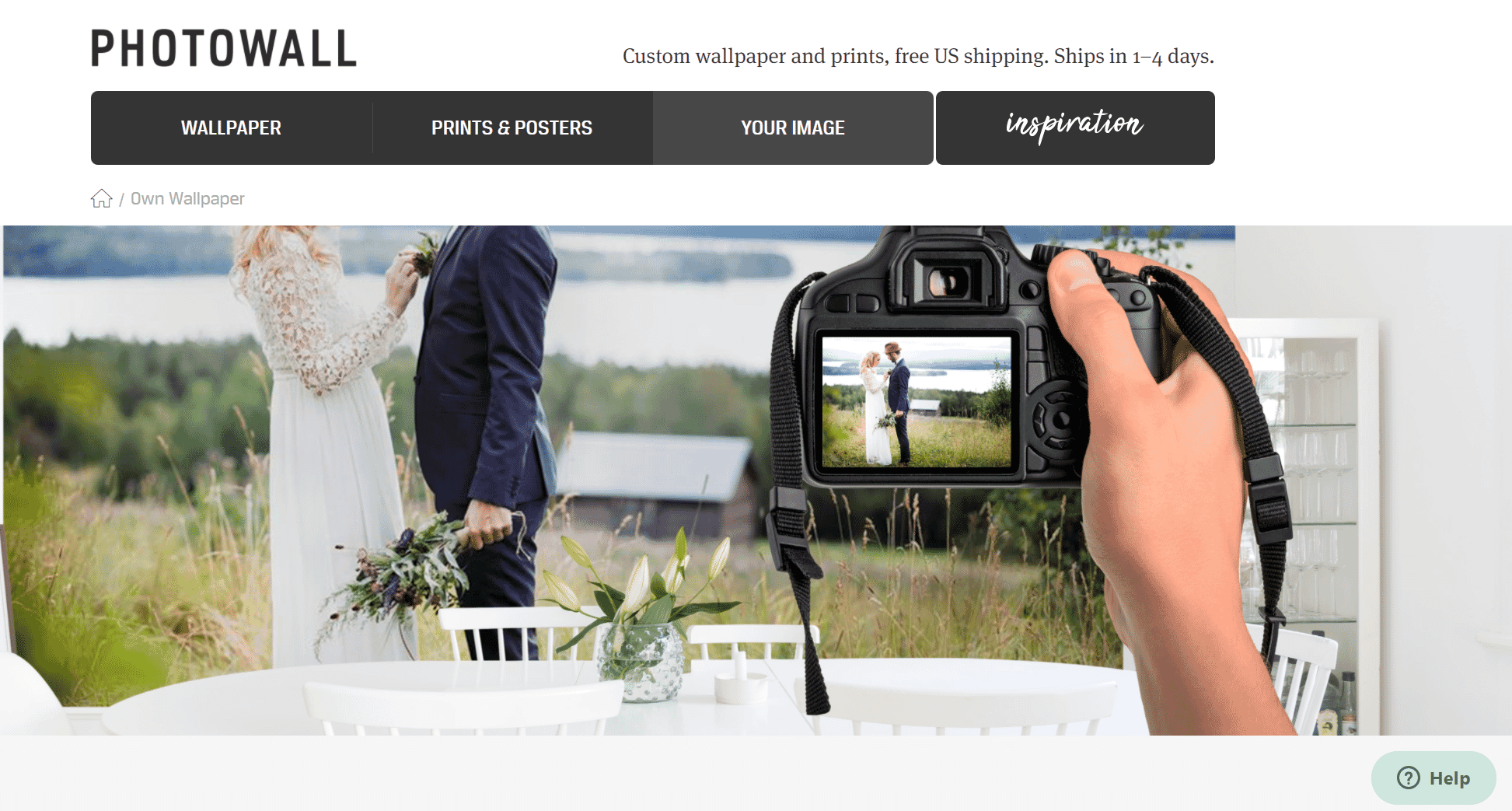 If you're having trouble figuring out what you want to do, how to size your images, or what editing you need to improve the image, you can always rely on Photowall's assistance – free of charge! – to get what you need.
The photo editors can even do major retouching on your images (for instance, they'll swap out a bird for a dinosaur!).
2. Pictorem
Also Great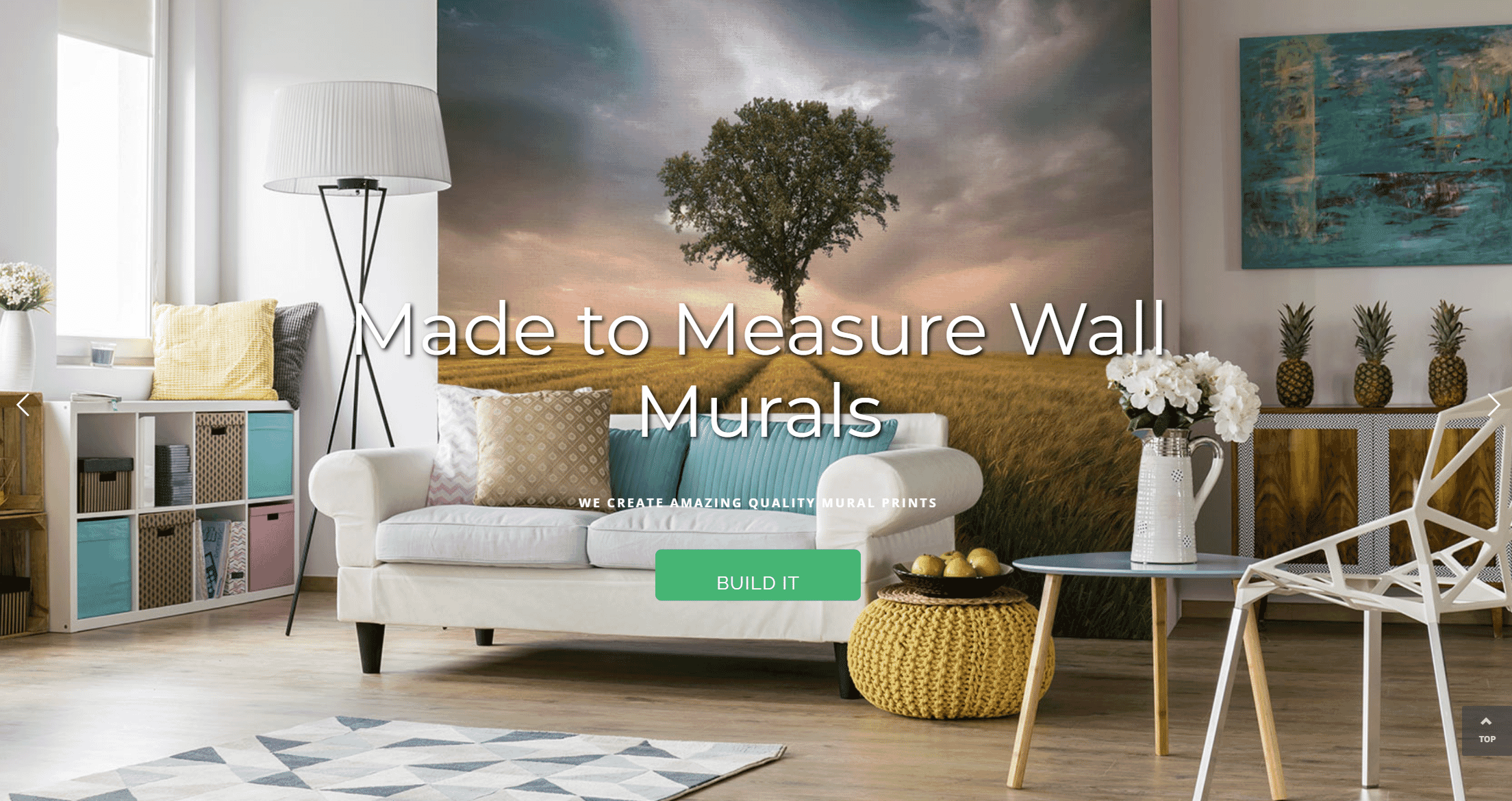 A multifaceted print shop
Pictorem produces plenty of high-quality prints, including gorgeous photo murals that you're guaranteed to love.
Pros
Vibrant, high-quality prints
Ready-to-use imagery also available
Good price
Cons
Doesn't specialize in wall mural prints
Pictorem is a multi-faceted print lab that produces various art prints to decorate your home. We're big fans of Pictorem's wood prints and beautiful acrylic products, and it turns out their murals are great, too!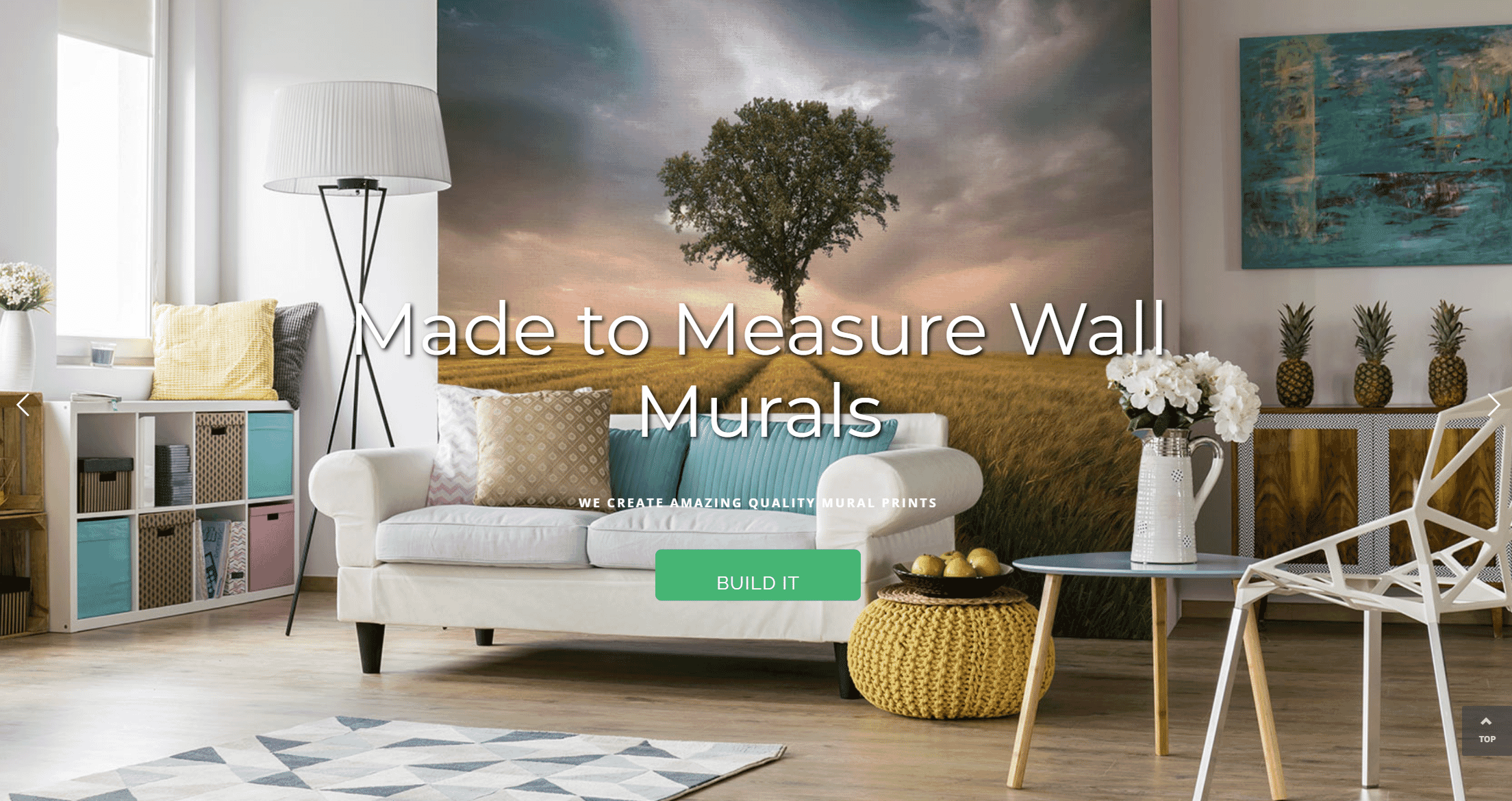 Pictorem's mural prints are vibrant, crisp, and designed as statement pieces. These photo murals are easy to apply and don't require an installation professional. Plus, if you decide to move your mural elsewhere, it can easily be removed without damage to the wall.
Pictorem has a collection of imagery you can use to make your mural, though you're also free to upload an image of your own. If you do decide to go the personal image route, Pictorem is one of the best places to print large images, but make sure to use a high-resolution photo to prevent pixelation.
3. Murals Your Way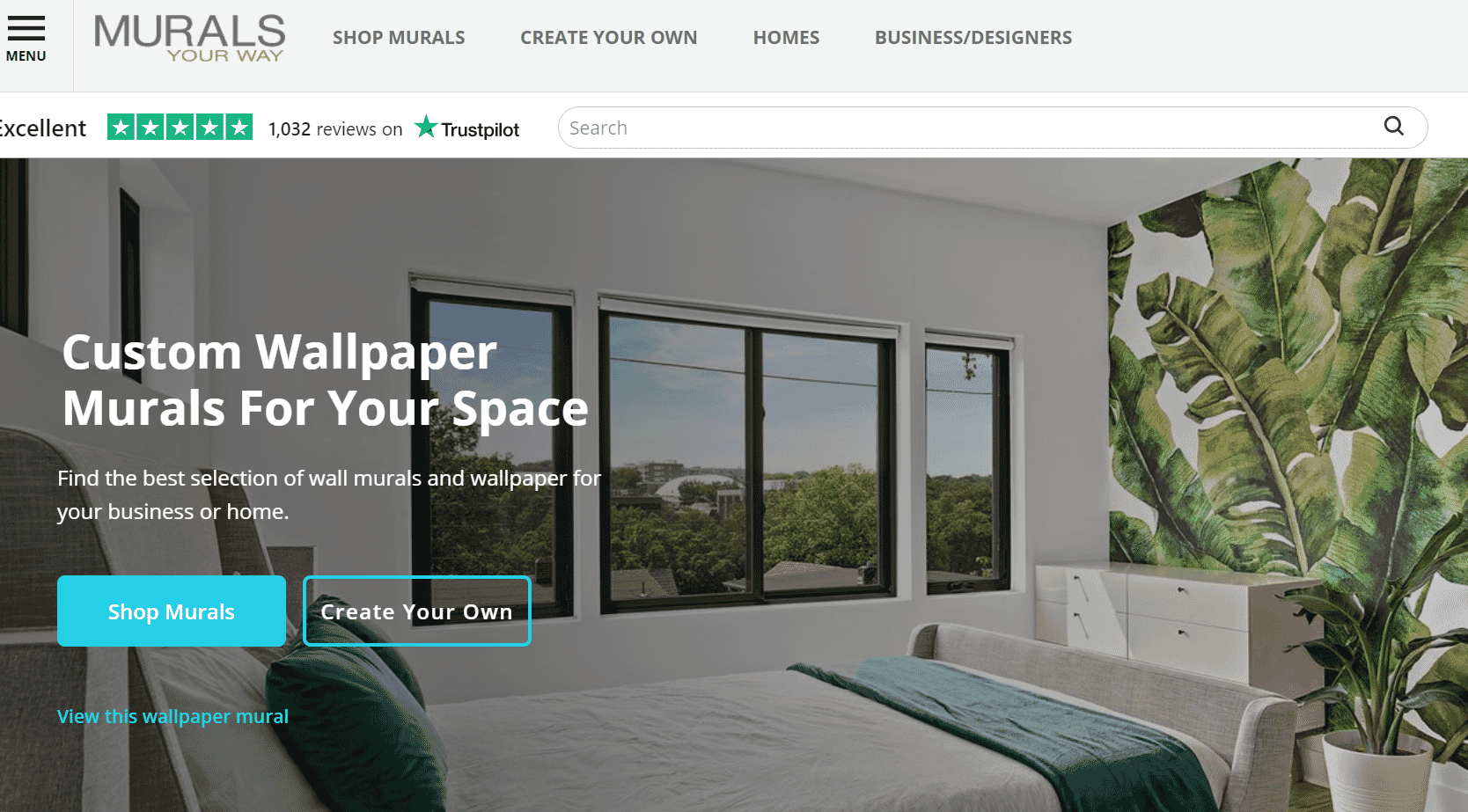 Make 'em exactly how you want 'em
Murals Your Way is a print shop that specializes in photo murals, and the quality is (unsurprisingly) outstanding.
Pros
Specializes in photo murals
Featured on a large variety of platforms
Lots of different options
Cons
Can be on the pricey side
We love companies that specialize in one particular niche, and when it comes to photo mural prints, you can't get more specialized than Murals Your Way. Based out of Minnesota, Murals Your Way has been featured on countless design websites and on television as a unique way to breathe new life into your space.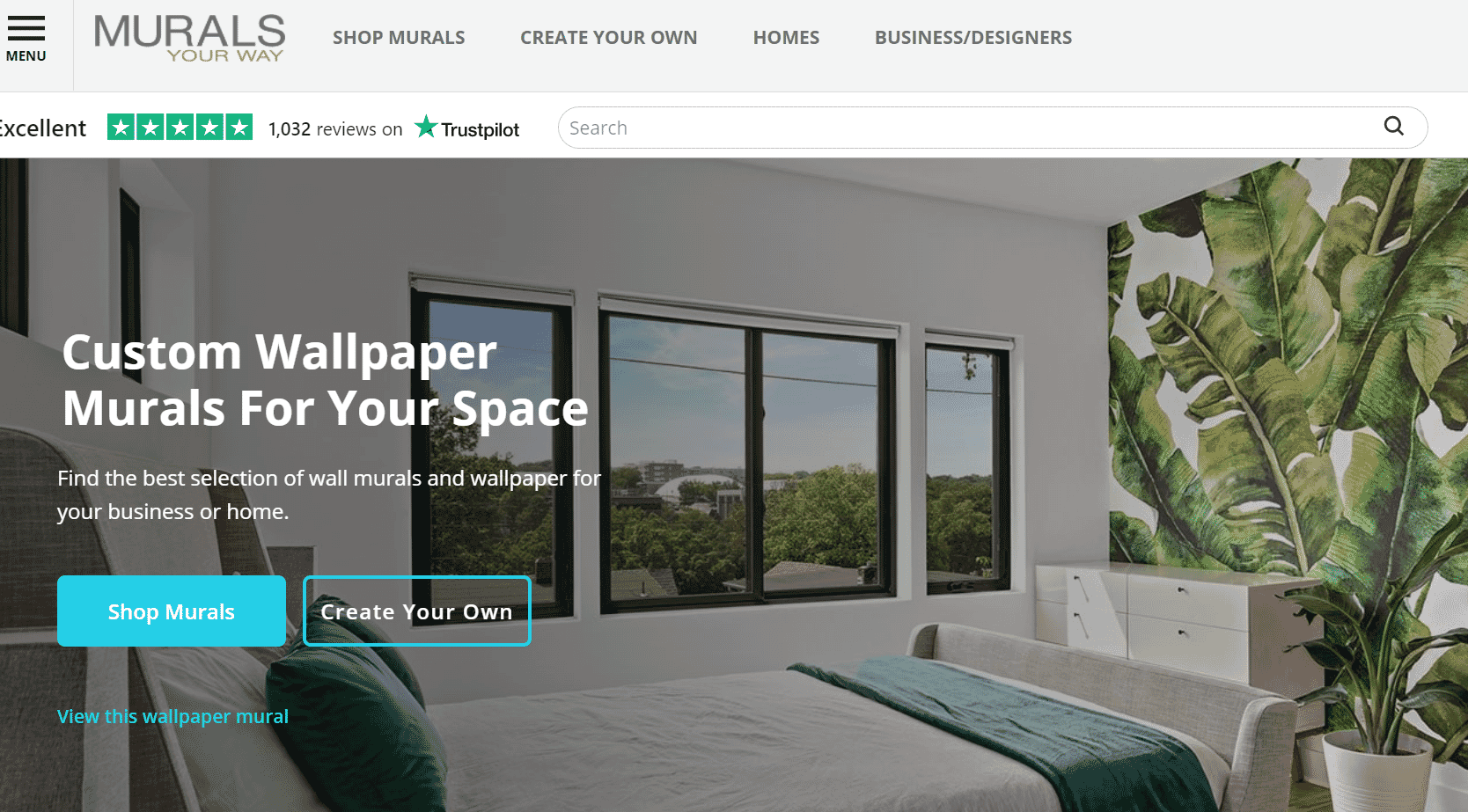 You can pick from preset images and wallpaper designs or use an image of your own; it's all up to you. When making photo murals with your own photos, you can choose from a variety of options such as mural type and adhesive. Murals Your Way even has a virtual visualizer to help you see how your image will look in your living space!
Murals Your Way also does photo murals for commercial entities and businesses, not just residences – so if you're looking for a nice office decoration, they're a great fit.
4. Easywallz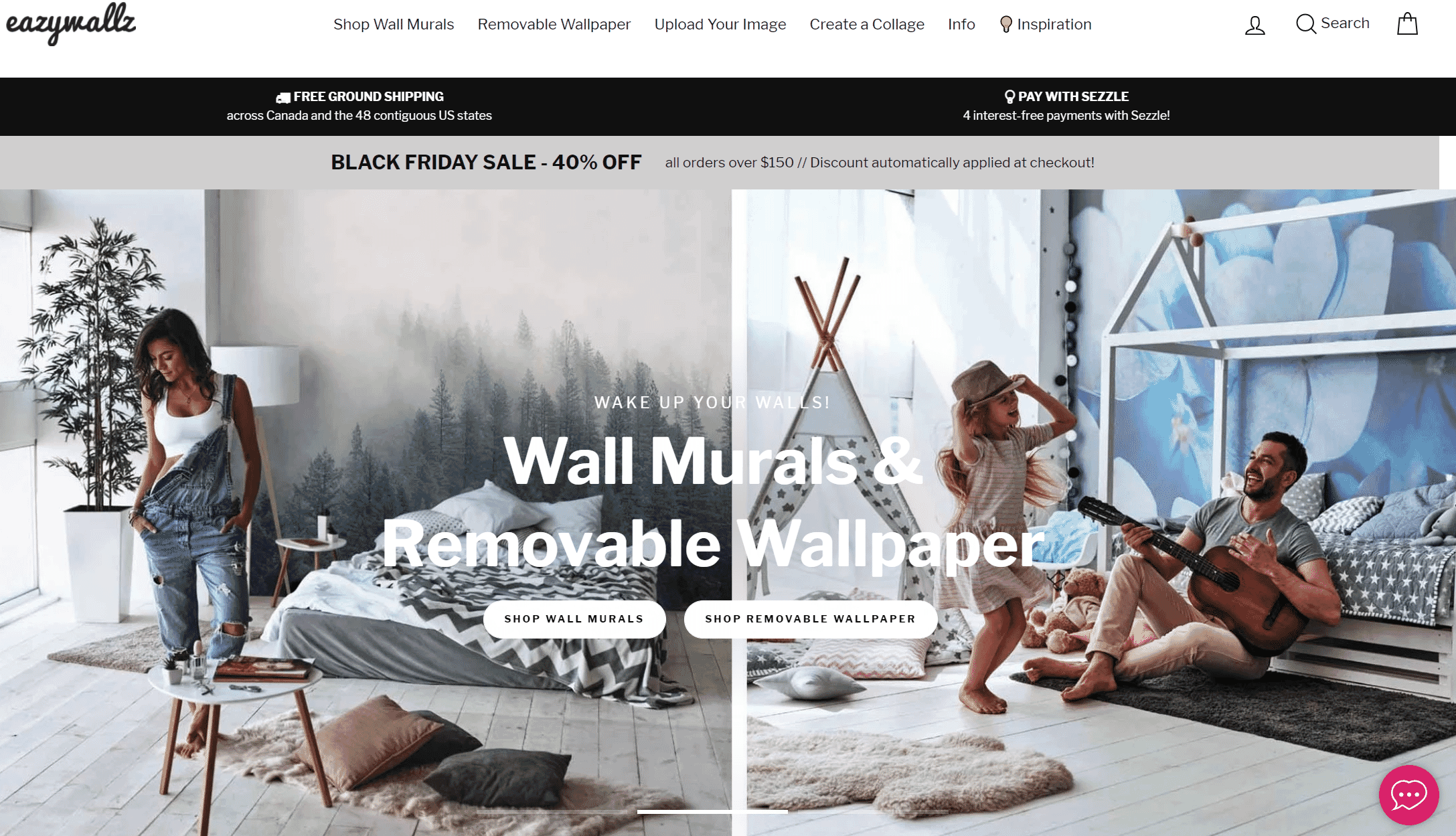 The simplest way to make a wall mural
It doesn't get much simpler than Easywallz, especially with their collage-maker option.
Pros
Very simple ordering process
Collage templates are fantastic
Free shipping and you can pay in installments
Cons
Shipping can take longer than competitor companies
Easywallz aims to make photo mural prints easy to acquire, and while much of their mural products are similar to the other printers above, they offer an easy order process.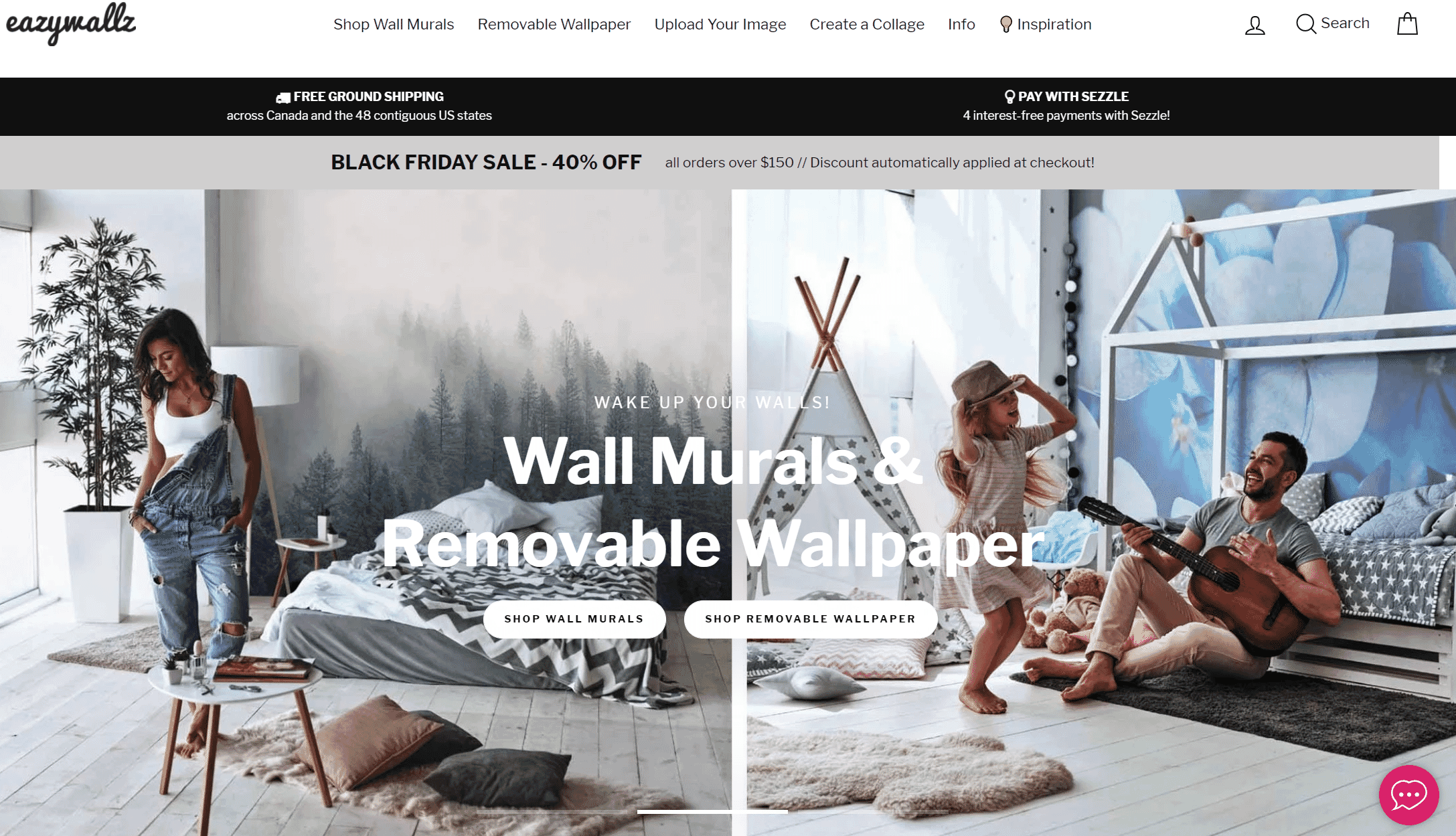 A really nifty offering from Easywallz is the Photo Collage Mural, which lets you take your favorite photographs and make a massive wall-sized collage with them! You can have up to 200 photographs in your collage, and you have a slew of different templates to work with. It's an unusual way to display family images – but it'll look amazingly creative.
Also Read: Best Photo Collage Printers
Offering free shipping and the ability to pay in installments through Sezzle, Easywallz ensures that anyone can have a photo mural in their home.
5. Rebel Walls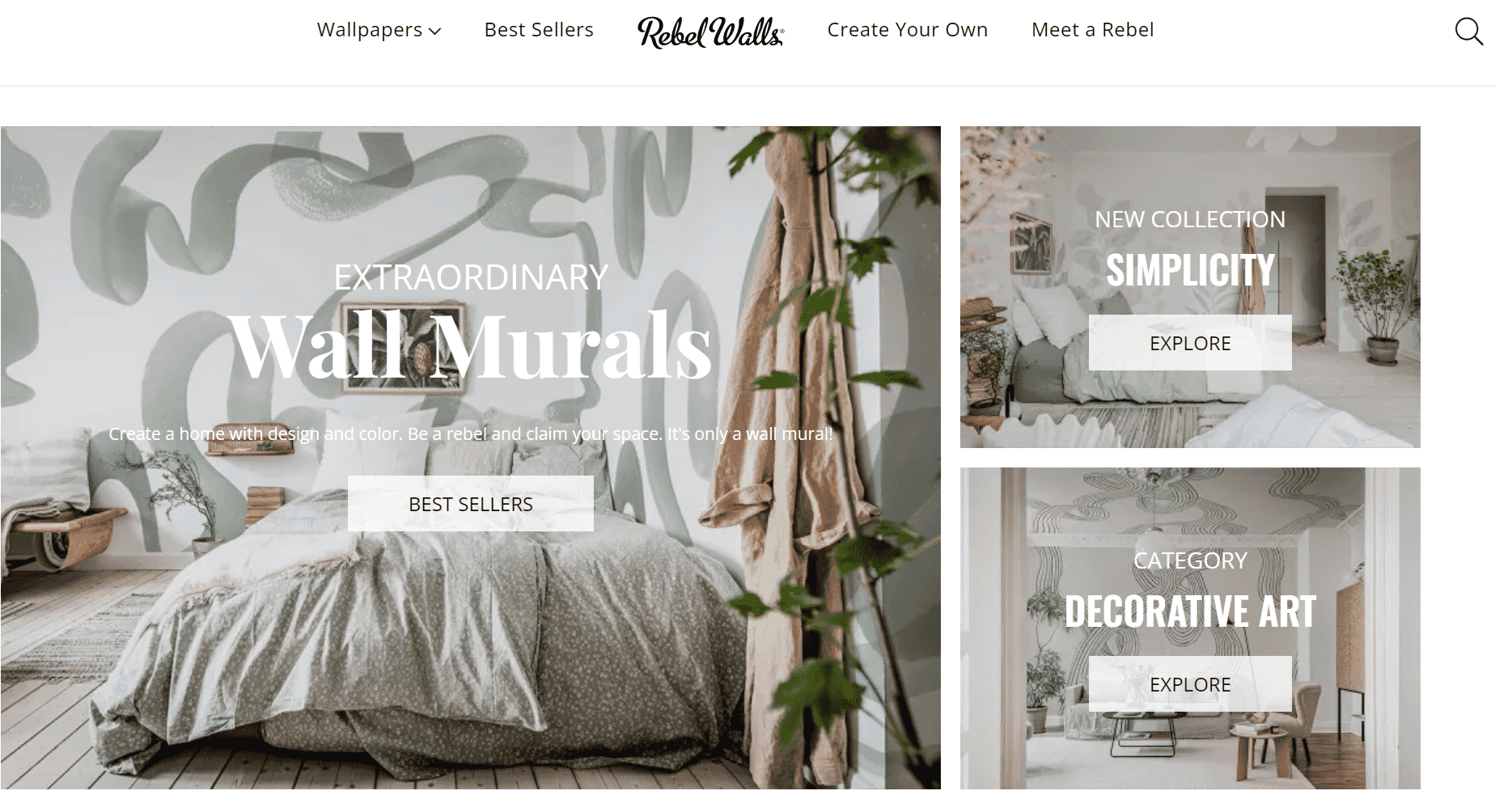 For the interior design rebel
This lab makes designing your home mural a fun and unique experience.
Pros
All of the control is in your hands
This lab will accommodate many custom requests
Fast shipping
Cons
Can be on the pricier side depending on what you need done
Rebel Walls is a fun business, one that encourages you to go unconventional by decorating your home with photo wall murals. With sleek and modern branding, the website itself immediately pulls you in and encourages plenty of design excitement.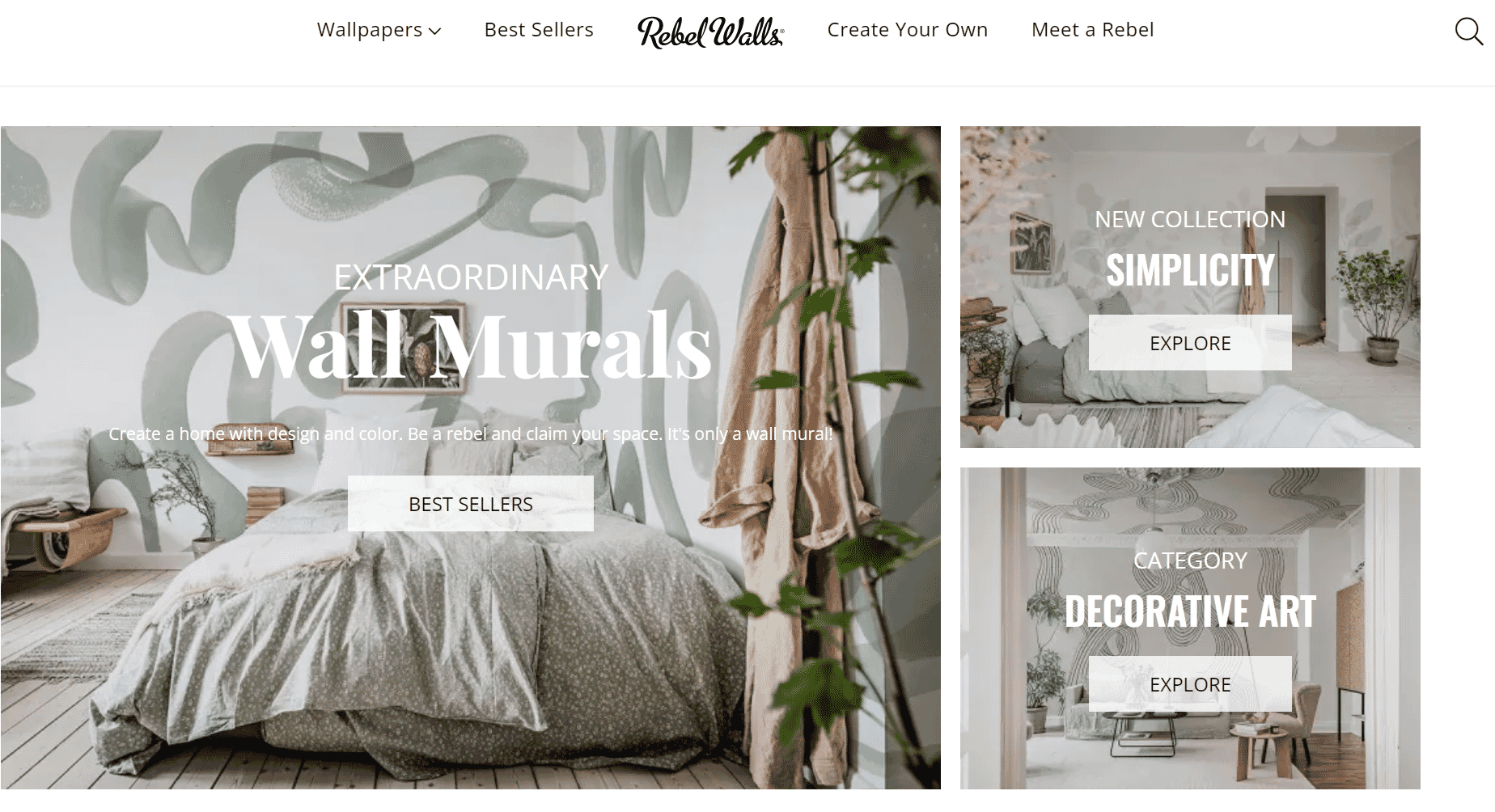 All the photo murals are custom-made at whatever size you need, and Rebel Walls also prides itself on speed; photo murals are typically manufactured the very next workday and sent off on a shipping truck to your home in under a week.
The company even offers design services, so you can always ask for modifications and specialists will see if it'll be possible to accommodate.
6. Limitless Walls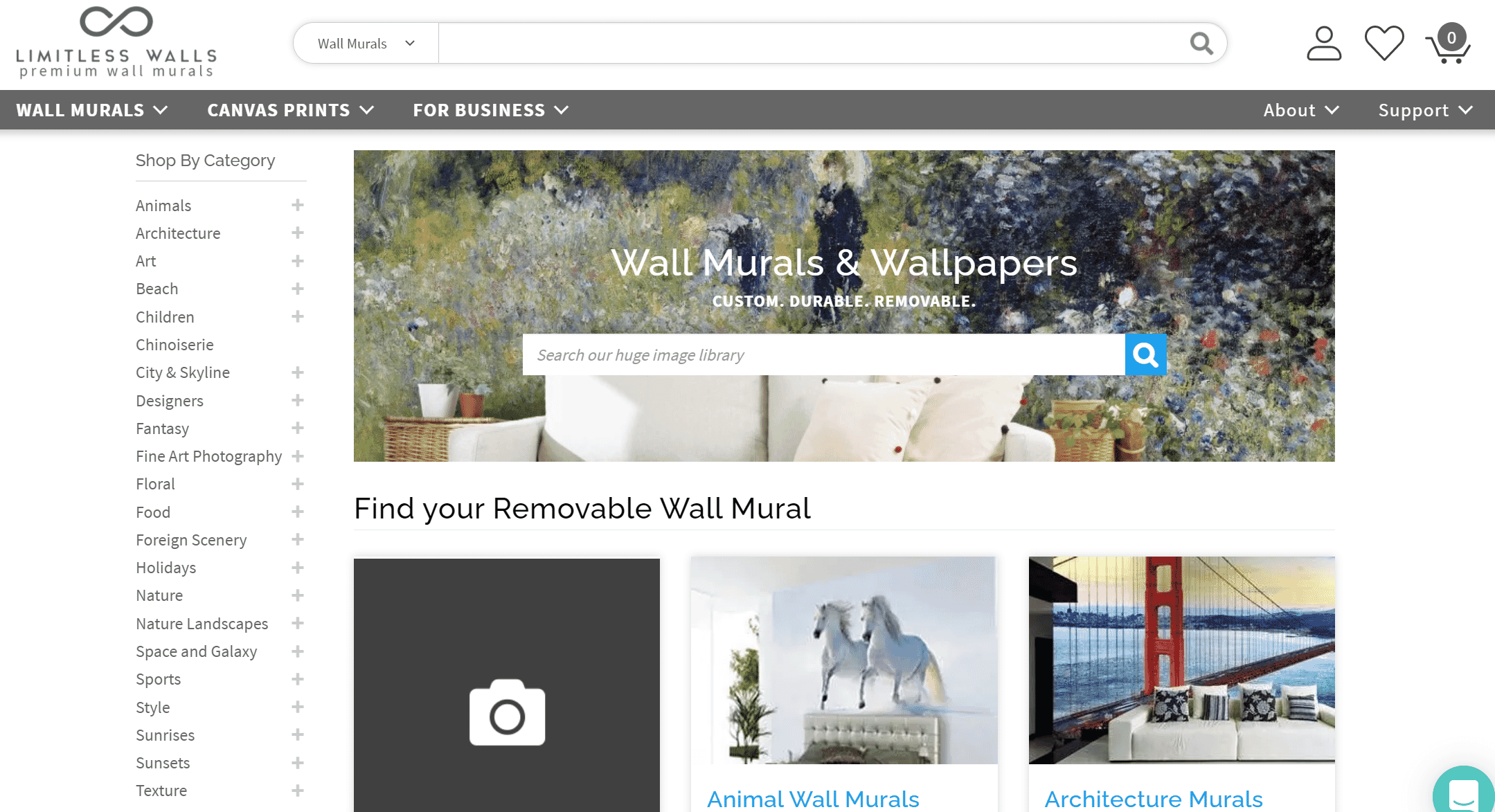 Their photo mural options have no limits!
With so many options to choose from, the possibilities can feel limitless.
Pros
The murals are quite durable and have a Class A fire rating
Simply peel to remove
Lots of how-to guides available
Cons
No real custom editing requests
"Custom. Durable. Removable." It's the photo mural print motto for Limitless Walls, a printing service focused on interior decor. Offering peel and stick or paste-to-the-wall options, you can easily choose the right mural for your home needs.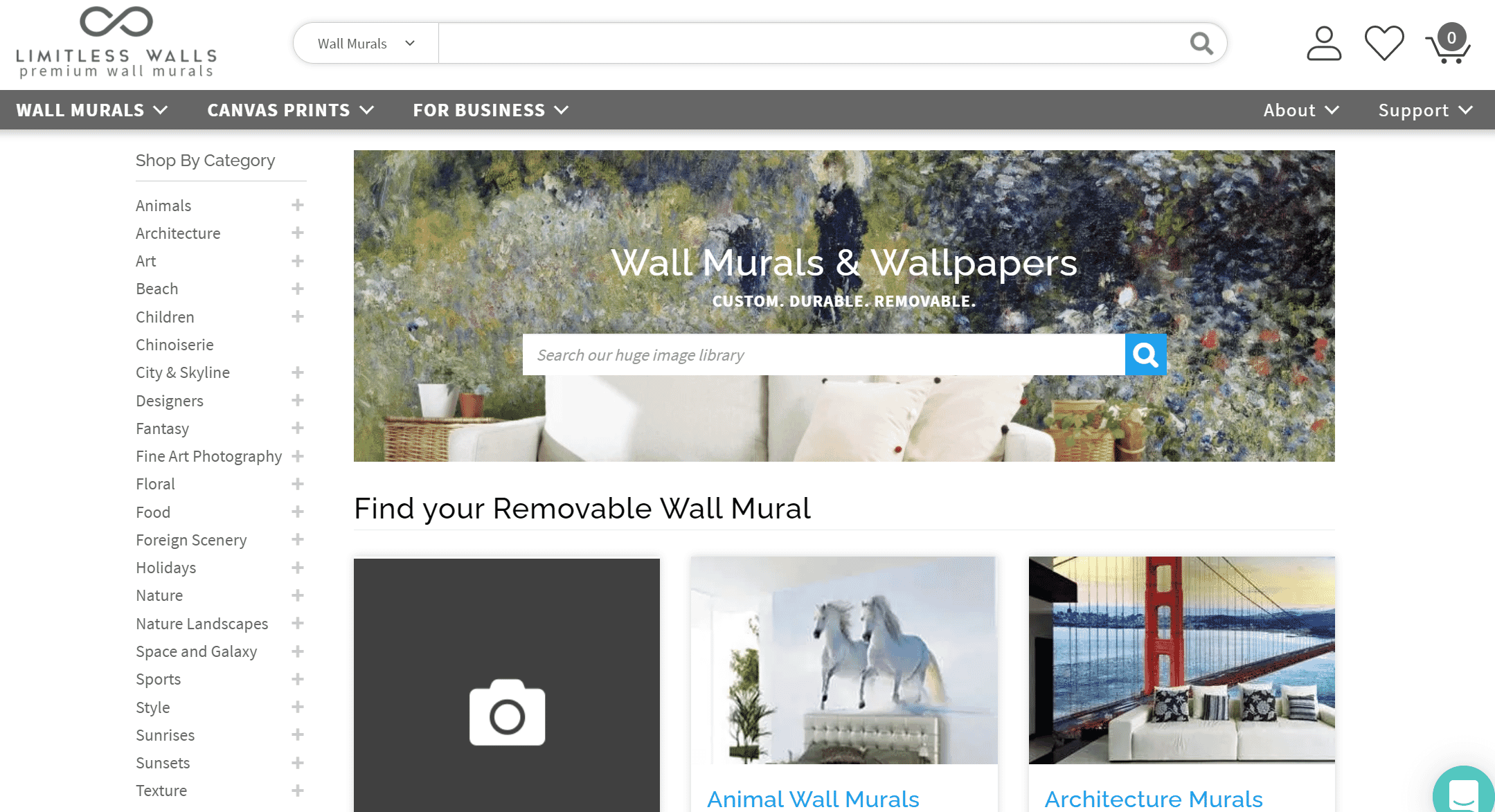 The materials used for the photo mural prints all have Class A fire rating, plus the murals are plenty durable (perfect for homes with kids!).
Limitless Walls have various how-to guides available in case you want to apply the mural yourself at home, though you can always hire someone to help you out.
And mural removal is easy, too; just peel it straight off the wall!
7. Bags of Love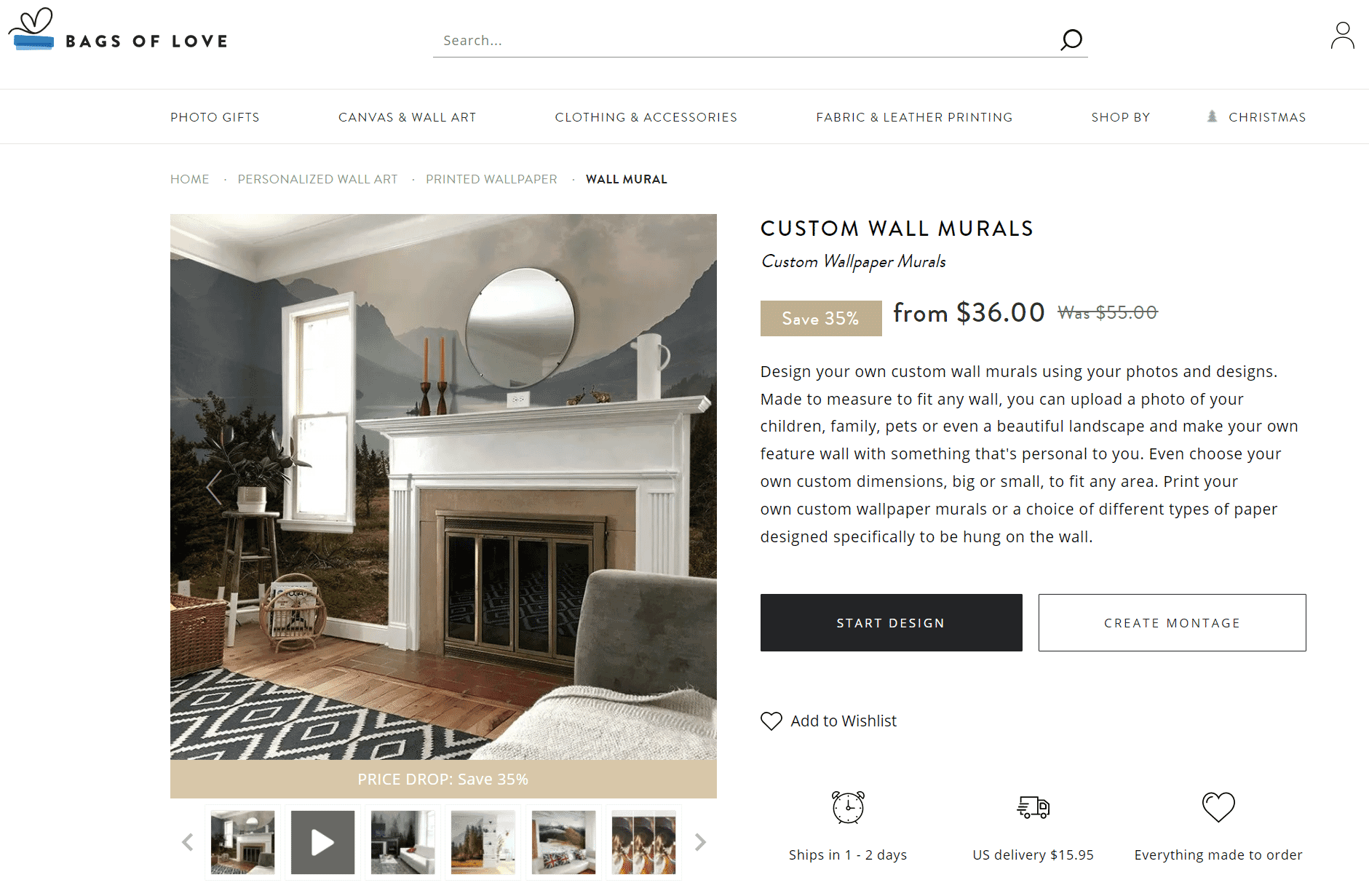 A lab focused on gifting
This lab's entire essence is heartfelt gifting, with custom photo murals as one possible gifting idea.
Pros
Great photo print quality
Different adhesives to choose from
Solvent-free wallpapers with no odor
Cons
Does not specialize in photo murals
Not as durable as other photo murals
Bags of Love is in the business of heartfelt gifts. Featuring many gift ideas and options, Bags of Love can also create photo murals. Although this company doesn't specialize in murals, the quality is still superb and shouldn't be dismissed.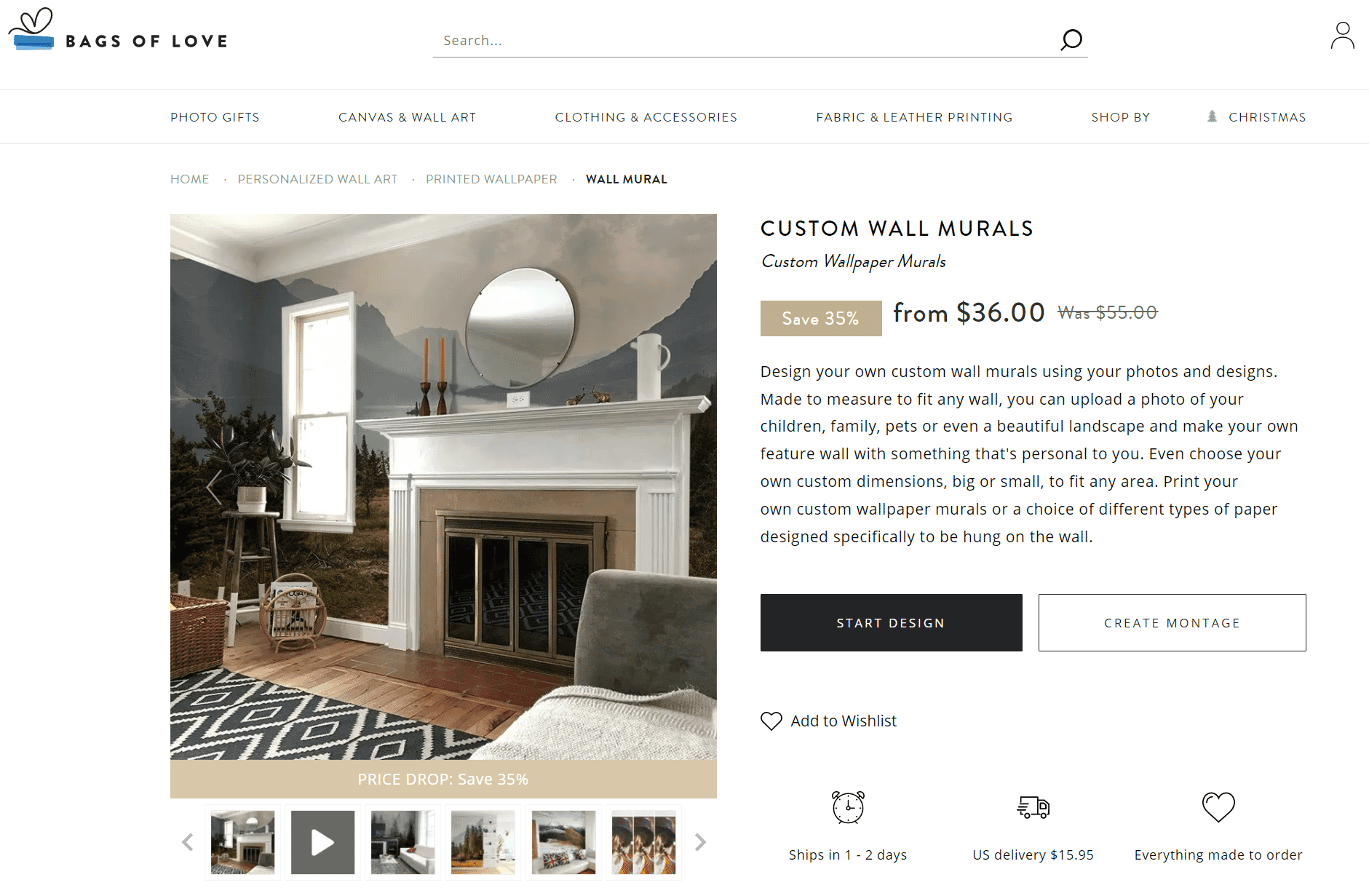 With many adhesives and custom sizes, you can find the perfect fit for your home. These photo murals do seem more delicate than competitive brands, but the papers are all solvent-free and do not smell. And Bags of Love offers a 10-year warranty on the print quality and colorfastness, so you can be confident that your mural will last!
8. Etsy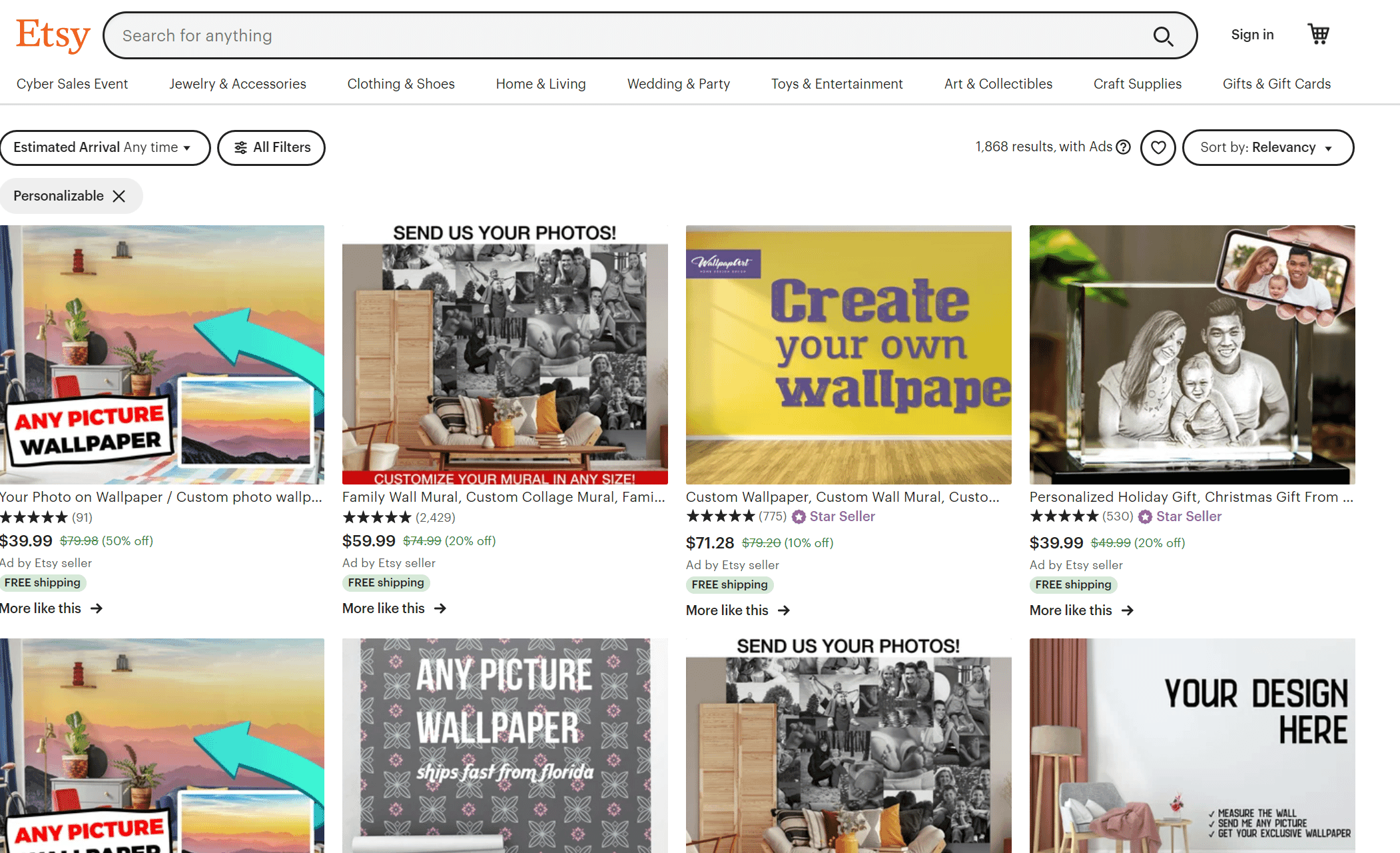 An artist marketplace
Etsy is a marketplace for artists and individuals who can create the photo mural you want.
Pros
A massive world art marketplace
Connects you with a slew of small businesses and artists
Something for every budget
Cons
Quality will vary, as Etsy does not select its sellers
If you've watched TV or been online recently, you've probably seen commercials for Etsy. Etsy is a marketplace for artists and artistic products, which allows individuals to have their own store on the company platform.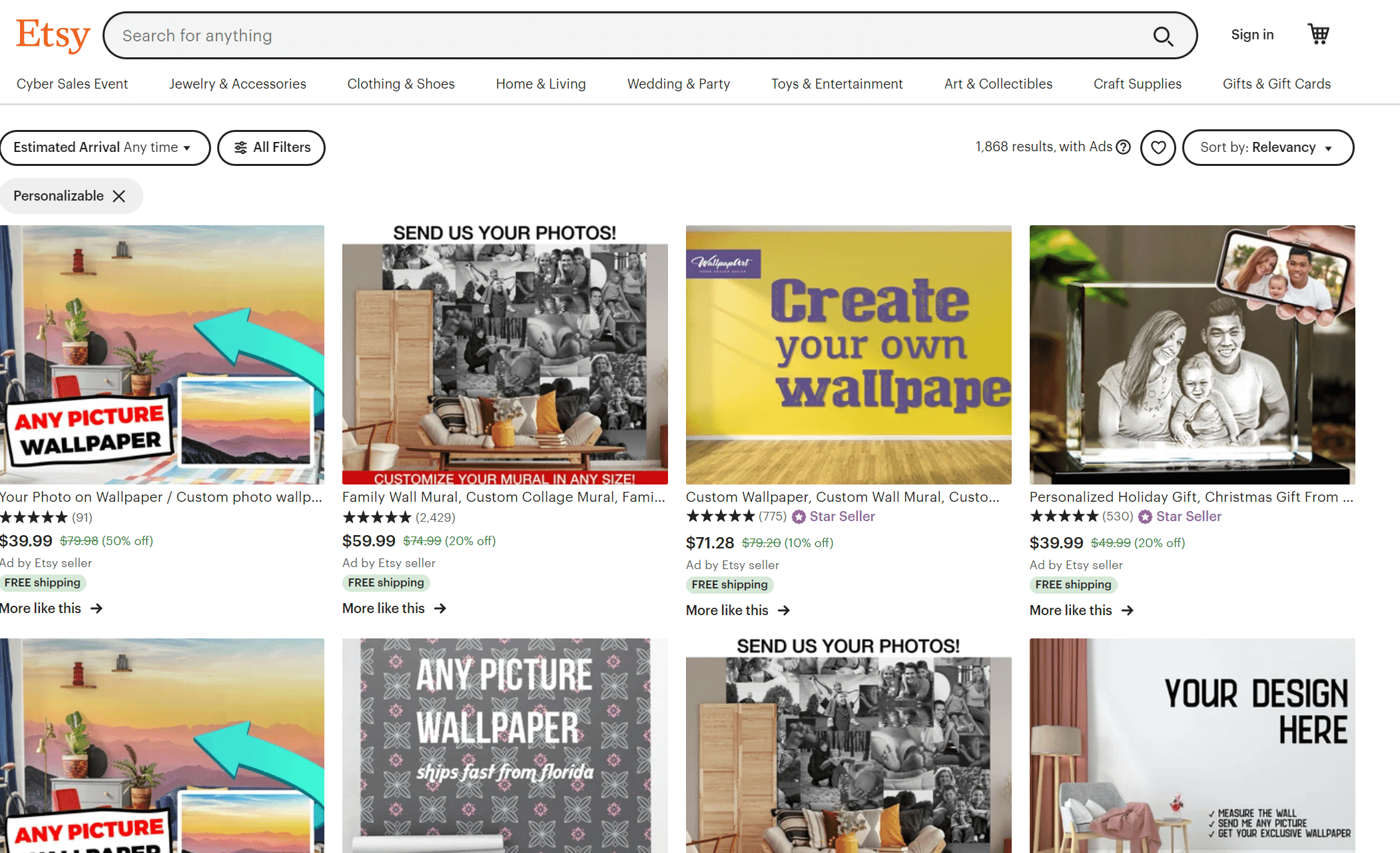 Etsy is home to a variety of products and services and aims to connect you with creators who can bring your ideas to life. Happily, you can find a multitude of small businesses and individuals creating custom photo murals!
The selection is vast, and if you spend enough time, you'll find someone who can serve your needs. However, because Etsy is just a marketplace and not a vetter or curator, it becomes your responsibility to find someone who can do a good job (though the marketplace does use a review system, so you can gauge the performance of different vendors).
Which of the Best Photo Mural Prints Is Right for You?
Of our eight selections, which one should you go for? Well, frankly, they all have something great to offer; otherwise, they wouldn't be on the list!
That said, we've awarded Photowall the grand prize, due to their variety of products and high-quality prints. It's the best photo mural print company you'll find (and they can satisfy your other printing needs, too).
On the other hand, if collages are more your style, EasyWallz features the best collage templates, so you can make your photo mural print a mix of impressions or memories.