As photographers, we go through a lot of gear all the time. Advancements in technology encourage us to purchase new cameras and lenses, while older gear becomes more and more obsolete.
Over time, the collection grows to be a bit of a storage conundrum and it becomes time to sell!
Here is our list of the best places to sell used camera equipment in the US (online or in-store).
When you buy through links on our site, we may earn a commission at no cost to you. We evaluate products independently. Commissions do not affect our evaluations.
Best Places to Sell Used Camera Gear
1. KEH Camera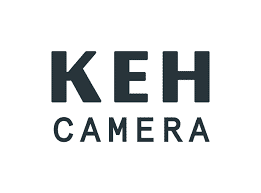 The Ultimate Used Gear Seller
This used camera store has a long lasting reputation of providing excellent service for both the seller and the buyer. With professionals able to consult with you about price, it's a no brainer.
Pros
Fair price and very simple process
Can set up a free one-on-one consultation to discuss equipment price
Ship the gear for free
Gear valued at over $300 can be picked up from doorstep for free
Cons
Quotes can sometimes be lower than other places
Unless your gear is valued at over $300, you have to ship yourself (even though it is free)
Those in the photography industry for quite some time will recognize KEH Camera, both for their presence at photography trade shows and industry events, as well as frequent referrals from professional photographers. KEH remains a remarkable marketplace to sell used gear, as their quotes are fair, and the process is simple.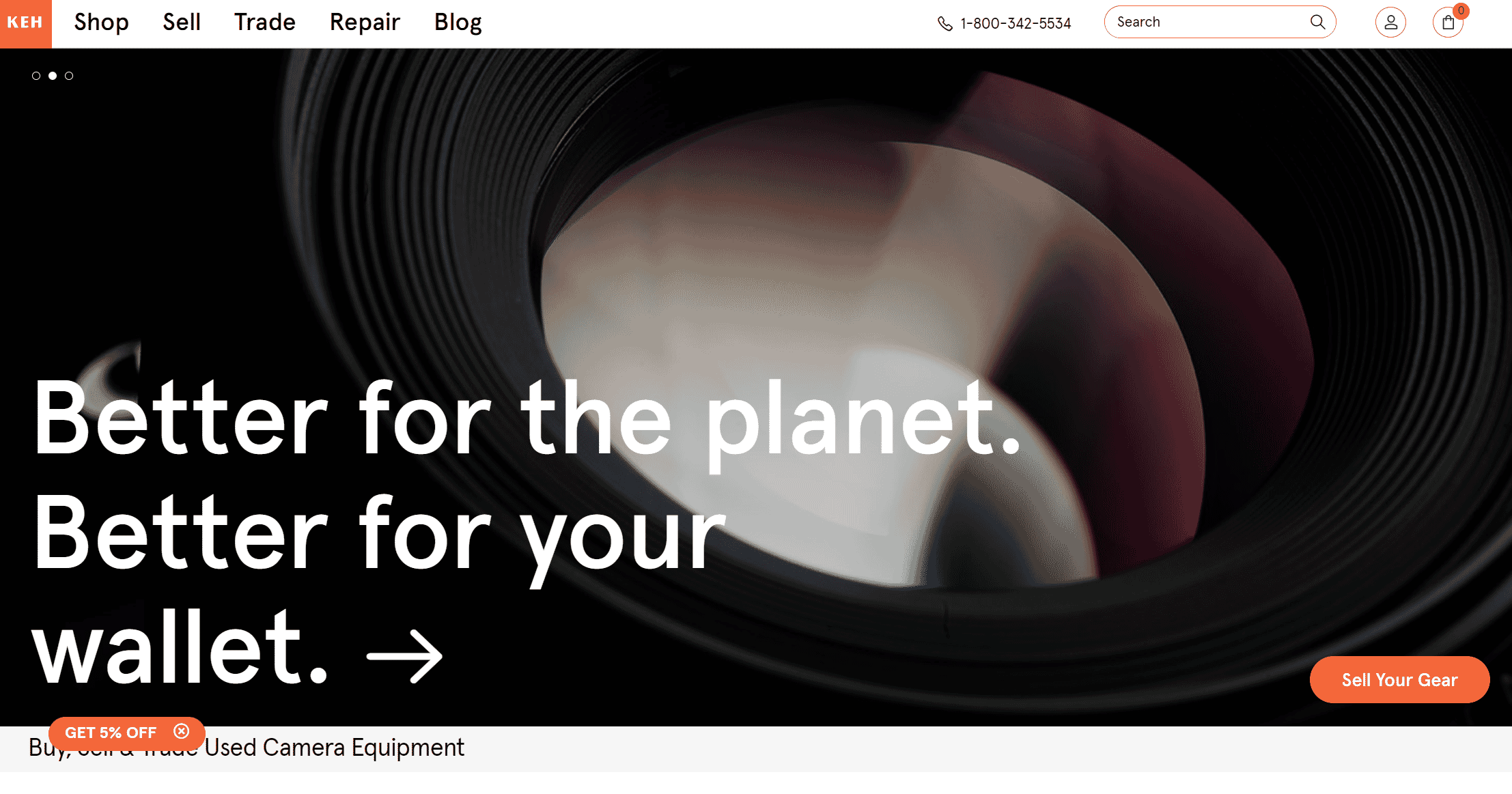 KEH Camera is a trade-in service only, so you either accept their quote or reject it. Their quotes are considered incredibly fair, and you can actually book a one-on-one consultation with one of their representatives to go over why your gear is quoted as such.
This can be a very helpful tool for those wanting to understand what their equipment is worth, based on the gear's condition, usage, and purchase year. Even if you don't end up going with KEH, you at least have a good baseline to price your gear at.
An even bigger bonus is that you can ship your gear to them for free! If you accept their price quote, KEH will send you a prepaid label. Or, you can drop your gear off at their retail location. If you were quoted over $300 in value for your gear, they can come pick it up from your doorstep for free as well.
2. B&H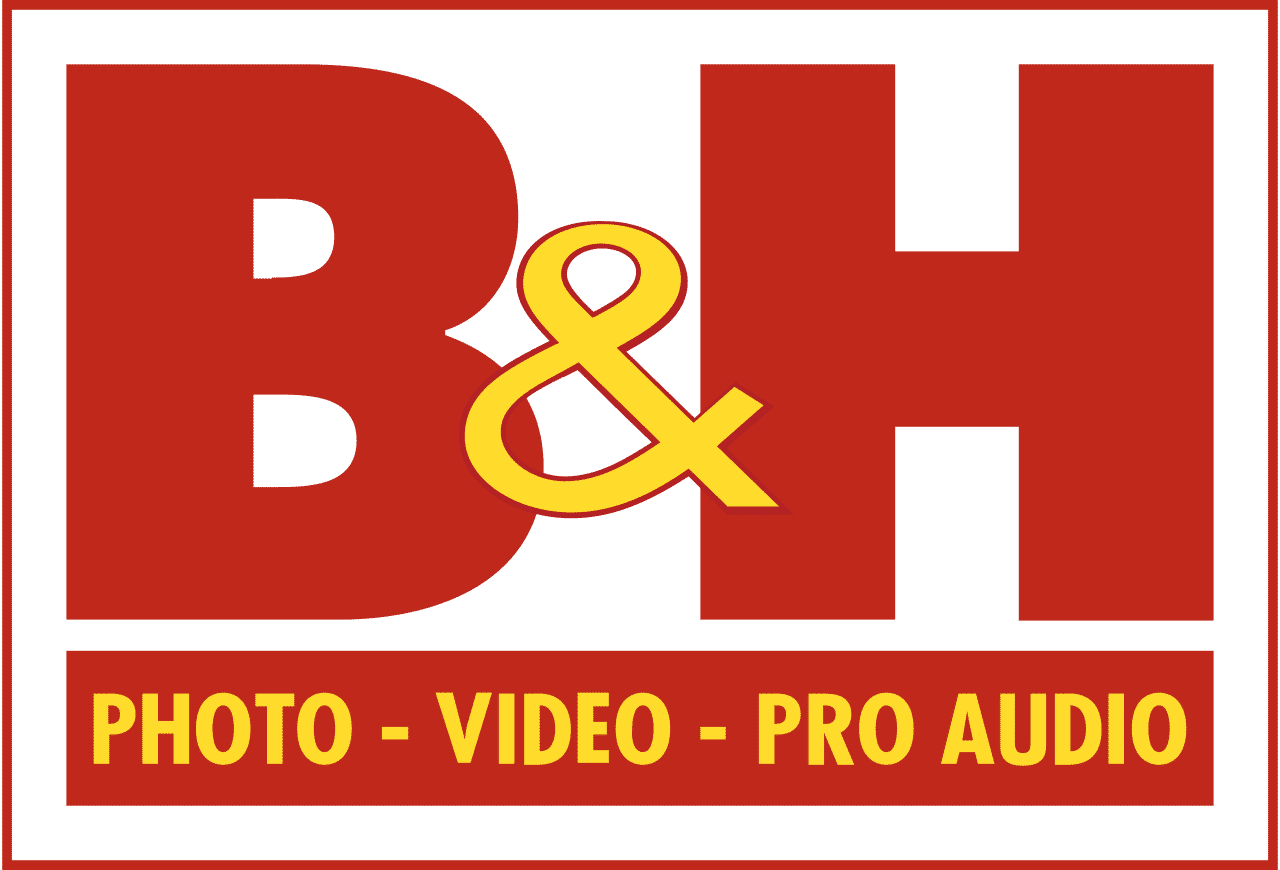 A Titan in the Photography Industry
The most famous equipment retailer also has a sales program for getting rid of your used camera equipment.
Pros
Very fair quotes for gear, sometimes higher than other places
Option of payment for gear or store credit
New York residents can bring gear directly into the store
Free shipping for those not in New York
Cons
Shipping back and forth can be a bit of a hassle
B&H is one of the most known camera equipment stores in America, servicing thousands upon thousands of photographers all over the country. Although New York residents have access to the physical store, B&H operates online countrywide.
Alongside selling brand spankin' new equipment, B&H also sells used gear and allows photographers the opportunity to make quick cash from their old stuff.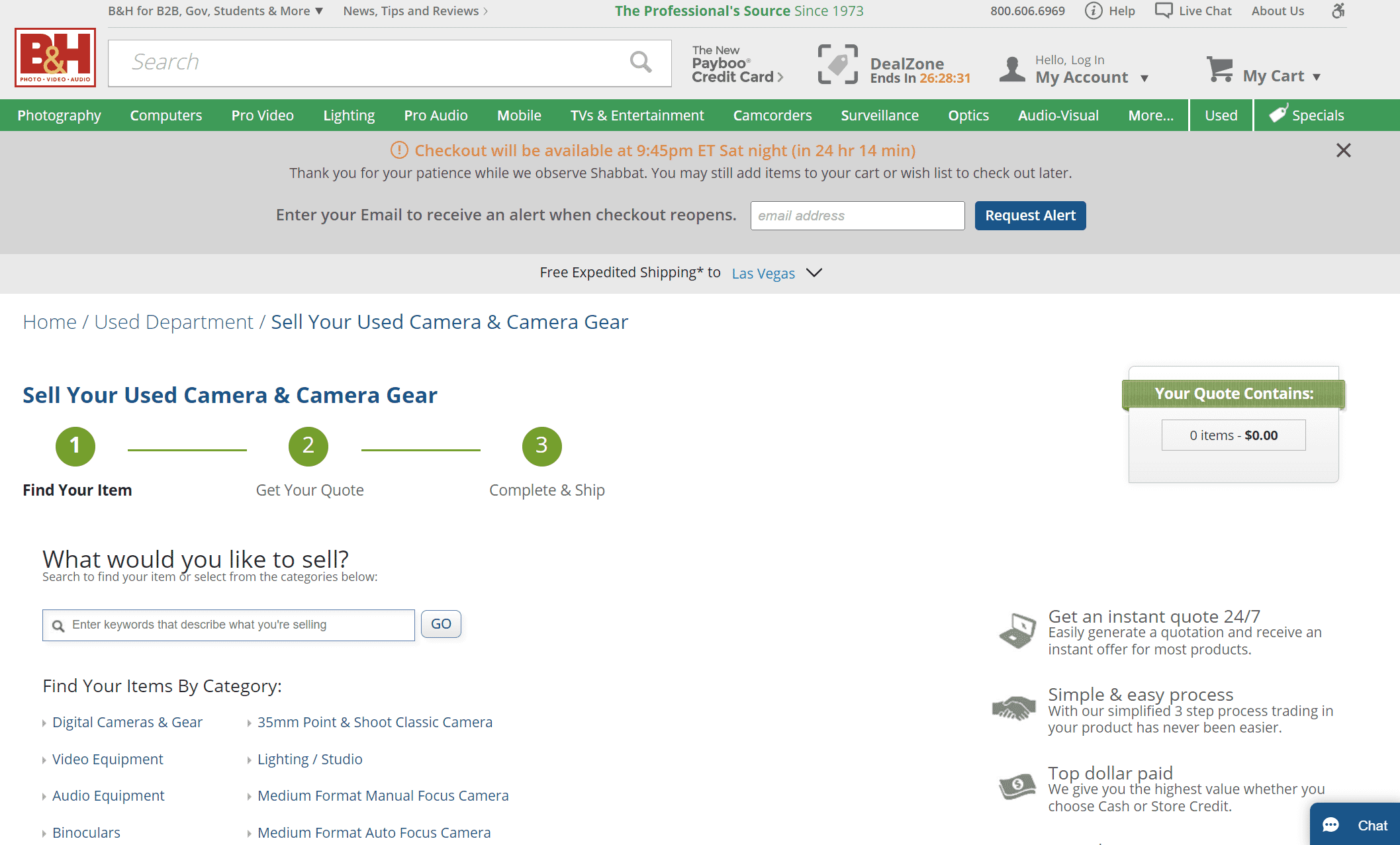 If you're a New Yorker, you can physically hand your used equipment into the B&H store and get a direct quote from a licensed rep there. If you happen to reside anywhere else in the United States, you can easily follow the steps online to send in your equipment.
Related Post: Best Online Camera Stores
The process is simple: find your item from the store's itinerary, select the item's condition and what accessories you have for it, then you accept the quote and ship the gear! Shipping is free. 
The quotes given are pretty reasonable, and at times, higher than other places (assuming you have been honest about the condition).
3. Adorama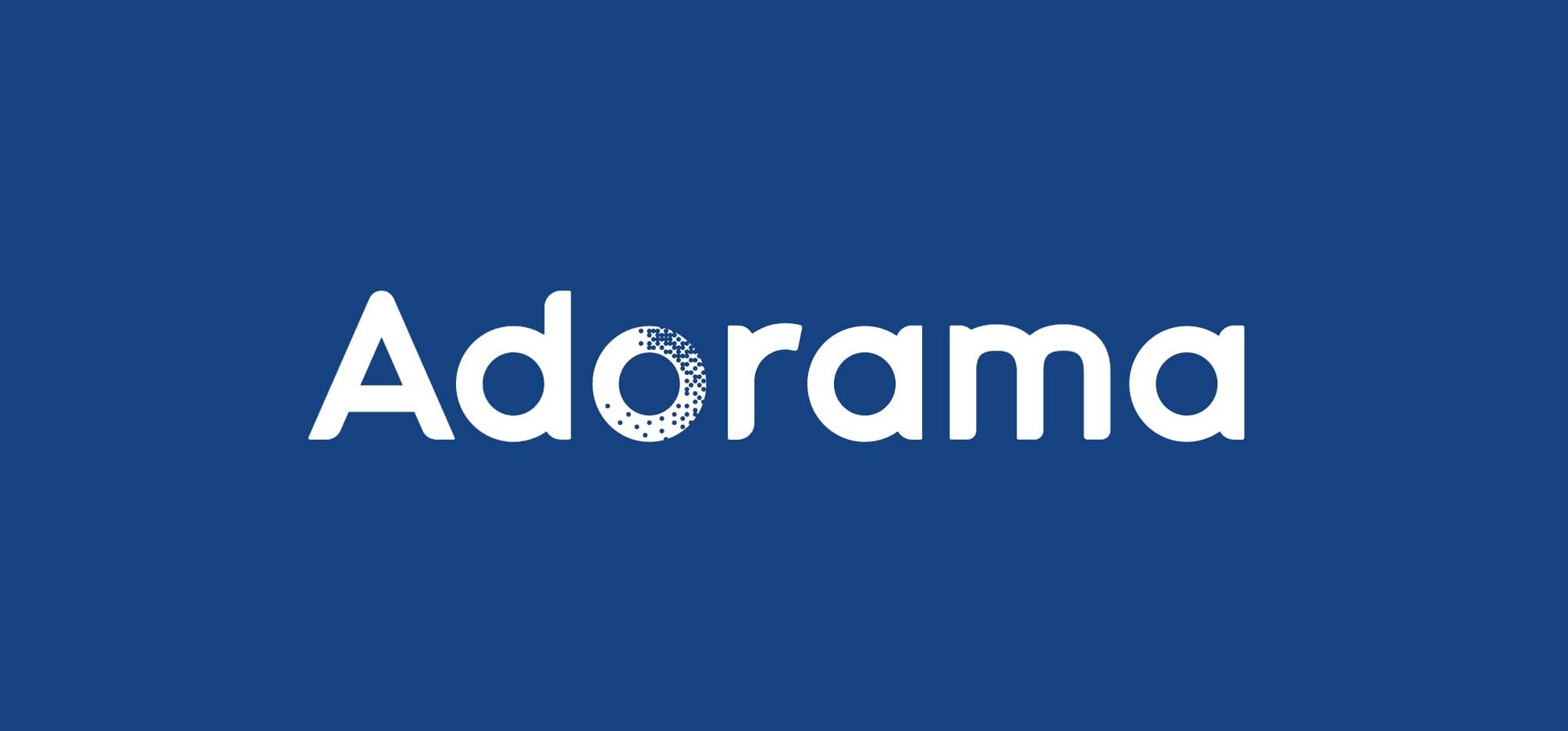 Another Titan in the Photography Industry
Like B&H, this camera store also has a similar used gear sales program.
Pros
Same perks as B&H
Purchases vintage and old camera equipment as well
Cons
Sometimes quoted as lower than other retailers
Another known name in the photography industry, Adorama also has a buyback service for used camera equipment. You describe the condition via email or phone, send the gear in via Adorama's free shipping label, and if you accept the quote, Adorama mails you a check or offers store credit.
If you aren't pleased with the offer, Adorama will mail your gear back to you (also free of charge).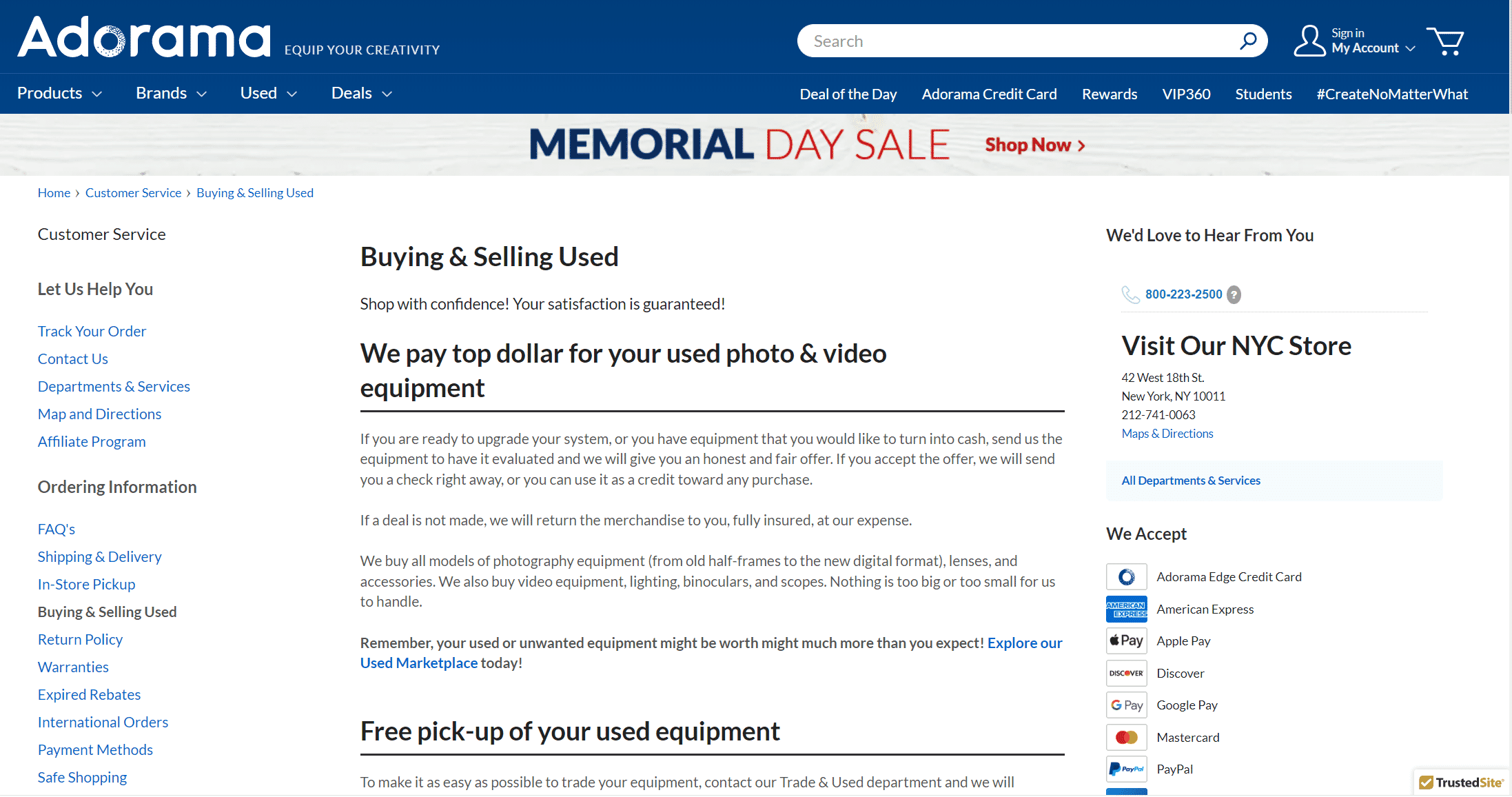 Very similar in process to B&H, what makes Adorama stand out a bit is their buyback of vintage equipment and much older models!
You can explore their used marketplace to see what exactly they are selling and for how much, giving good insight on what you can expect to make. 
4. eBay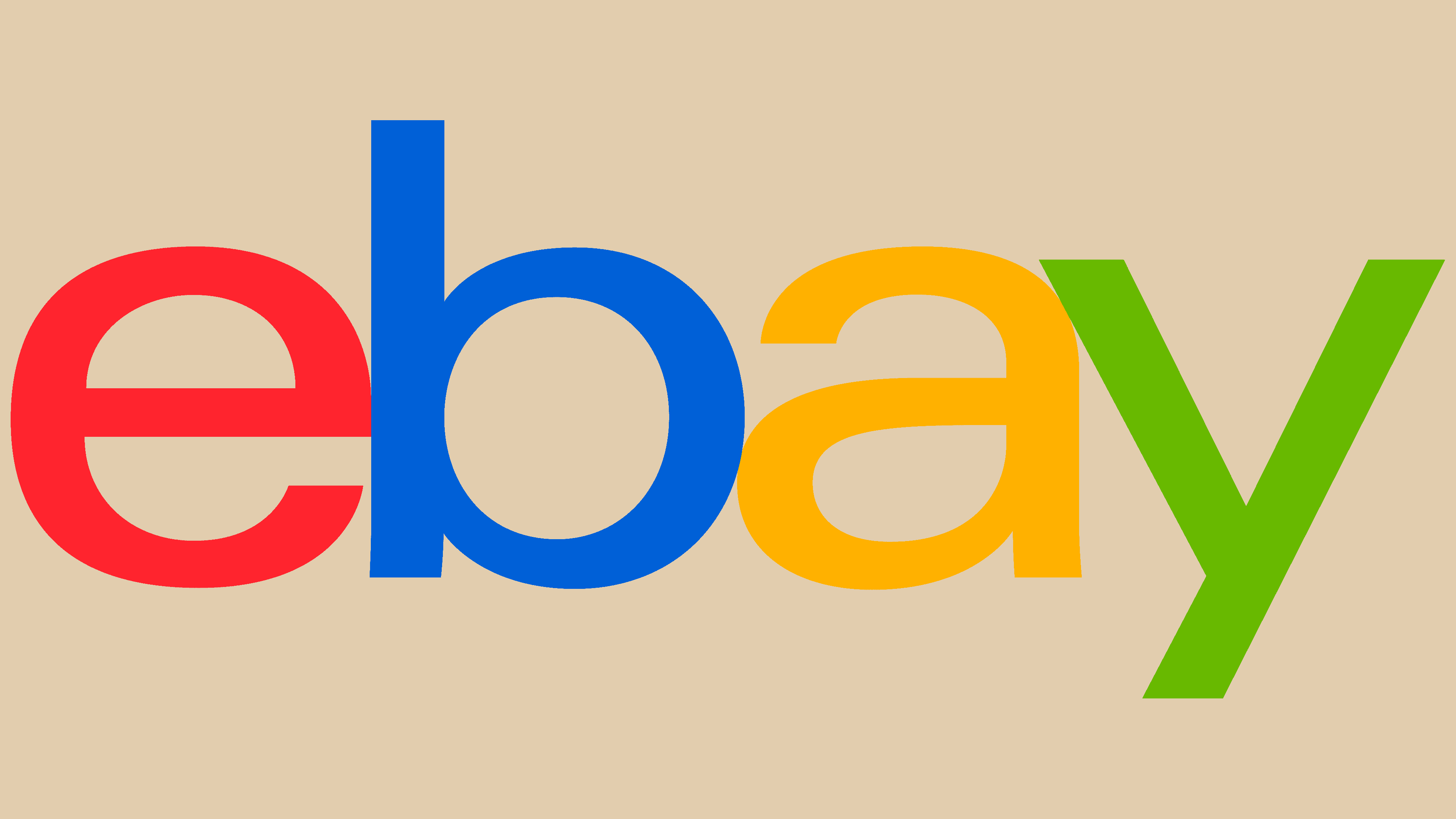 The Most Famous Marketplace
If you've never heard of eBay, then you've certainly been living under a rock!
Pros
Still one of the most visited online marketplaces of all time, so gear can sell fast
Takes a very small percentage of the profits
Has its own shipping label service to make shipping less expensive
Cons
You are responsible for the shipping of the equipment
Does have an unspoken reputation of siding with the buyer rather than the seller during disputes
eBay has long been the ultimate marketplace to buy used… anything! Camera gear is certainly not excluded from this list. As a seller, eBay is a great tool to reach thousands of people who may be interested in taking your used gear off your hands.
eBay remains one of the top platforms people turn to for used anything, as it became a household name decades ago.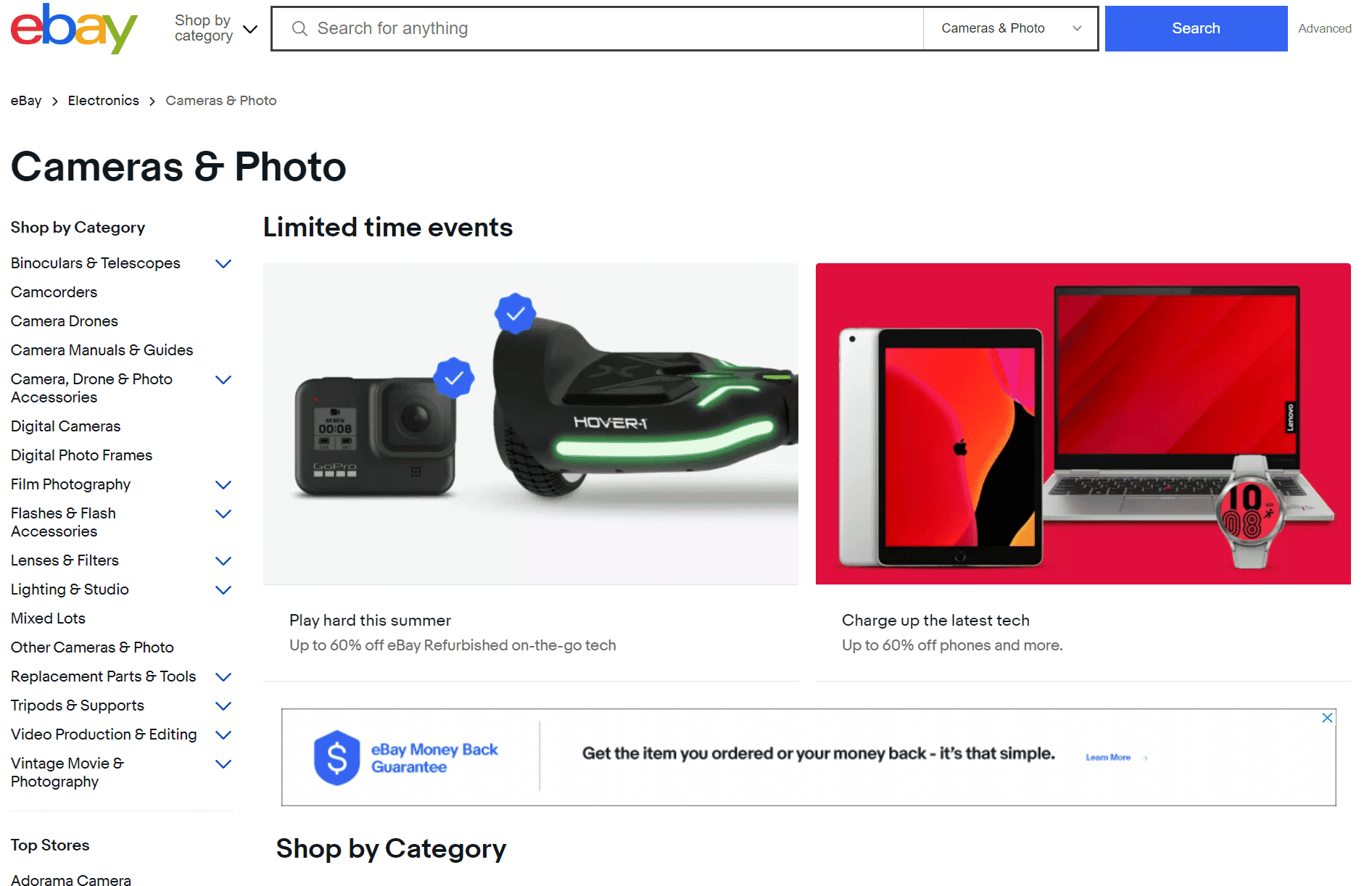 Owned by PayPal, payments are made pretty easy on both the seller and the buyer side of the equation. However, eBay (and subsequently PayPal) do have a reputation in the industry as almost always siding with the buyer, even if the buyer is in the wrong – so there is risk incurred by using this platform. Likewise, many scammers do exist on such popular marketplaces, so using your best judgment is a big must as well. 
You are responsible for the shipping and packaging, but eBay does have an option to purchase shipping labels through them at a discounted price.
5. OfferUp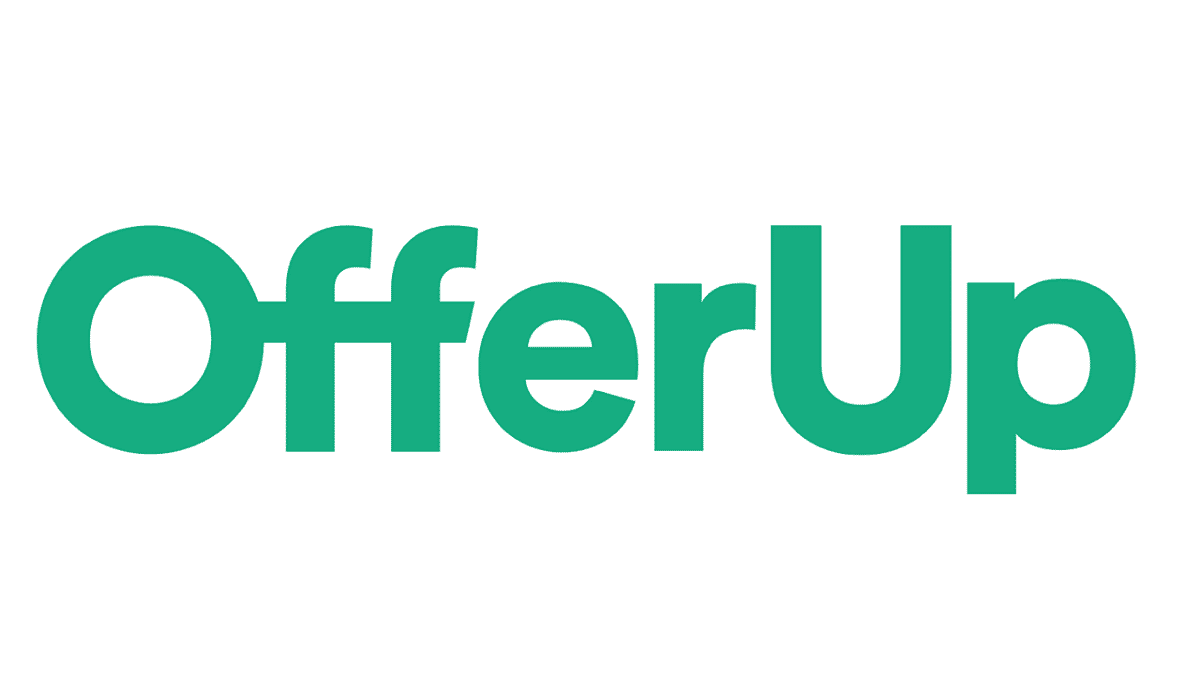 There Is an App for That!
Moving buying and selling marketplaces to mobile platforms, this marketplace is a convenient app for local sales.
Pros
You keep 100% of the profits
Lists your item to a massive marketplace in your community, or you can offer to ship nationwide
Cons
You are responsible for everything; the listing, the communication, the sale, and the shipping
Lots of lowballer offers
Similar to eBay, OfferUp is also a sales marketplace where the seller assumes all the roles in the sale (from finding the buyer to shipping or selling the item).
A very popular mobile app (available for Android and Apple iOS), OfferUp, has quickly revolutionized the industry by making selling easy.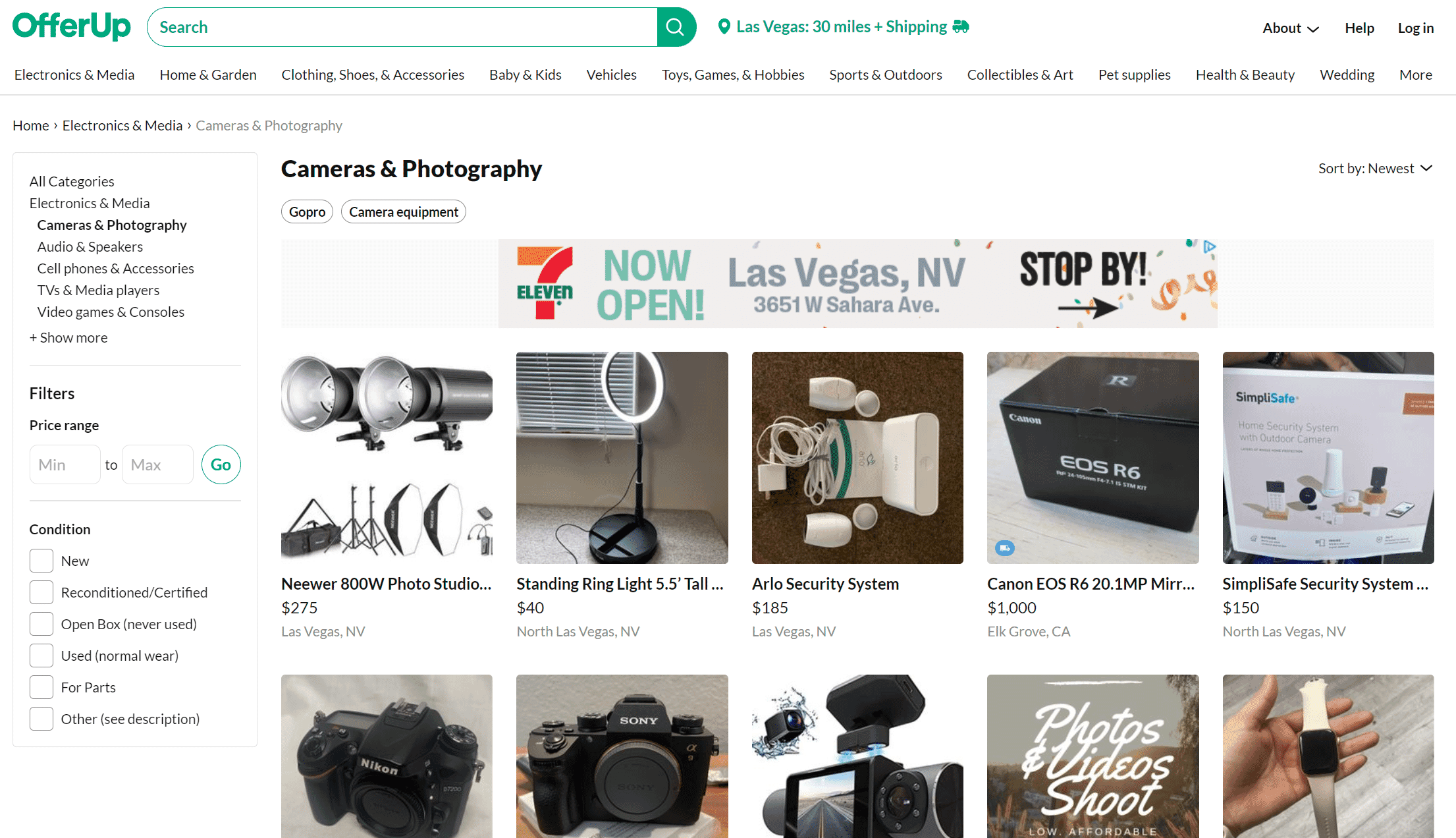 Camera gear very frequently finds its way to OfferUp, and many photographers peruse that platform when looking for used gear. OfferUp does very little regarding the sale itself, it simply offers an easy-to-use system to upload photos, set your price, and find buyers! You then decide whether you are willing to only sell locally or if shipping is an option, and take it from there.
The downside is that there are a lot of low-ballers on that platform, as OfferUp does encourage conversation between the seller and the buyer, so don't be discouraged by that aspect of it.
6. Facebook Marketplace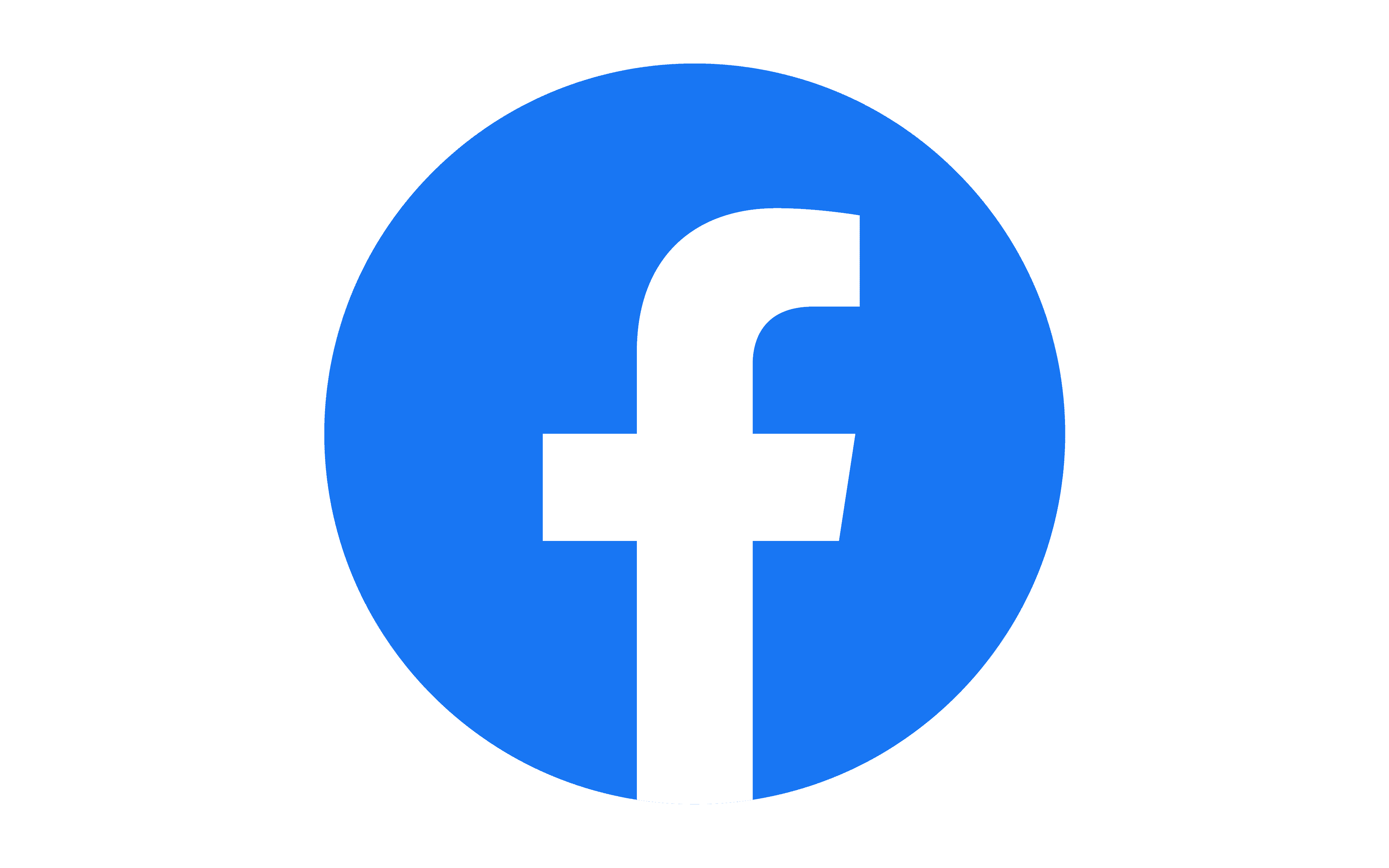 Social Media Selling Machine
The largest social media just opened up a marketplace, taking advantage of the amount of users on there.
Pros
A social media that doubles as a sales platform
You keep 100% of the profits
Cons
You are responsible for everything, just like with OfferUp
Also wedging itself between eBay and OfferUp, Facebook Marketplace takes advantage of the massive and widely spread platform. Where Facebook was once used to just connect with family and friends you know, this social media has now encouraged interaction among thousands of strangers through the inclusion of groups, pages, and now a marketplace.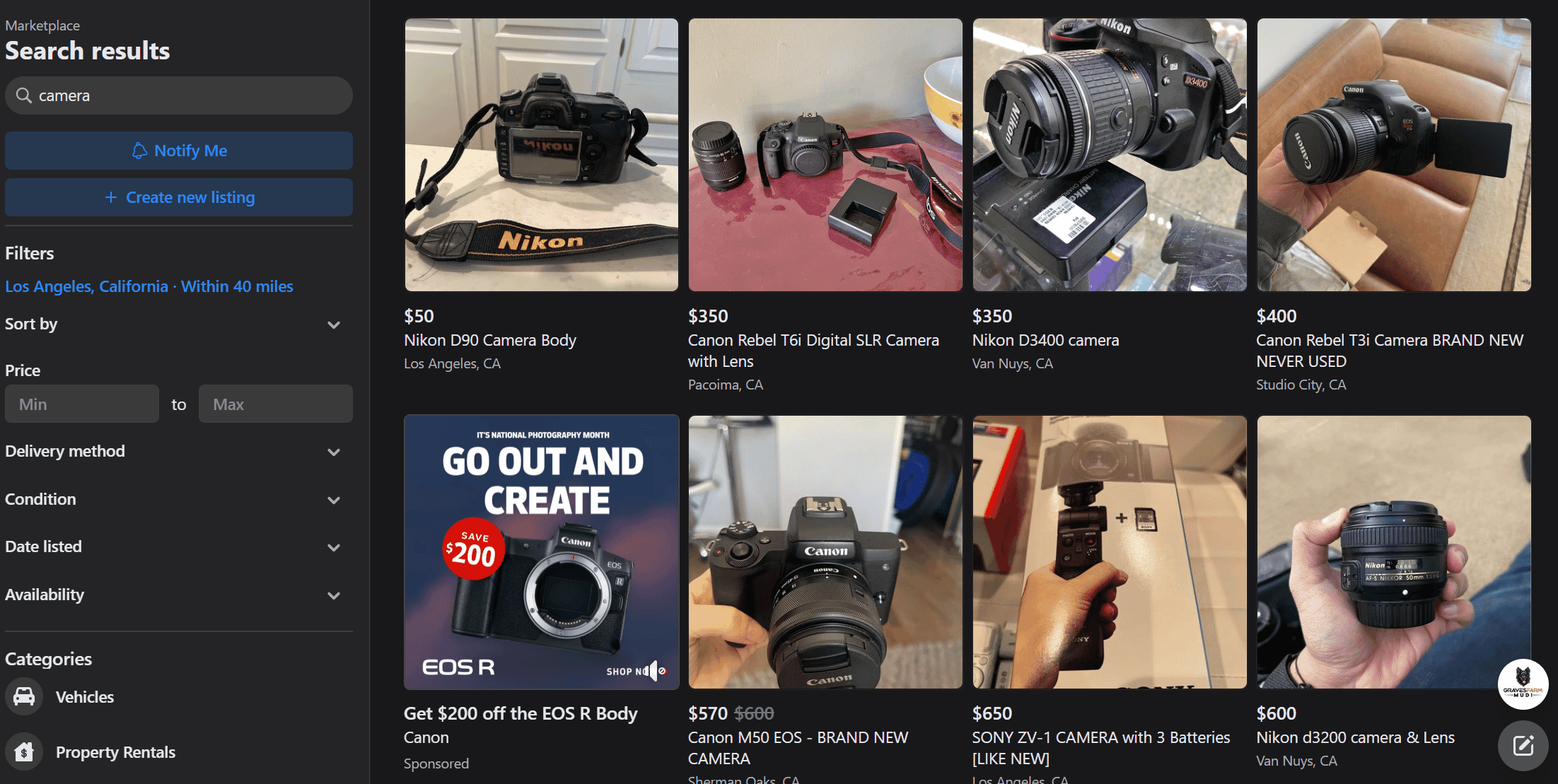 Similar to OfferUp in its use, Facebook Marketplace is just a listing platform. As a seller, you take on the full responsibility for the sale, which includes communicating with the buyer and shipping the camera equipment.
Facebook has zero impact or say on the entire process. After the sale, the buyers can offer you a star rating, which can improve your visual standing in the marketplace for future sales as well.
7. GearFocus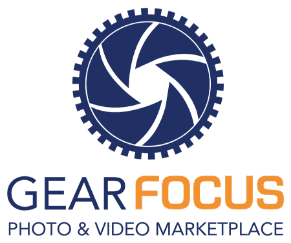 A Marketplace for Photography
A marketplace made exclusively for the photography and videography industry, connecting you with serious buyers.
Pros
An online marketplace that focuses on only visual medium equipment sales
Mitigates disputes between sellers and buyers
Cons
Takes a percentage of the profit
You are responsible for the sales listing, communication, sale, and shipping
With a name like GearFocus, you know exactly what this shop is about. GearFocus is a marketplace for photographers to sell their used equipment, great for those looking to list their equipment on a website that is dedicated to these particular products. The potential buyers that visit GearFocus are specifically looking for equipment, rather than the more general population of eBay, OfferUp, and Facebook.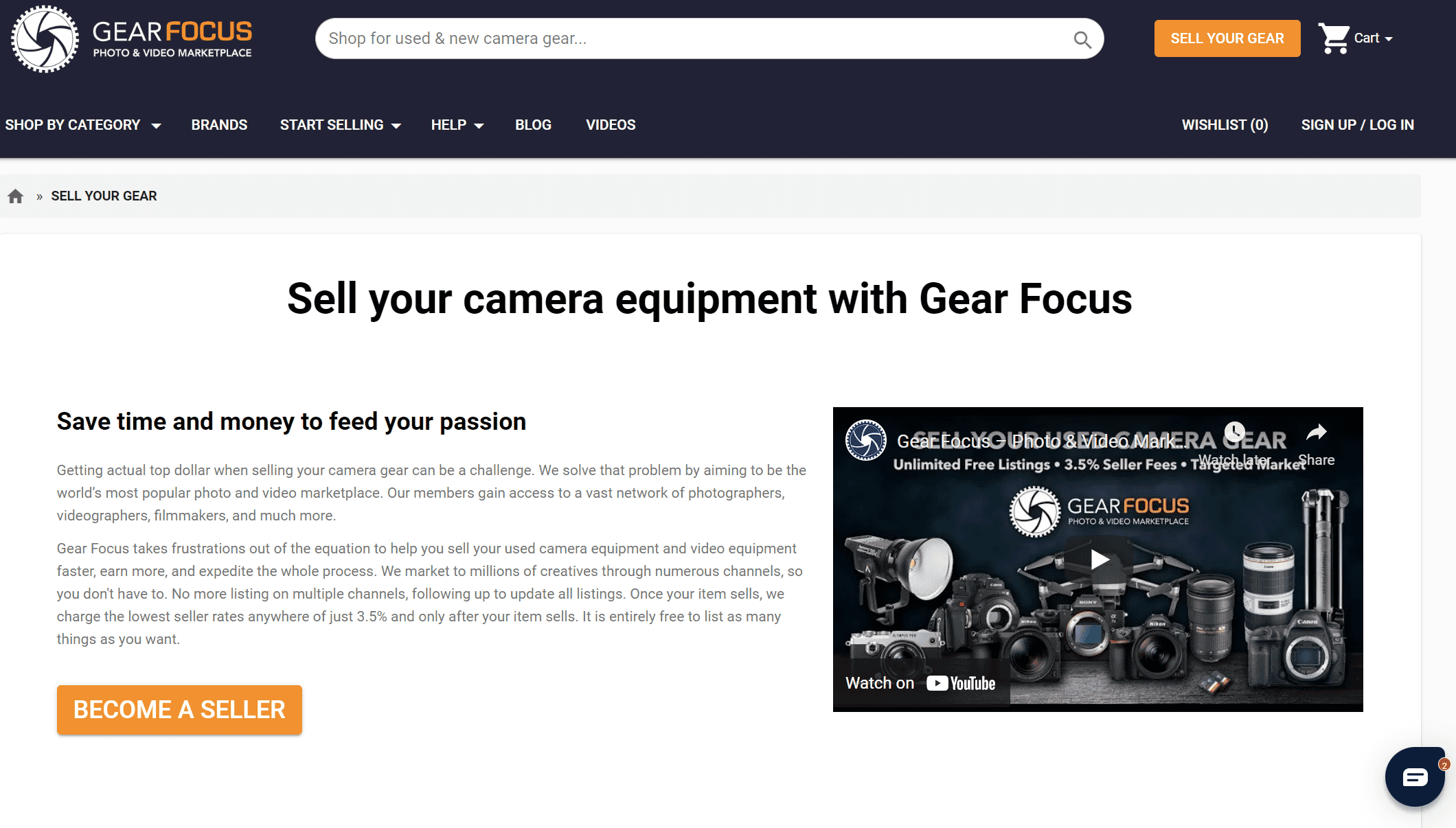 GearFocus acts as the middleman in the transaction, handling your listing on the marketplace (although you need to manually do the photos, write the description, and other such materials) and taking a small percentage of the sale.
If something ends up not up to snuff on either the buyer side or the seller side, GearFocus promises "with the Gear Focus Protection program, if your item is not as described, faulty, or D.O.A., Gear Focus will work on your behalf to resolve the situation" which can make this a more worthwhile marketplace to use.
However, unlike other marketplaces that allow you to keep 100% of the profits, it may feel a bit uneasy to have to still do all the manual work while the platform takes a percentage. But essentially, you're paying to sell to like-minded individuals and (hopefully) make a faster sale due to the audience looking specifically for what you're looking to get rid of.
Quick Tips for Selling Used Camera Equipment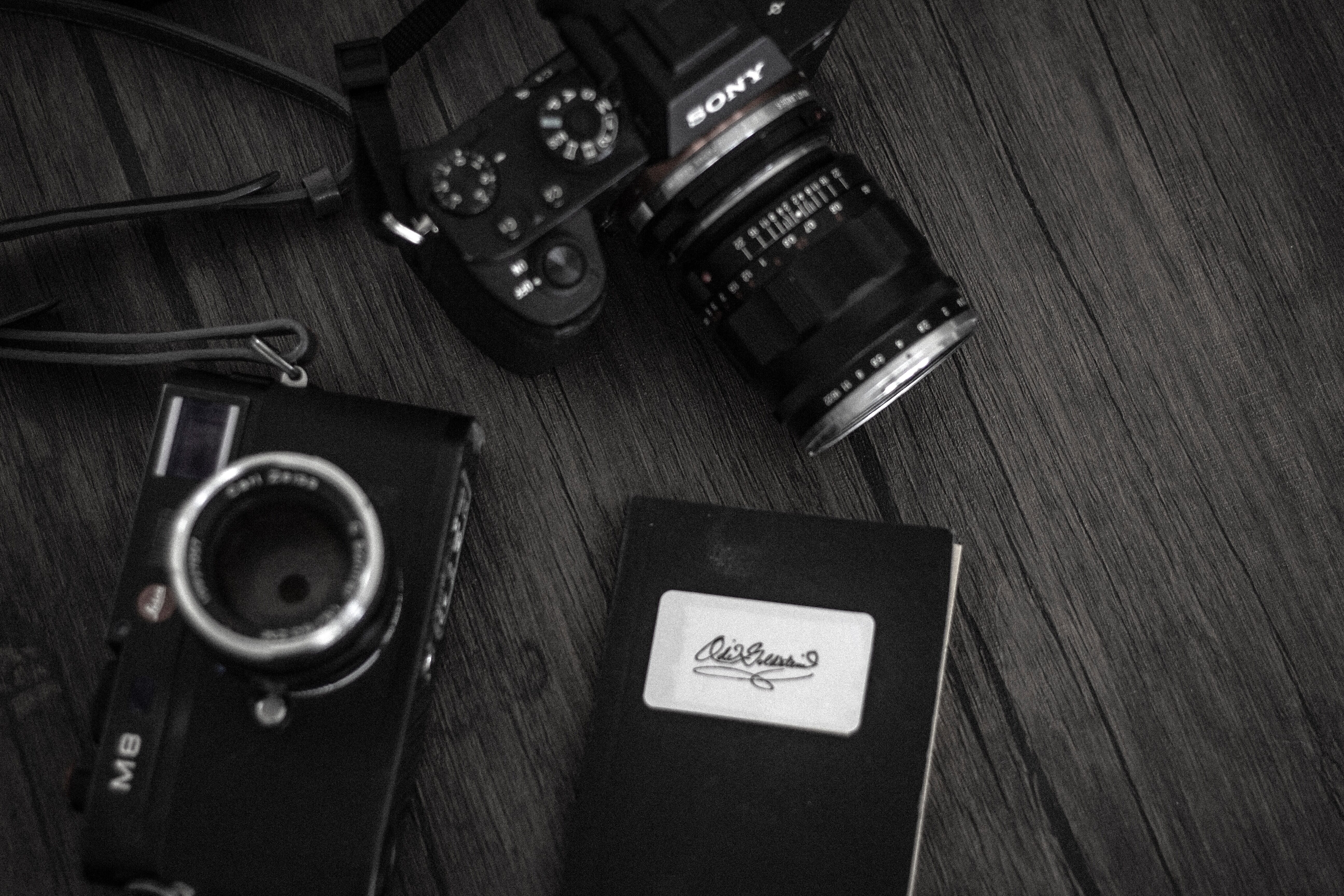 Did you find this article because you're thinking of selling your gear? Here are a few super quick tips on how to help retain the value of your equipment when selling:
Keep the original box, instruction manual, and warranty cards! The more of the original content you have, the better it is.
Make sure to care for your equipment – although wear and tear is normal, ensuring the internal components operate well, and the external doesn't feature significant deformities (such as permanent scratches on lens glass or missing buttons on cameras) will help your gear not depreciate as quickly.
When photographing equipment for online sale (if you're not trading in at a store), be sure to take at least one photo with a handwritten note with your name and the current date next to the gear. This shows that you're not using photographs off the internet (a common scam) and are a legitimate seller.
Be good about writing descriptions about the gear you are selling, and tag the listing properly. This helps the right people find your equipment for sale.
You can use the IRS depreciation chart to also help with figuring out a good price point for your equipment. Few people are aware of this. Then, compare the price with what others are selling similar equipment for, and figure out what makes the most sense based on your gear's condition.
Conclusion: Where Should You Sell Your Used Camera Equipment?
In conclusion, it's a good idea to weigh your options when it concerns selling used camera equipment. It's hard to pinpoint the absolute best spot because it depends on the gear you're selling and what you're looking to get off it.
If you just need to clear out some spring cleaning space, options such as KEH are a good idea. For those looking to make back as much as possible, marketplaces such as OfferUp and Facebook Marketplace might be the place to look.
If you want to trade in your gear for newer, shinier models, looking at trade-in or sales programs in camera stores such as Adorama and B&H is a good idea.
If you are based in Europe, you may also want to look at MPB, a dedicated online marketplace with operations in the UK, Germany, and France.
Also read: Best Places to Buy Used Camera Lenses