You've got your sights set on a URL, you've decided to use WordPress, and now you're at the tricky, and confusing, stage of choosing which service to use for hosting your website.
Now, as a photographer, you're probably wondering what exactly is the best website hosting for photographers?
And maybe even, what is website hosting?
Well, the good news is, we've got you covered! In both departments.
Best Website Hosting Services for Photographers:
When you buy through links on our site, we may earn a commission at no cost to you. We evaluate products independently. Commissions do not affect our evaluations.
What is Website Hosting?
First up, what is hosting? To put it simply, website hosting is a service which allows you to actually have a website and post things to that website.
Without hosting, your URL is just a URL that leads to a page that says something like "Sorry, this webpage cannot be found". With hosting, your website can be linked up to a users' computer through a server and the content of your site is delivered exactly how you have it in mind. Your computer user can now explore the realms of your website with ease (and hopefully, speed). Now you have an idea of what hosting is, it's time to answer the bigger question…
What is the Best Website Hosting for Photographers Using WordPress?
Now, this question is a lot trickier to answer. It's one which requires consideration of many factors. Also, as a photographer, you might want to know which website hosting is best for handling high-res images.
As a general rule of thumb, you'll want to consider the following factors when it comes to website hosting:
Reliable servers (with very little to no downtime)
Security features (such as SSL certificates, website backups, and network monitoring)
A responsive, and knowledgeable customer support service
Available features for your price point and any associated limitations
The overall cost of starting up and maintaining the hosting service (is the initial start-up fee low, but then renewal costs are high?)
Any additional features such as Email and eCommerce services
Now we've had a quick rundown of the basics, it's time to give you our list of the best website hosting services for photographers using WordPress.
Best Website Hosting Options for Photographers
1. Kinsta
Kinsta's initial price is a huge jump from average WordPress hosts, which probably has you asking, why is it on our list?
Well, there's quite a simple reason. Managed WordPress hosting. What does that mean, and what can it mean to you, a photographer looking for website hosting?
For starters, managed hosting makes your life a lot easier. It means that you don't have to scratch your head and figure out all the technical aspects of running WordPress, this hosting option does it all for you.
The service will carry out backups and updates, control security, optimize your speed and uptime. Basically, it keeps the gears well oiled, so you don't have to worry about it.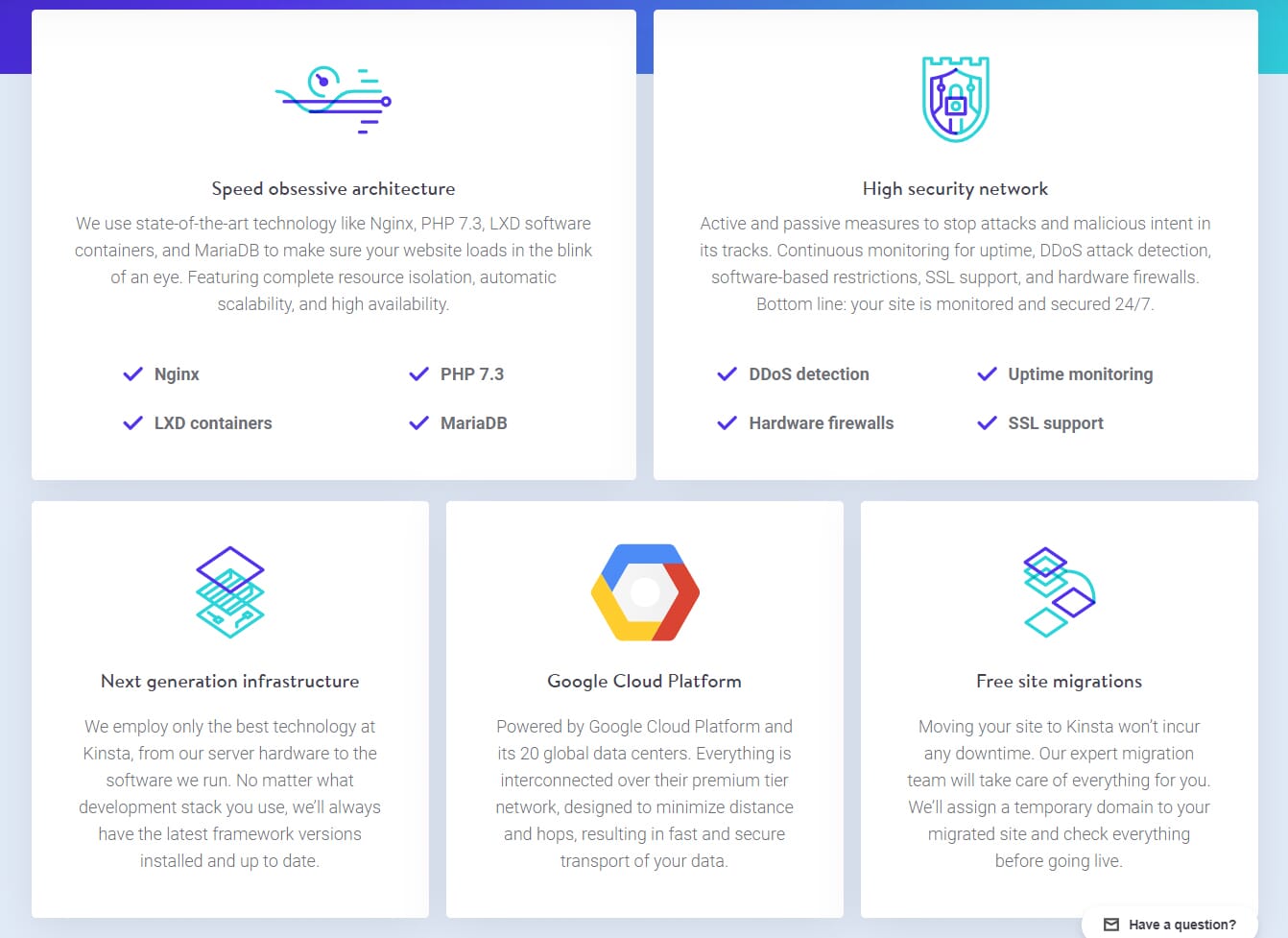 If you're looking for optimum site performance and have little experience, or don't have the time to learn this side of things, a managed hosting option, like Kinsta, is perfect for you. It allows you to focus all your energy on your business.
Pricing


Even though Kinsta is costly, it's pretty generous too. The reason I say this is that regardless of what package you're subscribing to, Kinsta offers the same features to all of its customers. The only real difference is the storage space available.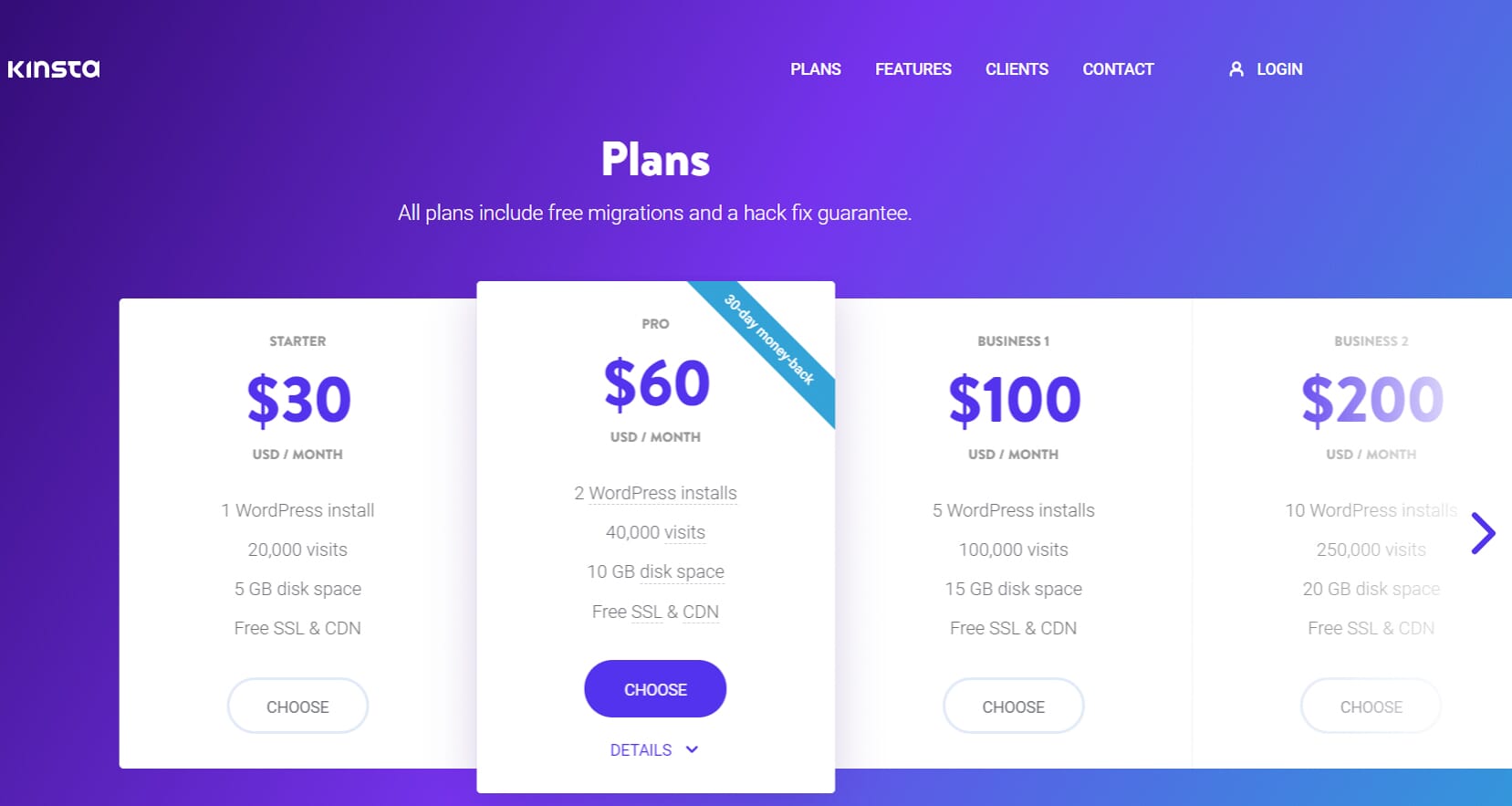 Kinsta offers a prepayment option which will get you two months free if you pay an upfront annual fee.
Server Downtime and Speeds
As you'd expect with these top website hosting options, the downtime on Kinsta's servers is negligible. And to help keep your uptime at its highest, Kinsta checks your site every 2 minutes to detect any faults and fix them before it impacts a significant amount of your users.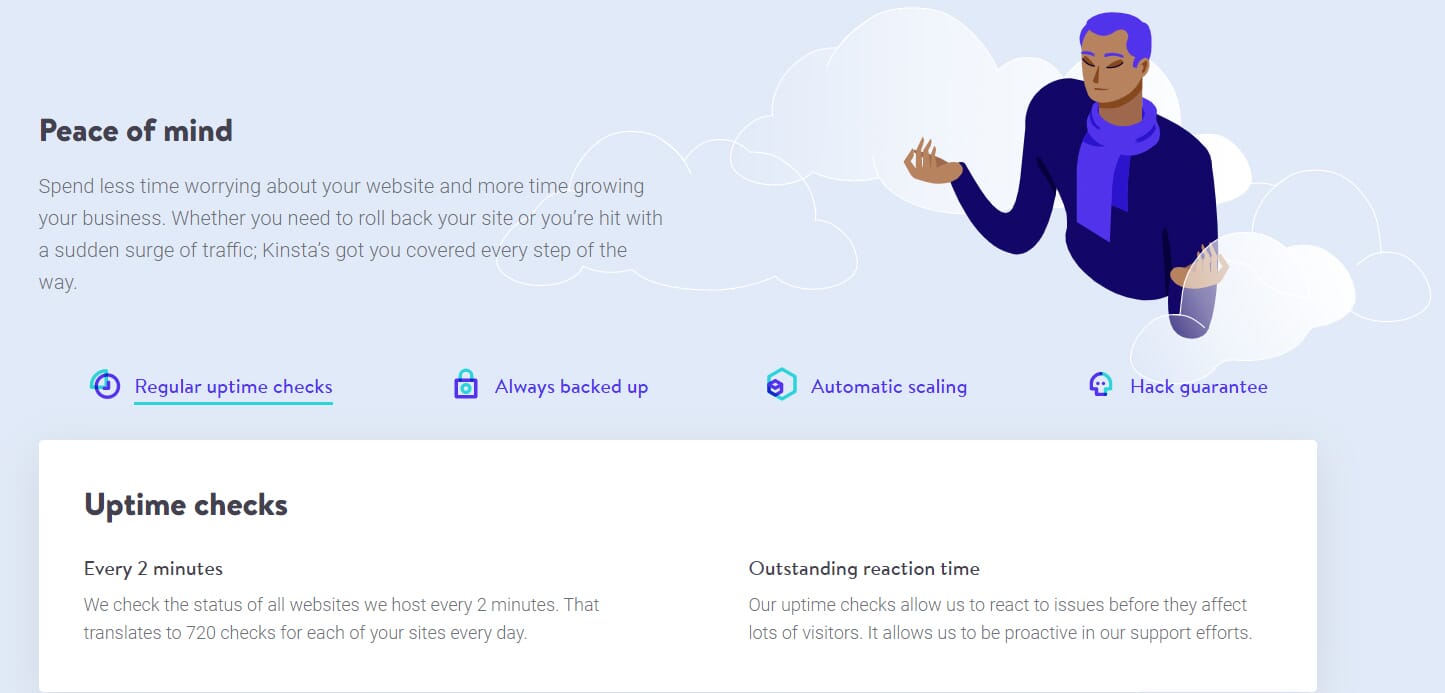 When it comes to speed, Kinsta offer speeds light years ahead of their rivals. That speed is all thanks to their strategic decision to use Google Cloud Hosting. Which gives them access to 20 Global Data Centers for the fastest response times. Add to that the free CDN that Kinsta offers to its customers, and you can be sure your site is speedy and responsive.
Installing WordPress
As you'd expect with managed hosting, setting up WordPress is simple. In fact, it's part of the sign-up process. You just check a box that asks if you want WordPress installing and hey presto, you're good to go!


Why Kinsta is a Good Website Hosting Option for Photographers
Kinsta is likely to appeal to those photographers who are really looking to make a significant profit from their photography business. Really, it's for high-end professionals with a lot of money to invest in a website. Their services will give your site the cutting edge. If you do your research well, then your fast site times and SEO optimized site will start getting a lot of traffic. You're going to have no issues with downtime or slow speeds because Kinsta will keep on top of it for you.

2. SiteGround

SiteGround really is quite a star in the world of hosting, which might surprise you given how low their prices are. They offer stellar service in all areas with a reasonable amount of flexibility. When it comes to the best website hosting for photographers, and in fact, all users, SiteGround really does steal the show.
Not only that, SiteGround is recognized and recommended by WordPress as a website hosting option.
Pricing
We did say SiteGround was cheap, and when you look at the prices, you'll see what we mean. Prices start from as low as $2.95/month for the first year before increasing to $8.95/month. Now, if we're being honest, that's a pretty small leap. With all that SiteGround offers, for these low costs, it most definitely deserves our praises as one of the best website hosting options for photographers.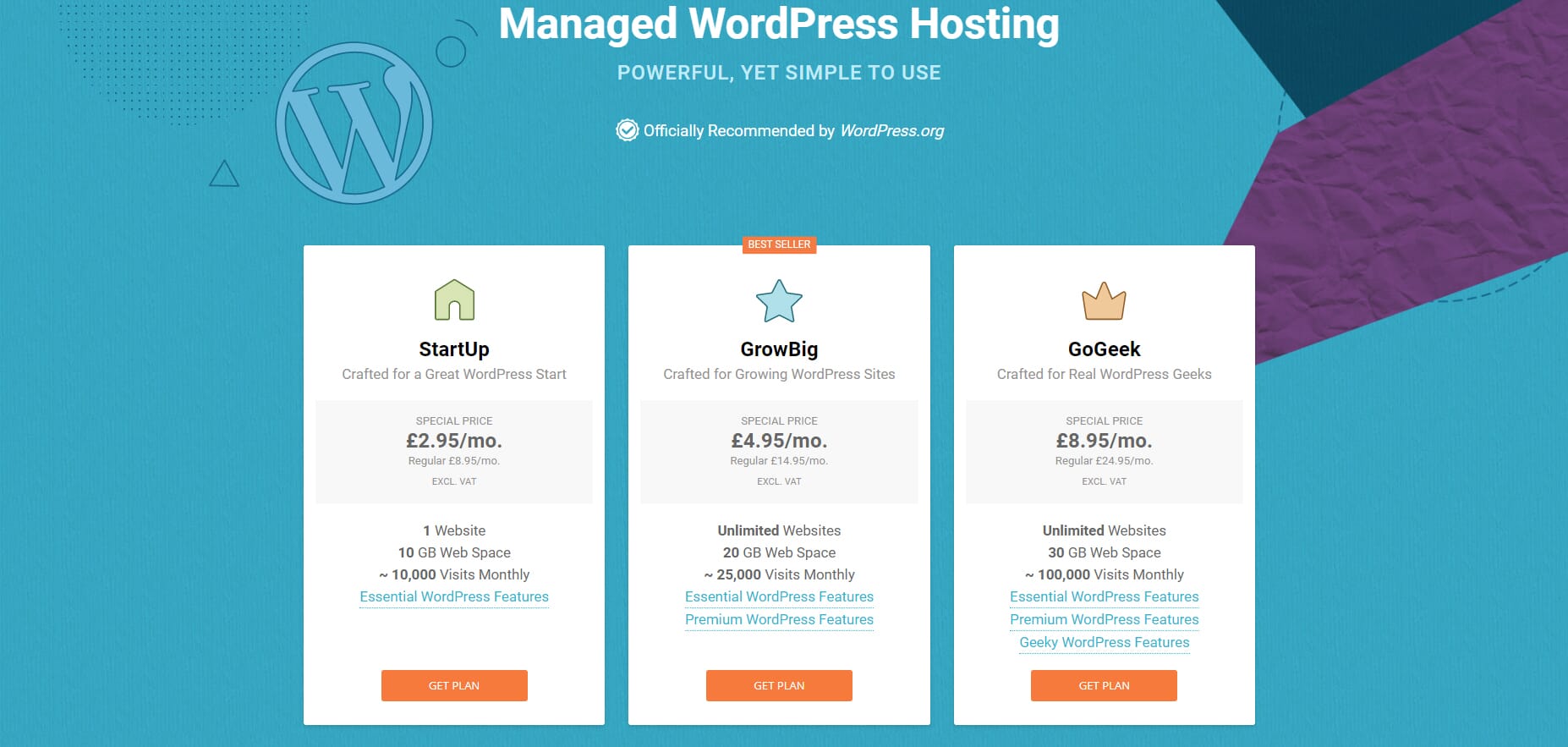 Server Downtime and Speeds
SiteGround promises a 99.99% Uptime, which means only 0.01% Downtime. That is pretty impressive in the scheme of things. We've previously used SiteGround and decided to switch hosting due to downtime issues, but we also know many users who have great experiences. Just know that results vary.


It's also fair to say that SiteGround is fast. They have all the elements in place to ensure your site is running at the highest speed. If you're still not satisfied with the standard optimized speeds, you can utilize their CDN option included in your price plan.


As a photographer, a CDN can be pretty helpful for handling those high-res images. It optimizes the images for the viewing platform, which makes for faster loading times.
For those new to site speeds, a fast loading site means visitors are much more likely to stay on your site and view the content. It also helps in terms of SEO.
Related Post: How to Start a Photography Business
Installing WordPress
When it comes to installing WordPress through your hosting platform, you ideally want it to be straightforward. With SiteGround, it is just that. Simply use the built-in WordPress installer and with a few clicks, you're all set up and ready to go.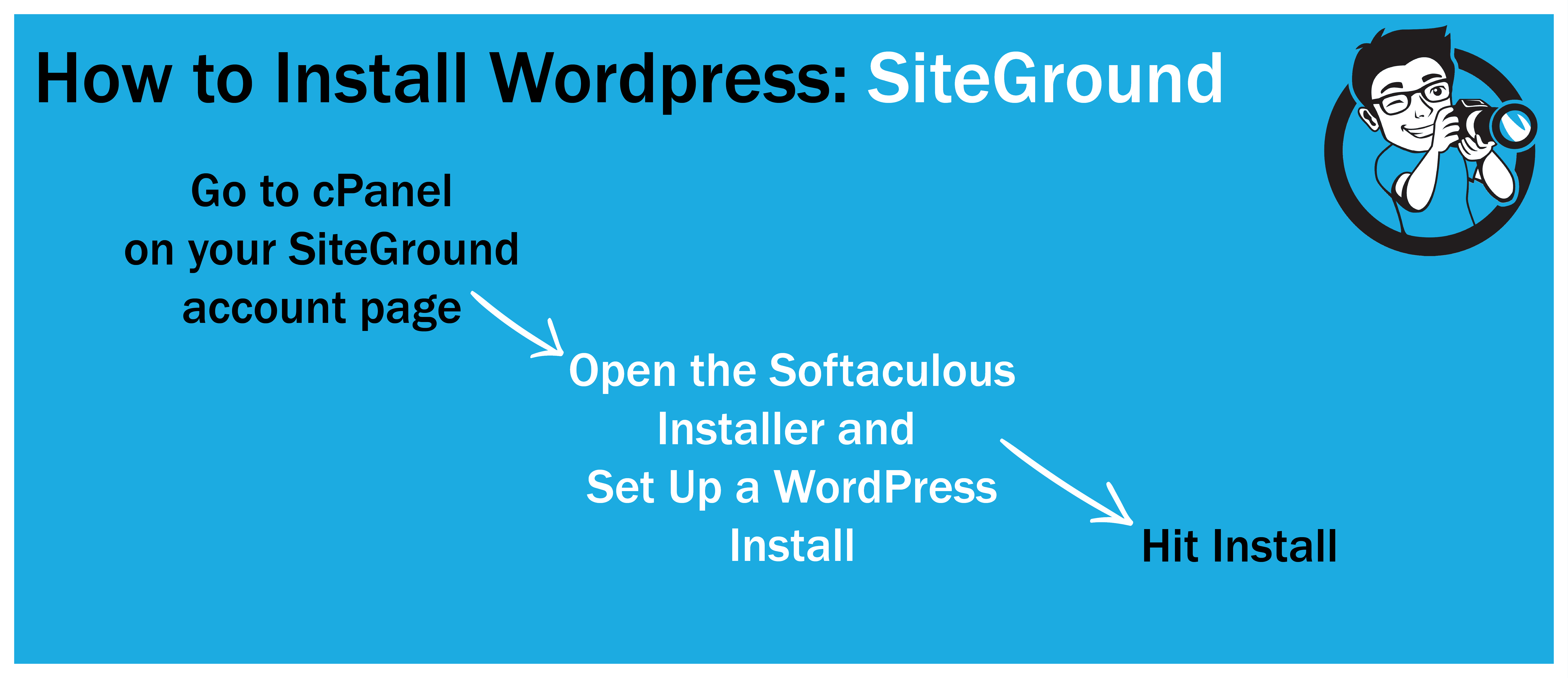 Why SiteGround is a Good Website Hosting Option for Photographers
SiteGround really sells itself well for photographers who are just starting out on a business venture or simply want a space they can professionally showcase their work. It's a great option if your budget is relatively small, since the hosting prices are low. Don't let such low prices put you off! The SiteGround support team are incredibly knowledgeable and will help you with any blips you encounter. Add the strong uptime and you've definitely got a winner.


3. WP Engine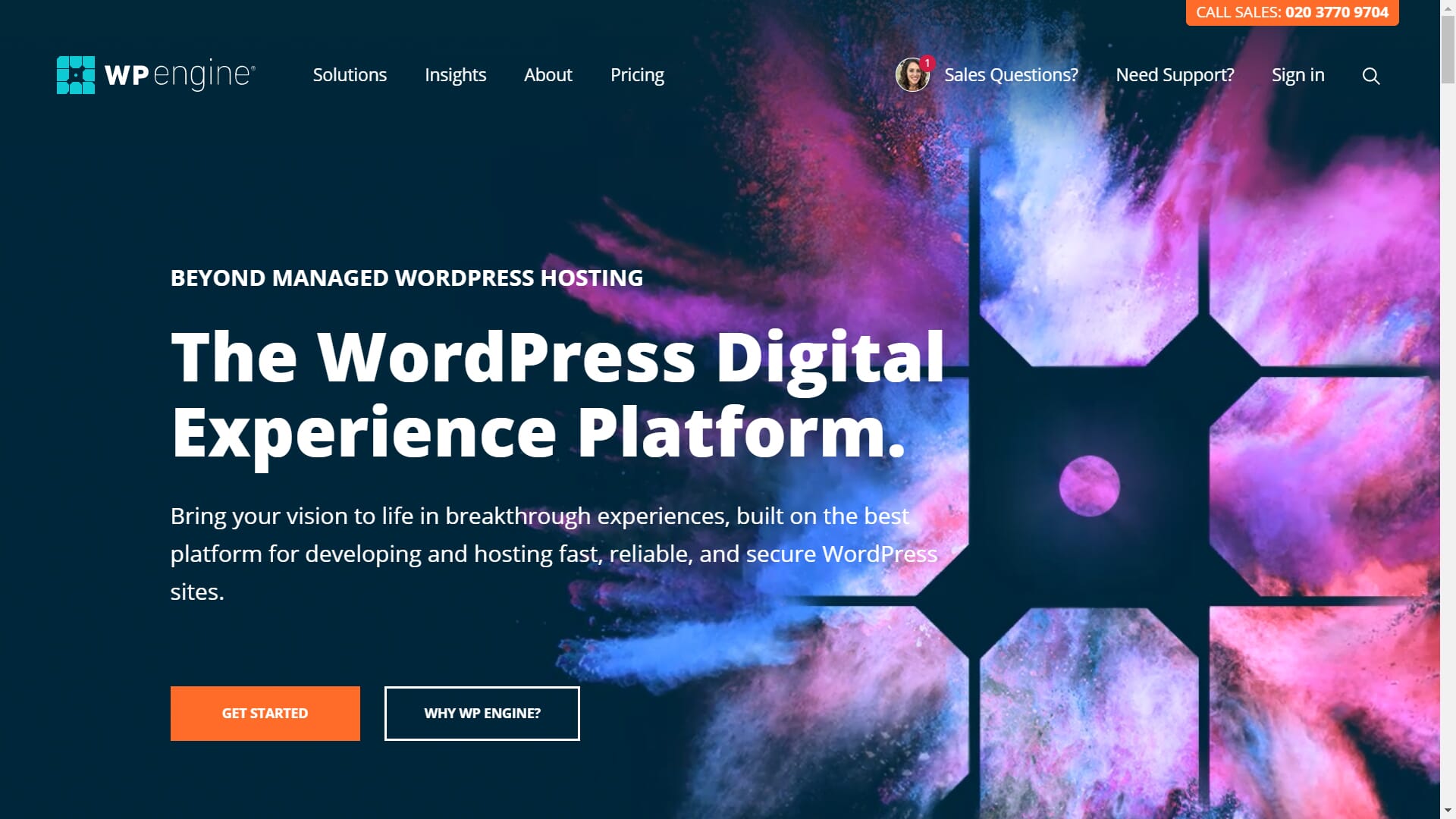 If you're looking for the first managed WordPress hosting option, WP Engine is just that. It offers virtually the same things as Kinsta as a managed website hosting platform. Given the name, it's pretty clear that WP Engine has always had WordPress in their field of view.
WP Engine markets itself as a Digital Experience Platform, rather than a managed hosting service. This Digital Experience Platform is based on four key blocks, as can be seen in this diagram taken from their site: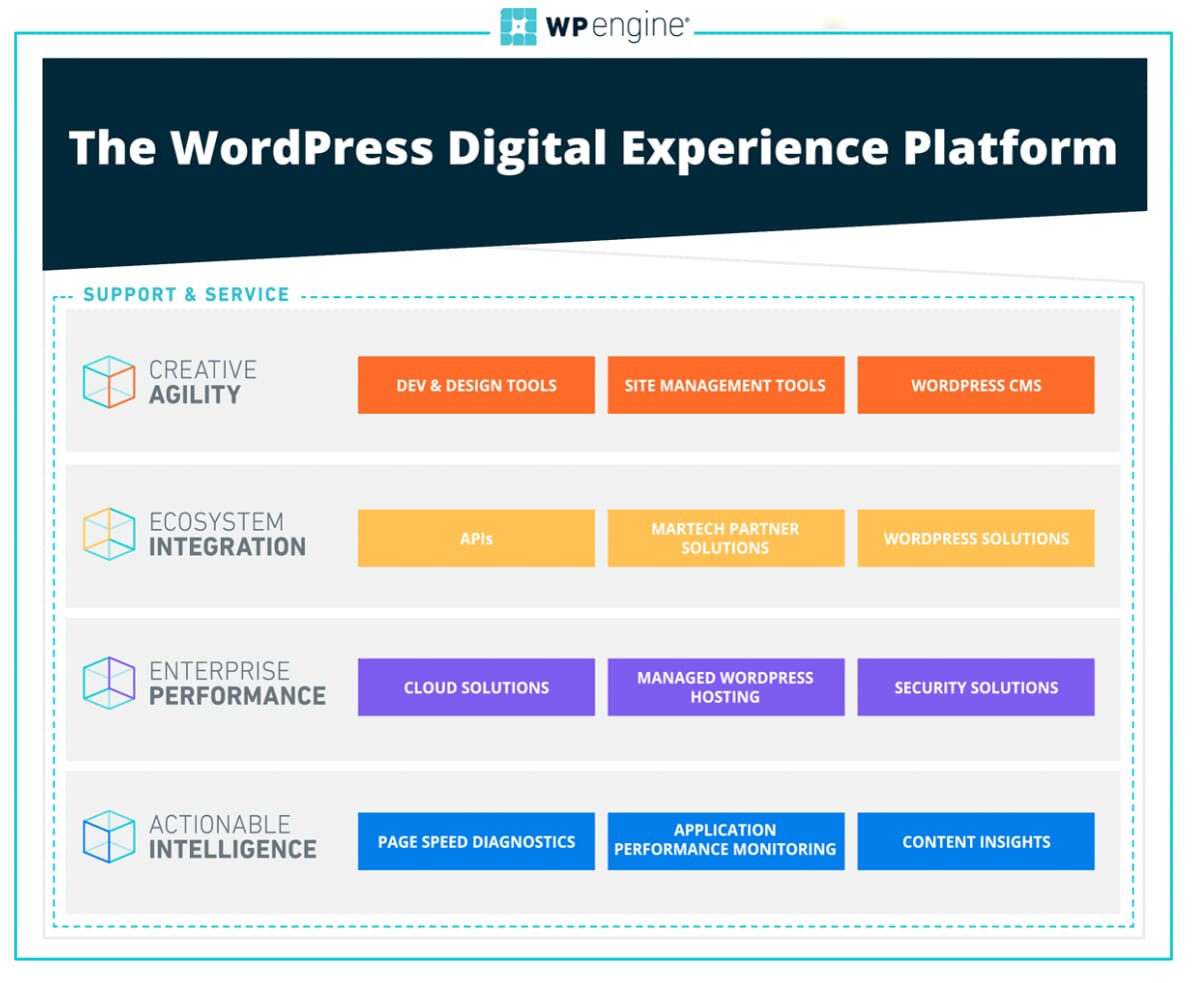 To get you started on a good foot and have a top of the line website from day one, WP Engine also gives you access to a range of Premium Themes and the Genesis Framework, which is great for building your website from scratch! This is something that puts WP Engine ahead of its competitors.
Pricing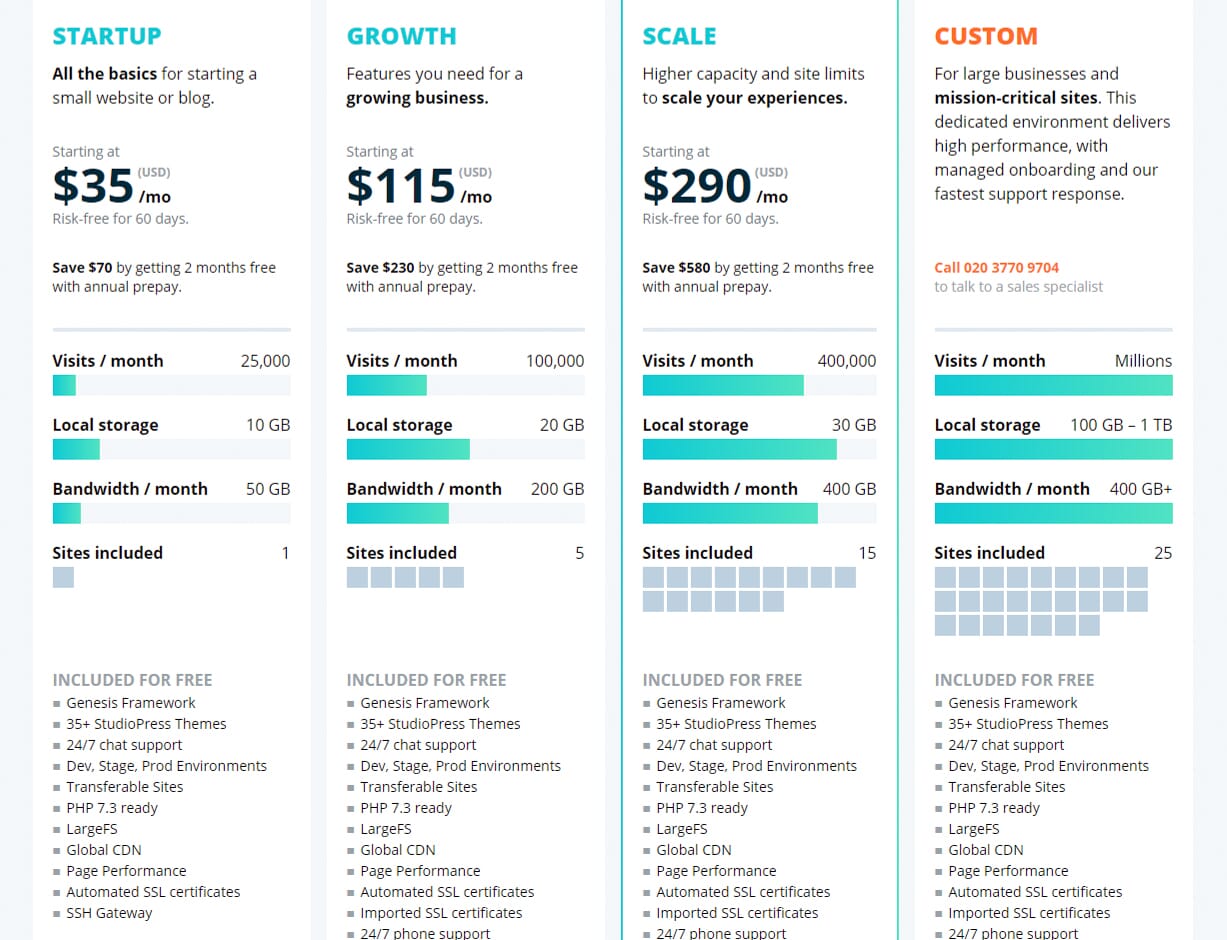 The price of WP Engine is almost on-par with Kinsta, though the price jump from the basic package to a premium package is larger.
Like Kinsta, WP Engine also offers a 2 months free option if you pay an annual fee upfront.
Server Downtime and Speeds
Again, this is another option with virtually no downtime. With WP Engine, you'll have a website that stays up and running, at least as far to hosting is concerned.
One area which puts Kinsta ahead of WP Engine is the fact that speeds are a fraction faster using Kinsta's website hosting platform. But we're talking fractions of milliseconds, so this shouldn't be too much of a big deal.
Installing WordPress
With WordPress basically in the name, would you really expect to have to do much in this department?
The installation of WordPress is a key part of your initial sign-up process, so you don't have to do anything to get your site up and running with WordPress.
All you do it wait for an email with your login credentials once you've finished signing up.


Why WP Engine is a Good Website Hosting Option for Photographers
With such a similar price point and service as Kinsta, WP Engine is targeting the same kind of audience. Choosing between the two could prove tricky. WP Engine is another hosting option that's going to appeal to professional photographers, maybe even people who already have a website set up and are looking to change hosting due to a significant profit and traffic increase. If you've got or are expecting heavy traffic loads, then the managed hosting options will give you the fastest service.
A distinguishing feature of WP Engine, compared to Kinsta, is the holistic Digital Experience Platform approach, which may be more accessible to those who are newer to digital businesses.


4. Liquid Web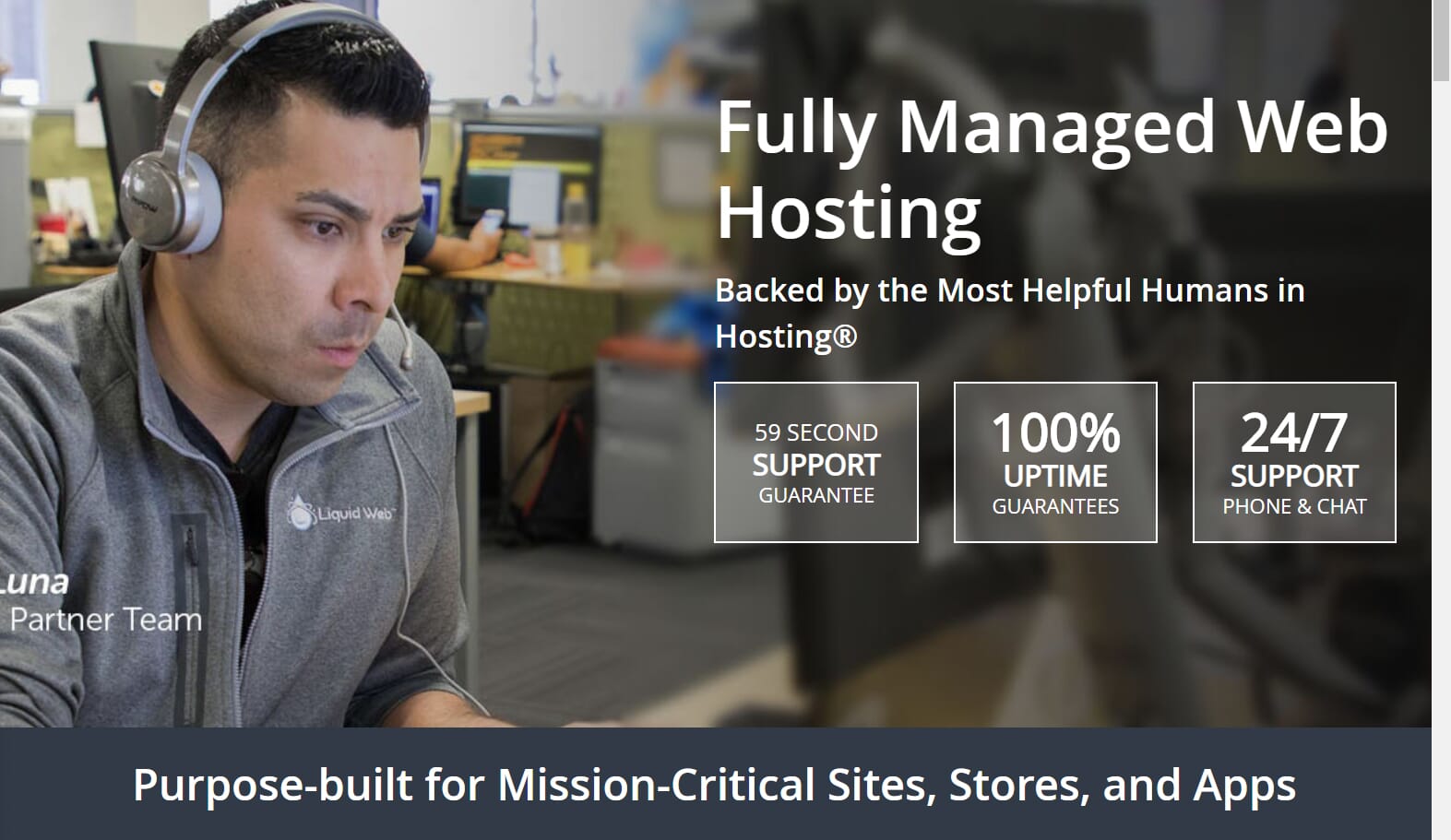 If you visit Liquid Web's website, there are several website hosting options to choose from. For simplicity and the average photographer in mind, we've decided to look at the Managed WordPress hosting option.
Something you might notice about Liquid Web is that they're not interested in limiting the number of page views, which is a big deal.
What it means is you don't have to worry about fees for surpassing your pageview limits, nor do you have to worry about access to your site being limited. So basically, your package choice really depends on storage space and the number of sites you're going to be using.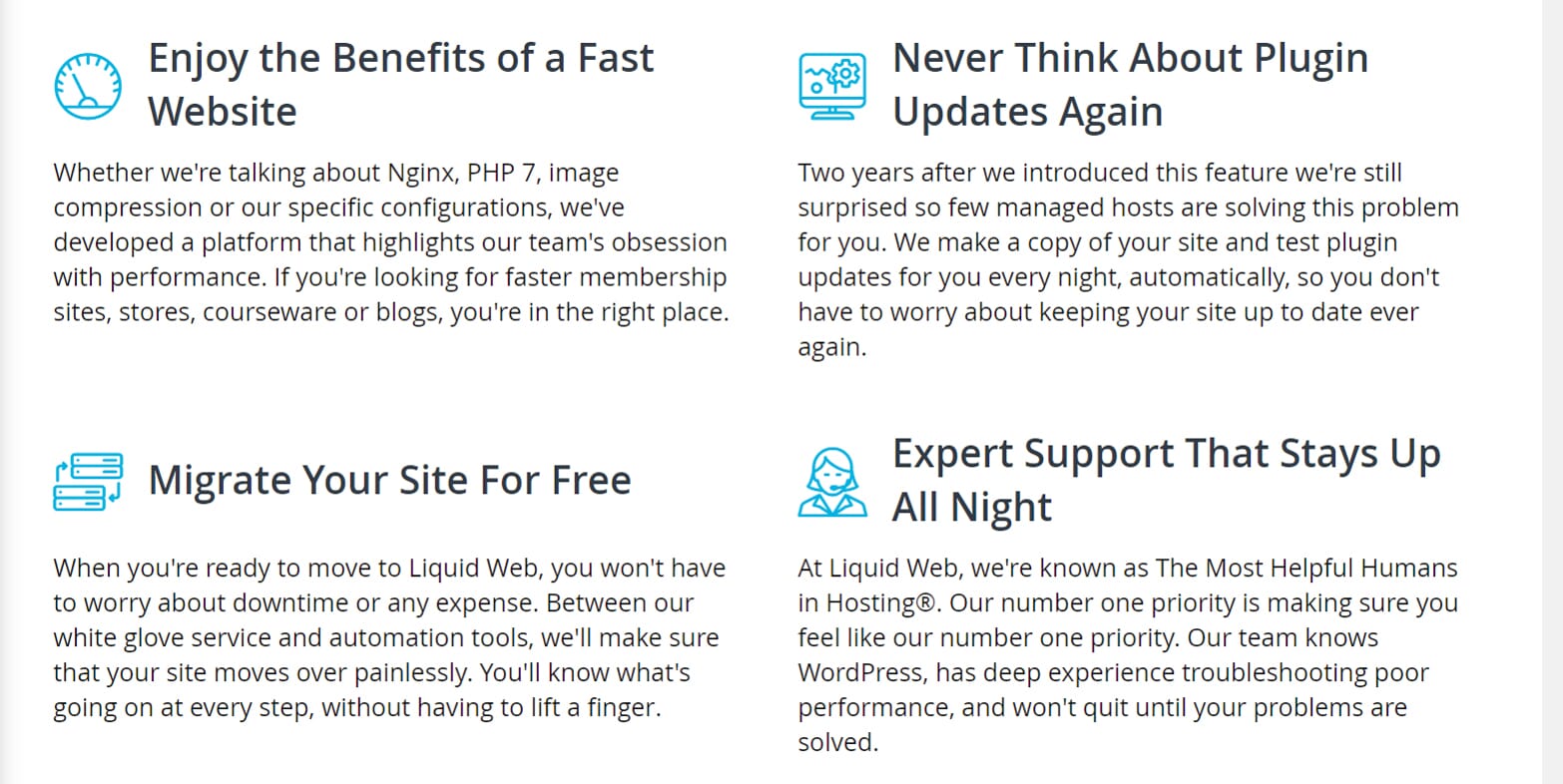 Another thing to note about Liquid Web is that they are known for, and pride themselves on, their expert support services. When you talk to the people at Liquid Web, you're talking to experts, they'll give you simple solutions, instantly!
With all this in mind, it's pretty fair to say, Liquid Web is one of the best website hosting options for photographers.
Pricing
Currently, Liquid Web has a promo code that will get you 33% off for 2 months of your subscription. If you wanted to just try out Liquid Web and see how it works for you, this offer (or any other upcoming offers) would be a good time to test the waters.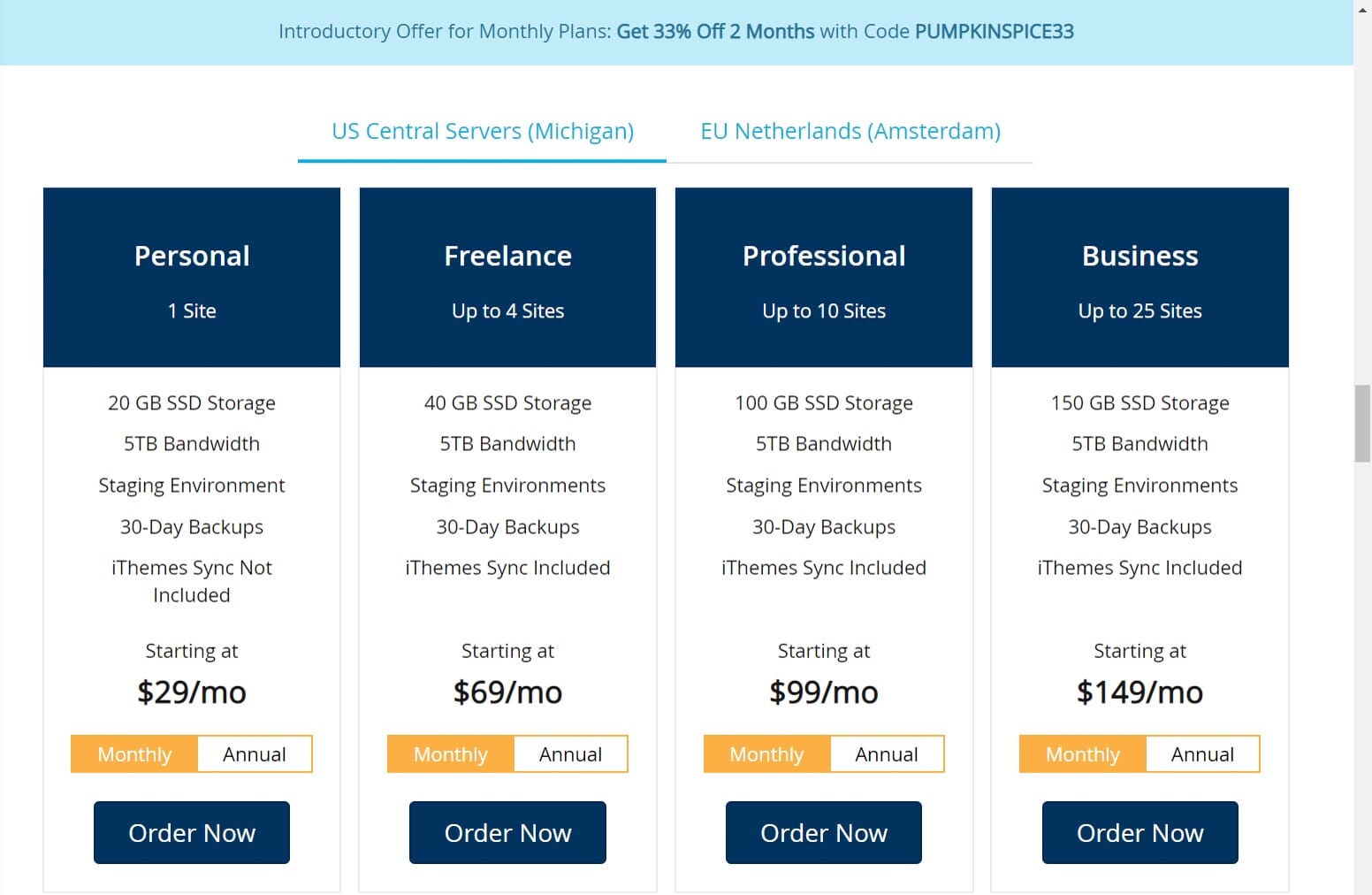 Without the discount, Liquid Web is just a small fraction cheaper than other managed hosting options. But given our previous praise of the lack of pageview limitations, it might be a better option if your audience is likely to fluctuate, or you're not certain how many visitors you're expecting.
Server Downtime and Speeds
Liquid Web has a 100% uptime guarantee, so you shouldn't experience any issues with downtime on the server's behalf.
The speeds you'd expect for Liquid Web are pretty impressive, too. With fast load times, even with high site traffic.
Installing WordPress
If you've gone with our recommendation, WordPress installation should be part of your sign-up process.


However, if you went for a different hosting option, then you'll install it through cPanel.
Why Liquid Web is a Good Website Hosting Option for Photographers
If you're starting a digital photography business but have the cash to spare, and a good growth plan, Liquid Web is probably the kind of hosting you're looking for. It's still managed, which means you don't have to dig too deep into the technical side of things. But without the pageview limitations, it allows you to experiment and monitor your growth without splashing out for a higher-priced package until you're completely ready for it.
The other great advantage Liquid Web has is their highly regarded customer support. For people new to starting up a website, this kind of support provides the necessary peace of mind and support whenever you need it.


5. HostPapa
HostPapa really does sound like your local pizza joint, and we're not exactly sure why. But don't let that put you off.
As a small business venture, you might prefer relying on other small businesses to get yourself up and running. So, how does HostPapa come into this? Well, while they're not exactly small, HostPapa certainly isn't as big as some other website hosting services mentioned above. They're a good middle ground. A middle ground with a stellar performance.


HostPapa really wants you to get things right, they want you to have the best experience setting up and running a website. They know it's not a smooth sailing ride, but they'll do anything they can to help you.
Their support team is available 24/7, 356 days of the year. Add to that the fact they offer support in four different languages and you can see how much effort they're putting in.
Pricing
HostPapa is similar to SiteGround in that its prices are low. If SiteGround isn't something you're interested in but you like the price, then HostPapa might be the alternative you've been searching for.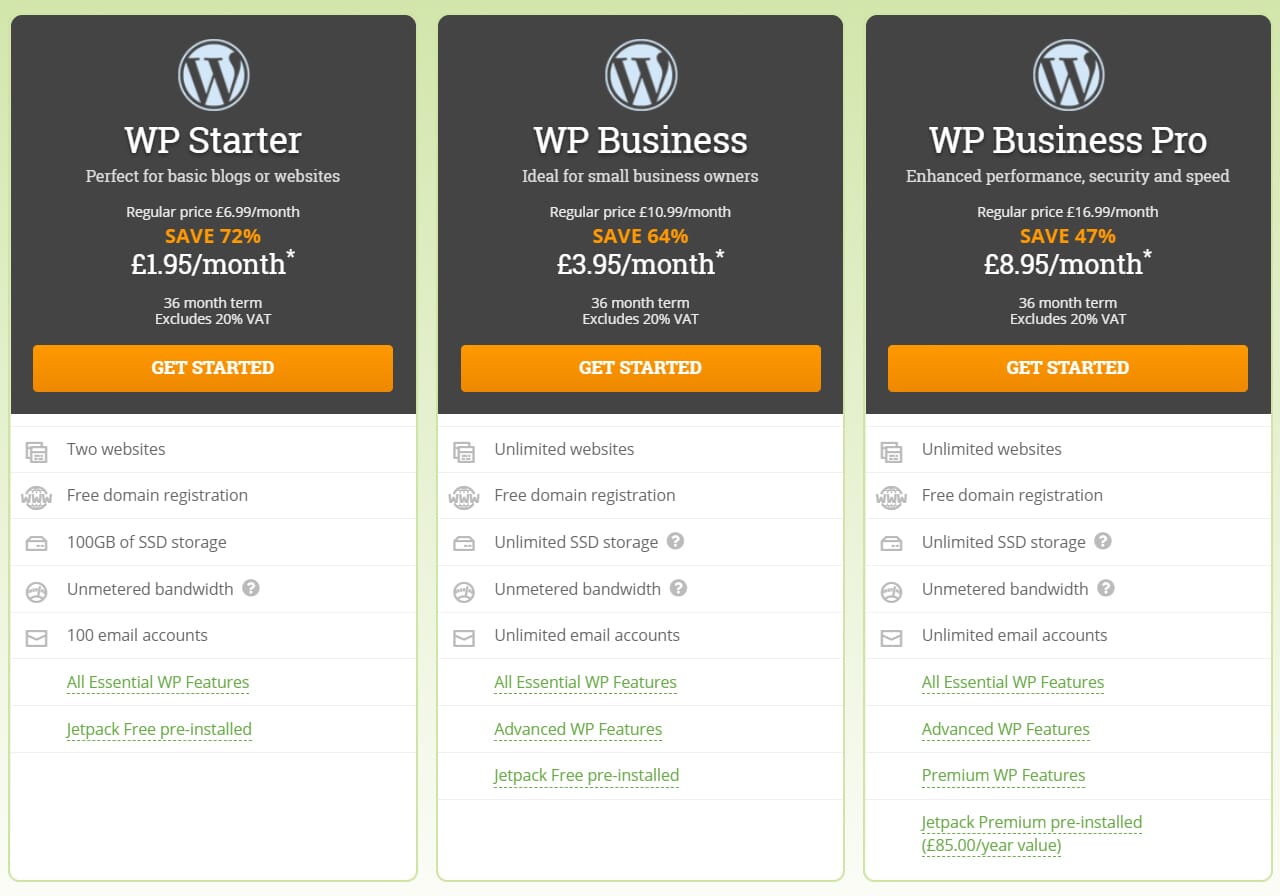 Something unique about HostPapa is that they also offer a ProPhoto package, which optimizes your site for ProPhoto and gives you access to the ProPhoto WordPress themes.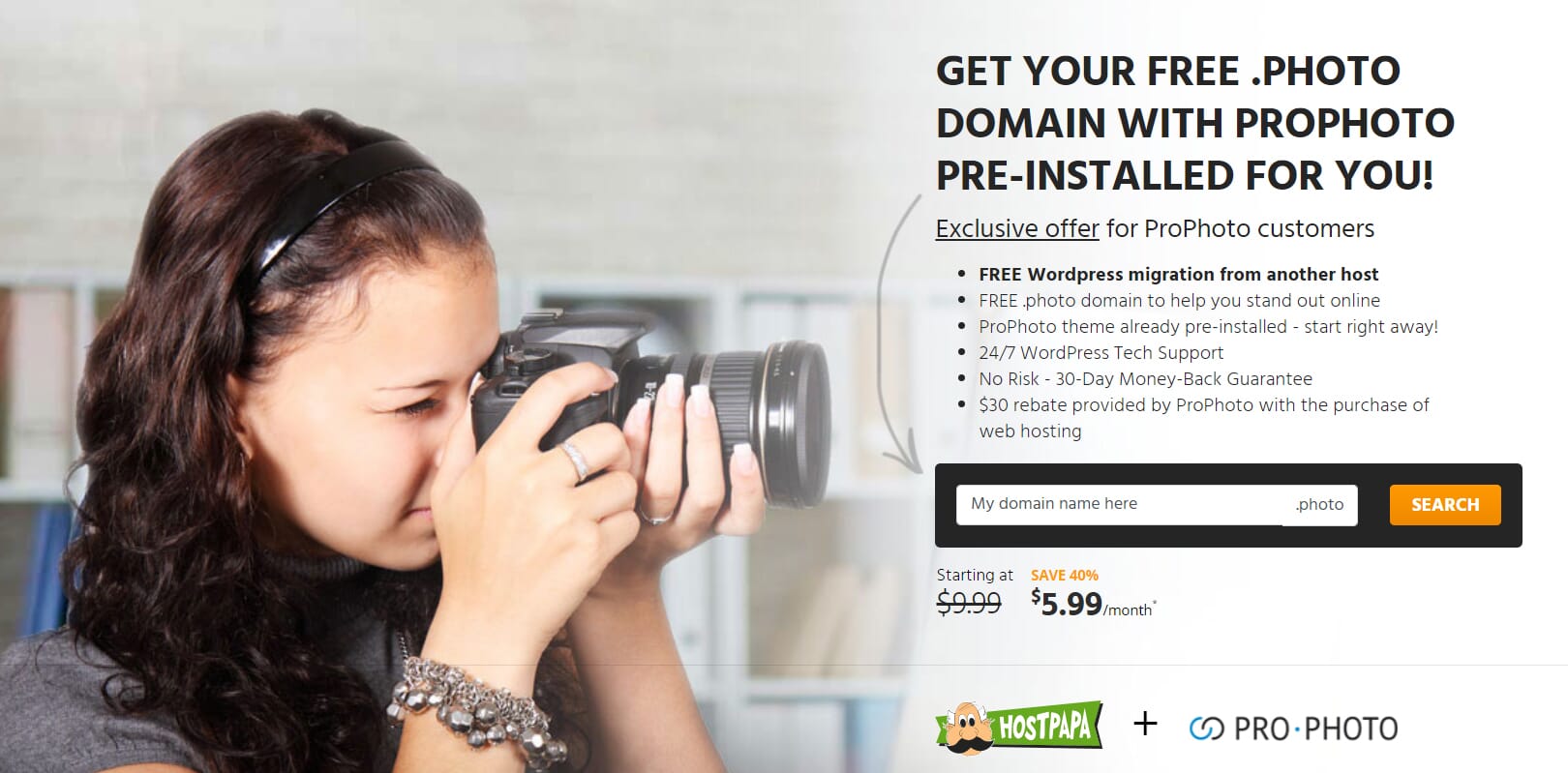 Server Downtime and Speeds
As you'd expect with a smaller company, there are some sacrifices in this department. However, they are marginal. HostPapa promises a 99.9% uptime guarantee. Sure, it's not 100% or even 99.99%, but it's not that much lower. If you do the math, that's 1 day of downtime per 2.7 years.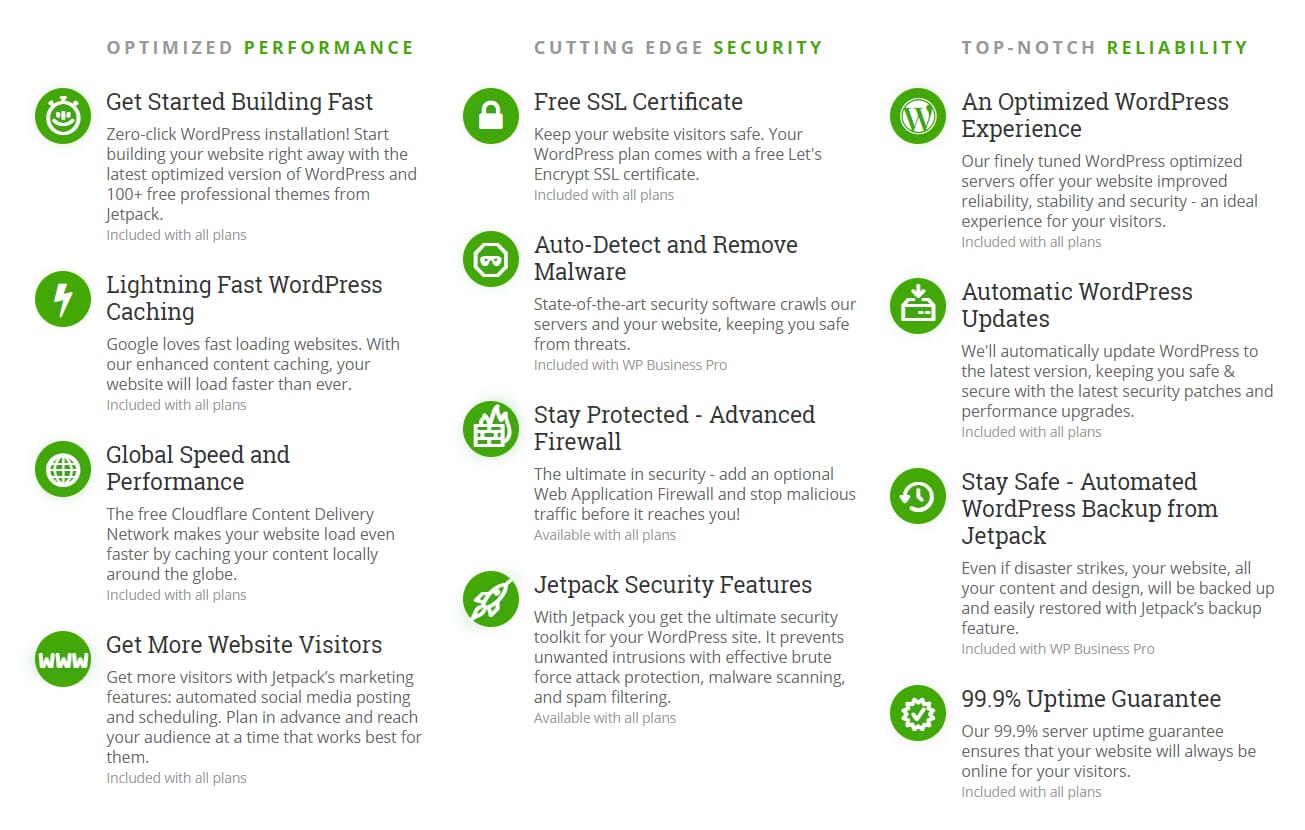 In terms of the server speeds, they're not too far from that of SiteGround, so there's not much to complain about really.
Installing WordPress
If you go for the WordPress Hosting plan, or the ProPhoto plan, then WordPress will be pre-installed for you. It's simple!


But if you opt for an alternative hosting plan, you'll need to install WordPress through cPanel. To follow a step-by-step guide on how to do this, read here. Note that if you've used cPanel before, it's the same process regardless of the website host! And truth be told, this process really isn't difficult at all.
Why HostPapa is a Good Website Hosting Option for Photographers
One advantage HostPapa has on the other website hosting options is their specialized ProPhoto package. If you want something specific for photography, HostPapa has it. And the price is also very reasonable. It's far less than what the managed hosting sites offer, and it's around the same benchmark as SiteGround.
Not only that, if you're feeling like you might need more support and guidance, then HostPapa is great for that, too. With their smaller scale and specialist support team, you'll have a positive experience from start to finish. In summary, if you're new to setting up websites and don't want to spend a ton, then HostPapa is perfect.


The Best Website Hosting for Photographers: Closing Thoughts
Now we've reached the end of the article, you should have some sort of idea of which hosting option is right for you. We've included a summary in the table below that runs over some key features of each hosting option.
SiteGround
– Low cost
– Fast load times
– 99.99% uptime guarantee
Kinsta
– High-end managed WordPress hosting
– Automated downtime checks and resolution processes
– Top-notch services to give your site the cutting-edge
WP Engine
– Holistic "Digital Experience Platform" approach
– High-end managed WordPress hosting
– Fast load times
Liquid Web
– No pageview limitations
– High-end managed WordPress hosting
– Highly regarded support
HostPapa
– Dedicated ProPhoto plan for photographers
– Low cost
– Small-scale hosting company
Once you've sorted out your hosting, it's time to pick a WordPress theme and get your portfolio on show. If you want to make sure that your website stays fast with high-resolution images, it might be worthwhile choosing a CDN to optimize your images.