New: Canon PowerShot Sx730 HS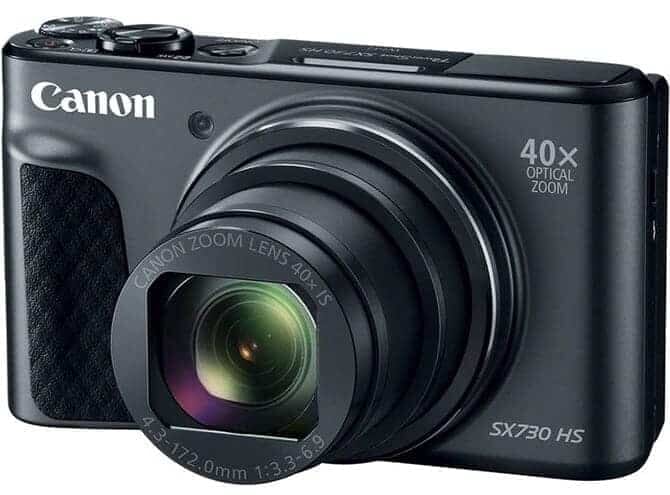 Canon today released the PowerShot SX730 HS.
This is stated to be an update of the SX720 HS, see details and ratings here (it was a very successful Canon model):
The USP of this new compact super-zoom camera is the optical zoom of 40x. That takes its coverage from 24mm all the way to 960mm in 35mm parlance.
It's aimed at smartphone users stuck with a fixed lens and an unreliable digital zoom that only pixelates the images rather than give optical zoom.
Cameras such as the PowerShot SX730 HS gives a powerful all round shooting option in a compact form.
The Canon PowerShot Sx730 HS falls in the domain of an already cluttered and very competitive compact super-zoom segment.
We have already seen 40x optical zoom (SX720 HS) and this is nothing new.
The New Canon SX730 vs. the SX720
So, let's find out what is new:
Sensor
The new super-zoom camera is packed with features. To start off the Canon PowerShot Sx730 HS is powered by a 20.3 megapixel 1/2.3″ CMOS sensor and a DIGIC 6 image processor.
The fixed lens has an optical range of 24 – 960mm (35mm format equivalent) which is enough to cover more than one football field length from one corner to the other. Along with the super telephoto range, the camera comes with Canon's Intelligent IS technology to give stabilized shots.
LCD Screen
The back of the camera is dominated by a 3″ tilting LCD screen that offers a resolution of 922k-dots. It flips out to work as a handy selfie-camera if you love taking images of yourself.
The tilting screen is the only major change compared to the older Sx720 HS. With this selfie-oriented LCD screen, the SX730 HS also gets two new shooting modes – the Self-portrait mode and the Smooth Skin mode.
Connectivity
Overall the other features remain the same as the older cameras. It also remains the same as some of the other compact super-zooms that Canon has in its line-up.
This includes built-in Wi-Fi and NFC.
Bluetooth and Geo-tagging being two new connectivity features on the SX730 HS.
Yuichi Ishizuka, president, and COO of Canon USA mentioned this when releasing the camera:
"We live in a very connected world and want to give people the power to zoom in from far away to capture amazing scenes from a distance, while also being able to share those images in real time".
The Canon SX730 HS will be available in June 2017 at an estimated SRP of 
$349.00
---
Note: Last Amazon.com Price Update: 2019-05-30 | Refer to our Affiliate Disclosure and Disclaimer.