When researching your photo printing options, it's easy to overlook iCanvas photo canvas prints. It just doesn't have the same clout as industry giants like Shutterfly and Snapfish. But, just because the print shop doesn't have the biggest following doesn't mean that it's unworthy of your consideration.
At PhotoWorkout, we like to explore every avenue available for tackling a problem or finishing a project. In that spirit, we reviewed iCanvas for ourselves. Well, for you really, but we had fun doing it.
iCanvas Photo Canvas Review
Image Quality

User Interface

Price

Delivery Time

Craftsmanship
Summary
iCanvas isn't the easiest website to navigate, and orders take a little while to make it to customers. However, their beautiful photo canvases made with specially formulated materials make any minor headaches worthwhile. What's more, their products come at a pretty reasonable price.
What does the iCanvas photo canvas have in store for you? Read on to find out!
When you buy through links on our site, we may earn a commission at no cost to you. We evaluate products independently. Commissions do not affect our evaluations.
About iCanvas Photo Canvas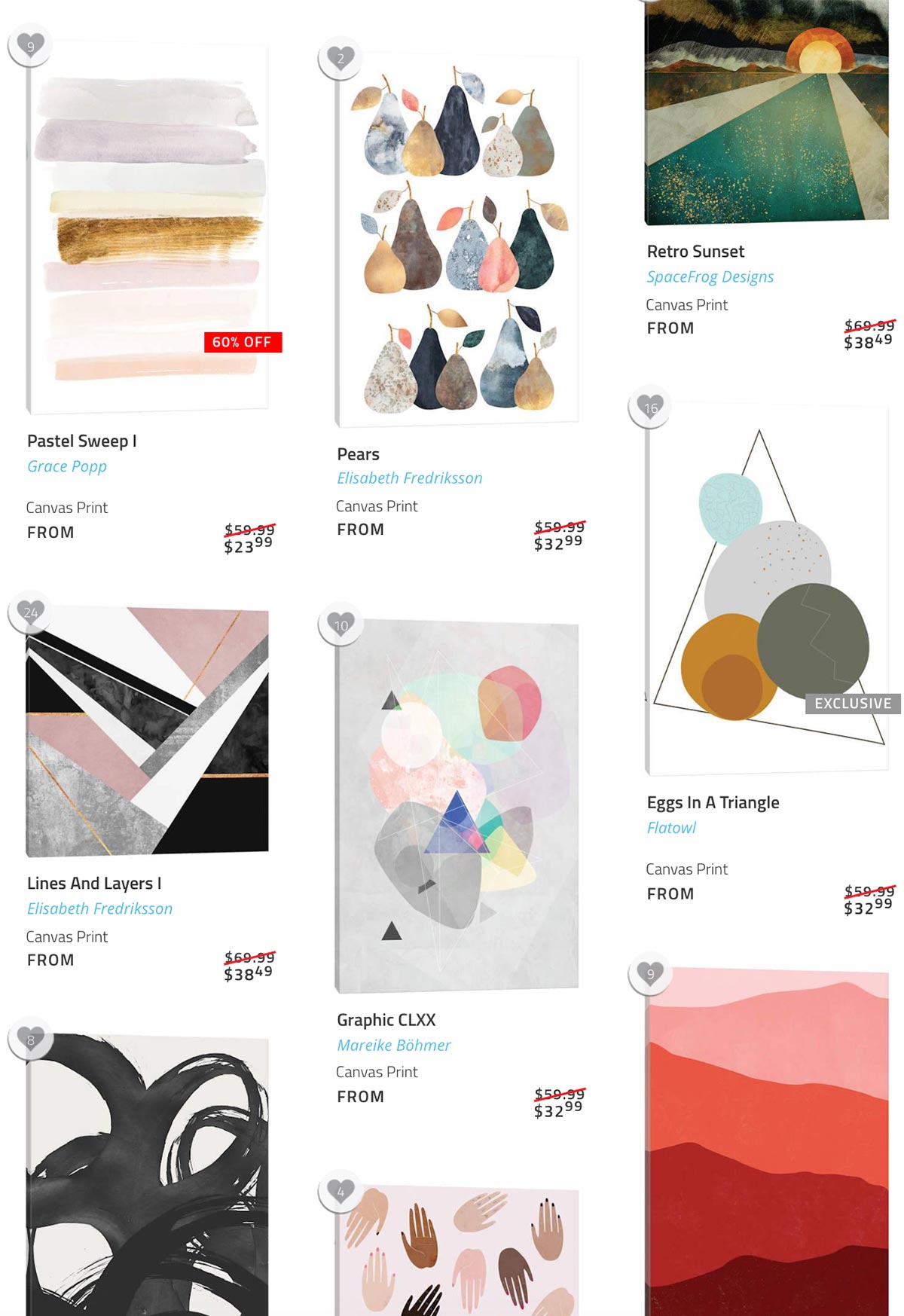 iCanvas has one core principle that propels its business:
Art should be accessible to anyone and everyone.
So, it's not especially surprising to find that each of their products is handcrafted and made to order. They value the unique specifications of each customer and strive to make prints that capture every individual's creative spirit.

So, why is it that they maintain such a low profile? The answer is actually pretty simple.
Most of their business revolves around selling pre-existing licensed artwork to corporate clients. They supply decor for everything from dentist waiting rooms to restaurants to office buildings. But that doesn't mean the company can't process custom photographs just as well.
As a matter of fact, iCanvas maintains positive feedback from a number of review sites. We've even included iCanvas among our top canvas printing services. While there are a few areas that could use improvement, this unexpected vendor largely impressed us.
The Pros and Cons of iCanvas Photo Canvas
Strengths
Photographer-Friendly Design
My first impression of iCanvas' interface was that it seemed sterile. Styling choices initially seemed a bit bare-bones, which gave me the impression that it wouldn't have much to offer serious photographers. However, as many of us know, straightforward and simple systems are often the most effective.
It's important to keep in mind that iCanvas isn't oriented toward photographers the same way that competing services are. Instead, it primarily focuses on printing from its pre-existing art archives. So, it took a minute or two to find the "custom" print option, which allows users to upload personal photographs.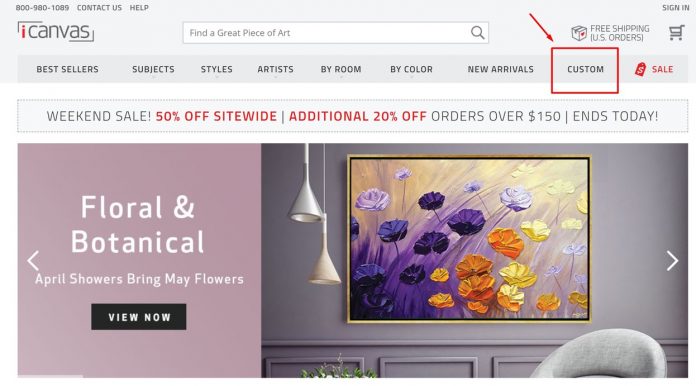 (Hint: It's on the far right of the menu bar at the top of the page. You can see it outlined in red in the image above.)
Once I made it to the custom canvas page, I didn't run into any snags uploading images or placing an order. While there could be more in terms of customization tools to add any finishing touches, I can't complain. Though it's far from having the flashiest web design, it's intuitive and easy enough to use for photographers of all experience levels.
High-Quality Materials
One aspect that shouldn't be glossed over is the attention that goes into making each iCanvas photo canvas. The company takes special care to use high-quality materials that produce attractive, long-lasting products.
Every iCanvas photo canvas print uses a poly-cotton blend fabric designed to get the best-looking images possible. The cotton absorbs the ink to produce deep, rich colors and tones. Meanwhile, the polyester provides a sharp finish and vibrant details
To top everything off, iCanvas prints come with a water-resistant finish. This makes it possible to wash and clean your canvas should the need arise.
From there, images are stretched over kiln-dried pine frames. These frames are entirely devoid of moisture, meaning that they won't shrink or warp with the passing of time. Unfortunately, the same cannot be said of the inexpensive composite lumber blends other canvas manufacturers often utilize.
RELATED POST: Reviewing the CanvasWorld Photo Canvas
When the print made it to my doorstep, I was a little bit confused by some bits of plastic along the frame's inner corners. However, I quickly learned that this unique addition isn't a sign of poor craftsmanship. Rather, these pieces act as stretcher wedges, which can be adjusted to keep canvases taut. Here they are in action: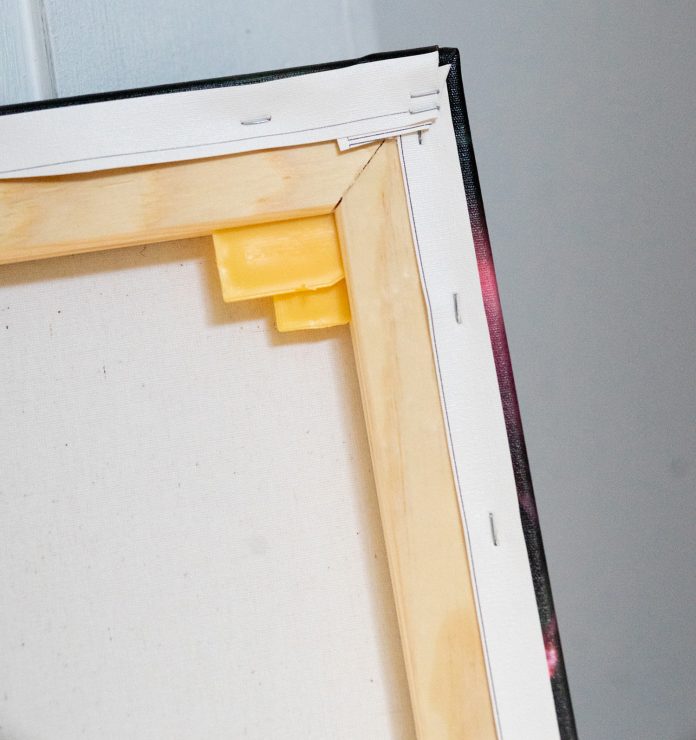 Best of all? The iCanvas website includes a comprehensive canvas care guide to keep your product in the best shape possible. Whether you're researching how to mount your piece or looking into fixing a crease, iCanvas provides comprehensive answers to common customer issues.
Related Post: Best Printer for Art Prints
Affordable Pricing for All
As mentioned earlier, iCanvas makes a concerted effort to make art accessible. The truth is, price is a major determining factor in a product's accessibility. That said, they do a pretty good job of living up to their mantra by keeping prices consistently low.
Initially, the regular iCanvas base prices may seem a bit high. However, the site often employs sales that essentially slash prices in half. For reference, I was able to pick up my 18″x26″ canvas for just $45. Prices do fluctuate depending on what promotions are running at any given time, but it's really not difficult to find a good deal.
To make things even easy, iCanvas accepts most major credit cards as well as PayPal. In addition, all US orders include free shipping. That means no surprise fees when you head to check out!
Weaknesses
Clumsy Customization
Unfortunately, there's not a whole lot of room to color outside the lines with iCanvas photo canvas. As I mentioned before, there's a distinct lack of editing options available. One of the biggest detractors, however, is the site's inability to input custom sizes.
Normally, this wouldn't be much of an issue. But iCanvas only offers five aspect ratio options in traditional horizontal and vertical orientations. Though there are square and panoramic options available as well, iCanvas is at best limited for those seeking a certain size.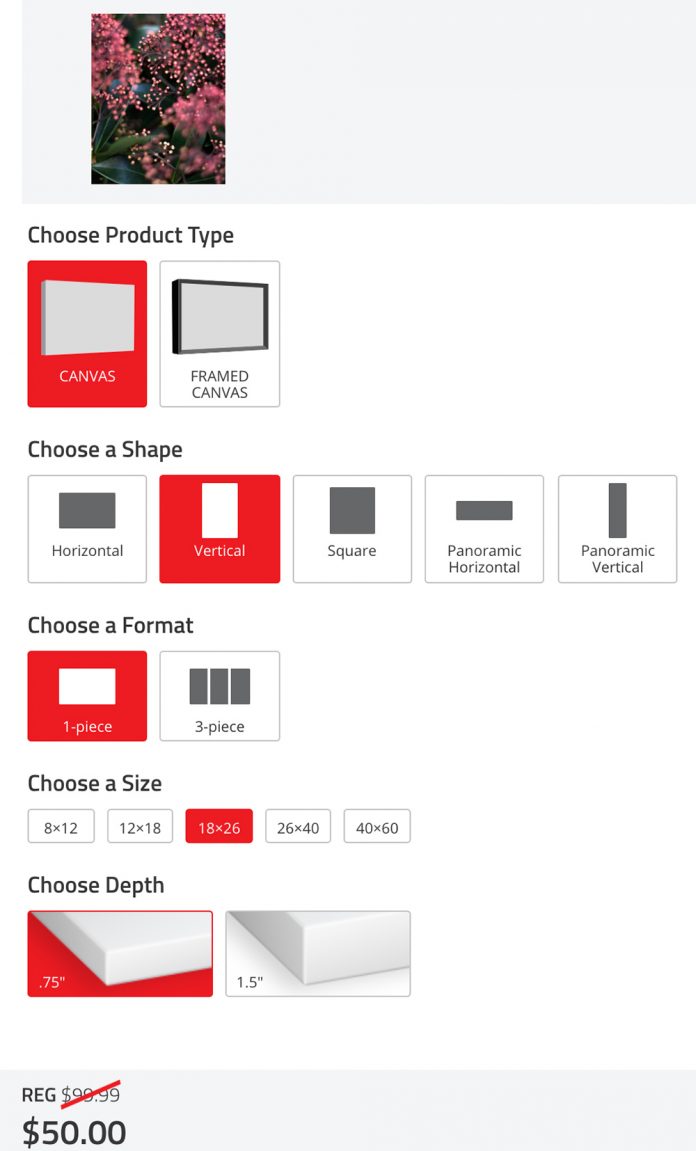 Another design flaw is iCanvas' lack of live preview. You can't shift your photograph's position on the canvas or zoom in or out of the composition, which proves to be problematic with the site's stringent sizing requirements. While I generally feel that excessive editing features aren't exactly necessary for a service specializing in prints, the lack of control here seems like a major oversight.
Considerable Wait Periods
There's a lot that we love about iCanvas. But, unfortunately, they can't work their magic overnight. Customers shouldn't wait until the last minute to submit any time-sensitive canvas orders. You can almost certainly expect some wait time between production and shipping.
According to the website's FAQ section, it can take up to seven days for iCanvas to create and assemble an original piece. In addition, it can take an additional eight to twelve days for packages to arrive through free standard shipping. While some customers may not have to pay for shipping, they'll have to "pay" by waiting up to two weeks for delivery.
However, it's worth noting that not everything iCanvas does is at a snail's pace. To show that they are in fact processing incoming orders, they go through the trouble of sending proofs within 24 hours of placing an order. In my case, it only took about 45 minutes for a representative to get in touch with a preview of my piece! 💪🏼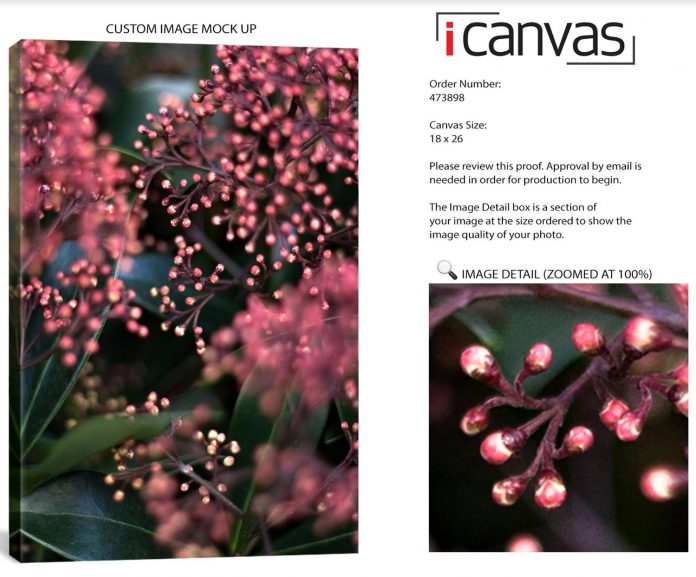 My iCanvas Photo Canvas Experience
Over the course of my research, I encountered both positive and negative attributes concerning iCanvas' service. So, I was eager to see how that would translate into my personal experience with the company.
As I already mentioned, navigating the website and getting through the ordering process was as painless as could be. The wait for my product was longer than I initially expected. But, to be fair, it was still well within the 15 to 19-day waiting period listed on their website.
When the package did arrive, I was pleased to see the canvas was well protected to prevent any sort of damage en route. Having ordered about a dozen canvases for past reviews, a fair number have arrived with scratches, creases, or dents. Seeing that everything is in good condition and in one piece is almost always a sign of good things to come.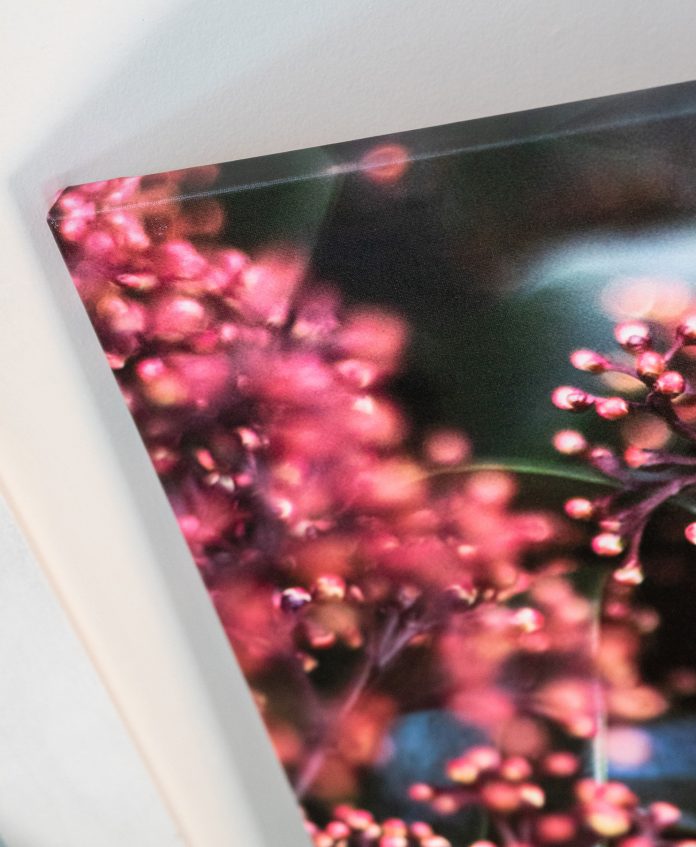 After examining the overall condition of my print, the next thing to really grab my attention was the vibrant color. Though I had read about iCanvas' materials ahead of time, my canvas proved that the company goes above and beyond to provide the best-looking results possible. I have no doubt that the fade and water-resistant Epson inks used to print played a significant role in the quality of my purchase.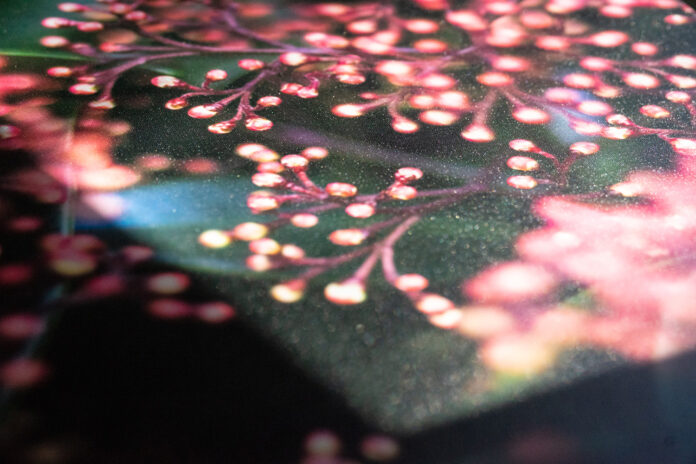 The color wasn't the only aspect that impressed me, though. ICanvas also did a phenomenal job handling the transitions between the sharp and blurred areas of my image. It really did the bokeh effect I used to photograph this flowering bush the justice it deserved.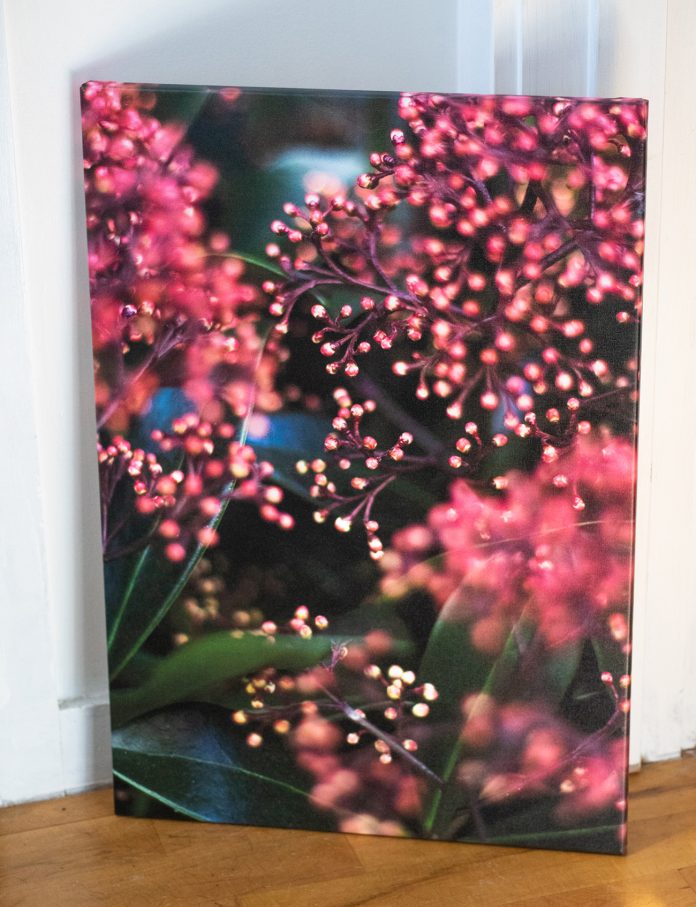 Once I received my iCanvas photo canvas, I found out one last added bonus. Every purchase comes with a 60-day return and exchange policy (just in case there are any potential issues to rectify).
However, I'm happy to report that at no point was I tempted to take iCanvas up on that offer!
Our Verdict on the iCanvas Photo Canvas
I didn't know what to expect from my iCanvas photo canvas, given the mixed results my research yielded. Now that I am seeing the end product in the flesh, I couldn't be happier! This canvas really surpassed my expectations.
iCanvas may not be the most obvious choice, as it doesn't have the notoriety other services have. Nevertheless, it's a safe option to go with if you're looking for a gorgeous piece to liven up a room.
Whether you're looking to buy art from others or print photographs on your own, this is one name that you'll want to keep on your radar.