We all know that Apple's upcoming ARM chip is going to change how Apple is going to make its popular Mac devices. So far they have been dependent on Intel and QUALCOMM for their chip requirements. But all that is going to change. As soon as the end of the year. Apple's new ARM chip is likely going to find its way into iMac before it does to any other Mac device.
There are going to be significant advantages when Apple does that finally. The ability to completely control the hardware and the software processes thereby bringing in their exceptional prowess designing the operating system and controlling the seamless integration of a chip that's made by Apple for iOS, Apple will finally be able to produce the perfect synergy of hardware and software. Something that they are already doing for their iPhone range for the past few years.
All the more reason if you are looking at a time frame of three to six months in order to upgrade your iMac. Or jump from Windows to the Mac environment for all your photo editing needs.
In other words, Apple is promising faster and much smoother performance compared to its Intel-based Macs. With the promise that they will consume less power while continuing to deliver industry-leading performance.
Here, however, we are concerned only with photo editing and video editing performance. And in that regard the iMacs that are already on sale in 2020 are worth the look if you are in the market looking to upgrade now. After all the current crop of 2020 iMacs are no pushovers. The best iMac for photo editing is the 3.6 GHz 10-Core 10th-Gen Intel Core i9 processor with turbo boost up to 5.0 GHz.
27-inch iMac 10th Gen Core i7 3.8 GHz 8-core 5K Retina Display (Our Pick)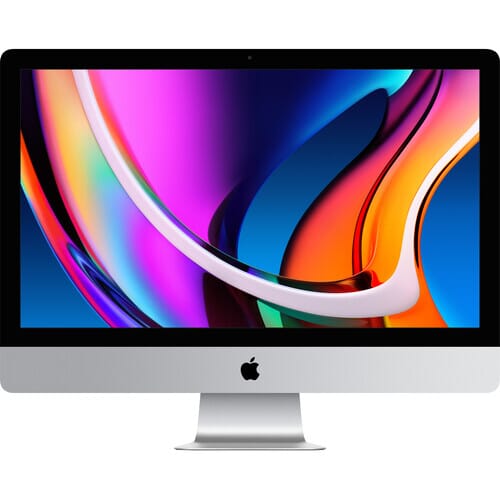 Best of the Best
Option to upgrade to Core i9. Comes with the option to add Nano-texture Glass.
Among the 2020 iMacs on offer the first one that we consider to be one of the best in the business, in other words, the best iMac for photo editing is the 3.8 GHz 8-Core 5K Retina Display.
This beast of a computing device is powered by Intel's 10th Gen Intel Core i7 processor. The 8-Core processor has a base clock speed of 3.8 GHz but can be boosted up to a maximum of 5.0 GHz.
Memory is powered by 8 Gigs of 2666 MHz DDR4 memory.
Graphics is powered by Radeon Pro XT with 8 Gigs GDDR6 RAM.
Storage is 512 Gigs of NVMe SSD.
Well, that's the base configuration. You can go overboard if you want to. Stuff like storage and memory or processor speed is something that remains fixed over the course of the iMac's lifespan. Or, if you plan on adding more computing power to your iMac, you might as well do that right now.
Such as you may choose to upgrade the processor to the 3.6 GHz 10th Gen 10-Core Intel i9 with a turbo boost up to 5.0 GHz. Then add 128 GB of 2666 MHz DDR4 RAM instead of the 8 Gigs that comes as a standard option.
Also, you can bump up the storage to make it a maximum of 8 TB SSD. Therefore leaving you with enough room for days of footages or working files on your local storage.
Now about the upgraded versions of this iMac. First of all the display option. The base variant comes with a standard glass option. You could, however, opt for the extremely useful, Nano-texture Glass option or your display. For an extra payment of course.
Nano textured Glass debuted with the release of the 6K Pro Display XDR back at the end of 2019. It was nothing like we had seen before. Which is an understatement. With a premium of a thousand bucks that display was the envy of the market with its proprietary light scattering technology.
That display was made to perform at ease in the most difficult of lighting conditions. And it does a fantastic job of it by scattering light without the obvious disadvantages of a regular matte coating.
What's even more interesting is that this special glass covers not only the entire area of the screen but also the bezels. This means now nothing bright in the background will have an impact on your display. Not even a faint one. Its miles ahead of the other display types and head and shoulders ahead of even Apple's other popular displays.
Even the base variant starts with 8-Core 10th gen Intel Core i7 processor
You can upgrade it to the Nao-textured Glass display option
27-inch is the best display size for 5K retina.
The base variant comes with only 512 GB storage. Not much.
Base memory is again on the smaller side. You need at least 16GB
The waiting time in some markets is in excess of 2 weeks.
27-inch iMac 10th Gen Core i5 3.3 GHz 6-Core 5K Retina Display (Also Great)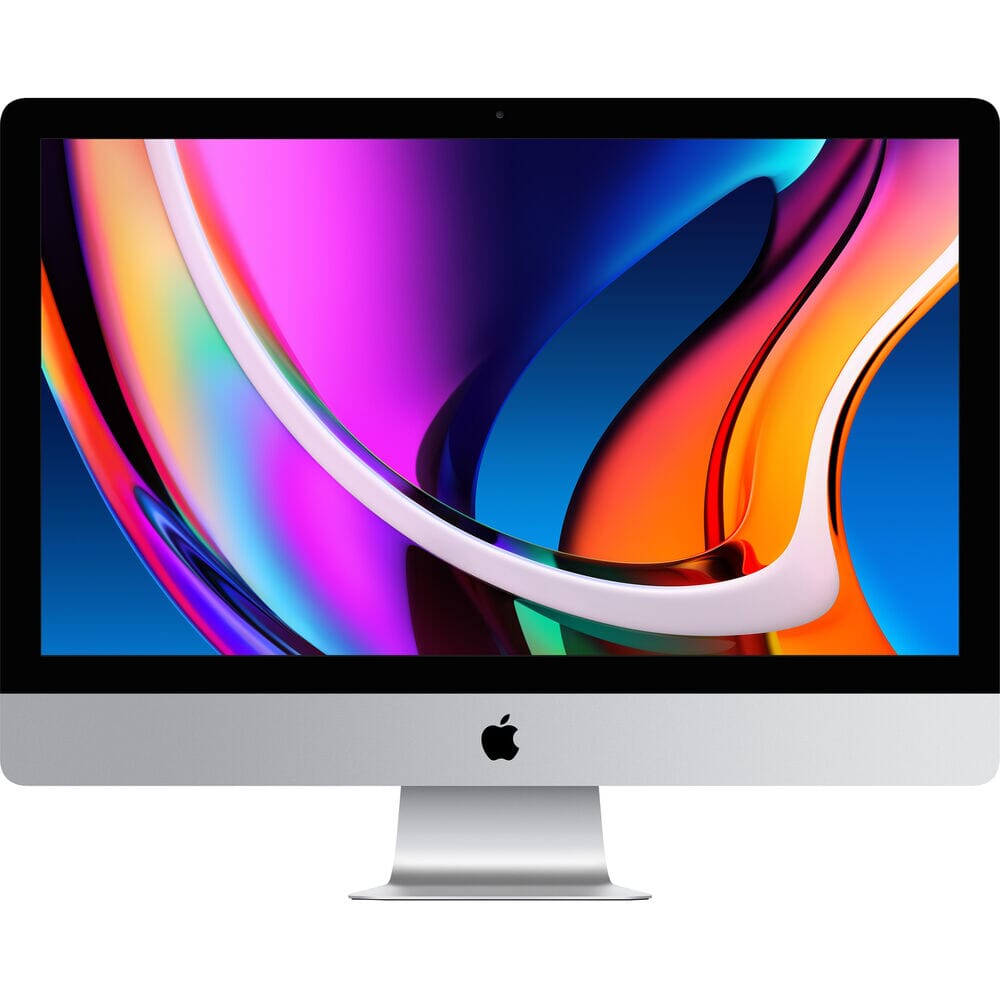 Second Best
Upgradeable to 10th Gen Core i9 processor. Plus you can also opt for the Nano-texture Glass.
For a few hundred dollars less than the base variant of the top-end 2020 iMac you can get this. A scaled-down version but a reasonably powerful one no doubt. This 27-inch version of the 2020 iMac is powered by an Intel 10th-Gen Core i5 processor. The base clock speed of 3.3 GHz can be boosted up to a maximum of 4.8 GHz.
Alternatively, you can opt for the 3.6 GHz 10-Core 10th Gen Intel i9 processor for a few hundred dollars more. This 10-Core processor will give you better base processing power. Plus, the Turbo boost can take it to 5.0 GHz clock speed.
Memory on the system starts from 8 Gigs of 2666 MHz DDR4 RAM. Will come to the maximum configurable memory (and storage) on this system shortly.
Storage is the same as the base variant of the 8-Core 10th-Gen Intel Core i7 iMac that we discussed above. It starts at 512 GB. For all practical usages, 512 Gigs is enough, as long as you have a functional backup policy and don't have the vice of storing everything on your local hard drive.
If you need more room to store your files then you can opt for the 2 TB SSD option.
Memory of the unit starts at 8 Gigs. But you can take it all the way up to 128 GB.
Needless to say, this model too comes with the option to add a Nano-textured Glass display rather than the standard glass option.
A few things to consider if you are planning to get the Nano-textured glass display. First thing is that it is the pricier of the two options. The second thing is maintenance. It is a lot harder to maintain the Nano-textured glass compared to the normal glass display. If you are not careful, you can easily destroy the display. And Apple is one of the most expensive products to repair. So, it is not always a good idea in order to follow the 'normal' cleaning process.
This is the more affordable version of iMac 2020 that gives you good value for money.
You can have it pre-configured to include the 10-Core 10th-Gen Core i9 Processor
Upgrade to Nano-texture glass is available.
The base variant comes powered by only a 10th-Gen intel Core i5 processor
Base memory is only 8GB. You need to upgrade to at least 16 GB to make this an worthwhile investment.
Base variant comes with only 512GB of storage.
21.5-inch iMac 8th-Gen Core i5 3.0 GHz 6-Core 4K Retina Display (Best Entry Level)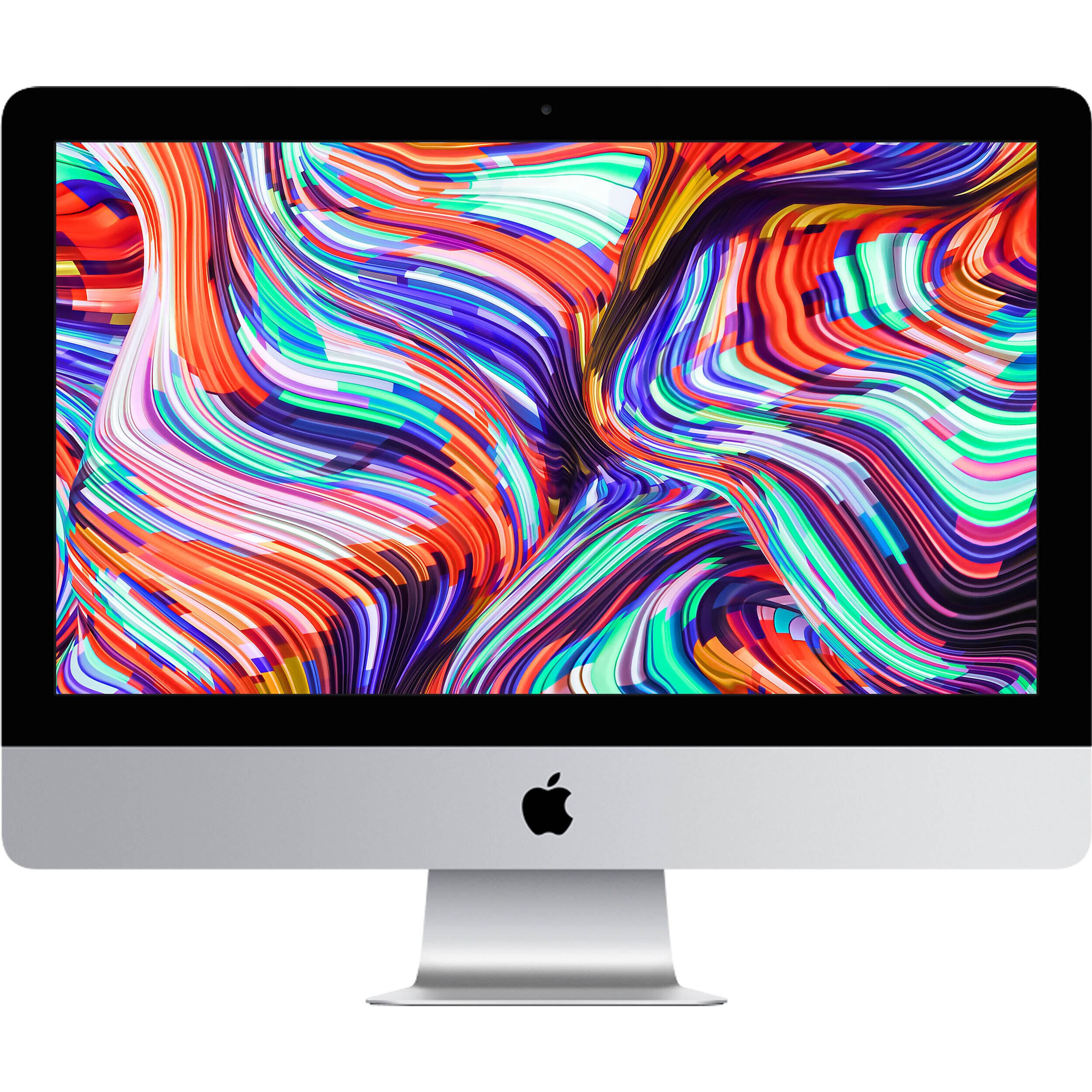 Best entry level
Value for money. Definitely great for light photo editing work. Upgradeable to 8th-Gen Core i7.
The three base configurations of the older 21.5-inch iMacs are all pretty simpletons. Among them, this is the one that we like the most. And the one that we prefer to include in this discussion of the be27-inch iMac 10th Gen Core i5 3.3 GHz 6-Core 5K Retina Displayst iMac for photo editing in 2020 for photo editing. Even though we are not a big fan of the smaller 21.5-inch iMac. This is because the whole experience of the photo (and video editing) is way too good on the larger 27-inch screen. With a 21.5-inch iMac display, this is nowhere near the same experience.
Plus, the smaller 21.5-inch variant does not come with the new Nano-textured glass display. That means you do not get to choose probably the best display in the market right now for your 21.5-inch iMac. While the new display is pricier and cumbersome to maintain and pricey to repair, we would like our readers to make an informed choice and thus would like to have that as an option. The 21.5-inch iMac would not give you that option.
Notwithstanding, this is a good budget option for someone who is looking to get into the Apple ecosystem.
The base variant of the iMac is comes with a 3.0 GHz 6-Core 8th-Gen Intel Core i5 processor. The clock speed of the iMac can go up to a maximum of 4.1 GHz. There is option to upgrade the processor. You can pay extra to get the 3.2 GHz 6-core 8th Gen Intel i7 processor. This processor clock speed can go up to a maximum of 4.6 GHz.
If you are looking for a budget iMac, to take care of your photo editing, we strongly recommend at least the Core i7 powered variant. The Core i5, even though it comes with most of the bells and whistles like SSD and the rest, is still not powerful enough for super-intensive photo editing tasks. And if you do feel like doing video editing anytime in the future this version of the iMac will find itself out of breadth.
6 cores might still be able to do this in late 2020. Meaning it will run Photoshop and Lightroom and Capture One comfortably now. But if you are planning on using this iMac for the next three to five years, then as the days go by this piece of technology will start to look like a dinosaur.
Related Post: Photo Software for M1 Macs
At the bare minimum we, thus, recommend the Core i7 version and with it at least 512 GB of SSD storage.
8 Gigs of memory come with the base variant. You can, however, add up to 32 Gigs of RAM. Go for a minimum of 16GB RAM. We feel 16 GB is the optimum for all your resource hogging photo applications.
Additionally, the base variant comes with 256 GB of SSD storage. There is an option to change that to up to 1 TB of Fusion Drive or 1 TB of SSD drive. Between the fusion drive and the SSD we recommend that you pay extra to get the version with at least the 512 GB SSD storage and not the one with the fusion drive.
If you wish to know more about the differences between a traditional Hard Disc Drive (HDD) (with rotating parts inside), a Fusion Drive and a Solid State Drive (SSD) we will discuss that in a separate discussion. Do drop us a line in the comments section.
In sort, Fusion drives offer the best balance between pricing, reliability and performance. But Fusion drives have their own disadvantages. This is because a part of them use the same technology as traditional HDDs. So, if you want the best of performance and reliability go for SSD. But you will have to pay out of your nose for that.
Value for money proposition with only light to medium heavy photo editing work possible.
There is an option to upgrade to Fusion Drive. It is budget friendly.
Comes with 4K Retina display in a smaller package
Base variant starts with 8th-Gen 6-core 3.0 GHz processor.
Not possible to upgrade the display to Nano-texture glass
Maximum memory you can upgrade to is only 32 GB