iMacs are some of the most powerful computers for photo editing on the market. These all-in-one machines combine amazing processing capabilities with a beautiful display.
And thanks to the introduction of the M1 chip, the latest iMacs boast a CPU performance increase of up to 85%; therefore, they can easily cope with powerful editing software and large-resolution RAW files.
So if you are looking for a new computer to run Lightroom, Photoshop, Luminar, and more, check out the best iMacs for photo editing in 2023!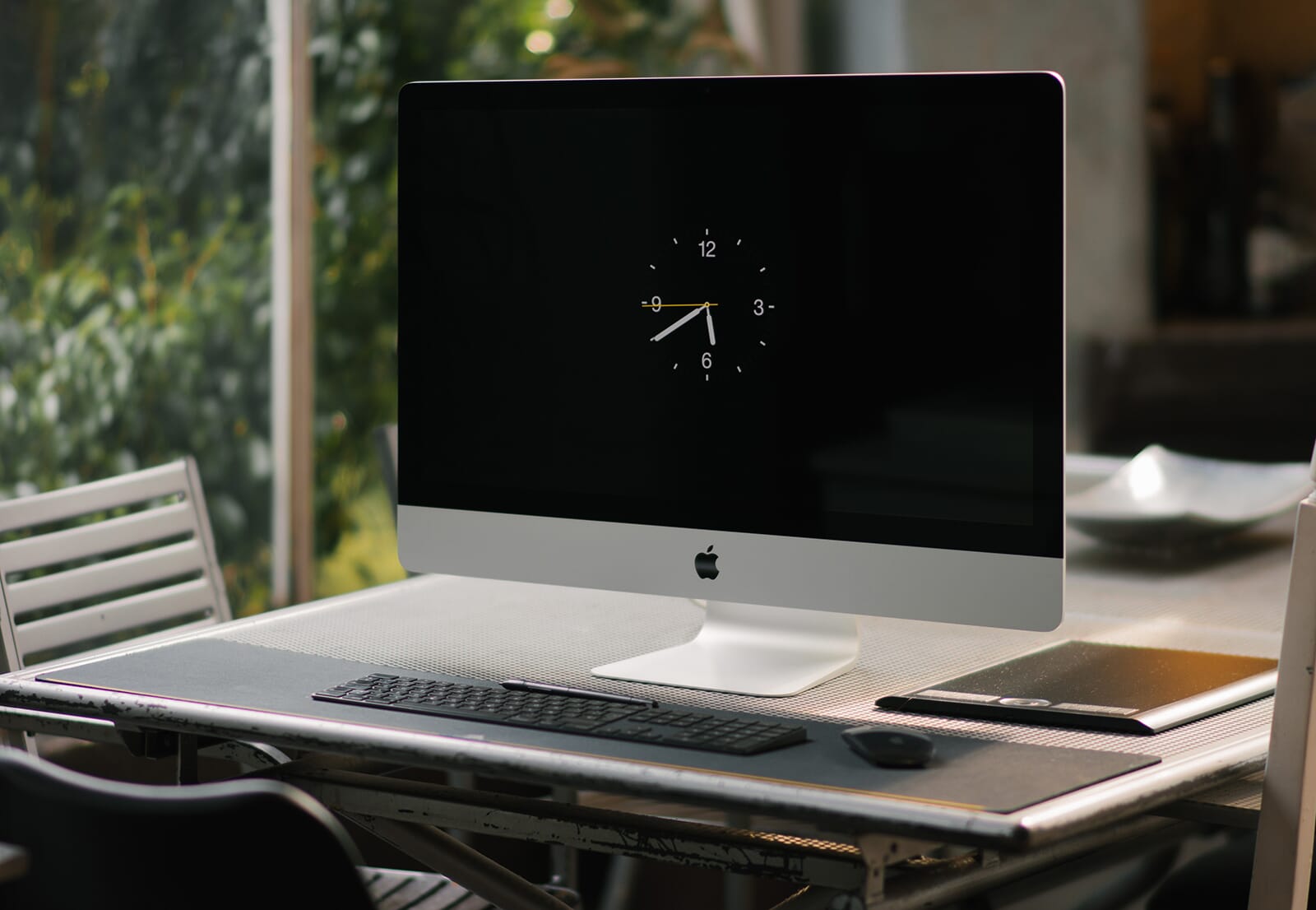 Best iMac for Photo Editing:
When you buy through links on our site, we may earn a commission at no cost to you. We evaluate products independently. Commissions do not affect our evaluations.
Best iMac for Photo Editing: Our 3 Picks
1. 24" iMac (M1 Chip, 4.5K Retina Display)
Our Pick
Great for maximum processing power
This 24" iMac offers superior processing power and outstanding performance for photo editing.
Pros
Next-gen Apple M1 chip for ultimate processing power
Improved design with ultra-thin display
8 GB RAM (with an option to upgrade)
Cons
Only starts with a 256 GB SSD
The best iMac for photo editing in 2022 is the 24'' iMac (with an M1 Chip and a 4.5K Retina Display). It's part of the lastest generation of iMacs, and it's the first to feature the incredibly powerful M1 processing chip.
This is a landmark development for iMacs and makes them even more capable for photo editing. Currently, only the new 24" iMac packs the M1 chip, while the 27" variants (several of which are featured below) use Intel Core i5, i7, and i9 processors. In time, we expect to see the 27" variants receive a similar upgrade.
Combine the M1 chip with 8 GB of RAM, and you have a device capable of delivering smooth performance when running the most resource-intensive editing software. Note that you can purchase the 24" iMac with 16 GB of memory, which makes for even better performance. So if you're serious about photo editing and regularly work in programs such as Photoshop or Luminar, we highly recommend this upgrade.
The 24" iMac comes with a 512 GB SSD. This should be enough when starting out, but again, we'd recommend an upgrade. When storing system files, general software, and photo-editing software, 512 GB is not that much! You can upgrade to a 1 TB SSD or even a 2 TB SSD (for an extra $200 and $400, respectively).
This 24" iMac also looks fantastic and has a range of design improvements. For example, its profile is only 11.5 mm thick. It also has a redesigned power connector that attaches via magnets for greater convenience.
And we love the quality of the 4.5K Retina Display. It can produce over a billion colors, plus it features fantastic brightness and even includes a great anti-reflective coating. Your photos will look beautiful and realistic with fantastic color reproduction and contrast.
2. 27" iMac (Core i7/i9, 5K Retina Display)
Refurbished
Great for high-resolution editing
This 27" iMac offers a giant screen and insanely powerful processing capabilities (including a whopping 64 GB of RAM!).
NOTE: the i9 is no more available on Amazon.com, this is the price/link to the i7.
Pros
Core i9 processor
64 GB of RAM for improved performance
27" display is huge and beautiful
Cons
Extremely expensive
Another excellent iMac is the 27" iMac (with a Core i9 processor and a 5K Retina Display). It's a great choice if you require a larger screen size for high-resolution editing.
This beast of a computing device is powered by Intel's 10th-Gen Intel Core i9 processor. The 10-core processor has a base clock speed of 3.6 GHz and is plenty capable; expect to run Photoshop and even Skylum's resource-intensive Luminar Neo without a hitch.
You also get a breathtaking 64 GB of RAM, which might seem like overkill – but if you're a professional photo editor or you frequently edit videos, you'll love the extra-smooth experience that it produces. (And if you require even more memory, don't worry; Apple offers a version with 128 GB of RAM!)
This 27" iMac configuration features a very nice 1 TB SSD, but while it's good for beginners, it's probably insufficient for professionals hoping to store their entire image catalog right on their computer. Fortunately, you can bump up the storage to a maximum of 8 TB, or you can invest in some sort of hard drive setup. Regardless, 8 TB should leave you with enough room for days of video footage and catalogs containing 50,000+ files.
Finally, the base variant comes with a standard glass display, and it looks amazing. You could, however, spring for the extremely useful nano-texture glass option instead (for a few hundred dollars extra, that is).
Note that the effect of nano-texture glass is breathtaking. It allows this iMac to look beautiful even in the most difficult of lighting conditions by scattering light (without the disadvantages of a regular matte coating).
What's even more interesting is that this special glass covers both the entire area of the screen and the bezels. Hence, nothing bright in the background will impact your display. In our view, it's miles ahead of other displays, including popular options offered by Apple.
Unfortunately, all these incredible features come with a premium price tag. But if you're a serious editor who requires the best of the best, this 27" iMac (with or without the upgrades!) is a fantastic pick.
3. 27" iMac (Core i5, 5K Retina Display)
A cheaper 27" alternative
This 27" iMac configuration is plenty powerful, even if it's not quite as capable as its high-spec siblings.
Pros
Good value for money
Upgradable for extra power
Nano-texture glass option
Cons
Intel Core i5 processor
If you like the idea of a 27" iMac but don't have the budget for the previous option, then consider the 27'' iMac (with a Core i5 processor and a 5K Retina Display). It's essentially a scaled-down version of the model listed above, and it's still capable of handling photo-editing and even video-editing tasks.
This 27" iMac is powered by a 3.3 GHz Intel 10th-Gen Core i5 processor – not especially impressive, but decently powerful. You do have the option get the 3.6 GHz 10th-Gen Core i9 processor, which might be worth the upgrade if you plan to edit in resource-intensive programs. It costs an extra $500, but it will give you far greater processing power. Plus, the Turbo boost can take it to a 5.0 GHz clock speed.
The 27" iMac includes 16 GB of RAM, which is decent for programs like Photoshop and Luminar – though if you want to do some major upgrading, you can boost your computer to 32 GB, 64 GB, or even 128 GB of RAM.
Storage starts at 512 GB. While this might seem small for serious photographers, it shouldn't be a problem if you're just starting out – and it's always possible to expand your storage capacity via external hard drives. If you require extra space right away, you could pay more for the 1 TB or 2 TB SSD option.
Like the 27" iMac discussed above, this computer comes with the option to add a nano-texture glass display. While nano-texture glass does look amazing, the standard glass display is nothing to sneer at, and you should bear in mind that nano-texture glass both costs more and is more difficult to maintain. (If you're not careful, you can destroy the display, and it will cost a lot to repair!) So unless you see a serious need for the display upgrade, we'd recommend sticking with the standard glass.
Pick an iMac and Get Editing!
The new 24'' iMac (with an M1 Chip and a 4.5K Retina Display) is the best iMac for photo editing you can buy (and one of the overall best computers for photo editing, too). It has a vastly improved performance compared to previous-generation models and a host of useful upgrades.
But if you need a bigger screen for high-resolution photo editing, the 27'' iMac (with a Core i7 processor and a 5K Retina Display) is a great pick. It's still a powerful iMac with excellent system specs, perfect for editing large RAW files.
---
Disclosure/Disclaimer: As an Amazon Associate, we earn from qualifying purchases. Certain content was provided "as is" from Amazon and is subject to change or removal at any time. Product prices and availability: Amazon prices are updated daily or are accurate as of the date/time indicated and are subject to change. Any price and availability information displayed on Amazon.com at the time of purchase will apply to the purchase of this product.