A real estate photo is supposed to provide a realistic and natural representation of what a building or an apartment has to offer. It's also meant to wow potential buyers and create a fantastic first impression.
When looking at a real estate photo, a potential buyer should be truly impressed. They should be given a clear idea of the dimensions and aesthetics and presented with a piece of art that compels them to make a viewing or even a purchase.
Real estate photos require a great deal of care and attention and a special approach must be taken. It is not a simple case of taking your camera and taking a few well-composed shots. Consideration must be given to aspects such as lighting, framing, angles, and dimensions too.
Improve Your Interior Real Estate Photos with Photomatix
To help budding real estate photographers, we have compiled some basic tips together with a guide/tutorial for the superb Photomatix Pro 6 editing software which can greatly improve your real estate snaps.
Basic Tips to Remember When Taking Real Estate Photos
As discussed, real estate photography is a fine art – there are many considerations to think about when taking this type of photo. The tips and information below should help you prepare for a real estate photo shoot and create some fantastic snaps for your clients:
Use the Right Equipment
Real estate photography is generally not something you can do with just a camera. To take the highest quality photos, it is advisable to invest in the equipment listed below – by using this equipment, you will be able to take your photography to the next level and create some absolutely magnificent shots. The following is a basic list of equipment we advise using when taking real estate photos:
A tripod (to improve stability and reduce motion blur)
Multiple flashes (to improve lighting conditions)
Light stands (to hold additional flashes/diffusers etc.)
A wide angle lens (to provide full frame photos)
A remote control shutter release (to avoid having to manually press the shutter button)
Spare batteries and memory cards (to avoid being caught short in the middle of a shoot)
The above equipment should not be overly expensive and if you are going to take real estate photos regularly as part of your business; the investment will pay for itself. Suggested wide angle lenses could be a Canon 24-70mm f/2.8 or Nikon equivalent – this type of lens will provide a lovely sweeping shot with great clarity.
Research the Location and Find a Contact
This might seem logical but it is surprising how many photographers simply turn up at their photoshoot without any prior preparation. When implementing a real estate photoshoot, it is important to have a firm grasp of the property you are photographing – what type of property is it? How many rooms does it have? Is the property furnished? Does the property need cleaning or tidying? Arm yourself with knowledge and ensure you are aware of what conditions you will be working in.
Furthermore, ensure that you have the name and number of a contact – either the sellers themselves or the real estate agent. Having a contact and understanding the property itself will ensure you do not waste your valuable time, and that your photoshoot can progress without any issues that could have been avoided.
Consider Lighting
Lighting is one of the most important aspects of real estate photos aside from composition. Proper lighting can make a relatively small and dark room seem larger and more appealing. Try and make use of natural light where possible and ensure that things such as windows and doorways are not blocked up – open curtains, remove clutter and keep doors open. Simple techniques such as these improve lighting and create a sense of space.
Related Post: Real Estate Photography Checklist
Aside from the above tips, consider setting multiples flashes up around a room to improve lighting conditions and to create photos that have a beautiful and soft natural light. Don't simply use the preset flash function on your camera either – this will create a harsh, focused flash that will make the surrounding areas appear dark. By using multiple simultaneous flashes at a lower power setting, you can create some amazing light effects that can transform how a room looks in the photo.
Using Photomatix Pro 6 to Take Superb Real Estate Photos
The above tips should have given you food for thought – once you are sufficiently prepared and have the required equipment you can turn your attention to the actual photoshoot and post-processing. Post-processing is an important part of real estate photography – in most cases, the photos you take will not be perfect – they will require editing. Maybe the white balance needs altering, or maybe there are some undesirable objects that need removing for example.
There is a multitude of different post-processing programs available such as Adobe Lightroom and Photoshop. One particular program that can work wonders for real estate photos is HDRSoft. Real estate photos can often suffer from poor exposure levels – for example, you may have taken a photo of a room with a large window – If you expose the photo compensating for the window, then the surrounding features will be under-exposed.
Alternatively, if you expose the photo to compensate for the walls and furniture, then the window will be washed out. HDRSoft actually allows you to create HDR composite photos that take several different exposures to combine them together to create a balanced end-product that has all elements of the photo exposed correctly. The below tutorial provides a short guide on how to take bracketed photos, and how to merge them into an HDR composite using HDRSoft.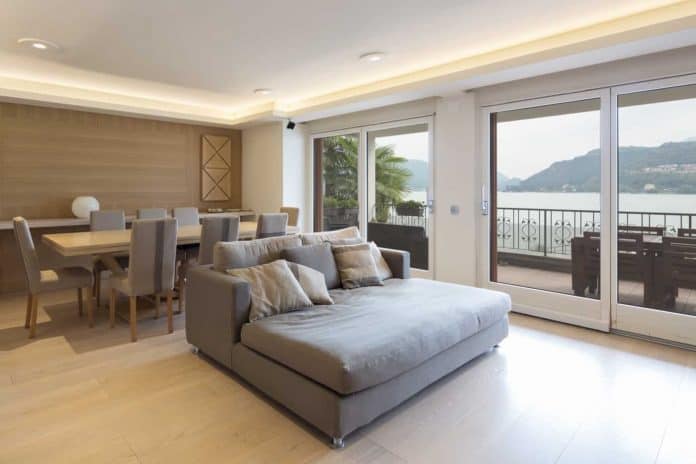 Special Promo Code for the New Photomatix Pro 6.1 HDR Software
Thanks to a special arrangement with HDRSoft, the creators of Photomatix, our readers get 15% off at checkout with the promo code PHOTOWORKOUT.
👉 You can also try Photomatix for free or first
👉 Compare the full version vs. the (cheaper) Real Estate Version
Step 1 – Taking the Photo
The first step is to take a suitable set of photos that can be converted into an HDR image. An HDR image is usually composed of three different exposures – a photo that is underexposed, a mid-range exposure photo, and a photo that is over-exposed. You have to manually change the camera settings to create these three exposures or use the bracketing feature that does it automatically. To take a set of bracketed photos, do the following:
Turn your camera flash off
Switch to aperture priority mode (AV mode)
Turn on Spot Metering Mode
Focus on the darkest part of the composition and read the shutter speed
Repeat this process for the lightest part of the composition
Use the Photomatix exposure calculator to find out the three metered exposure settings
Switch to manual mode
Enter the relevant shutter speed and choose the first exposure setting
Switch to Auto Exposure Bracketing Mode (AEB)
Set the EV spacing to +/- 2EV or the highest available spacing
Select continuous shooting mode and take the photo
Once you have taken the first photo, be sure to check the quality to ensure that the photos are in focus and the exposures have been calculated properly.
Use a Tripod, Remote Shutter Control & Take Multiple Shots
Always use a tripod to ensure the maximum level of stability, and use a remote control shutter so that you don't have to manually press the shutter button. I recommend taking several sets of metered shots as a failsafe – this means that you then have several different examples to edit.
Step 2 – Creating the HDR Merge within Photomatix
Now that you have taken your metered shots you can upload your photos to Photomatix Pro 6 and create your final HDR composition. The following is a brief guide on how to create HDR images using this post-processing software:
Open Photomatix Pro
Load your images using the "Chose Merge options" selection
On the options, dialogue box tick "Align source images" & "reduce noise"
Once the preview has appeared, click the preset drop-down and select "architecture"
In the architecture sub-category click "Interior 2" – this is usually a solid preset to use
Click Finish
Adjust any setting you wish in the final "finishing touch" panel
Concerning the pre-set options, we have given "architecture" and "Interior 2" merely as a guideline – there is a variety of different presets to choose from – consider looking at the other options available and trying them out – you can create a variety of different effects and final products.
Once you have done this you can:
save the image – it should process and you will be presented with a fantastic HDR composite.
If you wish, you can edit the image further in Lightroom, e.g. consider checking the white balance levels, color saturation and be sure to remove any chromatic aberration.
Furthermore, consider altering the highlights and shadows to provide a balanced photo. Once you are happy with the initial HDR settings it is possible to automate the HDR merge process using the batching tool.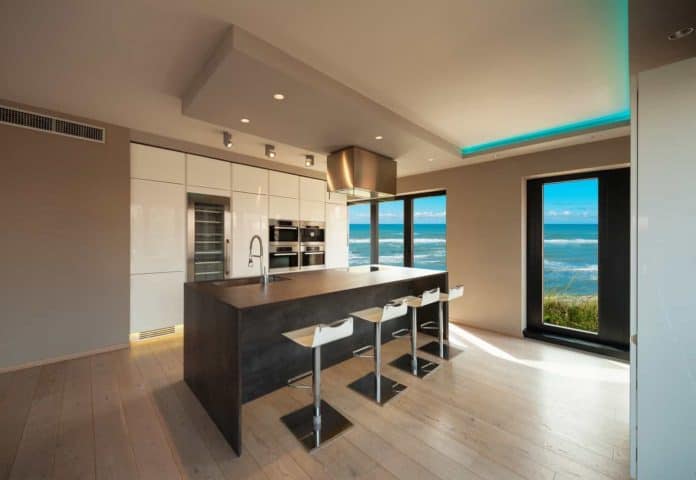 Conclusion & More Real Estate Photo Resources
We hope you have found this guide and tips useful – you should now be fully prepared to tackle real estate photography. Although the above information may seem like a lot to take in, once you have started taking real estate photos you will soon streamline your process and incorporate these tips into your routine.
Finally, when dealing with real estate clients, always bear in mind their own wishes and take into consideration any specific requests they have made. And if you need some fresh inspiration, have a look at some sample real estate images created with the Photomatix Pro Software.
You can also watch this HDR Tutorial for Real Estate Interiors form Photomatix:
See all videos & read more about how to get natural-looking real Estate photos with HDR photos at the Photomatix support page.