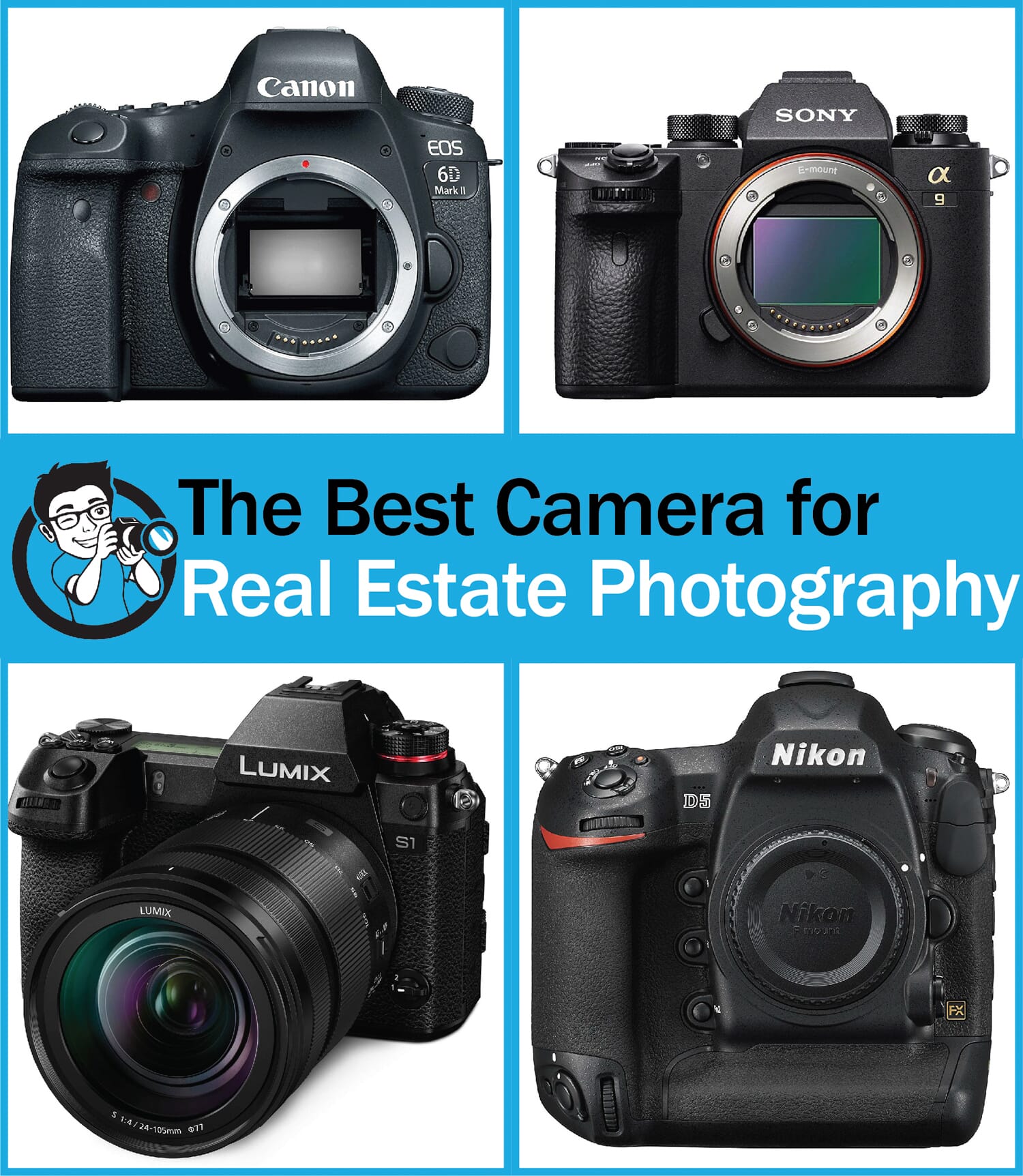 Real estate photography is a demanding genre in the photography industry. It is extremely dependent on the gear. The right camera, the right lens, and expertise in lighting and post-processing techniques; everything matters. You don't capture great real estate photos. You make them. And to do that you have to have superb knowledge of the gear and the process.
Picking the right camera for real estate photography is the first step. If you need more information on important specs when picking a good camera for real estate photography, you can scroll down to the important specs for real estate cameras.
Here's our list of the 12 best cameras for real estate photography in 2020:
If you are on a budget, you may want to jump right to the best real estate cameras under $2,000.
Arguably the best low light camera, the Sony Alpha a7S II is a full-frame mirrorless interchangeable lens camera with a sensor resolution of 12.2 megapixels. The sensor is paired with a BIONZ X image processor. The native ISO range of the camera is 100 – 102400. All this tech allows the camera to produce results that give it the title of the best camera for real estate photography in low light.
The only thing that works against this fantastic camera is the low resolution of the sensor. At 12.2 megapixels it is capable of producing images that are 4240 x 2832 pixels only. So you won't be able to make very large prints if that is what you intend to do. For that, you need one of the other a7 series cameras (to be discussed below).
Sony has integrated a 5-axis sensor-shift type image stabilization. Though you may not be shooting hand-held it is an extra feature and will interest someone who is not a professional and may be more likely to shoot hand-held.
Finally, the rear LCD screen has a resolution of 1228,800 dots and gives 100% frame coverage. The screen can tilt and swivel but does not flip out. This means you can shoot from waist height with the screen tilted up but does not allow you too many other options.
Sony a7S II ILCE7SM2/B 12.2 MP E-mount Camera with Full-Frame Sensor, Black
Full-frame camera with 5-axis image stabilization
Fast and effective, enhanced Fast Hybrid AF
12.2 megapixels 10 35mm full-frame Exmor CMOS sensor Lens Compatibility - Sony E-mount lenses
BIONZ X image processing engine ; Clear Image Zoom :Still/Movie: Approx. 2x
In the box: Rechargeable Battery NP-FW50; Cable Protector; AC Adaptor AC-UUD11; Battery Charger BC-VW1; Shoulder strap; Body...
The Sony Alpha a7R III is a 42-megapixel full-frame EXMOR R BSI CMOS sensor powered mirrorless interchangeable lens camera with a BIONZ X image processor.
The 42-megapixel sensor produces large stunning images of 7952 x 5304 pixels. This is the sort of sensor you would need to print large images or to make tight crops from a full-frame capture without losing out on detail.
Body-based image stabilization with a 5-axis sensor-shift type shakes compensation mechanism minimizes camera shake issues. This would be handy when shooting hand-held.
The rear of the camera is dominated by a 3″ touchscreen which can tilt. The resolution on the screen is 1440,000 pixels. It has 100% frame coverage.
The Sony Alpha a7R III is capable of shooting at an ISO range of 100–3200 with Auto ISO capability. In the extended mode, the camera shoots between 50 and 102400. High ISO shooting is required when you are shooting outdoors in low light. For example, when shooting a property at the blue hour (right before it gets completely dark) to get a nice image with the lights turned on. It helps that the sensor has a BSI design.
All in all, this is the best mirrorless camera for real estate photography and is definitely something you should consider purchasing if you want high-quality photos that will leave your clients happy.
Sony a7R III Mirrorless Camera: 42.4MP Full Frame High Resolution Interchangeable...
INCREDIBLE DETAIL: Shoot high speed subjects at up to 10fps with continuous, accurate AF/AE tracking
OPTIMAL LIGHT: A back illuminated Exmor R CMOS sensor with gapless on chip lens collects more light. Operating Temperature:...
FASTER IMAGE PROCESSING: An updated BIONZ X processing engine boosts processing speeds up to 1.8x
STUNNING HD VIDEO: Sony Alpha 7R 3 mirror less cameras record clear 4K video for editing and viewing.Bluetooth Standard Ver....
BUNDLE INCLUDES: Power cord, charger, cable protector, shoulder strap, body/shoe caps, eyepiece cup. Metering Type:1200 zone...
Related Post: How to Buy a Second-Hand DSLR Camera (3 Best Shops)
The Nikon D850 is a fantastic all-round camera with incredible features. If you are looking for a full-frame high-resolution camera without having to break the bank, then the D850 is the camera that you should be looking at.
The 45.7 megapixel BSI sensor is capable of producing images of the size 8256 x 5504. That is large enough for a 27″ x 19″ print easily with pixels to spare. You probably would never have to print this big. Plus, the fact that the D850 does not have an optical low pass filter means you will get better (and sharper) details than other sensors.
Something that needs a mention regarding the BSI sensor design, the large sensor area does not warrant the use of BSI. There wouldn't be a major improvement in the low light shooting scenarios. However, a BSI architecture has been used to add extra wiring which ensures faster pixel readout and an improvement in the buffer and overall speed of image-making.
The D850 uses a 180,000-pixel RGB sensor to assess the ambient brightness, contrast and other aspects in the scene. The native ISO of the D850 is 64 – 25600. Plus, the fact that the sensor uses a BSI architecture ensures great quality in low light.
In good light, this camera outdoes most other DSLR systems. A feature on the D850 which you will love (if you are interested in these sort of things) is the 8K time-lapse feature. You will also enjoy the built-in focus stacking feature which will ensure that you can shoot specialized images with a large depth of field. Both of the above two features will come in handy when shooting real estate photography.
Nikon D850 FX-format Digital SLR Camera Body
Nikon designed back side illuminated (BSI) full frame image sensor with no optical low pass filter
45.7 megapixels of extraordinary resolution, outstanding dynamic range and virtually no risk of moiré
Up to 9 fps1 continuous shooting at full resolution with full AF performance
8K6 and 4K time lapse movies with new levels of sharpness and detail; File system : DCF 2.0, Exif 2.31, PictBridge
Tilting touchscreen, Focus Shift shooting mode, outstanding battery performance and much more; Total Pixels: 46.89 million
Related Post: How to Stack Together Images for Real Estate Shots with Lightroom
The Sony Alpha a9 is the third Sony mirrorless camera on this list. The reason I am interested in Sony's mirrorless systems as the best cameras for real estate photography is that these systems offer you the option to know what the exposure is going to be like even before you press the shutter button. The magic of the live-view window.
When shooting real estate interior shots, in dimly lit areas, and even when shooting outdoors (such as the blue hour), a reliable live-view image with 100% frame coverage helps to get the perfect composition. It takes the guesswork out of the equation.
The Sony Alpha a9 is powered by a full-frame 24.2-megapixel EXMOR RS Stacked CMOS sensor. To put it simply, this is a camera that thrives in low light situations. Plus, it is a full-frame sensor meaning it captures a larger slice of the scene in front. The Sony Alpha a9 is definitely one of the best cameras for real estate photography.
The Alpha a9 uses a hybrid auto-focusing mechanism that includes 693 phase-detection points and 25 contrast-detection points. The phase-detection points cover 93% of the frame. Overall the system is capable of focusing at a minimum ambient lighting situation of -3EV.
Sony a9 Full Frame Mirrorless Interchangeable-Lens Camera (Body Only) (ILCE9/B)
World's first Full-frame stacked CMOS sensor w/ integrated memory
World's first blackout-free continuous shooting up to 20 fps. Battery Life (Still Images) - Approx. 480 shots (Viewfinder)...
Silent, vibration-free, anti-distortion shutter up to 1/32,000 sec.
693 Phase Detection AF points over 93% frame coverage. Operating Temperature - 32 - 104 degrees F / 0 - 40 degrees C
In-the-box: Power cord, Cable Protector, AC Adaptor, Battery Charger BC-QZ1, Shoulder strap, Body cap, Accessory shoe cap,...
It is impossible to overlook this camera in the mix of things. The Canon EOS 5D Mark IV is built around a 30.4-megapixel full-frame CMOS sensor and a DIGIC 6+ image processor. The Native ISO capability of the camera is 100–32000. Being a full-frame sensor, it captures a more of the scene and more light compared to a similar resolution crop camera.
The large high-resolution sensor produces images of the size 6720 x 4480 pixels. Perfect for large prints or crops, just in case you need them later on.
A feature on the 5D Mark IV is its ability to pull 8.8 megapixels from the DCI 4K clips that it can shoot. Though 8.8 megapixels isn't a very high-resolution, the function comes in handy for if you're shooting video and see some good frames for pictures.
Canon EOS 5D Mark IV Full Frame Digital SLR Camera Body
New 30.4 Megapixel* full-frame CMOS sensor for versatile shooting in nearly any light, with ISO range 100-32000; expandable...
4K Motion JPEG video (DCI cinema-type 4096 x 2160) at 30p or 24p; in- camera still frame grab** of 4K 8.8-Megapixel images;...
Superb Dual Pixel CMOS AF for responsive and smooth AF during video or Live View shooting; LCD monitor has full touch-screen...
Excellent performance - up tp 7.0 fps*** continuous shooting speed with high-performance DIGIC 6+ Image Processor for...
61 AF points with expanded vertical coverage with 41 cross-points, and AF possible at all 61 AF points with many lens +...
Related Post: Real Estate Photography Tips (How to Make the Best Pictures)
There is very little that you cannot do with the Nikon D5. It is a beast of a camera, designed for the future. It is built around a 20.8-megapixel full-frame CMOS sensor and Nikon's EXPEED 5 image processor. The camera has a native ISO range of 100–102400. It comes with both 14-bit RAW and 12-bit RAW S format support.
Thanks to the fact that the camera has a relatively 'smaller' resolution and large sensor, it has a lower noise signature, cleaner images and better dynamic range in low light photography.
The system also uses an intelligent Scene Recognition System and the 3D Color Matrix metering III technology that uses a 180,000-pixel RGB sensor for metering and evaluation of the different aspects of the scene.
Just like the Nikon D5, which is the current flagship in their line-up, the EOS-1D X Mark II is the current flagship in the Canon lineup. Just like the Nikon, the Canon is an excellent all-round camera. There is very little that you cannot do using the 1D X Mark II.
Related Post: The Canon 1D X Mark III: What We Know So Far
The 1D X Mark II consists of a 20.2 megapixel full-frame CMOS sensor and dual DIGIC 6+ image processing engine. The sensor uses a gapless design which produces excellent image quality for the purpose. The sensor resolution is large enough to produce 5472 x 3648pixel images. The Native ISO range of the camera is 100 to 51200.
The 1D X Mark II shoots DCI 4K videos. You can also grab 8.8-megapixel stills out of the footages you record. Just like the 5D Mark IV that we discussed above. Not great for large prints but these images will do just fine if you are only sharing them online or making 5×7″ prints.
Canon EOS-1DX Mark II DSLR Camera (Body Only)
Fastest shooting EOS-1D, capable of up to 14 fps full-resolution RAW or JPEG, and up to 16 fps in Live View mode with new...
Achieves a maximum burst rate of up to 170 RAWs in continuous shooting at up to 16 fps, and 4K movies using CFast cards in...
Improved AF performance through 61-point, wide area AF system with 41 cross-type points, improved center point focusing...
Accurate subject tracking for stills and video with new EOS Intelligent Tracking and Recognition AF with 360,000-pixel...
4K video (4096 x 2160) up to 60 fps (59.94), with an 8.8-Megapixel still frame grab in camera. Full 1080p HD capture up to...
The Panasonic Lumix DC-S1 is a full-frame mirrorless unit and it comes with a 24.2-megapixel full-frame MOS sensor. It is supported by Panasonic's Venus Engine image processor.
The camera comes with a pixel shift image stabilization system. While this is very useful when shooting stills and specifically when shooting from a tripod there is another major advantage. The advantage is the ability to shoot a single 96-megapixel RAW file by compiling 8 separate exposures. As you can imagine the resulting image would be an extremely detailed one, making this one of the best cameras for real estate photography.
Panasonic LUMIX S1 Full Frame Mirrorless Camera with 24.2MP MOS High Resolution...
Full frame sensor – 24. 2-Megapixel full-frame (35. 6mm x 23. 8mm) MOS sensor that provides a wide dynamic Range and...
Lumix s camera lens – easy-to-use 24-105mm standard focal macro zoom F4 l-mount for Lumix s Series full-frame l-mount...
4K HDR VIDEO - 4K 60p/50p, 4K 24/30P unlimited recording, 4K60P 29: 59 min limited recording. HDR Mode and Hybrid Log Gamma...
96MP high resolution mode – a sensor shift technology suitable for taking very high-resolution Landscapes and fine art...
RUGGED MIRRORLESS CAMERA DESIGN – Dust/splash*/freeze-resistant design withstands heavy field use under harsh conditions...
The Canon EOS 6D Mark II is the cheapest full-frame EOS camera that you can currently buy. The 26.2-megapixel resolution sensor is backed by Canon's DIGIC 7 image-processing engine. You also get a 45 point all cross-type AF sensor powered auto-focusing mechanism that is decently spread across the viewfinder for easy composition and easy locking of focus across the frame. The native ISO range of the camera is 100–40000. In the extended mode, it is 50–102400.
All cross-type AF points also mean that the sensor is capable of locking on contrasting edges both horizontally and vertically. Plus, they are very sensitive in low light conditions. This is something that comes in handy when shooting indoors (and even outdoors) in low light conditions, something that you would be expected to do when shooting real estate photos.
The 98% viewfinder coverage means that when you are composing you have to be a little careful to check the immediate vicinity of the frame so as not to catch anything unwanted. The rear LCD screen, on the other hand, gives 100% frame coverage meaning you won't have to worry about this when shooting in Live View.
Canon EOS 6D Mark II Digital SLR Camera Body – Wi-Fi Enabled
26.2 Megapixel Full frame CMOS Sensor
Optical Viewfinder with a 45 point All Cross type AF System. Compatible Lenses: Canon EF lenses (excluding EF S and EF M...
Dual Pixel CMOS AF with Phase detection & Full HD 60p
DIGIC 7 Image Processor, ISO 100 40000. GPS, Wi Fi, NFC and Bluetooth low energy
Vary angle Touch Screen, 3.0 inch LCD
Related Post: Real Estate Photography Checklist (Print Top 12 Must-Dos)
The cheapest Nikon full-frame follows the entry-level full-frame from Canon. The idea of using a full-frame camera with a high resolution for the purpose of shooting real estate photography is very appealing. This is because you don't need a high frame rate. An added bonus is that full-frame cameras capture a lot more light compared to crop cameras with the same number of pixels.
The Nikon D750 is a full-frame camera and offers a resolution of 24.3 megapixels. The D750 is backed by Nikon's EXPEED 4 image-processing engine. There are so many important features of this fantastic full-frame camera.
First is the multi-cam 3500 FX II 51-point AF sensor that powers the auto-focusing mechanism. The D750 offers a 100% viewfinder coverage for the frame, something which the EOS 6D Mark II does not.
Both the cameras have a rear LCD screen that moves. The D750 has a tilting LCD screen tilts up only. The 6D Mark II's LCD screen is a vari-angle one, which gives you a lot more convenience shooting. Native ISO of the D750 is 100–12800. In the extended mode, the camera shoots at an ISO of 50 – 51200.
Unlike the 6D Mark II, the D750 comes with a built-in flash. This comes in handy when shooting with small flash units in slave mode. The external flash can be triggered with the on-camera flash set to its lowest power. A process known as the optical triggering of the flash, it does not require radio triggers and/or other expensive tools.
Nikon D750 FX-format Digital SLR Camera Body
Full frame 243 megapixel CMOS image sensor and EXPEED 4 image processor
Full HD 60/50/30/25/24p video
Built in Wi Fi connectivity and compatibility with the WT 5a + UT 1 Communication Unit
Shoot up to 65 fps at full resolution Frame size (pixels) : 1920 x 1080
Pro Video feature set including: Simultaneously record uncompressed and compressed, Manually control ISO, shutter speed and...
Among the new crop of cameras, the Fujifilm X-T30 is an exciting proposition. It shares its heart and brains with the more fancied X-T3. That means the same sensor and the same processor. Therefore image quality is similar.
This is an APS-C image sensor and therefore you will have some issues capturing enough of the scene with a lens designed for 35mm camera when compared with a 35mm camera. But on the flip side, you get a 26.1-megapixel sensor and an extended ISO of 80–51200.
The best thing about the camera is the dynamic range. Even when pushing the shadows and trying to get some detail out of them (which can happen when shooting real estate shots) the results are pretty good.
Noise handling is excellent and details, even when shooting at higher ISOs, are admirable. It gives you enough leverage to handle difficult lighting conditions.
Fujifilm X-T30 Mirrorless Digital Camera, Black (Body Only)
Advanced Image Sensor Technology: The 26.1MP BSI APS-C X-Trans CMOS 4 image sensor and X-Processor 4 quad-core CPU...
Accurate Auto-Focus Tracking and Face Detection: he new X-Processor 4 Quad Core-CPU offers fast and accurate face-detection...
Superior Video and Image Effects: The X-T30 offers the ability to record 4K video at 30 frames per second or capture of 120...
Intuitive Design with Comfortable Controls: Offers 3.0-inch touch LCD with 2-way tilting and improved touch screen to capture...
Next-Gen Wireless Connectivity: Built-in Wi-Fi? and Bluetooth V.4.2 offers digital communication with the free FUJIFILM...
The Pentax K-1 Mark II is first Pentax that we have listed here. A major feature of Pentax cameras is that they are extremely well weather sealed. Which is a plus point when shooting architecture and in this case real estate shots from outside. But beyond that, the image quality, too, is quite exemplary.
That said, at a higher ISO you will have issues with the noise reduction software built into the camera. There will be a loss in detail when the camera tries to smoothen out the images. This is something that is more intense than the older K-1. That camera tends to retain more detail when shooting at a higher resolution.
Now a lot of readers will point out that the Pentax K-1 Mark II isn't a high-resolution camera. Especially, when compared with something like the Nikon D850 and the Sony Alpha a7R III. But 36.4 megapixel is more than enough. To be fair to the Pentax K-1 Mark II it also comes with pixel shift technology. This technology allows you to capture a bit more detail, especially when you have the camera set-up on a tripod. Thus, making this one of the best real estate photography camera. However, it can also produce artifacts as the camera produces several images and then combine them together.
Pentax K-1 Mark II 36MP Weather Resistant DSLR with 3.2" TFT LCD, Body Only, Black
36 MP AA filter less shake reduction sensor with APS C crop mode for compatibility with Pentax k mount lenses
Hand Held Pixel Shift Resolution that allows 4 images to be complied into an superior image with increased color rendition...
Engine Accelerometer for reduced image noise, faster focusing and increased image sharpness
Magnesium Alloy, Weather Resistant body for every demanding situation
Astro tracer extended exposure mode with reduced star trails
What makes a Camera the "Best Camera" for Real Estate Photography?
The Right Sensor for Shooting Real Estate
You can shoot with any sensor size, there is no restriction whatsoever. But a larger sensor size, specifically a 35mm sensor, is the optimum choice for several reasons.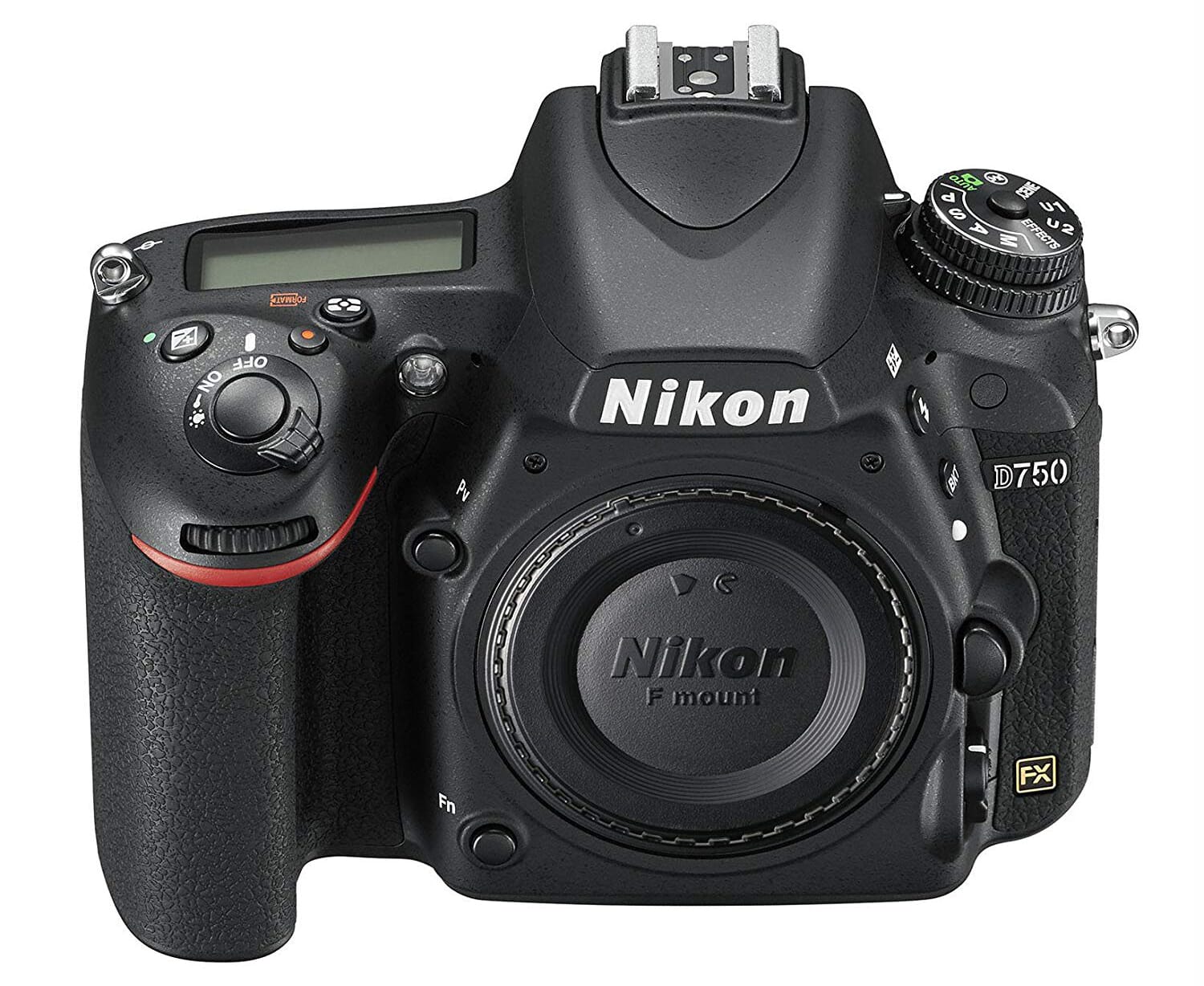 First, a 35mm sensor allows you to take full advantage of any wide-angle lens that you might be using. Second, a larger sensor (35mm in this case) will allow you to get better exposure in low light situations. This is because it has a lot more light pixels, and more importantly, the individual pixel sizes are much bigger which ensures more light intake capacities.
Related Post: The Best Software for Real Estate Photography (Top 3 Picks)
Low Light Performance
Regardless of the camera that you choose, it should offer great low light performance. You need a low noise signature and great dynamic range when shooting in low light. Low noise signature will assist in pushing the shadows when post-processing your images and that will prevent the image from getting noisy. The good low light performance also includes a good dynamic range for those occasions when you have to shoot in high ISO.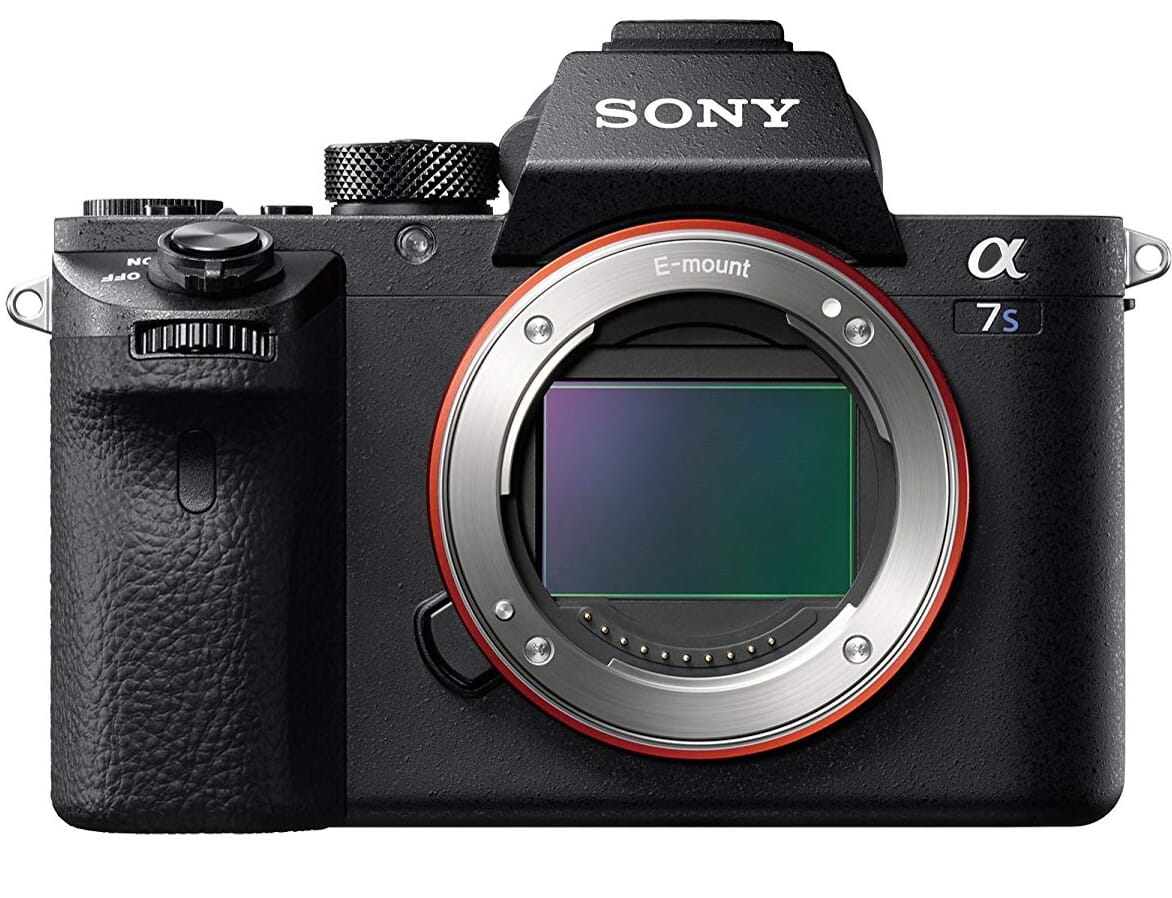 Dynamic Range
One more subtle thing to note is the dynamic range. This includes both the dynamic range when shooting in low light but also at high ISO. High ISO dynamic range is important. However, as you would be shooting a stationary subject and from a tripod, you wouldn't notice the difference, because you can easily drag the shutter while using a low ISO. High ISO dynamic range only comes into action when you're shooting hand-held.
Another thing you need is the ability to capture an image with a low noise threshold. Let's say that you are shooting indoors and your shot features both the indoors and the view outdoors. Usually, you'd shoot with post-processing in mind, to correct the exposure. But this can only be achieved if your camera has a high dynamic range. Ideally, the image is practically noise-free.
---
As an Amazon Associate we earn from qualifying purchases. Certain content that appears on PhotoWorkout.com comes from Amazon. This content is provided 'as is' and is subject to change or removal at any time.