Acrylic is an elegant way to display your favorite photos. With radiant colors and a glossy protective covering, they're almost impossible to miss when proudly displayed on a wall. But what, exactly, is the best option to print photos onto acrylic?
Though smaller printers generally can't support acrylic production, a growing number of online vendors have embraced it.
Seeking out an unusual size? A specific style? Or something that will last a lifetime?
We've scoured through our sources to find the best acrylic options around!
When you buy through links on our site, we may earn a commission at no cost to you. We evaluate products independently. Commissions do not affect our evaluations.
PhotoWorkout's Top Acrylic Picks:
1. Pictorem
We've praised Pictorem's performance in the past for good reason. Of the services listed today, Pictorem has some of the most diverse styling options available.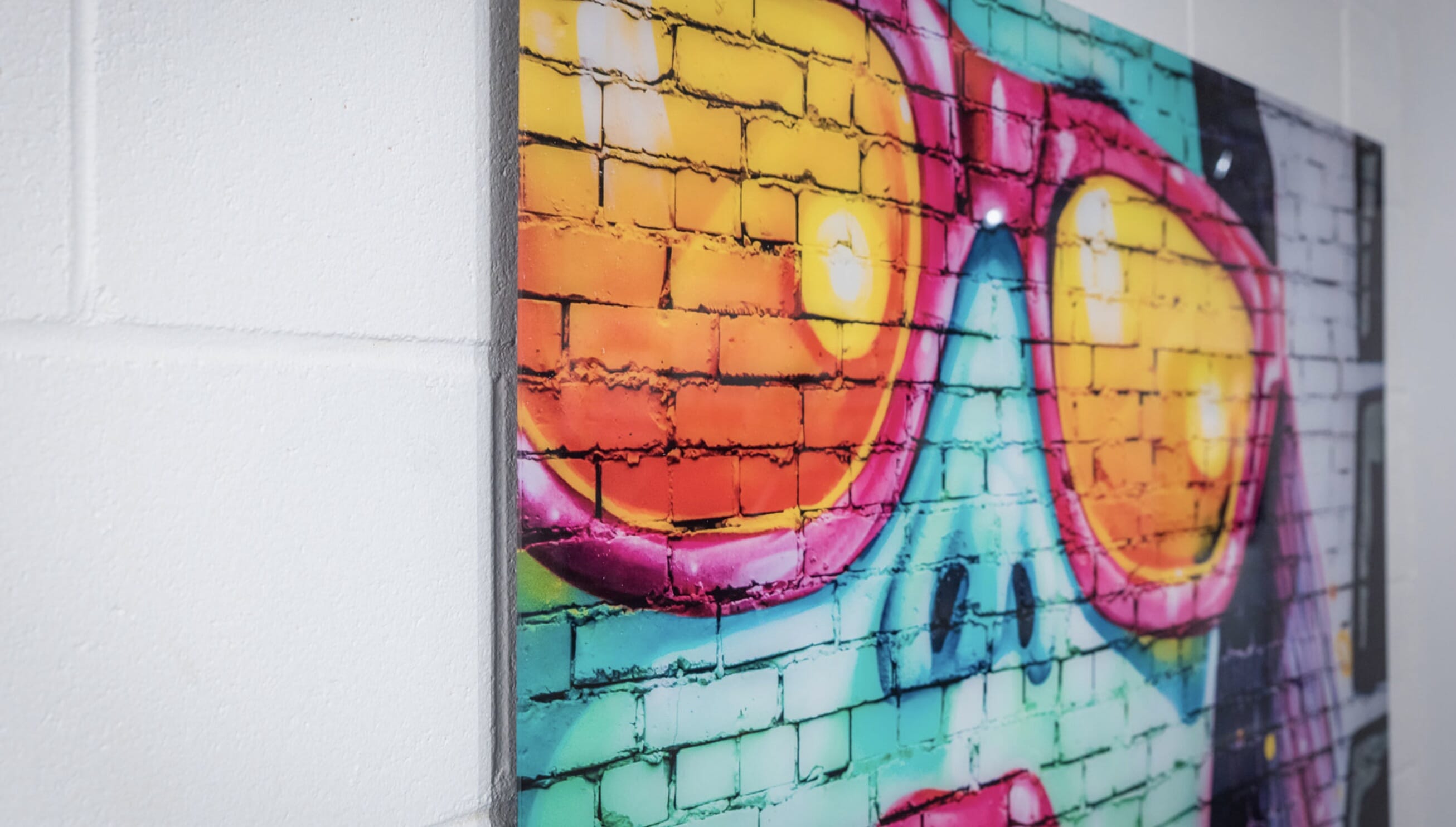 If you're looking for something larger than life, Pictorem's the place to look. They're capable of printing photos onto acrylic as large as 96×60″, with custom sizes available all the way down to 8×8″.
Both their 1/8th" and 3/16″ sheets are best suited for wall mounting. Though you can order your acrylic on its own at a discount, we highly recommend taking advantage of one of Pictorem's available mount options. For an approximate 25% upcharge, you can have the printers attach "standoff" mount posts or a float wire to your order.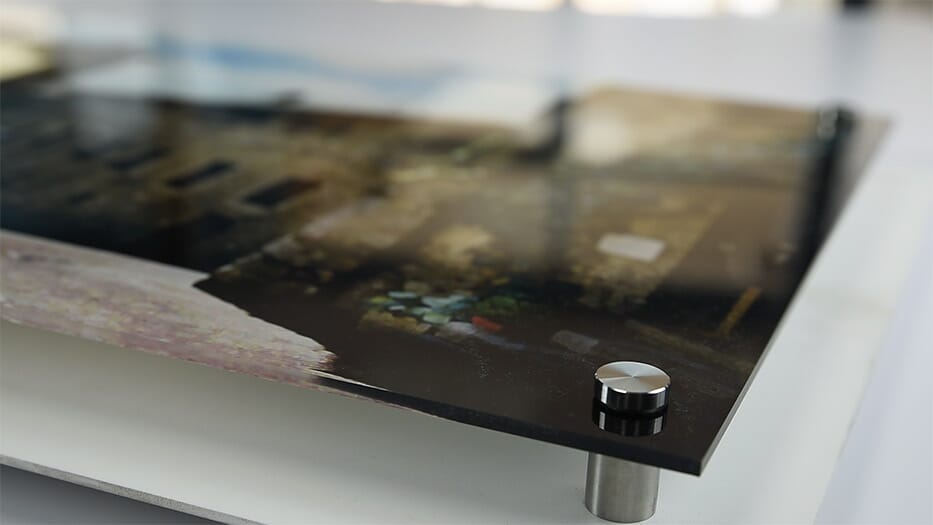 In addition, they offer a variety of decorative frames. Prices vary depending on size and style, but certainly beat out the fees for custom work at your local frame shop.
But where Pictorem shines is with its ability to create customized acrylic. Beyond traditional square and rectangles, Pictorem offers circular prints and other customized shapes upon request. What's more, they offer finishes to create "frosted", backlit optimized, and selective-transparency images.
Of course, this degree of creative freedom comes at a price. That said, frequent sales and added bonuses such as free shipping make Pictorem's higher price tags worth considering.
2. Shutterfly
Shutterfly is consistently a safe bet that photographers can rely on. Sure, it's limited in certain respects (acrylic printing is a small percentage of their business). However, they're a company perfectly capable of getting the job done when it comes to straightforward image requests.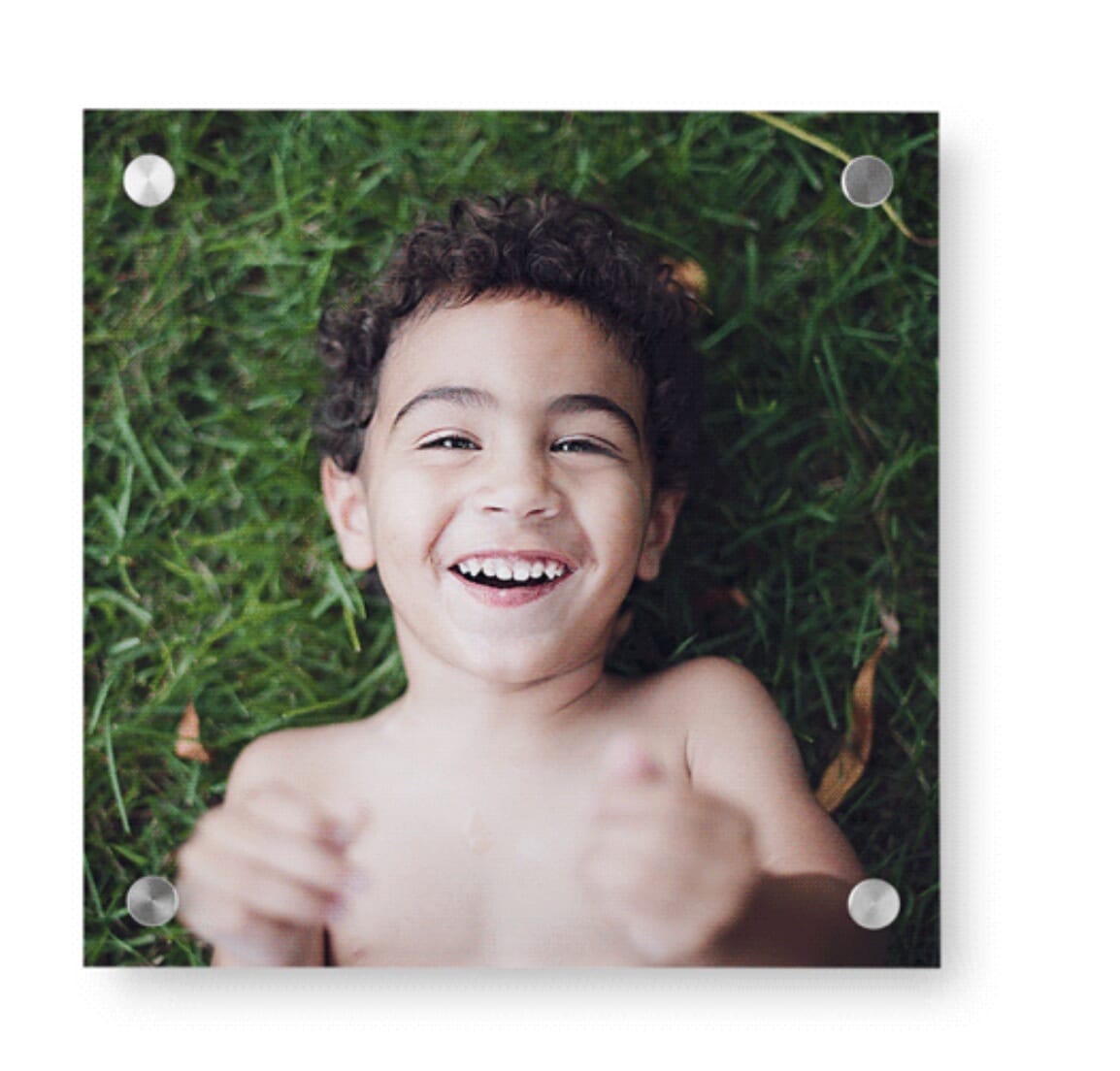 1/4″ thick pieces are available in 14 sizes. Starting at 8×10″, Shutterfly's cutoff point for printing photos on acrylic is 30×40″. Though acrylic of either size extreme is out of the question, the available options sufficiently cover the average person's needs.
By default, every order comes with 3/4″ standoff mount posts already attached. While it would be nice to have a few different mount options available, we appreciate that the hardware doesn't come at an additional cost.
Shutterfly is simple by design. The idea behind their business is that customers can quickly upload an image and expect a beautiful end product without fuss in between. Therefore, there's not a ton of stylistic variation in Shutterfly's acrylic products.
That said, you can break outside of the mold with your photo layout. On a single acrylic piece, you can fit as many as 9 image files. To further customize your product, you can also add text and specify borders and background colors.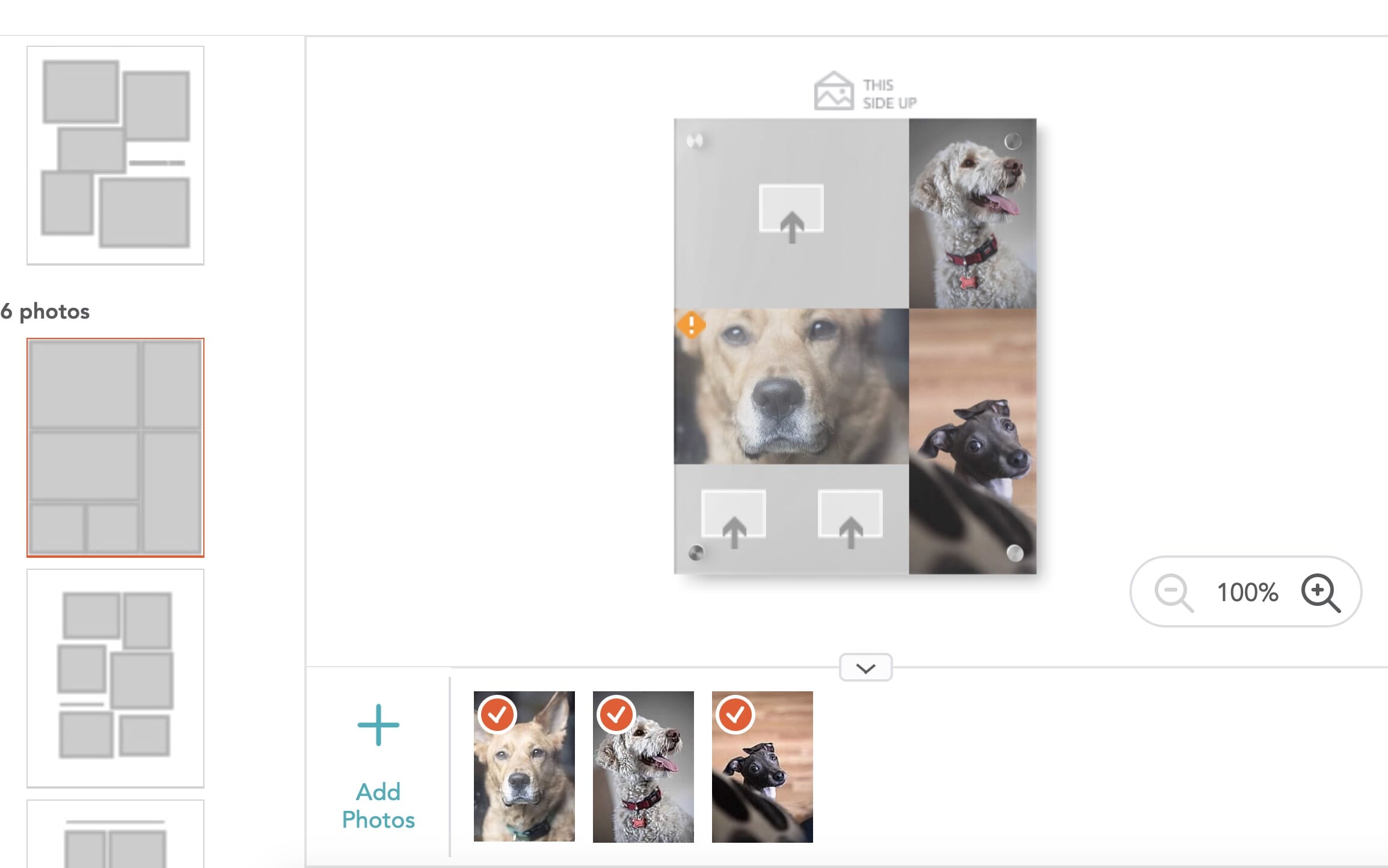 The acrylic prints at Shutterfly aren't cheap, but their price points are far from being exorbitant. We recommend doing some price comparisons before finalizing your order.
3. Printique
It's no secret that Printique is one of my personal favorite print services and their acrylic photo products are no exception. While they tend to stick to basics, this Adorama-backed printer delivers high-quality results.
Printique doesn't have the same size customization options as its competitors. But, with the capability to create prints up to 30×40″, the majority of customers won't feel as though they're missing out. Furthermore, their 2×2″ photo block holds the distinction of being the smallest acrylic available on today's list.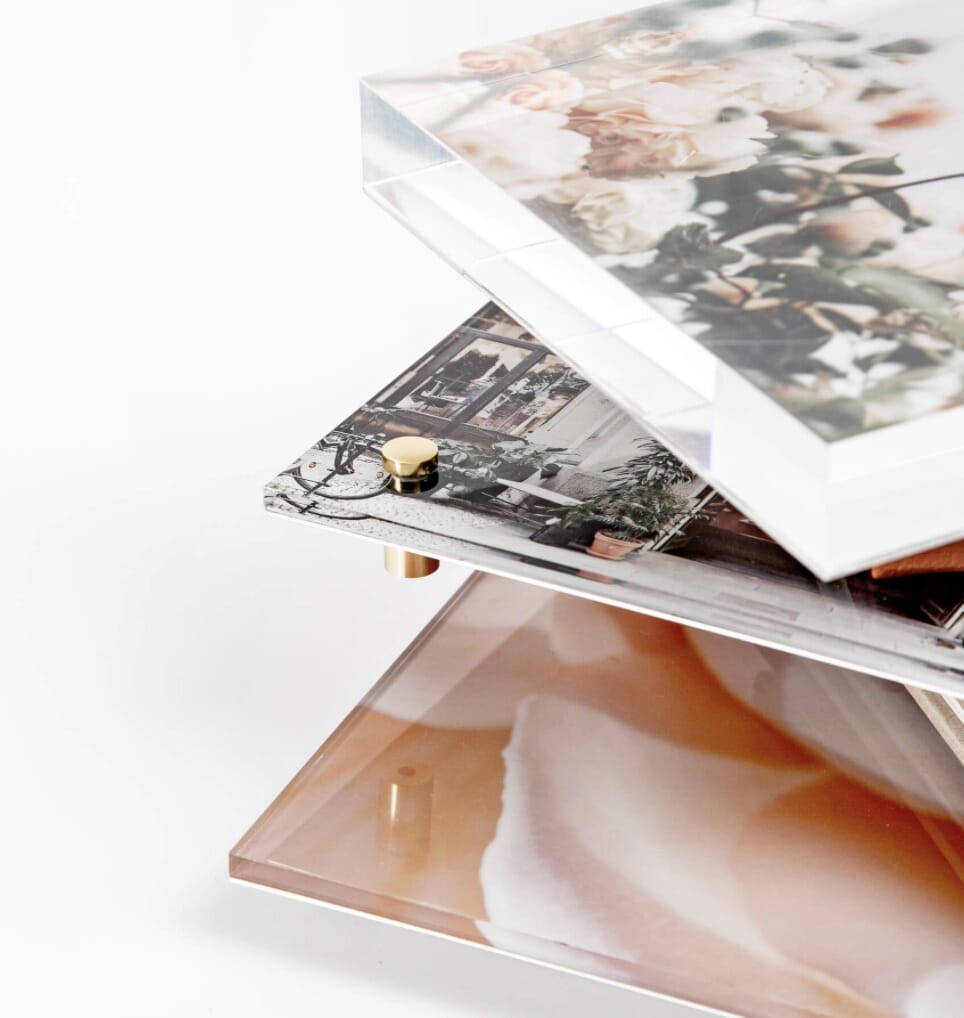 Speaking of which, Printique offers its users two separate acrylic products – photo blocks and wall prints. Measuring at 1 1/8″ thick, the blocks are sturdy enough to stand on their own. However, should you opt for the thinner 1/4″ wall print, Printique offers a variety of mount displays.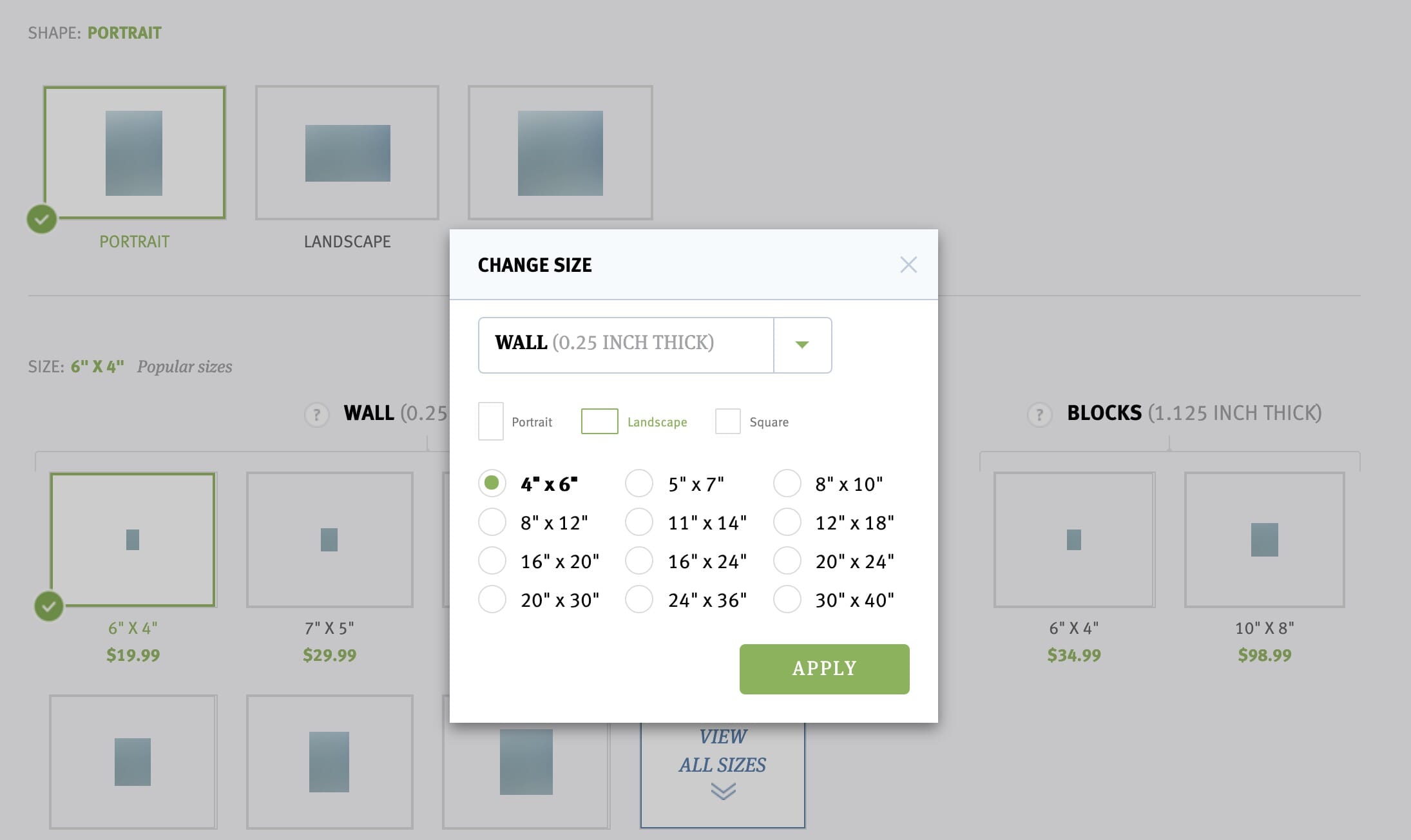 For orders exceeding 8×10″, Printique offers both standoff mounting posts or an attached wall float hanger. Orders measuring less than 8×10″ may opt for a rear easel-style stand or an acrylic block pedestal. None of these mount options will cost you extra money, so don't be shy about getting the display that best suits your work!
As we mentioned before, Printique is a fairly straightforward service. That certainly isn't a bad thing. However, if you're seeking out a super-specialized product, this might not be the solution you're seeking
Related Article: Printique Review
Instead, Printique's strengths lie in its attention to detail. Alongside your pristine acrylic print, you'll receive tools to hang and care for your piece, as well as step-by-step handling instructions. Best of all, Printique's quality and service don't come at an exorbitant price – acrylic prints start at as little as $11.99.
4. Whitewall
Whitewall stands out from the competition by allowing artists to specify the nitty-gritty of their acrylic photos. This storefront makes it easy to tailor your materials to compliment your images. While Whitewall has a few acrylic models to choose from, today we'll be focusing on their flexible original acrylic.
If you need to print larger than life, Whitewall's a great place to start. While the flagship product goes up to 114×70″, their master print series can go all the way up to 196×72″ if need be. On the other end of the spectrum, it's possible to go as small as 3.5×3.5″. If you need something in between those extremes, you can specify custom measurements anywhere within that range.
Photographers are also given the choice between three acrylic widths. The 1/16″ acrylic caters specifically to those working with acrylic for the first time. However, they can print at larger sizes than the other options available. While the 1/8″ and 1/4″ are a little more limited, they provide a greater illusion of depth in mounted images.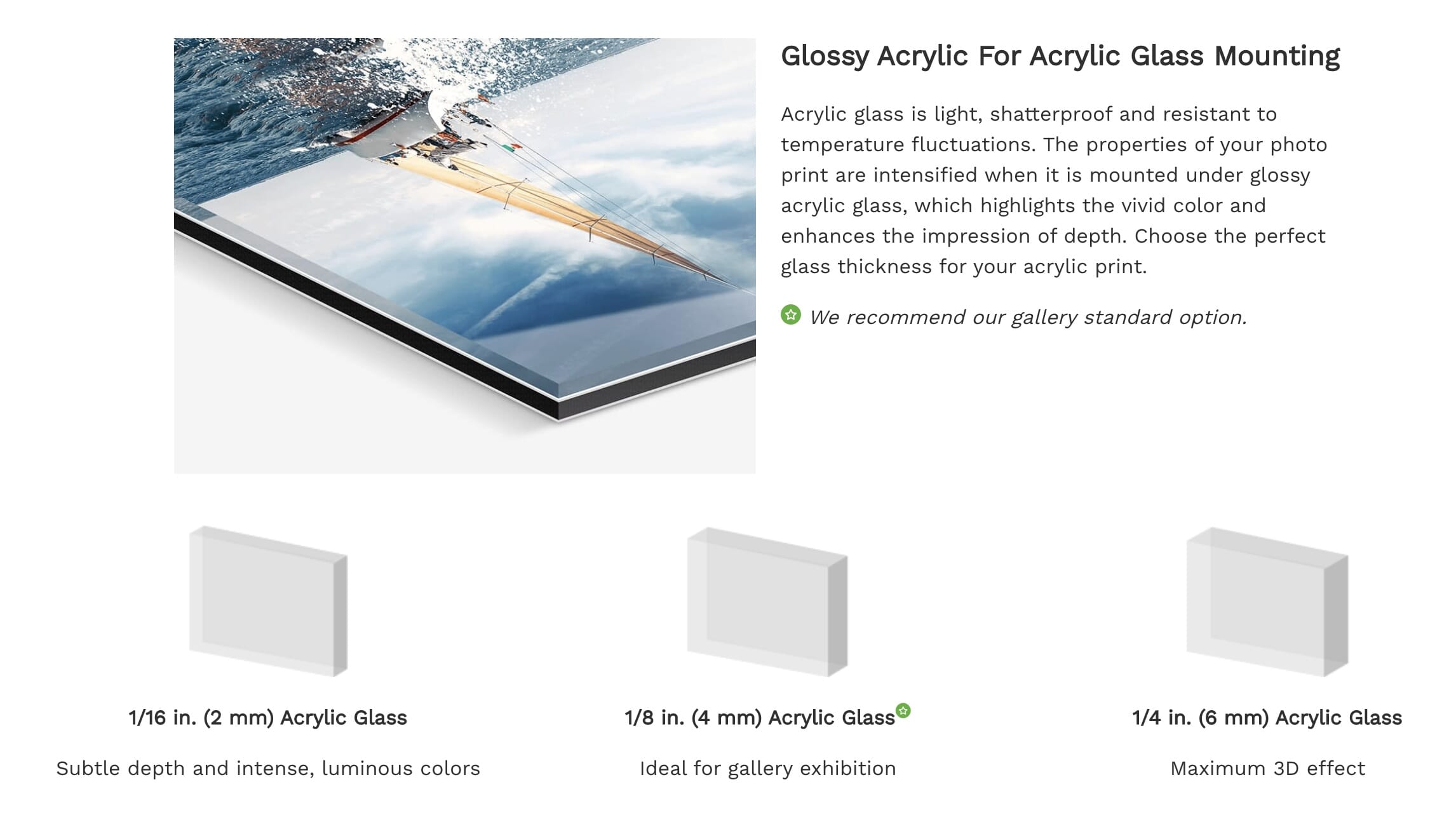 The size of your image will dictate the mounting of your acrylic print. The smallest orders come with a simple, straightforward hanging hook. Medium prints receive two parallel aluminum rails, while the largest orders come with a sturdy rectangular structure pre-installed. But, should you want something a little showier, most print sizes allow you to swap the subtle backing for standoff wall posts.
The styling choices don't end there. Whitewall provides customers with professional-grade papers from Fuji, Kodak, and Ilford. If you're willing to spend a little extra, you can even spring for UltraHD archival and metallic options.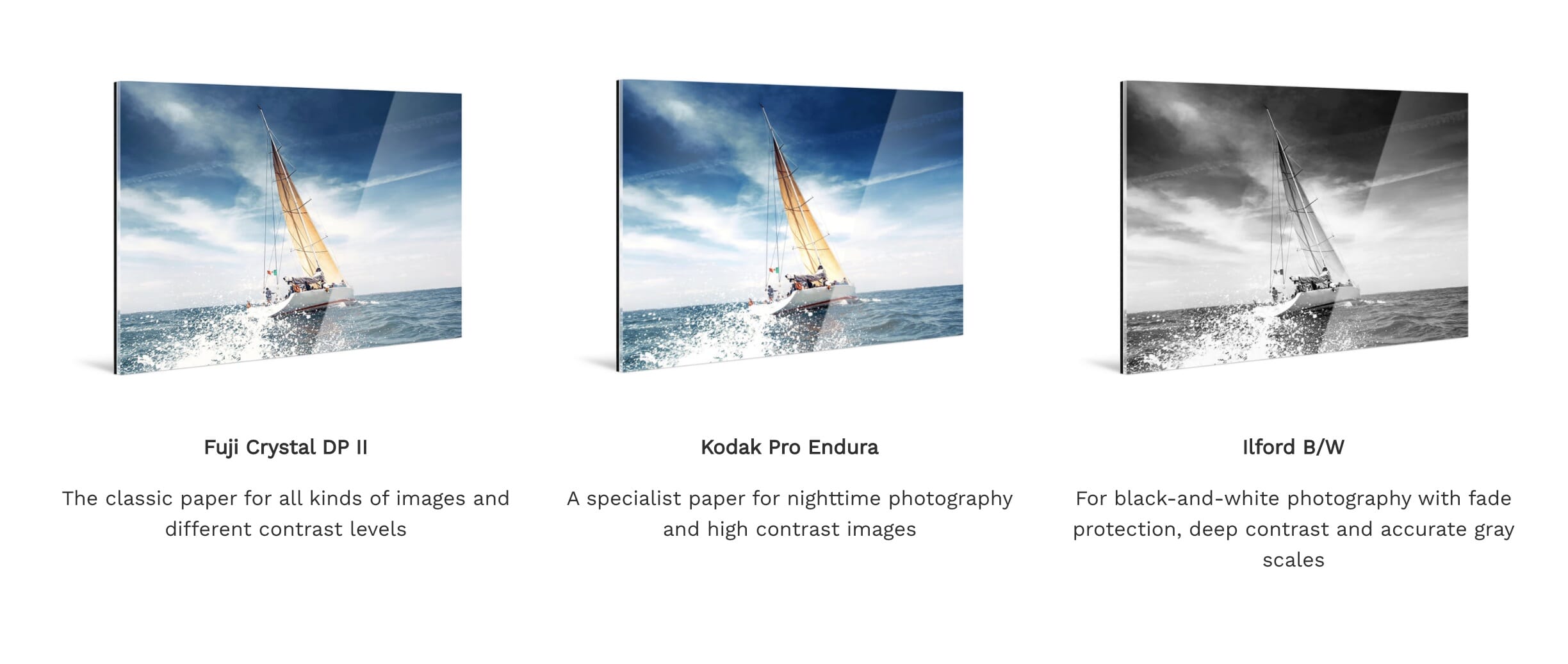 One last advantage, Whitewall has to offer? Their acrylic prints ships throughout the EU as well as the United States and Canada. And, if you're not quite sure which display is right for you, you can order a sample pack. Though it'll cost you $11.95 USD, the samples themselves come with a promo code for $12 off your first purchase.
5. Signs.com
Signs handles a bit of everything, from flags and banners to vinyl wall decals. Even so, it may come as a surprise to learn that they also have some acrylic prints up for grabs. While geared towards more commercial clientele, Signs.com can provide beautiful results at a bargain.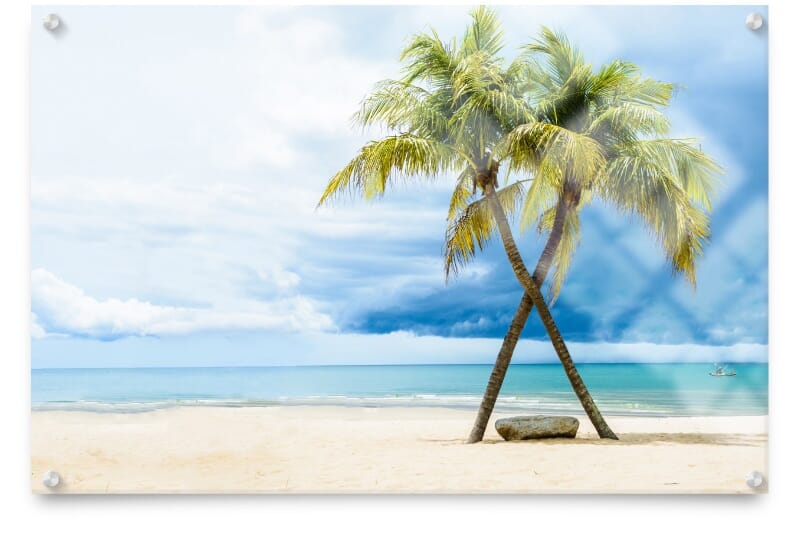 Available in custom sizes ranging from 4×4″ to 48×96″, the acrylic prints are perfectly suited for galleries and home decor alike. From there, customers may choose between 1/8″ and 1/4″ thick glass (bearing in mind that the thicker of the two comes at an upcharge).
Their mounting options aren't complicated – you may choose between drilled holes or stand-off metal posts. However, customers have the opportunity to specify the exact placement of posts, opening up the door for creative displays.
Related Article: Comparing Acrylic vs Metal Prints
In fact, one of Signs.com's greatest appeals is its willingness to allow customers to play around and get creative. The comprehensive design wizard allows users to print in unusual shapes, as well as layer images and text on top of one another. While it may not seem like it, Signs.com is one of the most promising leads if you're looking for something beyond the traditional photo print.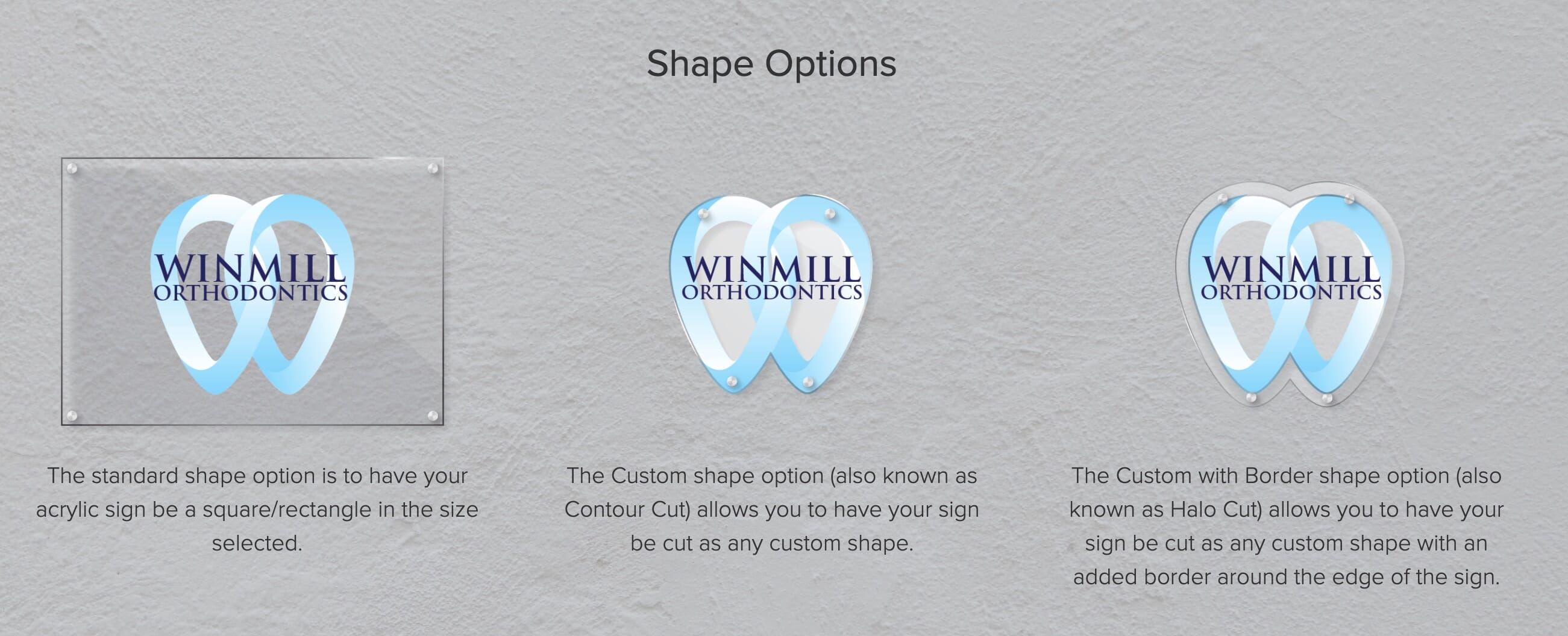 One important note – the larger you go, the greater the savings you'll find against comparable products. At its smallest, Signs.com seems a bit pricey.
However, their 12×12″ model sells for about 40% less than the average 12×12″ acrylic photo print. A 24×36″ from Signs.com will cost you about 60% less than the competing average.
6. Nations Photo Lab
With dozens of print and mount products for sale, it's no surprise that Nations Photo Lab has dipped its toes into the world of acrylic printing. While not as involved as some other vendors on today's list, it's a solid mid-tier option for those seeking some eye-catching decor.

Like Printique, Nations offers both wall prints and photo blocks. Unfortunately, these printers don't leave much wiggle room in terms of size and dimension. All acrylic blocks measure in at 1″ and are available in 5×7″ or 8×8″ formats. The 1/4″ wall decor goes a little larger, with 16×24″, 20×30″, and 24×36″ options on hand
Finished with a black textured backing, photo blocks can stand upright without any support. Wall prints, on the other hand, come with a French cleat pre-installed at no additional cost. That means that you can get your prints on the wall within a few minutes of receiving your order.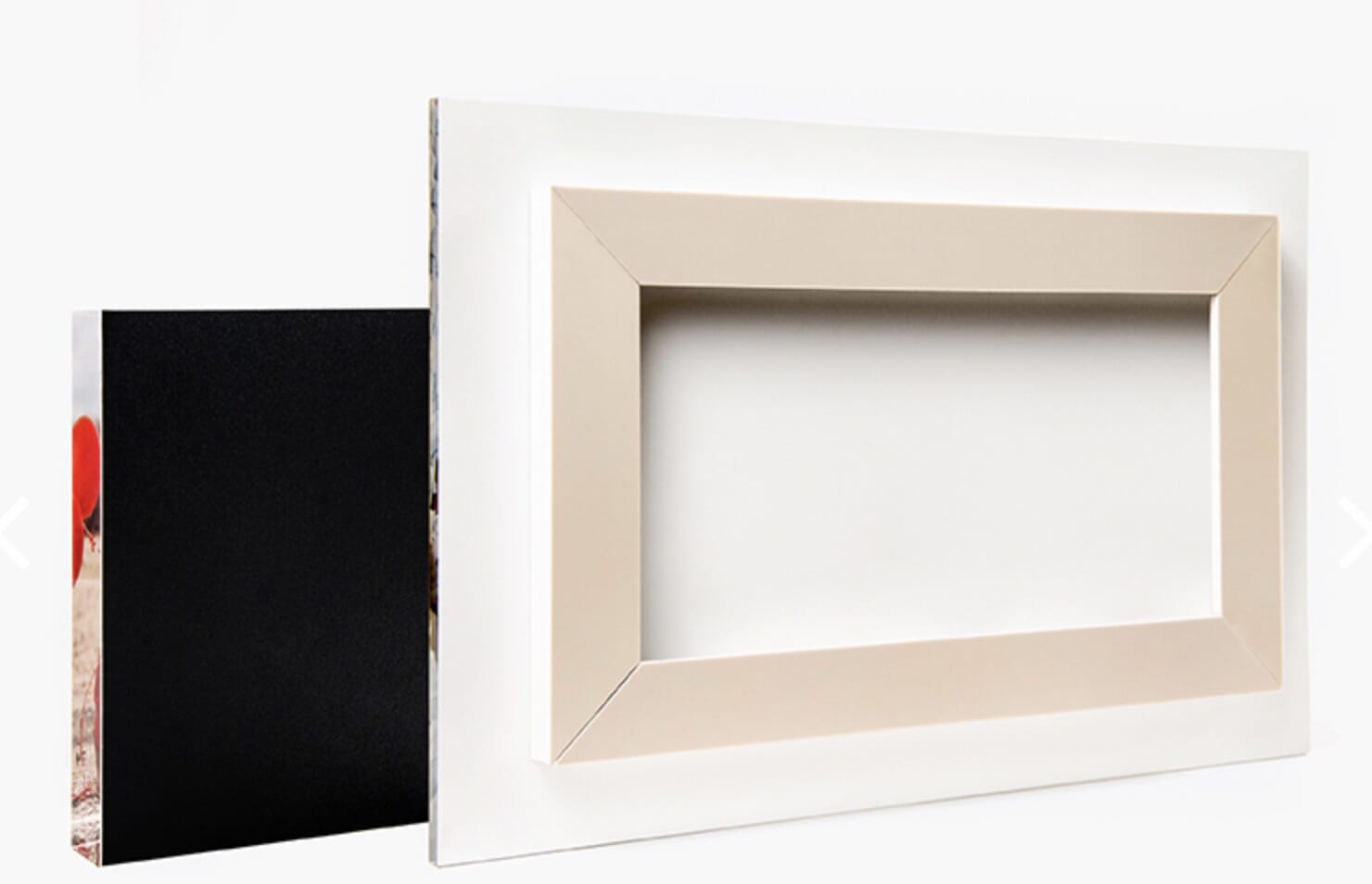 With a limited amount of acrylic offerings, the materials themselves don't stand out from the crowd all that much. However, you can make an order your own by customizing the image design and layout. Using the site's design wizard, you can insert text, add borders, or create collages with one of Nation's premade image arrangements.
In short, the strength and weakness of Nations Photo Lab is its simplicity. If you find specifying design details to be a chore, this site makes ordering simple. Likewise, beginners experimenting with acrylic will likely feel comfortable navigating Nation's user interface.
7. CanvasDiscount
Looking for an acrylic photo print, but working with a tight budget? CanvasDiscount consistently offers decent results without charging customers too much.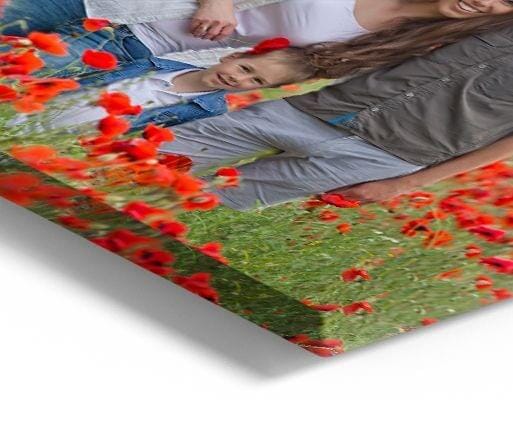 There are ten different sizes to choose from, ranging from 8×8″ to 30×40″. As of the publishing of this post, however, CanvasDiscount does not offer any custom sizes or specialty shapes for their prints. In addition, they do not specify the thickness of the acrylic plate used.
By default, CanvasDiscount does not include any sort of mounting hardware with their prints. However, for an additional $5 USD fee, they'll fix a hanger plate to the back of your acrylic. While other services offer hanging hardware for no cost, it's absolutely worth any extra fee to save yourself a future headache.
Though this site doesn't offer all the bells and whistles possible, they do put care into delivering quality results. In addition to adding depth to your images, each CanvasDiscount acrylic is hand polished to look smooth, sleek, and vibrant. In addition, archival materials are used to make every print UV and moisture resistant.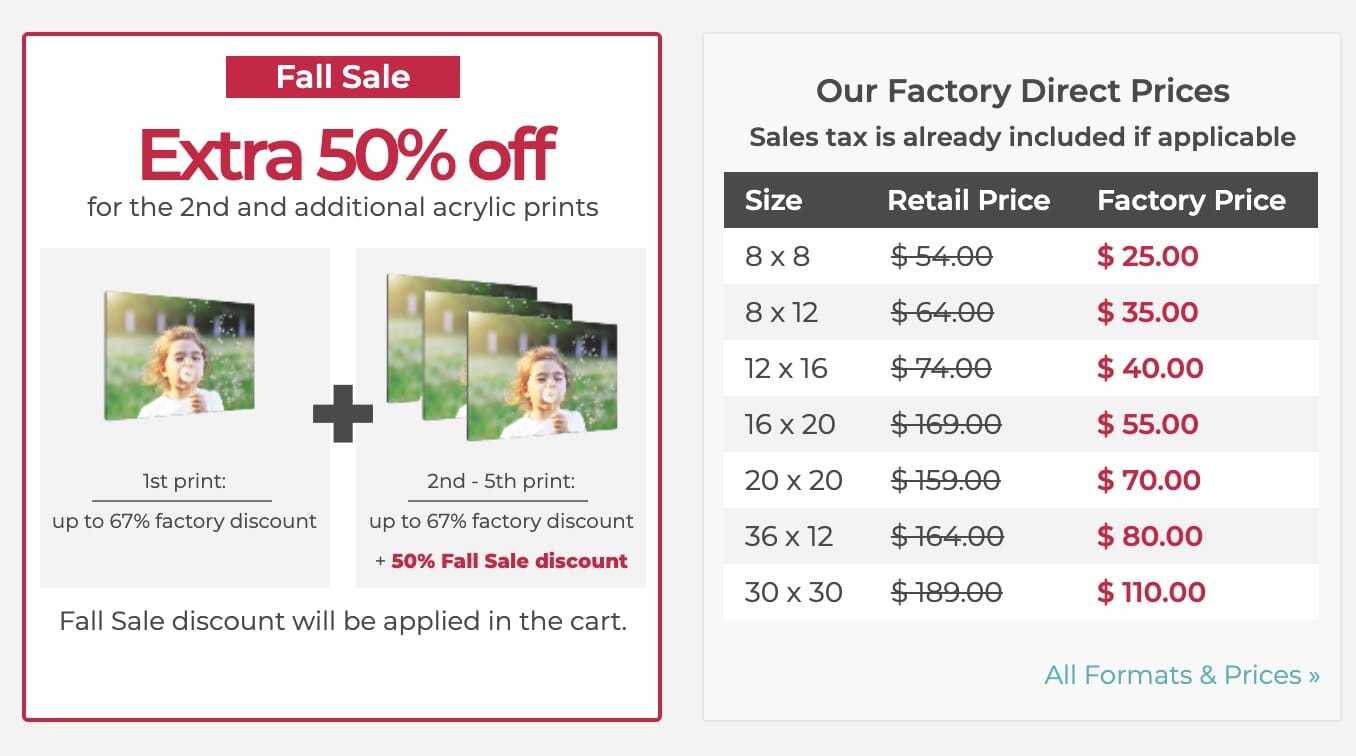 Furthermore, as the name implies, you can find some great deals at CanvasDiscount. While the base prices for acrylic are middle of the road, it's not unusual for the printers to reduce prices by 50% or more. Though additional shipping and hanging fees are a pain, the factory discount makes surcharges sting a little less.
8. Mpix
Mpix, a Midwest-based print shop, is known for providing a personal touch to each of its products. Handcrafted with materials built to last, their acrylic photo prints are a solid, reliable choice.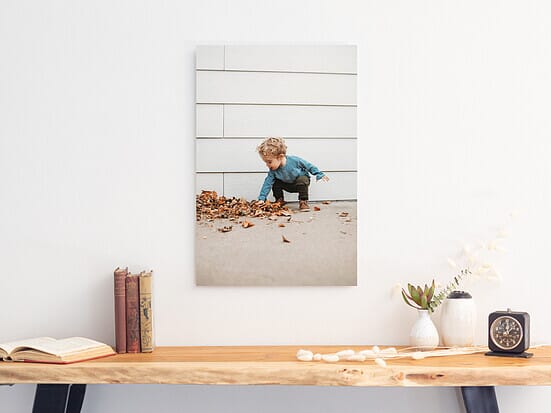 Although there are not currently any custom sizes or shapes available, Mpix has a respectable range of sizes to choose from. Sizes start at 8×10″, and users may order as large as 40×60″. Regardless of size, all acrylic measures in at 1/4″ thick.
Each print comes with a French cleat mounting system included. When the package containing your acrylic arrives, it's already set to grace your walls. What's more, it elegantly hides any additional mounting hardware you may need to hang up your shot.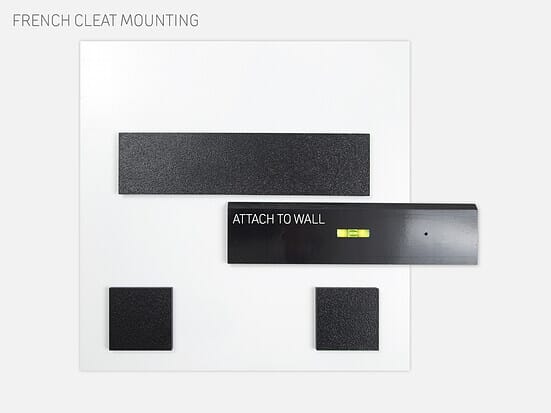 One thing that does set Mpix apart is its unique printing style. Most providers choose to make a paper print, then mount directly to a sheet of acrylic. Mpix instead prints images directly onto the acrylic, then attaches a white screen to the back to help colors stand out. In turn, this creates a translucent look that compliments the three-dimensional effect of the acrylic.
Buyers should be aware that Mpix photographs are a bit pricier than average. That said, bonuses such as 2-3 day shipping and quality assurance guarantees make this product well worth the extra costs.
9. CanvasChamp
In the past, we've admittedly had mixed results with CanvasChamp products. However, printing photos onto acrylic gets expensive. The ultra-affordable prices at CanvasChamp make them worthy of at least a bit of further research.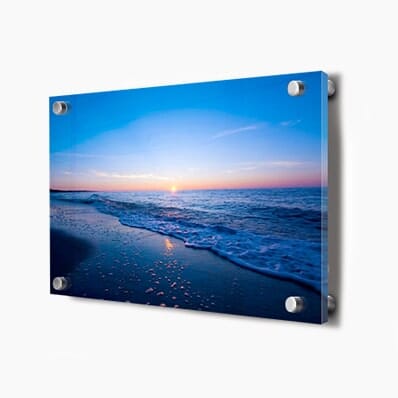 Though there are only a handful of default sizes, CanvasChamp does offer customers custom sizes. The minimum size requirement is 8×8″, and the printer maxes out at 48×48″. Every print comes with a 3/4″ thick acrylic covering, which runs much thicker than most of the wall prints we've encountered.
If you're tempted by CanvasChamp's low prices, you'll likely be tempted to opt out of ordering hanging hardware. However, it's worth keeping in mind that your print is probably unable to stand alone. Take the time to tack on table stands or mounting posts. Though they cost $7.99 and $12.99 respectively, the extra fee beats figuring out how to mount acrylic on your own.
Related Post: Best Online Printing Services for Artists
Stylistically, CanvasChamp doesn't leave much in terms of customizing your acrylic. However, the site does offer some retouching options. If this is a piece you're hoping to hold on to for years to come, you may want to consider including this service with your purchase. Just be sure to specify that you'd like a proof emailed to you to avoid any undesirable editing mishaps!


The base prices alone at CanvasChamp are some of the lowest you'll be able to find. But, with frequent promotions constantly taking place, you can expect to pay much less than the listed fee. If you feel CanvasChamp is right for you, be sure to check in often to find the best possible deal.
10. Bumblejax
Lastly, we'd like to wrap up this list with Bumblejax. A Seattle-based printer, this acrylic print option allows users to specify just about every detail, down to the polish around the edges.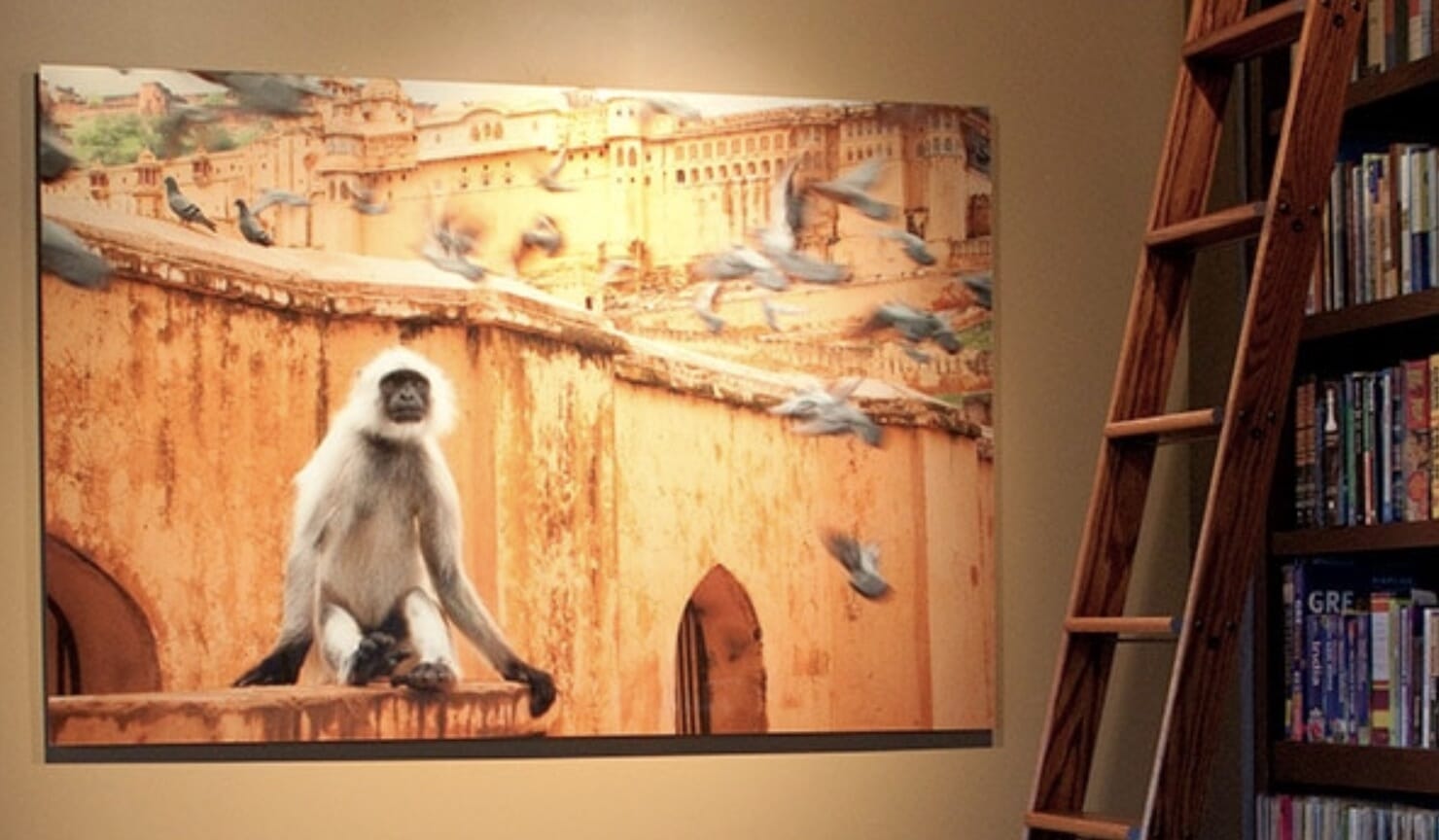 Like Printique, Bumblejax offers both photo blocks and wall prints. However, the wall prints specifically grant customers more stylistic control. The acrylic itself comes in 1/8″, 1/4″, and 1/2″ thick sheets. Moreover, you may specify a custom size all the way up to 96×48″.
There are two mount options available to choose from. By default, all orders come with kiln-dried wooden floats, hanging wire, and a drywall hook. But, for an additional $7 fee, you can switch out for a sleeker aluminum cleat.
Once you've determined your dimensions and hardware, you can specify the look of your actual image. Using high-grade luster and metallic photo papers, Bumblejax uses a face mount method to join the image to the acrylic. This in turn creates a vibrant image with optimal longevity.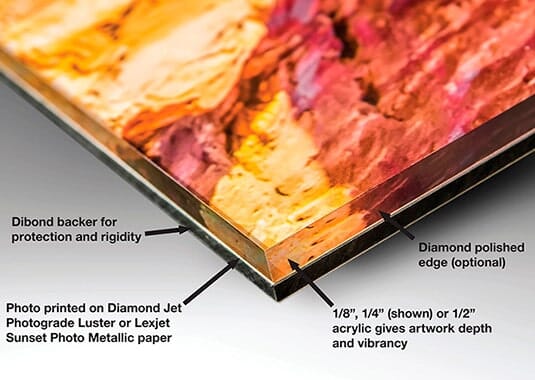 To further add to the look of your print, Bumblejax offers two additional acrylic options outside the industry standards. Their anti-glare option claims to reduce reflections by up to 50%. TruLife also reduces glare, includes anti-scratch, and anti-dust properties. Though they come at an extra cost, a specialized acrylic may be worth your while if you're hoping to up the print's resale value long term.
Our Takeaways
Each of the printers we've listed has its own set of advantages and disadvantages. However, here are the main points we've learned through our extensive acrylic research:
If money's a concern, you'll likely want to check out CanvasChamp. CanvasDiscount also runs frequent promotions. Signs.com offers some surprising deals for large format printing.
For those of you that want to control the fine details of your image, Bumblejax and Pictorem are the most promising leads. Whitewall also offers a great deal of control.
Whitewall offers the largest possible prints, while Pictorem offers the smallest.
Pictorem, Whitewall, CanvasChamp, and BumbleJax all offer custom-sized prints. Pictorem and Signs.com also provide specialty shapes outside the traditional rectangle.
Shutterfly, Printique, and Nations are the best place to start experimenting with printing photos onto acrylic.
Mpix has the advantage of being a handcrafted product made by an attentive creative team. Though they work on a larger scale, Printique's concern for customers and Whitewall's styling sample pack are also worth noting.