Top 8 DSLR Backpacks
Having spent a fortune over the years on your camera gear, and with that indomitable urge to make photos, the next step is to step outside. The worst thing that you can do to your photography is to stay home all 12 months and never, even once venture outside. But to go outside with your gear, you need a bag.
Related Post: DSLR Best Sellers
A camera bag, or DSLR backpacks, as they are commonly referred to, is a tough, all-weather protective carrying case for your photography equipment. Being a backpack design, you have the advantage of slinging it over your shoulders. It, therefore, allows your hands to be free for composing, focusing and holding your camera.
Good DSLR backpacks, as you can imagine, must offer some amount of protection for your gear. The exterior should be made of some waterproof material which will prevent water seepage in the event of a downpour. Lowepro bags, for example, come with their proprietary All Weather AW Cover. This gives a very high degree of protection against rain, wind and other agents of nature.
A tough exterior material is also necessary to protect against bumps and knocks while traveling, at the airport, at security checks, or walking down the street or when hiking up the mountain.
It is hard to take into account all the various bags and all the various makes. It is humanly impossible. So we will rely on the virtue of some of the industry experts.
1. Tilopa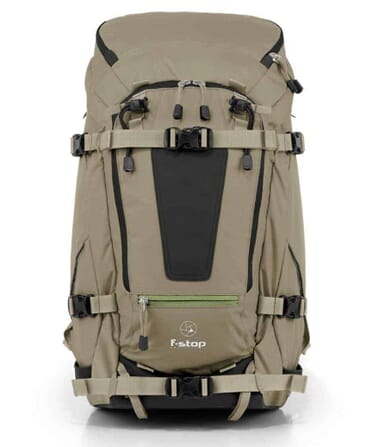 Tilopa is an f-stopper gear and one of the most rugged DSLR backpacks that belong to their Mountain Series. That the bag is extremely good for outdoor, and especially demanding environments can be taken at face value when you have somebody like Jimmy Chin vouching for it. This is a bag designed for outdoor photographers who want nothing but the best when it comes to durability and performance.
What Makes This Bag Great?
The Tilopa comes with fantastic weather resistance that is possible because of a combination of oxford-weave ripstop nylon and a proprietary material known as Advanta ™, which is a thermoplastic polyurethane film. Even with the tough build quality and the superior weather protection, the bag is breathable. The EVA molded rear panel allows both breathability and comfort for your back.
Breathability is important for DSLR backpacks. In cold weather, when you pull your camera gear from the relative 'warm' microenvironment of your bag, condensation happens immediately when the lens/camera comes in contact with the cold outside weather.
Most DSLR backpacks that are projected as weatherproof have a dubious base. That is the part which stays out of sight and out of the calculation. Bag manufacturers often use material which is neither protective nor weather resistance. And yet, this is one of the principal areas where water seepage happens. When you set your bag down on a wet forest floor, you put your gear at risk. The Tilopa has a Hypalon ® reinforced base which prevents water absorption and keeps your gear dry at all times.
The chains and zippers are YKK ® which gives them superior strength and fantastic weather resistance. This along with the Hypalon ® zipper garages give good protection against possible knocks as well as prevent water seepage in the likely event of rain. One of the sturdiest DSLR backpacks in the business.
Related Post: Best Cameras for Backpacking
2. Think Tank Photo StreetWalker Hardrive V1 Backpack (Black)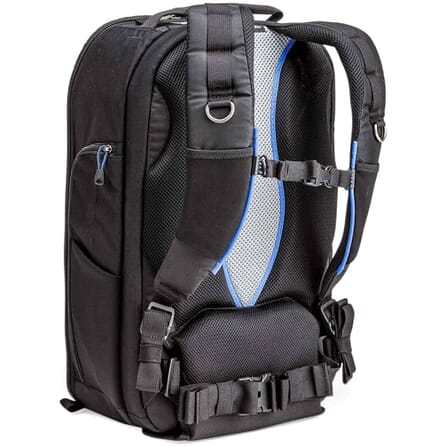 The Think Tank Photo StreetWalker HardDrive V1 is a multi-utility backpack designed to hold a pro DSLR complete with a medium telephoto lens of 70 – 200mm, 4 additional lenses and your speedlight units. There is also a separate compartment for a 17″ laptop. That means there is ample room for your MacBook Pro or a pro-Windows mobile working platform. Additionally, there are an innumerable number of pouches and organizers inside the bag.
What Makes This Bag Great?
Now about the build quality and material used for the bag. The bag is designed out of 1680D ballistic nylon. Closed-cell PU foam and water repellant coatings are used to ensure that the bag offers some resistance to water.
The bag has comfortable padded shoulder straps. This is a big bag, and when you cram in all your photography gear, it will become very heavy. Comfortable shoulder straps are thus extremely important. There are extra D-rings on the shoulder strap, in case you wish to hand additional accessories.
Related Post: Best Camera Strap
There is a recessed breathable area at the back of the bag, between the shoulder straps. This area allows for air flow to keep your gear nice and dry. Either side of this area has nice padding. Padding has been provided towards the waist area as well.
Buckles and fasteners are provided too to ensure a secure fastening of the bag around your chest and waist. This ensures a better distribution of the weight across your upper body.
There is a nice foldable pouch contraption that is tucked inside a zipped compartment at the bottom of the bag. This pouch contraption is for holding your tripod.
A rain cover is also provided with the bag that allows you to cover it in inclement weather and protect your gear.
What I don't like, and I am very picky here, is the jingling pullers and the chains. This will not create problems when you are in a noisy environment. But switch to a birding shoot, or when filming, every time you open your bag the sound will be a nuisance.
Related Post: Best Camera Bags under $50
3. Lowepro Flipside 500 AW Backpack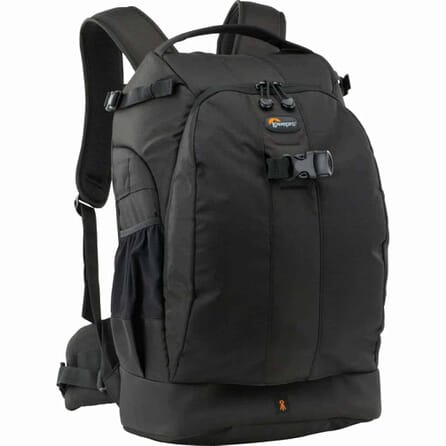 A backpack must be robust enough for a least one pro body and a change of lenses. Ideally, if you are going outdoors for a professional shoot, you ought to be able to pack everything you need; except your battery operated strobes. But if you leave apart the Lowepro Flipside 500 AW Backpack should be able to pack in everything you need.
What Makes This Bag Great?
The customizable inserts can be rearranged to suit your needs. You can easily pack two pro bodies. Plus, you would easily be able to pack one 500mm lens and several smaller wide angle lenses too. Not to mention a couple of speedlights and tons of other accessories.
There is also a separate compartment for storing a tablet pc. Another convenient feature of the backpack is the proprietary Lowepro Hideaway Tripod Mount System. Even the side pockets are large enough to store a large bottle of fluid or a small travel tripod, should you need one. So, there is more than one way you can carry a tripod with this backpack.
That's just the storage bit. The material used to manufacture this bag is weather resistant. So, regardless of the terrain, you might be operating in or the weather, this bag will let no harm come to the contents inside it. Lowepro rates the material as All Weather AW Cover. There is also a rain cover provided with the bag that ensures the best protection.
The shoulder straps are nice and big and well padded. There is a waistline buckle that fastens the bag and helps distribute the weight evenly across your torso.
4. Peak Design Everyday Backpack 20L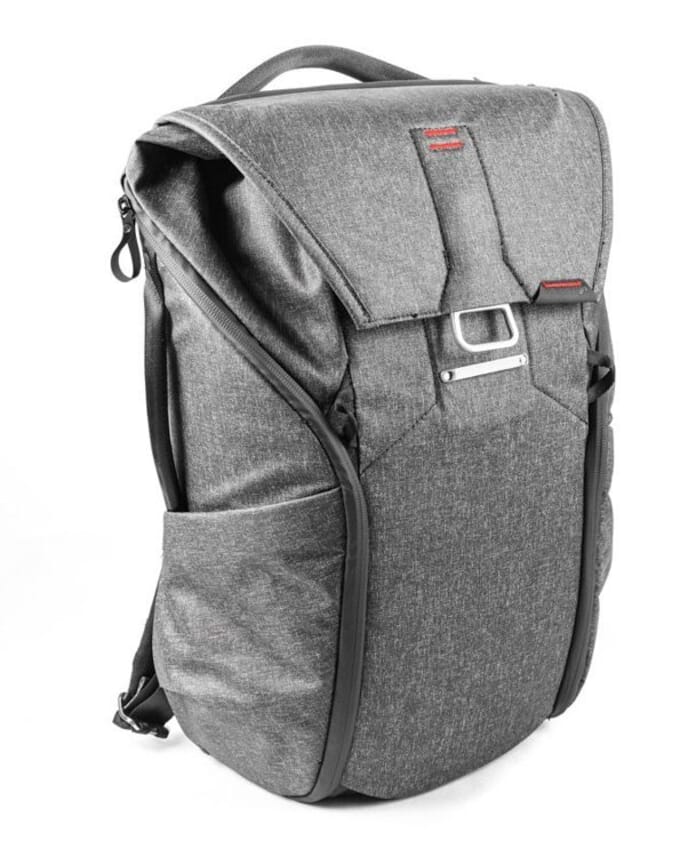 The Peak Design Backpack is a design that is meant for genuine photographers and by photographers. It is functional, much less complicated than some of the other bags that we have seen and is functional.
The Peak Design backpack is not the sort of backpack that you would carry with you for a hike up the Mountain of the Moons. Though the side zips are weatherproof and should keep the elements at bay, the bag fabric isn't completely weather sealed. The interior material is soft, yet durable mixed cotton twill. On the outside, the shoulder straps are very comfortable and well insulated.
The interior space is well partitioned which ensures that your camera and lenses and other accessories don't collide with each other and are well cushioned. There is also a dedicated sleeve to accommodate a 15″ laptop. The side openings on either side of the bag give faster access to the internal compartment means you can access your camera and accessories faster from any side.
Related Post: The Best Leather Camera Sling Bags
What Makes This Bag Great?
This is also one of the few DSLR backpacks that are designed keeping in mind drone photographers. The Peak Design Everyday backpack can carry the latest DJI Mavic with the controller and accessories should you need it.
The top flap uses unique (patent pending) MagLatch that ensures quick access to your gear and quick tuck-away when you don't need them. There are two versions of this bag currently being sold. The Charcoal backpack comes with Black Hypalon accents and some stitched details in red. This one has no leather accents. The Ash colored version, however, has some tan leather accents.
5. Kata KT D-3N1-30 Sling / Backpack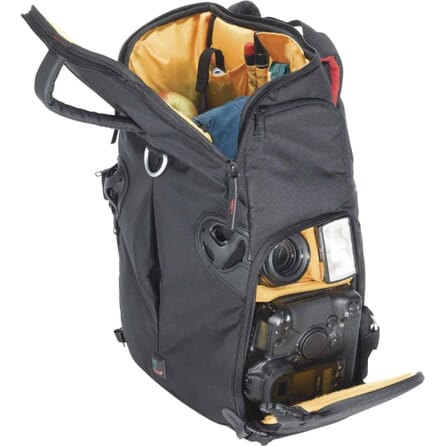 The Kata D-3N1-30 has been designed out of Thermal Shield technology. An additional design feature is the protective zones. These are set-up at points where the bag is most likely to encounter impacts when in use. An example are the corners, which are reinforced. This is so that maximum protection can be provided to the contents of the bag.
The Kata D-3N1-30 is a transformer when it comes to backpacks. This one can easily reshape itself as a backpack and then just as quickly as a sling bag. Attach the optional InserTrolley which allows your Kata D-3N1-30 to be pushed like any other trolley bag at the airport. It does give a lot of conveniences.
What Makes this Bag One Of The Best DLSR Backpacks?
But other than being a convertible the bag can be used as a left handed sling, and a right handed sling and a backpack. This would probably the first bag in the world that can be configured for left handed photographers. When in sling bag mode you can simply swing the bag from back to front and using the quick release clip gain access to your camera and accessories.
The backpack has a unique x-styled strap plus the padded balancing hip strap. This unique design ensures that the weight of the bag is transferred to your body for a comfortable haul over a long period.
A rain cover has been provided that ensures that the bag and its contents are protected in inclement weather.
Related Post: Best Real Leather Camera Bags (for DSLR)
On this occasion, we shall be looking at a few more parameters and try to figure out the best DSLR camera bags that money can buy. We shall also be looking at an option used by a top professional.
6. Lowepro Fastpack BP 250 AW II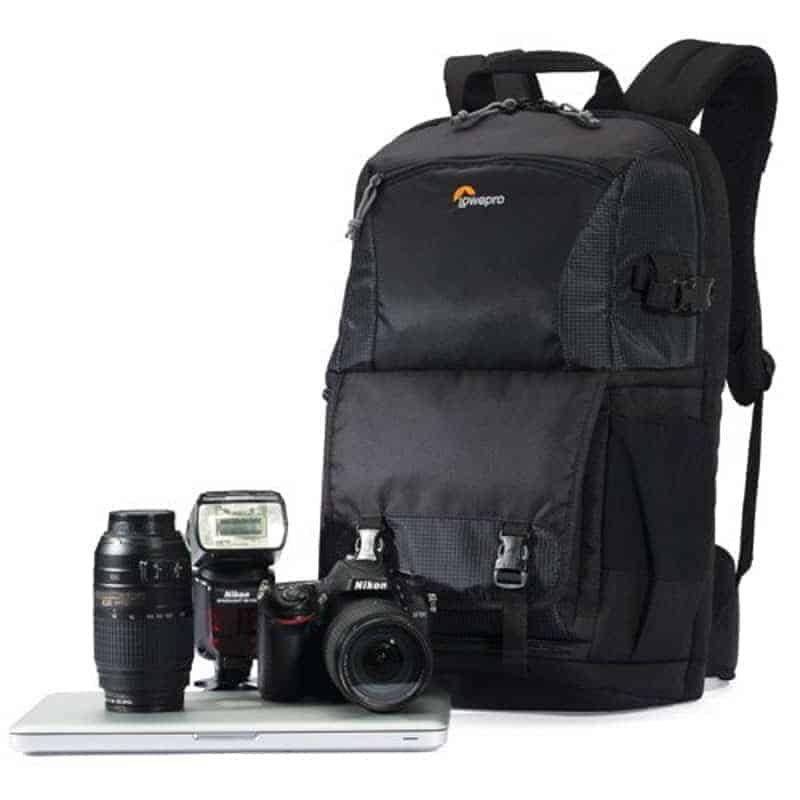 What every photographer, regardless of their level of expertise and regardless of the genre they are shooting, wants is options when they are out on the field. This discussion on the best DSLR camera bags looks for this specific attribute in each of the entries as well for properties beyond the obvious.
The Lowepro Fastpack BP 250 AW II provides ample options for the amateur shooter or even a pro shooter on a photo tour. You can pack one pro-sized DSLR attached to a mid-sized lens and up to two additional lenses under the front cover.
The horizontally opening zipper may not add too much convenience and in spite of the fact that it has been tagged as a convenience feature, I don't quite feel it to be so. After all, you carry it on both shoulders and unlike sling bags, this one doesn't let you access the camera compartment while it is still on your shoulder.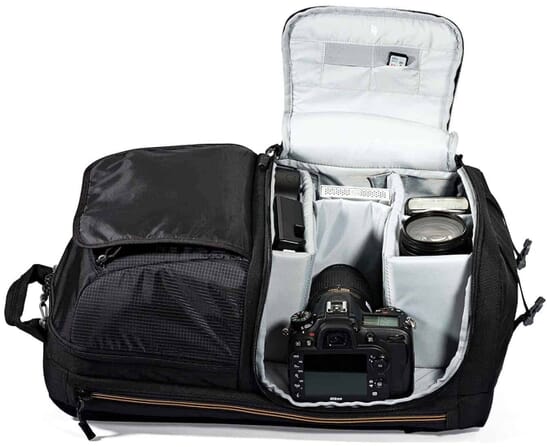 But apart from that, the inside compartments are well partitioned. You can change things around with the three padded dividers. There are no less than five slip-in pockets inside the top compartment. These are very handy for storing travel documents, wallets, and other nick-knacks. There is also a lanyard with a swiveling clip. It's just the thing for hanging your keys and not losing it in one of the plethoras of compartments inside the bag.
Other pockets include a tall stretch-mesh, one that can hold a small water bottle, a slide-in zipped compartment, that holds a 15" laptop snugly or an iPad comfortably, and a top compartment just above the one housing the camera.
Enough space for packing all that you may need for 3-4 days of serious shooting or even a two-week long photography tour. Oh, and did I mention that the bag also comes with a rain jacket? At the time of writing, the Lowepro Fastpack BP 250 AW II
costs just
$99.67.
7. The Lowepro Fastpack BP 150 AW II
The 150 is a mirror image of the 250 detailed above. The only difference being it's smaller in dimensions. Thus, while the Lowepro Fastpack BP 250 AW II
has an exterior dimension of 31 x 26 x 50 cm, the Lowepro Fastpack BP 150 AW II
measures 25 x 23 x 47 cm.
Thus, although this bag has the same design and number of storage compartments everything is just a tag smaller than on the Lowepro Fastpack BP 250 AW II.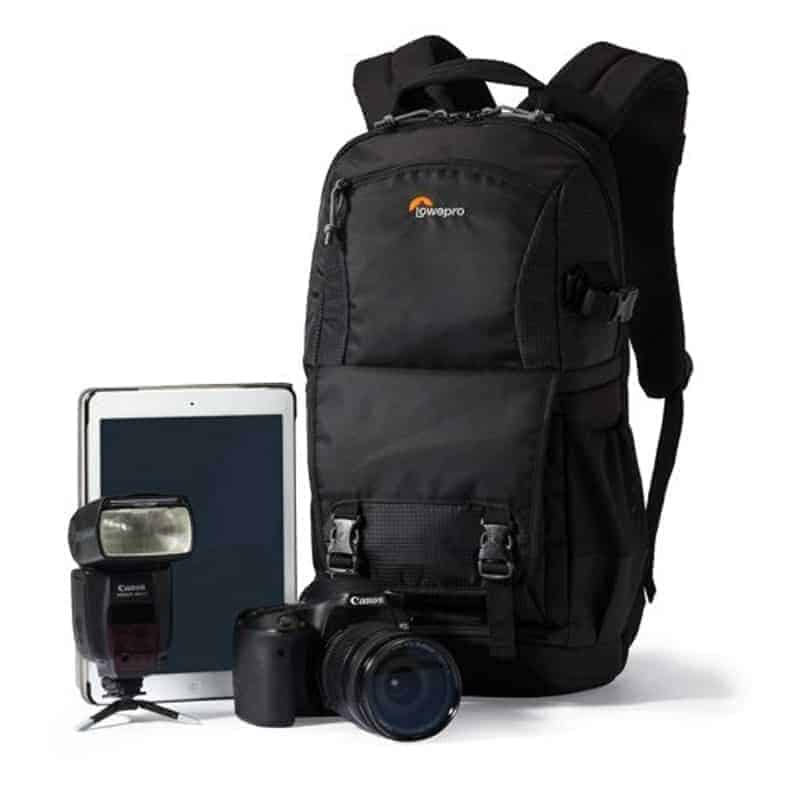 The laptop compartment of the 150 can accommodate an 11" machine compared to a 15" on the 250. The Lowepro Fastpack BP 150 AW II costs
$68.37.
Related Post: Best Camera Bags under $50
8. What do the Pros Use? The Everyday Messenger
Imitation is the best form of flattery. If you like the gear that your role model uses and aspire to use them, what's wrong in picking a few pointers from what they haul as well?
So, let's find out what celebrity photographers love to check-in on a flight with, and what better than a bag that has actually been designed by a celebrity pro?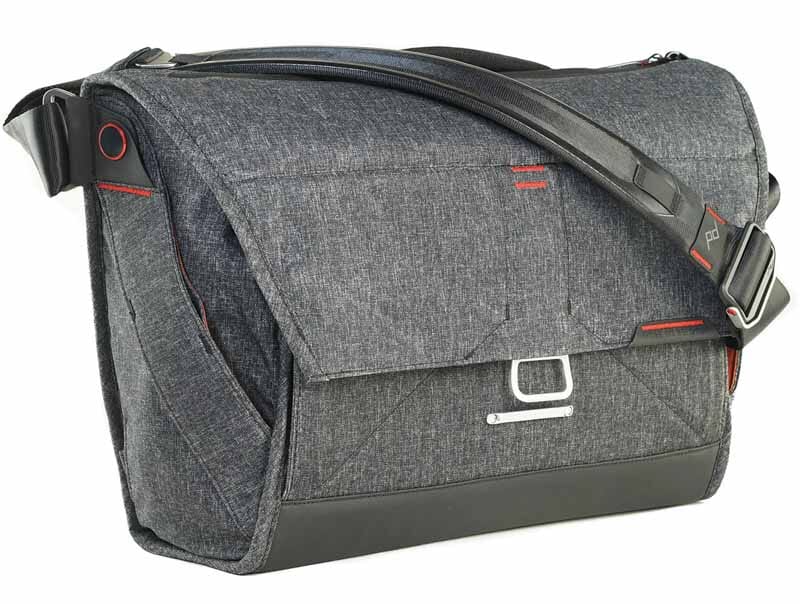 This bag has been designed keeping in mind how photographers actually use their bags. The bag we are referring to is the Everyday Messenger and without it, this discussion of the best DSLR camera bags would be incomplete.
When Peak Design raised nearly 4 million on a concept bag everyone sat up and took notice. After all, you don't get such huge crowdfunding for a camera bag. The bag, to its credit, has been designed for photographers and by a photographer (Trey Ratcliff of Stuck in Customs fame) who understands as well as anybody else how camera-wielding pro togs use their bags.
Let's get started with filling the bag up. To start off, in goes a full-frame DSLR with a lens attached. Next, go two additional lenses. The bag isn't large enough for telephoto lenses but you can safely pack in a medium tele-zoom and a prime. Next goes your cables, spare batteries, filters, and external hard drive.
Related: Best Laptops for Photo Editing
Oh, and there is a compartment to fit in a 15" laptop too. Depending on how much you have already crammed into the bag the laptop compartment may just be a little too tight for a 15″ device. But you can certainly fit in a smaller 13" device. Plus, there is a small internal compartment that can house a tablet/iPad and travel documents.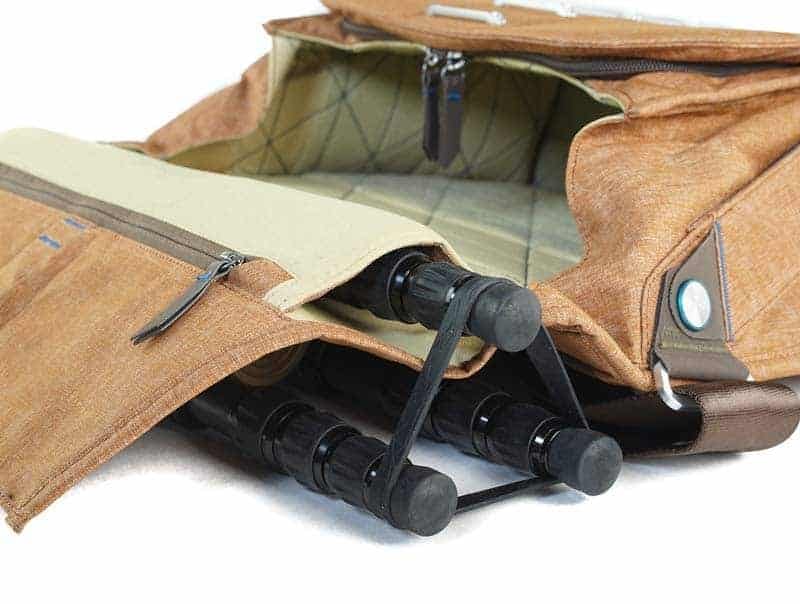 The bag has numerous clever features. Take for example the origami-inspired padded dividers. They fold in a unique way to generate more storage management options inside the bag. There is a zipped pocket under the flap. It is ideal for documents and change.
A unique adjustable mag-latch locking mechanism ensures that the bag actually expands and contracts based on how much you decide to cram in. The magnetic lock latches onto one of the four ladder-like locking levels. This is like no other bag and saves you the hassles of having to find extra carrying options when you decide to pick up a book for the airport or a souvenir for back home.
Related Post: Peak Design Everyday Backpack Review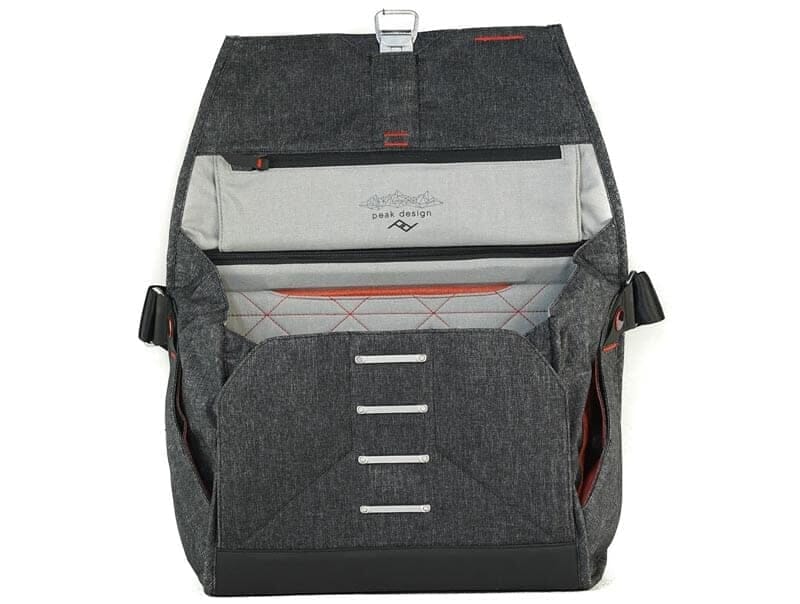 This bag can be worn around the shoulders as a sling bag thanks to the adjustable strap. An additional support strap wraps around the body of the wearer. The Everyday Messenger is our pick for the "best DSLR camera bag" and currently retails at
$215.95.
✔ Winner: Best DSLR Camera Bag
Easily from the point of view of convenience and usability, the Everyday Messenger
tops the list of the best DSLR camera bags.
---
Note: Amazon.com prices, reviews, and ratings were updated on 2019-07-21 - Product prices and availability are accurate as of the date indicated and are subject to change. Some product prices may refer to used/refurbished items. Any price and availability information displayed on Amazon sites at the time of purchase will apply to the purchase of the product. As an Amazon Associate we earn from qualifying purchases. Certain content that appears on PhotoWorkout.com comes from Amazon.com. This content is provided "as is" and is subject to change or removal at any time. For more information refer to our Affiliate Disclosure and Disclaimer.