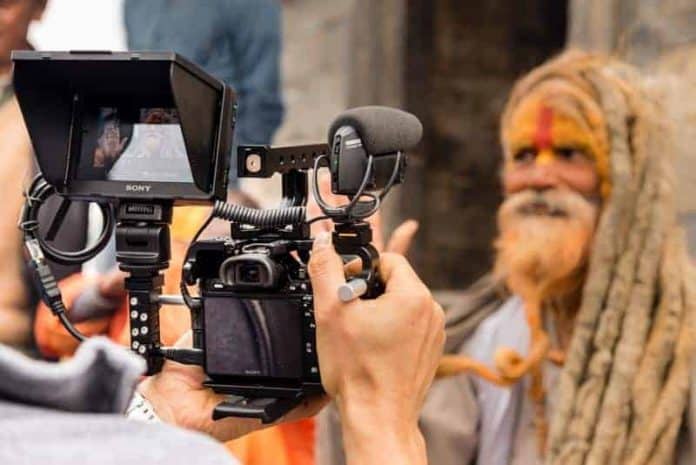 The Best Field Monitors for DSLRs
In a previous article, we looked at some of the best monitors for photographers, but this is a review of the best field monitors for DSLRs.
Consumers have an insatiable appetite for technology.  Sometimes manufacturers too are to be blamed for fuelling that appetite. Like in the case of digital SLR, cameras consumers are no longer happy if their cameras only shoot stunning stills. They want more. They need to be able to shoot great videos too. So, on came video capabilities with the Nikon D90.
Our Pick: BEST DSLR Field Monitor
Feelworld FW759 Screen Camera Field Monitor 
(
1280×800 IPS Screen, 7 inches)
Sale
FEELWORLD FW759 7 Inch HD 1280x800 IPS On Camera Field Monitors Camera HDMI Monitor...
7" IPS SCREEN: The wide angle 7" IPS screen panel has a pixel resolution of 1280 x 800 or 215 ppi for rich color.
BRIGHT VIEW: 400nits of brightness on the backlit panel allows for a vivid display for outdoor shooting.
HIGH CONTRAST: For comfortable viewing, the panel features an 800:1 color contrast ratio.
MULTI-PORTS: Input/output connectivity options include HDMI, audio/video, on screen display controller, and a 3.5mm...
PRO FEATURES: Peaking Focus Assist, Check Field, Camera Mode, Pixel to Pixel, Central Marker, Safe Marker, and Image...
"This monitor definitely does its job. It's lightweight, can accept nearly any power source, has an HD display and is far superior to the displays on cameras. It also maintains good picture quality when viewed at extreme angles and is very cheap." (Verified Purchase Review from Amazon.com)
Runner-up Field Monitor:
The Neewer NW759 (1280*800 IPS, 7)
Sale
Neewer NW759 7Inch 1280x800 IPS Screen Camera Field Monitor with 1 Mini HDMI Cable...
Wide View Angle IPS panel with LED Backlight. Ultra HD 1280x800 resolution. Enhanced 400cd/m2 backlight and 800:1 Color...
Built-in VIDEO/AUDIO/HDMI inputs, enable for a various of signal
Considerate and safety operation with great structure design (HDMI lock and battery lock); hot shoe mount and sun shade...
Picture zoom can be operated zoom all, U/D zoom, L/R zoom; Note: Only suitable for cameras with mini hdmi interface;...
WARM REMINDER:1.For 4K cameras, please adjust the video mode to 1080P for normal use, otherwise the monitor does NOT...
"If you are going to buy a field monitor, get this one. The HD quality is perfect and clean. No pixelation, no blurry screen. I use this for my work and I'm so glad I bought this. I really needed it. The little screens on the DSLR's are frustrating to look at. Unless you have super good vision and can depend on a tiny DSLR screen you need this." (Verified Purchase Review from Amazon.com)
BEST DSLR FIELD MONITORS (3 Alternative Options)
Modern digital SLRs have come a long way since then. With cameras like the Nikon D5500, it is possible to shoot full-HD videos with a high frame-rate of 60. Cameras like the Panasonic GH4 takes that a step forward with 4K video capabilities.
Related Article: Best Tripods for DSLR video shooting
Consumers now want even better features. Slowly, the line that distinguishes traditional video cameras and SLRs are getting blurred. Consumers want near video camera like features including focus peaking and zebra lines for added control when shooting videos.
But one area that the modern digital SLR has failed to improve on is the live-view screen!
At 3.2" max, the rear LCD screen is neither large enough nor suitable enough for a proper video shoot. Their smallness makes it near impossible to lock precise focusing during shoots, watch out for highlights getting blown or shadows getting clipped. They are also impractical in terms of white balance adjustment and in situations where you need the camera to shoot from a high angle the fixed screen makes it an impossible proposition.
Best Field Monitors for DSLRs: 3 Alternative Options in Detail
1. Aputure VS-2 V-Screen 7″ LCD Professional Field Monitor
Retailing under $240 the Aputure VS-2 V-Screen 7″ LCD professional field monitor gives you the critical advantage of being able to see what's being recorded on a larger external screen something that gives it an edge over traditional DSLR LCD screens.
The Aputure VS-2 has a 7" LCD screen that gives a 1024 x 600 dot display. Despite the sub-HD display you get the critical advantage of being able to monitor the shoot on a large screen as well as have most of the controls that you aspire for controlling the shoot. The Aputure VS-2 allows you to change the input resolution up to 1920 x 1080p.
Aputure has equipped the monitor with HDMI, Y, Pb, Pr and AV inputs. It comes with most of the features that you need for controlling a shoot – focus peaking, zebra and safe area aspect ratio adjustments.
You can set focus peaking to either low, middle or high and set the color indicator to white or red. Everything in focus would light up in the color of your choice. Turning on zebra settings will tell you whether you are clipping your highlights.
With the Aperture VS-2, you can change the safe area aspect ratio around and frame more consistent with how the scene would appear post-processing. You can choose between 2.35:1, 4:3 and 1.85:1.
The Aputure VS-2 is powered by the coax connector. Alternatively, you can connect the monitor to an external battery for stand-alone operation. The screen can be connected to a DSLR via hot-shoe using the ball joint mount (provided).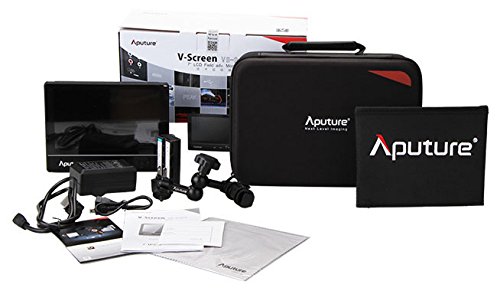 2. SmallHD 702 Bright 7″ Daylight Viewable Full HD LCD Field Monitor
Continuing on this review of the best field monitors for DSLRs. The next entry on this list is a bit expensive. Manufactured by the Vitec Group the SmallHD is retailing at a not so small price, just under $1,500. The SmallHD 702 Bright is an expensive purchase!
However, if you are serious about making videos this is an investment that will pay for itself.
The SmallHD 702 has a full HD display (1920 x 1080p), unlike the first monitor that we read about. It has 1000 Nits brightness and a resolution of 323 ppi and the viewing angle is 179 degrees allowing you to view it at almost from a straight angle with minimum fuss.
Related Article: Best DSLRs for Video Shooting
This LCD monitor is designed to be easily viewable under the mid-day sun and perform all the shooting functions smoothly. If you plan on shooting at the most inhospitable bright conditions this is one of the best field monitors for DSLRs.
The monitor can send 3D LUT video output to a downstream device for the director or a client to see the video that is being recorded in its true LUT color applied format. The monitor is driven by the Page Builder OS. This gives it the handy feature to assign individual tools to dedicated pages and call up these tool at the press of a joystick.
Alternatively, you could add more than one tool to a page, and clutter it up if you want, or flick through focus peaking, zebra, histogram or audio monitoring on individual pages using the joystick. For faster and more convenient navigation an optional wireless remote is also available.
Overall this is a fantastic field monitor for serious video shooters.
702 Bright Full HD Field Monitor
Daylight Viewable 1000nit brightness
HDMI + SDI in/out
1920 x 1080 display resolution
7-inch screen diagonal
Scopes, Focus Assist, Pixel Zoom
¥ (more)
3. iKan DH5 Full HD HDMI on-camera Monitor
The iKan DH5 is a 5" on-camera full HD monitor with a resolution of 1920 x 1080. It has In-Plane Switching (IPS) technology, meaning, color contrasts are better than most other monitors in the business. It has a 450 Nit brightness making it reasonably viewable in outdoor conditions.
However, unlike the SmallHD 702, this field monitor isn't the best for working under direct sunlight. Under something like a Florida sun in summer this field monitor will surely be out of breath.
This 5" monitor, developed by the iKan Corporation, weighs only 91 grams making it a good candidate for hand-held video shooting. The product is very thin, just 0.7". The iKan DH 5 has a number of features including HDMI input and output, headphone jack, audio wave meter, 1000:1 contrast ratio and an adjustable brightness and color temperature to suit different shooting conditions.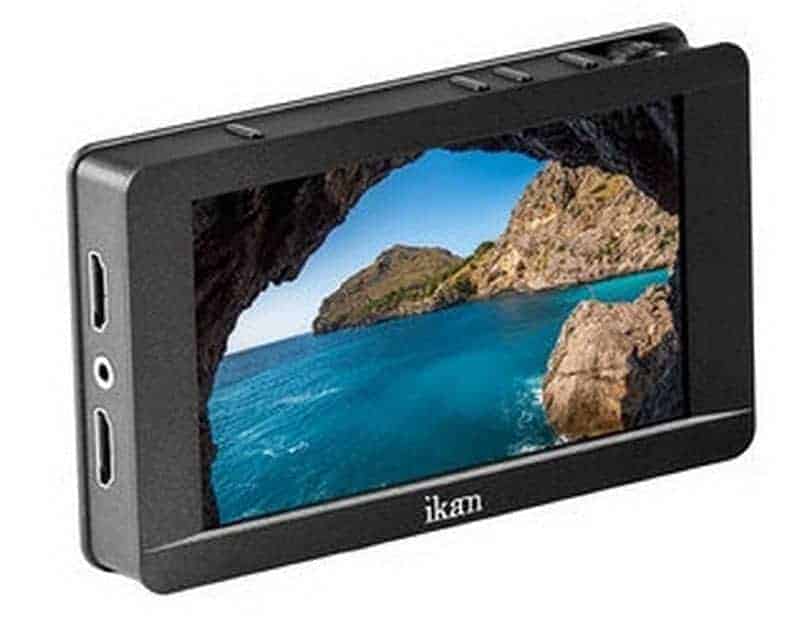 You can monitor histogram, focus peaking, zebra, false color as well as adjust scaling for the DSLR camera's video output. The monitor also has an upper highlight clipping guide. This setting requires that you punch in the upper limit. When shooting with an exposure above the set values affected areas will be highlighted.
Retailing at less than $350 this is a slightly better solution than the Aputure VS-2 that we read about at the start of the article.
We love to hear from you. So leave a comment below and let us know about your experience with field monitors for your DSLR camera.
Related Post: Best Nikon D5600 Lenses (Top 7 Picks)
---
Note: Last Amazon.com Price Update: 2019-01-19 | Refer to our Affiliate Disclosure and Disclaimer.
Recommended Software Apps