There's no getting around it – photography is a costly hobby. Cameras, lenses, and accessories can easily cost thousands of dollars. For most, the pleasure that comes with grabbing a great snapshot makes it worth every penny.
But what if there was a way to get some of the money you spend on equipment back into your pocket? Photo retailer B&H has found a way to just that for its loyal customers.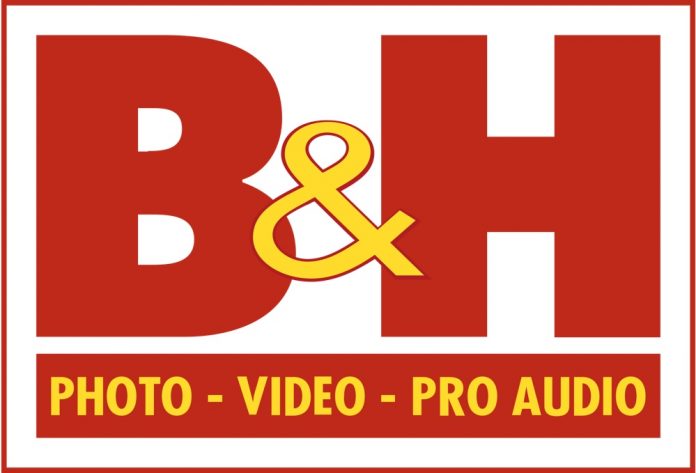 Despite having a funny name, the brand new B&H Payboo credit card can earn photo fanatics some serious savings. Could it be the solution to cutting down your photo expenses? Today, we'll be delving into exactly what this piece of plastic has to offer.
What can Payboo do?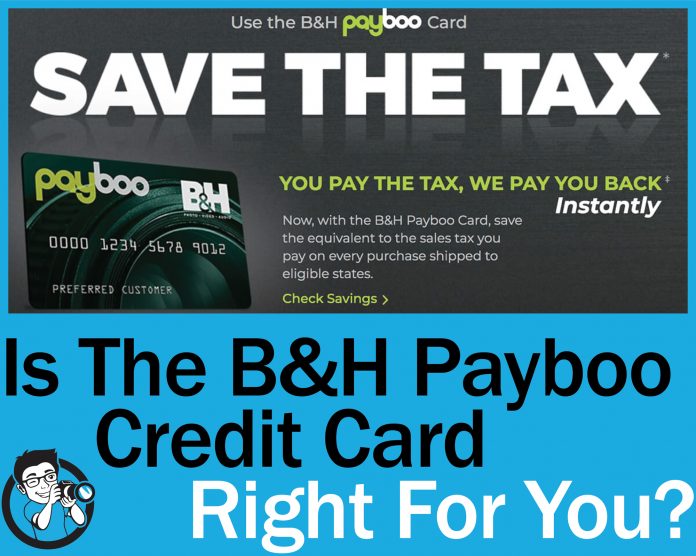 So how exactly does the B&H Payboo credit card work?
In short, every non-tax-exempt purchase made with the card yields instant cash rewards. As soon as checkout is complete, your reward immediately issued and redeemable at the click of a button.
In many states, the cash reward you'll receive is equivalent to the state sale's tax paid upon purchase. Technically, you'll still pay local sales tax on whatever you buy. However, B&H instantly reimburses customers the fee.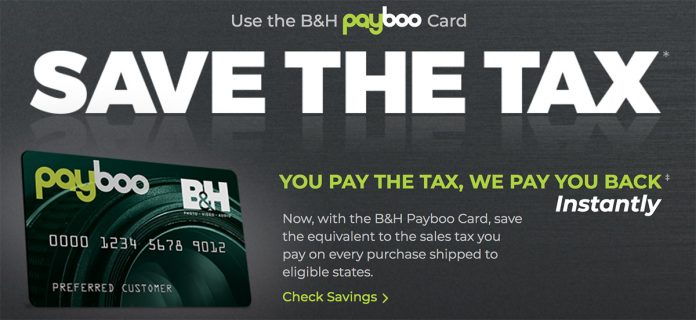 Because B&H handles the transactions, there's no need to keep files of your B&H purchases for tax purposes. What's more, there's no caps or limits on the savings you can make through Payboo. So, for those spending considerable amounts of cash on gear, the B&H Payboo credit card is an easy, hassle-free way to start cutting down costs.
An Edge over Competitors
You may be wondering what B&H gets out of Payboo transactions. In short, the card is designed to breed customer loyalty through a savings program that growing competition can't match.
It's important for applicants to realize that Payboo only works through B&H. That is, you can't make purchases with it outside of the camera retailer. B&H simply won't offer you their promised rewards if you use their card to try buying discounted Amazon products.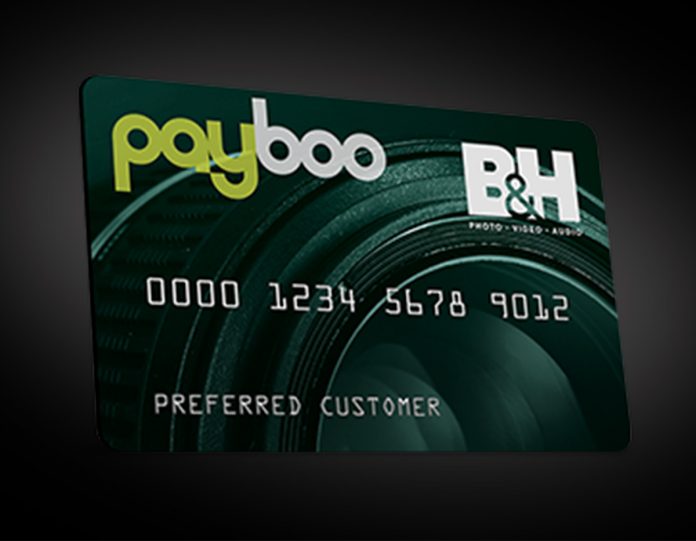 Payboo is easy to use through the B&H website and mobile app, and payment information can automatically be set to an existing account. However, Payboo can also be applied to payments made by phone. And, of course, the B&H Payboo credit card can be used on all transactions made at the NYC SuperStore.
Location is Key
Before you get too excited, keep in mind that the B&H Pfayboo credit card doesn't come without caveats. Namely, where you're ordering from directly impacts how much you'll save and if the credit card is available at all.
First and foremost, only those with a US billing address may use the Payboo card. However, Payboo customers may ship internationally without an issue. Nevertheless, it's important to realize that the card does not offer equal benefits across the board to US clientele.
Each US state has its own tax laws to abide by, with some areas not charging state or local taxes from B&H at all. While some states offer alternate savings in place of the sales tax refund, a handful of states receive nothing from the B&H Payboo credit card. To see exactly what policy is in your area, the B&H website can automatically generate a savings estimate based on your zip code.
To save you a little bit of time, we've quickly drawn up a chart on what you can expect from Payboo in each US state. Savings vary by location, and our preliminary numbers are drawn from the most populous regions of each applicable state.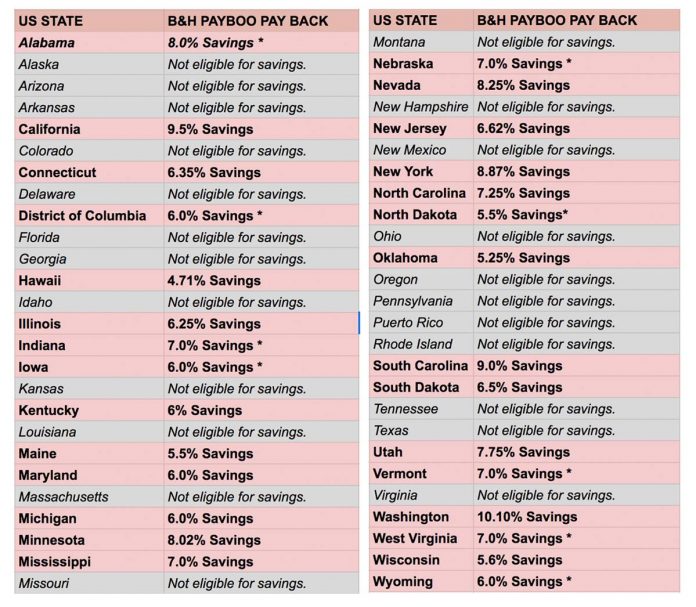 Is It Worth It?
In short, it depends.
Because of varying regulations, Payboo is a smart choice for some and a waste of time for others. Customers outside of the US won't be eligible for the service at all. Even those in the states won't always be able to cash in on B&H's seemingly unbelievable offer.
Obviously, for camera geeks, B&H offers the best and the brightest that the industry has to offer. However, the B&H Payboo credit card is highly restrictive on where it can be used. If you're looking for an all-purpose card for everyday use, this is not the solution for you.
That being said, in some areas (such as Washington or California), the savings accumulated are absolutely unrivaled. Other areas (such as Hawaii and Oklahoma) they are on par or below what one might receive from a standard Amazon Prime Rewards credit card. For this reason, we recommend shopping around and running the numbers on exactly how much Payboo can save you before signing on.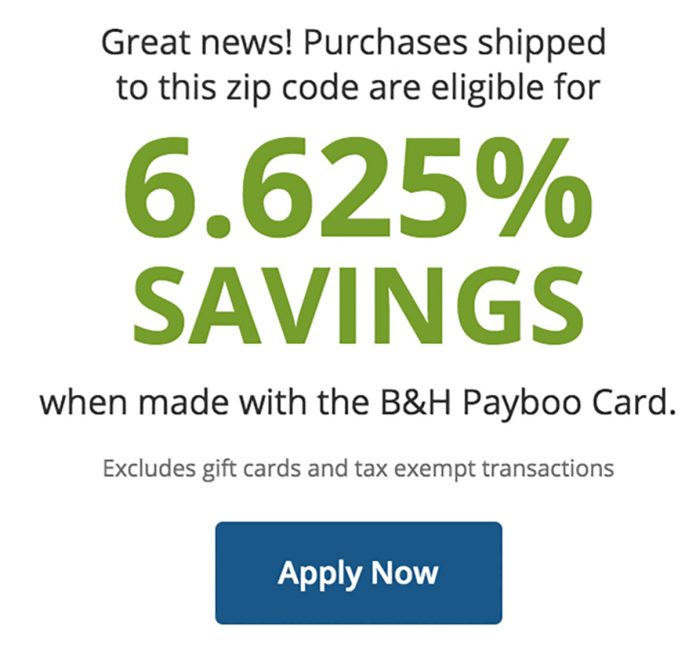 Are you Eligible?
Think Payboo is right for you? One of the card's most convenient features is an easy online application.
To see whether you're qualified for the B&H Payboo credit card, you can follow this link and click the "Apply Now" button.
Immediately after approval, customers may utilize their Payboo account and begin saving. No annual fees necessary, no loopholes to work around. For anyone serious about their photo arsenal, this new opportunity is at the very least worth exploring.
Happy spending!