B&H Photo Video is a large retailer of photography gear, and the B&H staff understands that paying for items like new mirrorless cameras and lenses is tough. That's why they provide the B&H Payboo Credit Card.
As you will see in the review below, the Payboo Card has several benefits that make purchasing photography gear more affordable. So if you're looking for camera financing options – or you're simply hoping to save when buying gear – the updated card from B&H might be for you.

When you buy through links on our site, we may earn a commission at no cost to you. We evaluate products independently. Commissions do not affect our evaluations.
What Does the B&H Payboo Card Do?
B&H has offered financing for many years. The previous iteration of the B&H Payboo card was provided by Synchrony Bank, but after a few years, the card closed.

However, B&H recently unveiled a new Payboo Card scheme. Unlike the previous card, it provides two different benefits to choose from: Save the Tax instant savings and special financing.
We look at both benefits below.
Save the Tax Instant Savings
Save the Tax effectively negates sales tax. Typically, when making a B&H purchase, your bill includes sales tax (this does vary depending on the state you live in). But if you apply the Save the Tax option to the B&H Payboo Card, you will be instantly refunded that sales tax on qualifying purchases, assuming you live in an eligible state.
Specifically, Save the Tax works as follows:
Add an item to your shopping cart
Proceed to the checkout
Select the "Payboo Savings" option
Use your B&H Payboo Card during the checkout process
The tax savings are instantly deducted from your purchase if applicable
This is especially beneficial because it is an instant refund. Oftentimes, companies provide refunds in the form of a rebate or account credit. But with Save the Tax, you get a reduced purchase price immediately.
We also like that you can clearly see how much you saved on each purchase. After checkout, a separate line displays the sales tax amount deducted from the total price.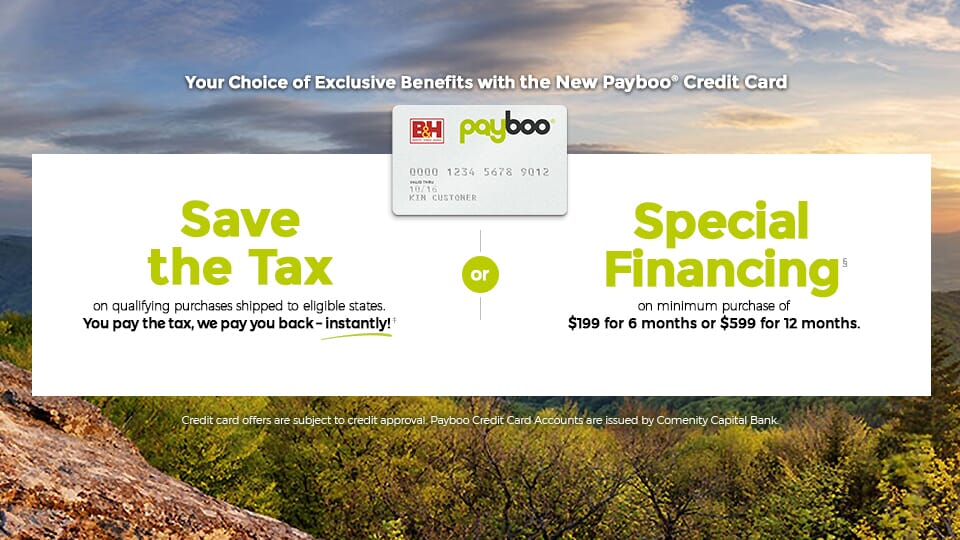 Up to 12 Months Special Financing
If you're interested in an expensive long-term purchase, you could utilize Payboo's special financing. This is applicable only on minimum purchases of $199 over 6 months or $599 over 12 months.
If the item price falls within these categories, you can select the special financing option. This generally provides a zero-interest savings plan for repayment. Special financing works as follows:
Add an item to your shopping cart
Proceed to the checkout
Select the "Promotional Credit Plan" option
Use your B&H Payboo Card during the checkout process
Select an applicable credit plan and complete the checkout
This helps when making larger, one-off purchases, such as a new camera. Thanks to its zero-interest terms, Payboo's special financing makes such purchases feasible.
Why Apply for a B&H Payboo Card
As you can see, the B&H Payboo Card has some excellent benefits. But is it a suitable credit card for you?
The first thing to consider is how often you would use the card and the type of purchases you would typically make. For example, if you're a hobbyist and only occasionally buy camera gear and accessories, it may not be worth going through the application process. But if you're a professional and need a wide range of expensive lenses, the savings or finance plans could help reduce your financial load.
Also, consider your location. This credit card is only available for US customers, and the savings benefits vary from state to state. This is because different states have different laws and regulations regarding the collection of sales tax.

How to Apply for a B&H Payboo Card
To apply for the B&H Payboo Card, you must first have a registered B&H account. From there, you can head to the credit card web page and click on the "Apply" button. This will take you through the application process.
Before applying, you must be at the age of majority in your state. You must also have the following:
A valid government-issued photo ID

A valid government-issued tax ID number (like an SSN or SIN)
A street, rural route, or APO/FPO mailing address
The application process is controlled by Comenity Capital Bank as it is the financing provider. As a result, you may be asked for additional information, including your date of birth, email address, annual income, and phone number. You may also be asked to provide some form of identity verification to prevent fraud.
Important B&H Payboo Card Caveats
While the Payboo Card offers plenty of real benefits, we discovered in our review that there are many important caveats to consider before applying. Full details can be found in the terms and conditions, but we give a detailed summary of the most important points below:
General Caveats
As the credit card is now issued by a different bank, this has affected all current B&H credit cards issued by the previous partner, Synchrony Bank. The following caveats apply:
B&H Synchrony credit cards will not be valid for any new purchases placed after January 17, 2022
B&H Synchrony credit cards will remain open only to process any outstanding finance, orders, backorders, and pre-orders placed between January 17 and April 3, 2022
All B&H Synchrony credit cards will be closed as of April 4, 2022
B&H Synchrony credit card holders must reapply for the new B&H Payboo credit card as it is provided by a completely different bank
It is also important to note that the Synchrony credit card close will not negatively impact your credit score. The bank will use a special code that informs credit bureaus that the account was closed due to the termination of the Synchrony credit card program.
Save the Tax Caveats
If you're planning to choose the Save the Tax benefits, here are some caveats to bear in mind:
The benefits are only available in states where remit sales and/or local sales tax is collected
The savings amount will vary depending on your location
You cannot apply the savings toward gift card purchases
The savings cannot be used in conjunction with a credit plan
The entire transaction amount must be paid with the B&H Payboo Card
Special Financing Caveats
If you want to use the special financing option, here is the list of caveats:
Special financing is only available for minimum purchases of $199 over 6 months or $599 over 12 months
Financing is not available for all products
The minimum interest charge per credit plan is $2.00
Financing is valid for a single transaction only (not for multiple items)
All credit plans are subject to credit approval
The credit card account is issued by Comenity Capital Bank
Should You Use the Payboo Card?
We hope you've found this review of the updated B&H Payboo Card useful. But is the card worth it? That depends entirely on your circumstances and purchasing habits.
The card itself has a high APR of 29.99% for standard purchases. This is a huge drawback and something to consider. However, its two benefits do offer excellent savings. The Save the Tax discount can save you hundreds, while the special financing allows you to pay for major purchases over several months.
Bottom line: If you're heavily invested in photography as a hobby or are a serious shooter who frequently buys professional equipment, the B&H Payboo Card is certainly worth it.
B&H Payboo Card FAQs
Is the B&H Payboo Card available for international customers?
No. Only US customers can apply for the credit card.
Can you use both the instant savings and a credit plan on a single purchase?
No. If you apply the instant savings option, you are not then able to use a credit plan on the same purchase.
What is the B&H Payboo Card's standard APR?
The APR is 29.99%, with a minimum interest charge of $2.00 for any billing period.