If you're looking for the best superzoom camera for birding, you've come to the right place. In this article, we're going to share a rundown of our top 10 superzoom picks; we'll look mostly at superzoom bridge cameras, as well as a couple of DSLR and mirrorless superzoom camera kit options.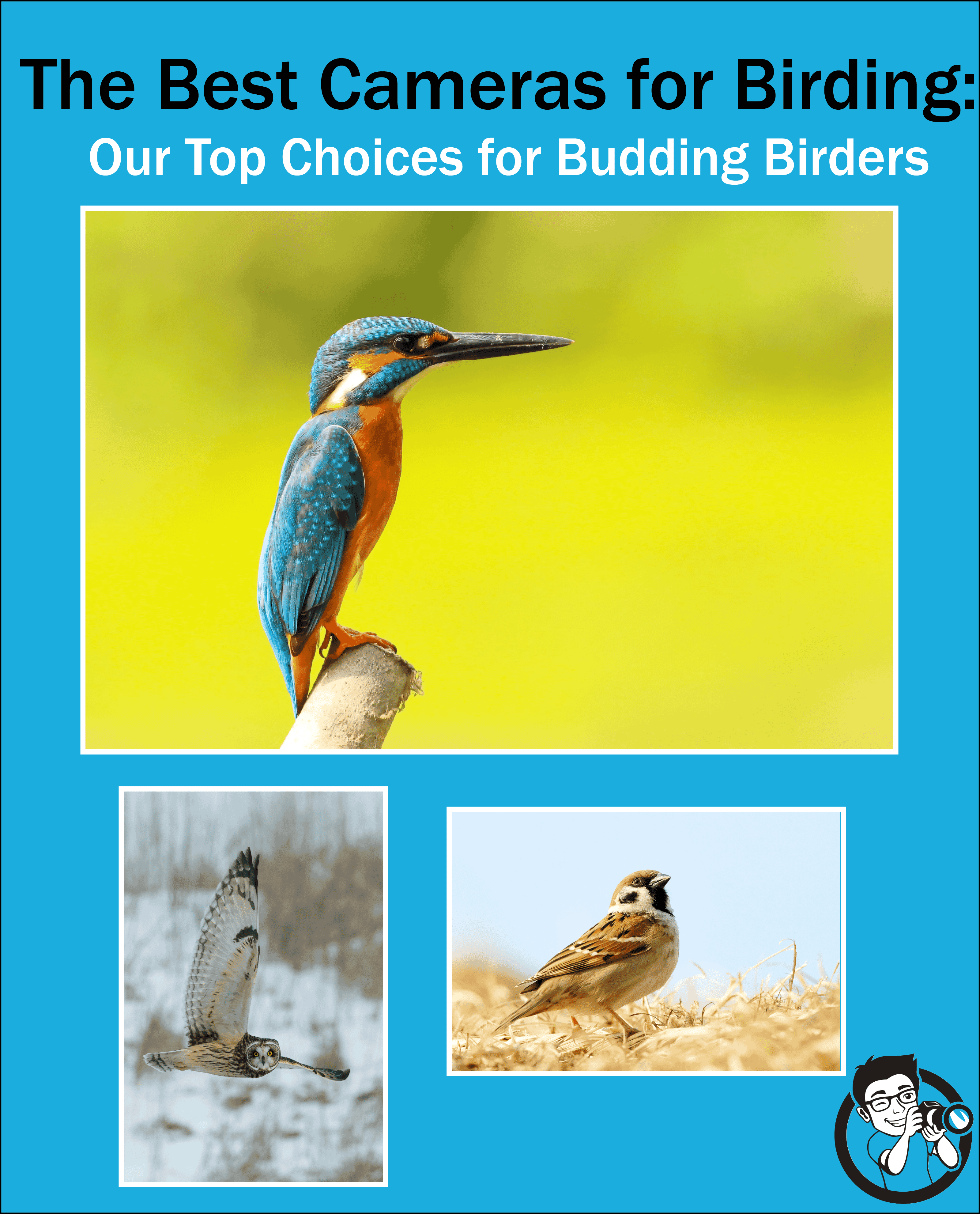 Best Superzoom Cameras for Birding:
The ideal camera for birding is often a superzoom, with an equivalent focal length of at least 300mm, fast shutter speeds, and a wide maximum aperture (f-stop). A swift and accurate autofocus system is also a must for capturing our feathered friends in the wild!

When you buy through links on our site, we may earn a commission at no cost to you. We evaluate products independently. Commissions do not affect our evaluations.
Best Cameras for Birding
1. Nikon Coolpix P900 Digital Camera
Our PIck
Best for beginners
A great blend of quality build and value for money.
Pros
83X optical zoom
Good close ups from a distance
Electronic viewfinder
Cons
Doesn't shoot RAW format
The Nikon Coolpix P900 Digital Camera is our top pick for birders. What makes it so special? The build quality is excellent for a camera at this price point, and it's ideal for beginners.
The 83X optical zoom gives you the equivalent of 24-2000mm, which lets you capture amazing close-ups from a good distance away. The 24mm end also gives you the option of wide-angle images. If that isn't enough, the Nikon Coolpix also features an impressive 166X Dynamic Fine Zoom, an enhanced digital zoom that gives you a whopping 4,000mm focal length equivalent.
The Super ED VR lens means better clarity in your images, and the Vibration Reduction will reduce camera shake for sharper images. The aperture range of f/2.9-6.5 will give plenty of scope for shooting in lower-light conditions, too.
Tracking birds in flight is made simple with the electronic viewfinder, which automatically turns on when you lift the camera to your eye, so the risk of missing a shot is reduced.
While the P900's image quality isn't up to the standard of a professional DSLR camera, it's more than enough for most birders.
2. Panasonic Lumix FZ80
Budget Pick
Best for beginners on a budget
Inexpensive with a big digital zoom and 4K video, the FZ80 is ideal for beginner birders.
Pros
Affordable
60X zoom
LCD touch screen
Cons
Not weather-sealed
If you're on a budget or just starting out on your bird photography journey, then the Panasonic Lumix FZ80 won't disappoint.
This camera features an impressive 60X zoom via the DC Vario lens, which is a focal length equivalent of 20-1220mm. This will enable you to capture both wide-angle and close-up shots with ease.
The Lumix FZ80 may be an inexpensive camera, but it has a bright f/2.8-5.9 aperture range, and it's optically stabilized with Panasonic's Power O.I.S. technology. Shooting in lower light conditions shouldn't be a problem, as the camera is equipped with a low-light capture feature, too.
The touch-enabled LCD screen is a decent-sized 3 inches (7.6 centimeters), and the electronic viewfinder is a high resolution 1170K dots.
Also Read: Best Lenses for Bird Photography
Image quality isn't going to match up with many of the more expensive superzoom cameras out there, but the FZ80 is perfect for enthusiasts who want to capture the birds visiting their yard or in the wild.
3. Sony Cyber‑Shot RX10 IV
Best for high-quality images of birds in flight
Top-notch optical quality along with a blazing fast autofocus makes this an ideal superzoom camera for serious bird photographers.
Pros
Extremely fast and accurate autofocus
Weather-sealed
Zeiss zoom lens
Maximum shutter speed up to 1/3200s
Any camera that carries good Zeiss glass is going to come at a premium price, and the Sony Cyber‑Shot RX10 IV is no exception.
Yes, it's expensive, but it is possibly the best superzoom camera out there in terms of image quality and build. Sony claims that it possesses the world's fastest autofocus, and fast AF is one of the key features for a great birding camera as it helps reduce the risk of missing THE shot while your camera desperately hunts to find focus.
Serious bird photographers will love the RAW capabilities of this camera, as well as the exceptional image quality. It's also dust and moisture resistant, so it's ideal for shooting on those days when the weather is not so kind.
While it doesn't have the huge zoom capabilities of some other cameras, the 25X optical zoom is equivalent to 600mm focal length, which is more than enough to catch some serious close-ups.
The Cyber-Shot RX10 IV also features the Anti-Distortion Shutter. This enables a maximum shutter speed of up to 1/32000 second, which allows for sharp photos of fast-moving subjects like birds on the wing. This fast shutter speed also allows the camera to capture sharp and clear images with a wide-open aperture, even in bright conditions.
4. Panasonic Lumix FZ300
Best for all-weather shooting
Inexpensive yet ruggedly built and weather-sealed, this camera makes the ideal companion for birding in all weather.
Pros
Fast and near-silent autofocus
Bright, fixed aperture of f/2.8 throughout
Shoots RAW
Cons
Fairly small sensor
The Panasonic LUMIX FZ300 is an affordable option for those looking for a fixed-aperture superzoom that can be taken just about anywhere.
It's an ideal camera for taking on day-long shoots in all weather, due to the splashproof and dust-resistant construction. It also features a bright f/2.8 aperture throughout the whole zoom range, so you won't lose any light as you zoom in on a subject.
A five-axis image stabilizer is built-in, which will help to create sharper photos, even in lower light conditions.
The autofocus is quiet and fast, just what you need for capturing shots without disturbing the birds. The Lumix FZ300 also features 4K Photo technology. This lets you shoot 30 frames per second in 4K UHD video and extract files afterward as individual photos. For instance, you can capture video of a flying bird and then choose the frames you like best to use as still images.
The lens has a focal length equivalence of 25-600mm (it's a 24X zoom). This covers everything from wide-angle to extreme close-ups, making it a versatile camera, even if the resolution is a pretty small 12.1 MP, which lags behind the competition.
5. Nikon Coolpix P1000
Best for capturing extreme close-ups of a distant subject
Although expensive, this lightweight camera has features birders will find useful.
Pros
Zoom equivalent is 3000mm
Optical Vibration Reduction
Manual controls and Auto modes
Shoots RAW
Cons
Not weather-sealed
The Nikon Coolpix P1000 has an amazing 125X zoom capability, which equates to a huge 24-3000mm effective focal length. The P100 is capable of photographing distant planets or the International Space Station in flight – although you'll probably want to capture birds in flight with it instead!
It also has 250X Dynamic Fine Zoom; this will give you an equivalent focal length of 6000mm, although most people probably won't use it much at that length. This camera enables you to capture shots that no other superzoom currently available can manage. How's that for a selling point?
The Coolpix P1000 is pretty lightweight and easy to carry around. Cameras that have extreme zoom capabilities like this tend to do better when mounted on a tripod, at least if you're going to use it at maximum zoom. Camera shake is very visible at these ranges, even with the built-in image stabilization.
The aperture range is a bright and fast f/2.8 at the wide-angle end, though it does drop to a not-so-great f/8 when used at 3000mm.
Experienced bird photographers will appreciate the RAW shooting, MF/AF controls, and the ability to use the camera in full Manual mode. It's also beginner-friendly, with auto modes to help capture great images.
6. Nikon D500
Best for those looking to upgrade from a bridge camera
The D500 provides excellent DSLR image quality for birding at an affordable price.
Pros
Weather-sealed
10 frames-per-second continuous shooting
Massive ISO extended range
Cons
Image quality isn't great in the larger ISO ranges
The Nikon D500 and the lens make a perfect upgrade for those looking for their first birding DSLR.
While it's only a mid-range DSLR, the D500 is capable of producing excellent images when combined with a good zoom lens – a lens like the Nikon 18-300mm. The 18-300mm has a variable aperture of f/3.5-6.3, so it's not the fastest lens out there in terms of aperture, but it's far more affordable than the Nikon 200-500mm f/5.6E ED VR lens, which is so heavy it requires tripod support.
The 18-300mm lens features Nikon's Vibration Reduction technology, which offers improved sharpness when handholding. The Silent Wave Motor for the AF is also very quiet and fast to focus. This lens is a perfect partner to the Nikon D500, and it's built robustly (with weather sealing!) so it can take pretty much anything you throw at it.
The native ISO of the Nikon D500 goes up to 51200 and extends to a mind-warping ISO 1,640,00. However, if you choose to shoot at such high ISOs, then noise is to be expected.
The EXPEED 5 processor allows 10 frames-per-second continuous shooting for up to 200 frames, so you don't miss a moment when out in the field.
7. Panasonic Lumix GH5
Best for shooting in tough outdoor conditions
The fast autofocus and and weather-sealing make this a great choice for birding in any location.
Pros
5-axis image stabilization
Freeze and splashproof design
Fast autofocusing
For those after a premium mirrorless camera for birding, the Panasonic Lumix GH5 may well fit the bill.
This is one tough little camera; specifically, it's freeze-proof, waterproof, and dust-proof, so you can take it birding in places you'd hesitate to go with other cameras.
It also features built-in 5-axis image stabilization, which really helps when tracking birds in flight. You can even use classic lenses not equipped with their own image stabilization on the GH5, and the camera will steady them.
Not only that, but the autofocus on the GH5 is very fast – around 0.05 seconds. There is also the brand new 6K PHOTO mode (~18MP, 30 fps). This allows you to pause that perfect shot from video and produce printable, high-resolution photos.
A good partner for the GH5 for birding is the Panasonic Lumix G II Vario Lens 100-300mm f/4.0-5.6. Since the GH5 is a Four Thirds camera, the equivalent focal length of this lens goes from 200-600mm.
The Lumix G 100-300mm lens also features Power O.I.S. optical image stabilization, so you can get sharper images when shooting handheld or in lower light conditions.
It's also ruggedly built and weather-sealed, which makes it a good fit for the GH5, as you can happily take both camera and lens out in rain, sleet, or snow. This camera and lens combo isn't cheap, but it's ideal for dedicated birders and those who want to invest in a mirrorless camera and lens that will last them for years to come.
Moreover, Panasonic offers a great range of lenses for the GH5, which allows you to easily switch to other genres of photography like macro, landscape, or portrait.

8. Sony HX400V
Best for those starting out
Great features for birding and decently priced.
Pros
10 frames-per-second continuous shooting rate
50X optical zoom
High-speed autofocusing
Built-in GPS
Cons
Lacks more advanced features
The Sony HX400V is a solid choice for beginners who want a birding camera that covers all the bases.
The 50X optical zoom gives an equivalent focal length of 24-1200mm, which allows for both wide-angle and extreme zoom images. Image quality is surprisingly good at the zoom end, especially for a camera at this price point. Other features include a 10 fps burst shooting mode, an ISO range of 100-12800, and high-speed autofocusing.
The Lock-On AF feature also allows you to focus on multiple points with subject recognition, and this should help keep birds in sharp focus even when in motion.
The built-in GPS automatically geotags your images, which is useful if you upload images to websites like iNaturalist.
The HX400V seems to be one of the overlooked superzoom cameras out there, but it does take a bit of time to learn how to get the best from this model. However, once you have done that, it's a great birding camera for the enthusiast!
9. Leica V-Lux 5
Best for all kinds of birders
Leica cameras are known for high-quality images, and this model has plenty of features to appeal to birders.
Pros
Extended aperture range
Superb image quality
Electronic shutter for high shutter speeds
Fast eye-sensor autofocus
Cons
Not weather-sealed
Leica cameras have an awesome reputation, though this Leica V-Lux 5 bridge superzoom camera is often overlooked by birders.
It's expensive but still cheaper than the vaunted Sony Cybershot RX10 IV, and it certainly stacks up in features. The 20 MP 1-inch CMOS sensor and DC Vario-Elmarit 25-400mm f/2.8-4 ASPH lens combine to give excellent image quality, even at the 400mm end of the zoom range.
It doesn't have the massive zoom range of some of the birding cameras on this list, but it does have some other features that others are lacking, such as the ability to set a minimum shutter speed when using Auto ISO.
The extended aperture range is also a bonus when you want to stop the lens down. The V-Lux 5 has an aperture range that goes from f/2.8-11, and it may not be a big issue for birders, having that extra aperture range can come in handy sometimes.
The large 20.1MP 1″ CMOS sensor enables rich image quality, combined with reduced noise and high ISO range for shooting in a variety of conditions. Autofocus is very, very fast, and the V-Lux 5 also has Eye Sensor Auto Focus. This is handy for EVF users, and it utilizes the viewfinder's motion detector to automatically focus within the designated AF area as soon as your eye goes to the viewfinder. Continuous shooting rates are fast too, up to 12 fps or 30 fps at 8 MP in the 4K Photo modes.
10. Canon PowerShot G3 X
Best for traveling
Lightweight, with a large sensor for excellent image quality.
Pros
Weather-sealed
Excellent image quality
Compact and lightweight
The Canon PowerShot G3 X is a compact superzoom that's great for traveling. It features an f/2.8-5.6 optical zoom lens with a 24-600mm equivalent focal length.
While that only comes to a 25X optical zoom, the large sensor ensures high-quality images. It won't suit all birders, but the G3 X is lightweight and compact enough to stick in a backpack and travel to remote areas.
There is an in-built image stabilization system to reduce camera shake, but autofocus isn't the fastest. This means that the G3 X struggles to catch sharp images of birds in flight (but is excellent for stationary birds).
Shooting in low-light conditions isn't a problem with this camera, thanks to Canon's Intelligent IS. The stabilization system automatically analyzes camera movement and applies the best shake correction method to counteract it. The DIGIC 6 image processor also reduces digital noise, even when shooting at high ISOs.
Last, the G3 X is weather-sealed, which is another reason why it makes a good camera for those long birding expeditions!
Best Superzoom Cameras for Birding in 2023: Conclusion
I hope our article on the best superzoom camera for birding has helped you decide which camera will suit you, your budget, and your bird photography.
The best overall birding camera is the Nikon Coolpix P900 Digital Camera because it marries value with functionality. Though for those looking for an inexpensive superzoom camera, the Panasonic Lumix FZ80 may be cheap and cheerful, but it is still packed with useful birding features.
---
Disclosure/Disclaimer: As an Amazon Associate, we earn from qualifying purchases. Certain content was provided "as is" from Amazon and is subject to change or removal at any time.