Business owners who own an e-commerce site might cringe if they are to hear the cost that they will have to pay to hire a professional photographer to take photos of their inventory products.
Professional and qualified photographers usually own a studio that comes with a whole set of high-end cameras, lighting equipment and a few years of experiences that justify the cost of their services.
Before you raise a white flag and settle for the low-quality images from the internet, why don't you give product photography a try?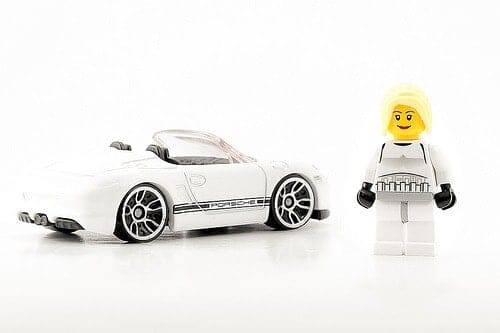 With correct shooting equipment and quick lighting setups, you can easily shoot your own products and attain the same high-quality and aesthetically beautiful products taken at any photography studio.
And the best thing is, the cost might be half or less than the cost you would have to pay to a professional photographer. All you need is a room with a window and a few other types of equipment.
The main tools for DIY product photography
1. Camera
The most essential tool that you will need for DIY product photography is the camera. You might think that you will have to go crazy on this one and buy yourself a cool $2,000 DSLR camera in order to shoot great images. That's actually far from the truth. A decent digital camera will actually do for this DIY product photography. In fact, you may also use your 8-megapixel iPhone 5s for this session in order to capture good photo. As an added value to your phone, simply install an app called Camera+ to convert your iPhone into a cool and powerful digital camera.
2. Tripod/Monopod
When it comes to product images, you want to make sure the photos are as clear and sharp as possible. You want to avoid any blurriness or shakiness in your images. Therefore, you will need a tripod or monopod for this DIY product photography session. Again, there's really no need to splurge on this one. You can easily find a good and affordable tripod online for less than $50.
3. Table
Since this guide doesn't make use of any lightbox and focuses more on a well-lighted open space, we will need a table to hold the products. You may use any table available in your house and take it over to a window in your room. If you can find the one that is higher than your windowsill, that is better since you want to avoid having the shadow of the windowsill on your product.
4. Pure White Background Paper
A white sweep will be used as the background wall of your product. Try to find the one with pure white color as it helps to enhance the colors of your products and make them look as if they are floating. If you don't have a white sweep, a large white paper will do. Just make sure the paper is bigger than the size of your object.
5. Reflective Card
Besides the background paper, you'll also need a reflective card. You can either buy it at the store (ask for a white foam core) or you can make one yourself by wrapping aluminum foil around a simple cardboard.
The easy steps for DIY Product Photography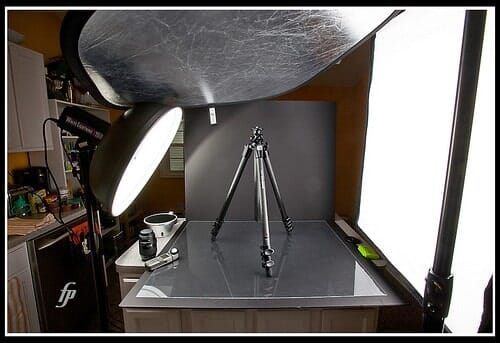 Now that you have all the tools mentioned above, you are ready to shoot your very first DIY product photography session. Follow the following steps:
1. Organize the table
Move the table as near as possible to a window in the room. It is recommendable to have this shooting on a bright sunny day as you'll get more natural light into your room. You may adjust your table as you see fit in order to get the best lighting from the window.
2. Prepare the background
Take the sweep paper and place it vertically against the wall. You might want to tape the top of paper on the wall and let it roll across the table. You can then place your product on the middle of the paper. Adjust it accordingly until you get the best position and the product is properly-centered.
3. Place the reflector card
Place the reflector close to the product and you may move this accordingly during the shooting in order to get the best lighting. The reflector card will help to control the lighting on your product and cast away the dark shadow of the product.
Related Post: Best Product Photography Cameras
4. Setup your camera
Place your camera on the tripod and adjust the settings on your camera. If you are using a DSLR camera, there are a couple of settings that you will need to do.
Use Manual (M) setting
Turn off Flash setting
Use optical zoom.
Set White Balance (WB) to Auto
Image setting – Set it to RAW or L (large) to get the largest and most optimal quality of the image.
ISO – Set the ISO to the lowest ISO which is normally ISO 100 to reduce the noise in the image.
Aperture – Change the aperture setting to aperture priority mode. Normally, a small aperture works well for product photography as it will produce a higher depth of focus. Start by setting the aperture to f/8 or f/11.
Exposure – Double check the exposure setting by looking at the histogram. You might need to turn exposure compensation dial up to +1 or +1 ½ to get the optimal exposure.
After having all the camera setups ready, you can start and take your first shot. Always have a second look at your shot and evaluate it accordingly. Don't be hesitant to move the product around and adjust the lighting as you shoot. Experiment with different camera settings. For a better view of your shot, upload your images into your laptop and make another evaluation from there.
5. Prepare final product
After taking several good shots and uploading them to your laptop, you may use several photo editing software (e.g. Photoshop, Adobe Lightroom or GIMP) to implement the process of post production. A perfect final product should have a sharp and focused image that displays all possible details on the product. The product should also be well-lighted and free from any shake or blurriness.
Related Post: Best Lenses for Product Photography
If you wish to learn DIY product photography using a light box, check out this helpful video tutorial from Mark Wallace that shows how to use a light box to get a nice product pictures.