Experience Report: the Feelworld MA7 Field Monitor
Recently, I tested the Feelworld MA7 in combination with the Canon 80D. I decided to shoot a time-lapse of the sunrise in Alicante, Spain.
I put the camera facing the ocean and connected it to the MA7 using the HDMI to Micro HDMI Cable which came along with the field monitor.
I wanted to occasionally check the monitor for the exposure level (and adjust the shutter speed of my ongoing shots if needed over the coming 30 to 40 minutes).
I also wanted to do this without having to be standing behind the camera all the time. So here is what that set-up looked like: the DSLR camera facing the Mediterranean sea and the external monitor directed towards my breakfast table: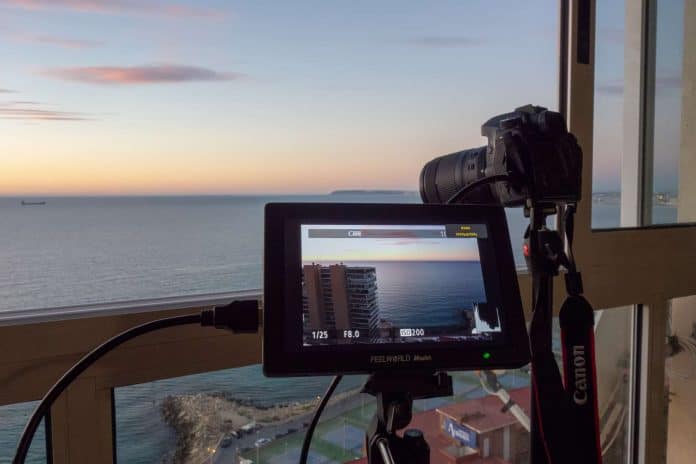 I positioned the Feelworld on another, smaller tripod so I could keep an eye on any over-exposure warnings as the sun rose. This set-up allowed me to have breakfast and enjoyed the sunrise while checking how the shots of the time-lapse are coming along.
Related Post: Best Time Lapse Cameras
What's good about the Feelworld MA7 is that the monitor will warn you if there are over-exposed spots in your photo by showing blinking red stripes. If that happened, I knew I had to reduce the shutter speed by a stop.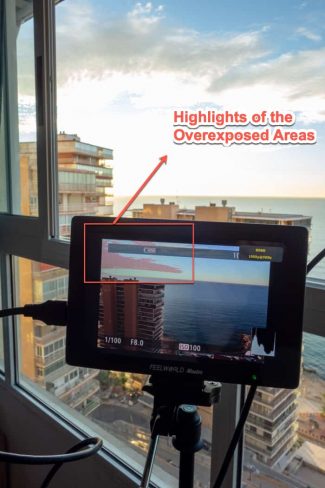 Just the Tip of the Iceberg: Take Photos & Record Videos at a New Level
This was the first time I was using an external monitor and I must confess that all the options, ports, and settings (listed below) were a little overwhelming.
I'm about to start producing some videos and do some home-studio shots, so I am sure there is much more I can get out of the Feelworld Master MA7.
Also, shooting outdoors with the Feelworld along with its sunshade hood is going to make a big difference. So far, I had to hope that things would be looking good on the big screen later on when post-processing the images/videos.
Now, the MA7 will be giving me instant feedback and let me adjust my camera settings on the spot.
Related: 5 Top External Monitors Compared
What Could be Better
Few things were a bit annoying and will take some time to get used to.
The Button Positions
The buttons are positioned on the top of the monitor. This can be a bit annoying because it's difficult to see the buttons and what's happening on the screen at the same time.
It would be easier to have the buttons just below the screen.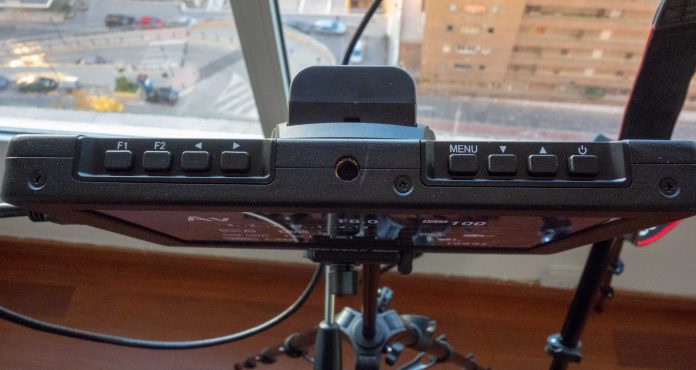 Battery: Sudden Drop-off (at 25%)
The battery life was good and I thought I had sufficient time left, but once the batter-level indicator came to around 25%, I noticed a sudden drop and the monitor switched off without any warnings. I recommend you keep a few spare batteries ready if you are doing a longer photo/video session outdoors or can't connect the monitor to a DC12V power input.
Related Post: Best Field Monitors for Your DSLR Compared
Why You Want to use a Field Monitor with Your Camera
Here are some other reasons you may want to use an external field monitor with your camera:
Your built-in camera display in combination with certain lenses may not display the correct aspect ratio of what you are photographing/shooting. Most likely, the sides of the image/frame are getting cut off.
If you need to shoot a certain frame size, you can do this easily with an external monitor (in the case of the Feelworld you can do so in the "aspect ratio" settings).
External monitors are ideal for detecting flicker. On a small camera LCD, it can be tough to detect any unwanted light sources.
You can see a bigger and clearer picture. This can be particularly helpful if you push the shutter speed to the limits. It's not easy to see if your subjects are still sharp on a small screen.
Correct colors. Your camera LCD screen may not accurately reflect the colors which you are going to see on your post-processing screen later on. To fix this problem, only an external monitor like the Feelworld MA7 can help, because you can fine tune/calibrate the colors so they actually match with what you later on edit and print.
You have more flexibility with an external monitor. You can position the monitor next to your you desk, chair, on top, below or at the side of the camera/tripod. This is particularly useful if you take photos or record videos from difficult angles or you don't want to stand glued on your cameras back screen.
An external monitor makes it easier for you to show others what you are shooting. If you are shooting portrait, fashion, real estate, etc. your client may want to see what the result is going to look like and give you instant feedback. A 7-inch 4k monitor like the Feelworld MA7 is ideal to show others what you are shooting.
Plus, when using a gimbal to shoot, the monitor will not be blocked.
Finally, you actually see much better what you are shooting. There is no way you can see the details on a 3-inch as good as you can on a 7-inch external monitor. You can be assured that you captured your subjects sharp and in focus.
Feelworld Master MA7: What's in the Box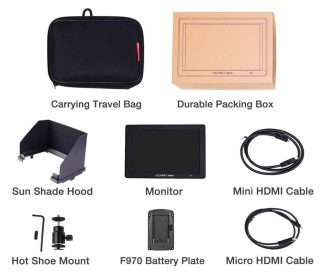 MA7 Monitor
HDMI to Mini HDMI Cable
HDMI to Micro HDMI Cable
Hot Shoe Mount
F970 Batter Plate
Carrying Bag
Sunshade
Manual
Technical Details of the Feelworld Master
The Buttons Explained
Two Custom Buttons (F1 and F2, allow you to set shortcuts to your most used menu functions)
Volume (+/-) or Value Adjustments (when the menu screen display is on)
Up/Down for the menu item selection
Power On/Off
Side & Lower Ports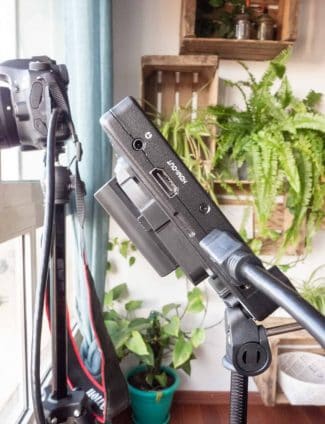 3.5mm Earphone port out
HDMI OUT: HDMI signal out (if you want to connect a second external monitor)
HDMI IN: HDMI signal in
Power input
USB Upgrade Port (on the bottom of the monitor)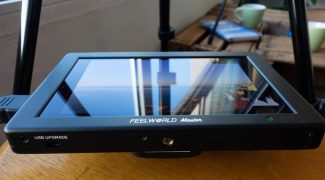 Menu Operation
Pressing Menu gets you into the (On-screen display, OSD) menu functions.
Main Menus (the Feelworld Master MA7 has plenty of settings):
Image

Pic Mode (Standard, Mild, User, Dynamic)
Brightness: Set the brightness of your image from 0 to 100
Contrast: 10 to 100
Saturation: 0 to 100
Sharpness: 0 to 100
Color Temp: you can set the color temperature to 6,500, 9,300 or a custom user value
Tint: 0 to 100

Zoom

Nine Grid Zoom: You can turn the nine-grid zoom on or off
Zoom: You can zoom in 4x, 9x, or 16x or turn the zoom off
Zoom Mode: The MA7 has is a normal zoom mode and a zoom mode which allows you to zoom up/down/left/right
Scan Mode: Select between underscan or overscan

Settings

Language: Choose amongst 8 languages
Aspect Ratio: Auto, 4:3, 16:9, Just Scan, Panorama, P2P
No Signa (pick a screen color for no signal, the default is a blue screen)
OSD Transparency: Turno off, low, middle, high
OSD H / OSD V: 0 to 100
OSD Time: Off or 10, 20, or 30 seconds
Backlight: 0 to 100
Power On: Can be auto or manual
USB Upgrade: copy the file to a flash drive, connect to a USB cable to then confirm the upgrade.
Reset to reset to the original settings.

Function

Center Marker: On or Off
Safe Frames: Off, 96%, 93%, 90%, 85%, 80%, 2.35:1
Nine Grid: On, Off
Image Freeze: On, Off
Image Flip: Off, H_V Flip, H Flip, V Flip
OSD Flip: On, Off
Anamorphic: Off, 1.3x, 2.0x, 2.0x MAG, User Defined
Anamorphic nX: 1.20x to 2.00x
Check Field: Off, Mono, Red, Green, Blue
Histogram: On or Off
Fales Colors: On or Off
Focus Assist: On or Off
Peaking Color: Red, Green, Blue
Over Exposure: On or Off
Exposure Lever: 1 to 100 IRE
Embedded Audio: On or Off
Ratio Marker: Off or 4:3, 13:9, 14:9, 15:9, 16:9, 1.85:1, 2.35:1
Mark Color: Red, Green, Blue, Black, White
Mark Width: 1 to 7
Modified Mark: 0 to 6

Custom Button Setting

F1 & F2 can be set as shortcuts to any menu item
Technical Details
Panel Size: 7.0 inch
Resolution: 1920×1200 pixel (Full HD) 4K HDMI input/output with an impressive 323 PPI
Dot Pitch: 0.07875mm (W) x 0.07875mm (H)
Aspect Ratio: 16:10
Brightness: 450cd/m2
Contrast: 1200:1
Viewing Angle: 80 degree (left/right/up/down)
Backlight: LED
Size: Ultra-thin (18mm), 180mm length and 120 mm hight;
Weight: Lightweight (320g), with battery 350g;
Supports F970 (standard), D28S/D54, LP-E6, and U60 battery plates
About Feelworld (Moman Technology)
The Feelworld Master range of on-camera monitors is owned by Moman Technology Limited, a professional high-tech enterprise producing LCD displays for their customers who are mostly based in Europe and North America.
Video Review (by the Film Look)
Feelworld Master MA7 7 Inch 1920x1200 IPS Camera Field Monitor 4K HDMI Input/Output,...
【Updated 7 inch Monitor】- The Feelworld Master MA7 updates polarizer film screen with 30% improvement of light...
【4K HDMI IN/OUT without Delay】- Feelworld MA7 monitor can support 4K HDMI IN/OUT/LOOP-OUT and accurately monitor your...
【Low Angle Shot】- With 1/4 thread points and the cold shoe mount, Feelworld MA7 can be connected with camera combo to...
【Shortcuts for Better Experience】- Feelworld MA7 integrates 2 shortcuts for features like Histogram, Focus Assist , False...
Please note that this unit doesn`t come with battery / power adapter【One-year Warranty】- The 7 inch field monitor is made...
Final Verdict: the Feelworld Master MA7 Review
Overall, the Feelworld Master MA7 is a practical and (relatively) easy-to-use monitor.
Of course, if this is your first on-camera monitor you will have a steep learning curve because "easy-to-use" is relative to your experience level.
Taking Your Photography Skills to the Next Level with a Field Monitor
Adjusting colors, aspect ratios, etc. is not something you may be used to doing during your photo/videos shoots (at least I wasn't until I got this first on-camera monitor).
But seeing the results of your images in real time and making the necessary adjustments at the spot is something we all have to go learn. Especially, if we want to take our photography and video recording skills from a beginner level to a more enthusiast and pro level.
I hope you could gain some more insights about the Feelworld Master MA7 field monitor. Feel free to leave a comment below if you have any suggestions or experience.
Feelworld Master MA7 Review Summary
Screen Image Quality

Ports (Connectivity)

Ease-of-Use (incl. Button Placements)

Functionalists (almost too many for a beginner)

Price
Summary
The Freeworld Master MA7 is a must have if you want to take your photography skills to the next level and monitor more in detail how your photos/videos look while shooting them. The settings and functions can initially be a bit overwhelming, but once you have played around for a while you will discover that the MA7 is actually quite easy to use.
---
As an Amazon Associate we earn from qualifying purchases. Certain content that appears on PhotoWorkout.com comes from Amazon. This content is provided 'as is' and is subject to change or removal at any time.