Glass prints are somewhat new to the printing scene but they're already making waves as a premium printing option. Fracture, a specialist glass printing company, recently gave us the opportunity to test their glass prints. In this article, we give you the low-down on the Fracture glass print from placing the order to receiving the finished product.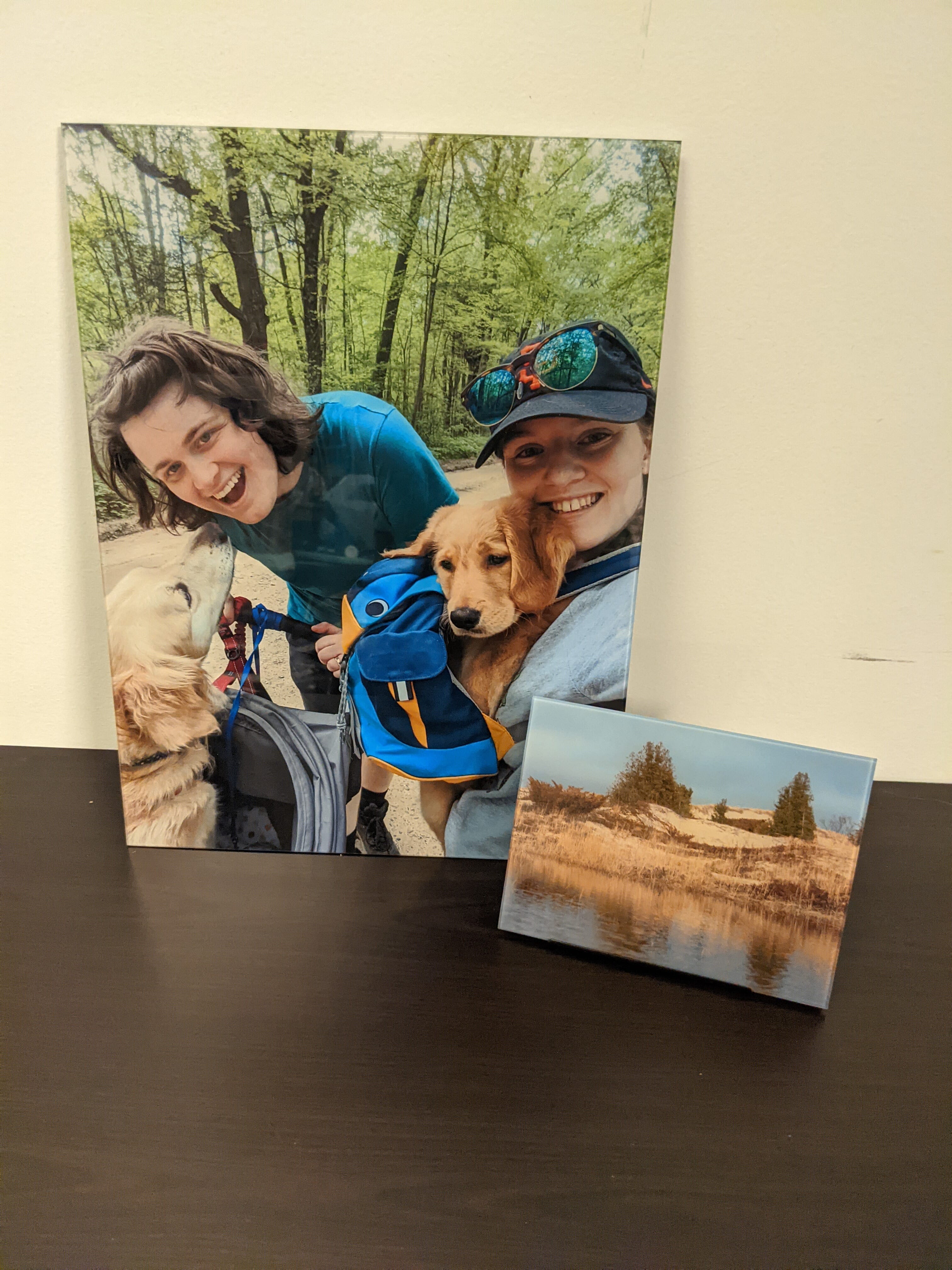 To cut a long story short, Fracture glass prints are good, really good!
Fracture Glass Prints
Ordering Process

Turnaround Time

Pricing

Print Quality
Summary
Fracture's glass prints are certainly dazzling. These prints offer a modern aesthetic you're sure to love. 
Pros
Stylish design
Fast turnaround time
Good color reproduction
When you buy through links on our site, we may earn a commission at no cost to you. We evaluate products independently. Commissions do not affect our evaluations.
Placing the Order
Since Fracture only offers glass prints at the moment, navigating to the page to place your order is really simple! On the home page, you can just hit the Get Started button and you'll be taken to Fracture's uploading wizard.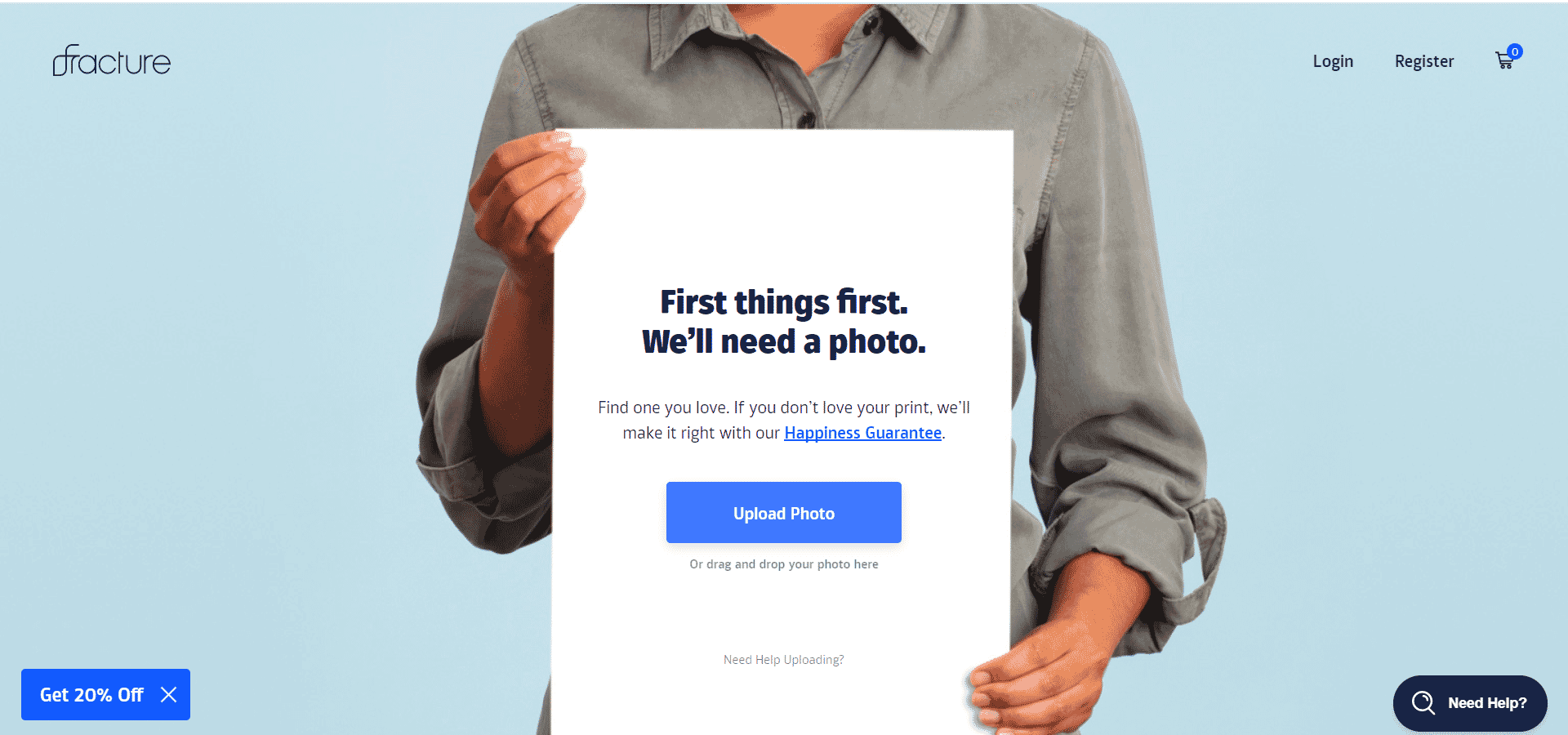 Once you've uploaded your image you can save your progress or go ahead and select the size print you want.
Fracture makes visualizing the size of these prints really easy by having a person hold your print in various sizes. To add to that, Fracture even offers recommendations with their Medium Portrait being their "Most Popular" option, and the Classic Portrait their "Best Gift".
You even have total transparency when selecting your size since the prices are listed right below the sizes along with any add-on options, like a stand.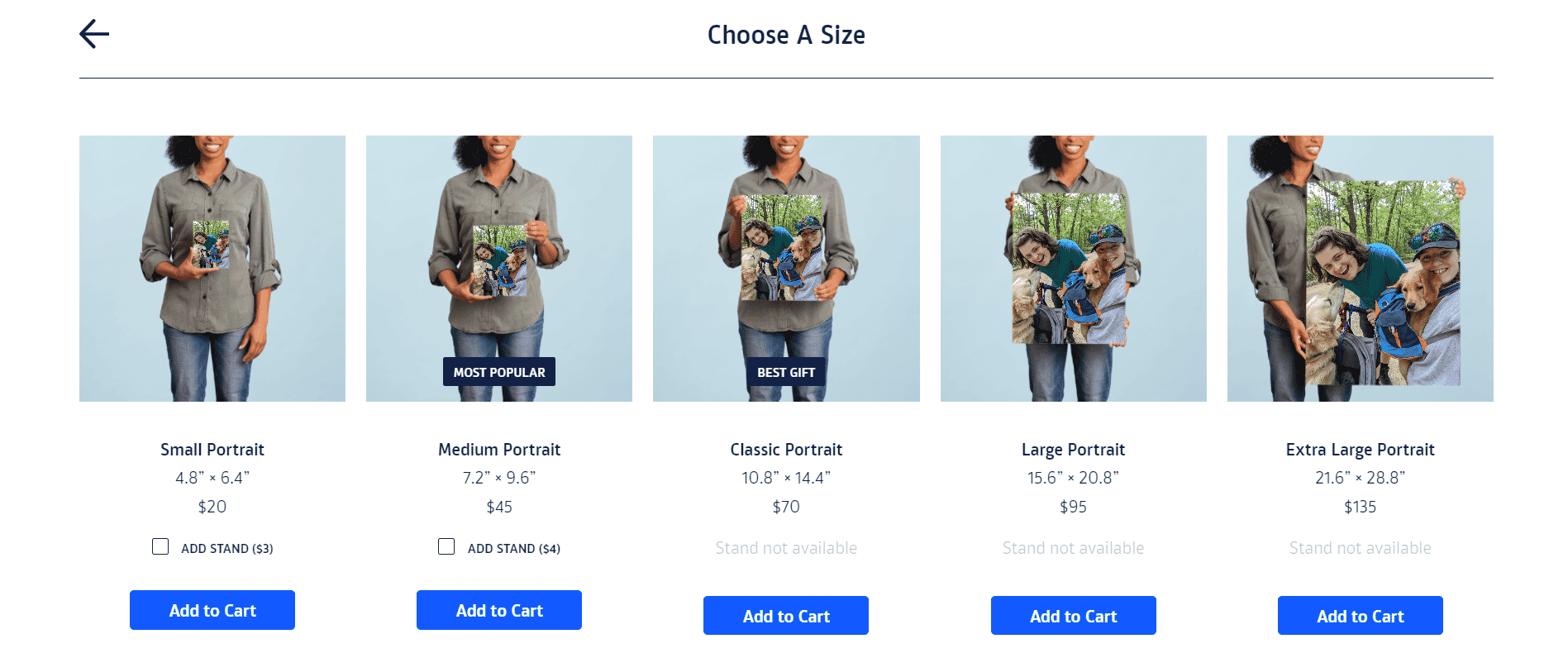 Customization Options
Things look really great when it comes to placing your order but if you want custom sizes, Fracture isn't going to offer what you're looking for. There are 5 size options and they are mostly in keeping with common print sizes.
Another thing that wasn't so great was that we didn't get the opportunity to edit our photos in any way. We weren't even able to reposition the picture. If you want a certain crop or you want to add text or frames, you're going to have to use your own editing software before uploading your image to Fracture.
If you're after a standard print though, you shouldn't have any problems with the simplistic uploading process and fixed sizes offered by Fracture.
Checking Out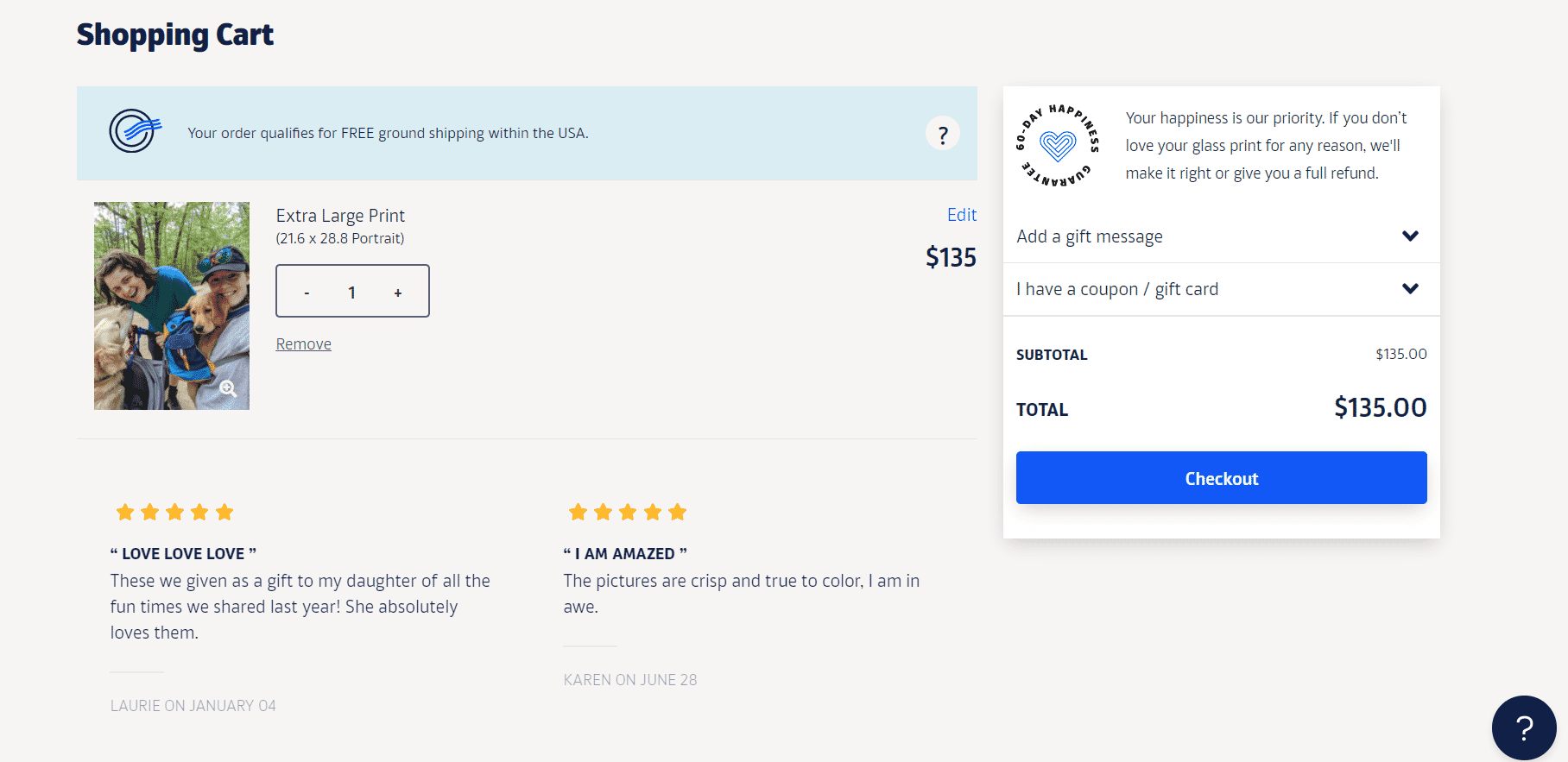 The checkout process was straightforward. Unlike other printing companies, Fracture doesn't try and sell you a dozen other products before you checkout. This was a much-welcomed change!
If you want to send your Fracture glass print directly to someone as a gift, you can add a gift message. This keeps things simple and means you don't have to physically present your gift to the recipient (and they'll know where it came from!).
If you spend over $100, shipping is free. You do have the option to pay for Priority Mail from USPS but when placing our order, the ship times were identical for the free service offered and the USPS Priority Mail service. Not only that, priority mailing added an extra $75 to the order! Unless there's an obvious advantage to shipping with priority, we recommend using the lowest cost option.
Receiving the Product
After placing the order, it didn't take long for our set of Fracture glass prints to arrive on our doorstep.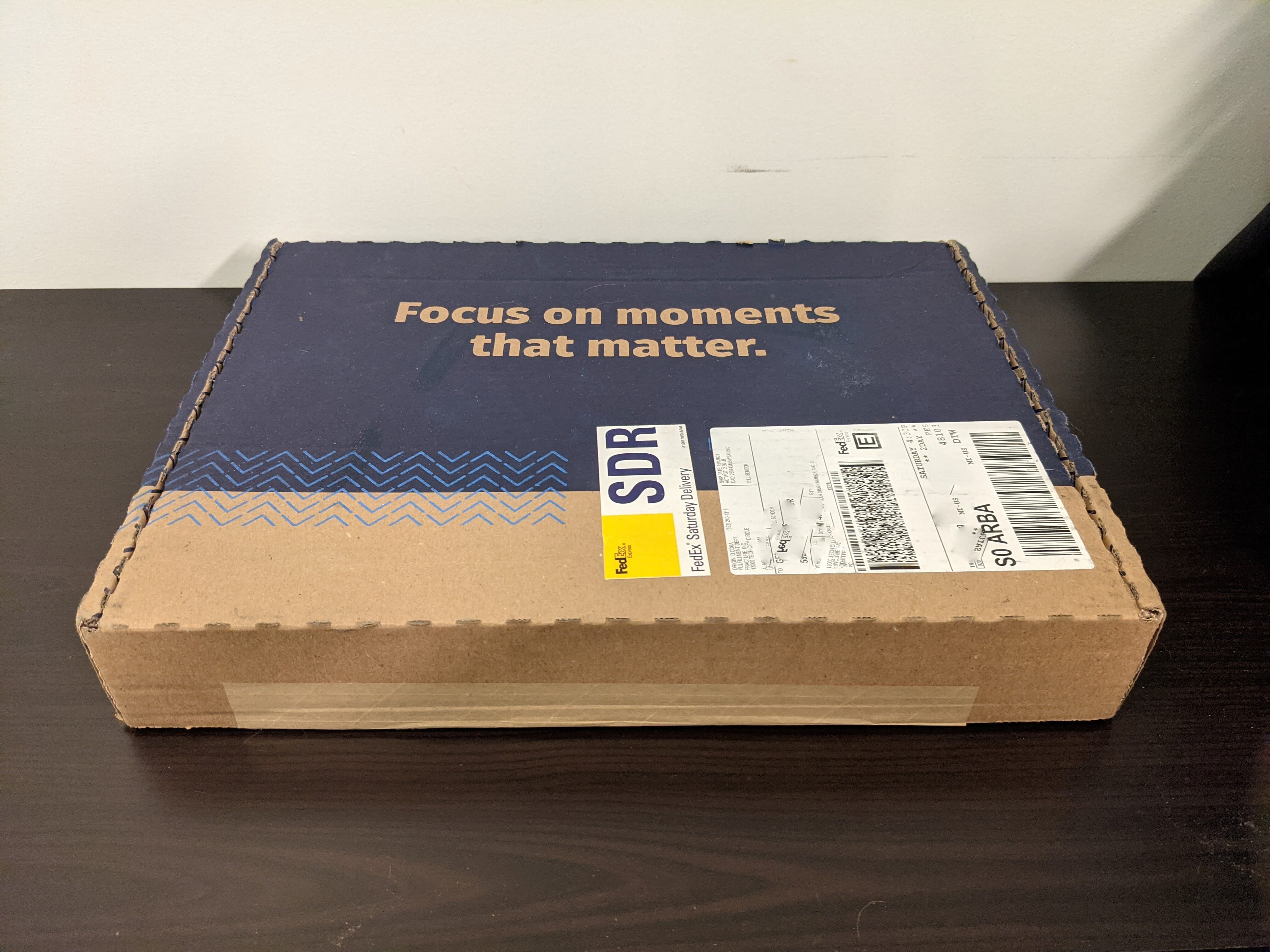 Shipping and Handling
In total, it took four days to receive our order from the day of checkout. Turnaround times for print production were fast, it took two days for the order to be dispatched from the warehouse. After another two days with the courier, the parcel made it safely into our hands.
We're not entirely sure what happened in transit but the Fracture print box didn't feel well packed at all. A shake of the box suggested there were lots of loose items inside and frankly, we were concerned that the prints might have been damaged.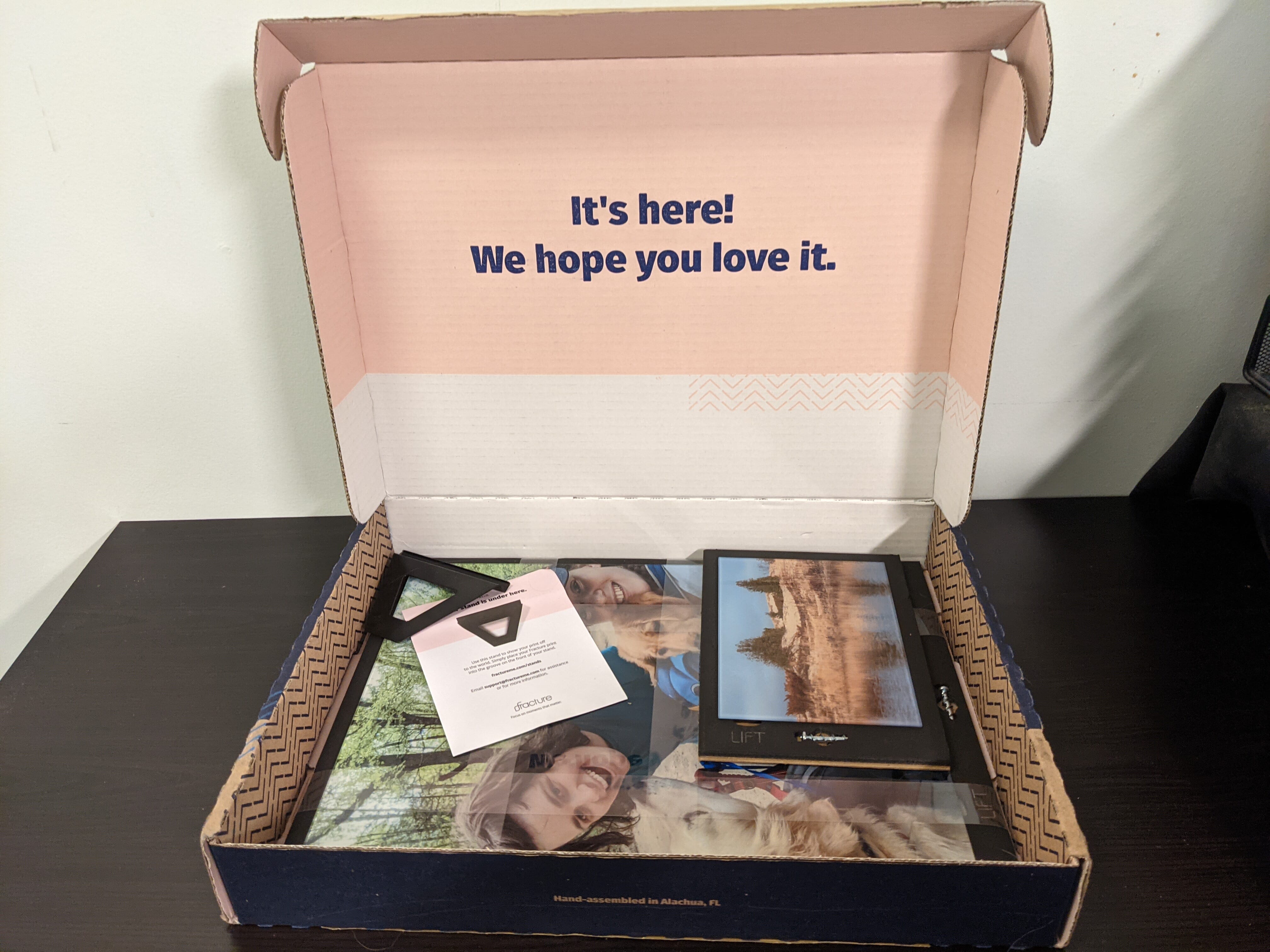 Luckily, they were intact but there were a few things floating around that made us wish Fracture did a better job packing their products before shipping them out to customers.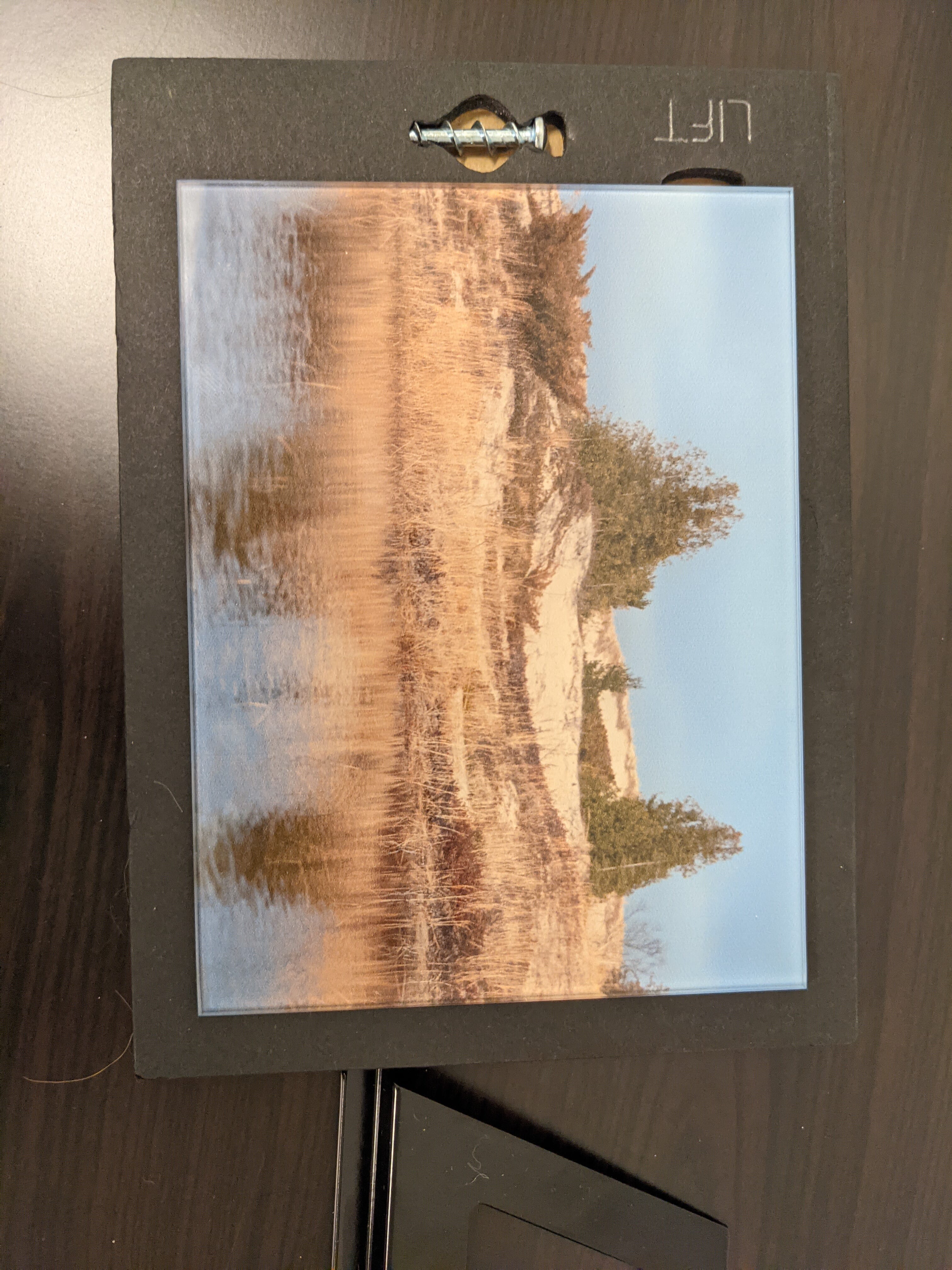 The prints were held in secure padded backing but the smaller print was loose and easily fell out of the backing. The metal stand was not fixed to anything! It could easily scratch the glass surface of the prints in transit.
The Prints: Overall Aesthetic and Quality
Fracture's glass prints are incredibly stylish and sleek! We can definitely get on board with having these in our spaces as modern photo displays. When you hold the Fracture print in your hands, it feels like something that's durable and well designed.
The glass itself isn't rounded at the corners, meaning you get the full span of your image in the print. Unfortunately, that comes with the cost of sharp edges but as long as you're careful with the prints, you shouldn't have any issues with injuries!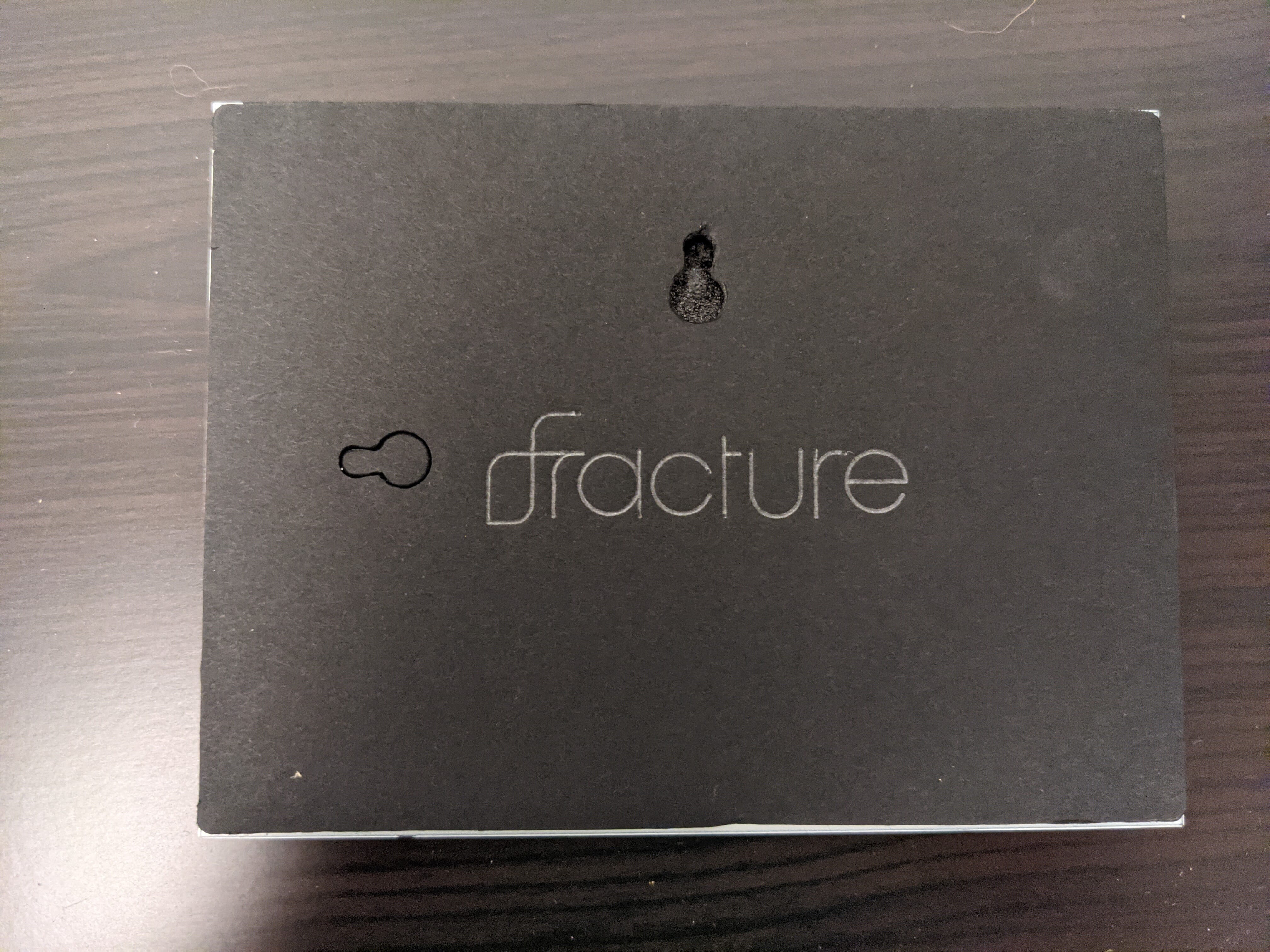 There is a slight bezel at the edge of the print which adds a nice stylistic touch that emphasizes the print. While it might not be to everyone's taste, we certainly liked the looks of it.
Our large print came with a screw to mount the glass print on the wall. For the smaller print, we ordered a stand so we could set it on a desk or shelf. Even so, Fracture still provided a screw for wall mounting should we change our minds!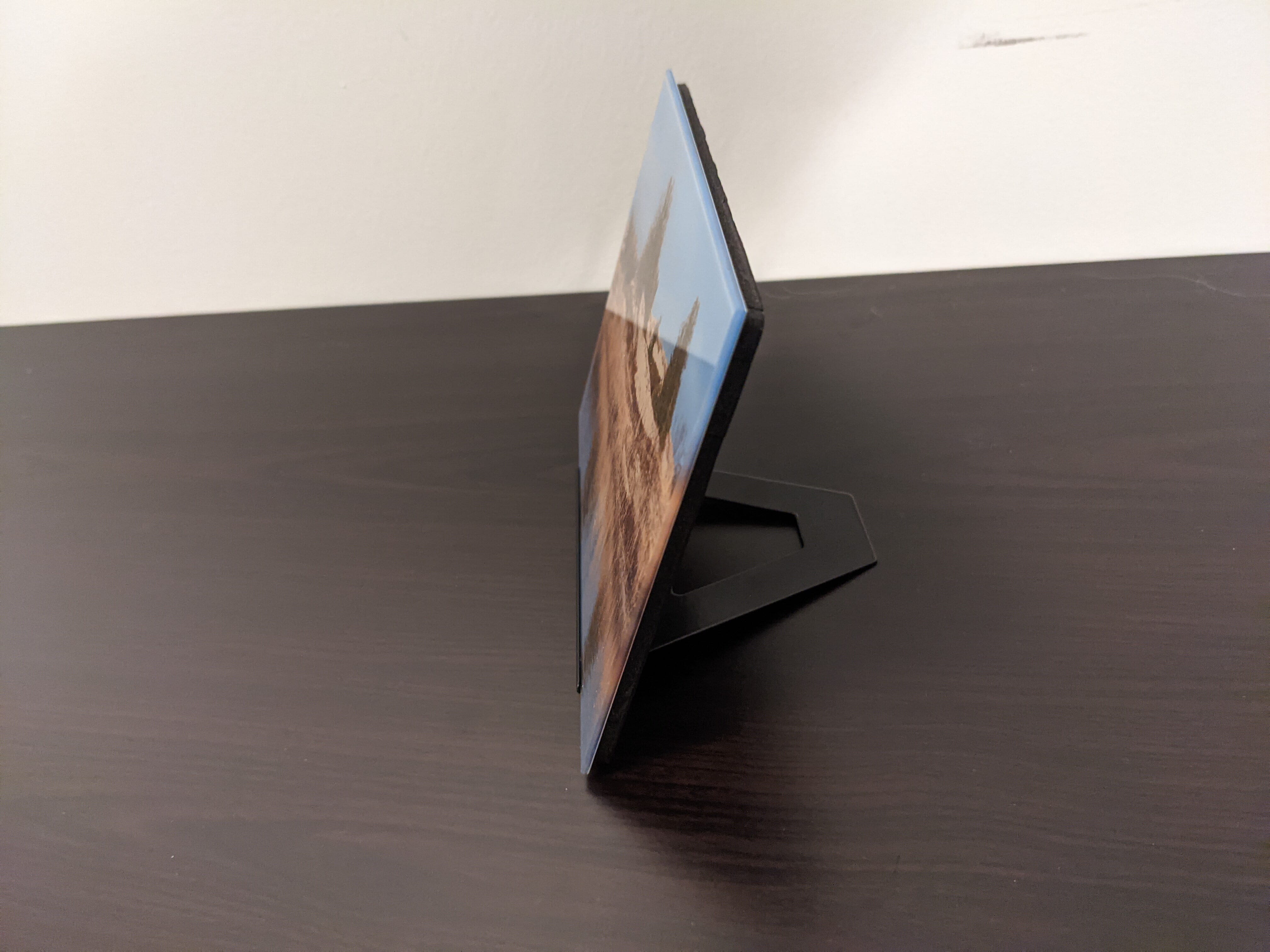 Also note that if you don't quite fancy making holes in your walls, you could easily use easy-hang strips like Command strips – just make sure they'll support the weight of your print.
Onto the print quality – if you're looking at these prints from afar, they really do look great. The color reproduction is impressive and the glass finish really polishes it off.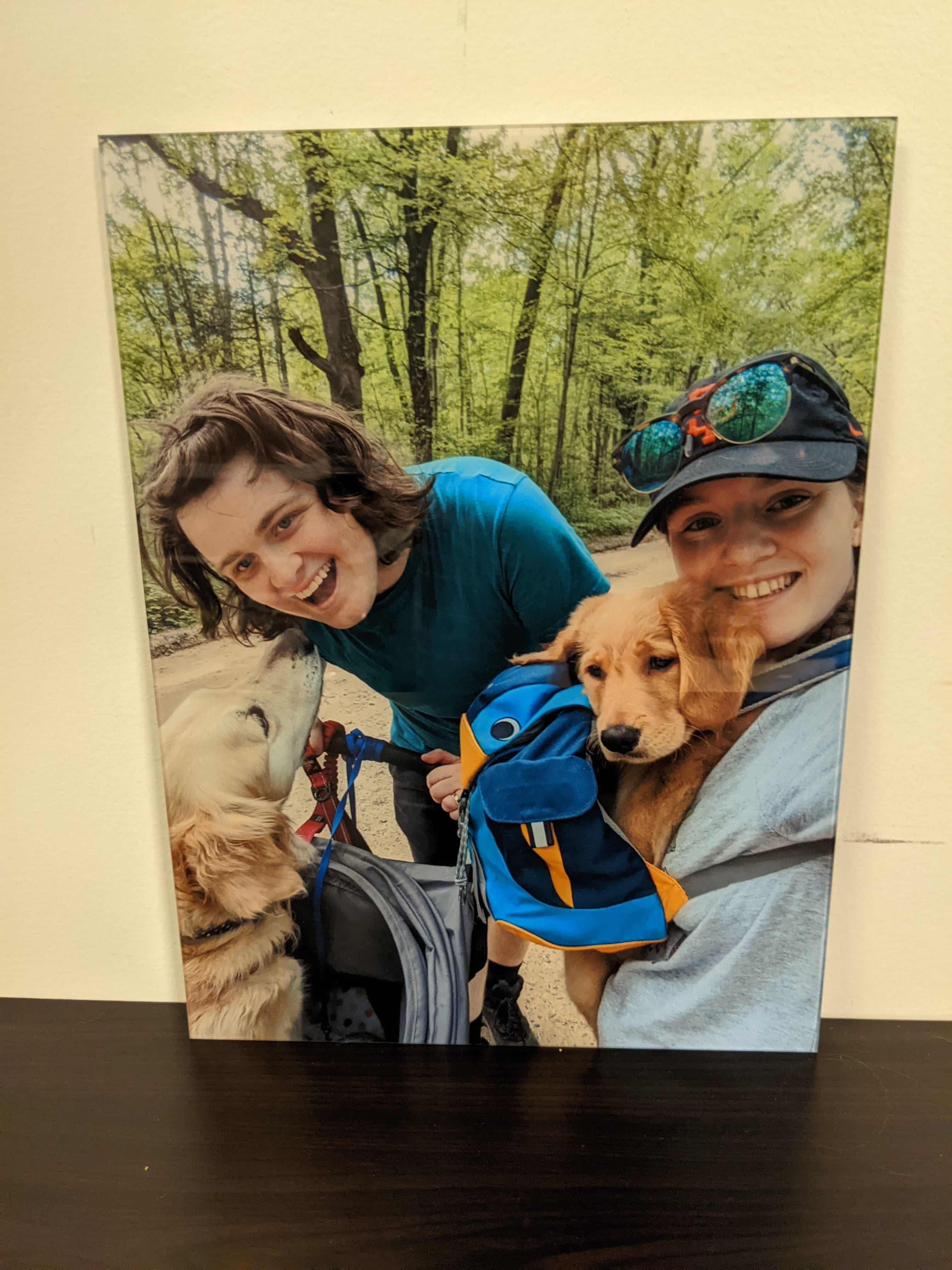 If you look closely at the prints though, you will notice that the print resolution leaves something to be desired. Interestingly the larger print actually fared better in terms of print resolution so this might be something worth considering if you do plan on purchasing a Fracture glass print!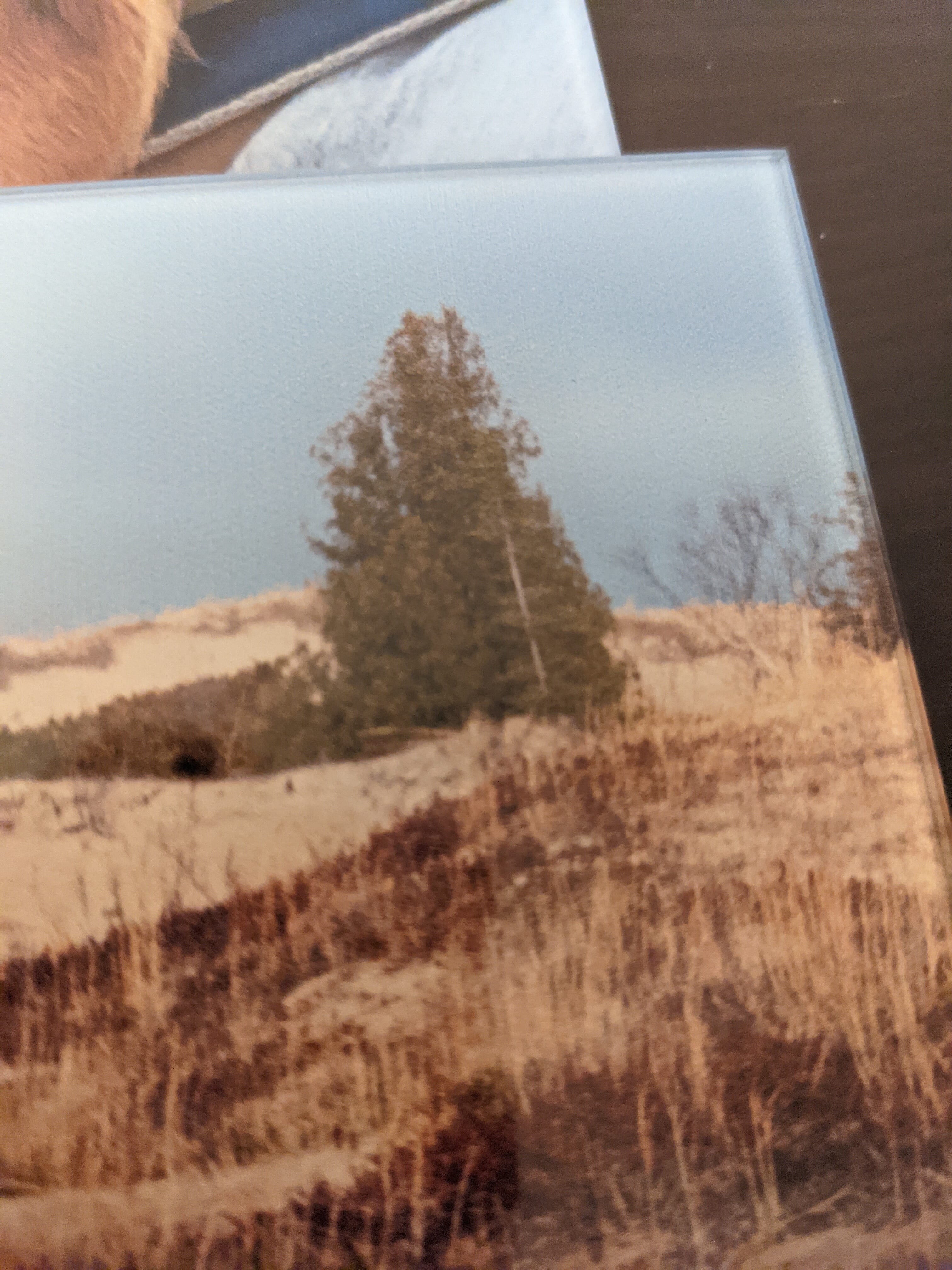 Another thing to consider is if you're not 100% happy with your Fracture order, they do offer a 60-day happiness guarantee. The dedicated team will do their best to make sure you are happy with your print!
Fracture Glass Print Review: Closing Thoughts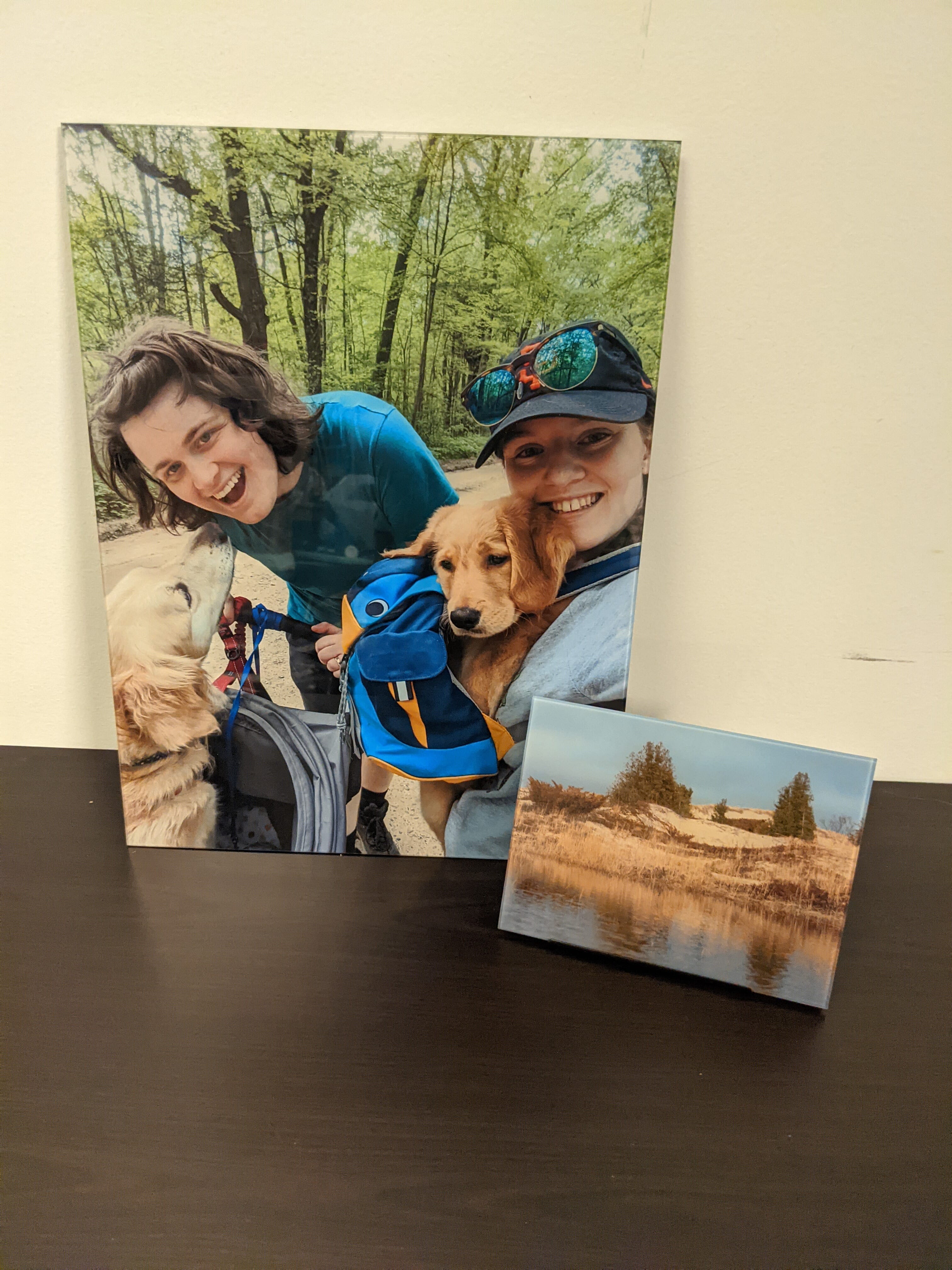 Glass prints are certainly an up-and-coming style in the printing world. They offer a modern, sleek look that will add to any wall, desk, or shelf. Fracture's glass prints are truly stunning and we loved the care and commitment to producing a high-end print that customers will love.
While there were some minor hiccups, we definitely think Fracture is a printing company to be on the lookout for. If you want to spruce up your place or offer an unforgettable gift for a friend or family member, consider choosing a Fracture glass print, you won't be disappointed!