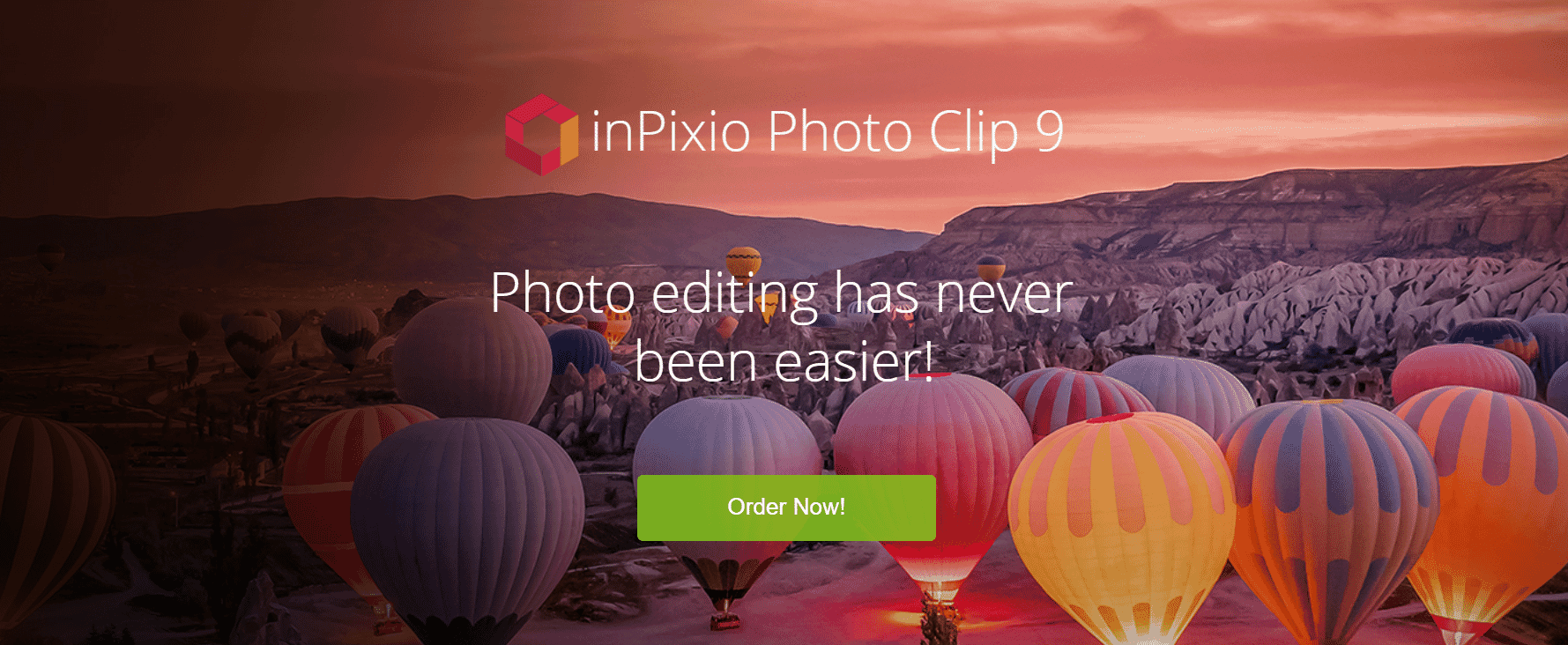 For some photographers, editing out distracting or unsightly items can be a huge (sometimes daunting) task. Certain softwares are designed to make these jobs a lot easier. InPixio Photo Clip 9 is one of these softwares. In this article, we put the software to the test in order to give you a comprehensive InPixio Photo Clip 9 Review.
What Can InPixio Photo Clip 9 Do?
In a brief summary, the main purpose of InPixio Photo Clip 9 is to allow users to quickly improve the quality of their images and remove unwanted items such as people or signs. The latest version of Photo Clip brings the following new features:
Photo Montages
Text & Sticker overlays
Automatic red-eye correction
LUT color effects
One-click image correction
As you can see, these new features are aimed at making the editing process easier, but at the same time giving you greater levels of creativity.
Related Post: 10 Best Photoshop Alternatives
InPixio Photo Clip 9 Review – Availability, Pricing & Requirements
Before we analyze the performance and features of InPixio Photo Clip 9, we'll look at how you can obtain it, how pricing works, and what system requirements you're looking at. If you want to first get a taste of the software, there is a trial version but all work will have an InPixio watermark overlayed.
The following versions are available:
Trial Version
Basic Full Version
Pro Full Version
Pricing
InPixio Photo Clip 9 is available in two different versions – Basic and Pro. Both versions are reasonably priced. In comparison to other photo editing software, Photo Clip 9 is a bargain. The following is pricing information relating to the two different versions:
Basic Version
The basic version is superb for photo editing and removing imperfections. However, it doesn't include the advanced editing features or some of the more creative features.
Price: $49.99
Includes everything except filters, frames, and textures
Pro Version
The pro version has advanced features and full access to the InPixio library of themes and textures. You can even make use of a one-click editing feature – this automatically edits your photos through analyzing other images.
Price: $59.99
Includes all tools and features
When looking at the pricing, we feel that paying $10.00 extra is worth it for the additional features you receive in the Pro version.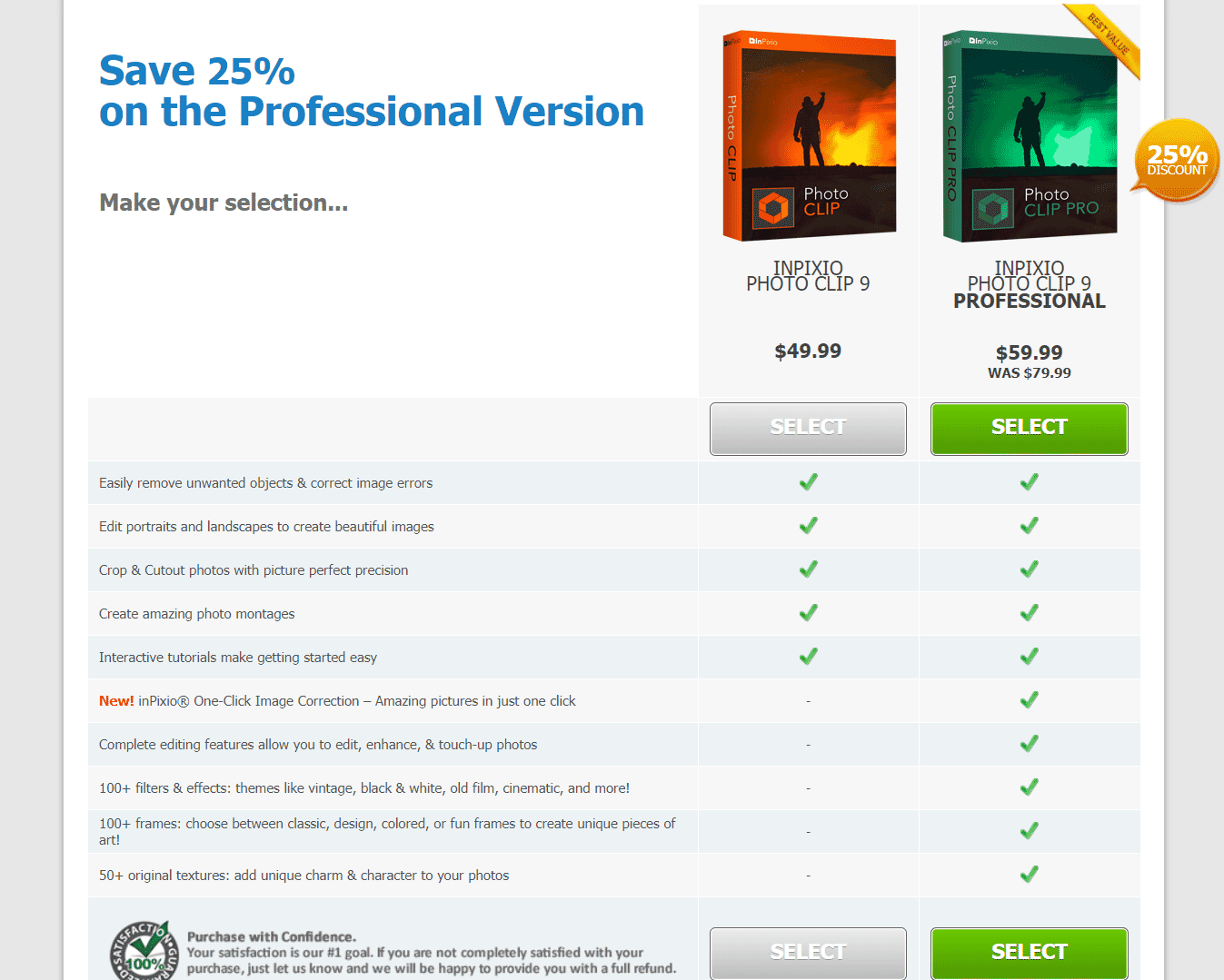 System Requirements
InPixio Photo Clip 9 doesn't require immense processing power to run effectively. When creating our InPixio Photo Clip 9 review, we tested the program using a Microsoft SurfaceBook and it worked without fault. Considering this type of laptop/tablet isn't high spec, Photo Clip 9 ran smoothly and the editing processes worked fine. The following are the recommended system requirements to run InPixio Photo Clip 9:
Operating System: Windows Vista or later
Processor: Intel or AMD
Memory: 2GB RAM (4GB recommended)
Storage: 500MB of free disk space
Screen Resolution: 1024×768
As you can see the requirements are quite minimalistic. There is no need to use a high power computer – any basic model will suffice.
This kind of low-spec requirement is something rare, if you're looking for something that will work well on a budget computer, this could be a perfect choice.
Related Post: Best Laptop for Photo Editing
InPixio Photo Clip 9 Review – Layout, Usability & Performance
Now that we have looked at the pricing, it's now time to look at the overall user experience in this InPixio Photo Clip 9 review. These features are important as they determine how quickly you can edit photos. They also dictate your enjoyment and confidence using the software.
Layout
The layout of InPixio Photo Clip 9 is extremely user-friendly. On opening the program, you are presented with the main menu as seen below. From here you are given the three main program options – editor, eraser, and cutter.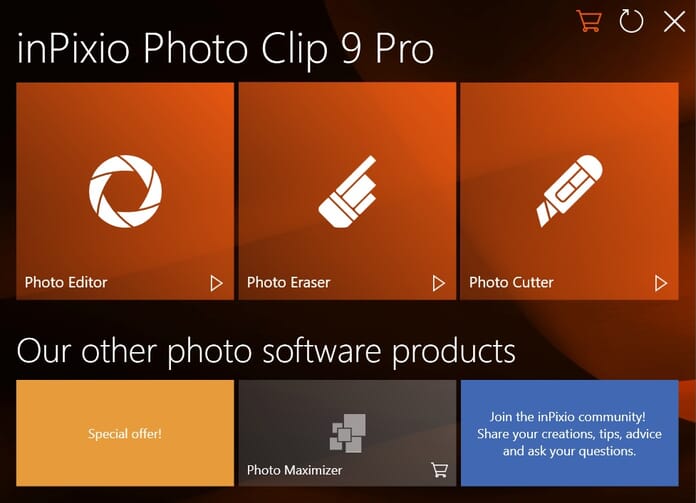 We liked this simple initial menu. Each individual program has a basic layout – the main preview pane is easy to see. Moreover, all tools and features are located on the right-hand side. Previous images you have worked with are shown in a thumbnail strip at the bottom for easy access. We quickly understood how to use InPixio. Each tool or button has a hover-over pop-up that gives a detailed description of what the tool does.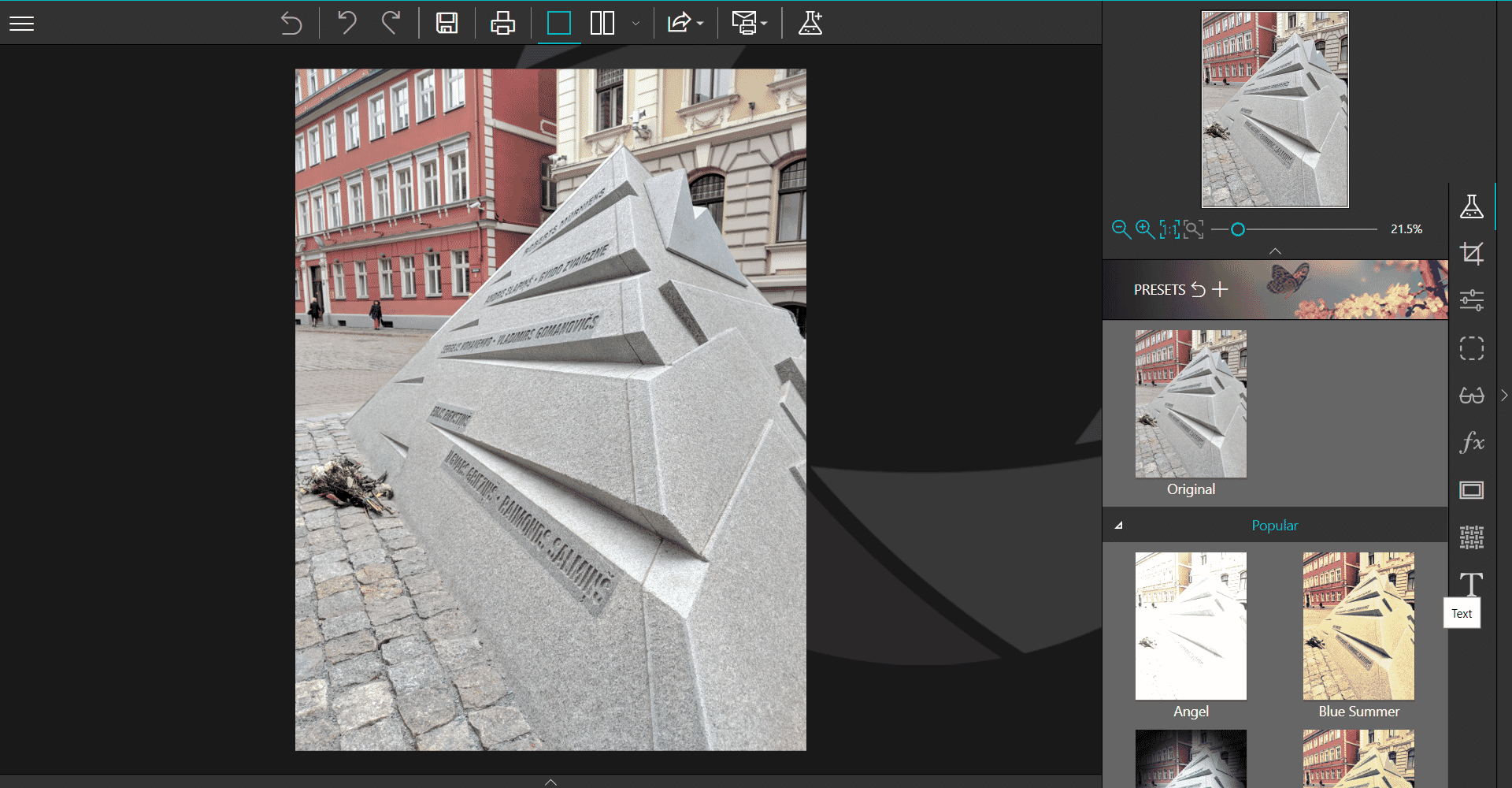 Usability
Usability is an essential part of any software review, which is why we included it in our InPixio Photo Clip 9 review. If a program is difficult to use then hobbyists and users with limited technical knowledge may struggle. Luckily, InPixio Photo Clip has excellent usability. It is clear the developers have made usability a focal point of the app. Keeping things simple and functional but providing enough freedom to produce results you'll be happy with.
Even if you have limited knowledge of editing tools, you can quickly understand how the apps work. With the simple layout and ability to undo actions, you'll find it easy to learn how to use the software and rectify mistakes when you make them.
Performance
When creating our InPixio Photo Clip 9 review we stated that we used a Microsoft SurfaceBook. This hybrid tablet/laptop certainly isn't a powerful device. The performance was superb, however. Overall loading times were quick – the app itself loaded quickly and processes such as opening images and applying edits ran smoothly.
Any standard laptop, PC or Mac would easily cope with the processing power that InPixio Photo Clip 9 requires.
Related Post: Best Tablets for Photo Editing
InPixio Photo Clip 9 Review – Tools & Features
Now we get to the most important part – the tools and features. Obviously, the main function of InPixio Photo Clip 9 is to retouch photos and remove imperfections. We analyzed the app based on this criteria. To make things easier, we split this section of the InPixio Photo Clip 9 review into three sections – Photo Editor, Photo Eraser and Photo Cutter.
Photo Editor
Photo Editor is the InPixio Photo Clip 9 editing program. It has an assortment of useful tools including:
Crop & resize
Adjustments
Correction
Creative effects
LUT Styles
Textures
Frames
Text
The editing tools are fantastic. You have full control over the image parameters. You can also choose from a range of preset styles and filters. In addition to this, the quality of the filters and presets is amazing. You can really use your imagination and create some brilliant artistic edits.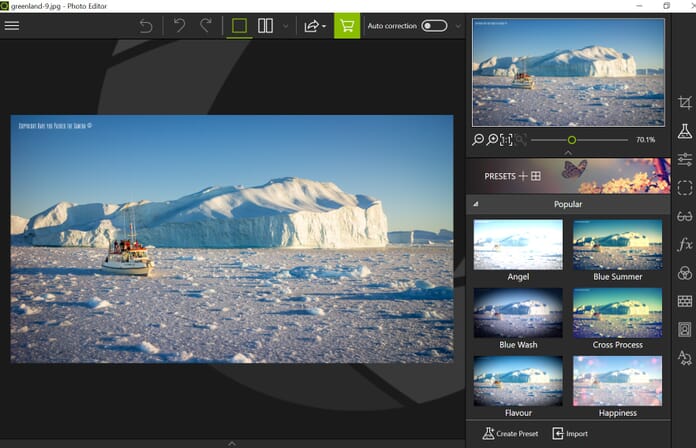 Aside from the creative edits, you can automatically correct camera imperfections such as lens flare and distortion. This tool automatically enhances your image with a single click. Once the adjustments have been applied to the image, you can then adjust a slider to increase or decrease the strength of the effect. You will also find a crop tool and an automatic adjustment feature.
When creating this section of the InPixio Photo Clip 9 review, we tested the text and border features too. These are only available in the Pro Version of the program. The borders are superb and there are lots of different styles to choose from. In addition to this, you have great creativity with the text styles.
Photo Eraser
The Photo Eraser tool allows you to automatically erase unwanted items from your photos. Let's say, for example, that you have taken an awesome photo, but there is a random person in it who totally spoils the composition.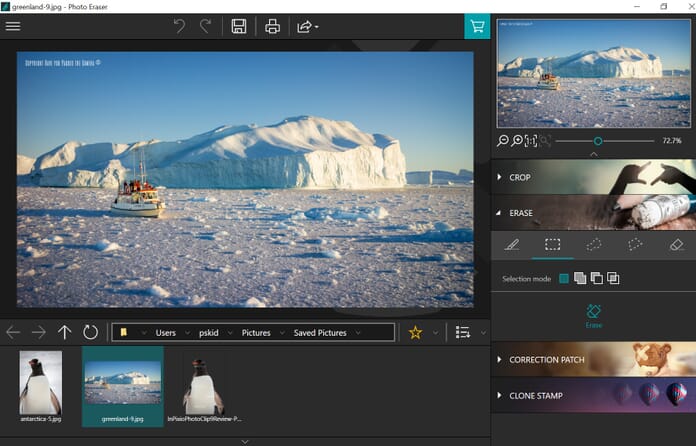 Using the Photo Eraser tool, you can remove that person and preserve the background behind it. It works in a similar manner to the clone stamp or heal tools in other photo editing programs. The main difference, however, is that the object removal and healing processes are performed automatically. All you have to do is draw brush lines to show what object you want removing – InPixio Photo Clip 9 will do the rest of the work.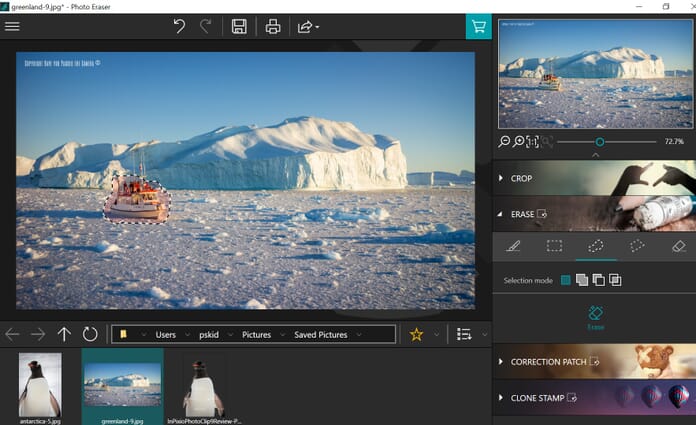 This tool is extremely easy to use. Once you have a photo open, select the desired selection tool:
Selection Brush
Selection Rectangle
Lasso selection
Polygonal lasso selection
With the selection type highlighted, simply draw over or around the object you wish to remove. Once you are happy with the selection, press the erase button beneath – the program will then process the request and remove the object. We found this process to work well. The only downside is that the quality suffers if the background behind the object has multiple colors, textures, and lines. The AI technology seems to struggle to recreate the background if this is the case.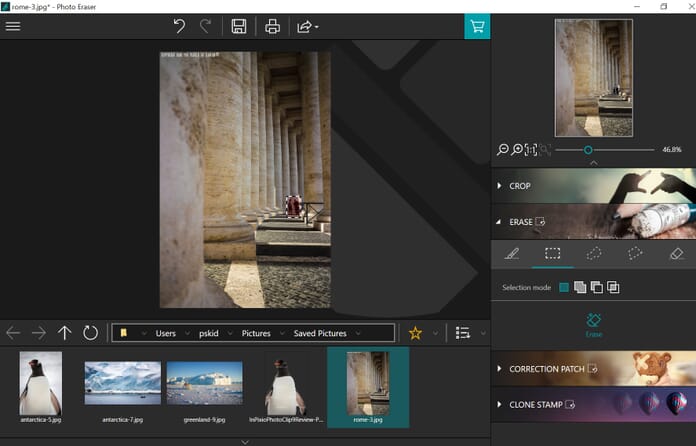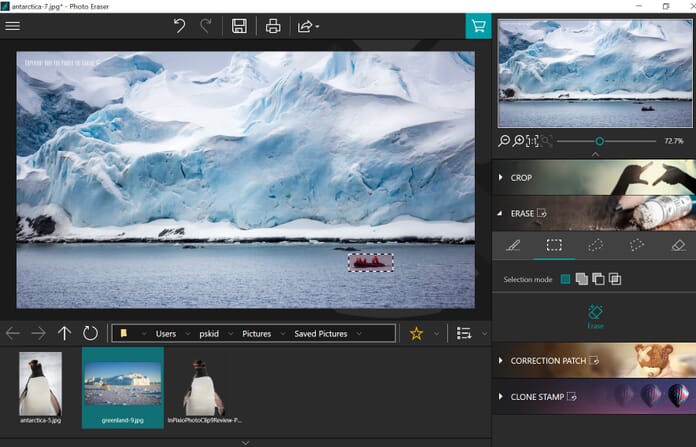 Photo Cutter
Photo Cutter is a superb tool that works in a different way to photo eraser. Eraser simply removes unwanted objects from a photo. On the other hand, photo cutter allows you to cut objects out of photos so that you can place them in other settings.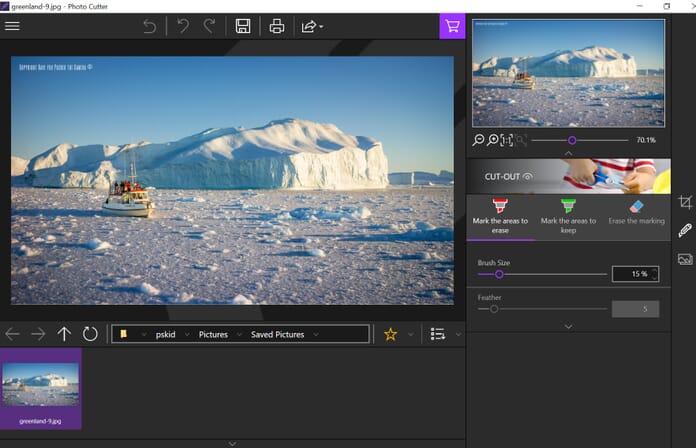 This is a great tool for creating marketing or personal media such as birthday cards, banners, or social media posts. The process is quite easy. All you have to do is use the brush tool to mark the areas you wish to remove. InPixio Photo Clip 9 will then process the image and remove the unwanted background areas. The final product is a transparent PNG file.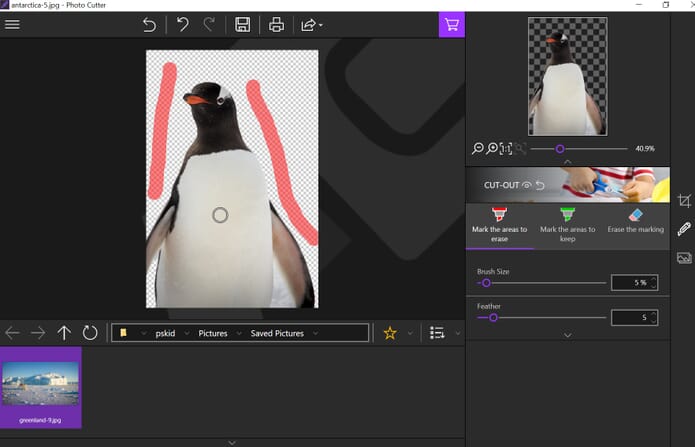 The cutting process is simple and produces pleasing results- you can change the brush size to remove small areas of background. You can also change the feather of the brush to give a sharper or more-blurred line.
InPixio Photo Clip 9 Review – Examples
To show what InPixio Photo Clip 9 is capable of, we created some different examples. These examples were produced to test each of the main programs and the selection of editing tools. You'll find examples that show both high-quality end results and some that are not perfect. We feel this gives a realistic overview of what you can create using this program:
The following image was creatively edited using the InPixio Photo Clip 9 Editing tools.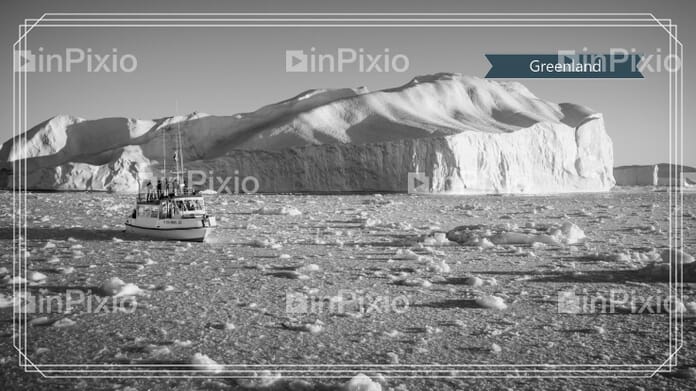 The next two sets of images are examples of the InPixio Photo Clip 9 Eraser tool. The first example produces a good result, the second one, not so much. Scroll through the gallery to see the before and after of each.
In this image, I wanted to remove the people at the back, by the building.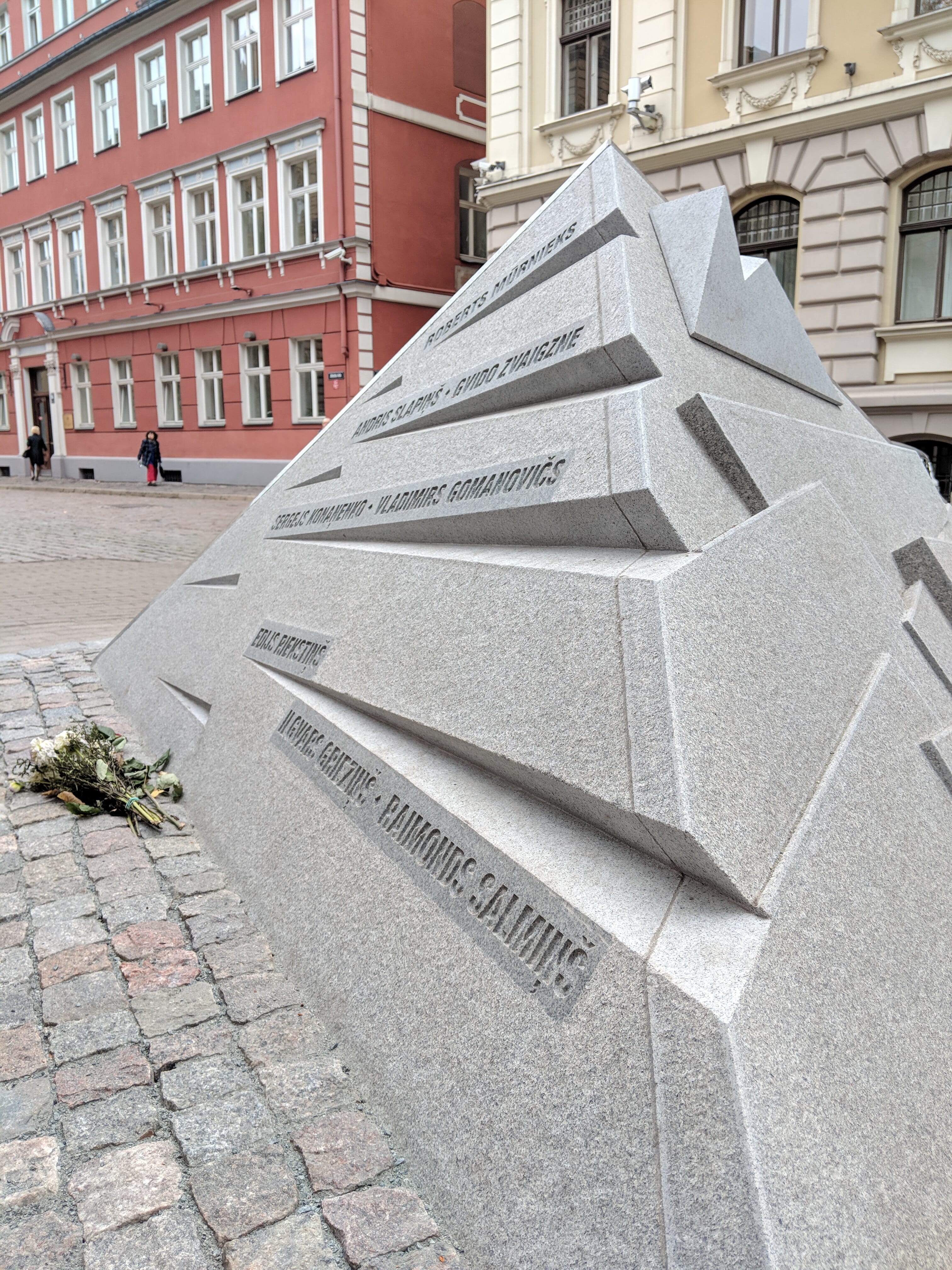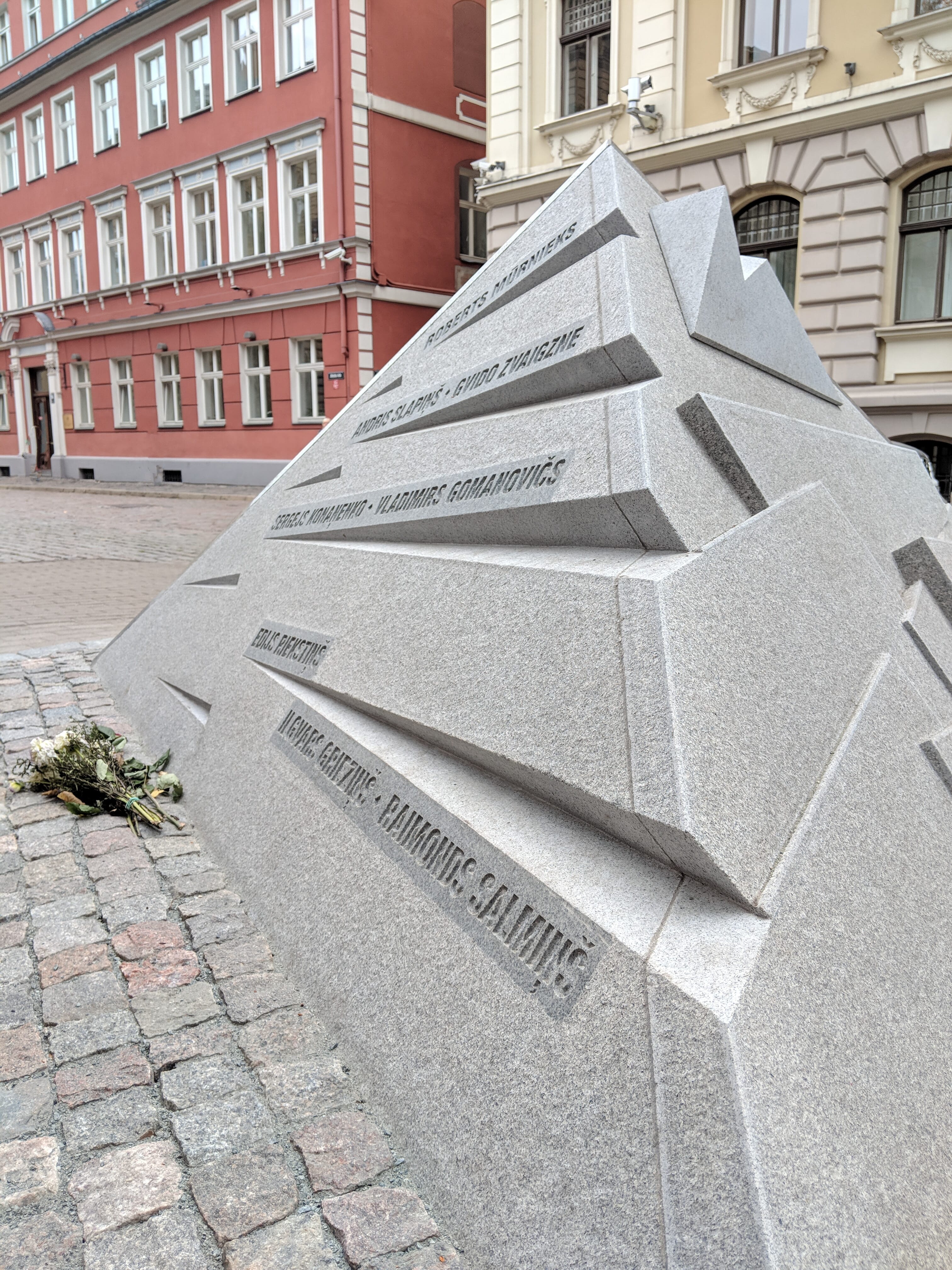 In this image, I wanted to remove the fence running across the top of the frame.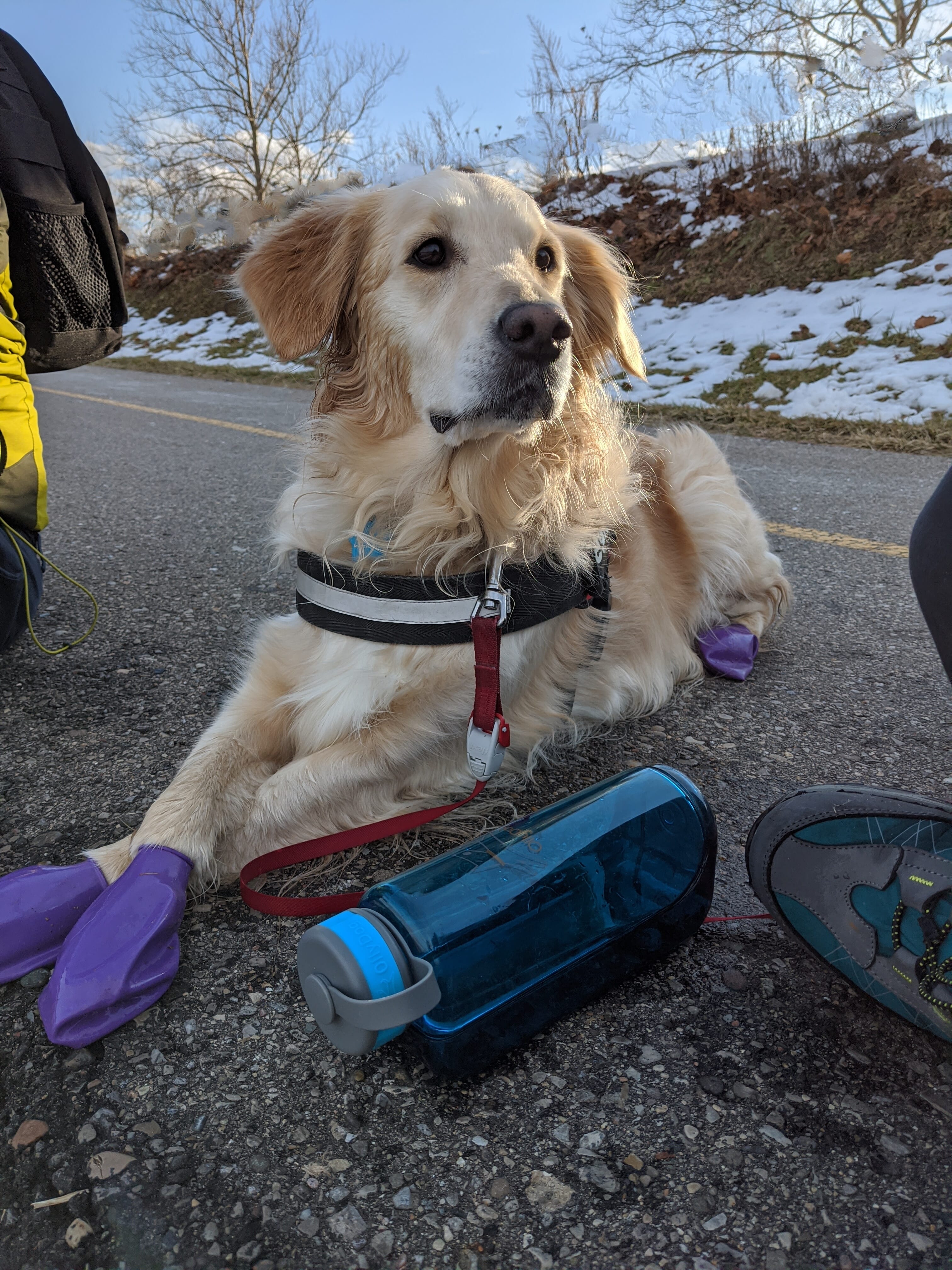 This final photo set shows the finished product when using the cutout tool.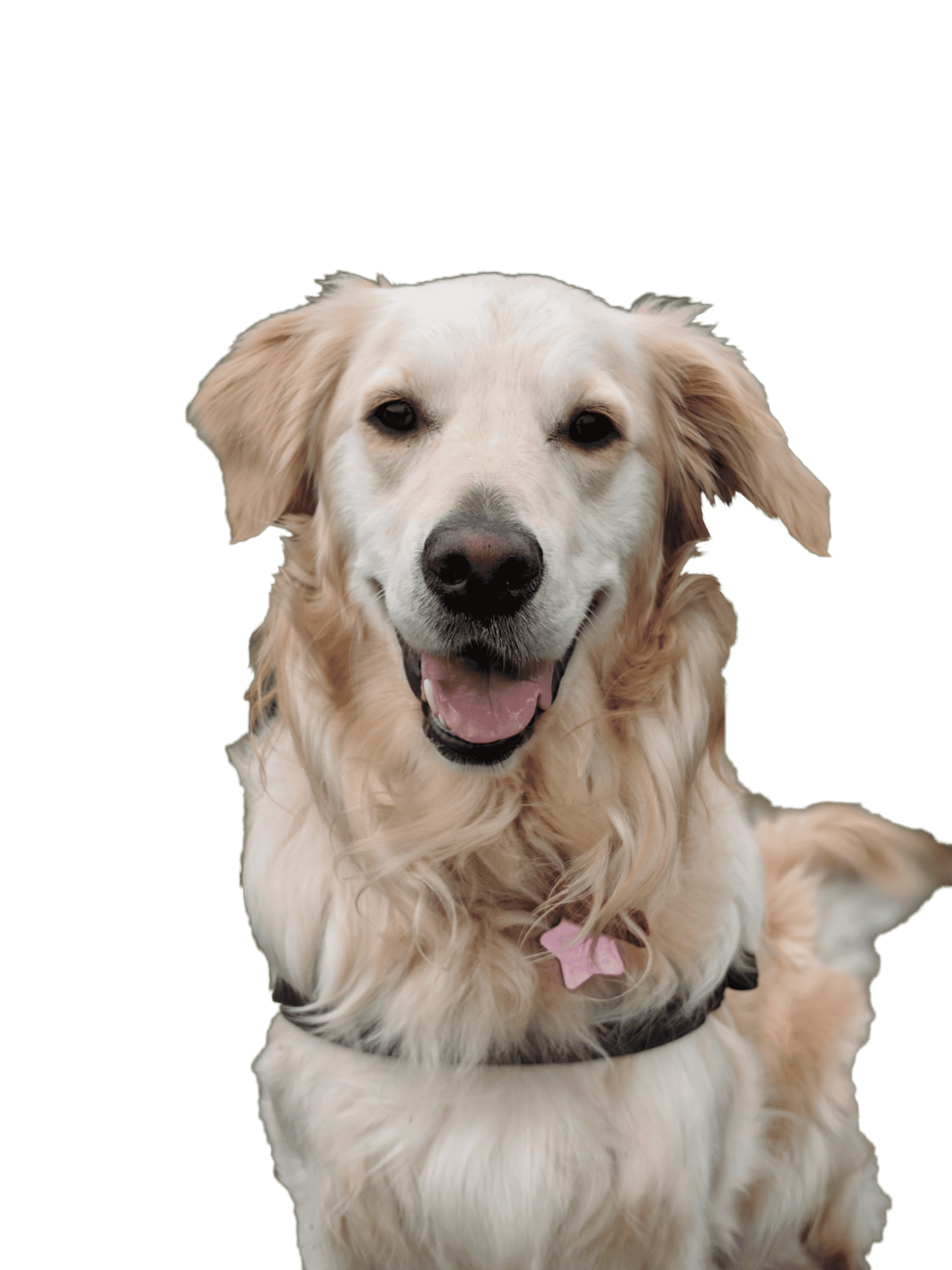 InPixio Photo Clip 9 Review – Summary
We feel that InPixio Photo Clip 9 is an excellent program with great features. For hobbyists and designers, this program can provide ample creative freedom and the opportunity to quickly edit photos.
The only area we feel this program falls down is the quality of the erasing. On clearly defined areas or objects with high contrast, the Eraser tool works well. Performance is also high when there is more source material to clone patterns and textures from. However, if the background is detailed with many different colors and lines, the end result may not look perfect.
The below are some final pros and cons we found from our inPixio Photo Clip 9 review:
Pros
A simple program with easy to use tools
Fast performance without hefty processing requirements
Quality cutting and erasing tools
Excellent to create photo montages and collages
Cons
The Erasing Tool can sometimes leave a messy background
The Cutting Tool is not perfect if the object outline is not clearly defined