Photomyne is an easy-to-use photo scanner app. You can use the app with your iPhone or Android smartphone. The image quality is spot on and the sharing and storing options are (almost) unlimited. The pricing structure for the premium plan can be a bit confusing.
About Photomyne
Photomyne, an Israeli startup company, aims to become the largest photo collection of the pre-digital era.
The team at Photomyne has developed an AI-based scanning algorithm, making it possible to:
scan multiple old (paper print) photos in a single shot,
auto-crop the images
enhance them
and finally, save those as individual photos in a newly created digital album.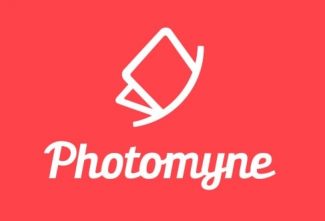 Also, Photomyne offers a dedicated web platform for curating, sharing and viewing these photo memories. The company's ever-growing user base consists of 3 million individuals worldwide who scanned an accumulated number of 50M photos to date.
Current Ratings and Reviews on App Stores
The reviews of the Photomyne app are plenty and positive:
As of 9 April 2018, the Photomyne app is ranked #42 in Photo & Video category of the Apple Apps Store and has a rating of 4.5-star rating with over 3,800 user ratings.
On the Google Play Store, the photo scanner app by Photomeyne has a review score of 4.1 and a total of over 1,800 user ratings.
Editor's View: We have tested the app by scanning over 100 images and used all its features, and can confidently give it close to 5 stars. In fact, we ranked Photomyne as the best photo scanning app.
Scanning Images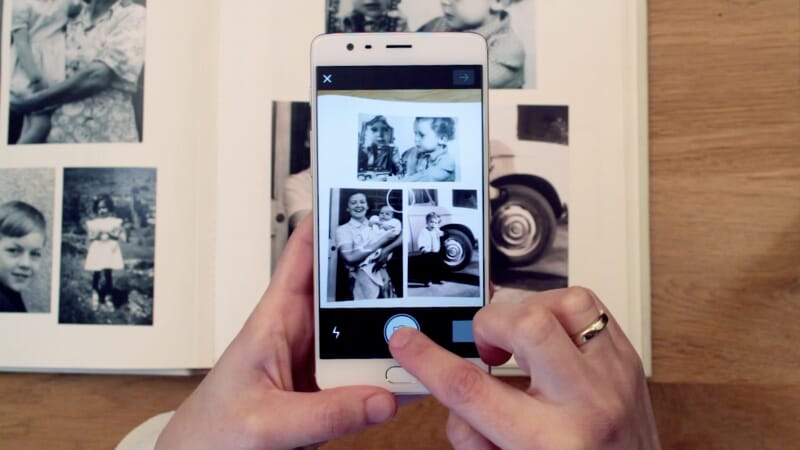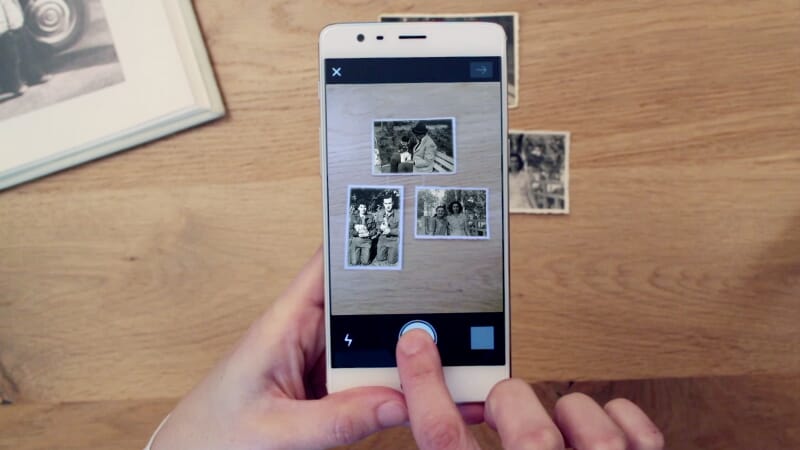 The app can scan single prints as well as entire albums. You can have a look at this video to understand how simple it is to digitize your old photos:
How to Use your iPhone to Scan and Save Old Family Photos
Photomyne is the only photo scanning app that makes it possible to scan multiple printed photos in a single shot.
Image Quality
Normal sized images (4*3 inch) turn out to be big digital files (e.g. 3264 × 2196px). This is a great file size to see your old paper prints on a large monitor. It feels as if old moments and memories come back to life on a vivid and big computer screen (apart from seeing and storing your images on the phone, you can later see them on the web or download them on the computer).
Please note that we used the iPhone 7 camera and scanned single images from nearby. If you use a smartphone with a camera of lower quality or scan multiple images at once, you will get lower resolution images. Read more on how you can achieve optimal photo quality on the Photomyne website.
Social Sharing of Images
Once you have scanned and saved a few images, you may want to share them with friends and family. This too is an effortless process.
You can share your images via
an iPhone Message
Facebook
Messenger
WhatsApp
Or any app you have installed on your phone, e.g. Twitter, Dropbox, etc.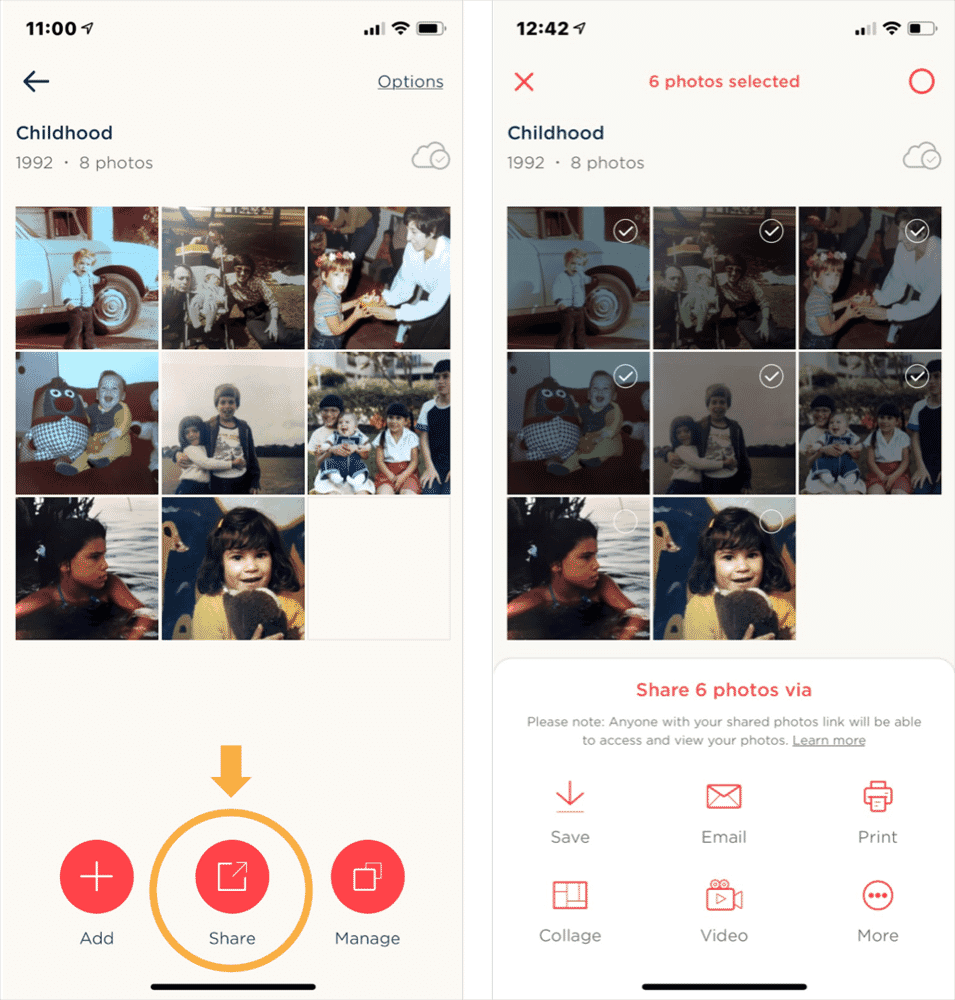 Create your own Photo Album Website
In addition to sharing your images via a message or social media, Photomyne also gives you the possibility to create your own website. All it takes is one click and your website is live!
Don't want to share your photos with the world? Not a problem, you can easily add a password to your online photo website and hence limit the access.
Back up your Photos in the Cloud
What we also like about the Photomyne app is that all your scanned photos get safely backed-up on your personal account in the cloud. Also, not only will you find all your cropped and edited versions there, but also the original scans in case you need them.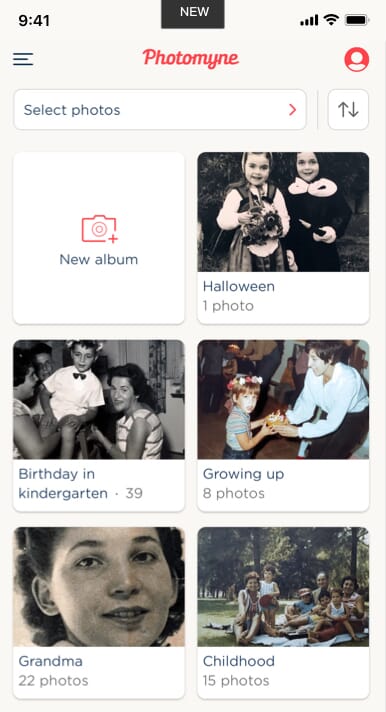 Discover other People's Photos
Another nice and fun function is the Discover tab. Click on it and discover other people's publicly shared photos. It's nice to see some pictures from the 60s and 70s once in a while. A nice way of getting a little nostalgic and a good break from modern and filtered Instagram images ;-).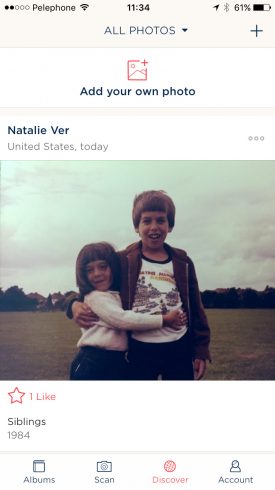 Download your Scanned Images
And finally, if you want to download all your images from the app/cloud, you can do that too. Simply go to your account online and download the entire album folder.
We love the app and recommend it to anyone who has a shoe box or two full of old photos lying around at home or a grandma with a bunch of photo albums.
An App that Makes Storing Photos Fun
Scanning your old photos with Photomyne is a nice time-pass for a Sunday afternoon. Sit together with your family and scan your old paper prints!
You will have a great time looking at those old prints, have a few laughs, and store your family memories for the next generations to come by getting them into a digitized and easy to share format.
Related Post: Best Slides Scanners to Digitize Your Negatives
Price
Photomyne offers both free and paid iOS photo scanner apps on the App Store, and both apps offer an account option through an in-app purchase:
Free App – A Limited Version of Photomyne's Utility on One Device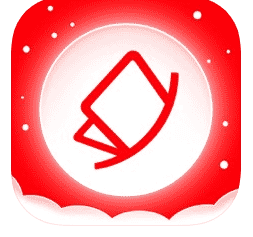 The Photomyne app is free to download (Apple App Store, Google Play Store), scan and save photos.
Use is for basic scanning before deciding if you want to upgrade. Scanning and/or saving, sharing photos is limited. Excludes web and cloud-based services.
To enjoy account sync and online access, you will have to subscribe to a Photomyne account (the price for the premium version is $47.99* for 2 years, but varies depending on plan options).
👉*Please Note: Prices may vary depending on location, time of year, etc.
Paid App – Photomyne's Full Utility on One Device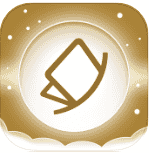 Unlimited photo scanning, saving, and sharing on a single device (on this paid app). Excludes web and cloud-based services.
Account Option in

Both Apps
Both apps mentioned above require an additional upgrade through the app if you want any of the following premium features:
Unlimited B&W photo colorization
Photo access on other devices
Unlimited photo back-up
Photo ZIP transfer to PC or Mac
Free up space on your device
Photos saved in best quality
Users can choose to subscribe to a Photomyne Account on a recurring monthly or annual basis, or join a long-term plan through the One-Time option.
Once you are done scanning your old photos, make sure to check out our recommended boxes for storing old photo prints.
Overall Photomyne Rating: 4.8/5
Our Review Score Criteria and Ratings
Ease of Use: 5/5
Scan Quality: 5/5
Online Sharing Options: 5/5
Premium Subscription Plan Price: 4/5
Photomyne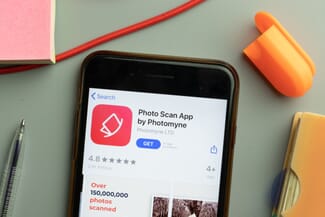 Photomyne is a photo scanner and enhancing tool which aims to create a database of old photos.
Price: 47.99
Price Currency: USD
Operating System: Android, iOS
Application Category: Multimedia
Pros
Easy to use
High-quality photo scans
Access photos on computer
You can share photos online
Cons
Expensive
Pricing is confusing
How to get the App