Adobe has recently re-branded its Canva and Easil competitor; formerly known as Adobe Spark, this platform now goes by the name of Adobe Creative Cloud Express. Using Adobe Express, you can create graphics that are perfect for personal social media accounts or for business marketing.
In this Adobe Creative Cloud Express review, we look at what the platform has to offer. We examine its features, ease of use, design capabilities, and more.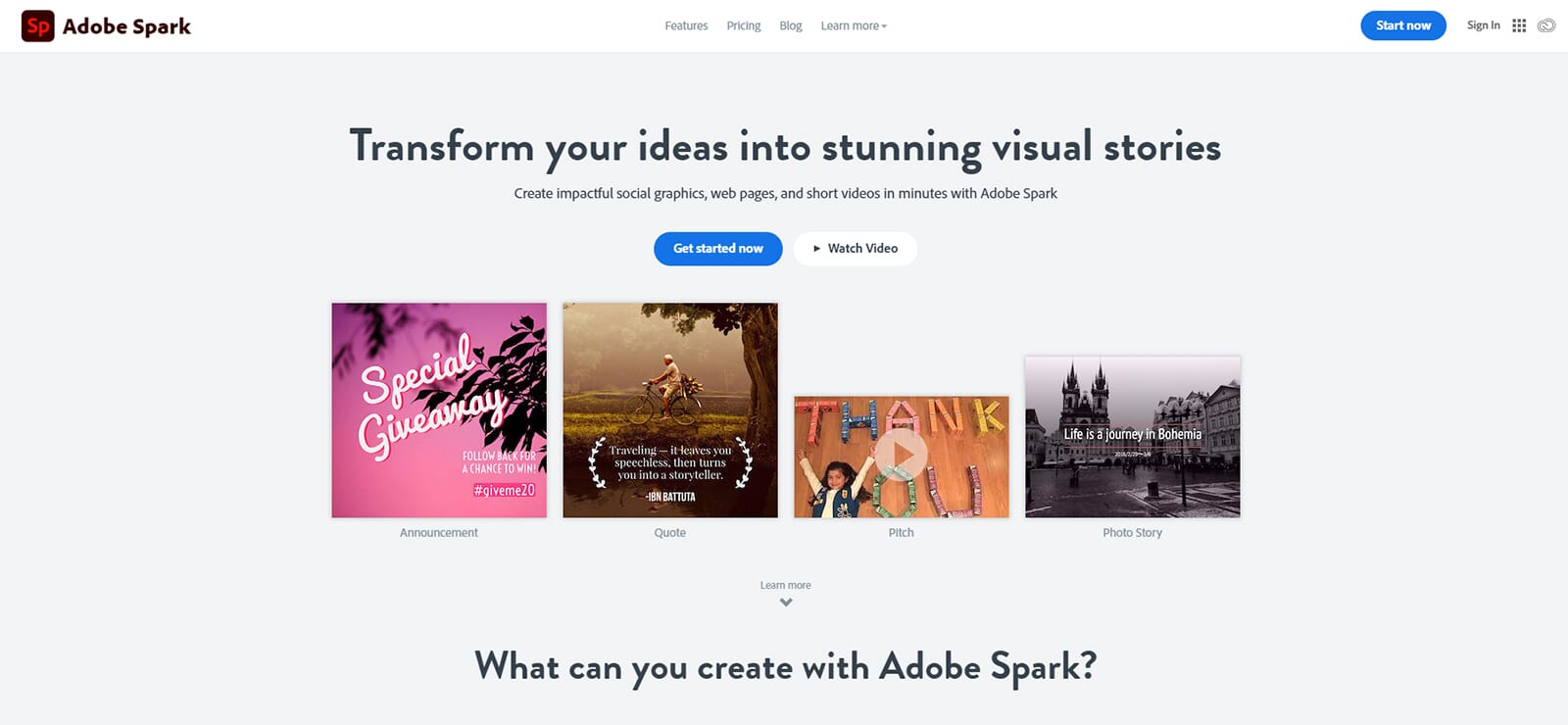 When you buy through links on our site, we may earn a commission at no cost to you. We evaluate products independently. Commissions do not affect our evaluations.
Adobe Creative Cloud Express Overview

Great for quick graphics
Adobe Express is the perfect way to create graphics for marketing and social media. It even offers a free version!
Pros
Has a simple and easy-to-use interface
Great customization options for all elements
A good selection of templates for inspiration
Simple tutorials for the different functions
Cons
Some may find the video editing section limited
The free version has limited utility
Adobe Express is a standalone product that's part of the Adobe Creative Cloud suite.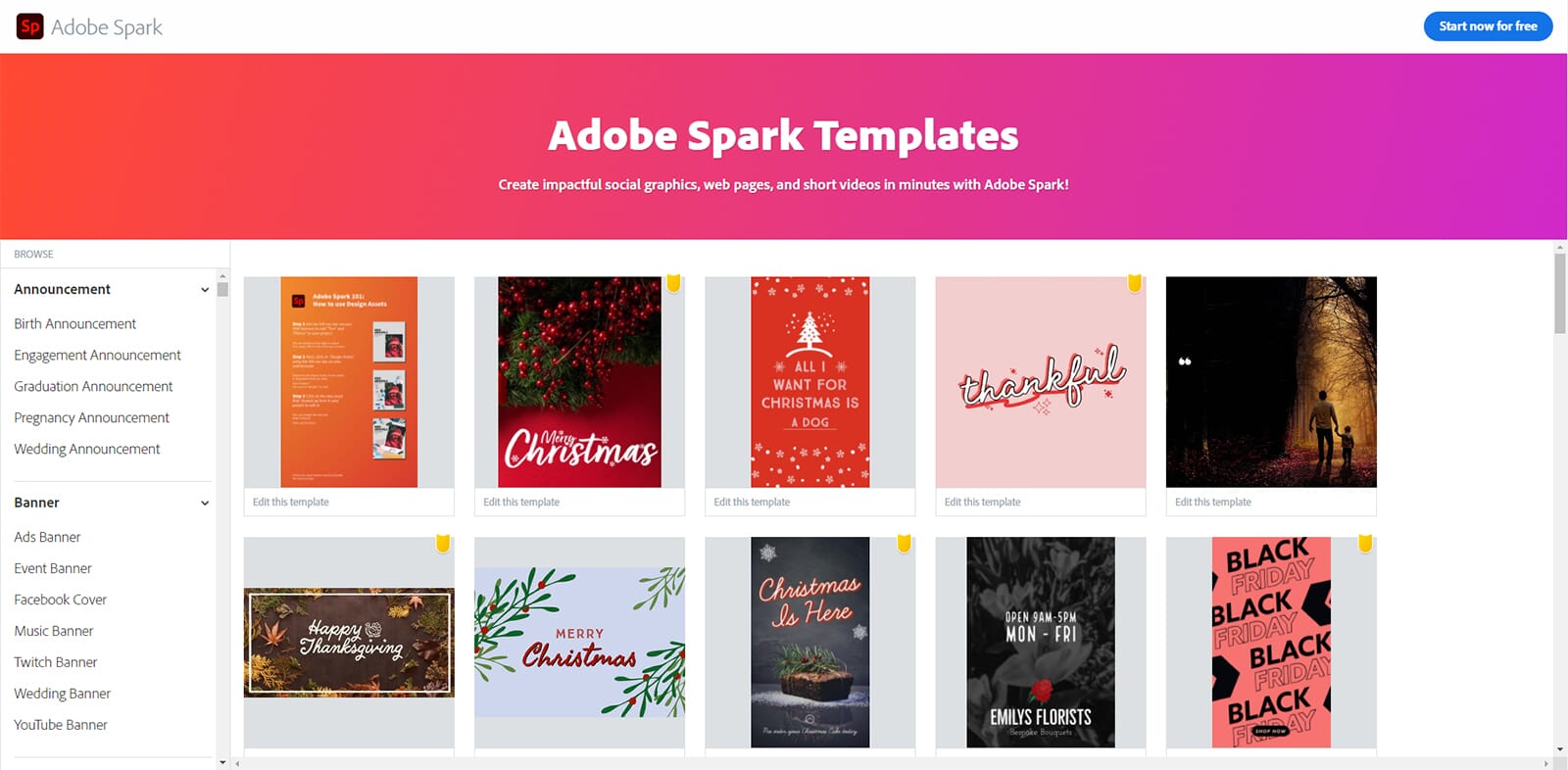 Individuals and businesses can use this platform to produce a variety of designs, including web pages, videos, graphics, and social media posts. The following are the main features of this platform:
A large library of pre-made templates
Project management to easily create and edit designs
A branding section to create a cohesive brand
Web-based editor for creating designs
Collage maker
A learning center with articles and tutorials
A quick-action toolbar for common functions
Adobe Express has everything you need to create a vast array of web and print media. It's a comprehensive platform that offers plenty of creative freedom.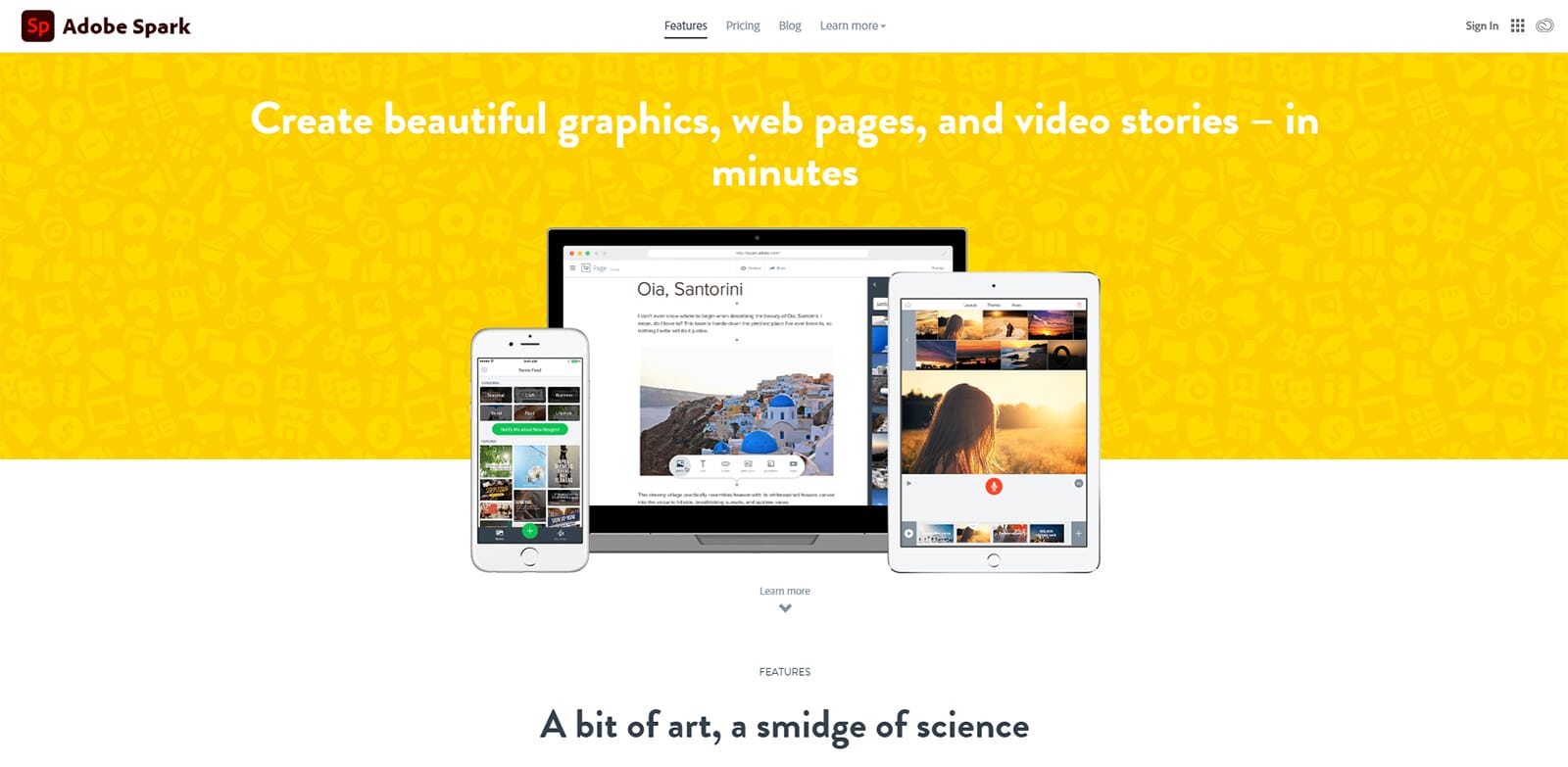 What's New in Adobe Express?
Since the rebrand, Adobe has added a handful of new features and improvements. The aim is to make the platform more accessible and simpler for beginners who do not have any graphic design experience. The following are the new features:
Quick-action toolbar
Improved home screen layout
Shapes toolbar added in the editor
A simple change is the addition of the quick-action toolbar. This is incredibly useful, especially for beginners who may not know what to do or where to find things. The toolbar is found on the account homepage and is split into categories: Recommended, Image, Video, and PDF.
You can scroll through the actions, which help you complete simple tasks in a very short time. Examples of actions include "Remove Background," "Convert to GIF," "Resize Image," "Trim Video," and "Crop Image."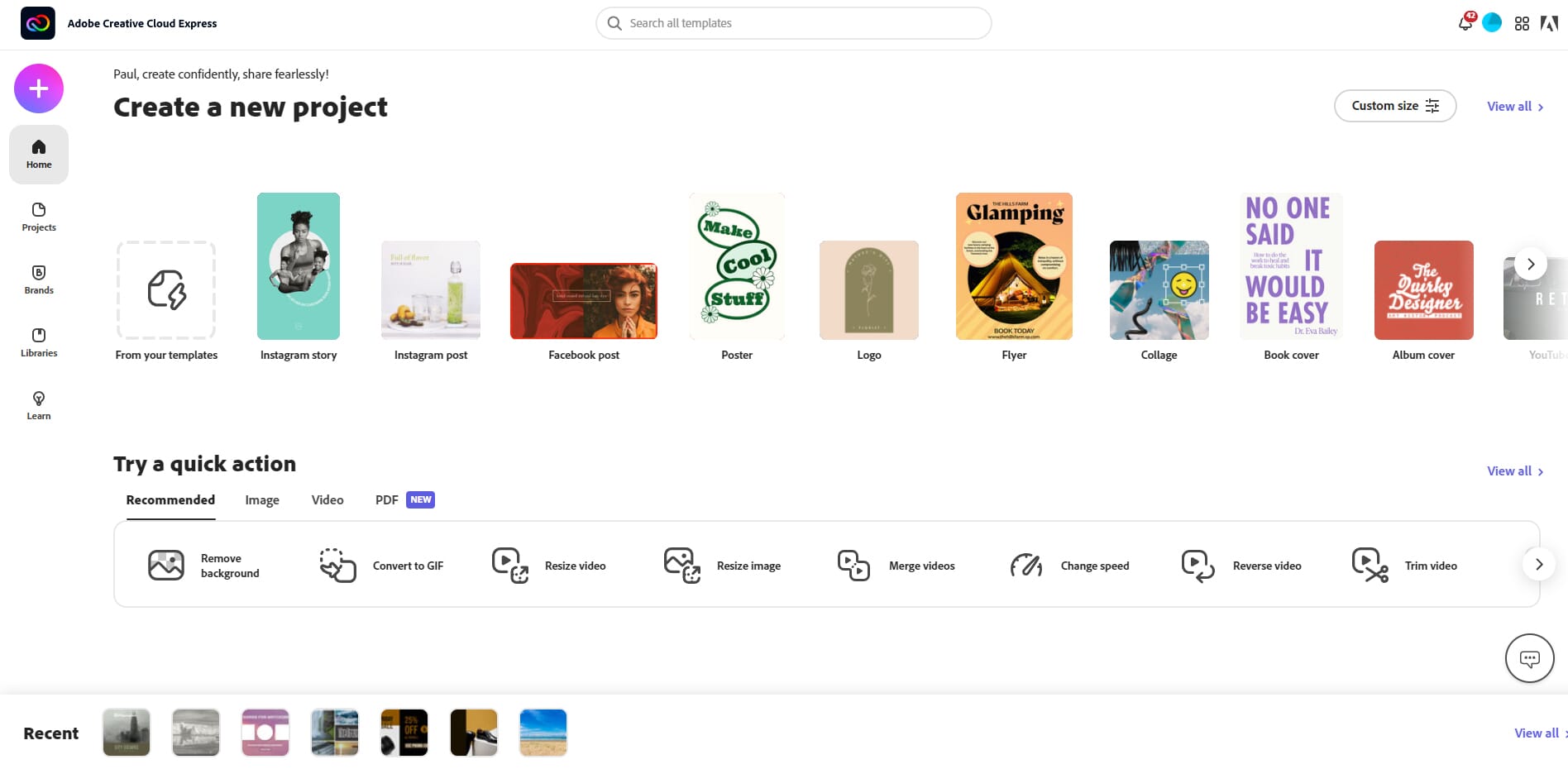 Aside from the quick-action toolbar, the account homepage has received a nice revamp. It looks cleaner and more modern, and it appears to have an improved flow. The "Recent" section at the bottom now takes up less of the screen but still allows you to quickly access your most recent projects. It's a positive redesign.
The Adobe Express editor also now has a Shapes toolbar. Here, you can add a host of different pre-made shapes to your images, including basic shapes such as triangles, rectangles, and stars. It also has a host of advanced shapes that look similar in design and style to clip art images. There are hundreds of shapes, and you can search for specific items using the search box at the top.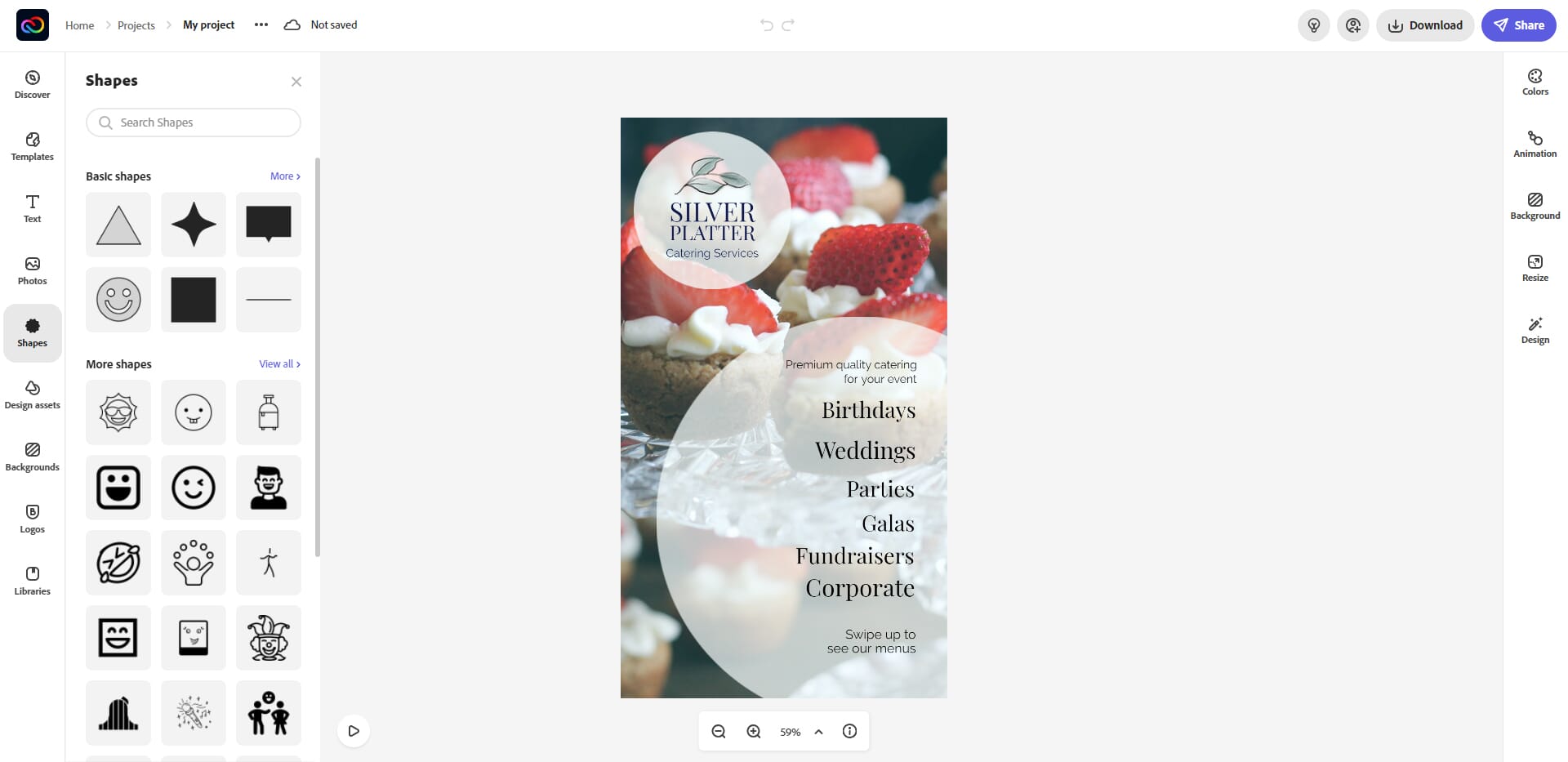 Adobe Express Review: Features and Usability
To fully review Adobe Express, we extensively tested the platform and its features. With a Creative Cloud subscription, we had full access to all the program's features.
Pricing
The pricing is structured in two tiers, free and premium:
Starter plan: Free
Premium subscription: $9.99/month
The free version just requires you to create an Adobe ID, which is a simple process. However, the features are limited compared to the paid subscription. You do also get 2 GB of cloud storage with the free account, which is a decent amount of space for basic use.
Previously, there was an individual and a business plan. However, Adobe Express now only offers a single Premium subscription plan. This is $9.99 per month and gives access to all premium features and templates.
It also gives access to 160 million+ Adobe Stock photos and 20,000+ licensed Adobe fonts. And with the premium subscription, you get 100 GB of cloud storage, which is really good.
Finally, it is important to note that you gain access to all of Adobe Express's features if you already have a monthly Adobe Creative Cloud subscription. For example, the Photography plan is $9.99/month and gives access to Lightroom and Photoshop as well as complete access to Adobe Express.
Main Interface and Management
We like the layout and interface of Adobe Express. The main screen is easy to understand. As you can see below, it has a main menu on the left-hand side for the different features like your projects and brands.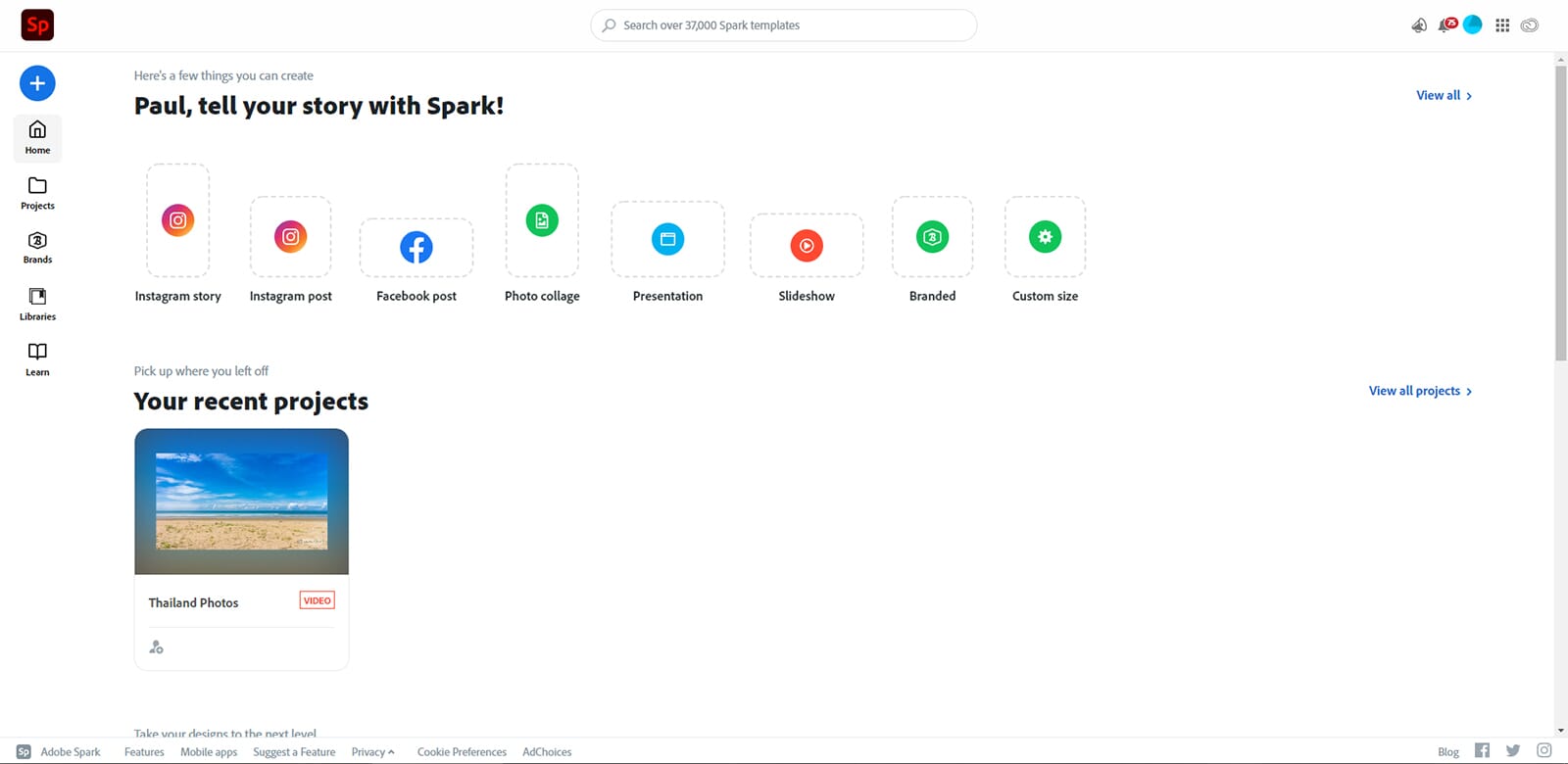 In this first area, you can manage all of your content, move to the editor, or browse the template library. We also like how you can see the most recent projects you have worked on.
Templates
If you are struggling for inspiration or you simply want ideas for your designs, Adobe Express has a large library of templates. The template library is easy to use – it has a simple interface and a large search bar at the top. You can search using keywords, and there are several categories, too.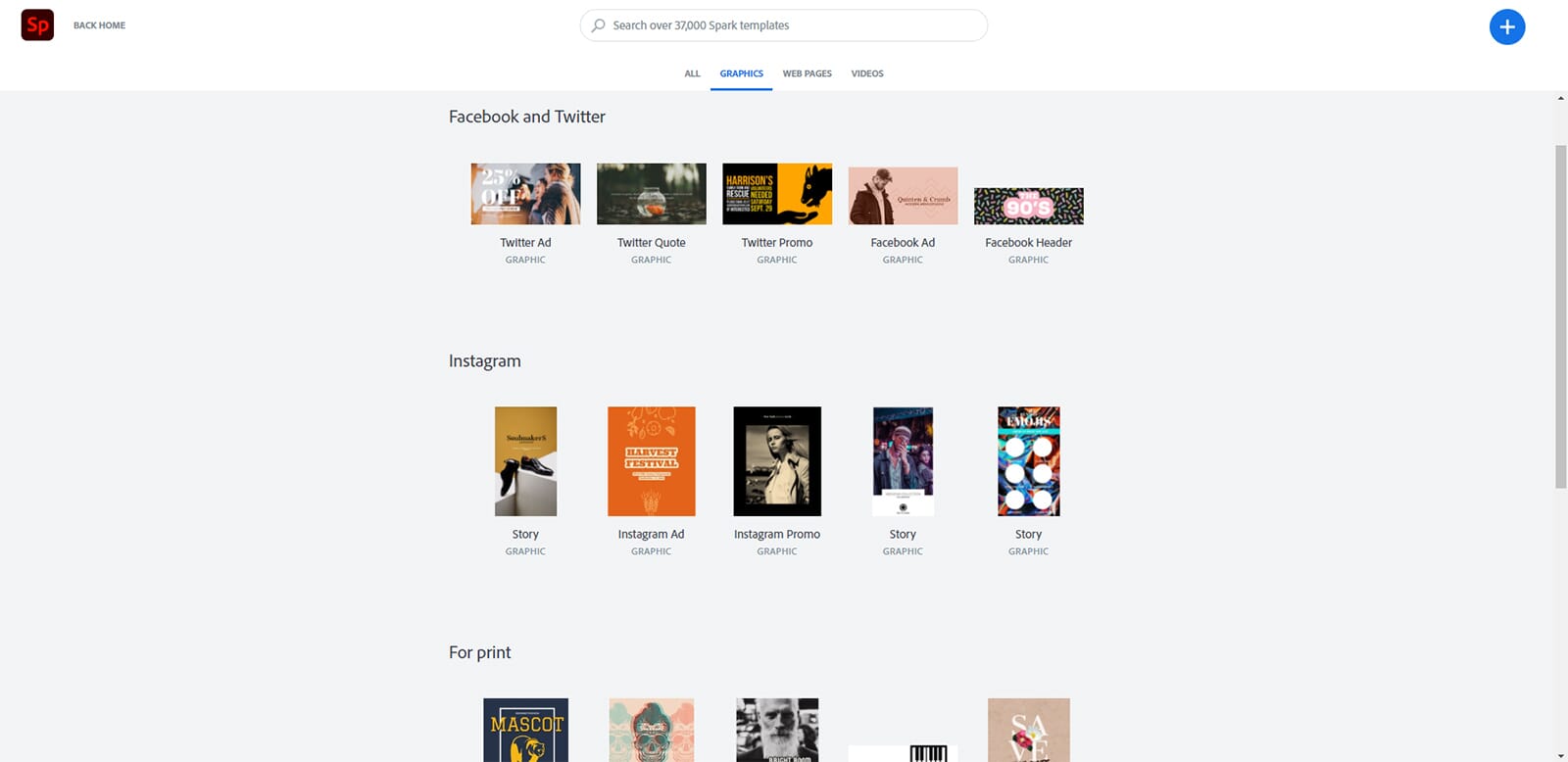 You certainly can't complain about the number of templates, either. There are literally tens of thousands of designs. They also span multiple categories and types, including Instagram Stories, Facebook Cover Photos, Pinterest Boards, Animated, Social Media Stories, and more.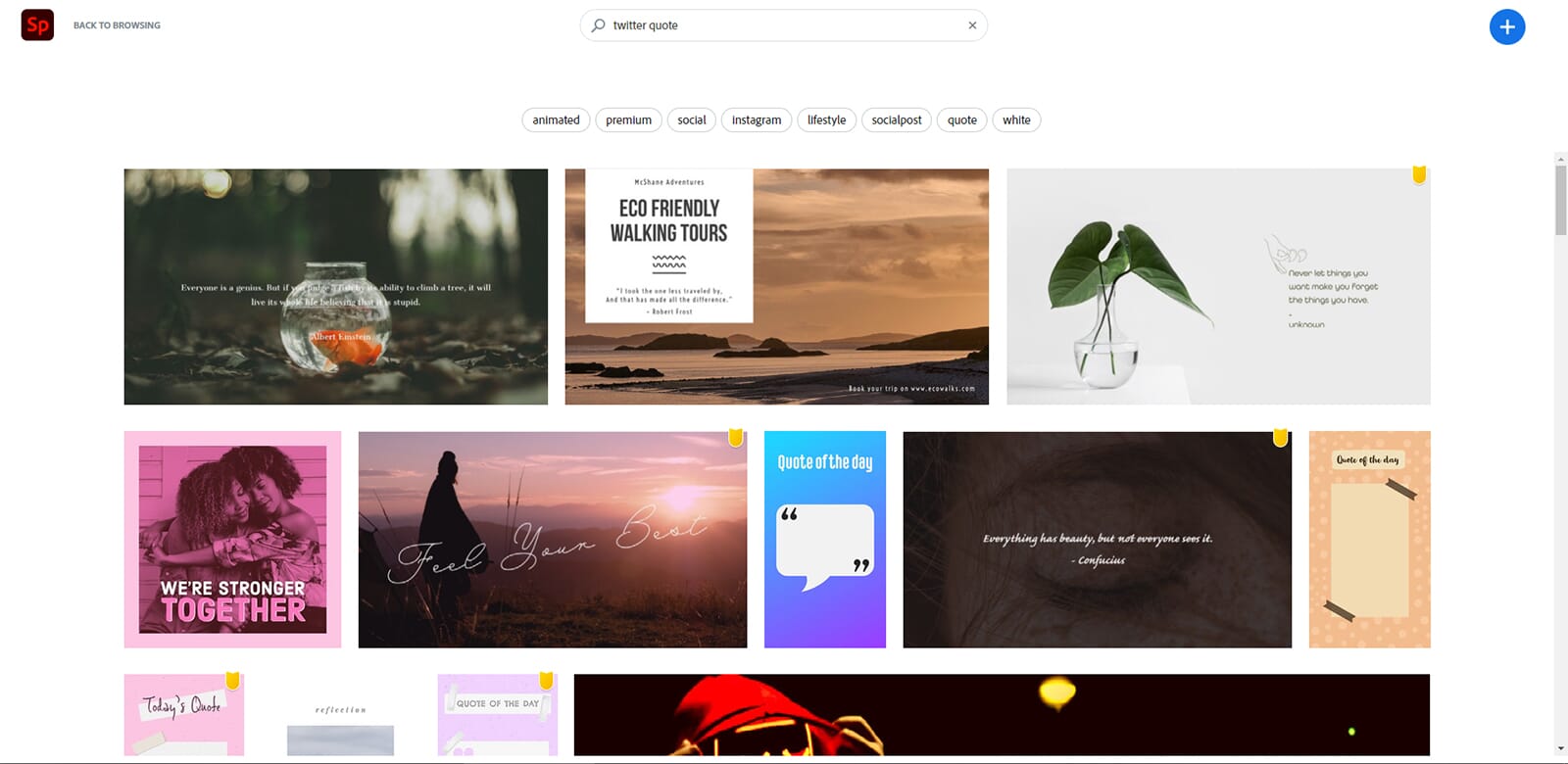 If you find a template you like, simply click on it, and you can then open it in the editor to make it your own.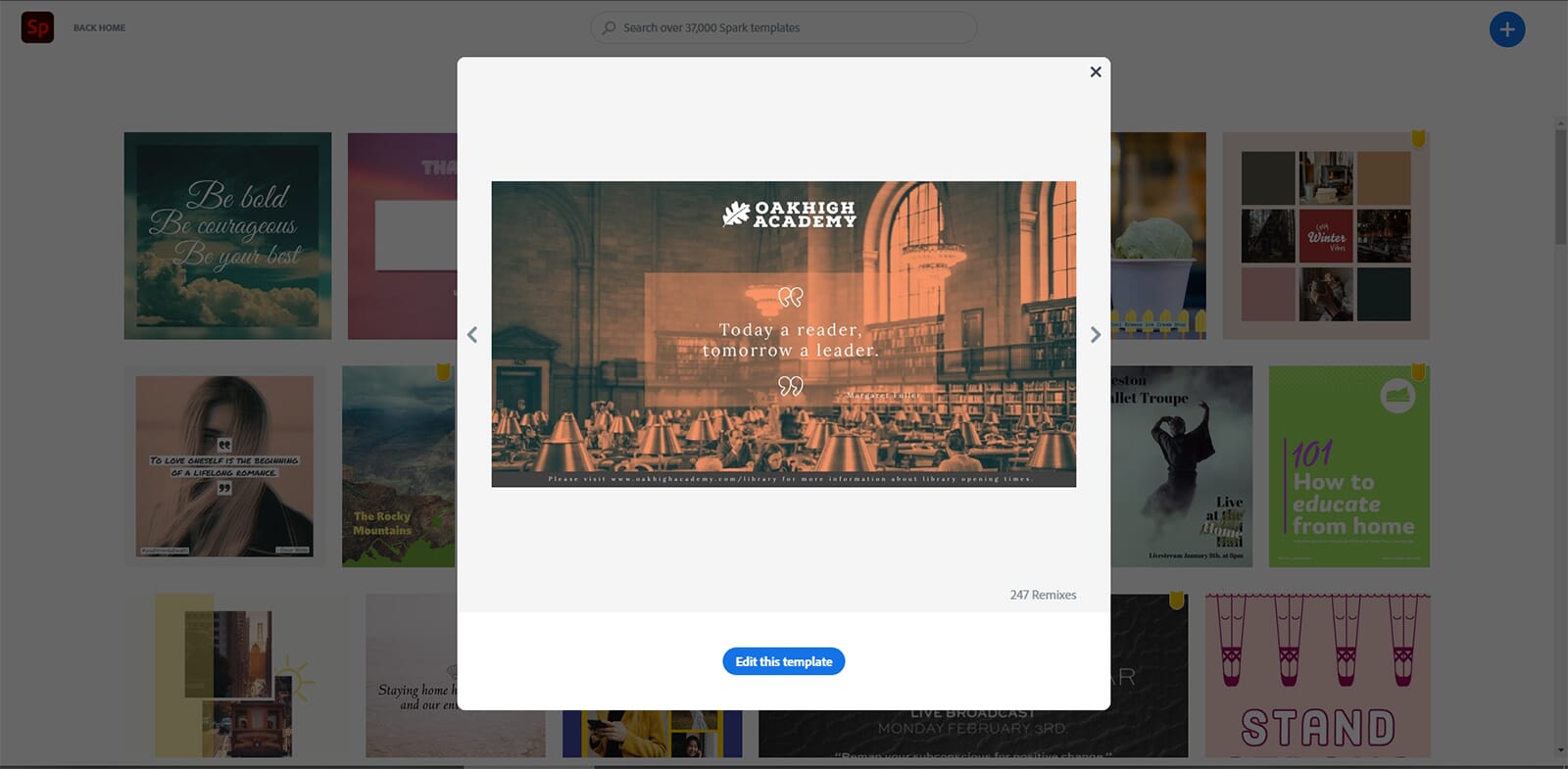 Brand Management
We also looked at the brand section. This is an essential feature for businesses that want to maintain a consistent brand image. You can create new brand materials, and the basic selections include the company logo, color palette, and fonts.
Once you have chosen these brand themes, you can then easily apply them to new projects that you create. You can also make brand templates, which are great if you create regular social media posts of a certain style.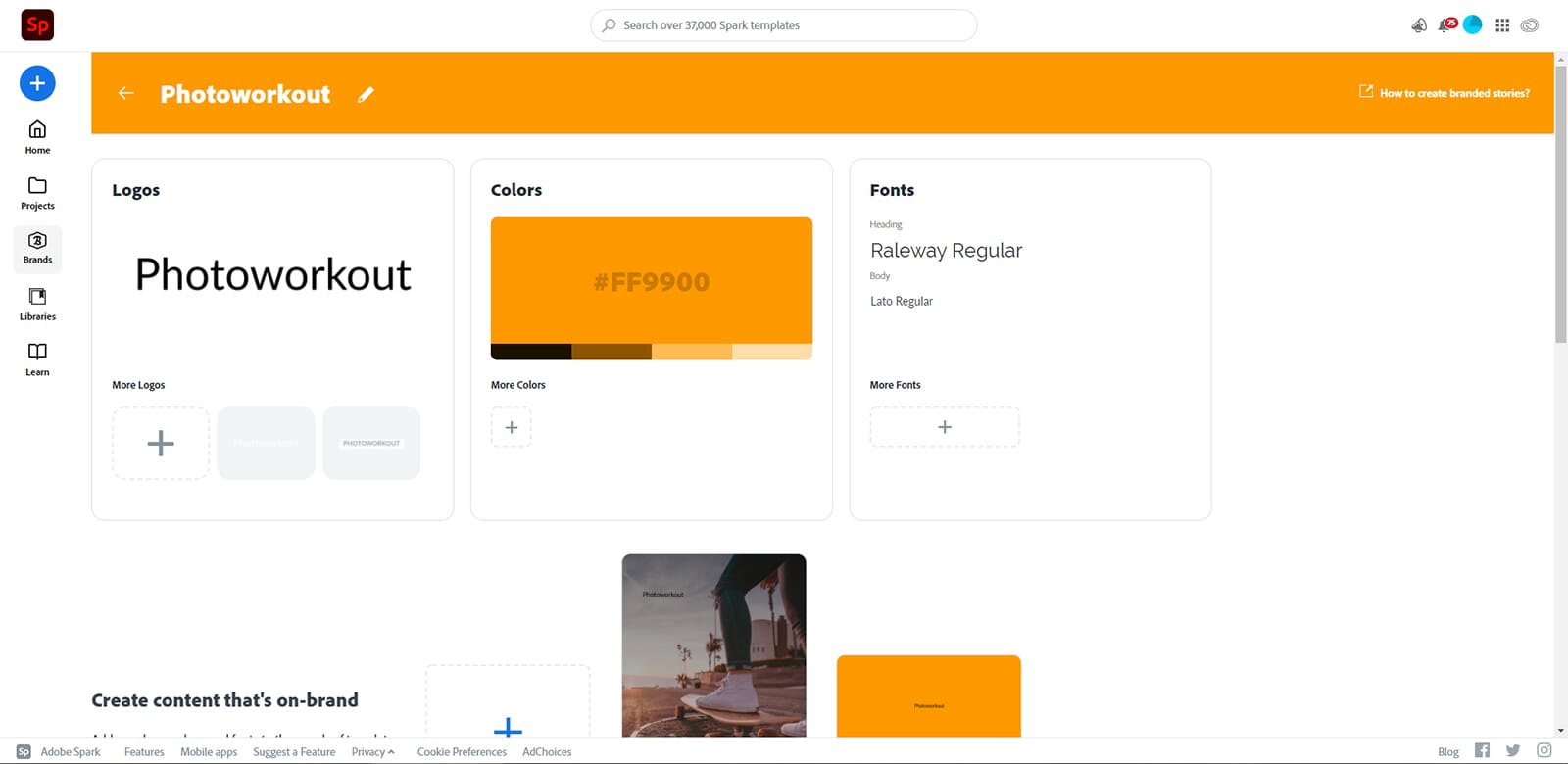 Project Management
Adobe Express has a dedicated project tab. We really like this as it provides a single location where all your content is stored. You can filter this section by your projects or by projects that others have shared with you. It's simple, it's minimalistic, and it's easy to use.
We also like the invite and sharing features. It uses a similar system to Google Drive, in which you can share your projects with other people via email. You can also set sharing permissions, such as whether the user can view or edit the project. This is great for joint projects or even for sharing work with clients.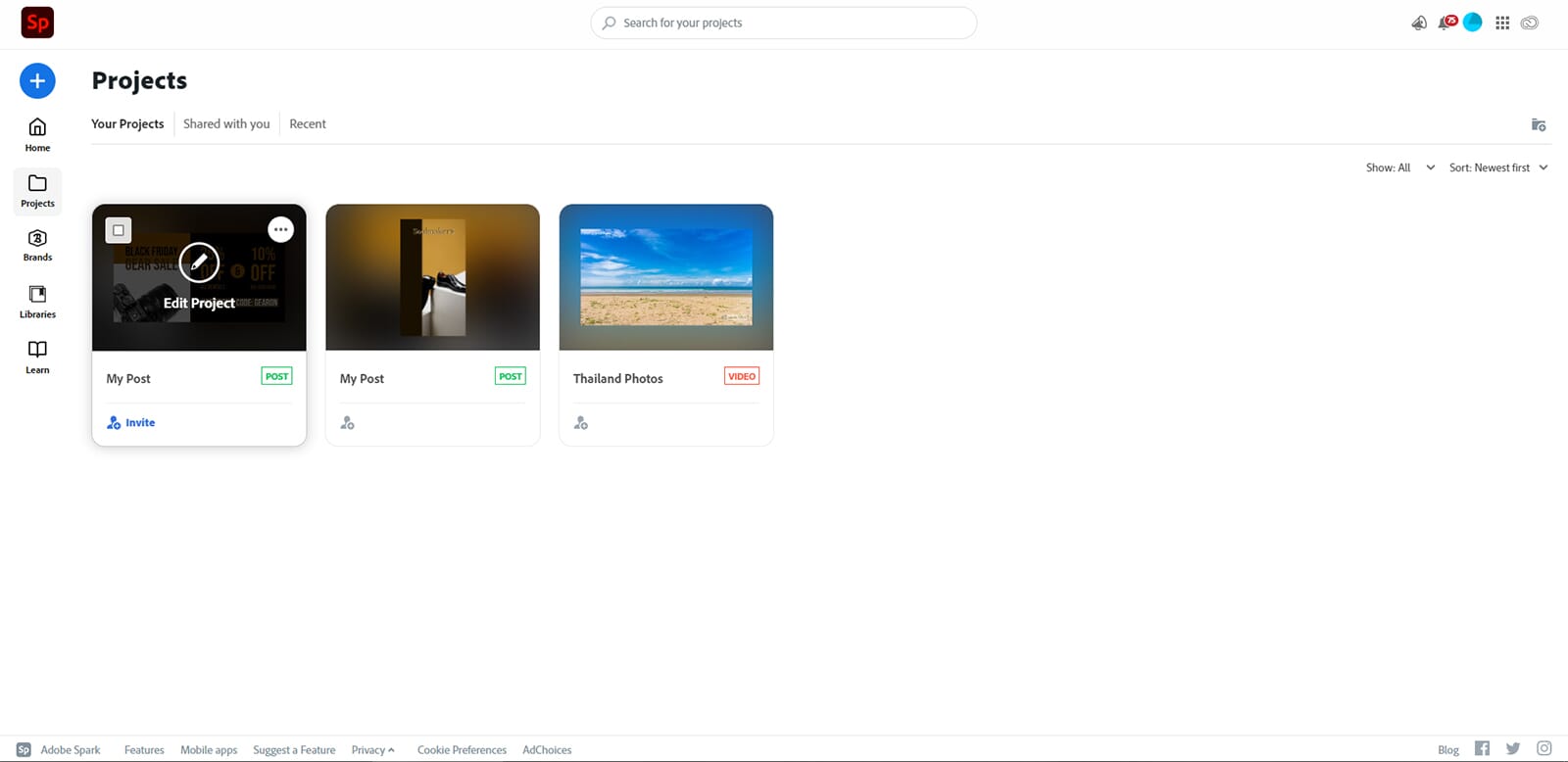 The Graphics Editor
The final part of this review looks at the Adobe Express editor. Overall, the editor is easy to use. It has a simple and minimalistic layout. The main screen area is taken up with your design, which is great as it means the workspace won't feel cluttered or be filled with unnecessary tools.
You can easily edit, move, and insert different elements into your designs. The main menu on the right-hand side has essential elements such as colors, backgrounds, and templates.
We also like that if you click on an element – a logo, for example – Adobe Express opens a new toolbar with all the relevant editing features. This means you can quickly edit individual elements of your design without affecting the whole image.
Elements all snap into position, and the program uses an intelligent alignment system. This means your designs can be precise, and you can center different elements with accuracy.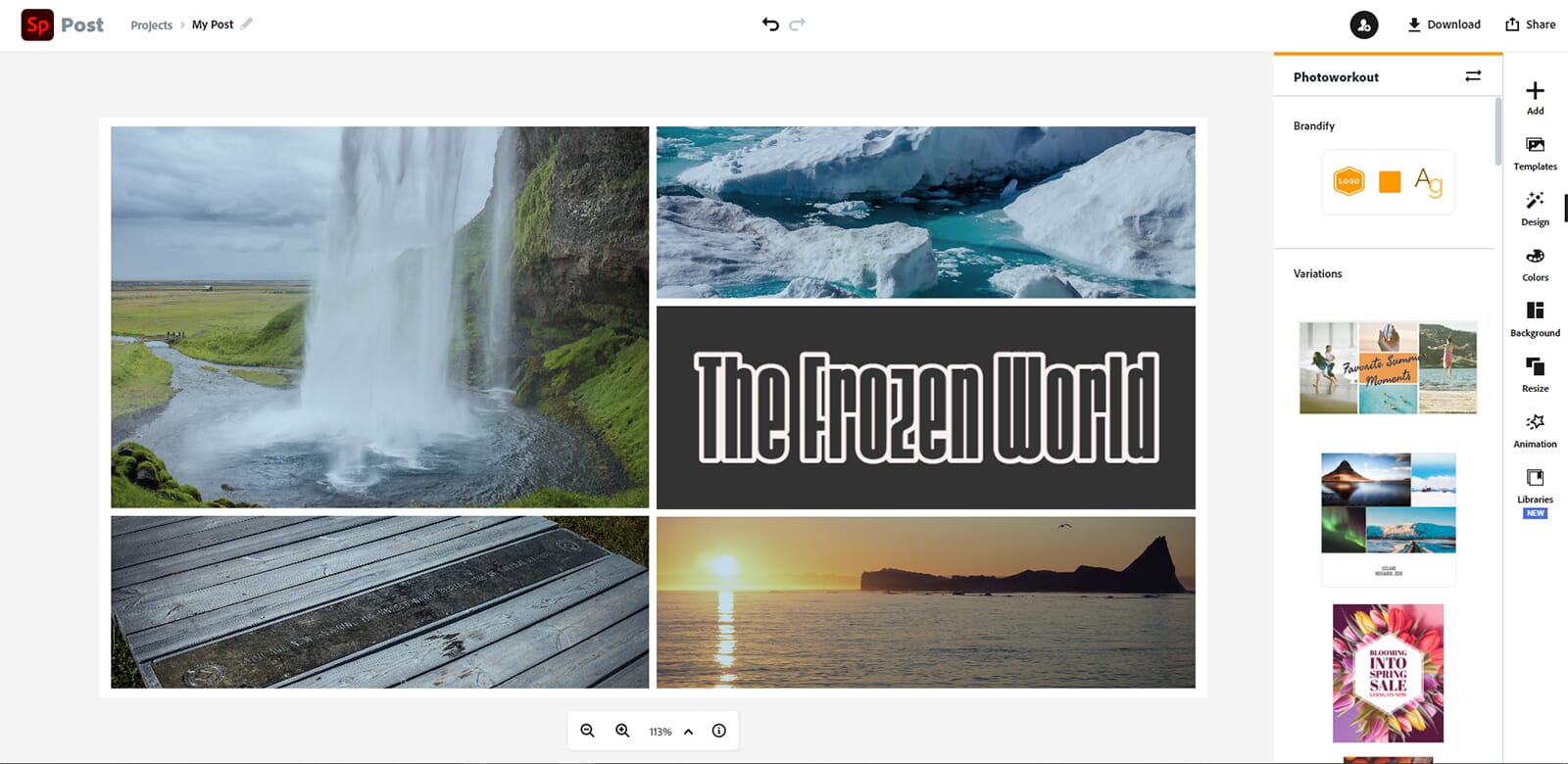 Colors
The Colors tool is a great feature offered by Adobe Express. It allows you to change the color palette of the design. You can use your brand palette, but there is also a large selection of subtle color palettes to choose from. If you select a palette, it will automatically apply the colors to the different elements in your design.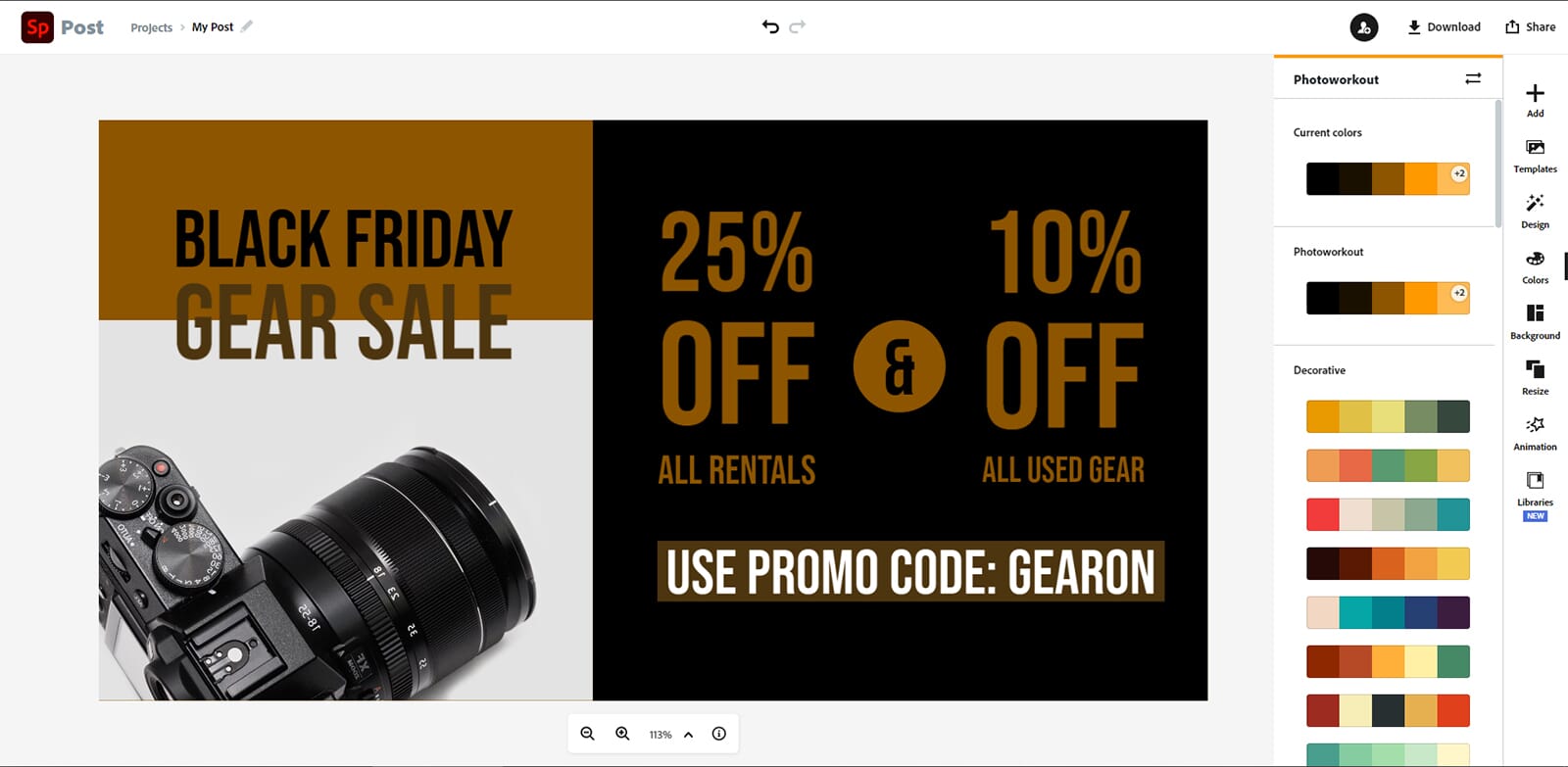 Background
Adobe Express also provides a host of background designs and layouts. This is really useful as you can quickly create layouts for your designs. It also gives suggestions and shows different designs that you may not have considered before providing you with lots of creative insights that might help achieve the look you're after.
Image Editing
Adobe Express also includes a basic photo editor. If you insert a photo into your design and click on it, the image editing toolbar opens. Here, you can change the scale and rotation of your images. You can also apply a small selection of filters.
And there's a basic editing section where you can change parameters like contrast, brightness, saturation, and shadows. If you don't have access to a photo editor, you can at least improve the basic quality of your photos!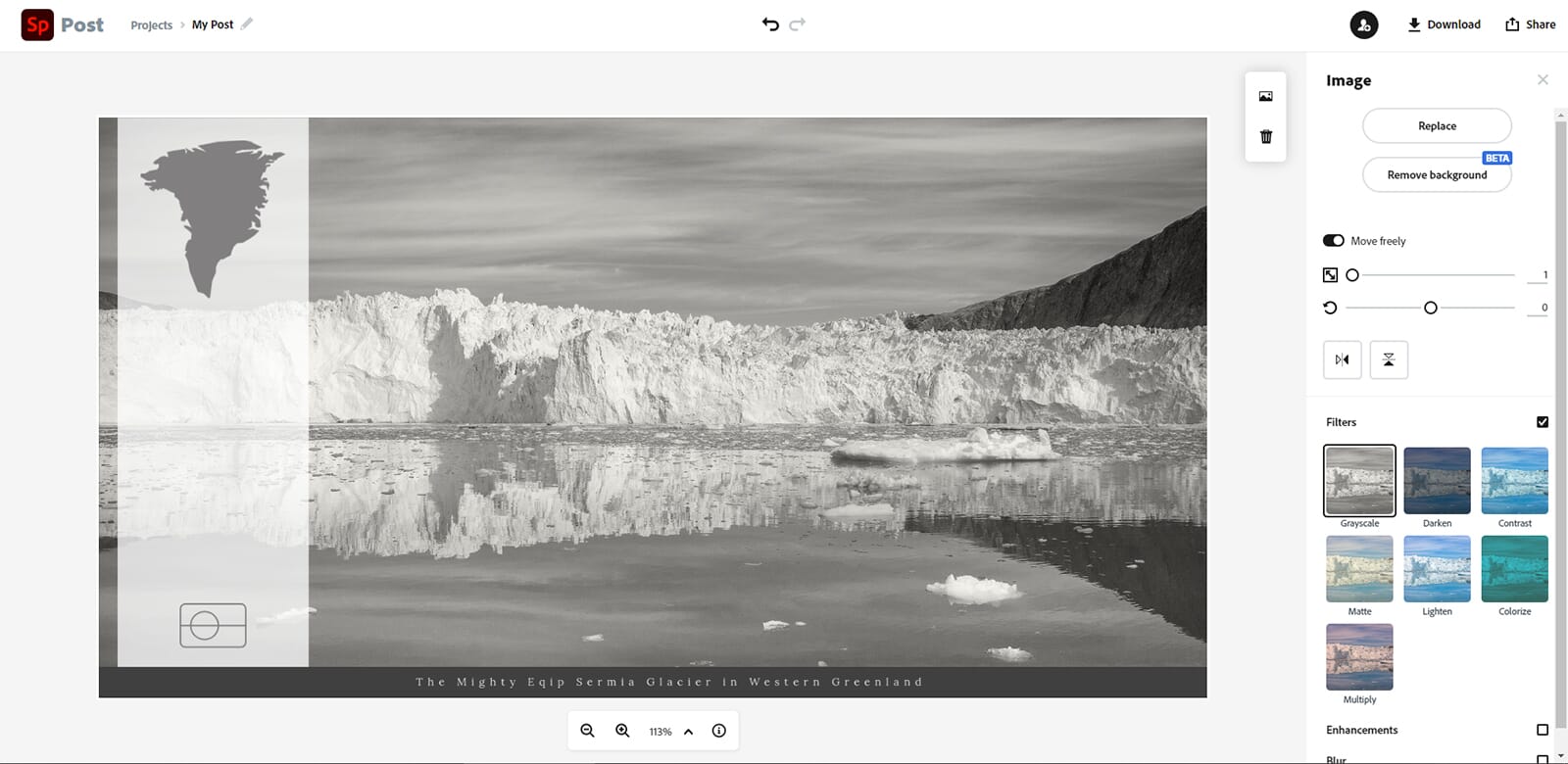 Adobe Express Alternatives
We hope you have found this Adobe Express review beneficial. Express is not the only platform of its kind, however. The following are some great alternatives to Adobe Express that provide similar functionality:
Canva
Stencil
PicMonkey
FotoJet
Desygner
BeFunky
Easil
Canva, for example, is a graphic design platform much like Adobe Express that allows users to create everything from slideshows and social media content to print media and presentations.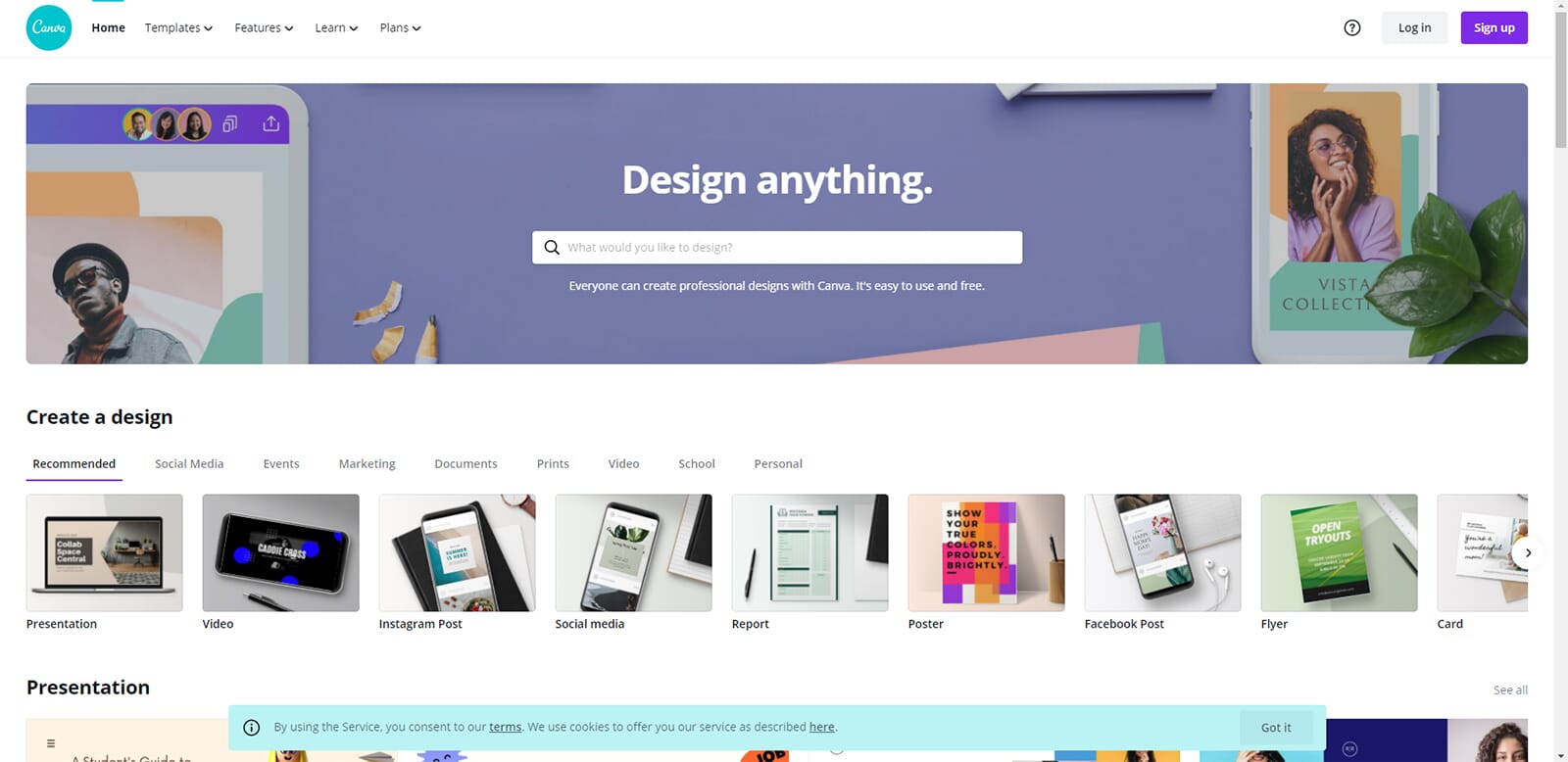 Adobe Creative Cloud Express: Our Verdict
Adobe Express is a well-rounded and highly usable platform. It has one of the largest template libraries we've seen, which is perfect if you have minimal design knowledge or are seeking inspiration.
The editor and tools are easy to use. The program has a clean interface and everything is non-destructible so you can easily undo any changes. The editor also has a solid selection of pre-made features, but it won't restrict your creativity, either.
So is Adobe Creative Cloud Express the right graphic design platform for you? We personally think the monthly plan is a little expensive. For example, Canva's Pro plan is $10.99/month but can be used for up to five people, whereas the Adobe Express plan is just for one user.
Really, if you want a graphic design platform like this, the most cost-effective method is to purchase an Adobe Creative Cloud plan (such as the Photography plan). For the same price as a premium Express subscription, you get access to Express as well as a host of other useful Adobe programs.
If you just want to use a graphic design platform, however, Adobe Express is a great choice, but there are other options worth considering.
Adobe Express FAQ
Can you use Adobe Express for free?
There is a free version of Adobe Express, but it has limited functionality.
Do you get access to Adobe Express from any other Adobe subscription?
Yes! Adobe Creative Cloud subscriptions give full access to Adobe Express.
Can you print from Adobe Express?
Yes, there is a print option for the designs you create. Selecting the print option either opens a print dialog box or allows you to save the design as a PDF.
Is there a mobile version of Adobe Express?
Yes, but it's split into three separate apps: Adobe Express Post, Adobe Express Video, and Adobe Express Page. These are available for Android and iOS devices.