Live streaming while gaming has become a trend over the past few years.
When interacting with your audience during a gaming stream, it's important to capture your expressions. Aside from a fast and stable internet connection, a good video quality will make your audience tune in more. Thus, having a good camera is an essential tool.
If you're looking for the best cameras for gaming, we've curated a list to help you decide which one to get.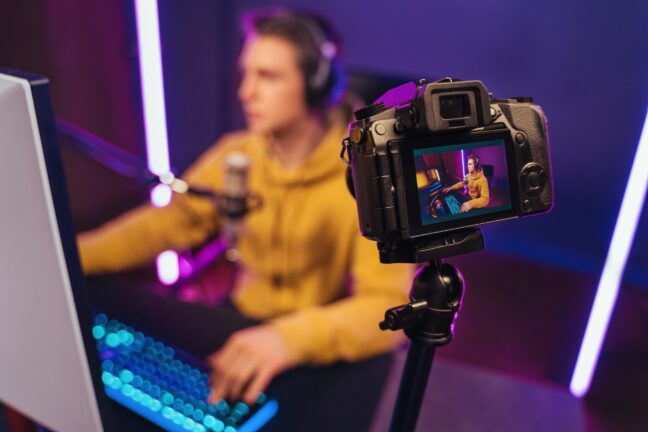 When you buy through links on our site, we may earn a commission at no cost to you. We evaluate products independently. Commissions do not affect our evaluations.
1. Razer Kiyo Pro
OUR PICK
Best for a do-it-all webcam
Razer Kiyo Pro provides good video quality even in low light.
Pros
Full HD 1080p with 60 FPS video
Has an adaptive light sensor
Wide-angle lens
Compatible with popular streaming platforms
Flexible mounting options
Cons
Expensive
Users report trouble with firmware updates
The most common problem with webcams is the low video quality in low-light settings. Many users have resorted to using additional ring lights as a result. But with Razer Kiyo Pro's adaptive light sensor, you can get a good quality video even in low light.
Aside from the good video quality, the Razer Kiyo Pro also has a built-in clear and crisp mic so your reactions and commentaries can clearly be heard during streaming.
This camera is also easy to use, and you can mount it in several ways. You can attach it to your monitor, tilt-up or tilt down, and you can also connect it to a tripod.
Despite being expensive, its promising features guarantee that you'll be getting a quality product.
2. Logitech StreamCam
Best for versatility
This camera can shoot both in landscape and portrait format.
Pros
Unique design
Full 1080p with 60 FPS video
Can rotate for vertical video
Optimized for Streamlabs, OBS, and other popular streaming platforms
Cons
No detachable USB-C connection
It does not perform well in low light
Logitech is a household brand for webcams, and lately, it's been creating some of the best cameras specifically made for streaming and online content creation. One of these cameras is the Logitech StreamCam. With this gaming camera, you have the option to stream your game in horizontal or vertical format in full HD 1080p.
One small downside to this camera is its connector. It's USB Type-C, which is incompatible with many computers. However, you can always purchase a separate USB 3.0 adapter that's readily available in the market.
Once you've successfully connected the Logitech StreamCam to your computer, game streaming should be a breeze as it's compatible with Streamlabs and other popular platforms such as Twitch. And you can always configure the settings on the Logitech app.
3. Elgato Facecam
Best for uncompressed 1080p resolution
This camera has DSLR-like features that you can tweak in the settings.
Pros
Full frame or wide-angle
With optimized fixed focus
Robust image quality with uncompressed FHD 1080p resolution
Can manually control exposure
Elgato is well-known for its audiovisual tech products, and the Elgato Facecam aims to be one of the best cameras for game streaming.
With its full, uncompressed 1080p resolution, and a Sony STARVIS CMOS sensor, you're guaranteed to have sharp images while using this camera.
Unique features like manually controlling the exposure, setting ISO levels during streaming, and an optimized fixed focus are just some of the things that make Elgato Facecam special compared to its competitors.
Despite all its great features, however, the Elgato Facecam does not come with a built-in mic. But this shouldn't be a problem for streamers who are also in the market for an external mic.
4. Logitech C922
Best for mid-priced webcam
This is a no-fuss gaming camera that gets the job done.
Pros
Can stream Full HD at 30 FPS
Can stream 720p at 60 FPS
Has option for background removal
Good at low-light setting
Includes a tripod
Cons
Background removal is slow
A successor of the well-loved 2015 No products found. webcam, the C922 is also a beginner camera. It's a mid-priced webcam for game streaming that provides two streaming quality options: Full HD at 30 FPS or 720p at 60 FPS.
Another thing that makes the C922 different from its predecessor is that it has a feature called Personify Chromacam, which can easily remove backgrounds without additional applications. Plus, it's remarkable at low-light settings, providing you with good quality images even when your room is dimly lit.
Considering its price of $78.95, this is an excellent entry-level webcam that you can use for gaming. It's simple and does what is expected from any webcam.
5. Logitech Brio
Best for professionals
Logitech Brio is your best bet if you want a webcam with 4k HD resolution.
Pros
4K HD resolution
With 5x digital zoom
Has built-in omnidirectional mic with noise cancellation
Has three field of view options to choose from
Auto light adjustment
Another Logitech camera is on the list, but unlike the others, this camera can capture videos in 4k quality, a rare feature when it comes to webcams. Logitech Brio was launched during the COVID-19 pandemic, when video calls and online meetings were in high demand.
The Brio's features are designed for professionals. It has three fields of view options—65° if you want to focus on yourself, 78° for a more balanced look, and 90° for a wide-angle option.
It also has an enhanced audio with noise cancellation, so you don't have to worry about incidental noise disrupting your stream while you're gaming.
6. Sony FDRAX53
Best for entry to professional cameras for game streaming
If you want a top-notch camera but are not yet ready to buy a DSLR.
Pros
Ultra HD or 1080p HD video
Lower noise built-in audio microphone
Compatible with UStream
Cons
Heavy
Users report focusing issues
Moving on to handy cams, the first on our list is the Sony FDRAX53. This camcorder has an excellent video quality that you can use for game streaming. However, unlike the webcams on this list which are easier to set up for streaming, setting up the Sony FDRAX52 will require you to log in to UStream.
With the Sony FDRAX53, you can either use the built-in microphone with lower noise audio or set up an external mic if you want your setup to be more professional.
This camera is heavy, though, so you'll need to invest in a tripod to complete your setup, since you won't be able to attach it to your monitor.
7. NexiGo N680P
Best for wide-angled camera option
This affordable camera has a good built-in microphone and comes with a tripod.
Pros
1080P with 60 FPS
Wide-angled
Has a built-in noise-reduction stereo microphone
With privacy cover and tripod
Automatic low-light correction
Cons
Difficult to focus on some subjects
The NexiGo N680P has a maximum resolution of 1920x1080p. Its stereo microphone has noise-reduction technology to reduce any background noise, which makes it ideal for game streaming.
The NexiGo N680P's 80° field of view makes it a good choice for streamers who prefer wide angle cameras. It can also rotate 360° so you can easily adjust it into an angle that you want. Simply attach the N680P to its tripod, or clip it to your monitor, then adjust as you see fit.
This camera is straightforward to use as well. Simply plug and play, no need for additional software to make it work.
However, some users have reported that they have a hard time focusing on some subjects, so make sure to have a test run before you use this camera to stream a game.
8. Sony a7 III
Best value for money
The Sony a7 III is an excellent camera both for game streaming and other photography needs.
Pros
4k HDR with 24MP full-frame image sensor for sharp video quality
Fast and responsive autofocus system
Comes with Imaging Edge Webcam application to support live streaming
Customizable settings
Cons
It needs a separate power supply to keep the camera on for long hours of streaming
If you are looking for an entry-level full-frame mirrorless camera that can support game streaming, you have every reason to try the Sony a7 III. This camera has been a crowd favorite since its launch, but did you know that you can also use it for gaming?
The a7 III produces clear and sharp videos with fully customizable settings to give you a professional set up. And even though it has a built-in mic, you can still connect an external microphone if you prefer.
To set this up as your camera for streaming, you just need to use the Imaging Edge Webcam app and connect the camera to your PC using an HDMI to USB cable.
Since the Sony a7 III was built for photography and videography, its battery is only meant to last for a few hours. Thus, you will need a separate power adapter if you wish to stream games for long hours. This power adapter is available on e-commerce sites and will set you back another $20.
9. Panasonic LUMIX GH5
Best for professional video quality
The Panasonic Lumix GH5 can give you top-notch video quality to level up your gaming streams.
Pros
Unlimited video recording with multiple modes
Has livestreaming options via WiFi or smartphone
High ISO performance in videos
With external headphone and microphone jacks
Cons
Menus can be challenging to figure out
Another mirrorless camera on the list is the Panasonic Lumix GH5. It's one of the best 4k cameras out there.
The Lumix GH5 has multiple video recording modes utilized for broadcasting or other professional applications. It can record 4k videos at 50 to 60 FPS and full-HD video among others, with a built-in microphone that has noise reduction technology. You just need a tripod to complete the set-up.
Another good thing about the GH5 is that Lumix has now released a software called Lumix Webcam Software which is compatible with Windows and Mac. This software will make it easier for you to use your Lumix camera as a webcam for streaming or live conference purposes.
10. Panasonic Lumix G7
Best for budget-conscious streamers who want to have a professional game streaming experience
Get the Panasonic Lumix G7 if you want an entry-level mirrorless camera for gaming.
Pros
More affordable mirrorless camera option
Captures 4k videos
With Wi-Fi connectivity
Remote control is available
Cons
Outdated
Plastic build
The Panasonic Lumix G7 was launched in May 2015, but it still remains as one of the best entry-level mirrorless cameras that you can use for gaming. Even though it's a lot cheaper than the other mirrorless cameras on the list, you can still capture 4k video quality to make your game streaming look more professional.
The Lumix G7 is also WiFi-ready, which means you can configure the settings remotely. So when you set this up as your streaming webcam, you will be able to easily customize the settings using your phone.
One reported problem among some of the users is that Lumix G7 feels too plastic-y, especially the buttons. It may not appear as durable as the other mirrorless options, but it's definitely worth considering if you're on a budget and still want to use a mirrorless camera for game streaming.
Conclusion
E-gaming and streaming have become so popular that some cameras have been built specially for this market. The options are endless and there are several trustworthy brands, but it's really up to you to make the decision on which product to purchase. After all, you know your needs and your budget best.
We hope we were able to help you narrow down your options for the best cameras for gaming in 2023. For any comments or questions, feel free to let us know in the comment section.
---
As an Amazon Associate, we earn from qualifying purchases. Certain content was provided "as is" from Amazon daily and is subject to change or removal at any time.