The world of photography is full of complex terminology, sophisticated technology, and a huge array of equipment. As a teenager, it can be difficult to know where to start. There are so many different cameras to choose from, and that's not even considering lenses, accessories, and training products.
If you feel lost, don't worry – everyone has to start somewhere! Below, we use our expert knowledge to share with you eight of the best cameras for teens. They're all fantastic models that are relatively easy to use, yet they'll still allow you to progress to more advanced photography when the time comes.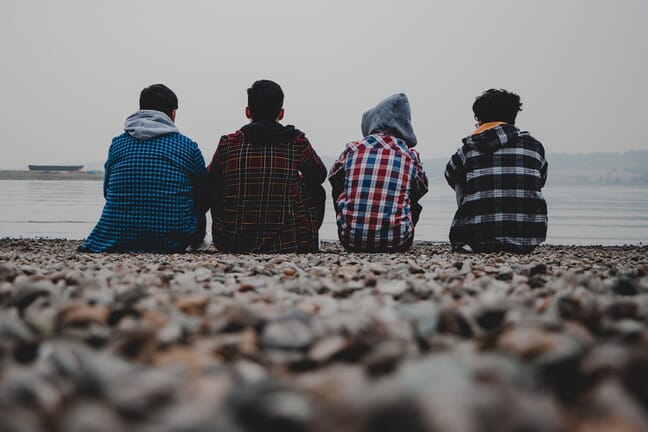 The Top Cameras for Teenagers in 2023:
When you buy through links on our site, we may earn a commission at no cost to you. We evaluate products independently. Commissions do not affect our evaluations.
1. Nikon Z 30
Our Pick
Great for vlogging
The Nikon Z 30 is a versatile camera that can take high-quality photos but is also amazing for vlogging and streaming.
Pros
Fully rotatable touchscreen for selfie previews
4K recording quality
Fantastic 16-50mm starter lens
Cons
Some of the menus can be clunky
Our top pick is the Nikon Z 30. It's Nikon's latest mirrorless camera for beginners, and it's a great choice thanks to its compact size, ergonomic design, and fantastic features. If you want a camera to take on day trips or holidays, it's an excellent option as it's wonderfully light and isn't too big even with a lens attached.
You'll find the simple controls easy to grasp, and as you develop your skills, you'll appreciate how flexible the Z 30 actually is. The array of manual options will allow you to play with lots of photographic techniques!
If you want to take selfies or use the camera for vlogging or streaming, the Z 30 has a fully rotatable touchscreen, which means you can preview yourself when you are recording or taking photos. You can also use this camera for things like YouTube and Twitch streaming as it can be set up as a live webcam.
This package includes the 16-50mm kit lens, which is pretty versatile and gives you a great starting point for portraits, street photography, landscapes, and more. The great thing is that the camera has an interchangeable lens mount, so you can buy any of Nikon's amazing Z-mount lenses!
2. Canon EOS R50
Also Great
Great for action photography
The Canon EOS R50 uses the latest technology and will allow you to progress to more advanced types of photography with ease.
Pros
Compact and lightweight body
Compatible with RF, RF-S, and EF lenses
High-quality sensor for sharp images
Cons
The kit lens doesn't have a wide maximum aperture
The Canon EOS R50 is the perfect camera for any teens looking for a recently released model that will offer room to grow as they develop their photography skills. Canon is currently concentrating on its EOS R cameras, and the R50 is the cheapest model available.
Therefore, if you invest in the EOS R lineup now, you can benefit from future RF lenses and firmware updates. The camera itself is amazing and really compact, so you don't have to worry about lugging a bulky unit everywhere.
The image quality is also outstanding. Thanks to the 24.2 MP sensor, you can capture high-quality images even as you learn. The Dual Pixel CMOS autofocus system will also really help you take sharp photos. And you can use an array of special AF modes to track moving objects and still get everything in crisp detail.
In this starter bundle, you get the RF-S 18-45mm lens, which is good starter glass and quite flexible, too. If you intend to take your photography seriously, the R50 is a great pick.
3. Sony ZV-1
Great for video recording
The Sony ZV-1 is a vlogging and video powerhouse that's perfect for on-the-go videography (and photography).
Pros
4K video recording
Rotatable touchscreen
Includes handy accessories
Cons
Better for video than photography
If you want a camera primarily for vlogging, then the Sony ZV-1 is our recommendation. It's built for live streaming, YouTube recording, and creating inventive video footage, and it benefits from a high-quality sensor that allows you to record gorgeous 4K video.
You can also record solid audio thanks to the built-in microphone and wind-protection accessories. To preview your footage and make sure you have the right framing, the LCD touchscreen flips out and rotates.
This camera is amazing if you want to vlog in different locations – while out walking, for instance, or even at events. The ZV-1 can fit in the palm of your hand and weighs virtually nothing. You can even store it in your pocket when you're on the move.
The ZV-1 packs some useful features for beginners. For example, it has a Background Defocus switch, which automatically blurs the background when recording or capturing photos. The camera is comparable to the EOS M50 Mark II, but it's much smaller and arguably easier to use due to the integrated lens.
4. Sony RX100 III
Great for low-light photos
The Sony RX100 III has a high-quality lens and a large maximum aperture for better indoor images.
Pros
24-70mm focal length
High-resolution 20.1 MP sensor
Compact and lightweight body
Cons
Not the newest version of this camera
The ZV-1 is designed for vloggers, but Sony also offers some amazing photo-focused cameras, including the RX100 III. It's not the current RX100 model, but it's considerably cheaper, and it boasts a handful of excellent features to help you capture high-quality photos.
The 20.9 MP sensor, for instance, allows you to take beautiful RAW images that look crisp and feature excellent colors. Since you can shoot in RAW, you might also consider learning how to use photo editing software to get the most out of your work.
Regardless of the type of photography you want to specialize in, the ZEISS lens should get the job done. It has an effective focal length of 24-70mm and a fantastic maximum aperture of f/1.8. At 24mm, you can create wide-angle landscape shots, and at 70mm, you can shoot portraits, street scenes, and even some wildlife.
The f/1.8-f/2.8 maximum aperture means that you can separate your subjects from the background, and it also promises excellent flexibility when shooting indoors and at night. Combine this with the camera's compact size, and you have a great option for taking photos at parties and events.
5. Panasonic LUMIX FZ80K
Great for wildlife photography
The Panasonic LUMIX FZ80K has a 20-1200mm zoom lens so you can get incredible detail in your wildlife photos.
Pros
Excellent DC VARIO 20-1200mm lens
Wi-Fi connectivity for easy file sharing
Ergonomic design and grip
Cons
The autofocus isn't the fastest
The Panasonic LUMIX FZ80K is one of our favorite bridge cameras due to its outstanding zoom lens. It really is a great option if you want to capture wildlife or sporting action; in fact, the 20-1200mm glass can zoom farther than nearly every DSLR or mirrorless lens.
With a 1200mm zoom, you can expect to capture gorgeous close-up portraits of animals without causing any disturbance to their habitat. There may be some softening around the edges when using the lens at its longest focal length, but the DC VARIO lens elements ensure consistent sharpness in most scenarios.
Even if you've never really used a camera before, the simple controls will be easy to understand. We also like that the FZ80K has an electronic viewfinder; that way, you can learn to compose photos without relying on the LCD screen.
Thanks to the FZ80K's Wi-Fi connectivity, you can download and share your photos with ease. Finally, the body is ergonomically designed, and you'll undoubtedly find the textured grip comfortable to hold for hours on end.
6. Sony ZV-1F
Great for wide-angle work
The 20mm lens of the Sony ZV-1F is perfect for vlogging, landscape photography, and other wide-angle shooting.
Pros
Incredibly small body
21 MP sensor for high-res files
Fully rotatable touchscreen
Cons
No telephoto capabilities
The ZV-1 (featured above) has a zoom lens, but the Sony ZV-1F has a 20mm f/2 prime unit and is thus a great option for vlogging, recording in a studio setup, and even landscape photography.
The downside of using a prime lens is that you'll struggle to capture certain types of images (e.g., wildlife). But if you're creative and you think carefully about your positioning and framing, you can photograph most subjects (plus, the challenge can actually be beneficial!).
Regardless, if you do want a vlogging camera, this is a favorite of ours, and it has numerous features that will help with recording. For example, the ZV-1F boasts Eye AF to always keep the lens focused on your eyes when you are vlogging. The articulating touchscreen also allows you to preview your footage as you work to ensure you get the framing perfect.
For active vloggers and those who like to travel, the small size and lightweight body of the ZV-1F are also superb. You won't notice the unit in your pocket when you're traveling, and it's easy to mount it on a tripod, monopod, or selfie stick!
7. Canon EOS M50 Mark II
Great for serious beginners
The Canon EOS M50 Mark II is perfect for dedicated beginners, and due to the sophisticated controls, you can use it to try professional techniques.
Pros
High-quality 24.1 MP sensor
Fantastic AF
Great video features
Cons
Canon may stop supporting the EOS M system in the future
I own the Canon EOS M50 Mark II, and it is a fantastic camera. It's especially perfect if you want something more than a point-and-shoot model but can't afford an ultra-expensive DSLR or mirrorless camera. The price has come down more recently due to the release of the new EOS R50 (recommended above), so the M50 Mark II is cheaper than ever!
The M50 Mark II is compact and lightweight, which makes it great for travel photography. Most of the lenses are really small, too. Speaking of lenses: If you're planning on really delving into photography, you'll appreciate the bevy of options, including various wide-angle, standard, and telephoto models. The standard kit comes with a 15-45mm lens, which offers a great starting point and is ideal for just exploring and getting used to the camera.
If you've never used a dedicated camera, the controls may look a little daunting, but you can focus easily and change settings using the fully rotatable touchscreen. The screen also means that you can choose whether to use the viewfinder or the display when composing shots.
If you want to get into video recording or streaming, the M50 Mark II offers everything you need. It's capable of 4K recording and can even shoot 1080p at 120 FPS for some awesome slow-motion footage. The only thing to bear in mind is that Canon might not continue developing the EOS M system, so you may struggle to find top-tier upgrades in the future.
8. Canon PowerShot SX70 HS
Great for versatility
The Canon PowerShot SX70 HS is perfect if you haven't decided on a specialization as it boasts solid photography and videography capabilities.
Pros
Ergonomic design
4K recording
Can be used as a webcam
Cons
Uses older technology compared to other Canon cameras
If you want a simple camera that offers a mix of photographic and video capabilities, the Canon Powershot SX70 HS is a great option. It's relatively inexpensive, too. The SX70 HS is a bridge camera that features a fixed lens with a focal length of 21-1365mm; therefore, you can use it to capture nearly every subject, from scenic vistas to tiny birds.
If you've never used this type of camera before, you should find the ergonomic design very comfortable. The grip allows you to hold the device firmly to reduce camera shake when doing low-light photography, and the rear control panel allows you to quickly change settings and zoom in with the lens.
The technology is a little older than that used by Canon mirrorless cameras, but you still get a solid processor and a 20.3 MP sensor. This basically means that the image quality of your first photos should be nice and detailed with excellent colors and contrast.
The photography potential is amazing, and you even have some versatility for video recording as the SX70 HS can capture 4K footage and create time-lapses.
Pick a Great Starter Camera!
We hope you now have a solid idea of the top cameras for teens. Any of these models would make a fantastic starting point for your photographic journey. Now you just need to decide on the best option to suit your needs!
If you want a camera that will allow you to learn advanced techniques and experiment with different lenses, models like the Nikon Z 30, the Canon EOS R50, and the Canon EOS M50 Mark II are ideal.
Alternatively, if you just want an entry-level model that still has plenty of features, options like the Panasonic LUMIX FZ80K, the Sony RX100 III, and the Canon PowerShot SX70 HS offer great versatility.
Lastly, for the amateur YouTuber or vlogger, video-focused cameras like the Sony ZV-1F or the Sony ZV-1 will give you a great starting point.
---
Disclosure/Disclaimer: As an Amazon Associate, we earn from qualifying purchases. Certain content was provided "as is" from Amazon and is subject to change or removal at any time. Product prices and availability: Amazon prices are updated daily or are accurate as of the date/time indicated and are subject to change. Any price and availability information displayed on Amazon.com at the time of purchase will apply to the purchase of this product.